This review provides everything you need to know about visiting Cedar Creek Falls in Mount Tamborine.
The Queensland Travel Guide acknowledges the Yugambeh people, the Traditional Custodians of the land on which Cedar Creek Falls is situated. We pay our respects to their Elders past, present and emerging, and recognise their continued spiritual and cultural connections to Country. Always was, always will be, Aboriginal land.
Cedar Creek Falls is a stunning natural attraction in the Tamborine Mountain region of the Tamborine National Park. Tucked away in the Gold Coast Hinterland, exploring this hidden treasure makes for an excellent day trip.
Day trippers come to Cedar Creek Falls to swim in the crystal clear rock pools or to simply view the falls from the lookout. Plus, with its excellent facilities, it's the ideal spot for a BBQ or picnic as well as kicking a ball around with the kids.
If you're considering a trip to Cedar Creek Falls, check out this article, which covers all you need to know to plan your trip.
This post may contain compensated links. Please refer to our disclaimer here for more information.
Where are the Cedar Creek Falls?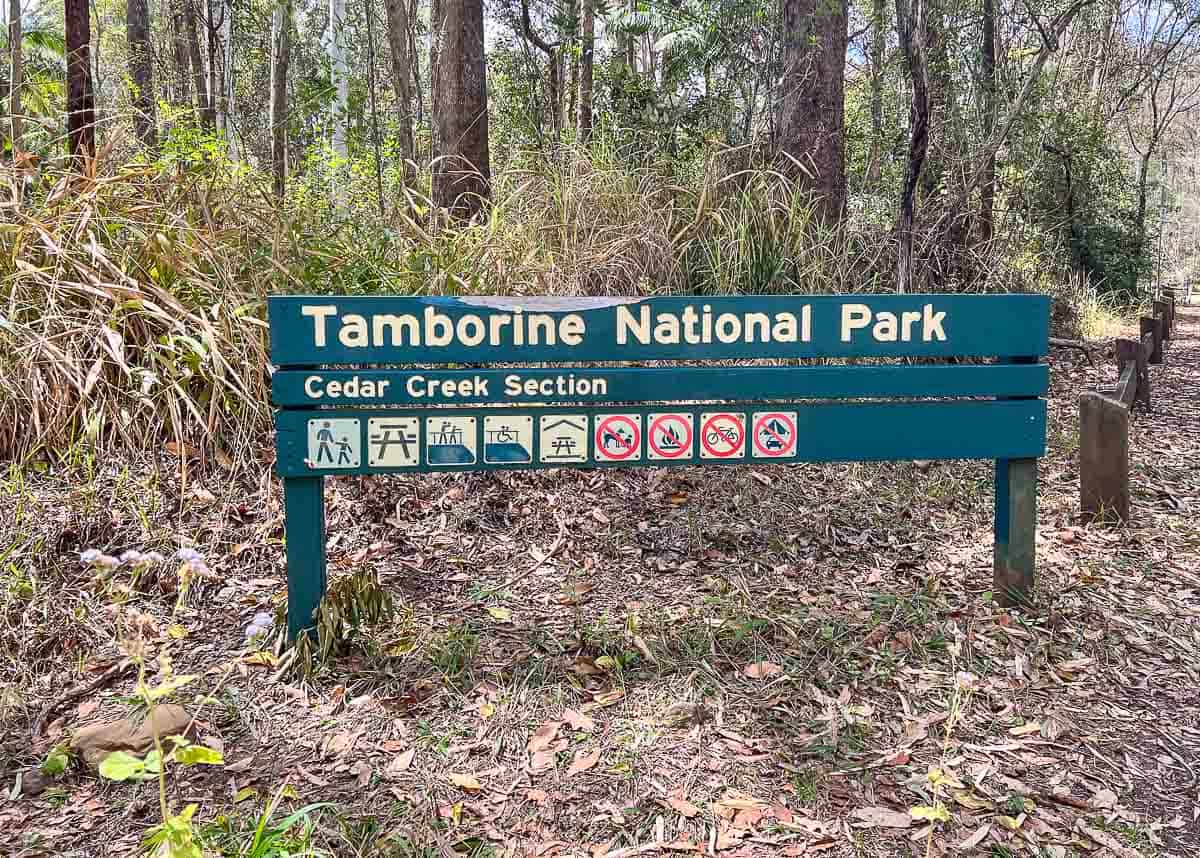 Cedar Creek Falls is easily reached via Tamborine Mountain Road, with the turn-off to Cedar Creek Falls Road just past the information map stopping bay on the left. From here, it's a short drive down a narrow road and across a tiny creek before coming to the car park at the Cedar Creek Falls section.
Cedar Creek Falls in Mount Tamborine is approximately 50 kilometres from the Gold Coast and 70 kilometres south of Brisbane – around a 1 hour drive from each.
Where to park at Cedar Creek Falls?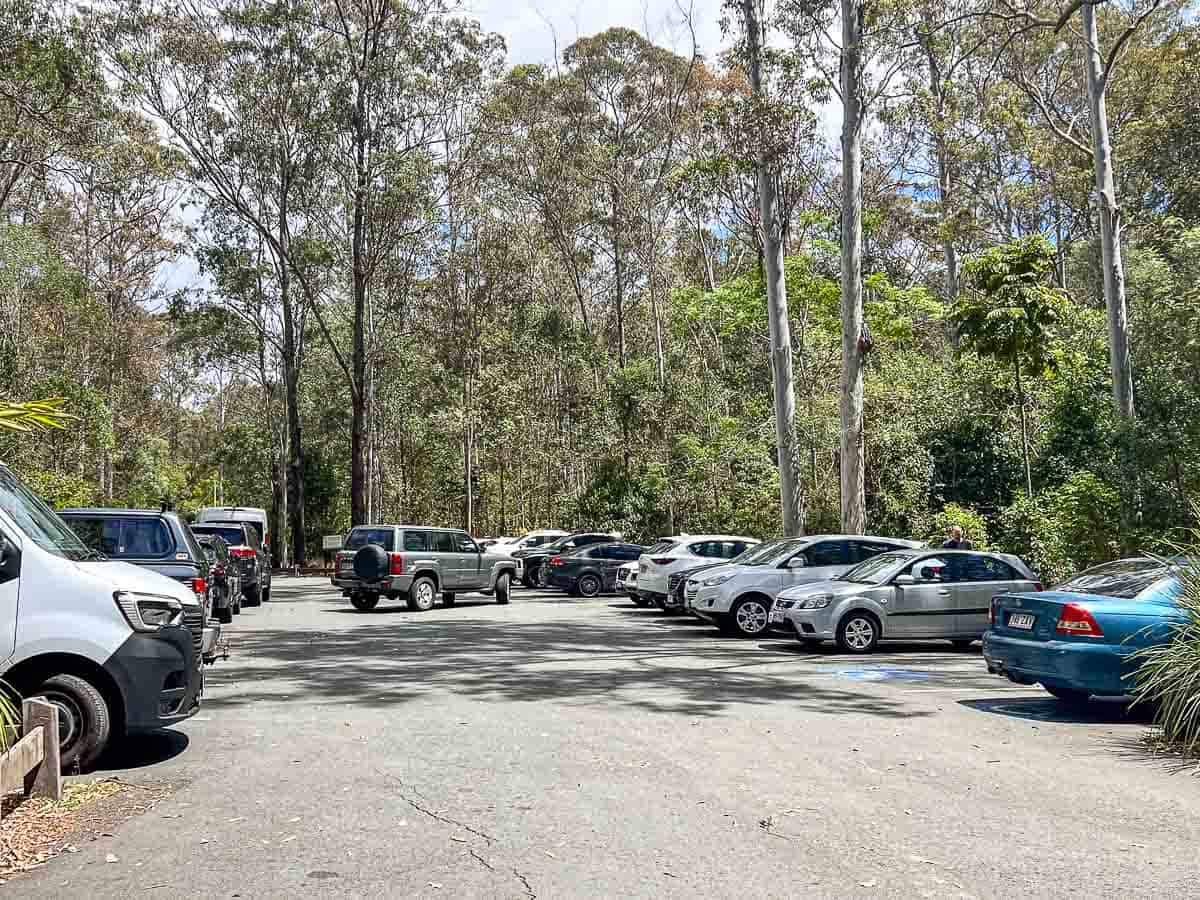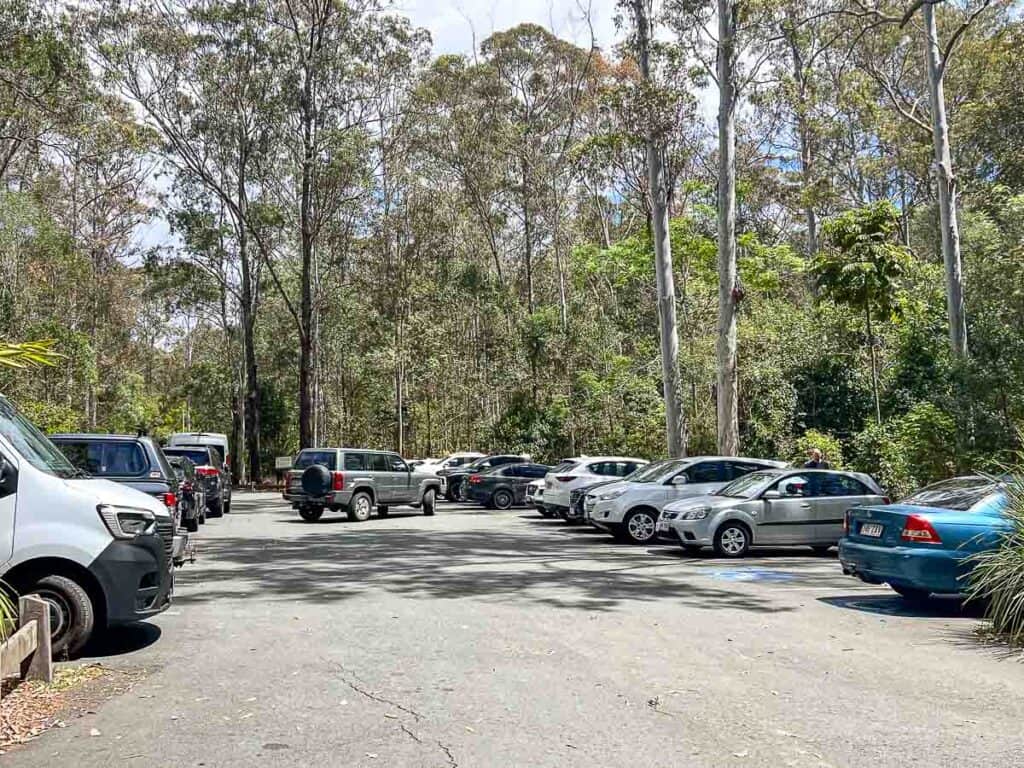 There is a very small official car park for the Cedar Creek Falls and I recommend you don't rely on there being a space available when you arrive. But if you do happen to snag a car park, the good news is it's free!
If you can't find a car park there, head back to the top of the road and park somewhere along the road near Thunderbird Park. This will add around 10-15 minutes to your walking time.
Better yet, combine your visit to the falls with a visit to Thunderbird Park – either to do one of their activities or have lunch there.  There is a huge car park at Thunderbird Park, and from here, it's an easy 10-15 minute walk to the official entry of Cedar Creek Falls.
If you need to park elsewhere, I'd recommend the driver drop the passengers and gear at the falls first, then head back to find a park.
Walking to Cedar Creek Falls lookout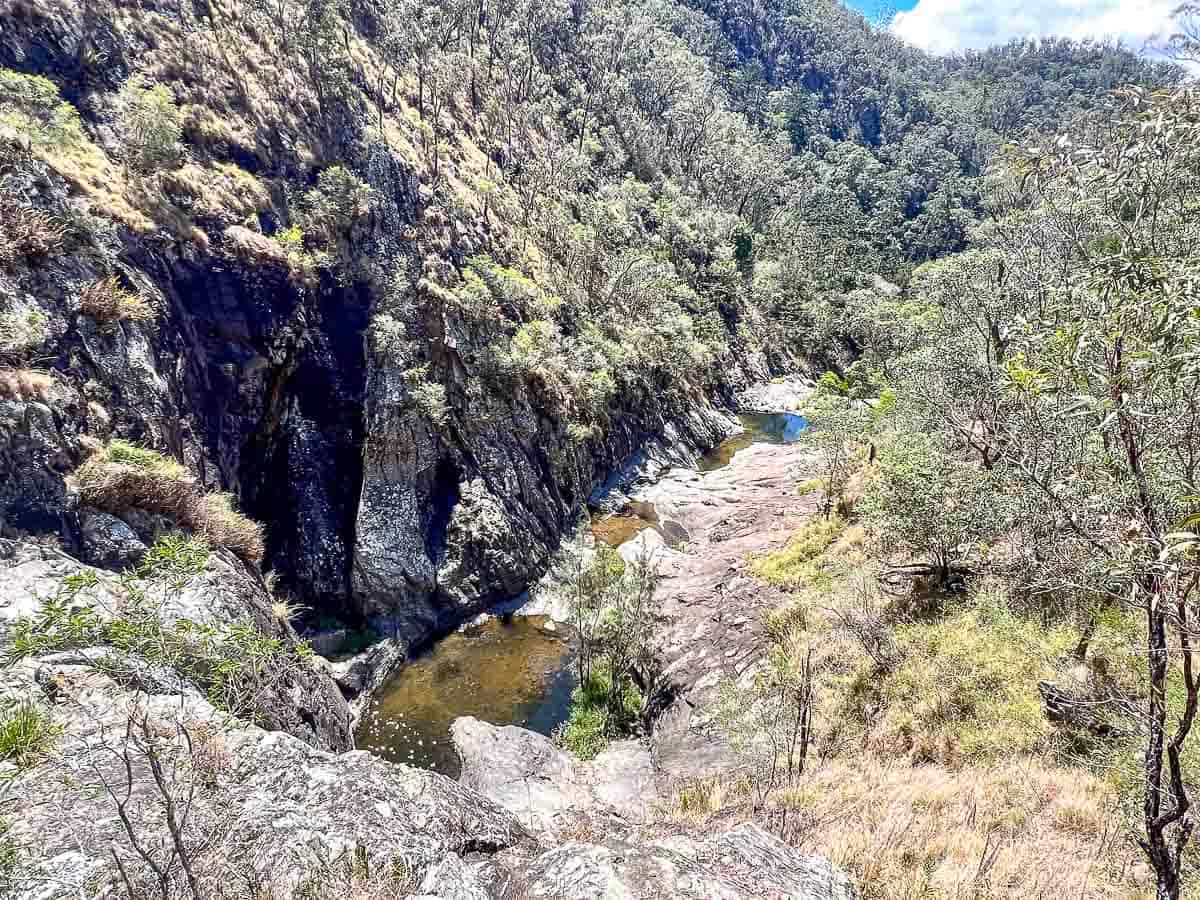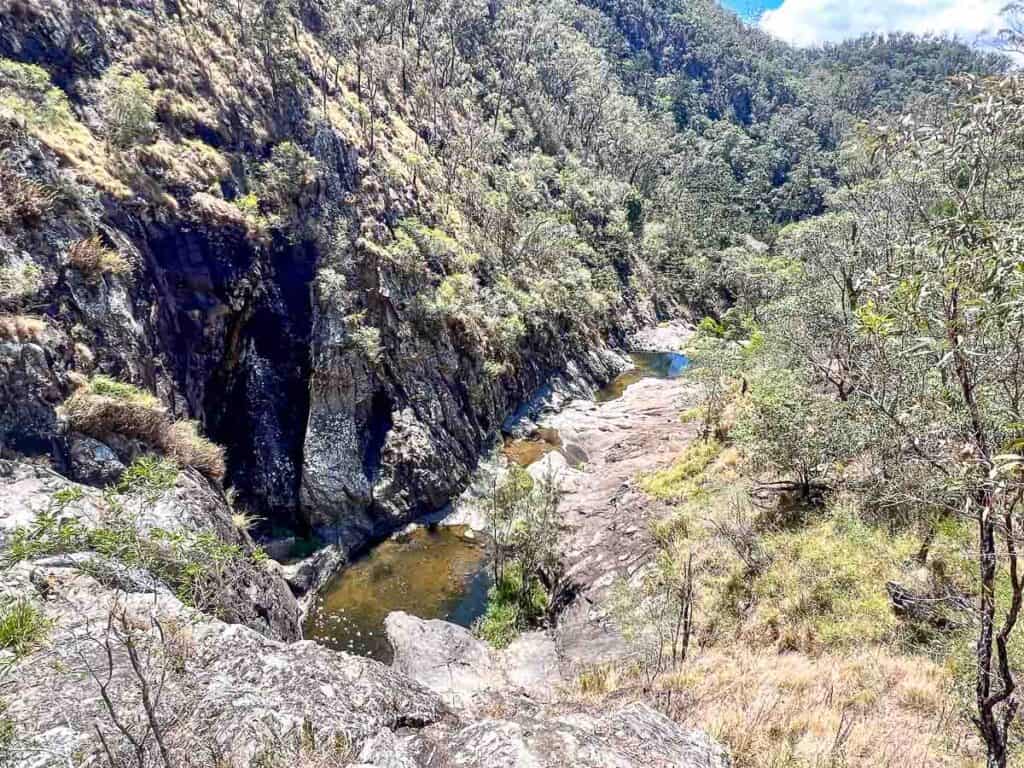 It's super easy to walk to the Cedar Creek Falls lookout, which is just 250m from the entrance to the walkway. It won't take you longer than a few minutes to reach the lookout.
The walkway is flat all the way, making it ideal for all fitness levels, as well as prams and wheelchairs.
From the lookout, you can see across the gorge, where you'll see several small falls and rock pools.
It's important to note that the rock pools you can see from the lookout aren't the same as the rock pools you can swim in.  So don't be fooled if it looks like there is no one down there.
Walking to Cedar Creek Falls rock pools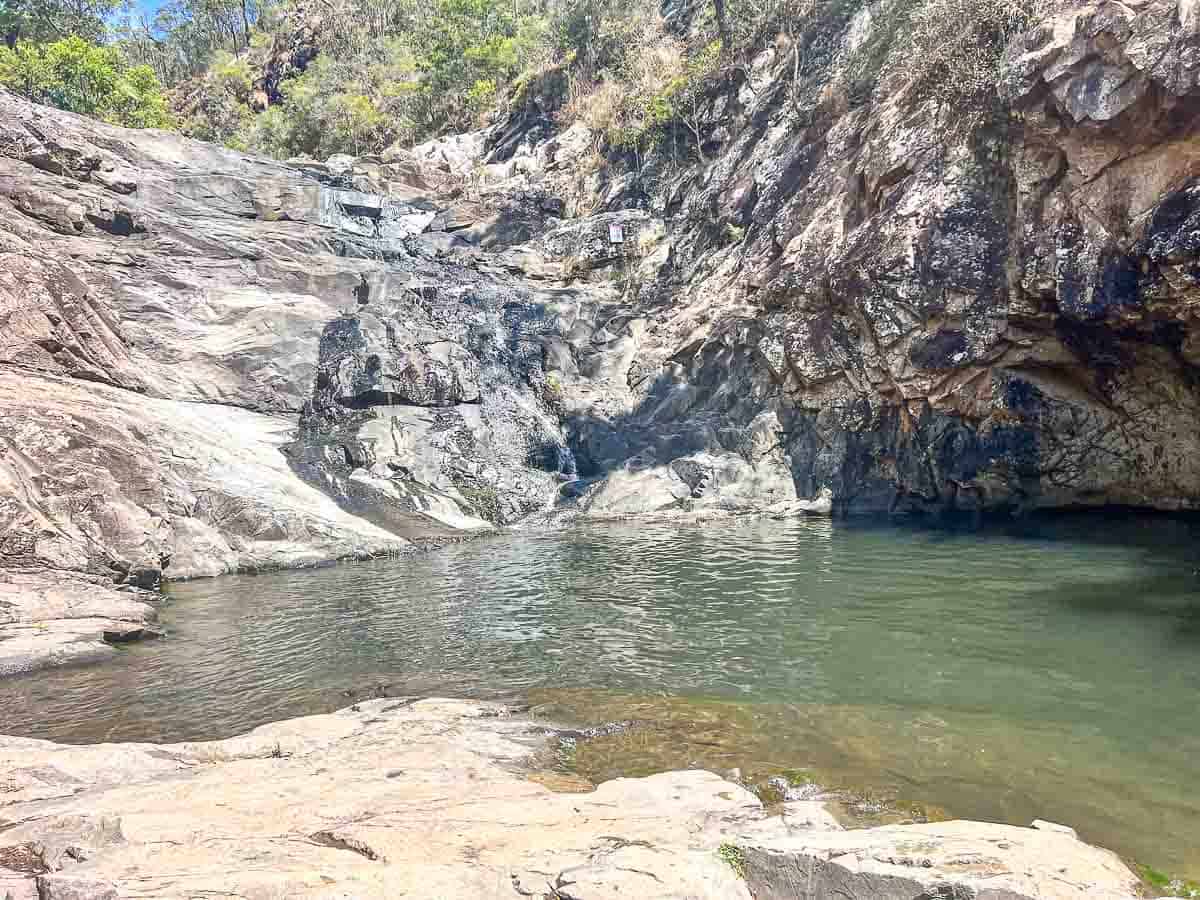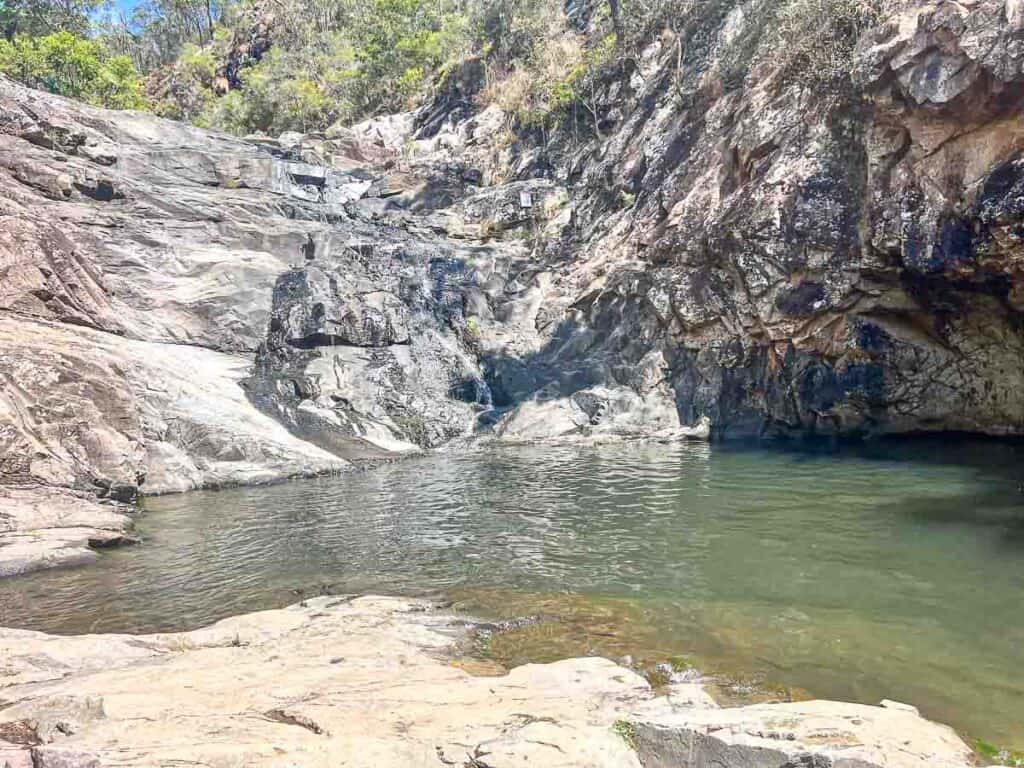 From the official entrance to Cedar Creek Falls, the walk is only 1.1 km return (includes the walk to the lookout). After the lookout, it is a fairly steep descent, but it is fairly short. The walk does include stairs too.
We tend to walk pretty fast, but including a stop at the lookout, the return walk would have taken us no more than 15 minutes. Allow 30 minutes for slower walkers.
Once you arrive at the rock pools, it gets a bit more tricky as you will need to scramble over the rocks to reach any of the actual rock pools. And keep in mind that the rock surfaces can be very slippery after any rain.
At the Cedar Creek Falls rock pools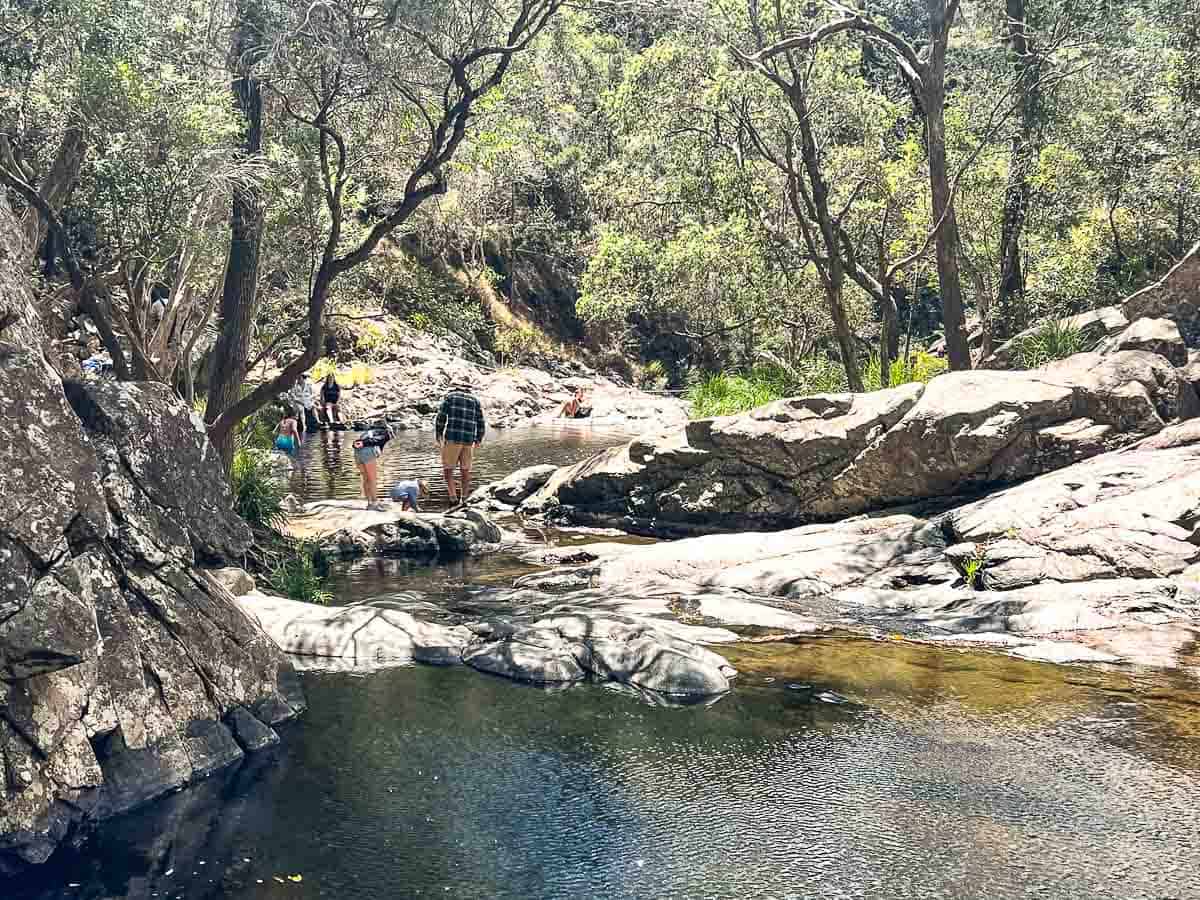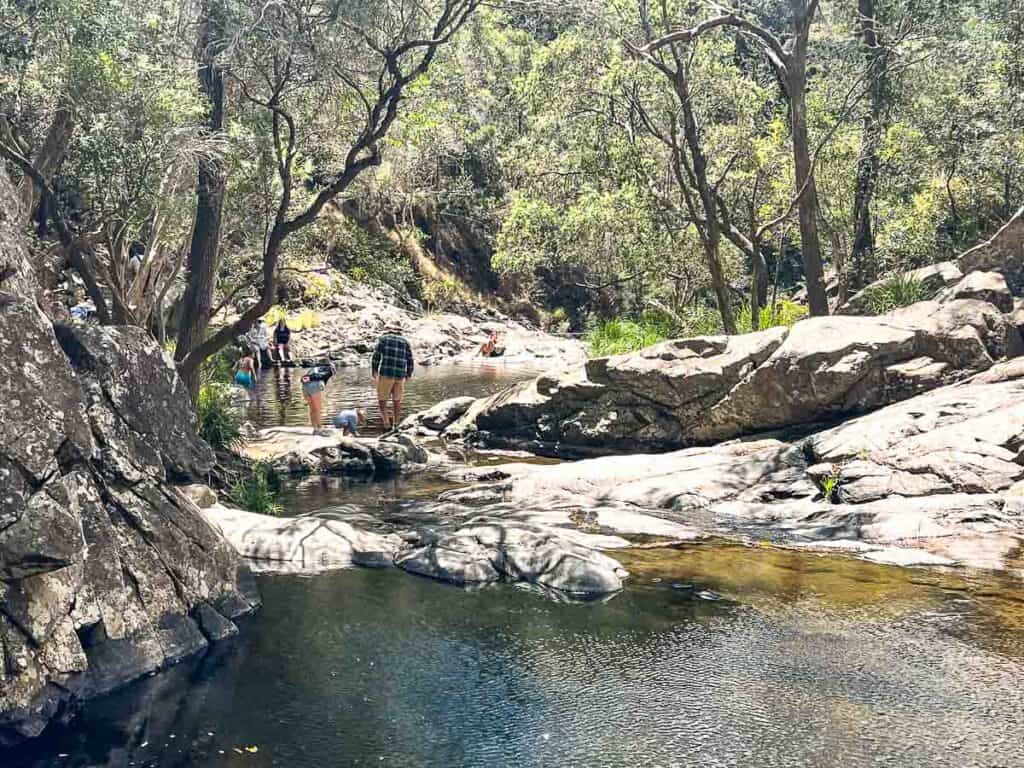 There are three rock pools that you can choose to swim at – these are the only rock pools in the area that you're allowed to swim in. Most tend to swim at the top rock pool, which involves less rock scrambling. This rock pool tends to be the deepest and is right under one of the falls.
Many people climb up the rocks and dive into the rock pool, but this is not recommended. There are signs saying not to do this, but people do it anyway. Keep in mind that there are many hazards in natural waterways.
If you can climb down the rocks, you'll find two other rock pools you can swim in (pictured above).  The second rock pool is fairly small and shallow – great for little ones.  The last rock pool is much more tranquil and relaxing and tends to be much quieter than the top rock pool – but it is harder to reach.
There are no chairs etc, at the rock pools, just rocks. So only take what you need, like a towel and water – a small backpack if necessary.
The Cedar Creek Falls
It's worth mentioning that the falls themselves really aren't that impressive. Most people come here to see the rock pools – which are beautiful!
I thought this was worth mentioning as while I think the entire area is absolutely stunning, I got talking to a couple from the Philippines when I was last there and they said they were expecting some great big waterfalls.
Of course, the water level in the falls will depend on how much rain there has been. So, if you want to see the falls at their very best, come soon after a period of heavy rainfall.
Facilities at Cedar Creek Falls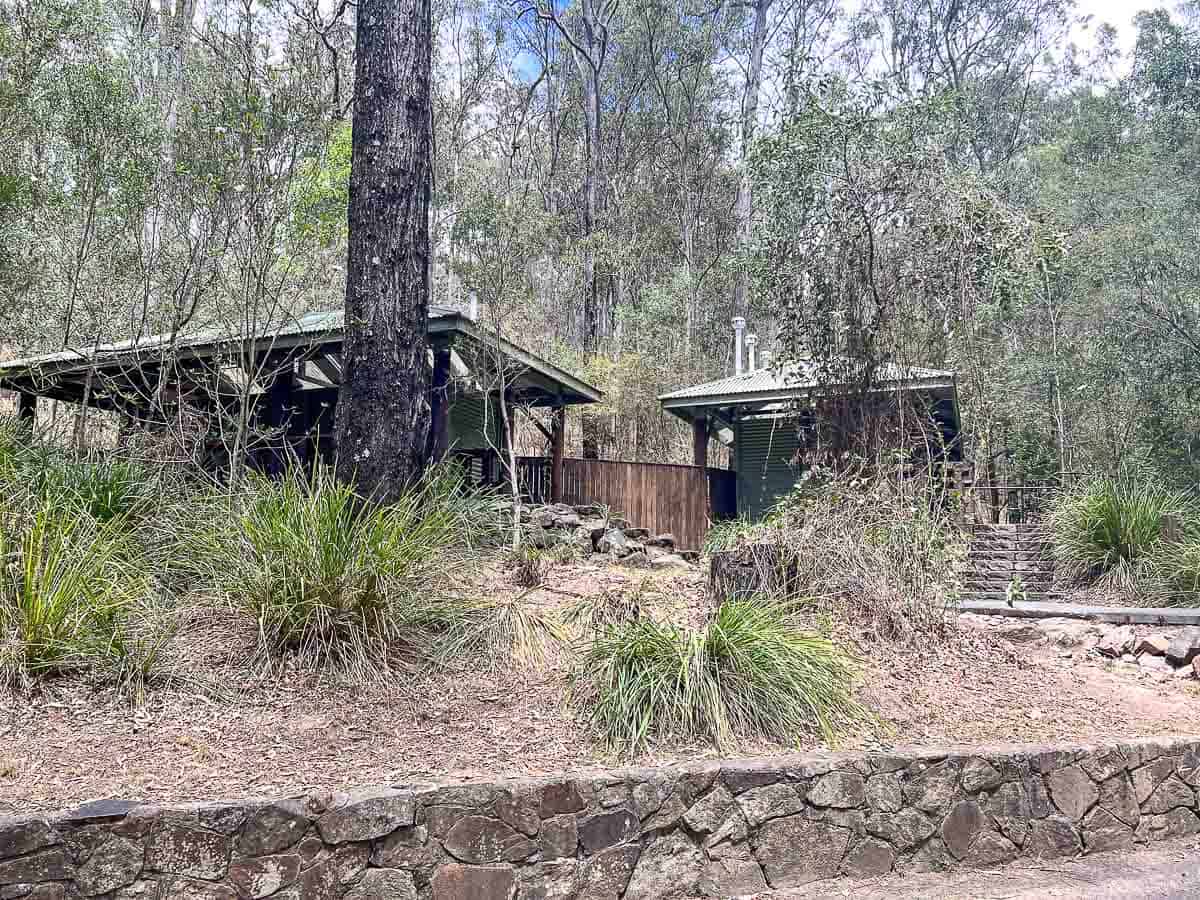 There are excellent facilities at Cedar Creek Falls, which makes it ideal for those wanting to plan a day trip here.
There are two gorgeous open spaces surrounded by lush rainforest. Here, you'll find a number of picnic tables and BBQs.
Across the road, there are also toilets.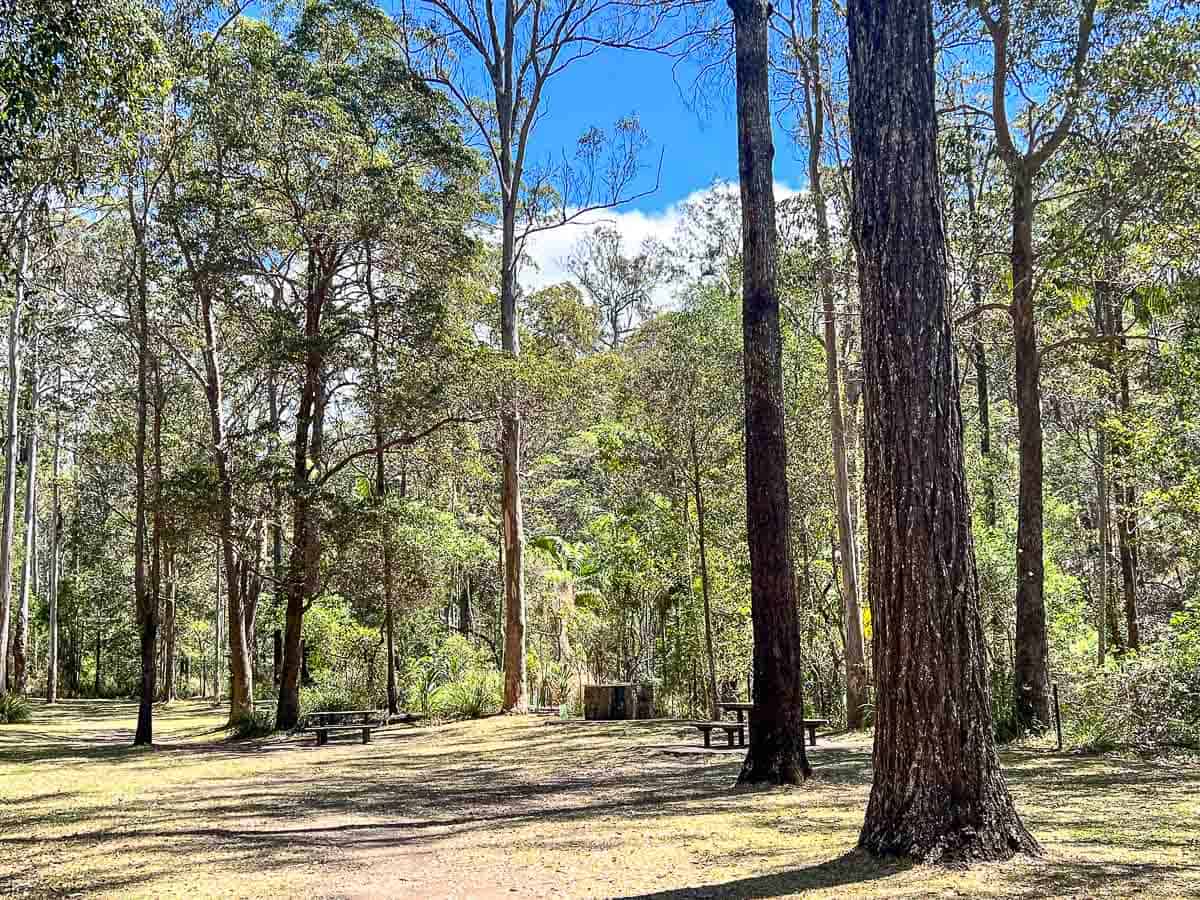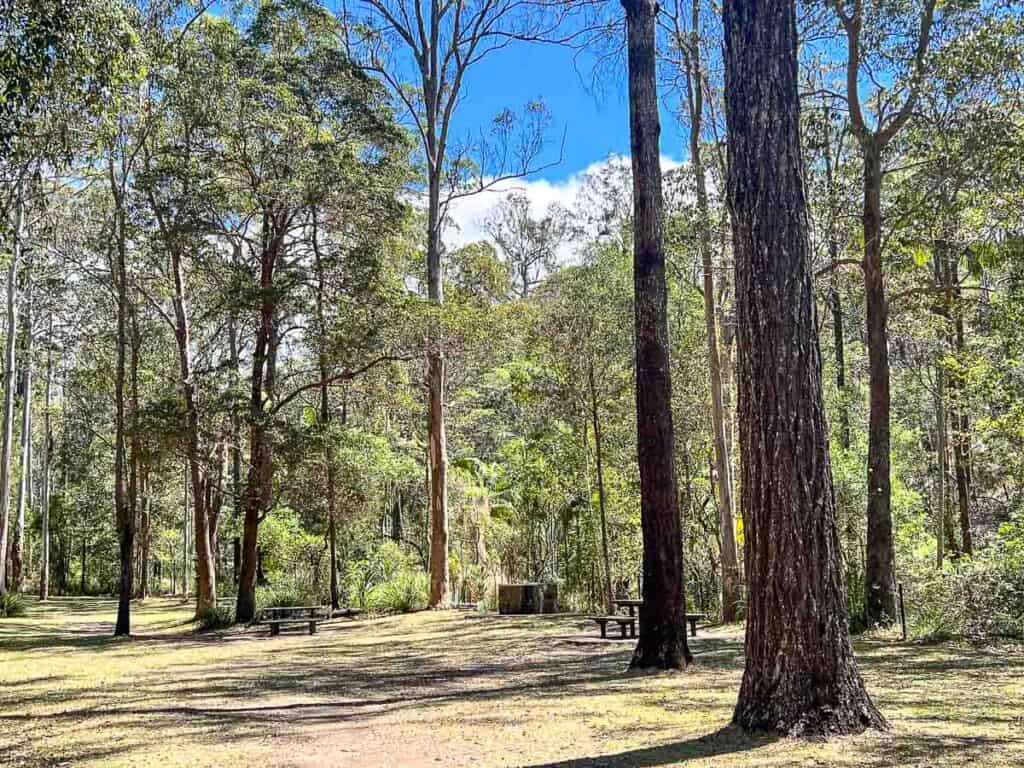 Other Cedar Creek Falls in Queensland
If you've Googled Cedar Creek Falls, you may have been a little confused as you possibly came across two other Cedar Creek Falls in Queensland.
There is actually a Cedar Creek Falls in Airlie Beach (you can find more about that one here) and a Cedar Creek Falls in Samford too.
So just be sure that any information you're reading is about the Cedar Creek Falls in Mt Tamborine.
Enjoy Cedar Creek Falls, Mt Tamborine
Hopefully, you found this guide on visiting Cedar Creek Falls helpful.
If you're heading to Mt Tamborine, you might be interested in our full guide on things to do there.  I'd also recommend you check out our full guide to the Gold Coast, which provides links to everything you need to know to plan your trip.
And why not join our free Queensland Travel Guide Facebook community, where you can ask all your questions and find even more great trip suggestions.
You may also be interested in nearby destinations: