Are you planning a trip to the Gold Coast? This article covers the best things to do on the Gold Coast, including tourist attractions, activities and places to visit.
The Queensland Travel Guide acknowledges the Traditional Custodians of the land on which the Gold Coast is situated, the people of the Yugambeh language. We pay our respects to their Elders past, present and emerging, and recognise their continued spiritual and cultural connections to Country. Always was, always will be, Aboriginal land.
There are plenty of Gold Coast things to do and see! Known for its 66 km expanse of white sandy beaches, world famous surf spots and shimmering high rise buildings, with so many top Gold Coast attractions and activities, it's no wonder this Queensland city is host to a whopping one million visitors a year!
Some of the must do activities on the Gold Coast include swimming at one of its gorgeous beaches, spending the day at one of the world famous theme parks, shopping at one of the first class shopping malls and feasting on some freshly caught seafood. Oh and don't forget a day exploring the Gold Coast hinterland too!
No matter your age or interests, there really is something for everyone on the Gold Coast. So whether you're after super fun things to do on the Gold Coast with kids, romantic things to do on the Gold Coast with that special someone, activities for those with a sense of adventure or even those after a cheap getaway, there are plenty of free things to do on the Gold Coast too.
This best things to do Gold Coast guide will help you decide exactly what to add to your itinerary. It covers a broad range of Gold Coast activities, including all the popular Gold Coast attractions, the best Gold Coast places to visit, as well as all the essential information such as locations, opening hours and ticket prices.
In addition, this Gold Coast must do guide includes tips on the best day tours and where to stay.
So let's get into it and check out the top things to do on the Gold Coast!
This post may contain compensated links. Please refer to our disclaimer here for more information.
GOLD COAST THINGS TO DO MAP
Before we get started on all the great stuff to do on the Gold Coast to help you plan your itinerary, check out the map below. This map shows the location of all the places to visit on the Gold Coast covered in this guide.
I recommend you make a short list of all the things on the Gold Coast you want to do and see and then use this map to plan your day to day itinerary so you're not travelling all over town.
BEST THINGS TO DO AT THE GOLD COAST
Below we cover the most popular Gold Coast places to go and the very best Gold Coast attractions.
1. Go to the beach!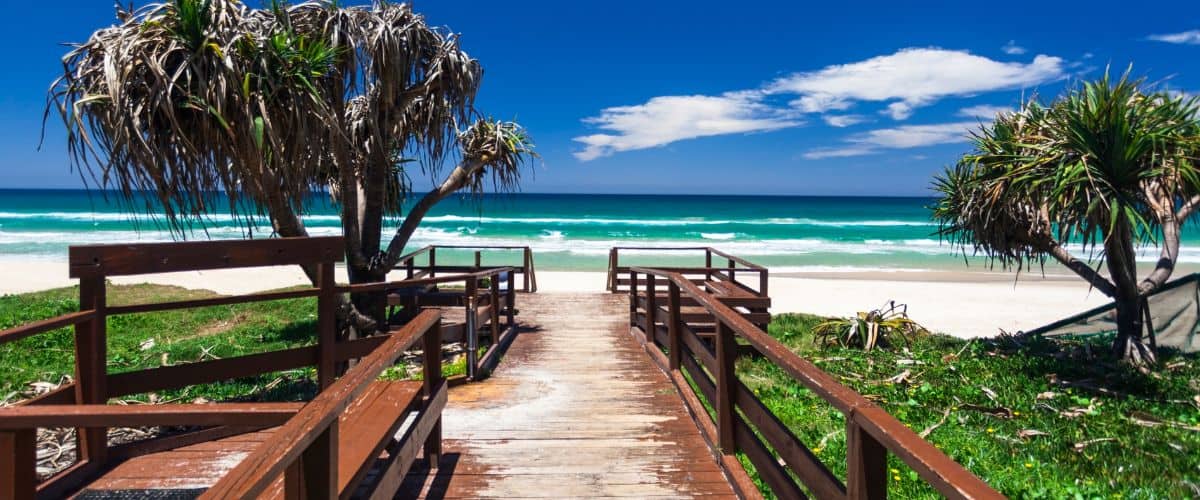 With a whopping 66 kilometres of sandy beaches, there's no doubt visiting the beach is among the top 10 things to do on the Gold Coast. A haven for lovers of sand, sun and surf, the Gold Coast boasts some of the most beautiful beaches in the world.
Whether you're into the surf, soft waves for boogie boarding or crystal clear, calm water for stand up paddling – the Gold Coast has every kind of beach.
For a good, all rounder beach, try Surfers Paradise – probably the most well known beach on the Gold Coast. Surrounded by high rises and shopping galore – this is a great beach for surf and swimming. Many sections are patrolled by Lifeguards and I highly recommend you swim between the red and yellow flags. Similar beaches that are a little quieter are Coolangattas (one of my all time favourites), Burleigh Heads and Broadbeach.
For those looking for calm waters, you can't beat Tallebudgerba, Currumbin Creek or Palm Beach. These areas are also fantastic for families looking for calmer waters for the little ones to swim. And as mentioned above, look out for the patrolled areas, as you can never be too careful in the water with little ones.
Currumbin Alley is fabulous for surfing, swimming and boogie boarding – while for those serious about their surfing, head to Snapper Rocks – home to Quicksilver's annual surfing competition. Other beaches known for great surf include Kirra, Greenmount and Currumbin.
A day at the beach is a must when visiting the Gold Coast and the best thing – it's one of the things to do on the Gold Coast for free!!!
2 Currumbin Wildlife Sanctuary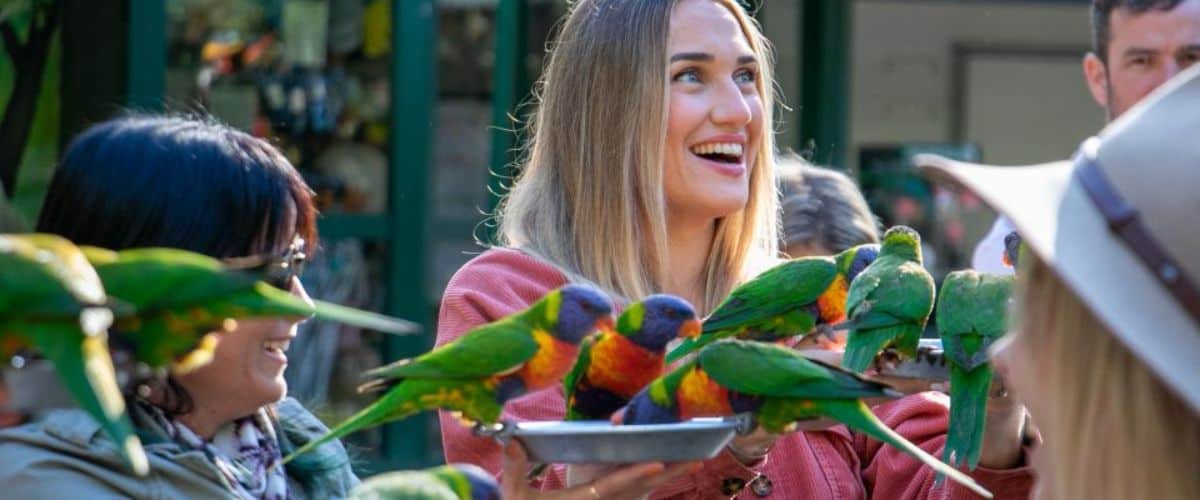 A day at Currumbin Wildlife Sanctuary is perfect whether you're looking for the best family activities Gold Coast offers or for anyone keen on seeing Aussie wildlife. The 27-hectare wildlife sanctuary is home to a wide variety of native Australian animals, including kangaroos, koalas, wallabies, crocodiles, and many others.
One of the highlights of a visit to Currumbin Wildlife Sanctuary is feeding the lorikeets. You'll need to arrive nice and early for this as it starts at 8 am. The lorikeets are wild and come for breakfast – if you're lucky, you may even end up with a few of them standing on your arm (or head) while they have a feed.
The Sanctuary actually opens at 9 am, however, the Lorikeet Feeding and Café are open from 8 am – so you can eat breakfast whilst the lorikeets do! Then wander through the park, checking out a range of Australian wildlife and other exotic animals from across the globe.
Currumbin Wildlife Sanctuary also offers a range of educational and interactive exhibits, including the Tree Tops Challenge, a high ropes course that allows visitors to experience the sights and sounds of a rainforest from above.
Like most animal sanctuaries, there is also a range of shows and presentations, including pelican and eel feeding, snakes, crocodiles, birds, the Australian show (see sheep shearing) and the Blinky Bill show.
One of the best shows would have to be the bird show. It is fantastic seeing the range of different bird species as they fly above the heads of the audience. So close that the wedge tail eagle's tail feathers brushed across my head!
For families with little ones, the park is a perfect size. You can easily get through everything in the park within a day. Plenty of playgrounds are scattered around the park so the little ones can have a break throughout the day to play.
Make sure to add the Currumbin Wildlife Sanctuary to your list of things to see on the Gold Coast.
Location: 28 Tomewin St, Currumbin
Hours: Daily from 9 am to 4 pm
Price: $54.95 per adult | $41.95 per child (3-13) | $169.95 per family (2A+2C) | Under 3s – Click here to buy tickets online
3 Sea World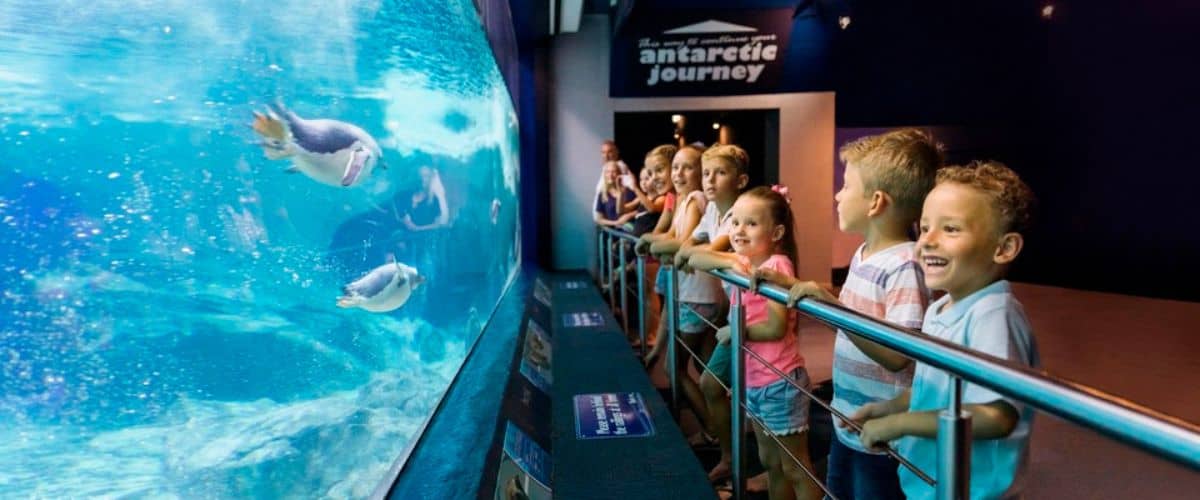 A day at Sea World is yet another one of the awesome Gold Coast things to do with kids. The marine theme park is home to various marine animals, including dolphins, seals, sharks, penguins, polar bears and more.
Seeing the animals is one of the main attractions at Sea World. To help you understand more about the animals, there are plenty of presentations you can go to and shows like the Dolphin Show and Seal Show.
In addition to the animals, Sea World has a range of rides and attractions. Older kids will love rides such as Vortex, Jet Rescue Coaster and the Storm Coaster, while little ones will love seeing Paw Patrol and Spongebob, and everyone will love the Thunder Lake Stunt Show!
And if you didn't know, Sea World has a resort on site with great family accommodation and nighttime entertainment. If you want to be close to the theme park and stay in family friendly accommodation, click here for some great Gold Coast family holiday packages.
Location: Seaworld Dr, Main Beach
Opening: Daily 9.30 am to 5 pm – although times do vary throughout the year
Price: $129 per adult | $119 per child (3-13) | Kids under 3 free – Click here to buy a 3 day pass for Sea World, Movie World and Wet'n'Wild.
4 Dreamworld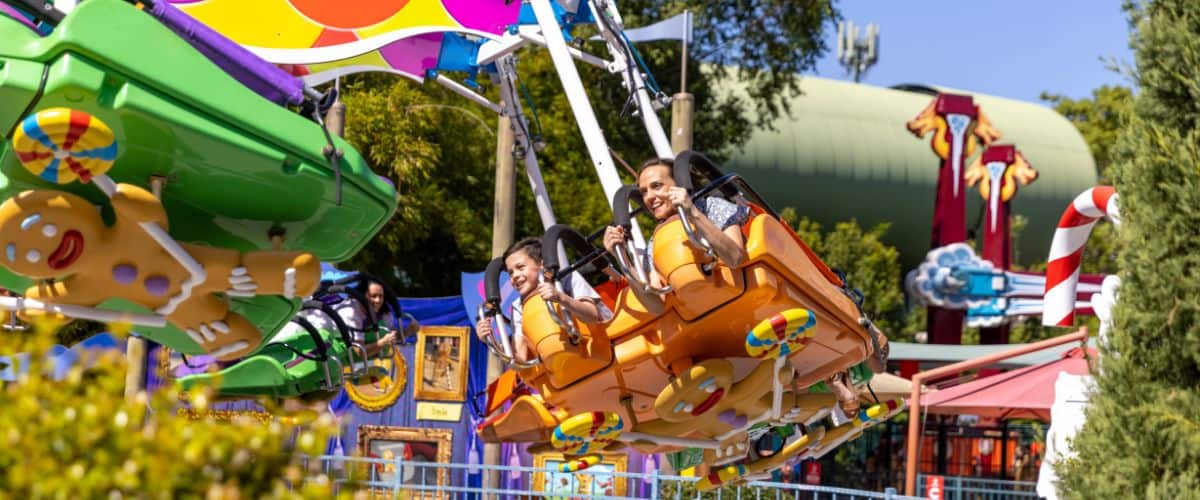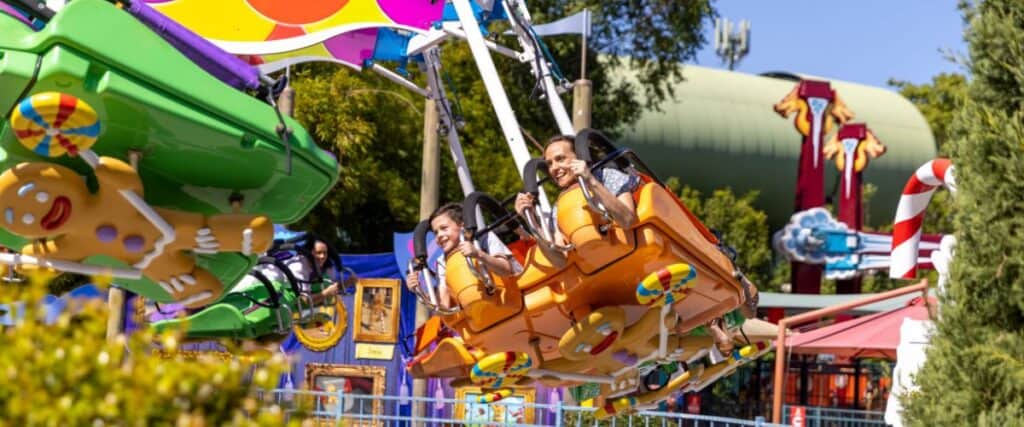 Yet another theme park on the Gold Coast! But Dreamworld is excellent for everyone, not just one of the things to do on the Gold Coast for families. With rides, shows and attractions for everyone – Dreamworld should not be missed!
Dreamworld is famous for its thrill rides including the Giant Drop (a freefall ride that takes visitors up to a height of 120 metres before dropping them back down to the ground) and the Steel Taipan – Australia's only triple launch coaster!
The little kids aren't forgotten, with areas like Wiggle World home to rides like tea cups and tiny ferris wheels. And the whole family will enjoy driving the Vintage Cars and the train – the Dreamworld express – that goes around the park.
One of the highlights at Dreamworld is Tiger Island – home to 10 Sumatran and Bengal tigers. You can watch these tigers as they play together, as well as see some of their natural behaviours during the daily demonstrations.
And that's just a touch of what Dreamworld has to offer – there is so much there that you probably won't see it all in one day. A day or two at Dreamworld is absolutely one of the cool things to do on the Gold Coast.
Location: Dreamworld Parkway, Coomera
Opening: Daily from 10 am to 5 pm – although times do vary throughout the year
Price: $129 per adult | $119 per child (3-13) | Kids under 3 are free – Click here to buy tickets online
5 WhiteWater World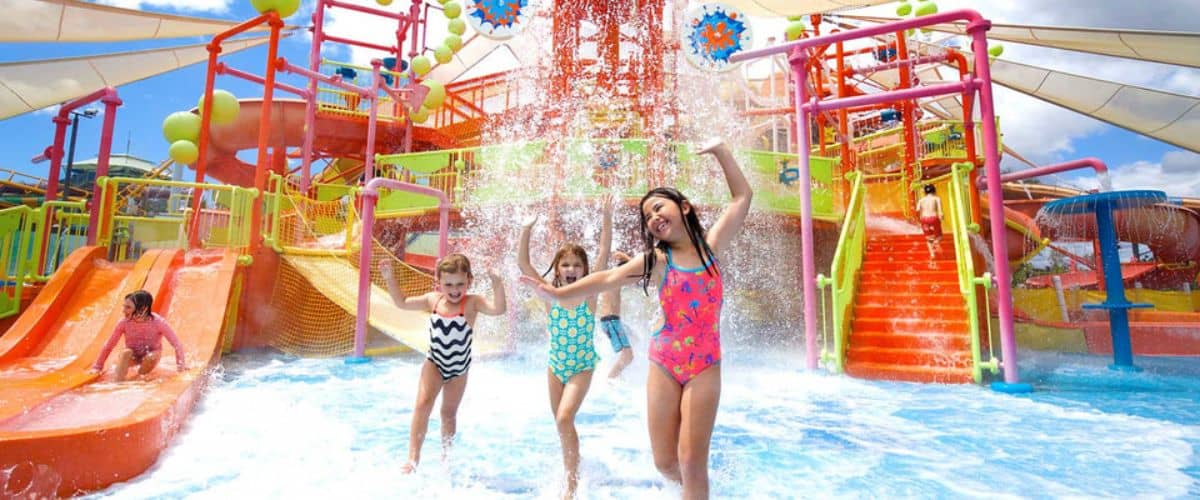 Right next to Dreamworld is WhiteWater World, one of two water theme parks on the Gold Coast and another one of the awesome fun family things to do on the Gold Coast – or for anyone who loves water slides!
One of the main attractions of WhiteWater World is the thrill rides, including the Green Room (the 4 person tube accelerates riders from a 75-metre tunnel to a 15-metre funnel before a big dropout) or The Rip (up to 4 people are launched from the 16 metre tower into 12 metres of pitch black before blasting into a massive bowl).
For the little ones, there is Wiggle Bay – home to a few little slides and a shallow pool where they can splash about. For families, there is a massive wave pool as well as slides everyone can enjoy together.
With both gentle and thrilling slides, it's perfect whether you're looking for things to do on the Gold Coast with toddlers or things to do on the Gold Coast with teenagers.
Location: Dreamworld Parkway, Coomera
Hours: Daily from 10 am to 5 pm – although times vary and only open during the warmer months
Price: $109 per adult | $99 per child (3-13) | Kids under 3 are free – click here to buy tickets online
6 Warner Bros. Movie World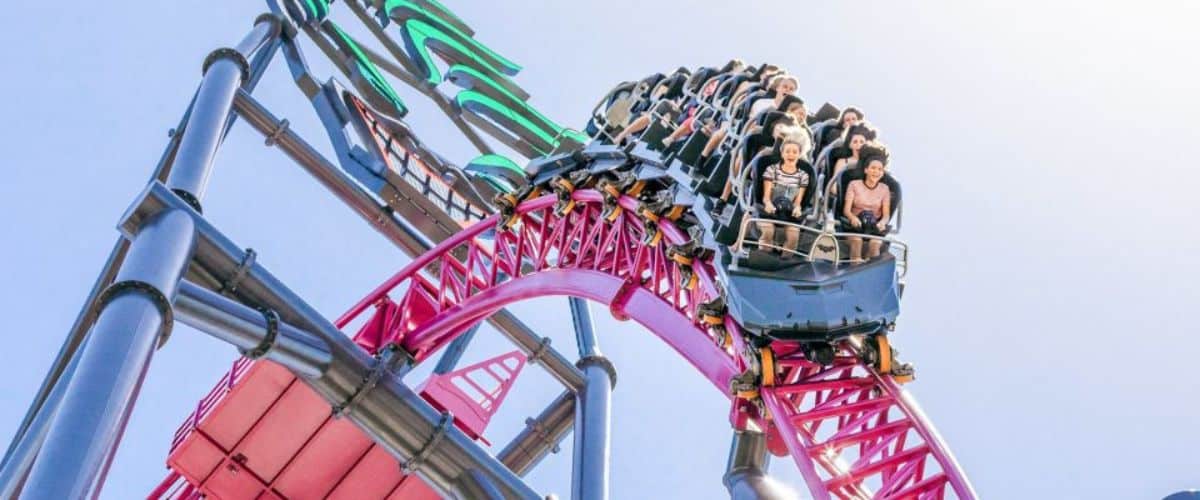 Whether you're a movie buff or just love rides, a day at Movie World is another one of the fun things on the Gold Coast. Warner Bros. Movie World features a range of exciting rides and attractions based on popular movies and television shows, including Batman, Superman, and The Looney Tunes.
Rides for the thrill-seekers include the DC Hypercoaster, Superman Escape, Batwing Spaceshot and Green Lantern Coaster, while the younger kids will love Looney Tunes Carousel, Road Runner Rollercoaster and the Junior Driving School.
Aside from the rides, there are several live shows like the Looney Tunes Musical Revue, the Hollywood Stunt Driver show and the superhero parade where the kids can meet their favourite characters.
You can get up close and personal with Batman, Wonder Woman, other iconic superheroes, and beloved cartoon characters like Bugs Bunny and Daffy Duck.
A day at Movie World is among the top ten things to do on the Gold Coast.
Location: Pacific Motorway, Oxenford
Hours: Daily from 9.30 am to 5 pm – although hours do vary throughout the year
Price: $129 per adult | $119 per child (3-13) | Kids under 3 are free – Click here to buy a 3 day pass for Sea World, Movie World and Wet'n'Wild
7 Wet 'n' Wild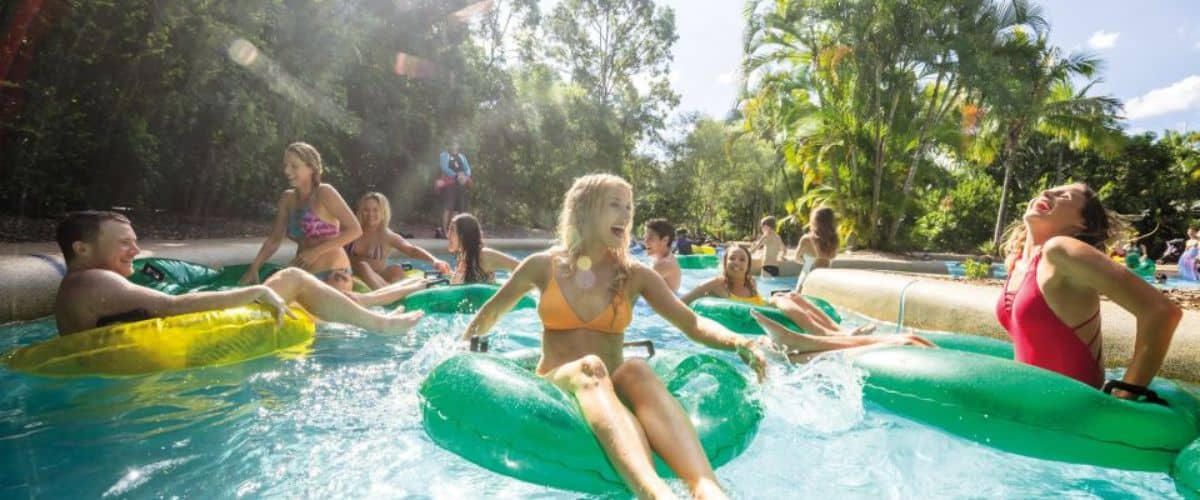 Located next door to Movie World is Wet'n'Wild – the other water theme park on the Gold Coast. This is the Gold Coast's original water park. I've been going to Wet 'n' Wild since I was a young girl and I still love it as much today!
Wet'n'Wild has some awesome waterslides! For those after the thrill slides, there's the Constrictor (you'll reach speeds of up to 30km/h as you slip and slide your way into the belly of the snake), Kamikaze (this U shaped slide has an 11m drop at a steep 70 degree angle, with speeds of up to 50 km/h) and KABOOM! (plunge down a 10 metre drop before zooming uphill at zero gravity, then twist, turn and descend at a 360-degree rotation).
For the little ones, there is the Wet'n'Wild Junior area – home to a water play structure (complete with a tipping bucket), shallow pools and some mild little slides. There's even the brand new H2Oasis with lots of interactive water play.
Of course there is the famous Wet'n'Wild giant wave pool for the whole family and Calypso Beach, where you can relax on tubes as you gently flow around the lazy river. There are also plenty of family slides you can all enjoy together.
Wet'n'Wild is one of the top 10 Gold Coast attractions – particularly on a hot day! It is a must do on the Gold Coast.
Location: Pacific Mwy, Oxenford
Hours: Daily from 10 am to 5 pm – although hours vary throughout the year
Price: $119 per person | Kids under 3 are free – Click here to buy a 3 day pass for Sea World, Movie World and Wet'n'Wild
8 Paradise Country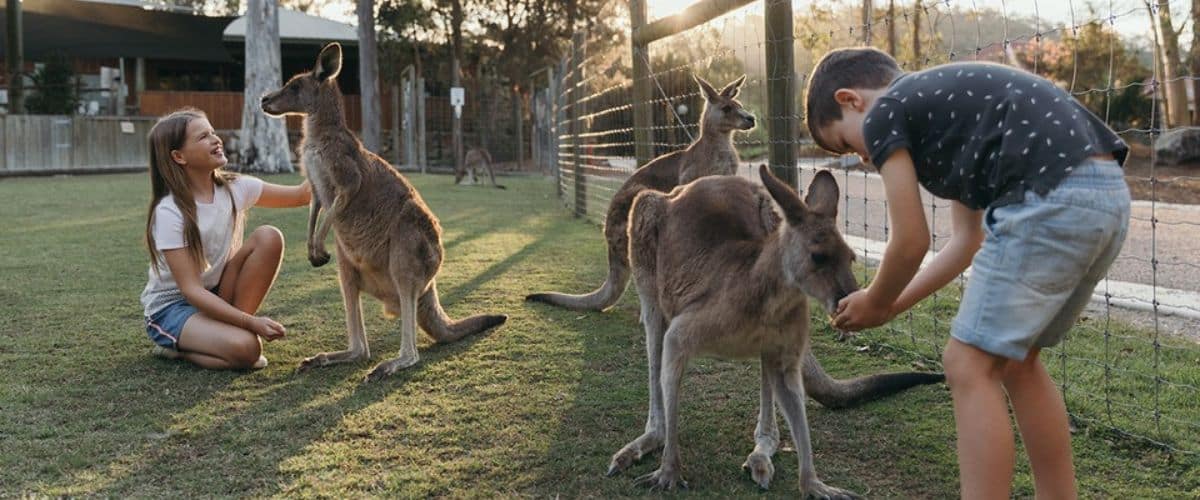 Paradise Country offers a unique blend of animal encounters, farm experiences, and traditional Australian entertainment. It's perfect for those who are seeking after fun things to do on the Gold Coast for kids, particularly if you're after things to do on the gold coast with a toddler or other young children.
One of the highlights of a visit to Paradise Country is getting up close and personal with various Australian animals. You can hand-feed kangaroos, cuddle up with koalas, and even take a pony ride.
There are also daily sheep shearing demonstrations, where you learn about the history o the Australian wool industry. Plus, there's a range of farm experiences, including milking a cow and learning about traditional farming techniques.
You can also enjoy a variety of classic Australian entertainment, such as live music and dancing, and the kids will love the Shaun the Sheep show.
In fact – why not make a few days out of it – Paradise Country has accommodation options too. Click here for more information.
Location: Production Dr, Oxenford
Hours: Daily from 10 am to 3.30 pm – although hours vary throughout the year
Price: $59 per adult | $44 per child (3-13) | Kids under 3 are free – click here to buy a 14 day pass to Paradise Country, Sea World, Wet'n'Wild and Movie World
9 Outback Spectacular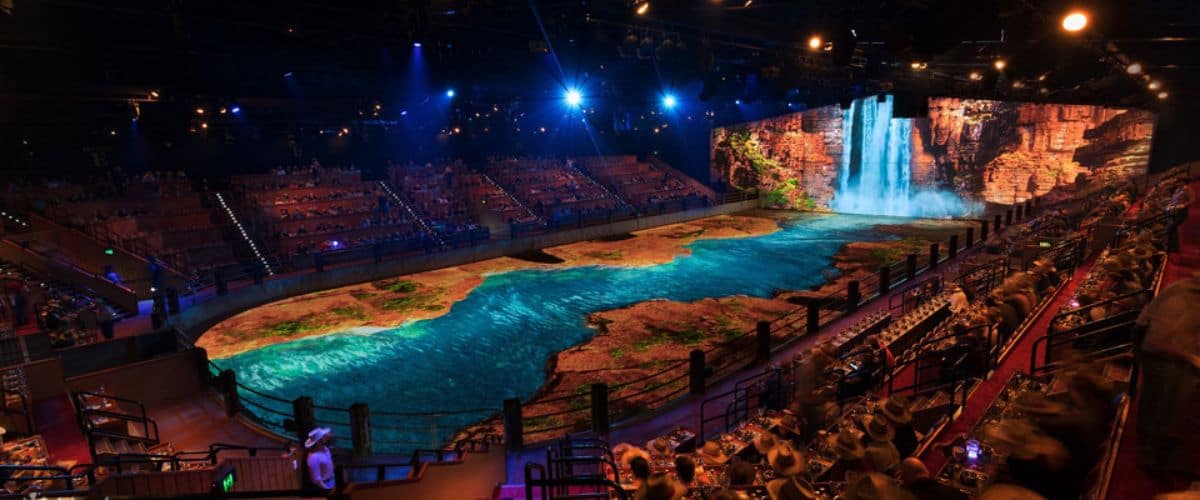 If you're looking for things to do at night on the Gold Coast, get tickets to the Outback Spectacular. This unforgettable live show offers visitors an incredible experience, showcasing many icons of the Australian Outback with a three-course dinner to boot.
The show follows the story of a group of Australian cowboys and their journey through the rugged outback fusing immersive technology with show-stopping animals. The performance features live music, dancing, and stunts, as well as impressive special effects that help bring the story to life.
Included in the 90-minute show and dinner ticket is a three-course meal, beer, wine and soft drink throughout the show, billy tea and an Australian Outback Stockman's hat.
The Outback Spectacular is one of the fabulous family or couple activities Gold Coast offers. It's certainly an experience that my entire family thoroughly enjoys.
Location: Entertainment Rd, Oxenford
Show Times: Daily at 7.30 pm | Sundays once a month at 12.30 pm
Price: $109.99 per adult | $99.99 per child (3-13) | Kids under 2 are free (but no seats or meal included) – click here to buy tickets online
10 Jellurgal Aboriginal Cultural Centre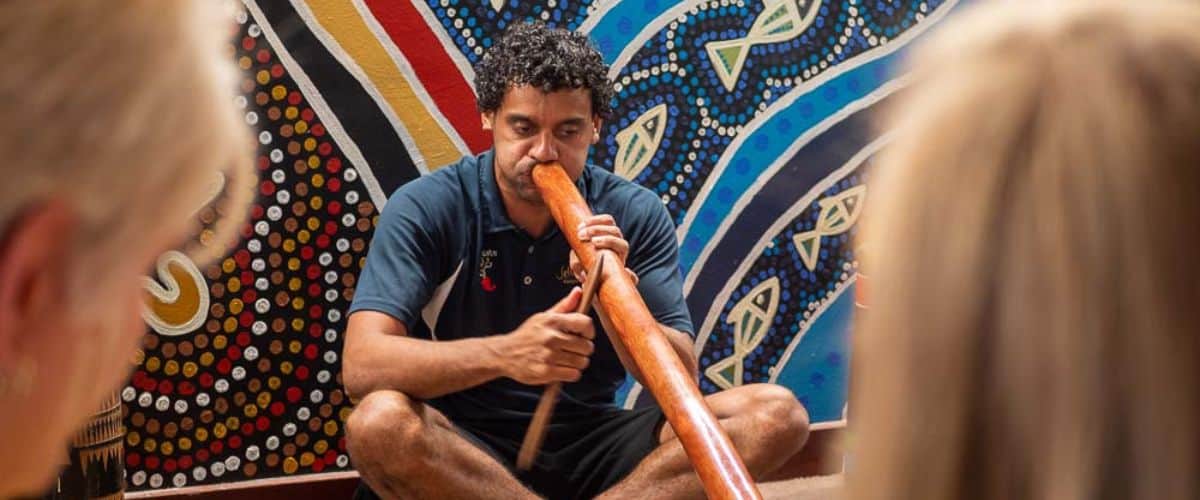 Image credit – Tourism and Events Queensland
Jellurgal Aboriginal Cultural Centre offers visitors the opportunity to learn about the Gold Coast area's rich and diverse Aboriginal history. It's the region's only dedicated Aboriginal cultural centre and is fully owned and operated by the local Aboriginal community.
The centre offers a range of tours where you'll take a guided walk around the Burleigh National Park and see a range of environments, flora and fauna. It's an easy walk suitable for most. Along the way, you'll hear the Dreaming stories associated with the creation of Jellurgal and all about traditional life, bush tucker, fishing, hunting and important ecological practices.
After the tour, you're welcome to browse around the Art Gallery, where you can see Aboriginal artefacts such as dilly bags, shields, tools, boomerangs, nulla nullas, message sticks, didgeridoos and other tools and instruments that were part of Aboriginal daily life.
There is also an informative boardwalk storyboard display where you can further explore the traditional lives of the Yugambeh speaking people.
Location: 1711 Gold Coast Hwy, Burleigh Heads
Hours: Weekdays 9 am to 4 pm | Saturdays 9 am to 12 pm | Tour times vary – check their website for more information
Price: It's free to enter the centre – tours are $39 per adult | $20 per child (5-14)
11 Infinity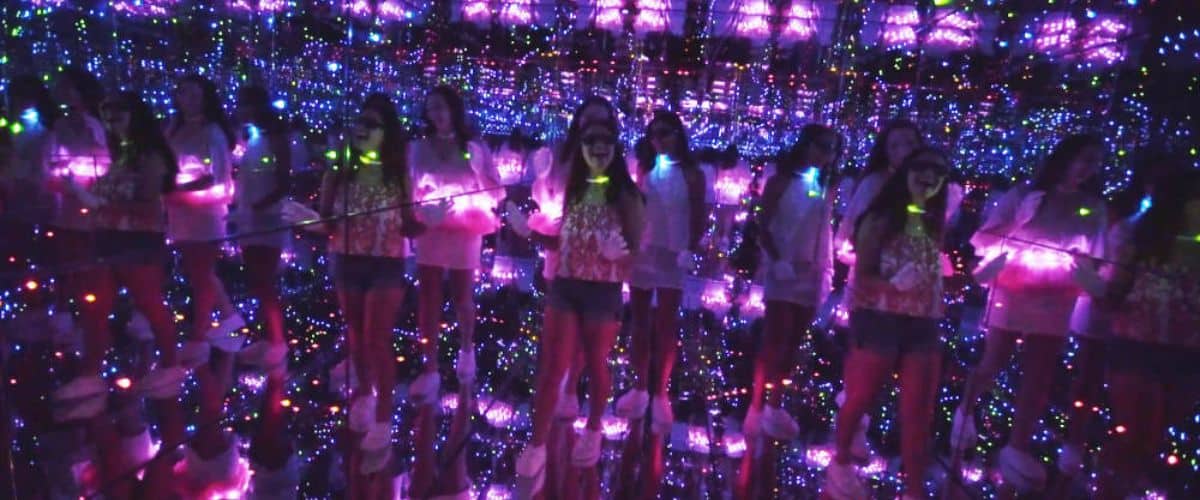 One of the fun things to do at the Gold Coast is visit Infinity! Infinity is a funhouse, an interactive and immersive attraction featuring a range of special effects and illusions designed to test your senses and challenge your perception of reality.
At Infinity, you'll embark on a journey through a series of themed rooms, each with its unique atmosphere and challenges. You'll encounter illusions and special effects that will challenge and delight visitors of all ages.
Allow around 30 minutes to one hour to make your way through Infinity.
Location: G31 Chevron Renaissance Centre, 3240 Surfers Paradise Blvd
Hours: Daily from 10 am to 10 pm
Price: $28.90 per adult | $19.90 per child (4-13) | Family Pass (2A+2C) $82.90 – click here to buy tickets online
12 Take a surf lesson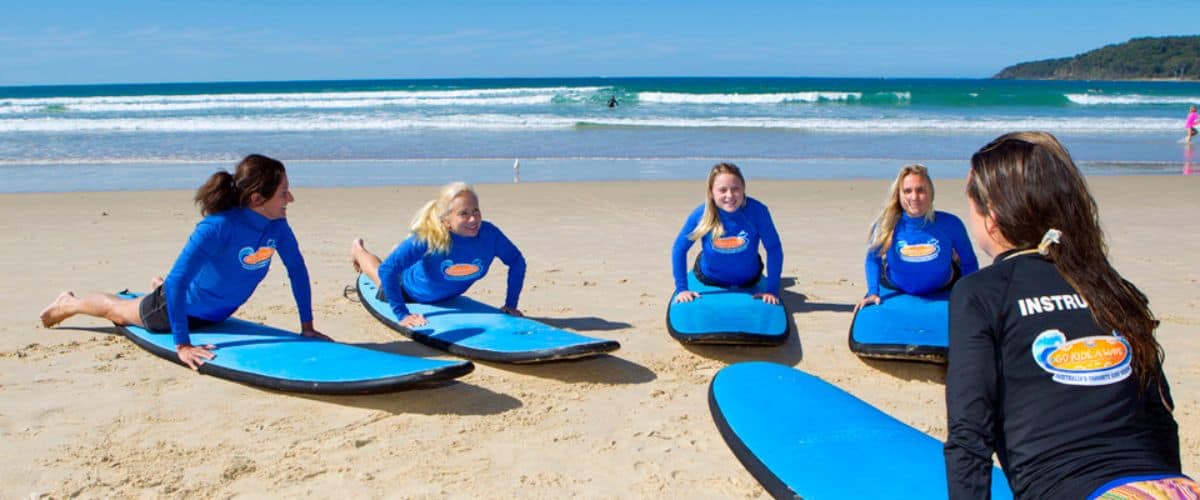 If you're up for it, one of the cool things to do down the Gold Coast is to take a surf lesson! Given the Gold Coast is known for its awesome surf – there are several operators and places where you can take a lesson – regardless of your surfing ability.
Most surf lessons include instructions on paddling, balancing, and riding a wave, as well as basic surf safety and ocean awareness. Generally, all the necessary equipment, including a surfboard and wetsuit are provided, so you don't need to worry about bringing your own.
It's a good idea to book your surf lesson in advance, especially during peak season, as classes can fill up quickly. Consider your skill level and choose a lesson that is appropriate for you.
Beginner lessons are usually available for those new to surfing, while intermediate and advanced lessons are typically geared towards more experienced surfers.
A range of operators offer surf lessons – click here to see what's available.
13 Ripely's Believe it or Not
Ripely's Believe it or Not is one of the most popular attractions in Surfers Paradise, which features over 300 exhibits. There's everything here, from shrunken human heads to rare animal skeletons, as well as a mix of strange stories, unusual feats, and hair-raising oddities from around the world.
There are plenty of interactive exhibits to keep even the young visitors engaged – You can compare your height to the tallest man, walk through the spinning vortex or, just like the movies, make your way through the laser room without being touched by a laser beam.
My daughter claims Ripley's as one of her favourite attractions on the Gold Coast!
Location: Soul Boardwalk – Cavill Ave, Surfers Paradise
Opening Hours: Daily from 9 am to 10 pm
Price: $30.90 per adult | $25.90 per child (13-17) | $20.90 per child (5-12
14 SkyPoint Observation Deck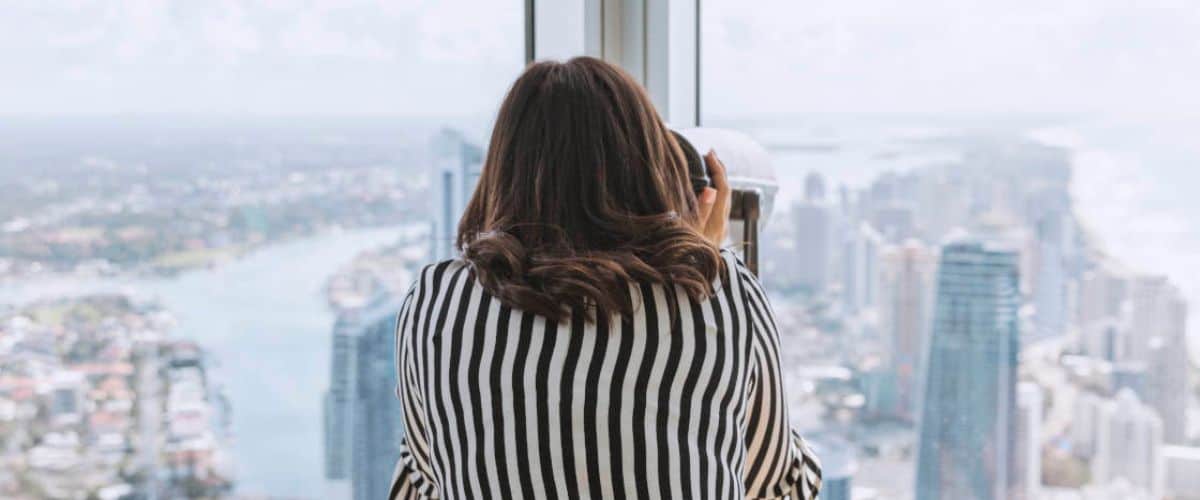 Top things to do in Surfers Paradise include visiting the top of Q1 at the SkyPoint Observation Deck. Here you can stand on the Gold Coast's highest building at 77 floors and 322 metres to get the best possible view of the city.
For those who are super brave, you can get outside level 77 and climb even further to a peak height of 270 metres above sea level, with uninterrupted 360 degree views of the greater Gold Coast.
There is also a Bistro and Bar at SkyPoint, where you can grab a bite to eat or something to drink while you're there.
Location: Level 77, Q1 building/9 Hamilton Ave, Surfers Paradise
Hours: Daily from 7.30 am to 6.30 pm (open 7.30 pm on Friday and Saturday) closed on Tuesdays – hours may vary, so do check
Price: Observation Deck: $31 per adult | $23 per child (3-13) | Family Pass (2A+2C) $85- click here to buy tickets online
15 Gold Coast Wax Museum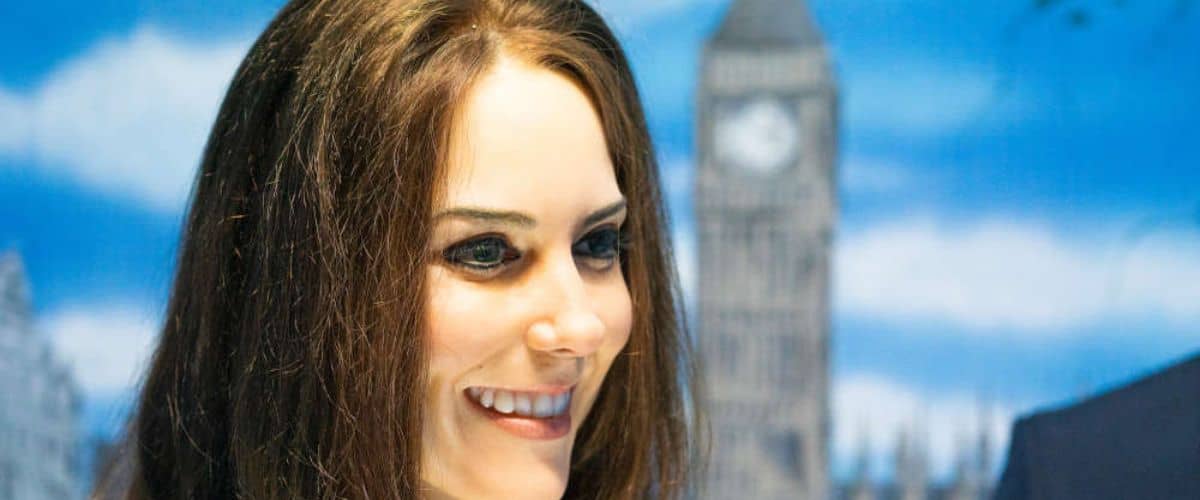 The Gold Coast Wax Museum is home to the southern hemisphere's largest collections of wax figures. Here you'll find famous faces who made world history – from the likes of Michael Jackson to our very own Kylie Minogue – a gruesome torture chamber, and much more.
Location: 56 Ferny Ave, Surfers Paradise
Hours: Daily from 10 am to 6 pm
Price: $33 per adult | $26 per child | $96 per Family Pass (2A+2C) – click here to buy tickets online
16 Go fishing
One of the loved outdoor activities Gold Coast offers visitors is fishing! Some more popular places to throw in a rod include the Broadwater, the Tweed River, the Gold Coast Seaway, Tallebudgera Creek and Currumbin Creek.
You're welcome to bring your own fishing gear. You won't need a licence, but regulations do apply – so make sure you familiarise yourself before heading out.
Alternatively, join a fishing exception – like this half day one. That way, all the gear is provided for you, and having your own professional guide will ensure you get a great catch!
Either head out solo or grab the kids or a couple of mates to go with – it's one of the great holiday activities Gold Coast has.
17 Go jet boating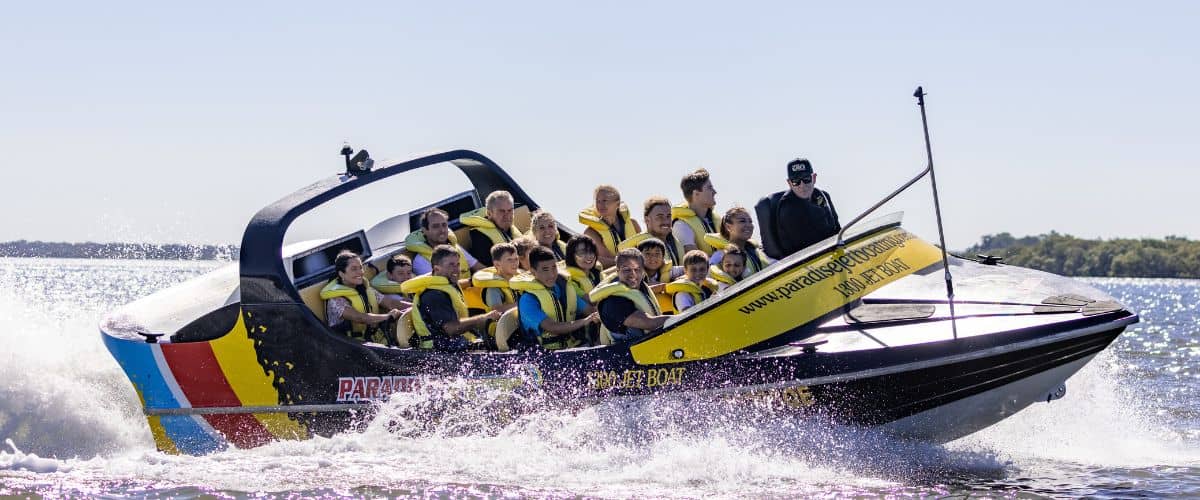 Thrill seeker with a thirst for adventure? Then jet boating is one of the exciting things to do on the Gold Coast you'll want to try out!
An extreme jet-boat experience is guaranteed to get your heart racing – plus, it's a memorable way to see some of the Gold Coast's most stunning scenery. You'll love shimmering across the local waterways on a purpose built, adrenaline-filled jet boat.
A range of operators offer jet boating on the Gold Coast – click here to see what's available. Jet boating is certainly one of the fun activities to do on the Gold Coast.
18 Go whale watching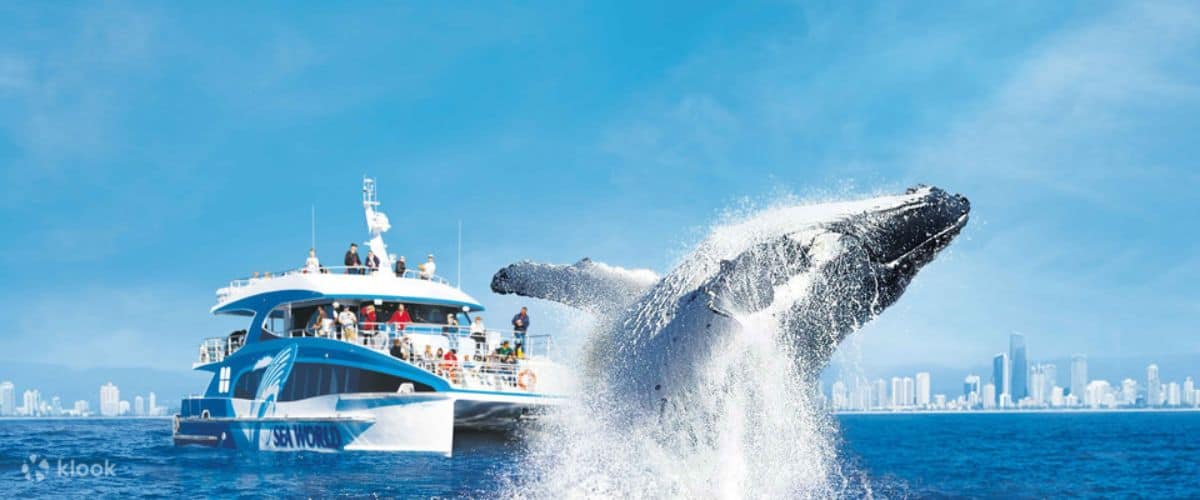 Whale watching season runs from May to October, and during this time, you can see thousands of humpback whales migrating north to warmer Queensland waters all the way from Antarctica. They pass up the coast and back down the coast once they have calved. Whale watching is undoubtedly one of the best activities to do on the Gold Coast.
You can try your luck and spot whales from one of the elevated headlands along the coast, as the whales come quite close to shore. Recommended spots to see the whales include Point Danger, Greenmount, Kirra Hill, Currumbin Rocks, Tumgun Lookout within Burleigh Heads National Park and North Burleigh/Miami Headland.
But a whale watching cruise really is an unforgettable experience; it's a once in a lifetime opportunity to see these majestic creatures up close and in their natural habitat. You'll also receive educational commentary onboard, so you'll come away knowing more about whales than before the cruise.
Several boats around the Gold Coast offer Whale Watching tours. Click here to see what whale watching cruises are available.
19 Do a tandem skydive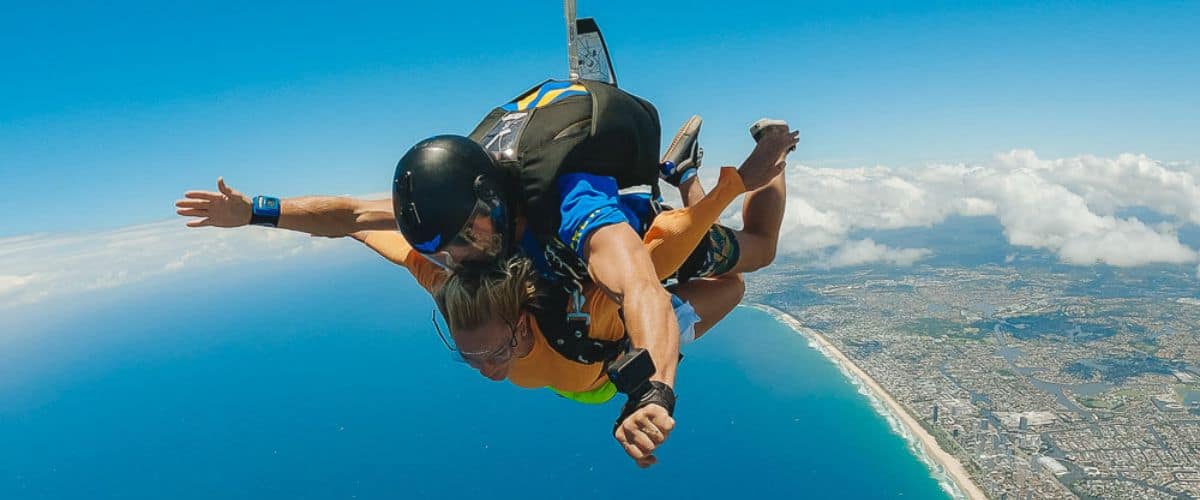 If you're something of an adrenaline junkie who wants to see the Gold Coast like never before? Try a tandem skydive. An unforgettable adventure and one not for the faint hearted. It offers views of the Gold Coast that thrillseekers adore!.
The ultimate adrenaline rush, skydivers will enjoy a 10,000ft drop before free-falling at over 200 km per hour. Thrill-seekers only need to apply.
There is a range of operators to choose from on the Gold Coast, such as Skydive Australia – click here for more information.
20 Honeyworld
Bees are mighty fascinating little creatures, and you learn all about their busy work at Honeyworld. Honeyworld is home to millions of bees, where visitors have an unrivalled opportunity to observe the amazing behind-the-scenes process around what happens when a bee makes honey.
Honeyworld offers guided tours, where visitors can watch a live beekeeping demonstration and taste different types of honey. There is also an extensive range of delicious honey products available for purchase.
Location: 35 Tomewin St, Currumbin
Hours: Daily from 10 am to 4 pm
Price: Free
21 Try stand up stand up paddleboarding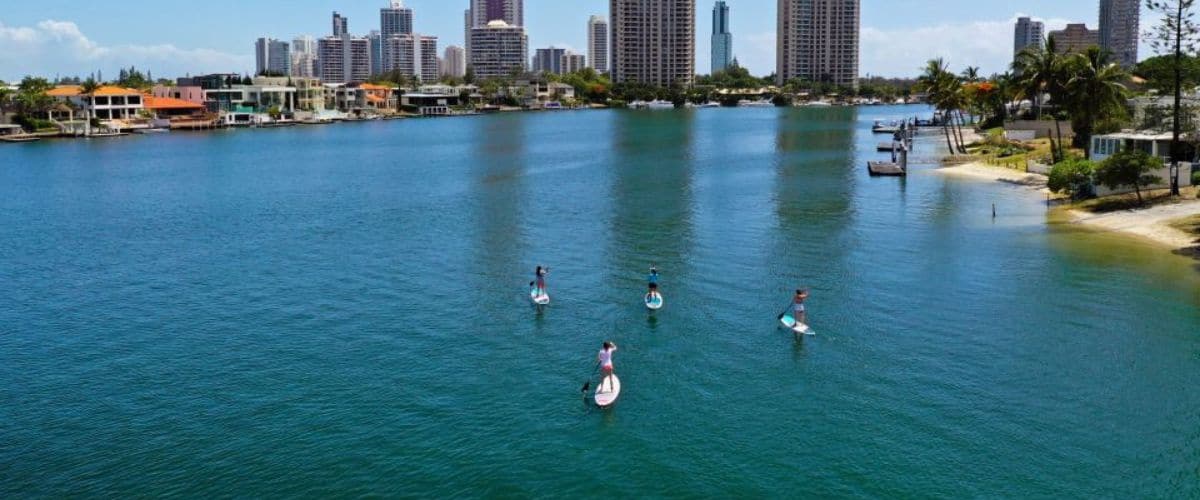 Whether a beginner or something of a seasoned pro – there are some great places to go paddleboarding on the Gold Coast.
The best places to go paddleboarding include Currumbin Creek, Tallebudgera Creek, The Spit and the Broadwater – all perfect for beginners.
You can either bring your own gear or hire from the providers – there are a few rental shops around the Gold Coast and some even on the beach. Another option is to join a guided tour – a great way to explore the waterways.
Click here to check what paddleboarding options are available.
22 David Fleay Wildlife Park
David Fleay Wildlife Park is in the heart of Burleigh Heads. Founded by Dr David Fleay (a pioneer in the field of wildlife conservation in Australia) in 1951, the small wildlife park is home to a wide variety of native Australian animals. It works to conserve and protect endangered species.
This is a great place on the Gold Coast to learn about and interact with native Australian animals. The park is home to kangaroos, wallabies, koalas, echidnas, and reptiles. And many bird species include emus, galahs, and kookaburras.
You can explore the park on your own or join the rangers on one of the daily wildlife shows.
Location: Loman Lane, Burleigh Heads
Hours: Daily from 9 am to 4 pm
Price: $26.15 per adult | $11.85 per child |$66.90 Family Pass (2A+2C)
23 Hire a jet ski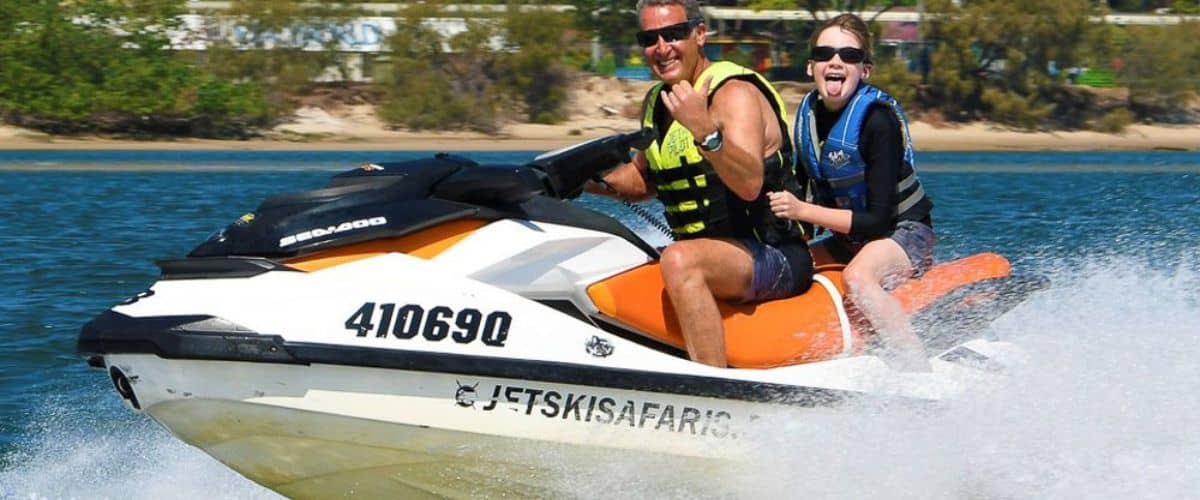 Another super fun way to explore the Gold Coast waterways is via a jet ski. Bring your own if you're lucky enough to own one or rent one from the several operators around town. The Broadwater is a popular place to jetski – here you can zip around a circuit for a set time.
Better yet – why not join a jet ski tour where you get the experience of zipping around on a jet ski while exploring the Gold Coast.
Click here to see what jet ski options are available.
24 Take a sunset cruise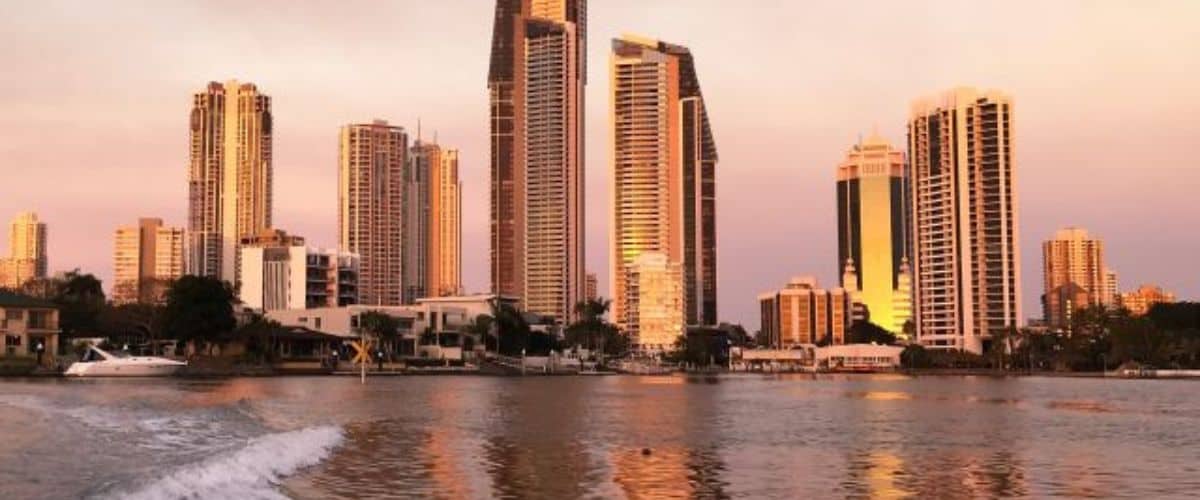 If a jet ski tour is a bit much for you – how about a more relaxing sunset cruise? Cruising around the Gold Coast canals with a drink in hand as the sun sets is a fantastic way to end a day of sightseeing.
Several tour operators offer sunset cruises. Some take you around the canals, while others go on the ocean. Some include a drink or two, while others provide dinner.
Click here to see what sunset cruises are available.
25 Browse Gold Coast's markets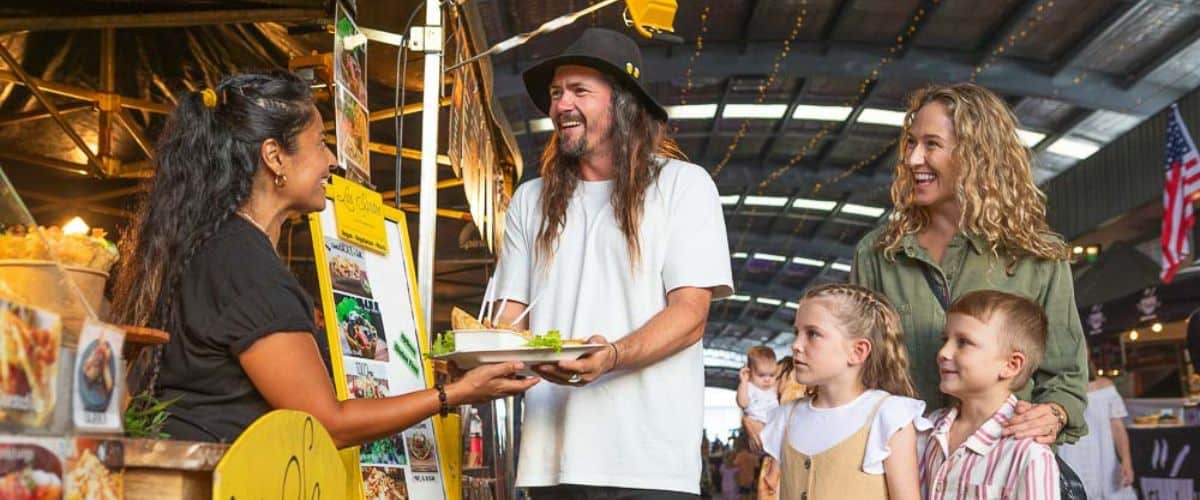 Image credit – Tourism and Events Queensland
Exploring the markets is a great option if you're looking for a fun way to spend a few hours on the Gold Coast. The Gold Coast has many markets, including farmers markets, vintage markets, and artisan markets and are the perfect place to find unique products and support local businesses.
The markets at Surfers Paradise are held along the beachfront on Wednesdays, Fridays and weekends from 4 pm to 9 pm and feature a range of stalls selling all kinds of wares such as crafts, clothing and jewellery.
You then have the Miami Marketta – a food and craft market held on Wednesdays, Fridays and Saturdays from 5 pm – selling a range of goods and yummy food. They also have live music, craft beer and local wines.
One of the biggest and oldest markets on the coast would have to be the Carrara Weekend Markets. Here you'll find over 300 stalls selling absolutely everything! Plus, you've got live entertainment and more.
That's just a small selection of markets available on the coast. So no matter where you're staying, there's likely to be a market worth exploring close by.
26 Do a coastal walk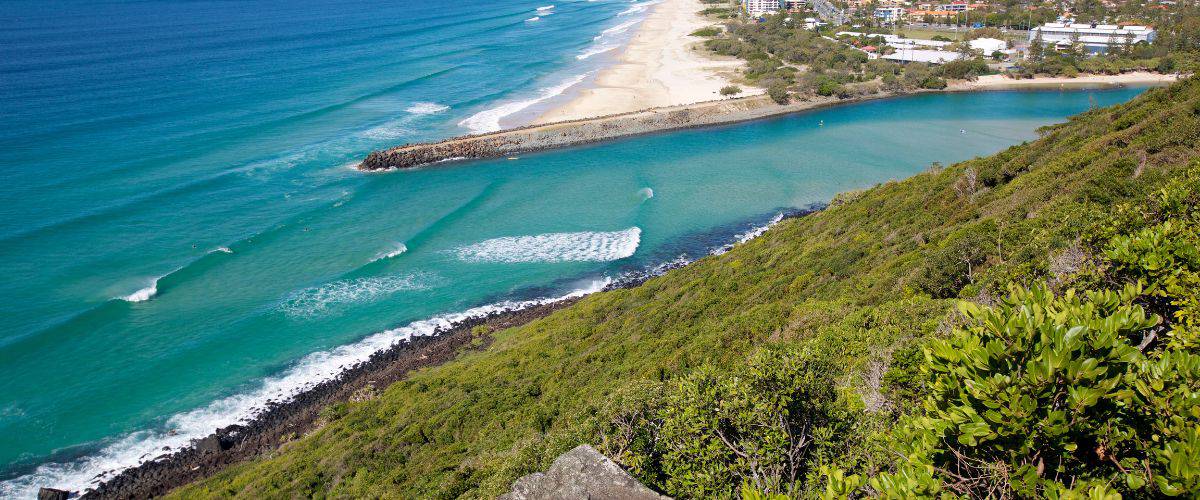 If it's not warm enough for you to get into the water – why not view it from one of the various coastal walks? With over 50 km of pathways – which pass through some of the coast's most popular destinations, including Burleigh Heads National Park, Surfers Paradise and Coolangatta – passing gorgeous beaches, rugged rock pools and bushland.
The pathways are flat and suitable for all fitness levels- you can even ride a bike! Choose a starting point from wherever you like, and walk as far as you want. There are plenty of places to stop along the way for a cold drink or even a bite to eat.
27 HOTA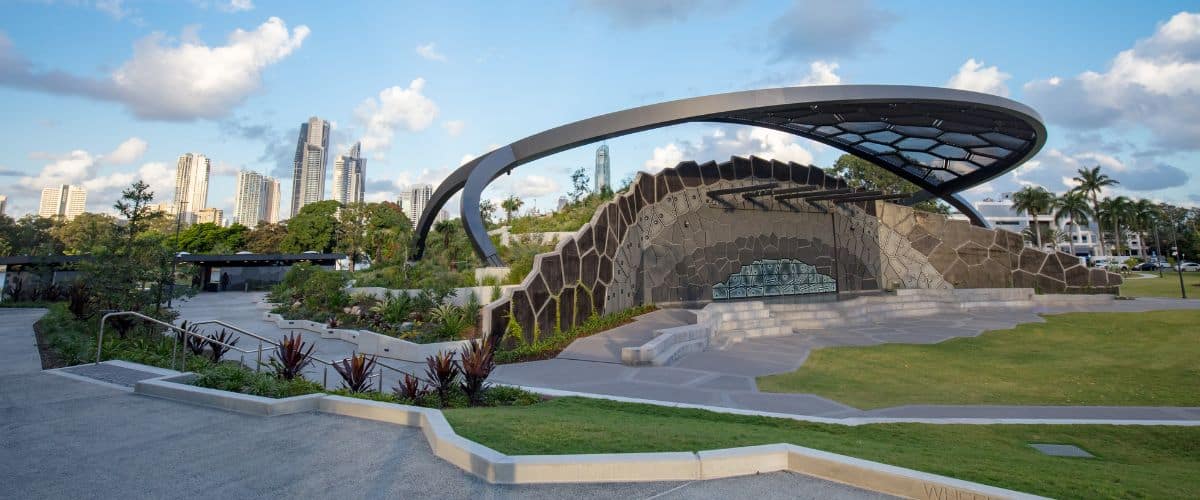 HOTA – or Home of the Arts – is a place that fuses art, entertainment, culture and lifestyle. The centre includes a range of facilities, including a theatre, gallery, and outdoor amphitheatre, and hosts various performing arts, visual arts, and community events.
The gallery is worth a look – displaying a range of artworks – including a children's gallery. There is also a restaurant, bar and cafe and don't miss the top floor, which has fabulous views across the surrounding area.
Location: 135 Bundall Road, Surfers Paradise
Hours: Daily from 10 am to 5 pm, Monday to Thursdays & Weekends | 10 am to 8 pm Fridays
Price: Free to visit, but you need to pre book a ticket and some events will have a fee
28 Take a segway tour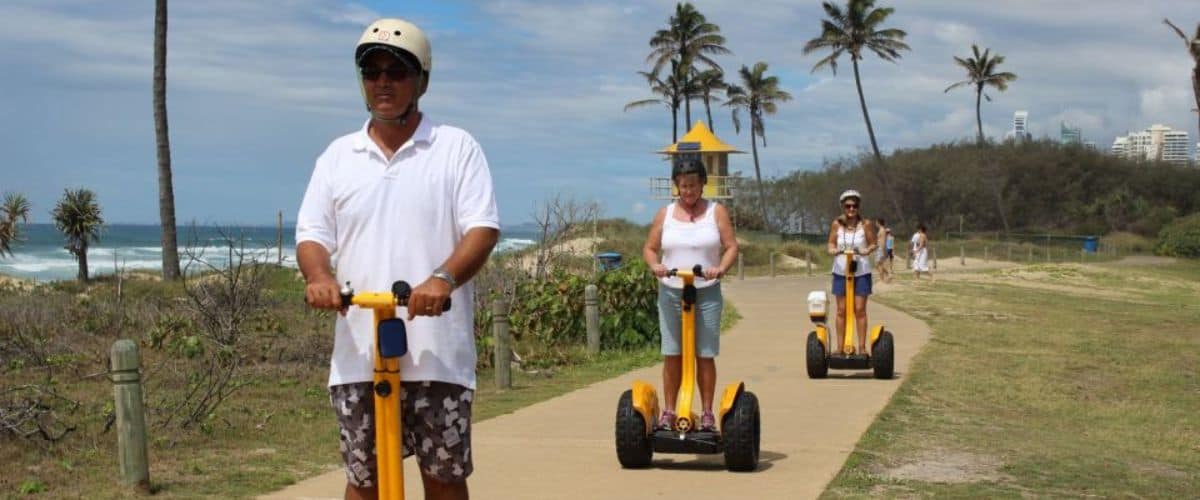 I know you've all seen a segway by now – but have you ever tried one? If not – why not consider a segway tour passing some of the most iconic spots on the Goldie?
A range of operators offer segway tours on the Gold Coast – like this one over 90 minutes takes you all around the Broadwater.
29 Hire a boat on the Gold Coast canals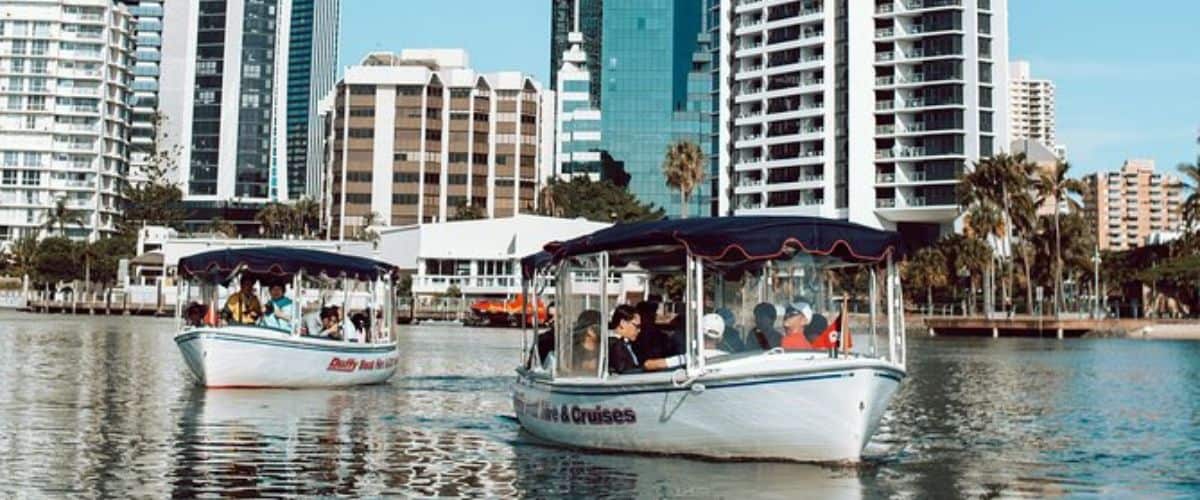 If you want to explore the Gold Coast canals at your own leisure, you can hire your own boat. There are boats for all levels of experience and a boating license is not even required. There are options for an hour, half a day, or even a week.
This one accommodates up to 10 people and the boat is out for up to 4 hours.
30 Go mountain biking
If you enjoy bike riding, then an unmissable way to experience some of the Gold Coast's most beautiful scenery is by mountain bike. There are several trails around for all levels of fitness. You'll find bike trails in places such as Nerang National Park, Currumbin Valley and Tallebudgera Valley.
Bring your own bike with you, or hire one if you like. Better yet – join a guided tour like this and let someone else take care of all the gear for you.
31 Ride the Aqua Duck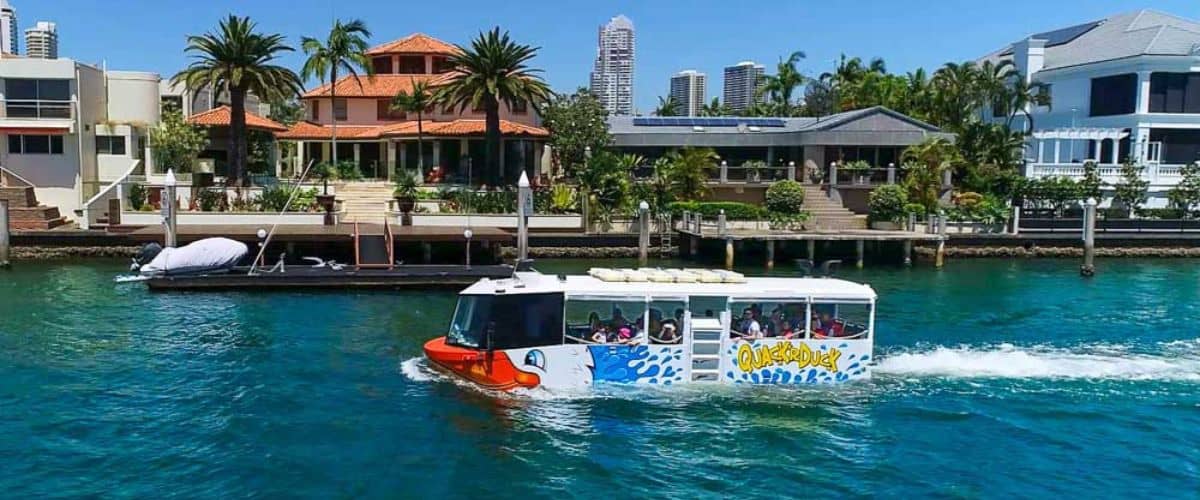 Yet another interesting way to explore the Gold Coast Water Ways – on land too – is via the Aqua Duck. The Aqua Duck is an amphibious vehicle capable of going on land and water.
From your meeting point, you'll drive the streets of Surfers Paradise – before hitting the water to cruise the Gold Coast canals. If you have kids with you – they may be invited to captain the boat for a short period.
Location: Cnr Elkhorn Avenue and Orchid Avenue, Surfers Paradise
Hours: Tours are daily with multiple times to choose from
Price: $45 per adult | $35 per child (2-16) | $149 Family Pass (2A+2C) | Kids under 2 on laps free – click here to book tickets online
32 Go Snorkeling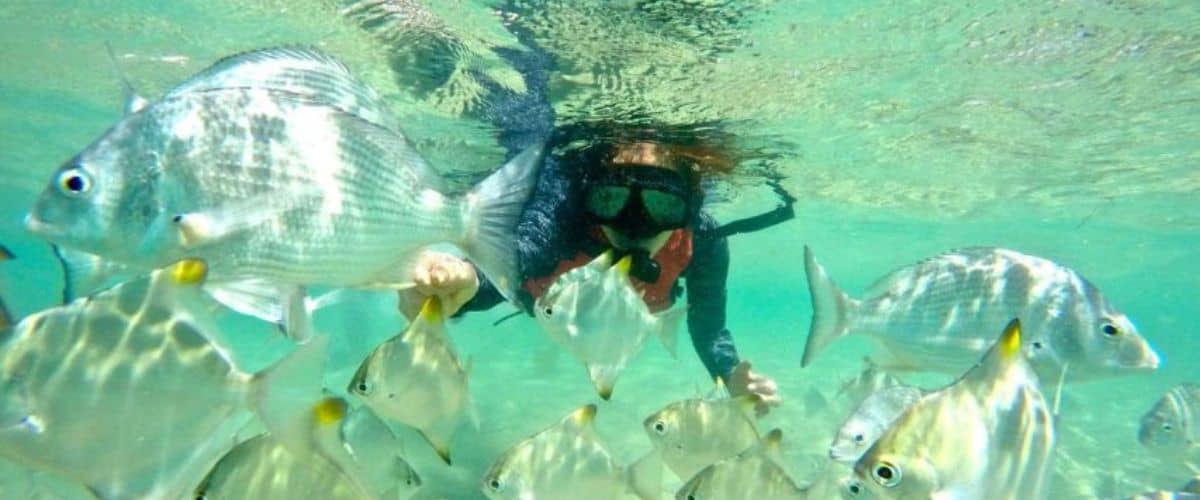 While the Gold Coast is not generally known for its snorkelling, there are a few places to see marine life. Wavebreak Island or Cook Island (technically in the Tweed) are good for seeing a range of fish, rays and even turtles if you're lucky!
You will need to join a tour to snorkel at Wavebreak or Cook Island – but it's worth it if you have the time.
GOLD COAST DAY TRIPS
While there are so many places to go on the Gold Coast – if you're keen, there are a few nearby that make great day trips. It is recommended you stay at least a few days in each of these areas, but if you only have a day, then a day trip is possible.
Gold Coast Hinterland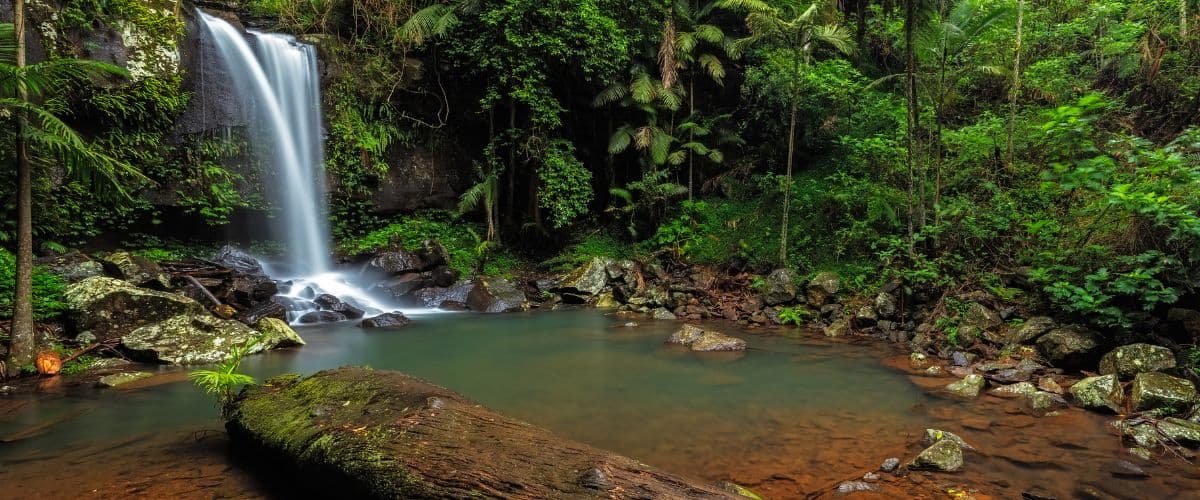 About an hour's drive Inland from the Gold Coast – is the stunning Gold Coast Hinterland. A picturesque part of southeast Queensland known for its natural beauty, small villages and local produce.
Home to several national parks (including Lamington National Park, Springbrook National Park, and Tamborine National Park), the hinterland is perfect for those who enjoy hiking, picnicking, and birdwatching. The parks are also home to various native plants (some ancient trees in the lush rainforests of Lamington National Park date back 5000 years) and animals.
In addition to the beautiful National Parks, the hinterland is home to several small towns and villages, including Mt Tamborine, Canungra, and Beechmont. These communities are known for their quaint charm and offer a range of accommodations, dining, and unique shopping options for visitors.
For wine lovers, you'll be pleased to know that the region has an emerging wine industry, with many local wineries producing high-quality wines from grapes grown in the area's rich, volcanic soil. This makes the hinterland a popular destination for wine tastings and winery tours.
While we recommend hiring a car and exploring the area on your own, there are several tours you can join to explore the area. For example, you could take a day trip to see the highlights of Tamborine Mountain, visit the popular Natural Bridge during the afternoon, spend the day tasting the region's beautiful wines, spot glow worms during an evening walk or take a bird's eye view of the region from a hot air balloon.
Byron Bay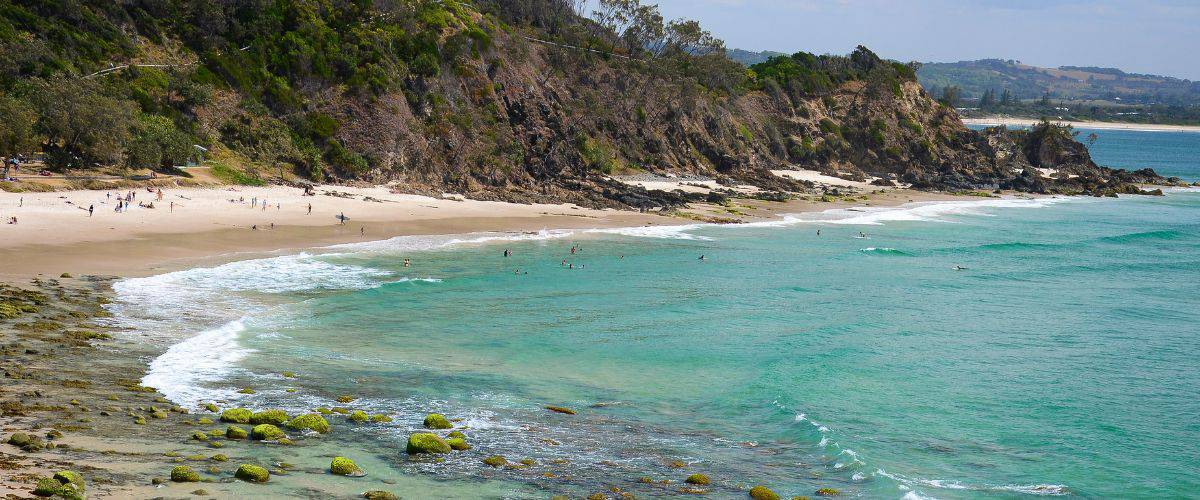 Byron Bay is a coastal town in New South Wales, about a 90 minute drive south of the Gold Coast. Known for its laid-back, bohemian atmosphere, Byron Bay is a popular tourist destination for those looking to relax and enjoy the area's natural beauty and experience its vibrant arts and culture scene.
One of the main attractions of Byron Bay is its stunning beaches. The town is home to several, including Main Beach, Wategos Beach, and Clarkes Beach. These beaches are popular for swimming, surfing, and sunbathing.
The town has many walking trails, including the Cape Byron Walk, which offers panoramic coastline views and is a popular spot for whale watching (seasonal: July – October.)
In addition to its natural beauty, Byron Bay is known for its vibrant arts and culture scene. The town is home to several galleries, studios, and performance spaces, as well as several festivals and events throughout the year, like the Byron Bay Blues Festival (April) and Splendour in the Grass (July.)
Byron Bay is a popular destination for foodies, with various dining options available, from casual cafes and restaurants serving local seafood and produce to fine-dining establishments offering gourmet dishes. The town is also home to many farmers' markets and organic food stores, making it a great place to find locally-grown, fresh produce.
To explore Byron Bay it's best to drive yourself, but if you don't have transport, you can join a tour like this one.
BEST HOTELS ON THE GOLD COAST
Looking for somewhere to stay on the Gold Coast? We recommend making your booking through Booking.com as they offer a wide range of hotels and most with free cancellation, which is ideal for last minute changes.
However, if you want our recommendation for a hotel, we've listed our top pick for a luxury hotel, family hotel, mid range and budget hotel below.
The Langham Gold Coast is for anyone looking for a luxurious and stylish hotel on the Gold Coast. It's considered one of the high end properties on the coast and offers everything associated with the Langham brand: opulent stylish decor, luxurious amenities and first class service.
Located between Surfers Paradise and Broadbeach, Langham's central location makes it easy to get around for sightseeing. With an absolute beachfront location, a short stroll across the sand dunes brings you to the beach. And because you're in the heart of Surfer's Paradise, it's a short walk to various shops and restaurants.
The five star luxury hotel has 339 rooms and suites – including 170 serviced apartments. All rooms and suites are decorated in a luxurious style and sliding doors open to balconies offering commanding ocean views. Rooms include a TV and marble bathrooms with deep oval shaped baths.
Hotel facilities include seven restaurants and bars. The iconic Langham Afternoon Tea is available at Palm Court near the Lobby Lounge. The 20-metre-long outdoor lagoon pool has white sand and a swim up bar and the indoor pool (also 20 metres) on the second floor has commanding ocean views. The gym also overlooks the ocean. The spa is a holistic wellness centre – the Chuan Spa – offering bespoke Traditional Chinese Medicinal treatments.
Click here for more information or to book
Voted Australia's best family resort 11 years in a row – the Paradise Resort on the Gold Coast has long been a family favourite. One of the only hotels offering a fully supervised kids club, this place has so many awesome facilities for the kids you may never leave!
The resort has a range of room options for families, including basic guest rooms to spacious suites. The cheapest rooms are suitable for families of up to 4 people and are simple hotel style rooms, whereas family rooms sleep up to 5 and come with a basic kitchenette with a microwave, toaster, kettle and a small fridge. For larger families, there are interconnecting rooms available.
In terms of hotel facilities – there's plenty! For a start, you have multiple swimming pools, including a water structure with water slides, a tipping bucket and various interactive water play, as well as a smaller water park just for the little ones. In addition, there's a lagoon style pool and a large heated spa perfect for parents.
The best part is the kids club, suitable for bubs to kids of 12 years of age – and every booking receives one free session per stay! There's two zones, one for under 2's and then one for kids under 12 – perfect for parents wanting some alone time. Kids can be provided meals if you want to go out for a romantic dinner. There's also a teen club for kids 12+.
Other kid friendly facilities include an indoor and outdoor playground, an ice skating rink and even a pamper parlour. In addition, there are loads of free planned activities throughout the day (some have a small charge) and live entertainment for the whole family to enjoy.
For dining, there are multiple options including a poolside restaurant, cafe, bar and even a convenience store for anything you may have forgotten.
If you do manage to leave the resort – it's an easy walk into Surfers Paradise and all the nearby attractions, as well as the beach.
Click here for more information or to book
The Novotel Surfers Paradise is an excellent mid-range Gold Coast hotel. Located in the heart of Surfers Paradise, you're just minutes from Cavil Ave, where you'll find numerous shops, restaurants and cafes. Attractions, like the Sky Point Observation Deck are close and the beach is just a few blocks' walk.
The Novotel is a great place for all kinds of travellers, couples, friends, and families. For families, kids stay free and enjoy a free buffet breakfast too.
There is a range of room options, with most can accommodate four people in two double beds and the choice of an additional roll out bed. Family rooms are great as the kids will get their own bedroom, giving everyone extra privacy. All rooms include TVs and tea and coffee making facilities and some even have a spa.
Regarding hotel facilities, there is a good size heated swimming pool with lots of sun lounges nd a spa. There is also a gym, day spa and a full size tennis court.
Novotel is well known for its delicious breakfast buffets, which often come included depending on the accommodation package you book. There is also a cafe on site, as well as poolside dining and BBQ facilities too.
Click here for more information or to book
There are plenty of budget accommodation options around the Gold Coast – but one of the best would have to be the Main Beach Tourist Park. Not only are you located across from the beach – you're also within an easy walk to some top tourist attractions as well as some great shops and places to eat on the Gold Coast.
While you might think you need a tent or caravan to stay at a tourist park, they have fabulous budget cabins. Main Beach Tourist Park has some of the cheapest accommodation on the Gold Coast, complete with a small kitchenette for preparing meals. If you're prepared to pay a little extra, you can book a two bedroom cabin sleeping up to five people. Cheaper than backpackers' accommodation!
You also can access a stack of great facilities at this tourist park, including a swimming pool, playground, BBQ facilities and a small kiosk.
From the Main Beach Tourist Park, you're a short walk from the surf at Main Beach or the calm waters of Pelican Beach. There is a huge range of restaurants and cafes within easy reach and you can even walk to Seaworld and all the attractions at Surfers Paradise from the Main Beach Tourist Park.
Click here for more information or to book
ENJOY THE GOLD COAST!
Hopefully, this guide has given you loads of inspiration on things to do on the Gold Coast.
If you're planning a trip to the Gold Coast, I highly recommend you check out our guide to the Gold Coast, which provides links to everything you need to know to plan your trip.
I'd also recommend you join our free Queensland Travel Guide Facebook community, where you can ask all your questions and find even more great trip suggestions.
If you're heading to the Gold Coast, you might also be interested in the following nearby destinations: