Are you planning a trip to Tamborine Mountain? This article covers all the very best things to do in Tamborine Mountain, including tourist attractions, activities and places to visit.
The Queensland Travel Guide acknowledges the Wangerriburra People, the Traditional Custodians of the land on which the Tamborine Mountain region is situated. We pay our respects to their Elders past, present and emerging, and recognise their continued spiritual and cultural connections to Country. Always was, always will be, Aboriginal land.
About an hour's drive from the Gold Coast or Brisbane, you'll find the stunning Tamborine Mountain. This is a picturesque region of the Gold Coast Hinterland, known for its natural beauty, small villages and local produce. With plenty of things to do on Tamborine Mountain, it's a great spot for a weekend or week-long escape. 
One of the best things to do Mount Tamborine offers is to explore its beautiful rainforests. There are various walking trails to immerse yourself in the pristine natural environment, from short boardwalk strolls to challenging day hikes. Along the way, you'll see a wide range of flora and fauna, cascading waterfalls, and plenty of local wildlife.
Other things to do in Mt Tamborine include visiting local wineries and galleries, tasting local produce, taking a walk above the rainforest canopy, or even visiting the glow worm caves where visitors can see the bioluminescent insects in their natural habitat.
If you're considering visiting Tamborine Mountain, this guide is the perfect place to start. This guide covers a broad range of activities, including all the popular Mount Tamborine attractions, the best places to visit in Mount Tamborine, and all the essential information such as locations, opening hours and ticket prices where necessary.
So let's get into it and help you discover the best things to do Tamborine Mountain has for visitors to the region.
This post may contain compensated links. Please refer to our disclaimer here for more information.
BEST THINGS TO DO TAMBORINE MOUNTAIN MAP
Before we get started on all the things to do at Mount Tamborine to help you plan your itinerary, check out the map below. This map shows the location of all the best things to do Mt Tamborine offers, which are covered in this guide.
I recommend you first list your top Mt Tamborine things to do and then use this map to plan your day to day itinerary, so you're not travelling back and forth all over town.
BEST THINGS TO DO IN TAMBORINE MOUNTAIN
Below we cover the top places to visit and top things to do at Mt Tamborine.
1 Cedar Creek Falls and Cedar Creek Rock Pools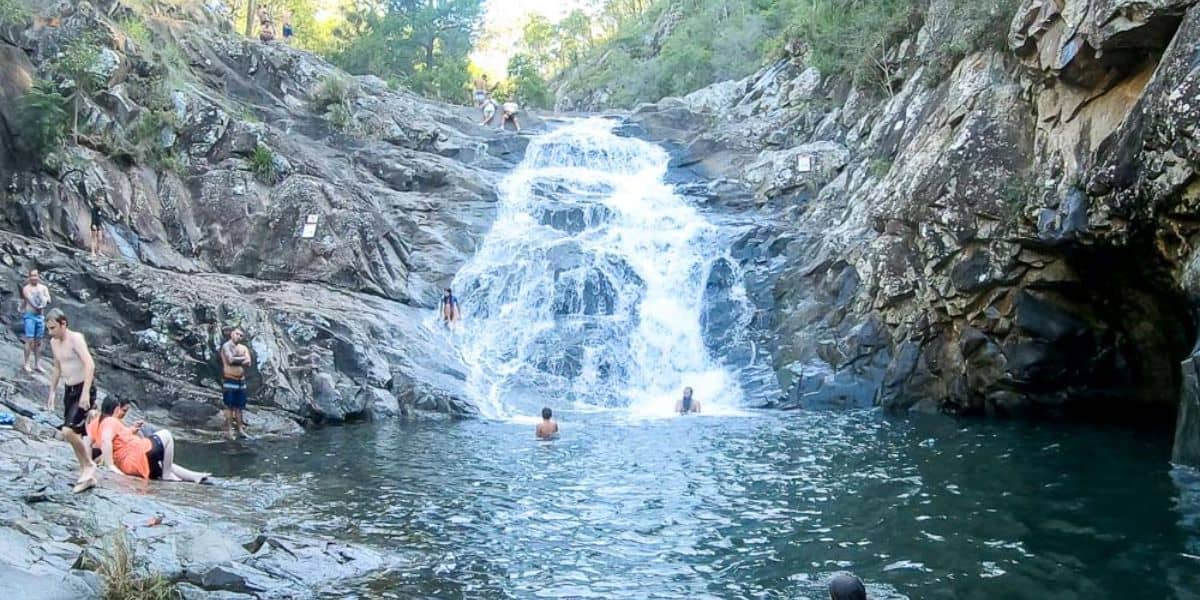 Wondering what to do at Mount Tamborine? A highlight of your Tamborine holiday (and one of those great free things to do in Mt Tamborine) will be a visit to Mount Tamborine National Park. Walk through the subtropical rainforest, explore diverse landscapes, stunning waterfalls and creeks, and spot the local wildlife at this breathtaking natural attraction.

In terms of things to do at Tamborine Mountain, there are plenty of walking options to suit every ability and fitness level so that everyone can enjoy the ancient rainforest.

The Cedar Creek Falls and Cedar Creek Rock Pools are a family favourite and a great place to cool off in hot weather. An easy (grade one) 500 m return walk to the lookout offers a fantastic view of the falls and rock pools. If you're fitter, you can take another track (this adds 600 m to the return circuit) to the rock pools – this extra section is more challenging with a fairly steep decline down to the pools (don't forget you have to walk up on the way back!) which makes it a grade three hike.
Ensure you bring water shoes for the rock pools as they can be slippery, and be prepared for the absolutely freezing water!

Parking at Cedar Creek Falls can be limited, so consider parking at the back of Thunderbird Park for a flat walk to the falls along their walking track.
Location: Cedar Creek Falls Road, Tamborine Mountain
Hours: Open daily October to March from 6 am to 8 pm | Open daily April to September from 6 am to 6 pm
2 Witches Falls hike
For those seeking more of a challenge, consider the Witches Falls Section for a longer Mt Tamborine hike.

There are two walks to choose from (both rated grade four) and they require a good fitness level, so only add this to your Mt Tamborine to do list if you're feeling up to it!

The first hike is a 3.6 km circuit taking around one hour. Your walk will take you through beautiful banksia trees and into the rainforest with its giant strangler figs and seasonal lagoons, which appear after heavy rainfall.
On this hike, you can take a 200 m detour from the main track to visit the Witches Falls lookout to gain the best views.
For a longer hike, continue on the 2.6 km return circuit of the Witches Chase Track. It takes an extra hour and leads you through a lush eucalypt forest, past towering red cedars, and through a field of boulders.
Location: Manitzky Road, Tamborine Mountain
3 MacDonald Rainforest Circuit
The MacDonald Section features the MacDonald Rainforest circuit, a serene 1.4 km walk ideal for families with young children. It's a flat grade 3 path, taking just 35 minutes to complete.
The circuit takes you through lush rainforests and tranquil palm groves, making it a favourite among birdwatchers.
Location: Wongawallan Road, Tamborine Mountain
4 Curtis Falls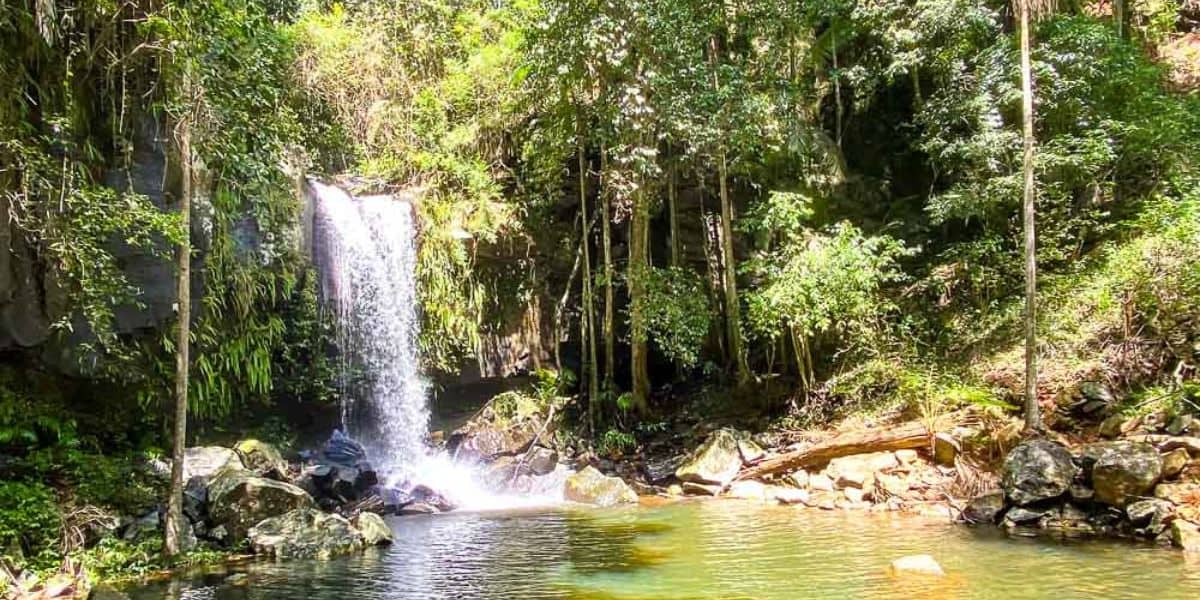 The Curtis Falls walk is a popular choice for families visiting Mount Tamborine. This beautiful hike takes you into the lush rainforest where you can see giant strangler figs, staghorn ferns, a colony of bats, flowing streams and, finally, the stunning Curtis Falls.
The Curtis Falls walk is a fairly easy (grade three) 1.1 km round trip that takes around 30 minutes to complete. Curtis Falls is the only Mount Tamborine waterfall you can view from the bottom of the falls rather than looking down from a lookout, so it's well worth a visit.
The waterfall flows year-round, regardless of rainfall, so it's one of those Mt Tamborine free things to do to add to your list any time of the year.
When you've enjoyed your time at the Falls, you can continue to the Lower Creek Circuit, which is an additional 1.4 km (this will take about an hour to complete). To do the full circuit, this walk involves crossing a creek over rocks, which can be challenging, but if you prefer, you can turn back and return on the same track.
Although the Lower Creek Circuit is rated grade four, most of the walk isn't difficult, and the incredible rainforest scenery makes it well worth it.
There is limited parking at the Curtis Falls entrance but plenty of street parking in the surrounding area. You can also park near the shops on Eagle Heights Road and walk the 400 m track to the falls. The walk from the street is flat and easy.
Location: Dapsang Drive, Tamborine Mountain
5 Palm Grove Circuit
If you're looking for a peaceful experience in nature away from the tourist trails, the Palm Grove Section is a great walk. This area offers two walks (both grade four): the Palm Grove circuit and the Jenyns circuit.
The Palm Grove circuit is a 2.7 km hike that takes around an hour to complete. You'll see enormous palms, towering gums, hoop pines, and spiky ancient cycads during the walk.

The Jenyns circuit adds 2.1 km to the hike and 1.5 hours to the experience, and the reward is seeing the rainforest change from tropical to eucalyptus forest – the trees are incredible!
Location: Access via Palm Grove Avenue or Curtis Road
6 Mt Tamborine Skywalk
Image Credit – Tourism and Events Queensland
The Tamborine Mountain Skywalk is one of the best Mt Tamborine tourist attractions. Set in 30 acres of pristine, sub-tropical rainforest, it offers a unique perspective of the lush environment by taking you into the rainforest canopy.
Families will enjoy strolling along the easy and accessible 1.5 km walkway along the rainforest floor and the 300 metres of high-tech steel bridges elevated amongst the trees.

The highlight of the Skywalk is the 40-metre cantilever bridge which towers 30 metres above the creek and rainforest below. It's a magical experience being so high up in the treetops surrounded by wildlife.
Be sure to keep your eyes peeled for the endangered Richmond birdwing butterfly between October and March or the threatened Albert's lyrebird if you're visiting during the cooler months.
In addition to the Skywalk, the attraction features the Eco Gallery, which displays information about the rich flora and fauna of the local Australian rainforest and some information about the area's indigenous history.
To fully experience the Skywalk, it is suggested you allow around 45 minutes for your visit, but you can easily spend longer if you're enjoying your time in this ancient landscape surrounded by wildlife.
Location: 333 Geissmann Dr, Tamborine Mountain
Hours: Daily from 9.30 am to 5 pm (last entry 4 pm)
Cost: $19.50 Adults | $9.50 Kids | $44 Family (2A+1C) | $49 Family (2A+2C)
7 Tamborine Mountain Markets
There are so many luscious places to eat! Mt Tamborine is a foodie's heaven and one of the best places to find local produce and gourmet treats (along with handmade goods and souvenirs) is at one of Tamborine Mountain's markets.

The great thing is there are four different markets to choose from, so hopefully, during your stay, you'll be able to make it to at least one of them! Definitely add visiting a market to your Mount Tamborine to do list so you can pick up some delicious food for your picnics.

The four markets are:
Tamborine Mountain Country Markets
This market offers a variety of fresh fruit and vegetables, local products like cheese, plants, flowers, and coffee, along with plenty of food vendors to fill your belly. There's also entertainment for kids, like a jumping castle and pony and car rides.
386 – 398 Main Western Road, Tamborine Mountain | Second Sunday of the month from 7.30 am to 1.30 pm
Tamborine Mountain State School Markets
These village markets are local flea markets with various fresh produce and bargains.
Cnr Curtis and Long Roads, Tamborine Mountain | Last Sunday of the month from 7 am to 1 pm
Local Producers' Market
This market specialises in fresh fruit, vegetables, flowers, plants, honey, and other local produce.
In the 'Green Shed' at Tamborine Mountain Showgrounds | Every Sunday from 7 am to 12 noon
Makers' Market on the Mountain
This small market focuses on handmade goods and supports local artists in the region.
6 – 8 Knoll Rd, Tamborine Mountain | First Sunday of the month from 8 am to 1 pm
8 Visit a Mt Tamborine winery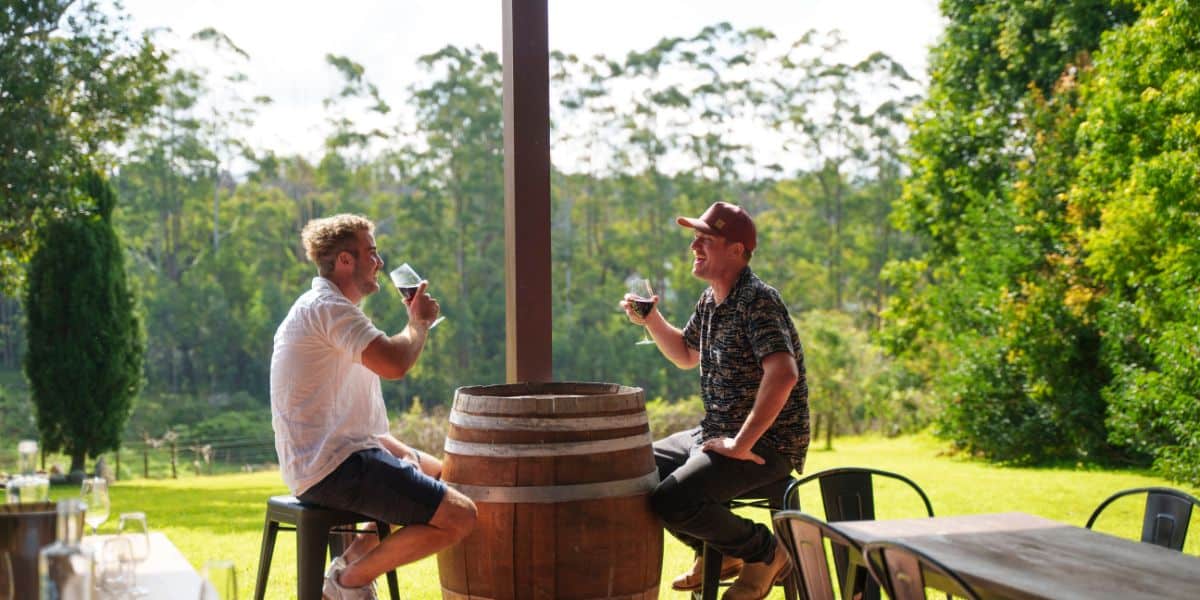 Image Credit – Tourism and Events Queensland
If you love a glass of wine, one of the best things to do on Mount Tamborine is to visit a winery (or two, or three…)

Mt Tamborine is home to a range of award-winning boutique wineries and breweries so that you won't be short on options. It's a great opportunity for couples looking for a fun day out – wine tasting together is one of the most romantic things to do!
Mount Tamborine wineries and breweries offer tasting platters for a fixed fee to full day wine tours and tastings that include a gourmet lunch.
Here are a few of the top Mt Tamborine wineries to consider visiting:
Hampton Estate Wines: 52 Bartle Rd – Open Fridays, Saturdays and Sundays from 10 am to 4 pm for wine tasting – bookings essential | Restaurant open for lunch Fridays, Saturdays and Sundays from 11 am to 2.30 pm
Mt Tamborine Vineyard and Winery: 128 Long Rd – Open daily 9 am to 4 pm | Restaurant on site
Cedar Creek Estate: 104 Hartley Rd – Wine centre open daily from Monday to Friday, 10 am to 3 pm and til 4 pm on weekends

Castle Glen Winery Brewery & Distillery: 138 Long Road – Open daily from 10 am to 5 pm
Fortitude Beer Brewing Company: 165 Long Rd – Open from 11 am to 3 pm Monday to Thursday and 11 am to 5 pm Friday to Sunday

Tamborine Mountain Distillery: 10 Macdonnell Rd – Open daily from 10 am to 5 pm
The best way to explore wineries at Tamborine Mountain is on an organised wine tour, so somebody else does the driving and you can sit back and enjoy a day of tasting and delicious local foods. Click here to see what's available.
9 Mount Tamborine Glow Worm Caves
Looking for Tamborine Mountain things to do with kids? Visiting the Tamborine Mountain glow worm caves at the Cedar Creek Estate is a great attraction for all ages.

Unlike some tours that take you into the rainforest late at night (which can be challenging with little ones!), this attraction is fully accessible and you can visit at any time of the day.
The Mt Tamborine Glow Worm Caves have been created so you can easily spot these tiny glowing creatures in an artificial cave. You join a short guided tour through the rainforest boardwalk and enter their habitat to get up close and personal with these vibrant creatures. There is also a short presentation to watch so you can learn all about glow worms, their sticky strands and their little glowing bums!

It's one of those great things to do in Tamborine Mountain in the rain too, as the cafe is indoors and the attraction stays open in all weather.

The tours only last thirty minutes, so it's the perfect short attraction to slot into your day around bigger activities.

Afterwards, make sure you check out the frogs and insect exhibit to learn all about the native wildlife in the rainforest. (You might also like to pop in for a wine tasting while you're there, as it's on Cedar Creek Estate!)
Location: Cedar Creek Estate, Cnr Long and Hartley Road, 104 – 144 Hartley Road, North Tamborine
Hours: Daily 10 am to 4 pm
Cost: $19 Adults | $14 Child | Under 4 and under free
10 Gallery Walk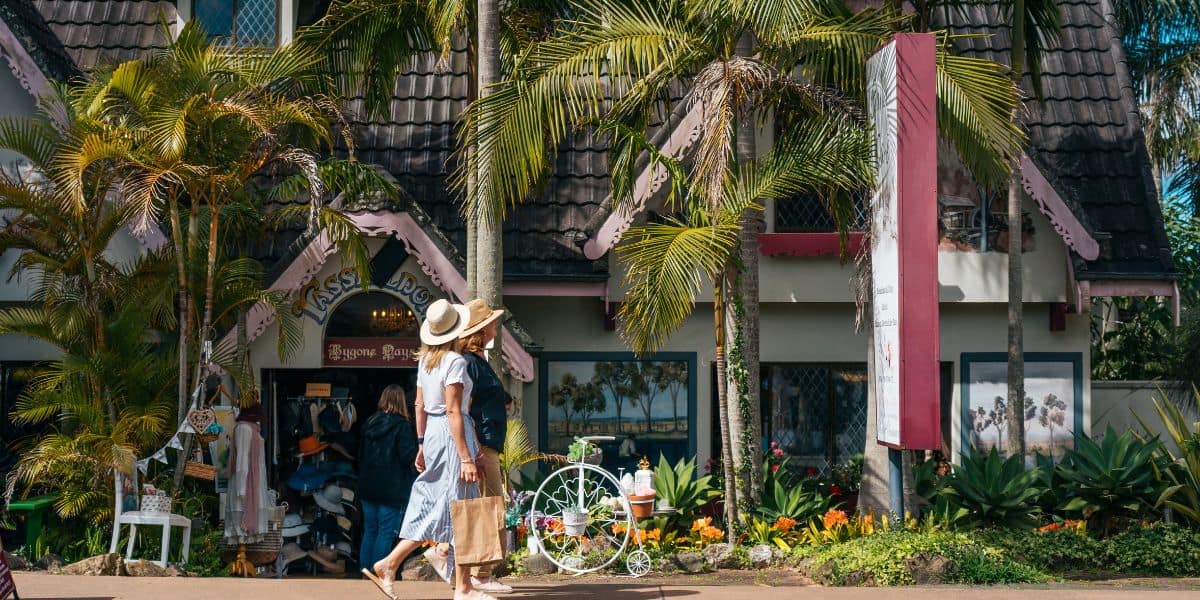 Image Credit – Tourism and Events Queensland
One of the best things to do in Mount Tamborine is to browse the charming shops on Gallery Walk.

There are around 70 stores housed in cute little cottages along one stretch of road – it's a fantastic way to spend an afternoon, no matter the weather. In the shops, you'll find various local products, crafts, jewellery, clothes, wine and liqueurs and speciality goods.

Immerse yourself in village life and take home a unique, one-of-a-kind treasure to remind yourself of your visit to Tamborine. Stop for a cake or meal at one of the cafes. Potter around and let the afternoon slip by. There are so many fascinating shops you'll want to allow plenty of time to explore, as Gallery Walk is one of the best things to do in Mt Tamborine!
Location: Long Road, Tamborine Mountain
Hours: Shop opening hours vary
Cost: Free (although we can't promise you won't buy lots of things!)
12 Visit a lookout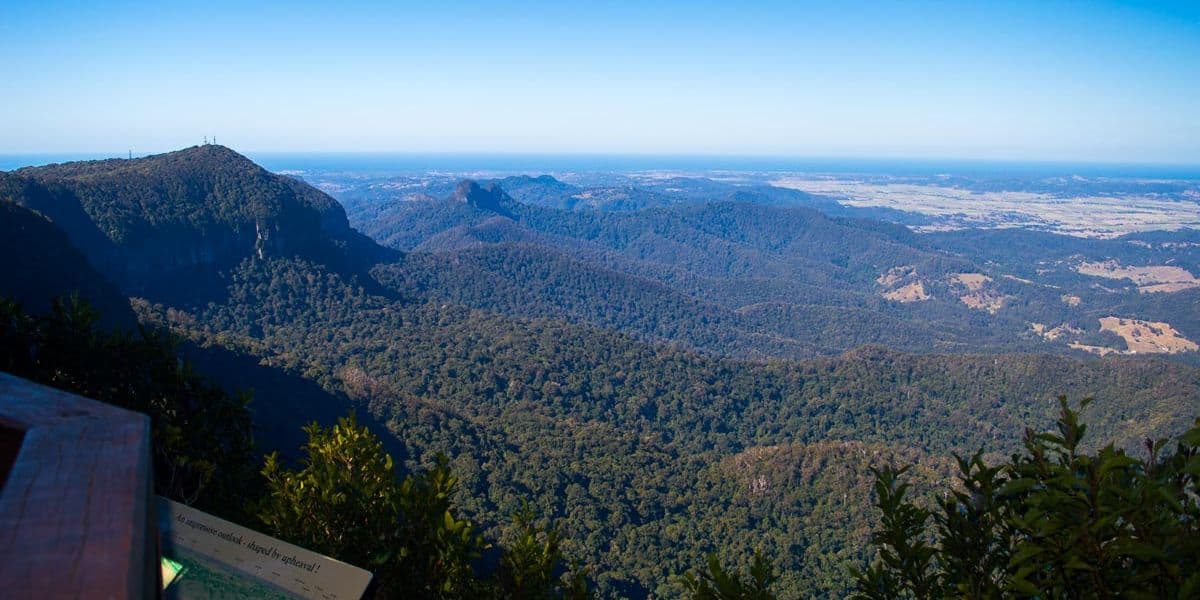 A trip to Mount Tamborine is incomplete without visiting at least one lookout because the views are out of this world.

Tamborine Mountain is a vast plateau caused by lava flow from Mount Warning's eruption 22 million years ago. At 560m above sea level, this ancient volcanic landscape has many lookouts giving you views of waterfalls and rainforests as well as far reaching coastal and city views.
Inland view lookouts include:
Curtis Creek Falls: A fairly easy 1.1 km (30-minute) return walk to this lookout offers stunning views of the falls, rock pools, and cascading water. Access the walk from Dapsang Drive or Eagle Heights Road.
Cedar Creek Falls: This easy 500 m return walk (suitable for strollers) offers great views of the falls and rock pools. Access the walk from Cedar Creek Falls Road.
Hang Gliders Launch: This lookout offers panoramic views across the valley and the bonus is you get to see hang gliders taking off and soaring in the sky. Access the lookout from Main Western Road near Lisson Grove.
Rotary Lookout: Enjoy great views across the valley. Access the lookout from Main Western Road near Witches Falls Cottages.
Knoll Road: Enjoy breathtaking views of Flinders Peak and Brisbane – the perfect spot for a picnic.
Cameron Falls: A 30-minute walk from Knoll Road leads to this lookout with views of Cameron Falls and the lush inland scenery.
Witches Falls: A 25-minute walk from Main Western Road offers views of Witches Falls and the surrounding forest scenery.
Beacon Lookout: A small lookout at the end of Beacon Road.
There are also some stunning coastal view lookouts. Add some of these to your Tamborine Mountain to-do list.
Eagle Heights Resort
Magnetic Drive
Licuala Drive
Guanaba Road
Golf Course Road
Location: Various
Hours: Most lookout points are always open
Cost: Free
13 Tamborine Mountains Botanic Gardens
Experience the beauty of Tamborine Mountain Botanic Gardens, one of the best things to do around Tamborine Mountain.

The glorious botanic gardens are a great place to spend a few hours amongst the trees, plants and walking tracks. You can explore the distinct sections, such as the Japanese, Azalea, Camellia, and Rose gardens or just sit back and relax and watch the world go by from a picnic blanket.

The tranquil lake is the perfect spot for a picnic, and the pretty bridge over the water is the ideal place to play Pooh sticks.
Location: 25 Forsythia Drive, Tamborine Mountain
Hours: Daily from dawn until dusk
Cost: Free, but donations accepted
14 Thunderbird Park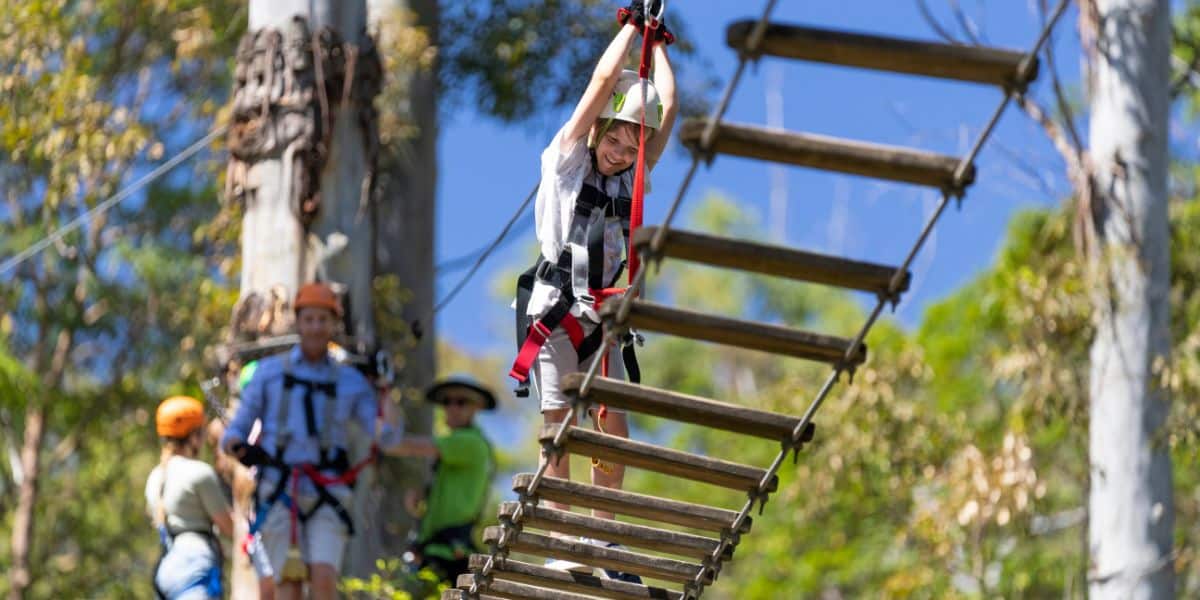 Image Credit – Tourism and Events Queensland
Thunderbird Park is a beautiful nature reserve, rich with wildlife and has a wide range of fun activities for visitors of all ages.
One of the top attractions at Thunderbird Park is the TreeTop Challenge. This thrilling adventure course takes you on a high-flying journey through the treetops, with ziplines, suspended bridges, and other challenging obstacles to conquer. The course is suitable for all levels of fitness and experience, and it's a great way to get your adrenaline pumping while taking in the stunning views.
If you prefer something a bit more low-key, Thunderbird Park also offers a range of bushwalking trails. These scenic paths wind through the park's lush rainforest, with plenty of opportunities to spot native wildlife and take in the stunning scenery. For a more guided experience, you can also join a guided tour with one of the park's knowledgeable staff members.
Another popular attraction at Thunderbird Park is the rock pools. These beautiful natural pools are perfect for swimming and relaxing, and they're a great way to cool off on a hot day. The park also offers a range of other activities, including mini golf, horse riding, fossicking, laser skirmish and more making it the perfect destination for a fun-filled day out with family or friends.
Location: Thunderbird Park, Corner Tamborine Mountain Rd & Cedar Creek Falls Rd, Tamborine Mountain
Hours: Open daily although times vary depending on activity
Cost: Prices vary depending on activity
15 Enjoy a traditional British roast dinner at the Fox and Hound
Enjoy authentic British ales and a UK-themed menu at this classic British pub. Traditional foods you can enjoy include toad in the hole, beef and Guinness pie, delicious weekend roasts, and Yorkshire pudding.
Not only is it a fantastic place to eat (especially in winter with its roaring log fire), but it's also one of those fun and quirky places to stay in Mt Tamborine so you can enjoy your hearty UK foods and then roll yourself straight up to bed afterwards!

Even if you're just day tripping to the area from Brisbane or the Gold Coast, this is one of those great things to do near Mt Tamborine if you love British cuisine (or you're an expat Brit looking for some home comforts).
Location: 7 Elevation Dr, Wongawallan
Hours: Monday to Thursday, 11 am to 3 pm and 5 pm to 9 pm | Friday to Sunday, 11 am to 9 pm
Cost: Starters from $10 | Mains from $23 | Roast of the day $24
16 Enjoy a picnic with a view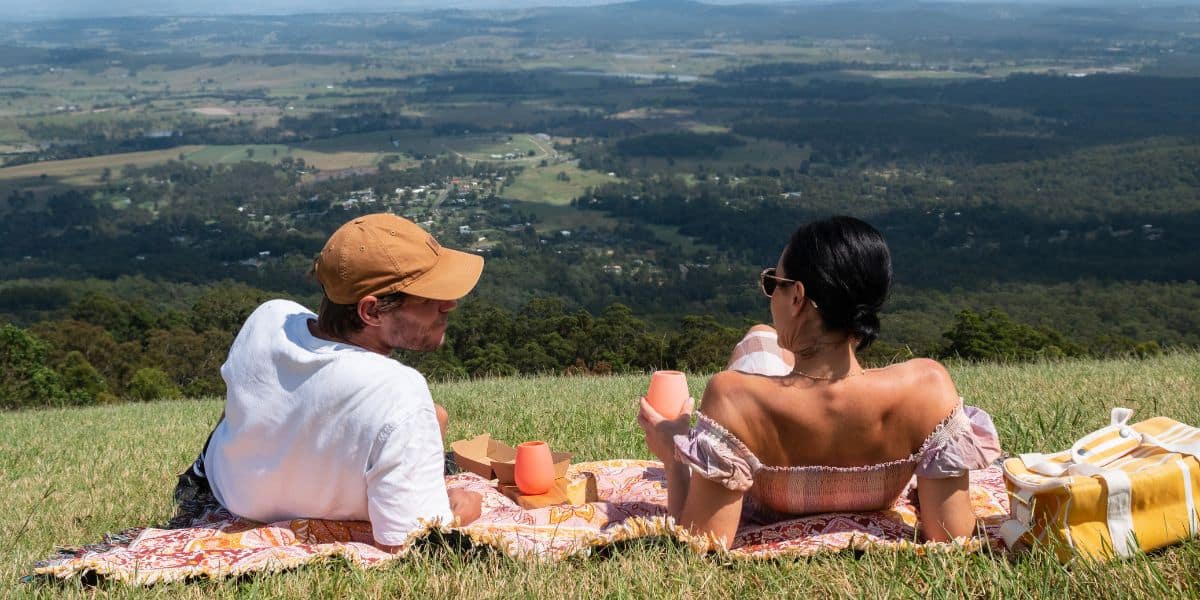 Image Credit – Tourism and Events Queensland
Looking for the perfect picnic spots in Mt Tamborine? Look no further! There are plenty of beautiful parks to choose from with amenities. So whether you prefer cooking on public BBQs or bringing a cold picnic hamper, there's a perfect picnic spot for you and your family.
Here are some of the top picks for Mt Tamborine picnic spots:
Cedar Creek Falls – Cedar Creek Falls Road: With wide open grassy spaces and amenities like BBQs and toilets, this park at the start of the walking track is ideal for picnics.
The Knoll – Knoll Road: This beautiful picnic spot at the start of the Sandy Creek circuit boasts scenic views and amenities like BBQs and toilets.
Geissmann Oval – Geissman Street: Just a short walk from shops and with amenities like a BBQ and toilets, this park off Main Street is perfect for picnics.
Doughty Park – Just off Main Western Road: Near the North Tamborine shopping area, this small park offers a basic kids' playground and amenities like toilets.
Staffsmith Park – 2-12 Stradbroke Avenue: With the largest playground in Mt Tamborine, this park is great for families with kids. The fully fenced playground is shaded and there are also amenities like toilets.
Lions Park – between Curtis and Long Road: This a simple and shady picnic area
Rosser Park – Rosser Street: This basic park offers a sheltered picnic area and amenities like toilets and a playground.
Guanaba Park – Golf Course Road: A great park for kids with a great playground.
Lahey Lookout – Lahey Lookout Road: A peaceful park with scenic views.
Hours: Always open
Cost: Free (not counting the cost of all the delicious local produce you will want to take with you!)
17 Tamborine Mountain Heritage Centre
Families who love history will find the Tamborine Mountain Heritage Centre a fascinating attraction.
The Centre is operated by the Tamborine Mountain's Historical Society, which showcases a small, historic village that depicts life on the mountain from the late 1800s to the early 1900s.

The kids will enjoy exploring the vintage buildings, including a general store, blacksmith shop, dairy, original slab cottage with antique furniture, one of the mountain's earliest churches, and a massive working model of the Curtis Water Wheel that shows how early sawmills functioned.
Location: 53 Wongawallan Rd, Tamborine Mountain
Hours: Sundays and public holidays from 10 am to 3 pm | Open for tours by appointment
Cost: $5 Adults | $1 Kids | $10 Family
18 Witches Chase Cheese Company
Cheese lovers will be in cheese-heaven at the Witches Chase Cheese Company. Come along and taste these high quality, small batch creamy cheese and yoghurts made with fresh cow and goat's milk from the nearby Scenic Rim Robotic Dairy. Don't forget to pack a cool bag so you can buy lots of things to stock in your fridge!

The Fortitude Brewing Company is on the same site, so that you can hit two tourist attractions in one visit.
Location: 165 – 185 Long Road, North Tamborine
Hours: Open daily; times vary
Cost: Depends how much cheese you buy!
19 Tamborine Mountain Coffee Plantation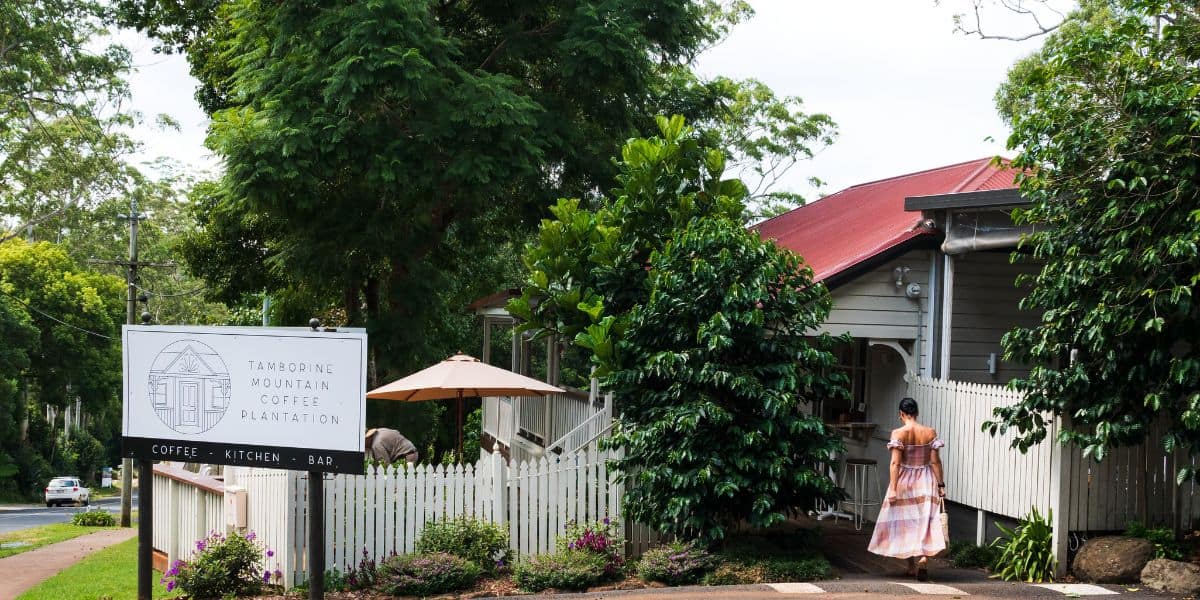 Image Credit – Tourism and Events Queensland
At Tamborine Mountain Coffee Plantation, you can enjoy a coffee plantation tour to learn how coffee is grown and produced in the boutique micro-lot coffee plantation. Alternatively, you can stop by for a delicious coffee and some treats in the restaurant.

It's a stop worth making as you explore things to do around Mt Tamborine.
Location: 64 Alpine Terrace, Tamborine Mountain
Hours: Restaurant open Friday to Sunday for afternoon drinks and tapas or pizzas til 7 pm | Thursday to Monday for breakfast and lunch | Plantation Tours run Thursdays and Saturdays at 12 noon
Cost: Plantation Tours $10 per person
20 Capanart Gallery
Showcasing paintings by renowned artists and vibrant local art, there is work available to buy for all budgets. So pop in to browse and be inspired by these incredible pieces of artwork.
Location: 2/110 Long Rd, Tamborine Mountain
Hours: Six days a week from 10.30 am to 4 pm (closed Thursdays)
Cost: Free
21 Enjoy a fancy dinner at Pethers Rainforest Retreat
Nestled in the rainforest with dramatic floor to ceiling windows, enjoy an intimate, candlelit dinner with the person you love – it truly is one of the most romantic things to do Mount Tamborine offers.

Dinner can only be booked for Saturdays and select nights throughout the week for special events, and there are only 11 tables, so you need to book early.

The roaring, elevated fireplace makes this the perfect thing to do in winter at Tamborine Mountain.
Location: 28B Geissmann St, Tamborine Mountain
Hours: Dinner on Saturdays only (other than select events which are advertised online) | Pre-booking is essential
22 Fudge tasting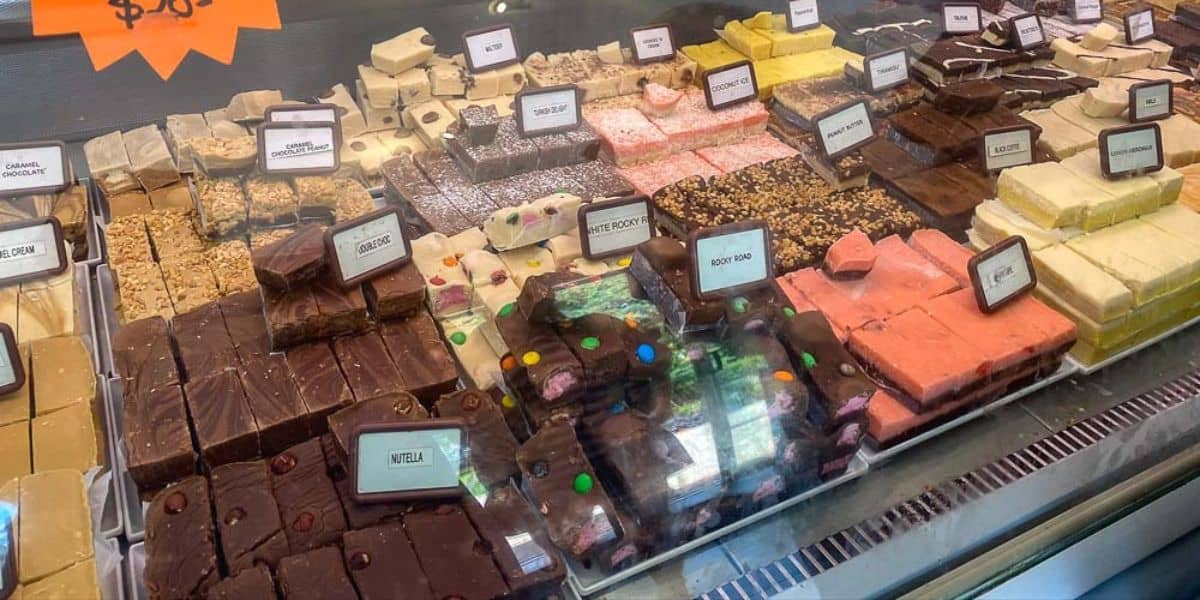 Fudge tasting is one of those fun things to do near Tamborine Mountain! There are two stores to visit as you search for a sugar rush, so be sure to sample treats from both and stock up your stash to feed your sweet tooth.
Granny Macs: 139 Long Rd, Gallery Walk | Daily from 9 am to 5 pm
Fudge Heaven: 130 Long Rd, Eagle Heights | Weekdays from 10 am to 4 pm, Weekends from 9 am to 5 pm
Cost: Depends how much you love the fudge!
23 Tamborine Glass Blowing (shop and workshops)
If you love arts and crafts, be sure to pay a visit to the Tamborine Glass Blowing studio. Browse the shop for souvenirs to take home, or book in for a glass blowing, glass mosaic, glass fusing or torchwork workshop and try your hand at a new skill.
Location: 17 Nicolet Drive, North Tamborine
Hours: Shop open daily from 8 am to 6 pm (apart from Wednesdays when it is closed)
Cost: Prices vary; see events on their website
24 Hang gliding or paragliding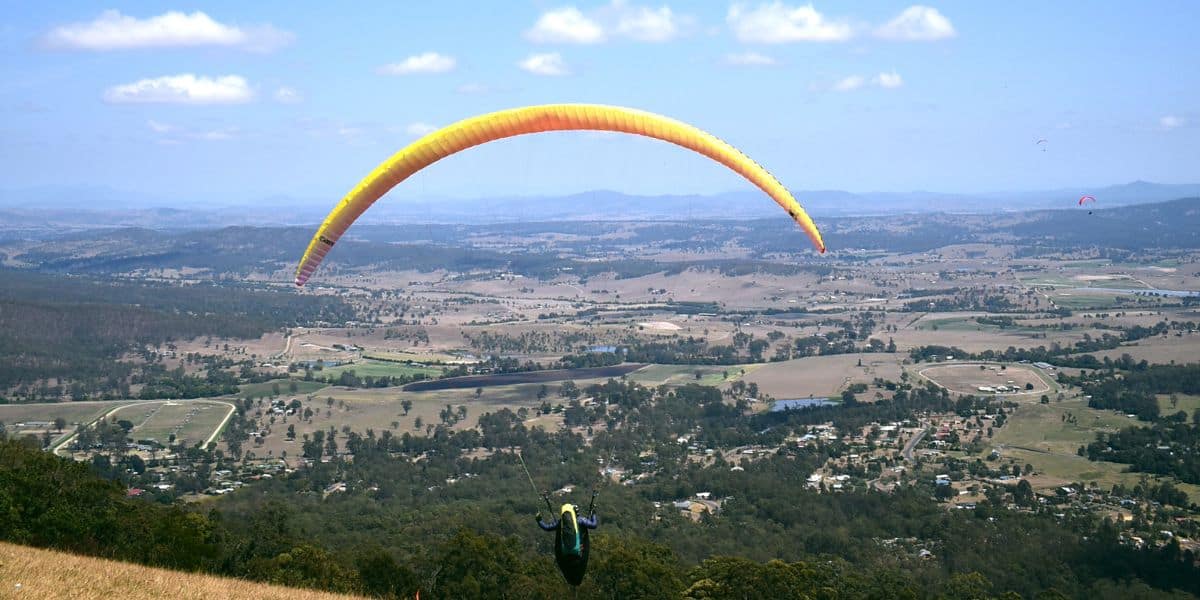 Image Credit – Tourism and Events Queensland
If you've watched the hang gliders launching into the air and soaring in the blue sky of the stunning Tamborine landscape, you might want to try a tandem hang glide or tandem paraglide yourself!

To explain the difference, while both options are motor-free, hang gliders are more streamlined and are capable of faster speeds with their triangular kite and A-frame. You fly them in a horizontal position. Paragliders have an ellipse-shaped wing, more like a parachute-style and no frame, and you fly them in a seated position.
Several operators offer hang gliding and paragliding experiences, including Oz Paragliding and Hang Gliding.
25 German Cuckoo Clock Nest
Try to time your visit to the German Cuckoo Clock Nest just before the turn of the hour so you can walk around the shop and listen as all of the clocks strike the hour. This quaint, wood-clad Bavarian chalet on Gallery Walk is great for clock enthusiasts and tourists alike.

It's one of those places to visit in Mount Tamborine that you should add to your itinerary (it's on Gallery Walk, so it's easy to combine it with other attractions).
Location: 143 Long Road, Tamborine Mountain
Hours: Sunday to Friday from 10 am to 4 pm | Saturdays from 10 am to 5 pm
Cost: Free to browse
26 Jasmin Organics Farm
If you love luxury, organic skincare, visiting Jasmin Organics should be on your list of things to do near Tamborine Mountain.

You can visit the store to try out some of their sustainable, gentle skincare range or book a farm and factory visit to explore the gardens and fruit orchards and learn how premium skincare products are made.
Location: 197 Long Rd, Tamborine Mountain
Hours: Weekdays from 10 am to 3 pm | Closed weekends
Cost: Tours $5 Adults | Children under 12 free
27 Follow the scarecrow trail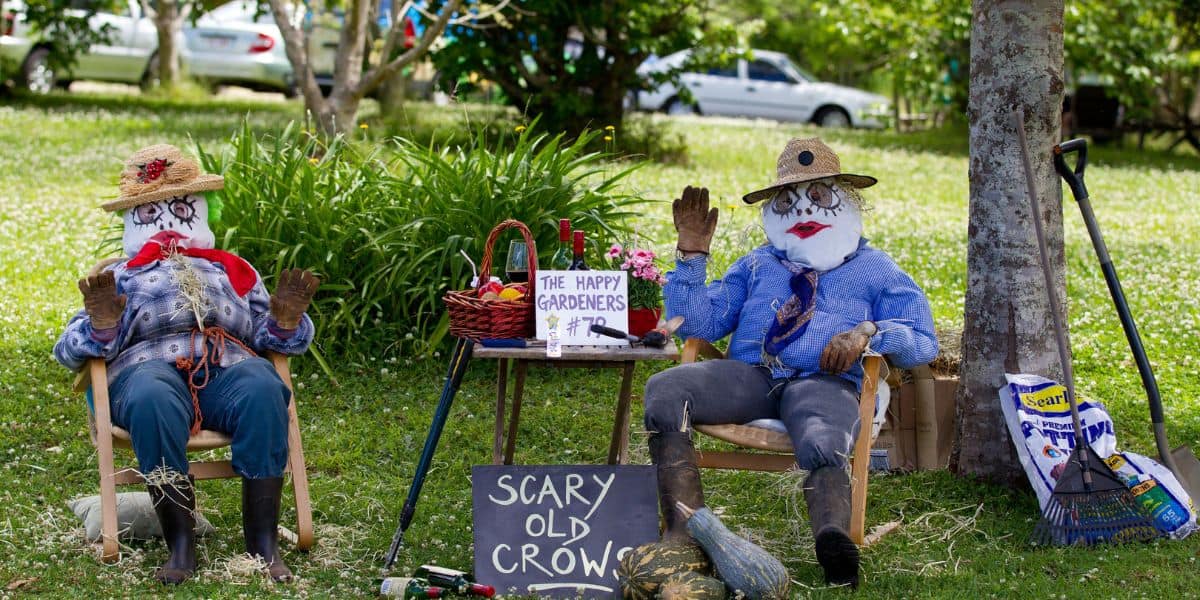 Image Credit – Barry Alsop Eyes Wide Open Images
Every year, Tambourine comes alive (not literally, thankfully) with scarecrows. The scarecrow festival is an annual event to celebrate the Mountain's fantastic lifestyle and share some fun with visitors.

It is a huge sculpture trail of scarecrows – anyone and everyone can make one and put it out on display in front of homes and businesses to be part of this community initiative. The result is hundreds of scarecrows all over the place!

It's competitive, with entrants competing to win up to $250, so people take it very seriously! A map is released to help you follow the scarecrows, so be sure to check it out if you're visiting Tamborine during scarecrow season!
Location: All around Tamborine Mountain
Hours: Scarecrow Festival runs in late October
Cost: Free
28 Get pampered
Something about being in the middle of the pristine natural environment makes you want to visit a day spa! Whether you're looking for a facial or massage, or a full spa day experience, you'll find something to suit your taste and budget here.
A range of day spas are available at Tamborine Mountain. Some resorts also have their own day spas, such as Escarpment Retreat.
29 Gin tasting and gin making class at Cauldron Distillery
Try some award-winning handcrafted Australian gin that includes local ingredients as you enjoy some delicious nibbles or bigger bites. If you have time, their gin-making classes teach the unique art of gin-making through the centuries.
This intimate class lasts 2.5 hours, with three complimentary gin and tonics per person and a yummy cheese grazing board.
Location: 89 – 123 Hartley Road, Tamborine Mountain
Hours: Tuesday to Thursday 12 noon to 5 pm | Fridays and Saturdays 10 am to 7 pm | Sundays 10 am to 6 pm
Cost: $250 Gin making class | A range of other special events are available; check the website for details
BEST TOURS OF MOUNT TAMBORINE
If you're short on time or don't have your own transport, a group tour is often the best way to see the highlights of Mount Tamborine.
Below we've listed some of the best tours of Mount Tamborine.
Deluxe Wintery Tour to Tamborine Mountain including gourmet lunch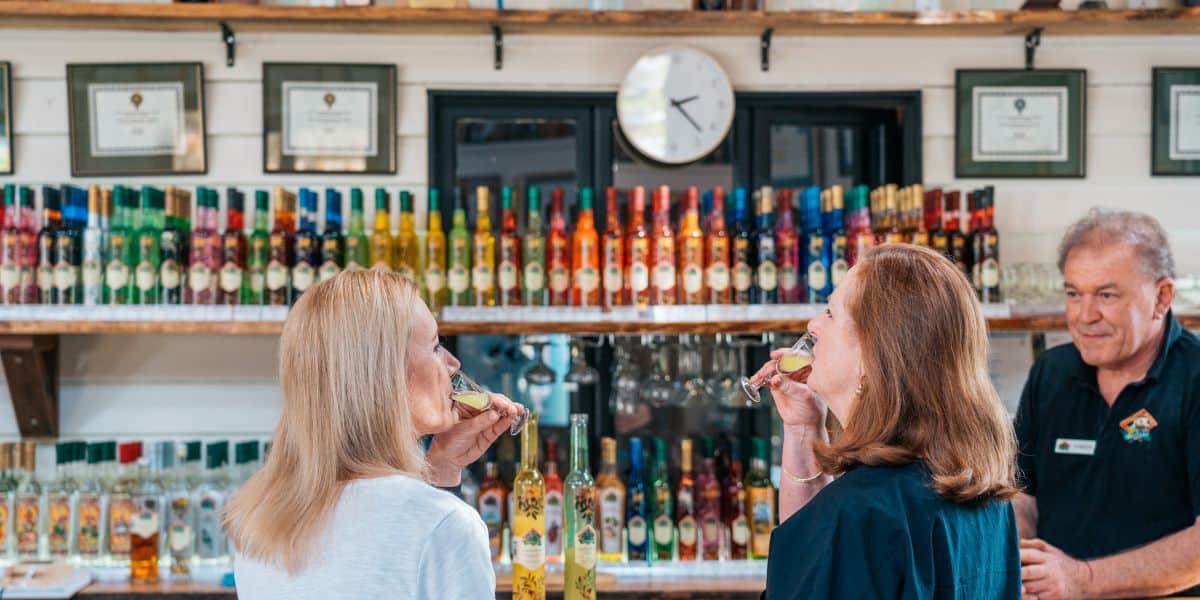 Image credit thanks to Tourism and Events Queensland
Enjoy a gourmet treat as you visit award-winning liqueur, spirit, and wine producers, tasty goodies from Witches Chase Cheese Factory, and a two-course gourmet lunch.

You will be picked up from your hotel (or a designated meeting point) and driven in a comfortable, air-conditioned vehicle around Tamborine Mountain's best food and drink locations.
You will end the day filled with delicious local produce, and you'll likely have a bag filled with treats to take home after visiting all the stores.
Click here for information and to book your tour
Rainforest, Gallery Walk and Glow Worm Caves Tour from Brisbane
If you're looking for a great overview tour of Tamborine Mountain, this is it!

This tour allows you to explore the incredible Gondwana rainforests, see the best waterfalls, shop along Gallery Walk and go to the Glow Worm Caves.
You'll need to budget for food and drink as these aren't included in the tour, but this allows you to choose where and when you'd like to eat (and there are so many lovely places to eat – Mt Tamborine isn't short on cafes or restaurants!).
This tour isn't suitable for children under five or people with low levels of fitness or low levels of mobility.

The meeting point for this tour is outside the Skytower Apartments in Brisbane, and it's a great way to explore the Gold Coast hinterland if you don't have a car or just want to be taken to all the best spots without the worry of driving along narrow roads.
Click here for information and to book your tour
Tamborine Mountain and Paradise Point Tour from Brisbane
Another great option if you're looking for a day tour of Tamborine Mountain from Brisbane that takes in lots of the main sights is this Tamborine Mountain and Paradise Point Tour.

In a small group, visit Gallery Walk, Curtis Falls, the Rainforest Skywalk, Glow Worm Caves (admission fee not included) and Paradise Point Parklands at the northern end of the Gold Coast.
This tour gives you a great overview of Tamborine Mountain, plus it gives you some time on the Gold Coast, so it's a great option if you're based in Brisbane and short on time.
Click here for more information and to book your tour
Tamborine Mountain day trips
While there are plenty of Mount Tamborine things to do and see – if you're keen, there are a few places nearby that make great day trips. It is recommended you stay at least a few days in each of these areas, but if you only have a day, then a day trip is possible.
Brisbane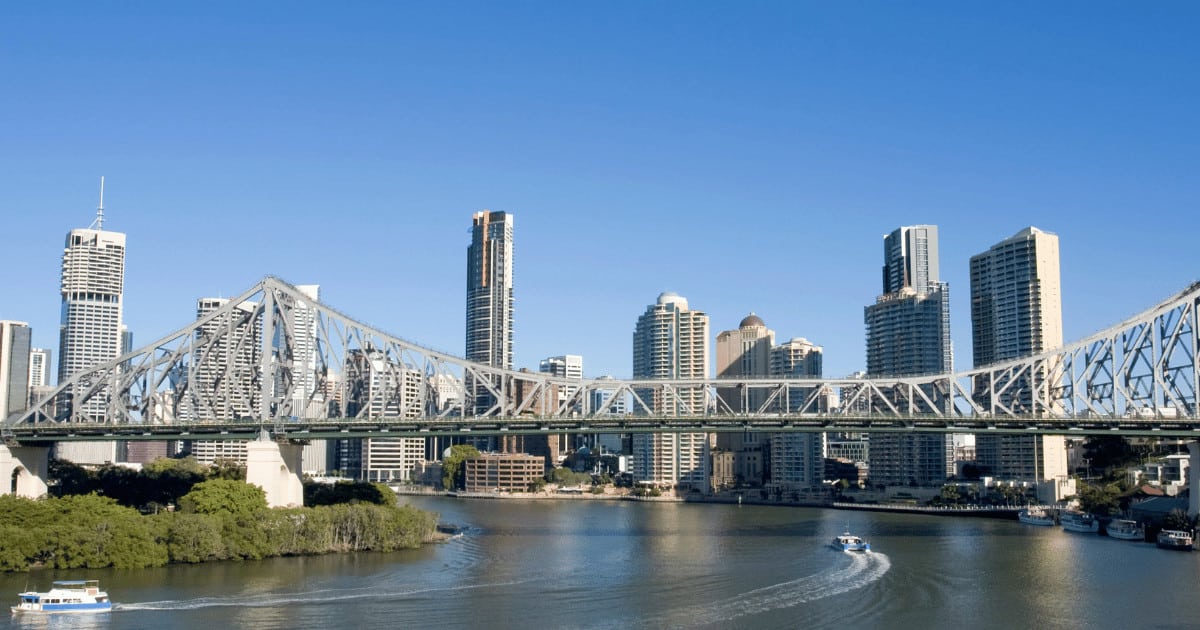 Just an hour from Tamborine Mountain, Brisbane is a vibrant and relaxed city. The state capital of Queensland has so much to offer. Of course, it would be impossible to cram it all into a day trip, but if that's all the time you have, you could pick and choose your sights!

This cosmopolitan city boasts everything from lush parklands and gardens to modern galleries and exceptional waterfront dining.
There are so many attractions to choose from in Brisbane. There are the Queensland Museum, QAGOMA (The Queensland Art Gallery and Gallery of Modern Art), and the National Maritime Museum for culture seekers.
For wildlife lovers, there is Lone Pine Koala Sanctuary. There is Roma Street Parkland and the tranquil Southbank Parkland for outdoor enthusiasts. There is the bridge climb, rock climbing and kayaking for thrill seekers.
You can't beat a simple stroll along the river or a swim at the iconic Streets Beach.
Thanks to its year-round sunshine, Brisbane is the perfect destination at any time of the year and it's a great opportunity to combine your hinterland stay with a city break.
Click here for our full guide on things to do in Brisbane
Gold Coast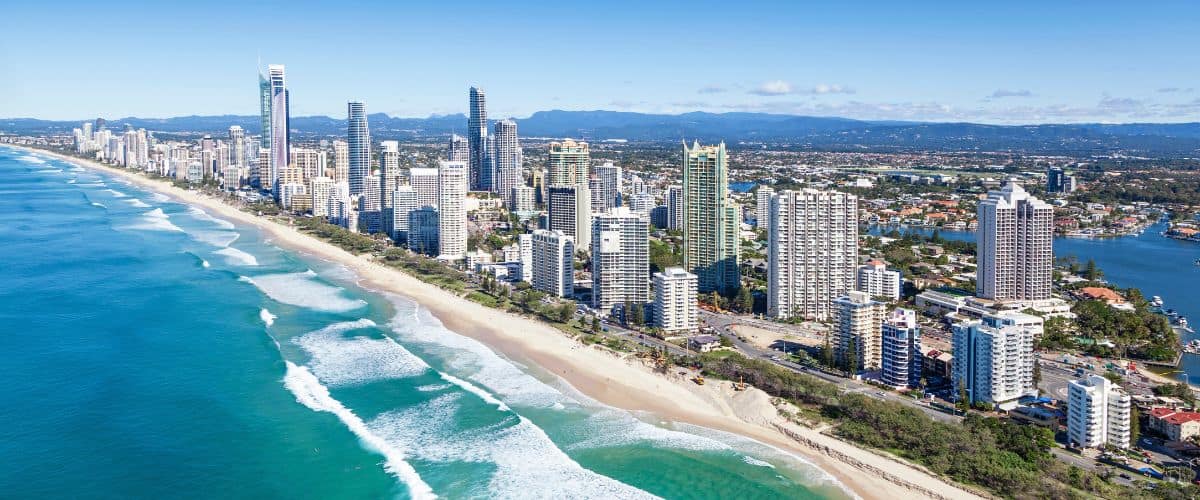 The Gold Coast is one of Australia's top destinations and Tamborine Mountain is only 45 minutes away in the car.
If you're after picture-perfect white sand beaches, a day trip to the Gold Coast is a must from Tamborine Mountain! Head to one of the many pristine beaches for swimming, surfing and sunbathing.
The Gold Coast has a lot more to offer than just beaches. It's also a top shopping destination with a thriving food scene, with many cafes specialising in fresh, healthy dishes made with local produce. Plus there is a huge range of attractions for all ages.
For families, the Gold Coast is all about theme parks, and you have so many choices. Younger kids will love splashing around at SeaWorld or meeting favourite characters at Movie World, while older kids will be thrilled by the rides at DreamWorld.
Click here for our full guide on things to do on the Gold Coast
Springbrook National Park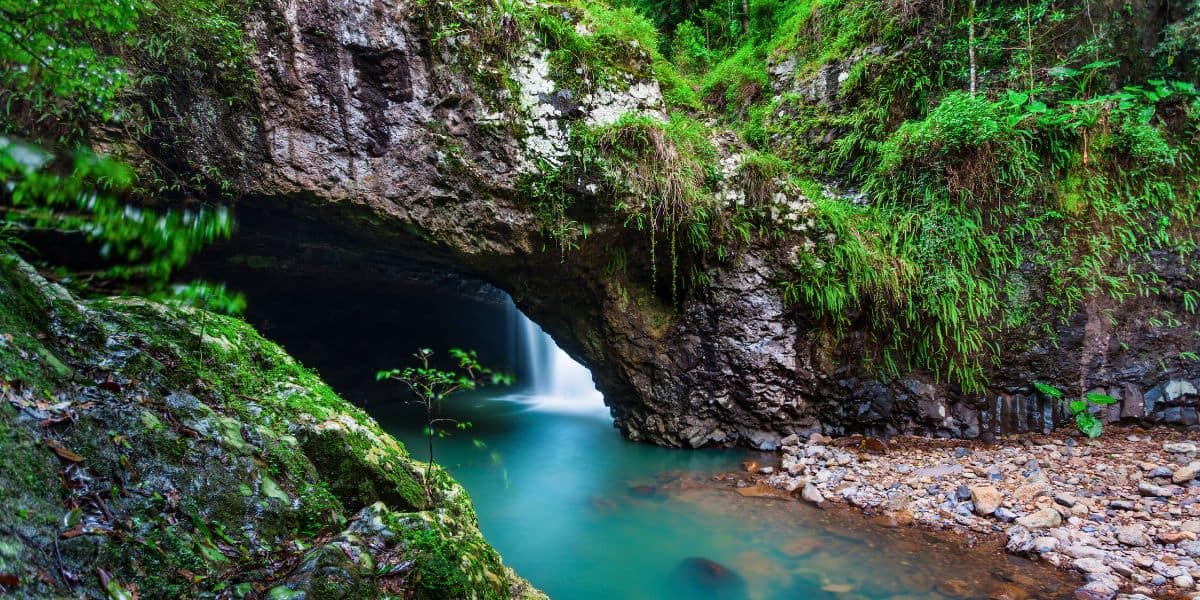 The chances are if you're staying at Tamborine Mountain, you love spectacular waterfalls, exciting hiking trails, lush rainforest views and you enjoy wildlife spotting. Springbrook National Park is just an hour from Tamborine and an awesome place to visit.

Springbrook is part of the Gondwana Rainforests of Australia World Heritage Area, one of Queensland's five World Heritage properties. It boasts ancient vegetation that dates back over 100 million years!

Visit the Natural Bridge rock formation and see the beautiful waterfall. If you can visit at night, you'll discover glow worms in their natural habitat (a very different experience from the artificial Glow Worm Caves).

A range of operators offer tours to Springbrook National Park, including the glow worms – most of which pick up from Brisbane or the Gold Coast. See what's available here.
Lamington National Park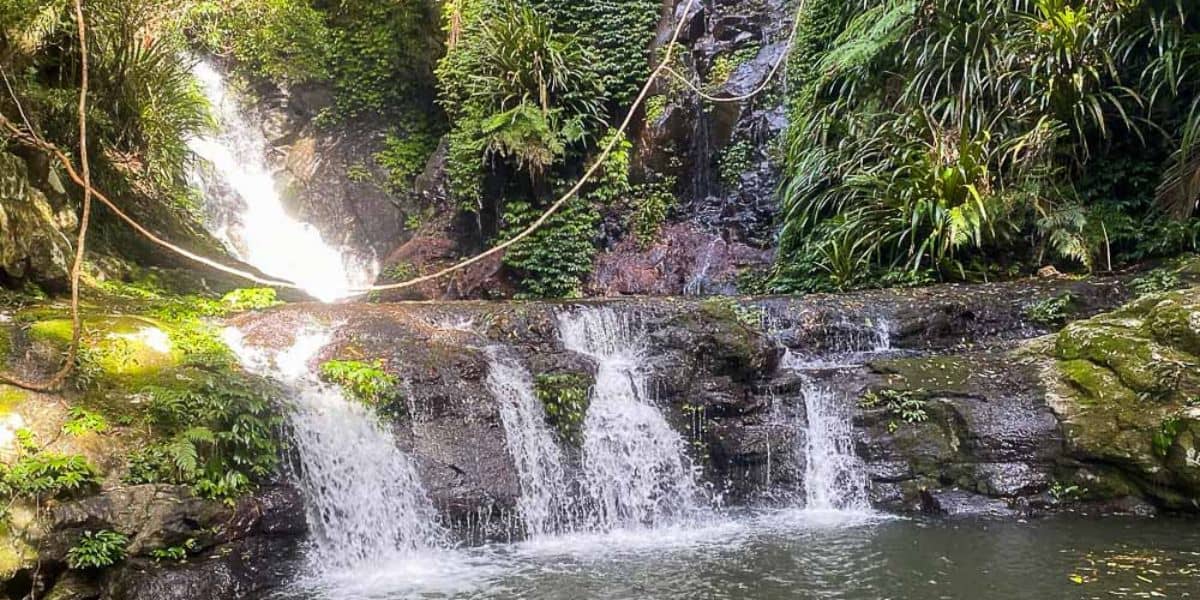 Just 45 minutes from Tamborine Mountain is Lamington National Park. This is another opportunity to immerse yourself in the forest, go for hikes, see waterfalls and come face to face with some of the region's most impressive wildlife.

O'Reilly's Rainforest Retreat is a great base for your day trip as they run a range of tours and activities for residents and day trippers and you can easily enjoy a day packed with adventures there. However, the roads up to the Retreat are winding, so if anyone in your group gets travel sick, it's worth being prepared in advance!

If you decide to extend your stay, you can find accommodation options at O'Reilly's Rainforest Retreat here.
Best Hotels on Mount Tamborine
Looking for the best places to stay Mount Tamborine has? We recommend making your booking through Booking.com as they offer a wide range of room types, most with free cancellation, which is ideal for last-minute changes.
However, if you want our recommendation for a hotel, we've listed our top pick for a luxury hotel, family hotel, mid-range and budget hotel below.
Pethers Rainforest Retreat is a luxurious adults-only resort that offers a secluded rainforest getaway. Set in five acres of private land, you'll stay in one of ten large tree houses just a few minutes drive from all of Tamborine's attractions.
Accommodation is provided in tree houses with timber floors, a private spa big enough for two, a gas fire for those cooler hinterland winters, air conditioning, plush soft furnishings, an entertainment system, a dining area, king size bed and incredible 5-metre windows with sliding doors out to the balcony where you can take in the sights and sounds of the forest.

The resort is sumptuous and private, and you have plenty of space to relax and unwind in this boutique setting. Snuggle by the fire, enjoy a spa bath or sip a bottle of bubbles as you gaze out at the forest. To help you relax, you can book a massage in your treehouse or on your deck overlooking the rainforest. The on-site restaurant is open from 11 am to 4.30 pm on weekdays (and open for a three-course dinner on Saturday nights and other special events – pre-booking is essential). 
If you're looking for an adults-only, romantic retreat, this is one of those places to stay Mt Tamborine has that you just have to try!
Click here for more information or to book
Base your family at Cedar Creek Lodges at Thunderbird Park and you'll be well-placed to enjoy all the park (and the surrounding area) has to offer. These self contained units are perfect for families looking for a cosy rainforest getaway.

The lodges are modern yet simple, and you can choose from two, three or four bedroom units. There are even glamping tents if you really want to get back to nature. The lodges have different inclusions depending on your choice, but you can expect features such as kitchens with dishwashers and washing machines, sitting areas, large TVs, ceiling fans, BBQs and outdoor fire pits. Some lodges offer more features, including TVs and DVD players in the bedrooms and canopied hanging chairs outside.

Set within the beautiful grounds of Thunderbird Park, you can enjoy hiking or wildlife spotting, or you could spend some time at the Thunderegg Crystal Mine or do the Tree Top adventure courses. When you're done for the day, you can enjoy dinner in the Rainforest Lounge and Bar or order in-room dining.

Cedar Creek Lodges is a convenient location for families and there is so much on offer at Thunderbird Park that you don't really need to leave the resort. However, when you are ready to explore further afield, you're only a ten-minute drive from Gallery Walk or five minutes from the Skywalk, so everything is close to hand. 
Click here for more information or to book
The Polish Place is a unique, award-winning resort with incredible 180-degree views towards the Great Dividing Range.
These cosy European-style chalets include a kitchen with laundry facilities, incredible cathedral ceilings, and a loft-style bedroom. The views from the private balconies need to be seen to be believed. Rooms include air conditioning, flat screen TVs, coffee machines, fireplaces, free Wi-Fi, double sized rainfall showers and breakfast baskets delivered daily.

Guests will love the on-site Polish restaurant serving delicious Polish cuisine along with beers and vodkas. You can also have meals delivered to your room. There is lots of wildlife to spot from your deck, including flocks of friendly rainbow lorikeets. Finally, the Polish Place is the ultimate place to enjoy a drink at sunset.

This is an iconic Tamborine Mountain attraction. It's one of the best places to stay Mount Tamborine has to offer and it's a great (and unexpected!) place to enjoy an authentic Polish experience in the Gold Coast hinterland!   
Click here for more information or to book
If you're looking for a basic motel to rest your head as you explore Mount Tamborine, the Mt Tamborine Motel is clean and simple and within a 10 to 20 minute drive of the region's main attractions.
Twin and double rooms are available with pool and garden views. Rooms have air conditioning, free Wi-Fi, flat screen TV, microwave, fridge, kettle, toaster, private bathrooms, and a balcony or patio.

The Motel has an outdoor pool with sun loungers and is set within pretty gardens. You will be able to enjoy fantastic balcony views in this peaceful retreat.

This is a great option if you're searching for somewhere to stay at Tamborine Mountain that is reasonably priced while being close to Tamborine's main attractions.
Click here for more information or to book
Enjoy Mount Tamborine!
Hopefully, this guide has given you lots of inspiration on exactly what to do in Mount Tamborine.
If you're planning a trip to Mount Tamborine, I highly recommend you check out our guide to the Gold Coast region, which provides links to everything you need to know to plan your trip.
I'd also recommend you join our free Queensland Travel Guide Facebook community, where you can ask all your questions and find even more great trip suggestions.
If you enjoy places like Mount Tamborine, you might also be interested in the following destinations:
Scenic Rim (coming soon)
Sunshine Coast Hinterland (coming soon)
Bunya Mountains (coming soon)