Are you planning a trip to Brisbane?  This article covers the best things to do in Brisbane City, including tourist attractions, activities and places to visit.
The Queensland Travel Guide acknowledges the Turrbal people, the Traditional Custodians of the land on which Brisbane (Meeanjin) is located. We pay our respects to their Elders, past, present and emerging, and recognise their continued spiritual and cultural connections to Country. Always was, always will be, Aboriginal land.
There are plenty of things in Brisbane to do! Known, of course, for being the capital of the sunshine state, it's a vibrant city that offers a range of experiences from cultural experiences to stunning parklands, bustling nightlife and much more!
Among the top things to do Brisbane offers is checking out the cityscape while cruising down the river, taking a swim in Streets Beach at the Southbank Parklands or enjoying a glass of wine from a rooftop bar with views to die for!
Whether you're a foodie, a sun-seeker or someone with a thirst for the great outdoors, Brisbane has something for everyone. Whether you're travelling with kids, a loved one, or on your own, it's the ideal place to spend a few days, plus with many must do Brisbane attractions completely free, it's an affordable city to visit too.
This guide will help you decide which things to see and do in Brisbane. It covers a broad range of Brisbane activities, including all the popular Brisbane attractions, the best places to visit in Brisbane, as well as all the essential information such as locations, opening hours and ticket prices.
In addition, this Brisbane to do guide includes tips on the best day tours and where to stay.
So let's get into it and check out the top things to do in Brisbane!
This post may contain compensated links. Please refer to our disclaimer here for more information.
BRISBANE TO DO GUIDE MAP
Before we get started on all the great stuff to do in Brisbane to help you plan your itinerary, check out the map below. This map shows the location of all the Brisbane tourist attractions covered in this guide.
I recommend you make a short list of all the attractions you want to see and then use this map to plan your day to day itinerary, so you're not travelling back and forth all over town.
BEST THINGS TO DO IN BRISBANE CITY
Below we cover the most popular places to go in Brisbane and Brisbane City attractions.
1. Visit Southbank Parklands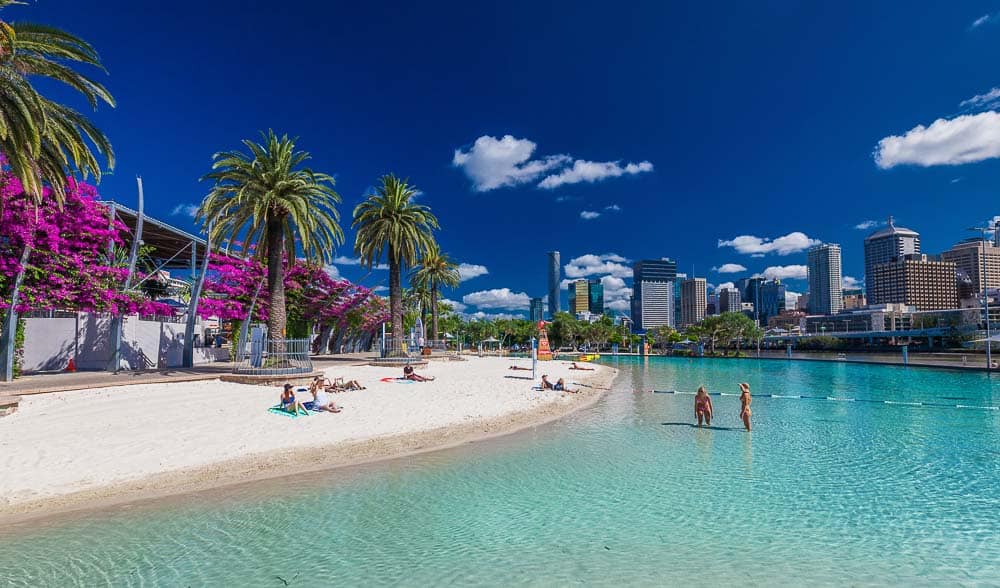 The Southbank Parklands is one of those places that offers something for everyone. So whether you're looking for free things to do in Brisbane with kids or things to do in Brisbane at night with friends, it's got it all.
Whether you're 5 or 50, you'll find something to enjoy in the South Bank area. However, if you're looking for fun things to do in Brisbane for families – you'll want to take the kids to Streets Beach, the man-made beach area that includes a lagoon style swimming pool, rock pools and interactive water play areas; it's without a doubt one of the most fun places to go in Brisbane.
There are plenty of other outdoor activities in Brisbane's Southbank, including the Rainforest walk, a boardwalk through the lush green forest that makes you feel like you could be in Tropical North Queensland or the Arbor, a 1km pathway lined with bright pink and purple flowers, perfect for getting those Brisbane Instagram photos.
Speaking of iconic Brisbane views, you'll find two more of Brisbane's top attractions in South Bank, the Wheel of Brisbane and the Brisbane sign. The Wheel of Brisbane is Brisbane's answer to the London Eye. While only 60 metres tall, it offers riders views across both sides of the river and in all directions, a great way to get your bearings in Brisbane and check out some of the Brisbane sights and attractions from above.
The Brisbane sign is near the wheel, just a bit further up the river. The brightly coloured letters spelling out Brisbane make for a great photo, especially because, unlike the Hollywood sign, kids (or adults) can climb into and on top of the letters.
Location: Clem Jones Promenade South Brisbane
Opening Hours: 24/7
Cost: Free
2. Cruise the Brisbane River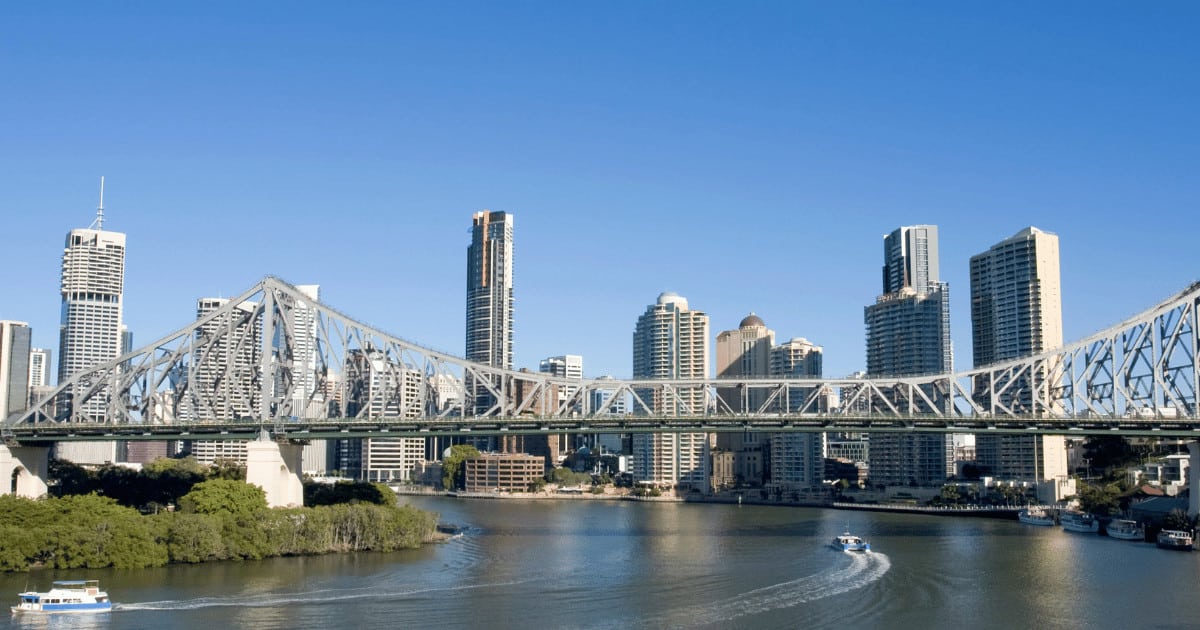 One of the top 10 things to do in Brisbane is to take a cruise down the river. There are multiple ways to do this too. You can charter a boat by yourself, sit back and relax on a tourist cruise or even take a quick ride to get from A to B onboard a city cat.
If you're the type of person, who likes to captain your own ship, you can do just that with goboat, a newish company that lets visitors hire small mortar boats that are perfectly set up for picnics on the river. Certainly one of the super cool things to do in Brisbane! We've taken the goboat our before and its really fun.
If you're unsure about handling a motor, then a Brisbane River Kayak tour might be a great option.
Whether by kayak, goboat or city cat, a great trip is heading down the river in the direction of New Farm park, Brisbane's largest park and the location of weekend farmers' markets.
Cruising the Brisbane River doesn't have to involve hard work; however, there are plenty of more cruisy (excuse the pun) options too. For example, one of the most fun things to do in Brisbane at night is to hop on a sunset cruise down the river, complete with an onboard bar or even a bar-hopping cocktail cruise.
3. Lone Pine Koala Sanctuary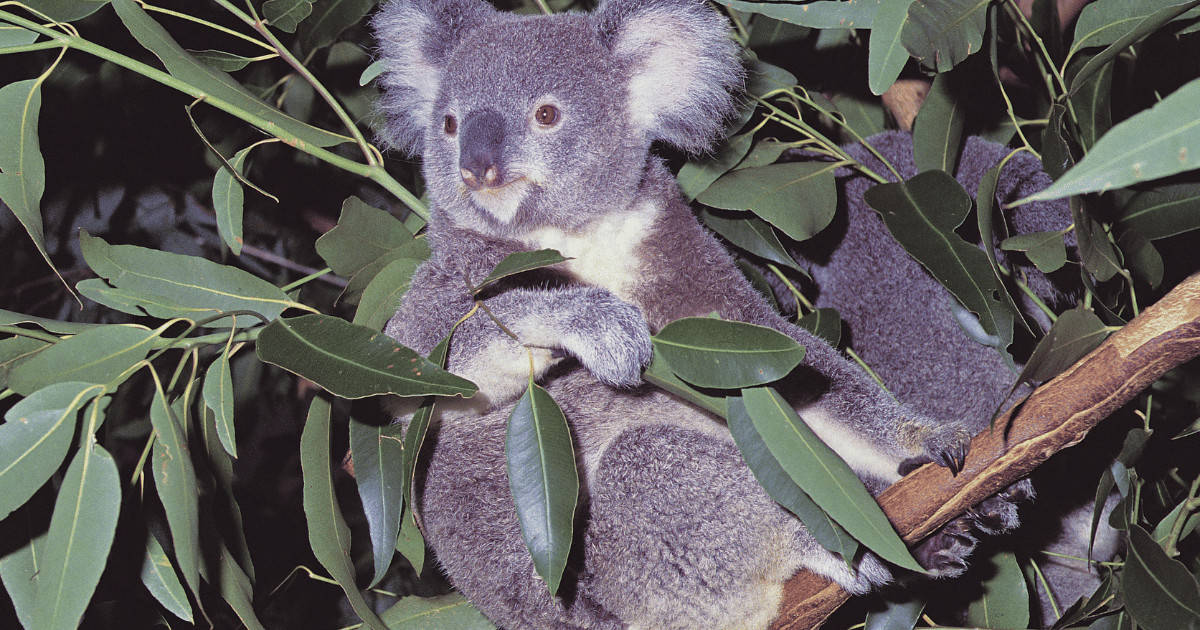 The Lone Pine Koala Sanctuary is a must if you're interested in some great family activities Brisbane offers – or you're an international tourist wanting to get up close with some cute and cuddly Aussie animals.
While it's called a koala sanctuary, Lone Pine has much more to offer than just koalas (although there are over 100 of those). One of the biggest drawcards of the sanctuary is the kangaroos which you can hand feed in the back paddock. Getting that close to Australia's most famous animals is one of the most memorable things to do in Brisbane with family.
In addition, you can watch the range of presentations and demonstrations on show throughout the day, such as lorikeet feedings, sheepdog shows, bird shows and more. These presentations are a great way to learn more about native Australian wildlife.
Lone Pine is 13 km from the Brisbane CBD on the banks of the Brisbane River, so the best and most scenic way to get there is by boat. You can book a Brisbane River Cruise with Lone Pine Sanctuary admission, combining two of our favourite Brisbane city activities.
Plan to spend a few hours to half a day here.
Location: 708 Jesmond Road, Fig Tree Pocket
Opening Hours: Daily 9 am to 5 pm
Cost: $49 per adult | $35 per Child (3-13) | $135 per family (2A+2C)
4. Climb the Story Bridge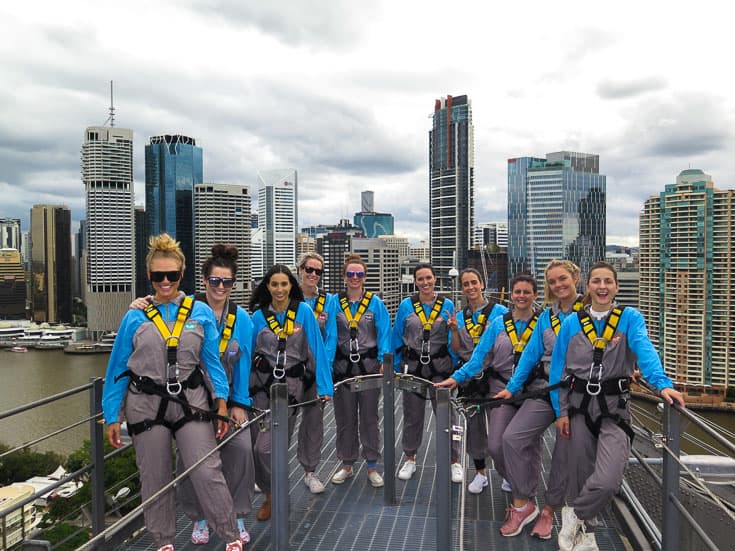 While the Story Bridge is pretty stunning to look at – you can climb it too – making it one of the really fun activities Brisbane offers.
The Brisbane bridge climb is one of only three bridge climbs in the world and from the top, you can see all the way out to Moreton Bay in the east and the Scenic Rim to the west. During the climb, you will learn some interesting facts about the bridge as well as Brisbane city.
There is no required fitness level to do the bridge climb; however you must be ok with climbing steep stairs and, of course heights. The bridge is 72 metres tall at its highest point, so you'll be a long way up!
The entire experience goes for around 2 hours and there is a range of different climb options, including a day climb, night climb, twilight climb, lean out off the bridge, walk a plank out over the bridge, abseil off the bridge – and more. So if you're a bit of an adrenaline junkie, this is one of the best adventure activities Brisbane can offer you.
Now I have personally done this and it was awesome! I highly recommend it.
Location: 170 Main Street, Kangaroo Point
Opening Hours: Monday to Sunday with hours varying pending climb chosen
Cost: From $129 per adult | $109.65 per child (6-16) | $399 per family (2A+2C) – Click here to book tickets online.
5. Queensland Art Gallery and Gallery of Modern Art (QAGOMA)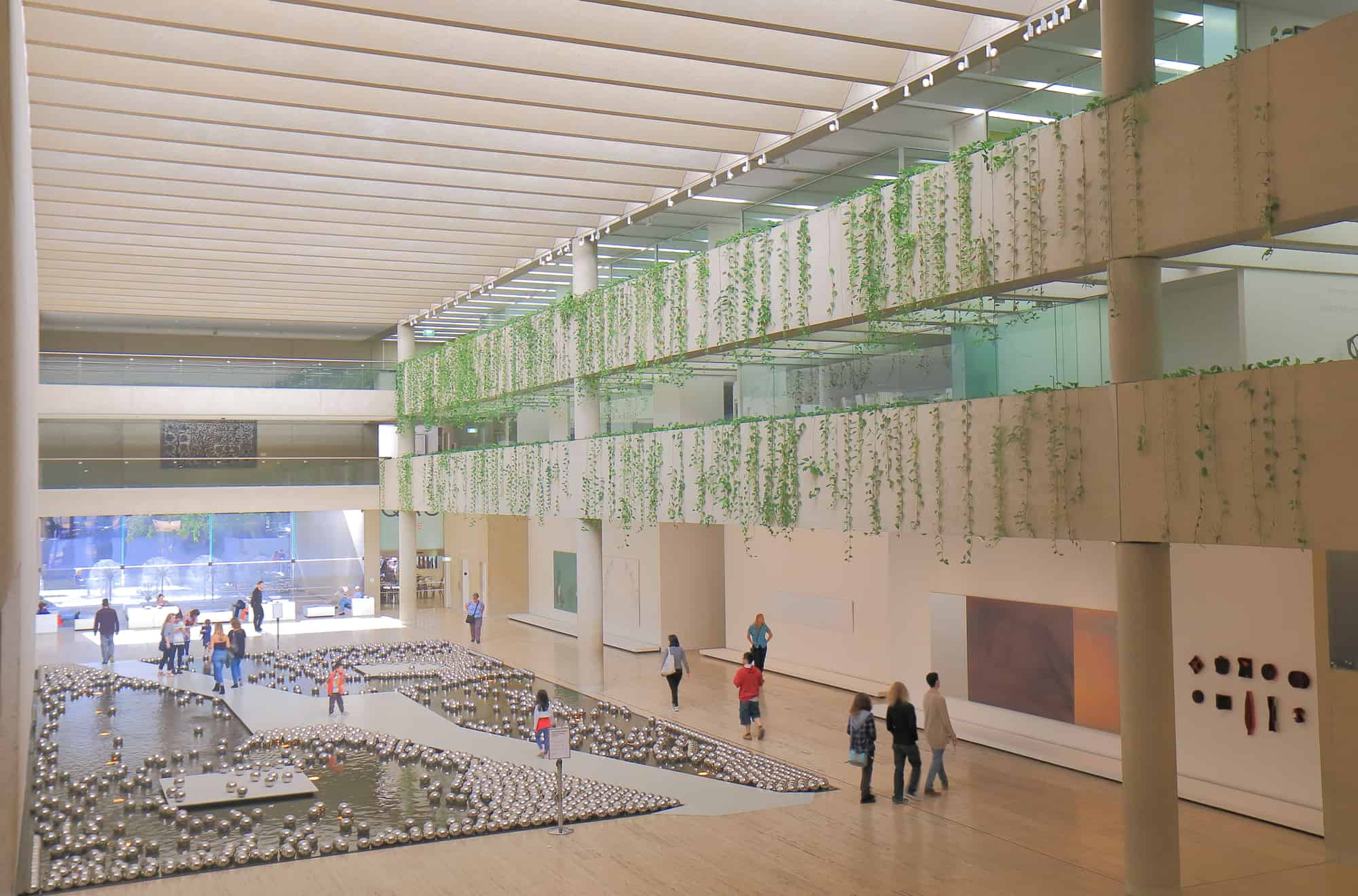 While Brisbane is quite an outdoorsy city, thanks to the sunny Queensland weather, there are plenty of indoor activities around Brisbane for when it gets too hot outside or you need some things to do in Brisbane on a rainy day. Of all the indoor options, the Queensland Art gallery and gallery of Modern Art is one of the best.
The art displays cover the full spectrum, from traditional European-style canvas paintings to weird and wacky modern art exhibits. Definitely don't expect to understand everything you see!
The gallery has made a real effort to showcase a mix of different artistic styles that represent the history and diversity of Queensland, with a large collection of Aboriginal artworks on display. So if you want to learn about some of the history and culture of Australia's indigenous peoples, this is a great place to go.
The gallery also hosts some excellent temporary exhibitions – so if you're looking for interesting things to do in Brisbane, check out what's on while you're in town.
Location: Cultural Precinct, Stanely Place, South Brisbane
Opening Hours: Daily 10 am to 5 pm
Cost: Free – although some exhibitions do require an admission fee.
6. Drink at a rooftop bar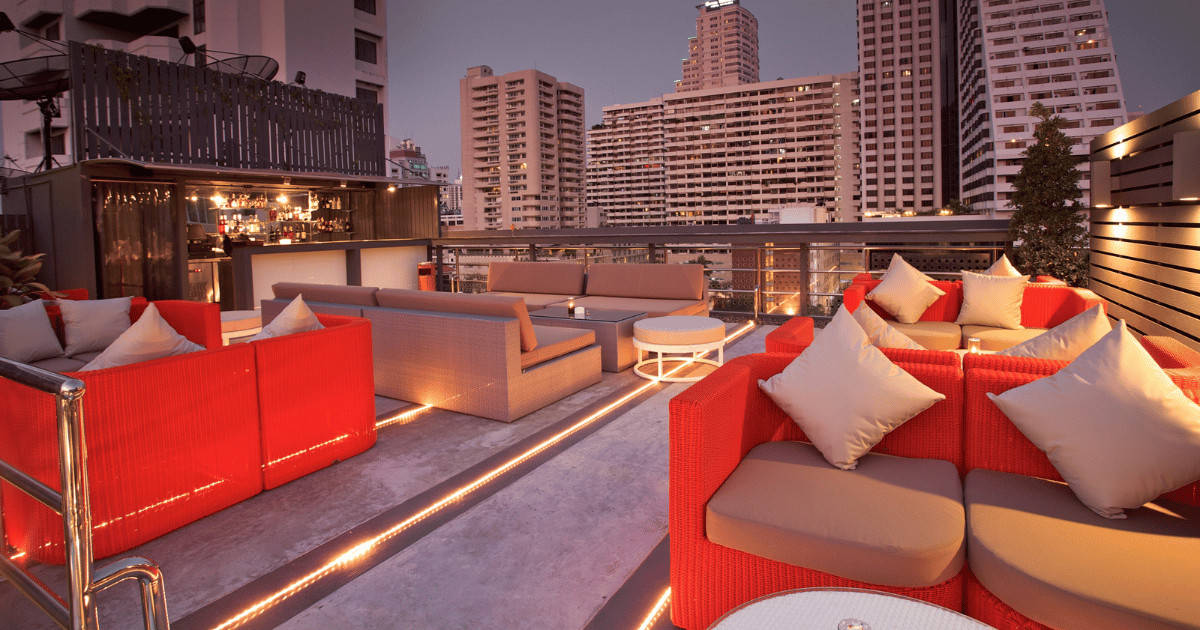 Rooftop bars are huge in Brisbane right now, with lots of new openings, from Mediterranean-themed pool-side spaces with loungers to hipster rooftop breweries with industrial fittings. If you're visiting in summer, these are definitely the cool places to go in Brisbane, where you can sip a cocktail with panoramic views of the city.
Some of Brisbane's most highly rated rooftop bars are Lina in the CBD, Valley Hops Brewing in the infamous Fortitude Valley, and Fiume at the Howard Smith Wharves. All have unique atmospheres, so there is certainly a bar for everyone!
7. Eat Street Northshore
For the foodies, Eat Street needs to be on your list of Brisbane places to go. As it's a little further out of the city, this is more of a local haunt compared to some of the Brisbane tourist places on this list, but that means it has more of a relaxed vibe and you know you're getting the real Brisbane experience when you go there.
Eat Street is made up of shipping containers stacked together to form an industrial-styled space. There is also a main stage where live music acts will perform most nights.
The food stalls at Eat Street offer dishes from all around the world, from crepes to dumplings and much more, at quite affordable prices, making it a great dinner spot for budget travellers.
Location: 221 Macarthur Ave, Hamilton
Opening Hours: 4-10 pm Friday-Saturday, 4-9 pm Sunday
Cost: $5 entry per adult | Free for children under 12
8. Farmers Markets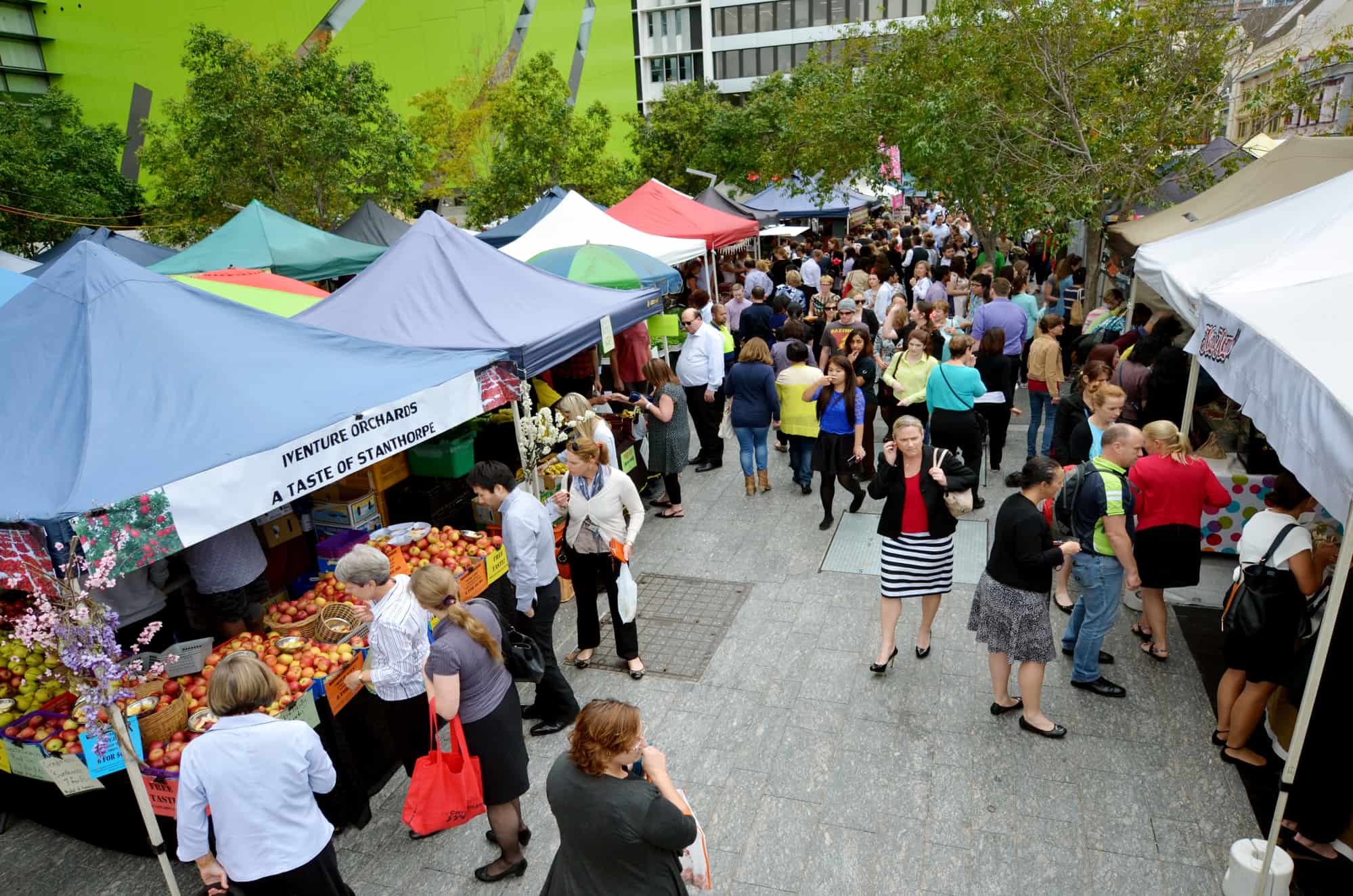 Some great markets to explore around the city centre and Southbank should definitely be on your list if you're visiting town on the weekend or just after cheap activities in Brisbane.
Here is a quick overview of the more popular markets around the CBD:
Riverside Garden Markets
Located in the City Botanic Gardens and the lower block of Albert Street, these Brisbane City markets are on Sundays from 8 am to 3 pm. You will find arts, and crafts, clothes, food, beverages, street performers and more. The different cuisines on offer really showcase Brisbane's diversity.
Southbank Collective Markets
Located in Southbank, these markets are on Friday nights and all weekend. Enjoy the live music, grab some street food and browse the clothes, art, jewellery, and home décor. This is one of the best Brisbane night activities in the area.
Brisbane City Markets
These markets are in Reddacliff Place from 8 am to 6 pm on Wednesdays and Thursdays in Cathedral Square from 8 am to 2 pm. These are more of a local farmers' market where Brisbanites buy fresh produce such as pasta, cheese, jams, fruit and veg, fresh juices, meat, seafood, small goods and other foods.
9. Howard Smith Wharves
When it's a sunny summer afternoon, all the locals know that Howard Smith Wharves is one of the best places to go in Brisbane. Tucked under the Story Bridge, the wharves have been transformed from a semi-industrial area into a dining hub with tons of outdoor space for relaxing with friends.
A large part of the wharves has been dedicated to Felons Brewing Co. beer garden and barrel hall, which offers beer tastings, trivia, live music and food. But if beer isn't your thing, there are plenty of other restaurants to choose from, including some of Brisbane's best fine dining and trendy pop-ups.
Pro Tip: Be sure to book well in advance if you want to dine at one of the restaurants here over a weekend – it's extremely popular and can book out weeks in advance.
Location: 5 Boundary St, Brisbane City
Opening Hours: Varies by restaurant
Cost: Free
10. Riverwalk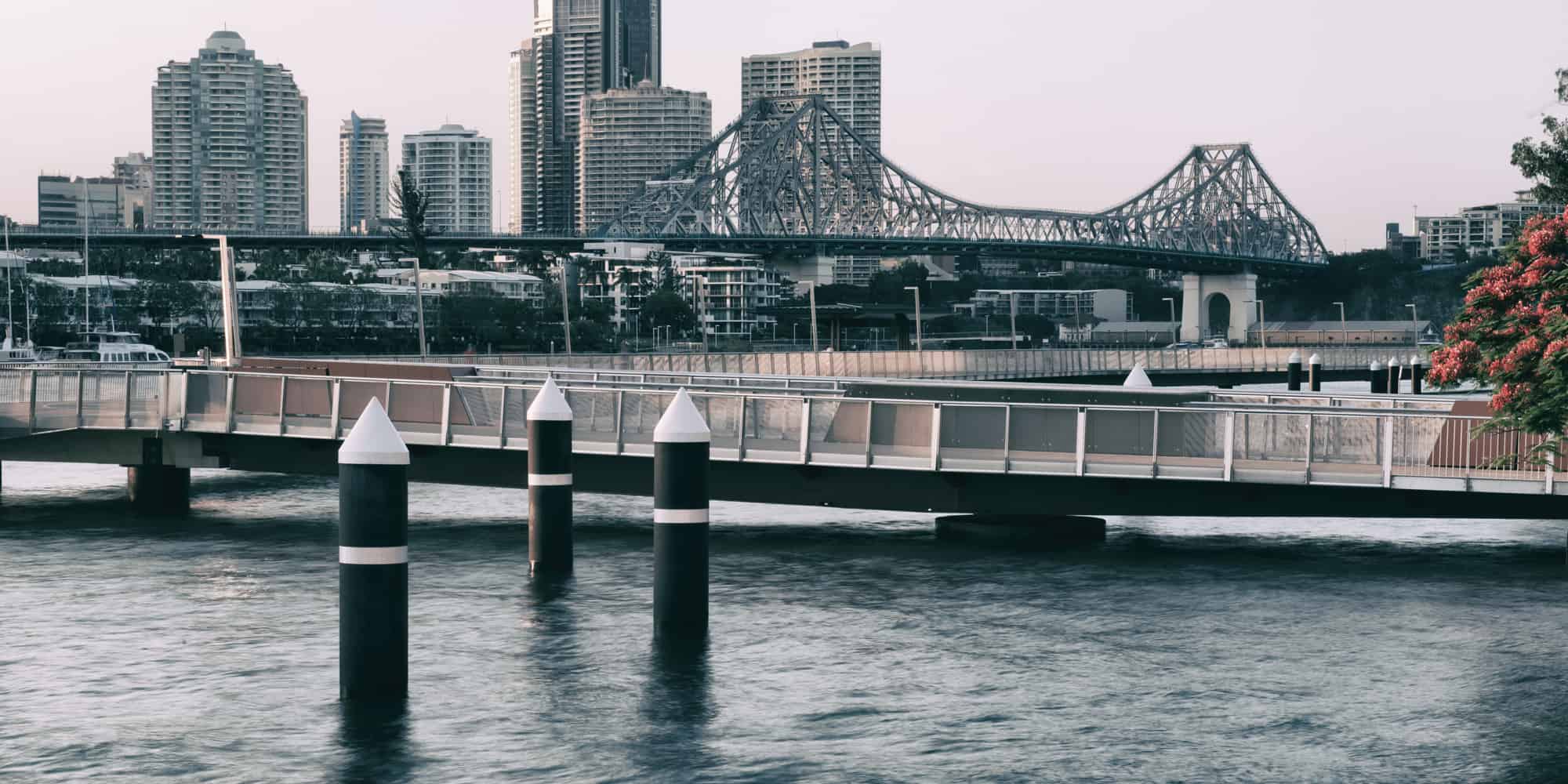 If you need some physical activities to do in Brisbane after eating like a king at the Farmers Markets or drinking too many cocktails at the rooftops bars, then grab your bicycles, scooters or just a good pair of walking shoes and head out along the 870 metres long Brisbane Riverwalk.
The Riverwalk juts out along the Brisbane River from the Howard Smith Wharves in the CBD to New Farm at Riverview Court. Along the way, you can explore the city from a new angle and see some of Brisbane's most gorgeous Queensland homes.
It's recommended you go the entire length to New Farm and onto New Farm Park. New Farm Park is another one of the great things to do in Brisbane for free, with a large gorgeous park for walks, runs or picnics and a great playground for the kids. From New Farm Park, you can take a CityCat back to the CBD or make the trip in reverse.
Location: The Riverwalk starts at Howards Smith Wharves and ends at Riverview Court, New Farm.
Opening Hours: Always
Cost: Free
11. XXXX Brewery Tour
When it comes to Brisbane places to visit for beer fans, XXXX Brewery is top of the list. Considered Queensland's most iconic brewery, XXX has been bottling up Aussie beers for 140 years; their brews were even sent to Australian soldiers posted overseas in WWII.
XXXX offers brewery tours at their Milton alehouse, which you can reach by City Cat (Park Road terminal) or train (Milton station).
Tours take around 1.5 hours and include three beer tastings from the XXXX range, including a non-alcoholic beer for the non-drinkers.
Location: Corner Black &, Paten St, Milton
Opening Hours: 10 am to 5 pm Friday-Sunday
Cost: $32 for the tour – Click here to book your tour online.
12. Queensland Museum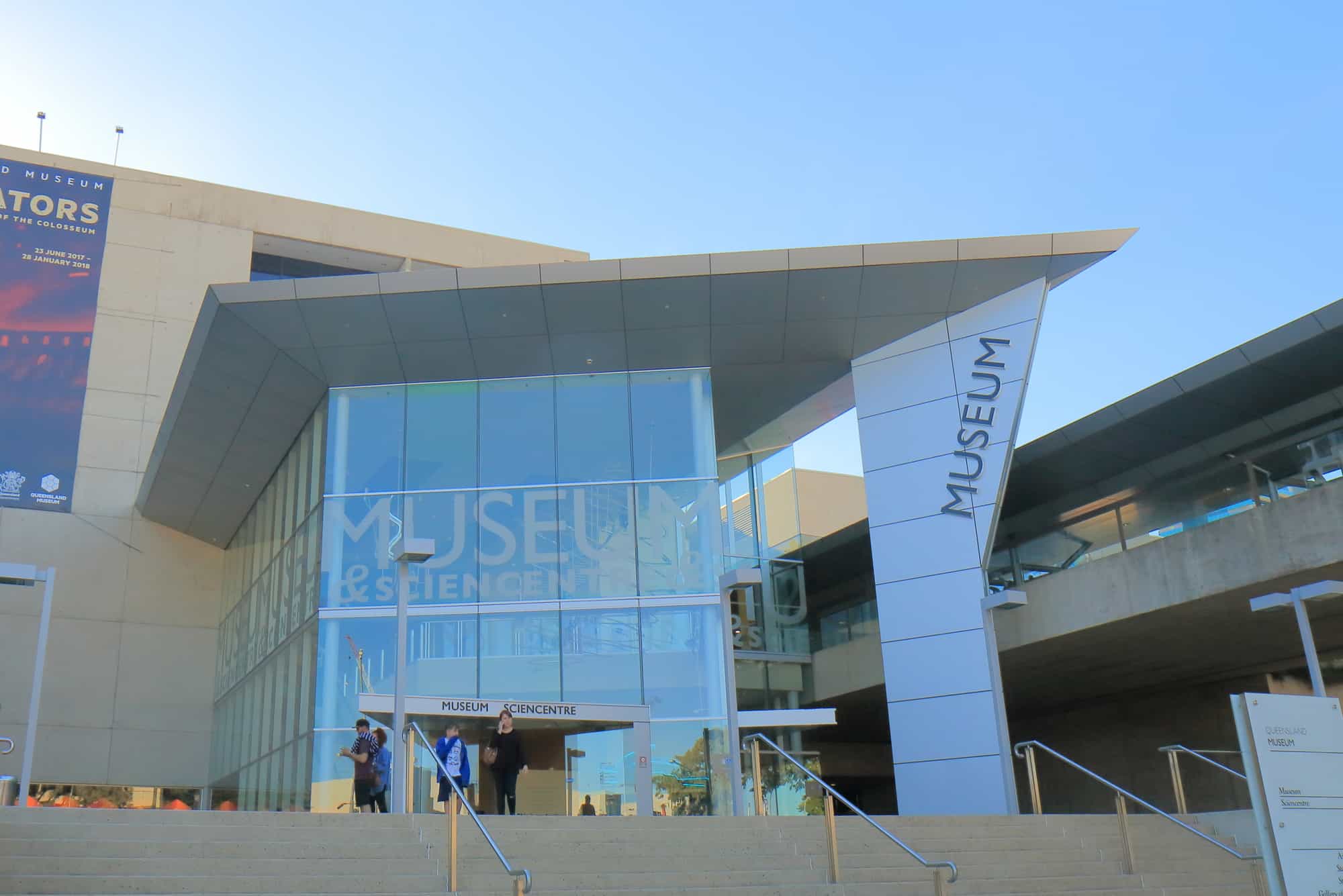 Another one of the top Brisbane tourist places to visit – particularly if you're after Brisbane things to do with family – is the Queensland Museum. Over three massive levels, various interactive displays feature dinosaurs, marine life, Australian animals, and a range of weird and unusual collections.
The Museum has life-size dinosaurs on display, as well as giant whales, spiders, stick insects, cockroaches and butterflies. This is the place to go if you want to see those infamous giant Australian spiders safely.
The Museum also has different exhibitions that change throughout the year and an onsite Cafe with river views.
The Queensland Museum is in the Cultural Precinct, north of the Southbank Parklands. It is a short walk from the Brisbane CBD or by public transport, including buses, trains, and ferries.
The train station closest to the Cultural Precinct is South Brisbane Station. For free transport, take the City Hopper Ferry from the Brisbane CBD to South Bank and walk from there.
Location: Corner of Grey and Melbourne Street, South Brisbane
Opening Hours: Daily 9.30 am to 5 pm
Cost: Free – although some special exhibits may cost extra
13. City Botanic Gardens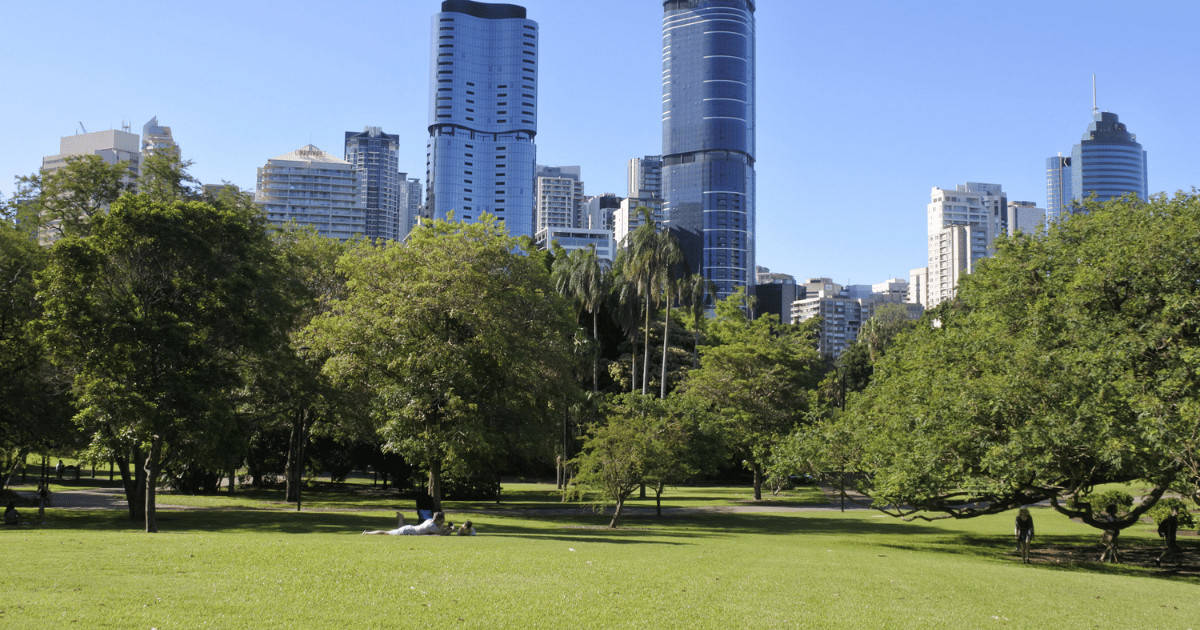 The Brisbane City Botanic Gardens is a lovely place to escape the hustle and bustle of the CBD and a great place to go if you're after outdoor things to do in Brisbane. Here you will find large areas of manicured lawns, riverside pathways shaded by large weeping figs, ponds with ducks and an excellent all ability playground.
The Gardens are best visited early in the morning when you can see the locals out for their morning walks and enjoy the space before the hottest part of the day, as there is little shade.
Time your visit for a Sunday morning to experience the weekly Riverside markets; the food stalls are not to be missed.
Location: 147 Alice Street, Brisbane City
Opening Hours: Open 24 Hours
Cost: Free
14. Boggo Road Gaol
If you're after one of the more unique Brisbane city tourist attractions and maybe something a bit spooky to do, go and learn about Queensland's most notorious prison – Boggo Road Gaol. Via a guided tour, you can learn about the inmate's crimes, their daily prison life, and the various officers that worked here.
There are various tours available at Boggo Road, with options to suit all ages. There are general history tours, while other tours give you more detailed knowledge about the more infamous prisoners. There are even tours where you'll get to play the role of one of the prisoners as you become part of a live re-enactment.
If you've read the hit novel Boy Swallows Universe, one of the best books set in Brisbane, this is the jail the main character has to break into on Christmas Day.
NOTE: the prison is currently closed for redevelopment and is scheduled to reopen in late 2023
Location: 21 Boggo Road, Dutton Park
Opening Hours: Tours operate daily
Cost: From $27.50 per adult | $20 per teen (12-17) | $15 per child (5-11) | $59 per family (2 A+2C) | Under 5s are free
15. Shopping at Queen Street Mall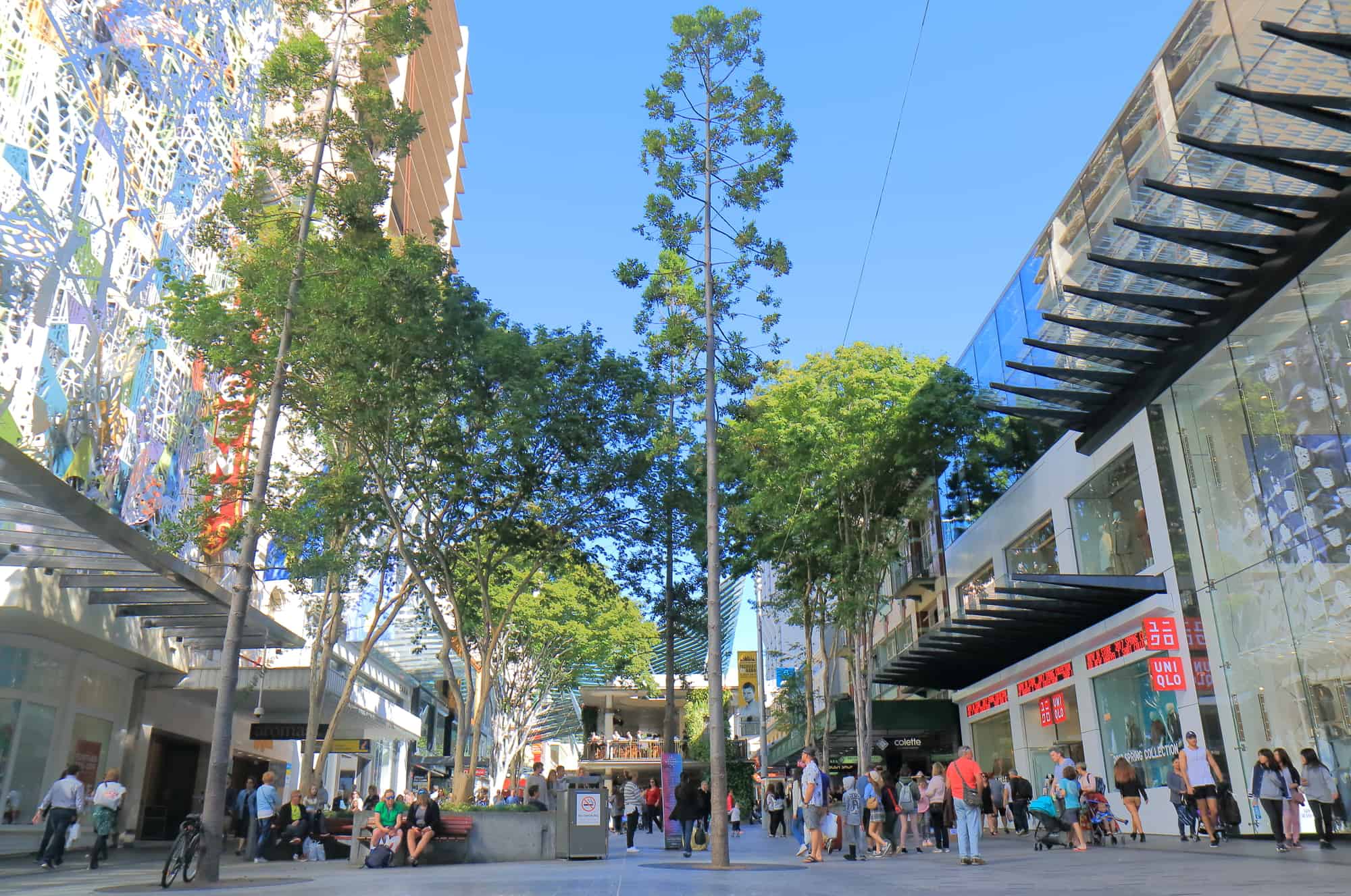 For those who love to shop then, one of the best Brisbane CBD things to do is to hit the shops along the Queen Street Mall. Here you will find over 700 retailers, heritage-listed arcades, large shopping centres, cinemas, a bowling alley, a casino, pubs and some of the best cafes in Brisbane. So for retail therapy in Brisbane, it doesn't get much better than this.
Popular shopping centres off Queen Street Mall include the Myer Centre, Broadway on the Mall, Queens Plaza, MacArthur Central, Queen Adelaide Building and the Wintergarden. You will also find food courts in these shopping centres if you are after some cheap places to eat.
On any given day, you will often find various buskers or other entertainment to watch in the mall – usually in the outdoor area where there are benches so you can catch a break and rest for a moment.
During the Christmas period, this is one of the most festive and fun places in Brisbane because of all the decorations around the Mall, including the Myer Christmas Windows and the David Jones Christmas Parade, which is held in the Queen Street Mall.
Location: Queen Street, Brisbane
Opening Hours: Varies between stores and restaurants
Cost: Depends on how much you buy!
16. Museum of Brisbane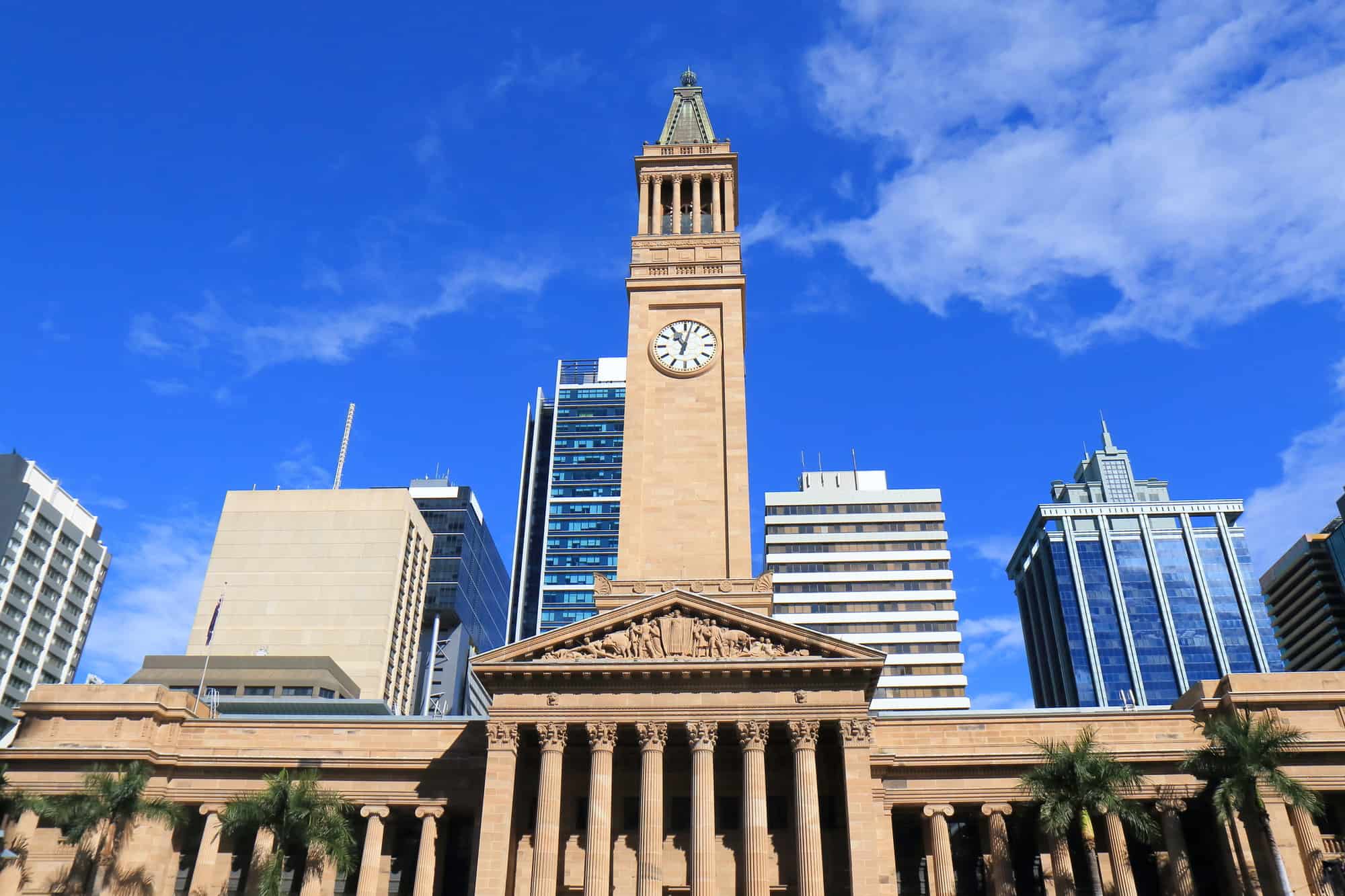 At the Museum of Brisbane, you can learn about the history of Brisbane through interactive displays, photos and film. The exhibits are always changing, so no visit will be the same. The Brisbane Museum is smaller than the Queensland Museum, but it's a great way to learn about the story of this fascinating city.
It's also one of the best Brisbane attractions for families because the Brisbane Museum offers many activities designed just for kids, like storytelling, kite making, craft, cooking, and more. Plus, there are interactive displays and baby-friendly tours, which ensure even the littlest of visitors are entertained.
The Museum is in the historic City Hall, which is absolutely a must-see. The building is so beautiful that one couple was taking their wedding photos there when we visited.
Location: Level 3, City Hall, 64 Adelaide Street, Brisbane – entry is through the King George Square Foyer.
Opening Hours: Daily 10 am to 5 pm
Cost: Free entry (some exhibitions may charge an entry fee)
17. Mt Coot-tha Lookout and the Brisbane Botanic Gardens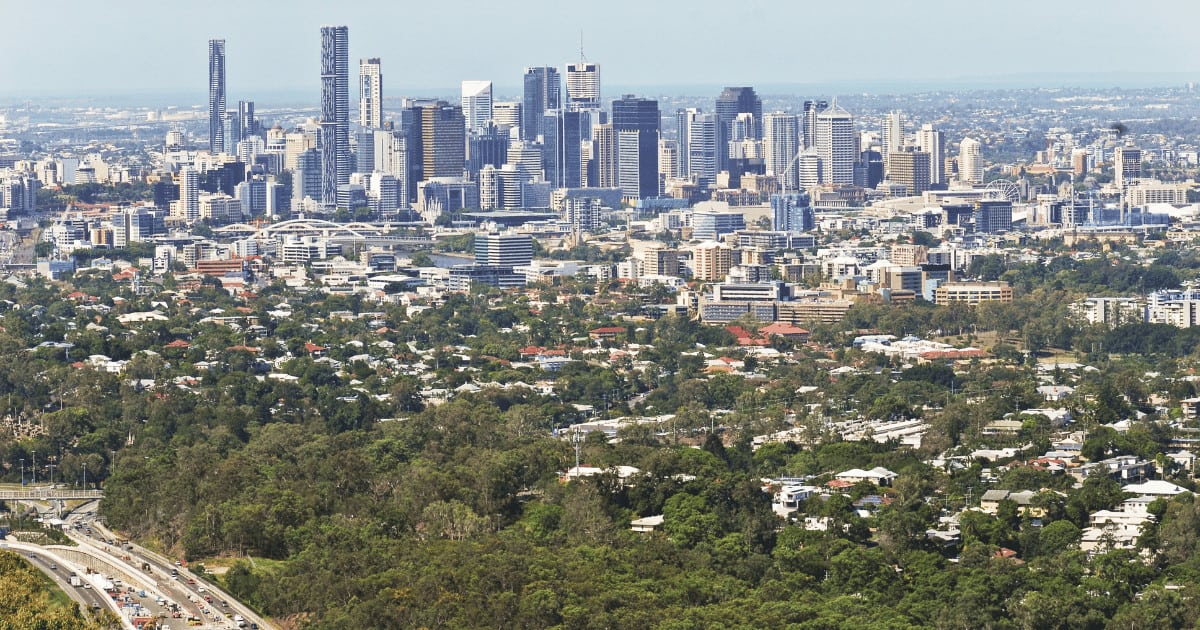 Just outside the CBD, you'll find Mt Coot-tha – the closest mountain to the city and one of the essential places to see around Brisbane. The summit of Mt Coot-ha offers amazing panoramic views of the city and there is a range of activities to enjoy here, including bushwalks, picnics and gardens.
For brilliant views of Brisbane city, it is highly recommended to go to the observation deck, where you can see out to Moreton Bay on a clear day. You can either drive to the top or take the walking track to the top.
There is also a café and restaurant here, so perfect if you're looking for lunch or just a snack. And for those that walk to the top – grab an ice cream – you deserve it!
The foot of Mt Coot-tha is a very popular spot for families to have a BBQ or picnic. There are many lovely spots along the creek at JC Slaughter Falls or among the manicured gardens at the Mt Coot-tha Botanical Gardens.
The Mt Coot-tha Botanical Gardens are spread across 52 hectares and have several different areas to explore. There is even a Japanese Garden with cherry blossoms; a gorgeous water lily covered lagoon and the Tropical Dome.
Throughout the gardens, there is a Children's Hide and Seek Trail and for adults, free guided tours are also available most days. The Gardens Café is open daily.
Location: Sir Samuel Griffith Drive, Mt Coot-tha
Opening Hours: 8 am to 6 pm (Summer) and 8 am to 5 pm (Winter)
Cost: Free
18. Sir Thomas Brisbane Planetarium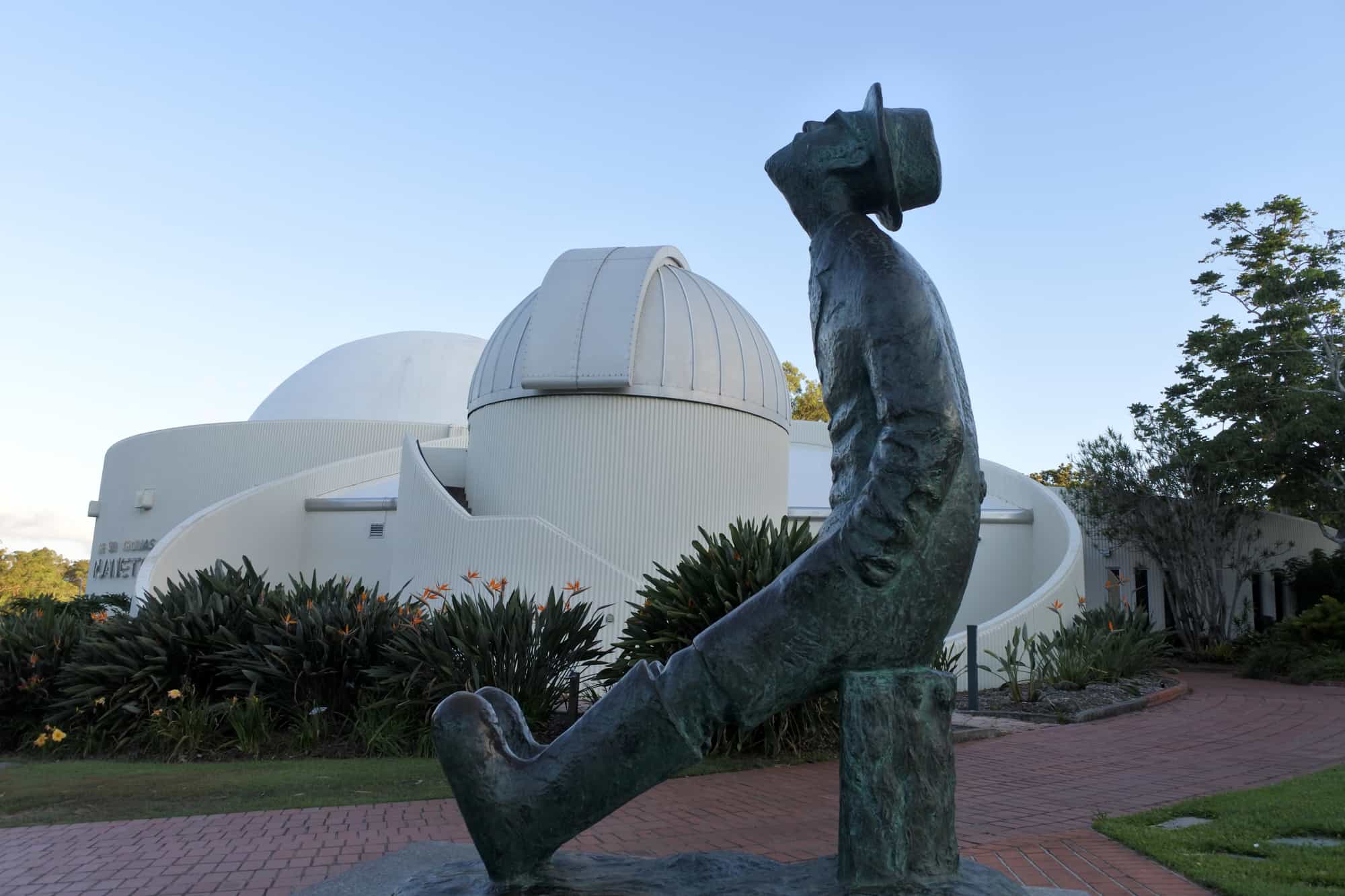 The Sir Thomas Brisbane Planetarium is also located at Mt Coot-ha, so watching a show at the planetarium is the perfect way to finish your day after hiking and a picnic.
A range of shows are held in the Planetarium's Cosmic Skydome, usually several per day on weekends, with a few designed especially for young children. Shows generally need to be pre-booked online.
As well as the shows, the planetarium also has a range of interactive displays, including an observatory and sundial, as well as a gallery and a mini theatre.
Location: Sir Samuel Griffith Drive, Mt Coot-tha
Opening Hours: Tuesday to Sunday 9 am to 4 pm and Mondays during QLD school holidays only
Cost: General entry is free, but entry for shows is from $10 per person
19. Roma Street Parklands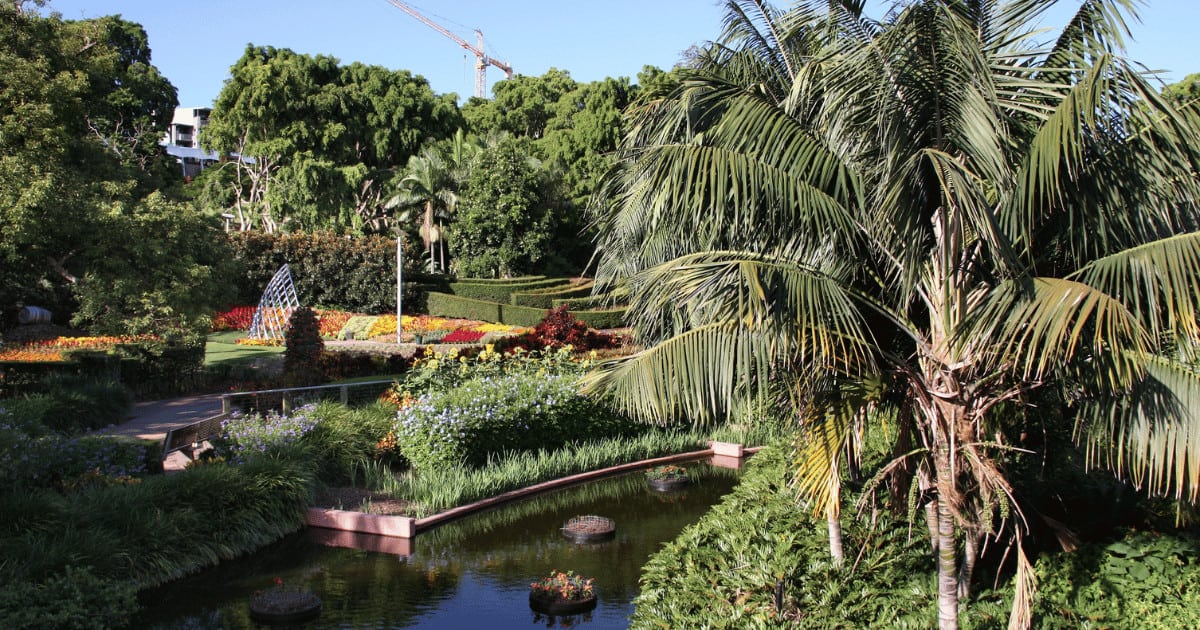 The Roma Street Parklands are located in the heart of Brisbane and is one of the best places to visit if you're after the free family activities Brisbane offers.
The parklands are huge, with lakes, playgrounds, flower beds, bridges, waterfalls and walkways for exploring, making it one of the most beautiful places to see in Brisbane. The Roma St Parklands are one of the world's largest subtropical gardens in a city centre and there is plenty to do here.
You can join one of the free Guided Walks, where guides will take you through the gardens and provide interesting details along the way. Some of the themed guided tours include – Bush tucker and Rainforest, 20 years of Roma Street Parklands and Spectacle Garden in Colin Campbell Place. Otherwise, head to the information booth and grab a map for your own self guided tour around the parklands.
There is a huge range of native wildlife in the park, including birds, bees, fish and water dragons, especially around the lake, where you can explore the walkways, watch the ducks or try and spot the lungfish.
There is a café within the parklands, but we recommend bringing a picnic lunch to enjoy or making use of one of the various BBQs found throughout the park. On a Sunday, there's live music, so your lunchtime entertainment will be sorted!
Location: 1 Parkland Blvd, Brisbane
Opening Hours: Open 24 hours (best to go in the daylight though)
Cost: Free
20. Queensland Maritime Museum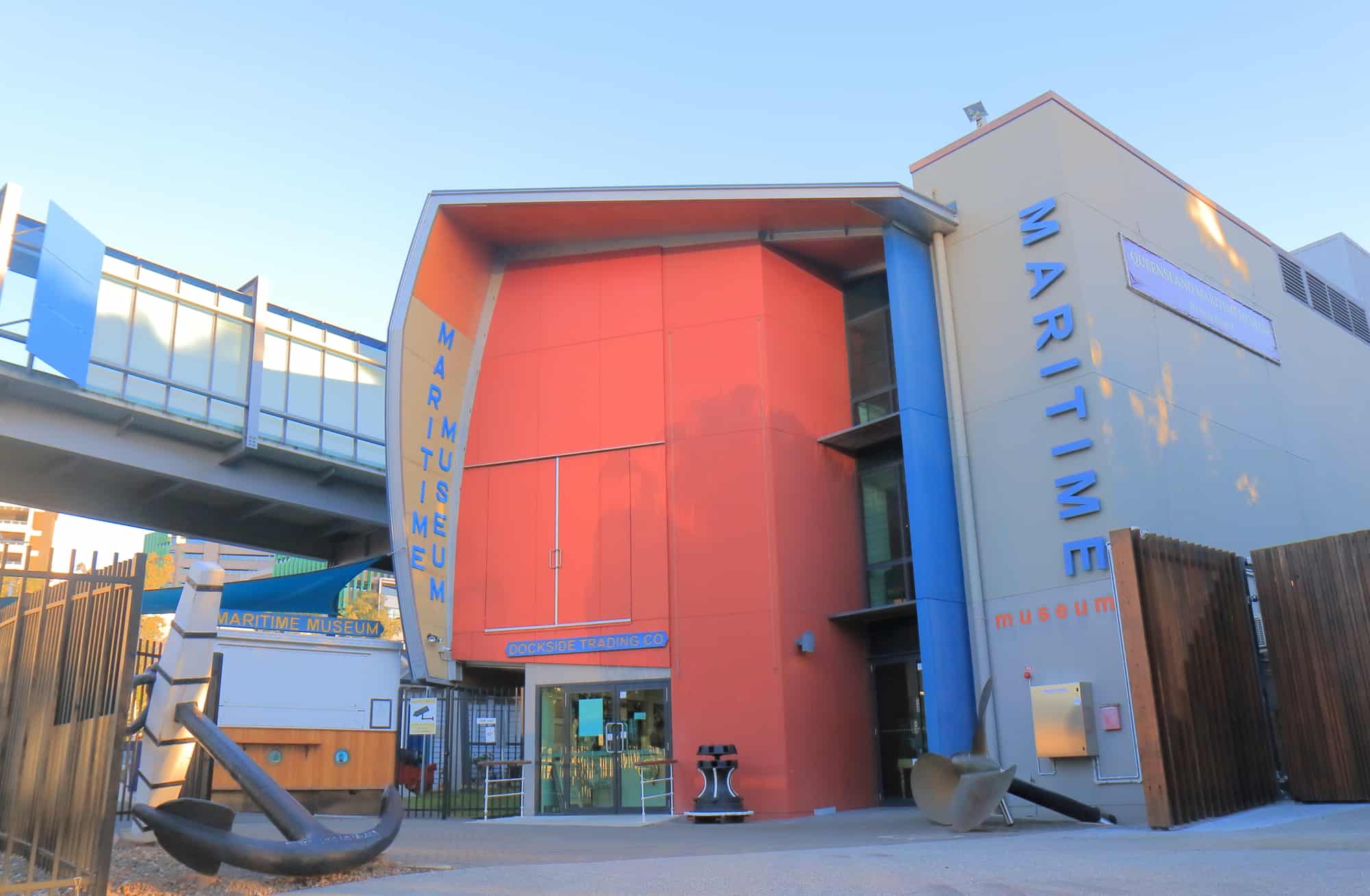 Located at the far southern end of South Bank is the Queensland Maritime Museum. This old museum is one of Australia's largest maritime museums and features various historic vessels and other items on display, including ships you can actually climb into and explore.
The range of huge historic boats includes the 1945 warship Diamantina, the 1925 steam tug boat, as well as Jessica Watson's Ella's Pink Lady. When you visit this museum, you'll get a real feel for what life was like on the naval ship during WW2.
They also have rotating exhibits celebrating Australia's maritime history and modern maritime life using various art mediums. So for family things to do in Brisbane for all ages, the Queensland Maritime Museum has something for everyone.
The museum is located between the South Bank Parklands and the Kangaroo Point Cliffs, making it a great place to stop if you're exploring Brisbane by foot along the riverbank.
Location: 412 Stanley Street, South Brisbane
Opening Hours: Wednesday – Friday 10 am to 3 pm | Weekends 9.30 am to 3.30 pm
Cost: $18 per adult | $8 per child (under 15) | $42-$50 per family (2A+3C)
21. Treasury Casino
Australians spend more on gambling per capita than any other country, so it's no surprise that a casino makes the list of Brisbane city things to do.
The Treasury casino is slightly different from what you might expect, as it's housed in the beautifully restored historic Queensland treasury building. So even if you don't want to put any money down, it's worth a look inside.
Alongside the gaming machines and table games, Treasury also has a five-star hotel and top class restaurants, so if you're looking for a big night out in Brisbane with a group, this is the place to go.
Location: 159 William Street, Brisbane
Opening Hours: Varies, some restaurants are open from breakfast and the casino opens late
Cost: Whatever you want to risk
BEST TOURS OF BRISBANE
If you're short on time or don't have your own transport, a group tour is often the best way to see the highlights of Brisbane and the surrounding area.
Below we've listed some of the best tours of Brisbane.
Brisbane City Highlights
This tour is your ticket to see all the best attractions in Brisbane in the least time. It's a whirlwind but a very fun day out.
You'll catch the best views in the city from Mt Coot-ha, get up close to cuddly koalas at Lone Pine Sanctuary, soak up the atmosphere of the South Bank and get your Brisbane sign photos, all in the space of 6 hours.
This really is great value for what you cover and the local guides will take care of you with free bottled water and a properly air-conditioned van to help withstand the Brisbane heat.
Click here for information and to book your tour.
Brisbane Self Guided Walking Tour
This self-guided audio tour will give you the best of both worlds if you're more of an independent traveller. You can go at your own pace but benefit from expert commentary to help you understand what you're seeing.
This Brisbane city tour is especially good for history fans as it takes you through the stories of some of Brisbane's oldest buildings like the City Hall and Parliament House, as you wander the halls.
Click here for information and to book your tour.
BRISBANE DAY TRIPS
While the Brisbane CBD is fabulous for a few days, there is much more to see in the neighbouring areas. So while it's recommended you stay at least a few days in each of these regions, if you only have a day, then a day trip is possible.
Gold Coast

The Gold Coast is one of Australia's top destinations and you'll be surprised how easy it is to get to from Brisbane, just a short drive, train ride or transfer away.
If you're after picture-perfect white sand beaches, then a day trip to the Gold Coast is a must! Head to one of the many pristine beaches for swimming, surfing and sunbathing.
The Gold Coast has a lot more than just beaches however, it's also a top shopping destination and has a thriving food scene, with many cafes specialising in fresh, healthy dishes made with local produce.
For families, the Gold Coast is all about the theme parks and you have so many to choose from. Younger kids will love splashing around at SeaWorld or meeting favourite characters at Movie World, while older kids will be thrilled by the rides at DreamWorld.
Click here for our full guide on things to do on the Gold Coast.
Mt Tamborine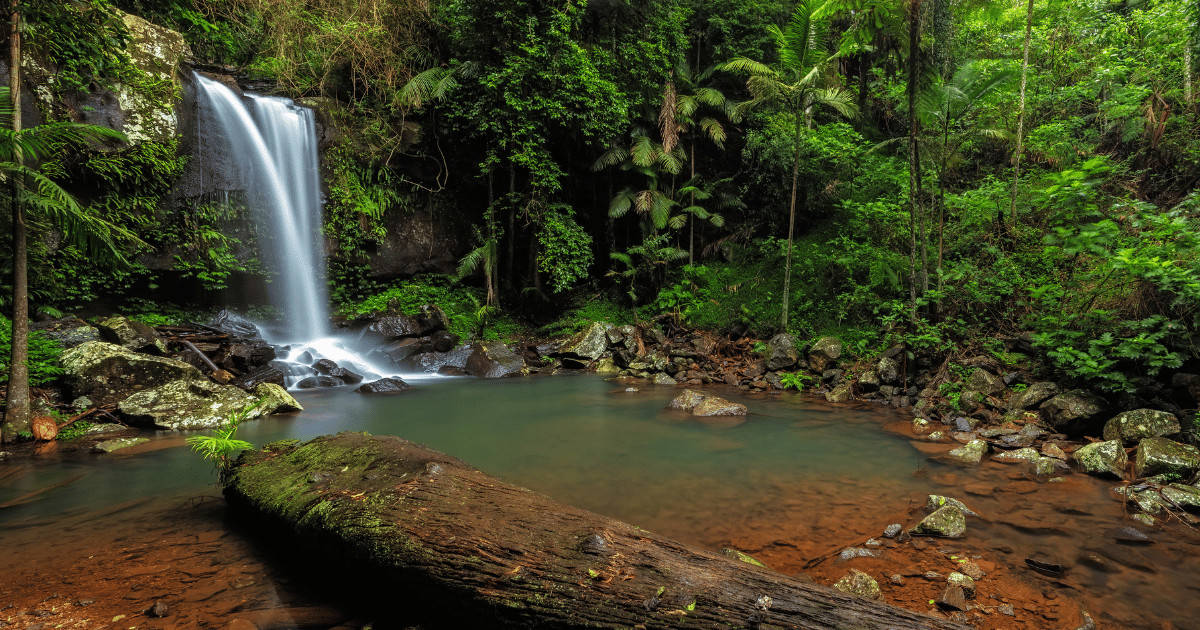 Mount Tamborine is one of the best places to visit near Brisbane for nature lovers. You can spend a full day exploring the natural beauty of the including seeing rare butterflies, crystal clear waterfalls, lush rainforest and more.
To make the most of your day trip, book a Mount Tamborine tour; Queensland Day Tours and Bums on Seats both offer great itineraries.
Mount Tamborine is also a highly underrated wine region with some of Queensland's best boutique wineries located in the area. You can discover these on a wine tour from Brisbane, which includes a gourmet lunch.
Click here for our full guide on things to do on Tamborine Mountain.
Sunshine Coast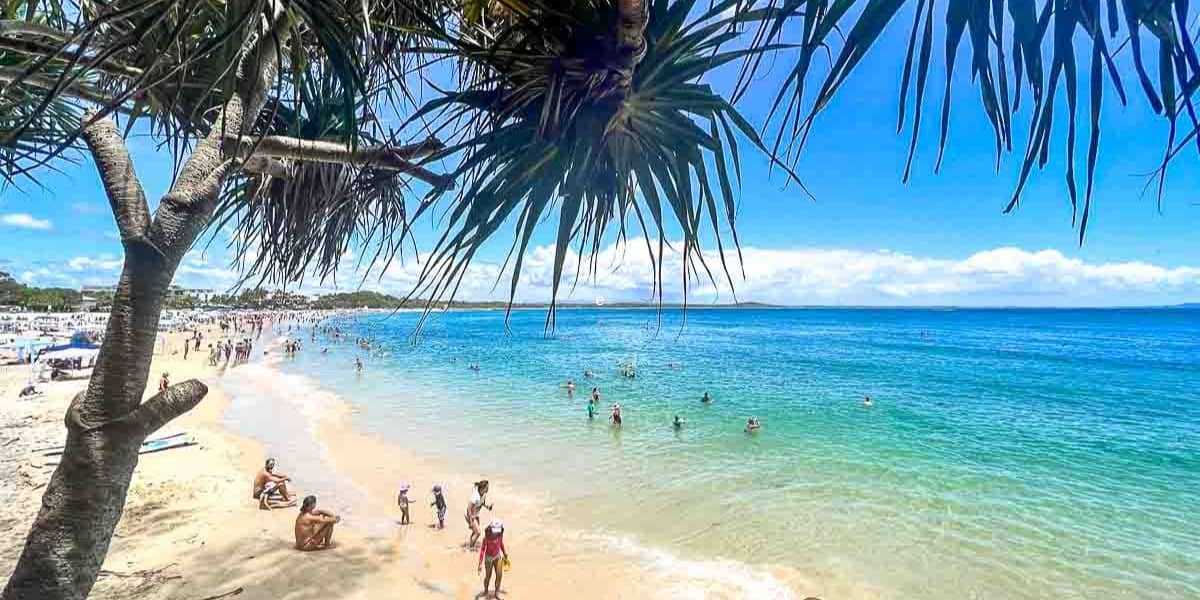 The Sunshine Coast is just north of Brisbane and, in addition to gorgeous sunny beaches, has lots to offer visitors of all tastes.
Kids will love the Australia Zoo with its world famous wildlife warriors show that features birds swooping overhead, a crocodile feeding display and tons more. As well as all the incredible animal species to learn about, there are various play parks dotted throughout the zoo, including a great water splash park for the kids to cool off whilst parents take a rest on the grass nearby.
If you don't feel like driving, you could book return transfers from Brisbane through a tour operator.
For adults, the Sunshine Coast hinterland and Noosa are popular to explore, with a mix of quaint mountain villages, artsy markets and the world's biggest ginger factory – you can't say the Sunshine Coast isn't unique!
Queensland day tours can take you to all of these on a small group tour.
Click here for our full guide on things to do on the Sunshine Coast.
Moreton Island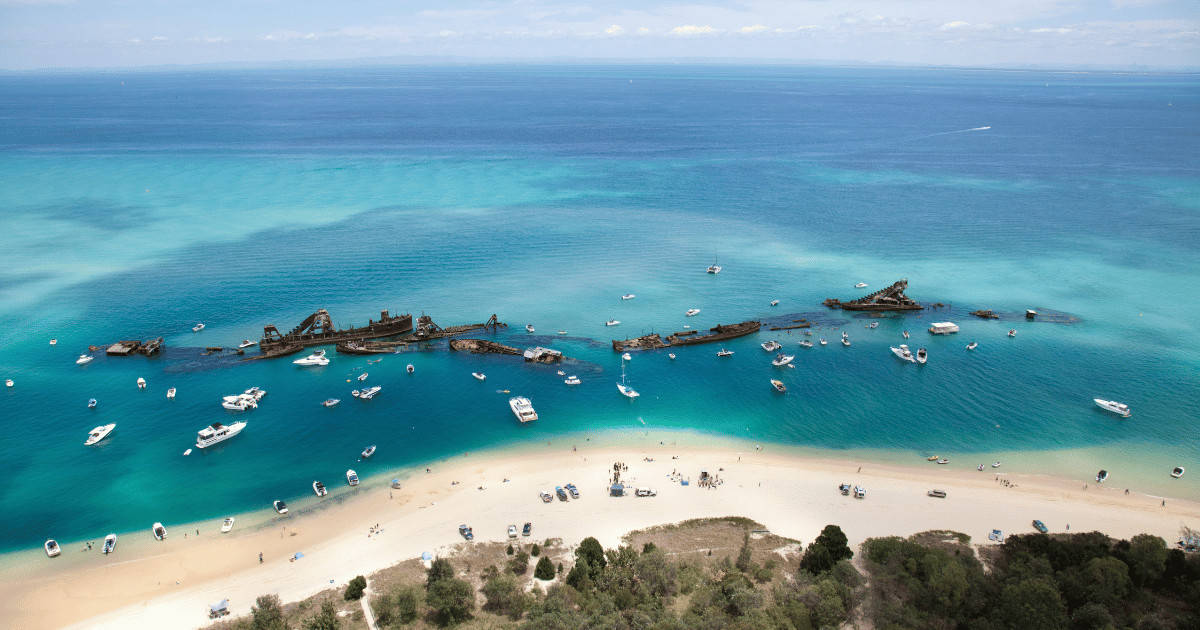 A visit to Moreton Island is on most Queensland travellers' lists, particularly those who love the great outdoors and fortunately, it's very accessible from Brisbane. The island offers attractions like the Tangalooma Shipwrecks, whale watching, swimming with dolphins and, incredibly, sandboarding in the desert.
You'll need a 4WD to make the most of your time on the island, so if you don't have one or aren't able to hire one, then a day tour is a great way to go. A Tangalooma Day Cruise with ATV Quad Bike Tour is great for adventure seekers or a Moreton Island Snorkeling & Dolphin Feeding Tour for those who prefer to spend most of their time on the water.
North Stradbroke Island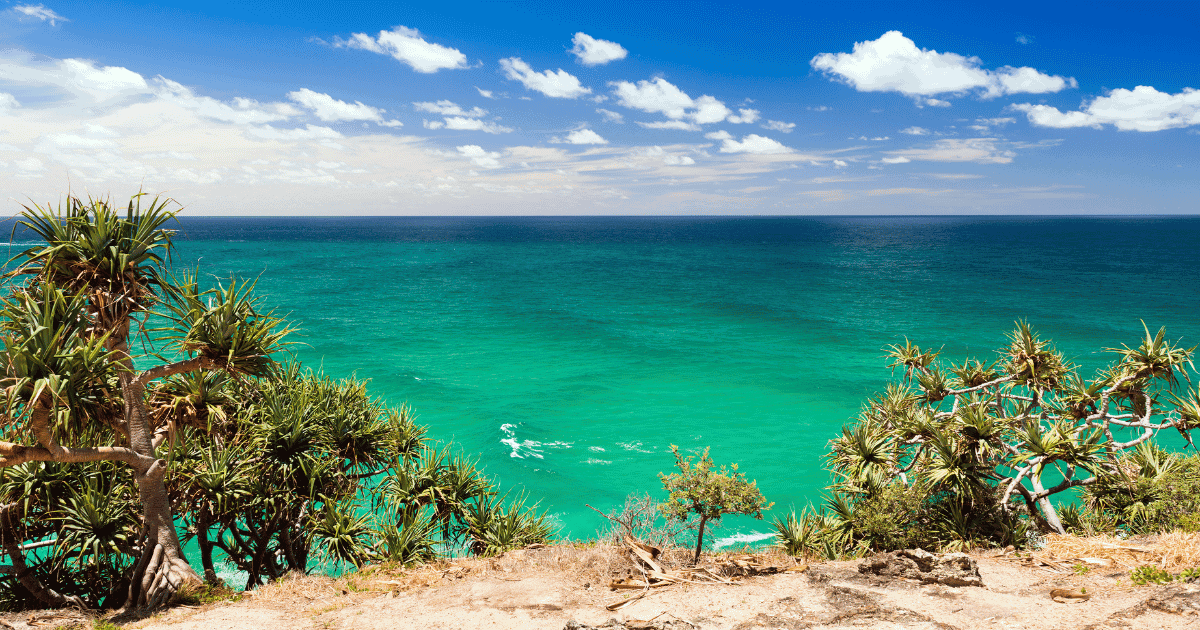 North Stradbroke Island, also known as Straddie or its traditional aboriginal name, Minjerribah is a fantastic place to enjoy natural beauty, swim in clear waters, explore inland lakes, spot wildlife or chill back at one of the Stradbroke Island restaurants and cafes. For attractions near Brisbane, it doesn't get much better than this!
North Stradbroke Island is the world's second largest sand island, being 38 kilometres long and 11 kilometres wide and is only 30 kilometres southeast of Brisbane. You can self-drive for a day trip and catch the ferry or book onto a day tour to have the logistics taken care of.
BEST HOTELS IN BRISBANE
Looking for somewhere to stay in Brisbane? We recommend making your booking through Booking.com as they offer a wide range of hotels and most with free cancellation, which is ideal for last minute changes.
However, if you want our recommendation for a hotel, we've listed our top pick for a luxury hotel, family hotel, mid range and budget hotel below.
The Emporium Hotel is easily the nicest accommodation in the happening Southbank area. It's right across the road from a range of restaurants and less than 10 minute walk from the Southbank Parklands and the QAGOMA.
Everything about Emporium is opulent, from the rooftop infinity pool and bar to the marble bathrooms and glass lobby. There's no better way to start a day of activities around Brisbane than enjoying a coffee on your private Emporium Hotel balcony overlooking the Brisbane river.
Click here for more information or to book
The Mantra chain offers some of Australia's best value for money hotels. As it's apartment-style accommodation, each unit has a kitchenette and laundry, so you can deal with any dirty clothes from a day of Brisbane adventures and save money on meals. In addition, many apartments have multiple bedrooms, perfectly configured for families of different sizes.
The Brisbane Mantra is also in Southbank, close to many of the best Brisbane attractions for families, like Streets Beach and the Rainforest Walk, so you don't have to worry about navigating public transport when exploring.
Click here for more information or to book
The Park Regis North Quay is in the quieter North Bank area, ideal for anyone wanting to be out of the hustle and busy nightlife areas. However, it's still fairly central and close to the Roma Street transport hub for buses, trains and ferries to all your Brisbane attractions and activities. It's also close to the Suncorp Stadium, so a good pick if you're visiting Brisbane for an event.
The rooms at the Park Regis are spacious and modern; many have river views looking back towards the CBD and Southbank. There is a mix of rooms and apartments to suit solo travellers, couples or even big groups.
Click here for more information or to book
Many people think that YHAs are just for backpackers. However, while they do have really affordable hostel beds, they also have private rooms that suit budget travellers of all ages and varieties.
Even though the prices are budget-friendly, the Brisbane City YHA has some pretty luxe amenities like a rooftop pool and it's quite central, just 5 minutes from the river. Social travellers will also love the games room, onsite bar and weekly activities schedule.
Click here for more information or to book
ENJOY BRISBANE!
Hopefully, this guide has given you lots of inspiration on things to do in Brisbane.
If you're planning a trip to Brisbane, I highly recommend you check out our guide to Brisbane, which provides links to everything you need to know to plan your trip.
I'd also recommend you join our free Queensland Travel Guide Facebook community, where you can ask all your questions and find even more great trip suggestions.
If you're heading to Brisbane, you might also be interested in the following nearby destinations: