Wondering what to do in Airlie Beach?  This article covers the best things to do in Airlie Beach, including tourist attractions, activities and places to visit.
The Queensland Travel Guide acknowledges the Ngaro people, the Traditional Custodians of the Whitsunday region. We pay our respects to their Elders past, present and emerging, and recognise their continued spiritual and cultural connections to Country. Always was, always will be, Aboriginal land.
There are plenty of top things to do in Airlie Beach! Known, of course, for being the gateway to the stunning Whitsunday Islands, but you may well be surprised at the number of Airlie Beach things to do from the mainland too.
Of course, one of the most popular Airlie Beach activities is a day out on the gorgeous Great Barrier Reef! But other activities Airlie Beach offers include swimming in the lagoon, exploring the Whitsunday markets, taking in the stunning views along the Whitsunday Great Walk, visiting Cedar Creek Falls and exploring the region's pristine beaches.
Whether you're looking for things to do in Airlie Beach for families, Airlie Beach activities for couples or even things to do with a group of friends, there really is something for everyone here.
To help you decide what to add to your itinerary this Airlie Beach to do guide has got you covered. This guide covers a broad range of activities in Airlie Beach, including all the popular Airlie Beach attractions and things to do around Airlie Beach in the nearby area.
Plus the guide includes all the essential information such as locations, opening hours and ticket prices, as well as the best day tours and tips on where to stay.
So let's get into it and check out the top attractions and activities at Airlie Beach!
This post may contain compensated links. Please refer to our disclaimer here for more information.
AIRLIE BEACH THINGS TO DO MAP
Before we get started on all the great activities at Airlie Beach, to help you plan your itinerary, check out the map below. This map shows the location of all the Airlie Beach tourist attractions and things to do near Airlie Beach covered in this guide.
I recommend you first make your Airlie Beach what to do list and then use this map to plan your day to day itinerary so you're not travelling back and forth all over town.
BEST THINGS TO DO IN AIRLIE BEACH
Below we cover the top attractions, activities and things to see in Airlie Beach.
1 Whitehaven Beach and Hill Inlet
Top of your Airlie Beach must-do list has to be a visit to Whitehaven Beach and Hill Inlet. Take a boat trip out to enjoy this unspoilt paradise, one of the world's most eco-friendly, pristine beaches. The swirling turquoise lagoon is like nothing you've ever seen before, and the pure white silica sand dazzles your eyes and squeaks beneath your feet.
Whitehaven Beach is an iconic natural attraction and it's one of those things to do from Airlie Beach that you will remember forever. Do not miss it!
There are a number of operators offering day trips from Airlie Beach – click here to see what's available.

If you have time to spare, a multi-day trip allows you to spend a few days sailing around this stunning location – click here to see whats available.
2 Airlie Beach Markets
Come along and sample delicious local produce at the Airlie Beach Markets, held every Saturday (with extra markets held to coincide with cruise ship dockings).
It's the perfect place to enjoy the vibrant Airlie community atmosphere and buy supplies for picnics and beach days.
Location: Southern end of the Airlie Beach Esplanade, beside the playground
Hours: Saturdays 7 am to 1 pm + cruise docking days (check with the Whitsundays Visitor Information Centre for these)
Cost: Free, although we can't promise you won't buy all the food!
3 Airlie Beach Lagoon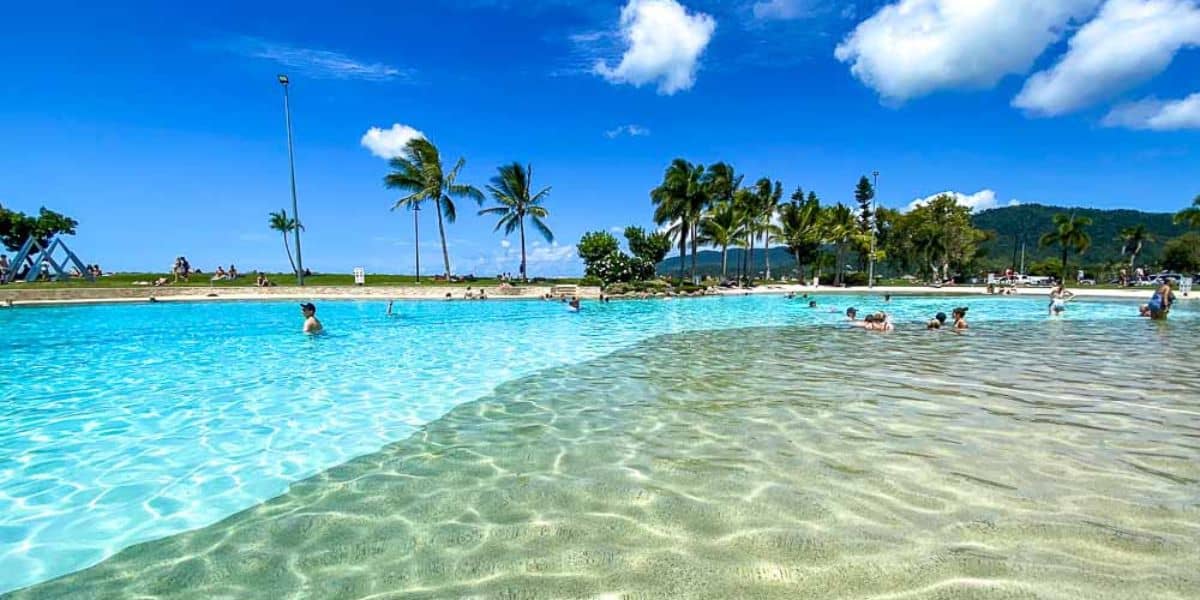 Looking for the best free things to do? Airlie Beach has a lagoon! This 200m long, 50m wide lagoon pool provides safe, year-round swimming (so you don't need to worry about stingers.) It's located in a picturesque spot on the foreshore with some lovely shaded areas that are perfect for a picnic.

Airlie Beach free activities like this are a great way to enjoy the local area and relax in between bigger day trips and tours. You can enjoy Airlie Beach activities on a budget!
Location: 275 Shute Harbour Rd, Airlie Beach
Hours: Lifeguards patrol 5.30 am to 7 pm from June to August and from 5.30 am to 9 pm from September to May.
Cost: Free!
4 Go to the beach
There are lots of places to visit near Airlie Beach to enjoy the stunning coastline and glorious beaches.
Some of the best beaches around Airlie Beach are:
Boathaven Beach: In the centre of town, this white sandy beach offers crystal clear water and a net for safe swimming.
Cannonvale Beach: 3km out of Airlie, this quiet beach also has a stinger net making it a lovely swimming beach. You can take a coastal walk here along the Bicentennial Walkway or hop in your car to make the short drive.
Hydeaway Bay: Secluded and picture perfect, this white sandy beach with turquoise lapping waters needs to be on your Airlie Beach to do list. A top tip is to enjoy lunch or a drink at Cape Gloucester Beach Resort or Monte's Resort and use their private beach access so you can enjoy comfortable surroundings as you look out at the epic view.
Dingo Beach: This is a great spot for jumping into the clear water for a snorkel with plenty of shade to enjoy a picnic.
When visiting Airlie's beaches, you do need to be aware of the stinger season. This runs from October to May and it's recommended that during this time you wear a stinger suit to go in the water.
If you book a tour that takes you out on the water, these are often included, or you can hire one during your stay – there are lots of places that rent them by the day.
A day at the beach is a must, and it's the perfect activity if you're looking for cheap things to do in Airlie Beach as you can enjoy the most amazing day without spending any money.
5 Airlie Bicentennial Walkway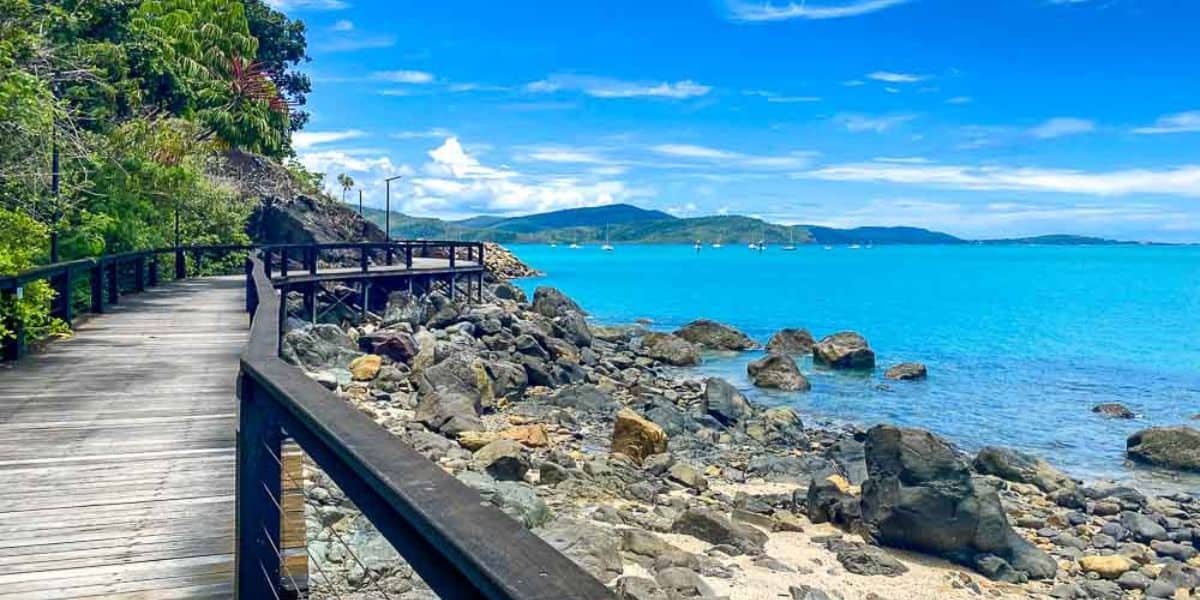 The Airlie Bicentennial Walkway is one of those great activities to do in Airlie Beach whether you're looking for Airlie Beach family activities or Airlie Beach romantic activities – it's something everyone will enjoy.
The Bicentennial Walkway was created in 1988 as part of the Australian Bicentennial Celebrations. The walkway begins at the Lagoon and the Airlie Beach boardwalk takes you right through to Cannonvale Beach – a walk that takes you around 45 minutes.
While the scenery is spectacular, it's best to do this very early in the morning or add it to your list of things to do in Airlie Beach at night just as the afternoon sun is going down otherwise it can get very hot!
Location: From Airlie Beach Lagoon
Hours: Always open
6 Go for a hike
Airlie Beach offers some exceptional hiking and walking trail opportunities. Immerse yourself in the region's natural environment and spend some time in the forest enjoying the region's unique flora and fauna.
There are some easy circuit walks if you're short on time, if you're less mobile or if you're looking for accessible things to do in Airlie Beach with kids. There are also some challenging adventures that can take a few days for those of you who are eager to push yourselves.
Airlie Beach is such a stunning location perfect if you love the great outdoors. Hiking is one of the best free things to do in Airlie Beach.
7 Find a scenic lookout point
Combine your hike with the rewards of reaching one of Airlie Beach's impressive lookout spots.
Our favourite is the challenging hike to Honeyeater Lookout (take the trail from Kara Crescent at Airlie Beach). The walk is worth it when you look out across the sparkling turquoise water and coastline.

You won't be short of lookout opportunities though – the coastline around Airlie Beach is amazing so get out and explore the sights. Don't forget your camera!
8 Visit a waterfall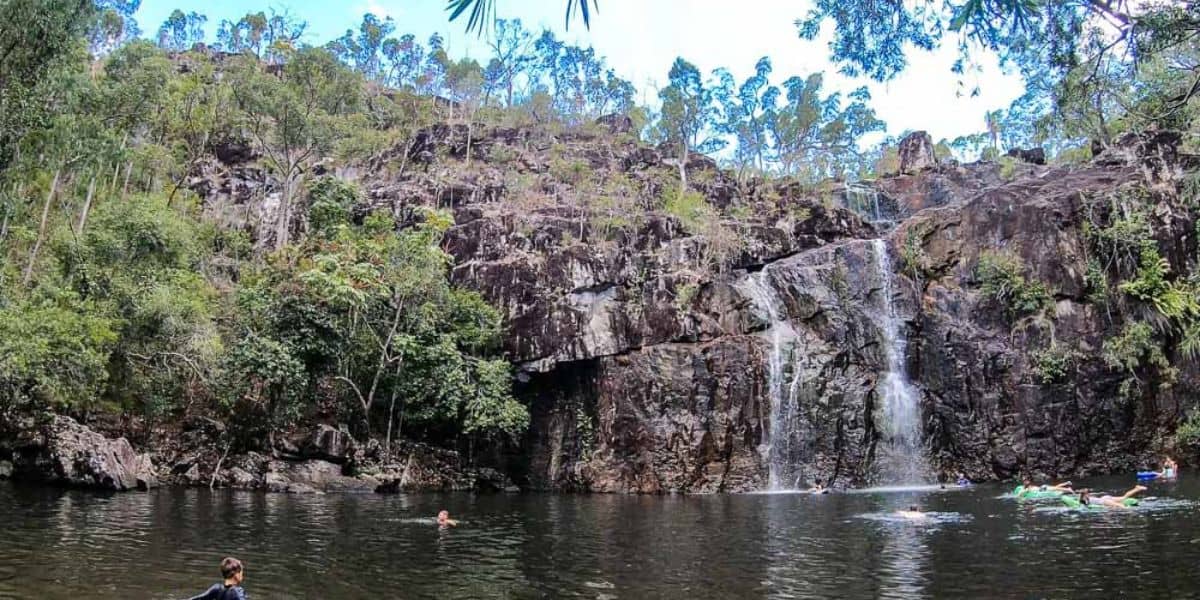 Some of the best places near Airlie Beach to immerse yourself in the pristine natural environment are waterfalls.
There are some breathtaking waterfalls around Airlie Beach, so whether you're looking for romantic things to do in Airlie Beach, you're keen to spend some time alone in nature or you are excited to explore the great outdoors, a visit to a waterfall should definitely be on your list of top things to do in Airlie Beach during your stay.
The most famous waterfall around Airlie Beach is Cedar Creek Falls. It's the perfect place to cool off as you watch the cascading waterfall surrounded by a lush backdrop of greenery. The waterfall is particularly spectacular during the wet season.
A great way to see Cedar Creek Falls is on a guided day trip as it's a 30-minute drive from Airlie Beach – click here to see what tours are available.
9 Jet boat ride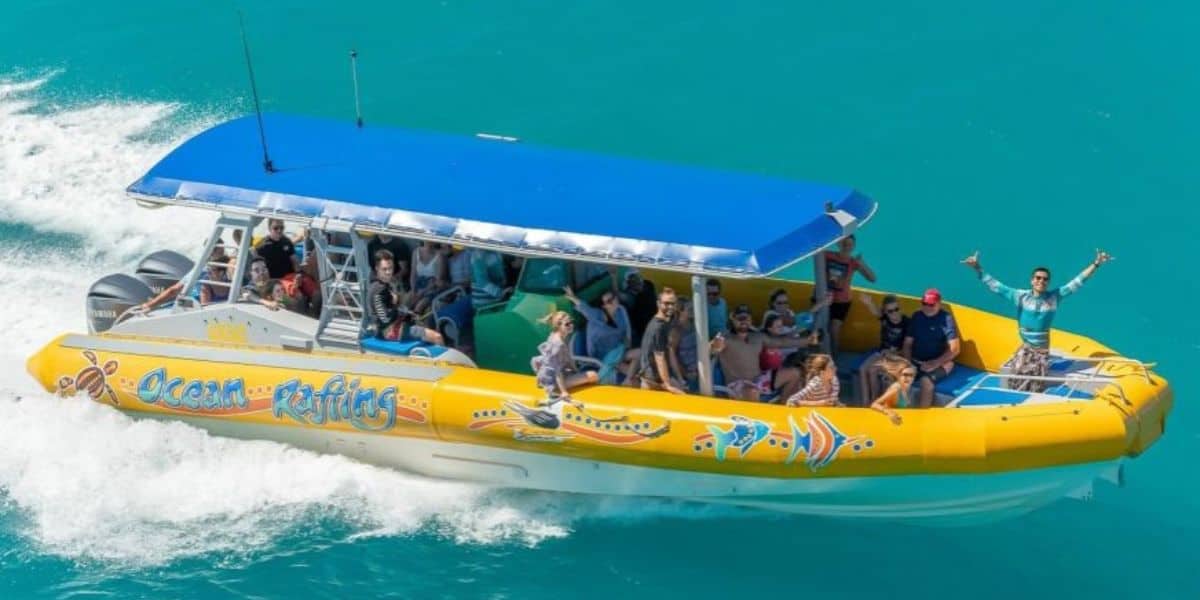 Water activities in Airlie Beach should be high on your must-do list during your stay. There is nothing quite like getting out in the ocean to enjoy the beautiful Whitsundays with the salt spray in your hair.

A jet boat tour is packed with fun as you combine the thrill of speed with amazing sights of the coastline.
Zoom past the marina, do some 360s and 180s and take in the awesome views in this speedy, adrenaline packed trip.
Jet boat rides usually last around 30 minutes – click here to see what boat rides are available.
10 Jet ski tour
While you're visiting, you must make the most of the scenic coastline at Airlie Beach! Tours and activities don't come much more fun than a jet ski tour.

Speed your way through the crystal clear waters and enjoy a thrilling jet ski safari. Kids over 8 are welcome, so if you're looking for Airlie Beach things to do with kids, older kids will absolutely LOVE this.
A range of tour options are on offer – click here to see what tours are available.
11 Scenic flight over Whitehaven and Heart Reef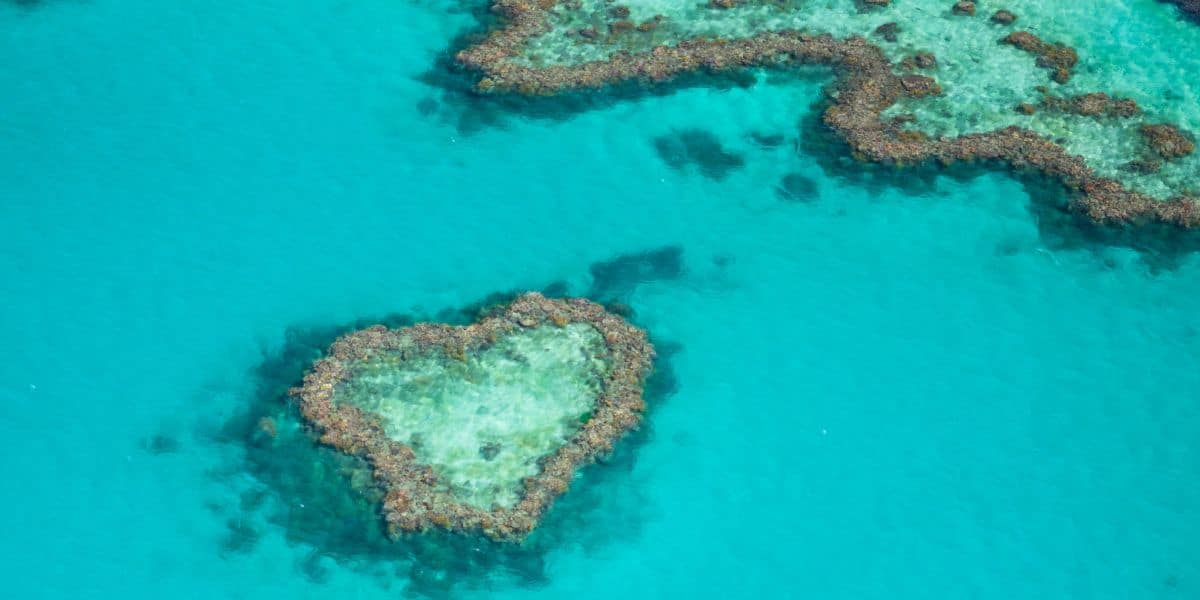 If we're talking about bucket list items for your best things to do around Airlie Beach list then a scenic flight over Whitehaven Beach and Heart Reef wins, hands down.
Experience the awe-inspiring colours of the Great Barrier Reef from above while listening to expert commentary from your pilot. This is an unforgettable experience to see one of Australia's most iconic and spectacular scenes from the air.

This may be one of the more expensive of the Airlie Beach tours and attractions, but it's definitely an experience you will remember forever and it's worth every cent. Views don't come more breathtaking than this.
A range of operators run scenic flights and helicopter tours – click here to see what flights are available.
12 Sunset cruise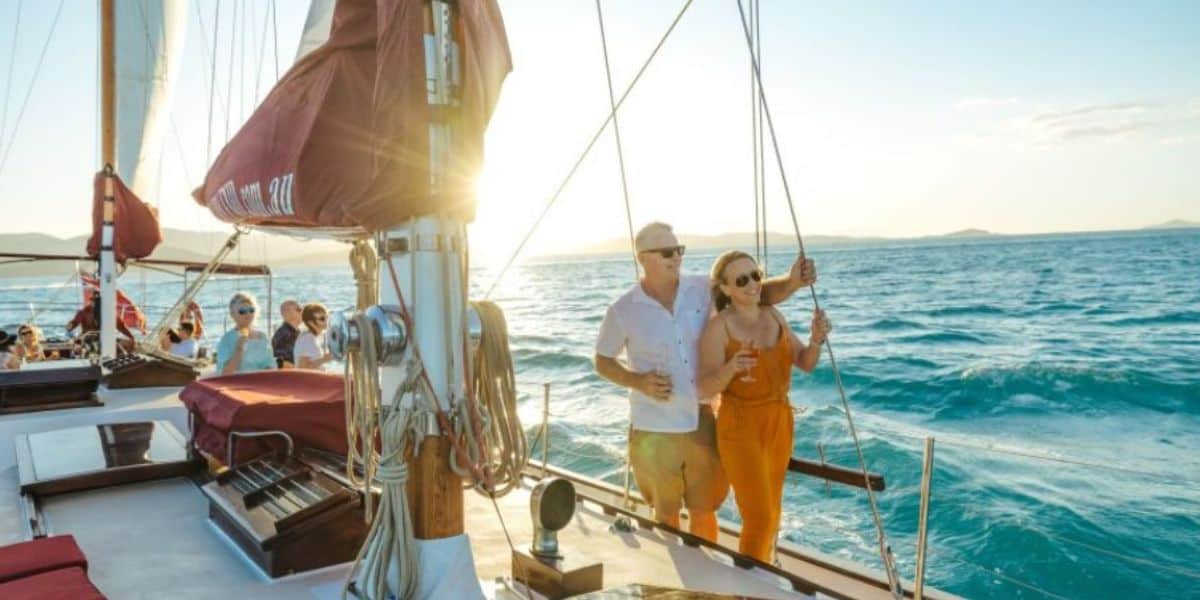 A sunset cruise on a sailing boat is one of the best Airlie Beach top things to do as the sun goes down. Unwind on the deck with the wind in your hair and a glass of bubbles in your hand as you glide along the Airlie Beach coastline to take in the most incredible sunset.

If the mood takes you, help hoisting the sail and if it doesn't, you can just laze around and enjoy a delicious platter of snacks as you enjoy watching the sun dip into the horizon.
A number of operators run sunset cruises – click here to see what cruises are available.
13 Segway tour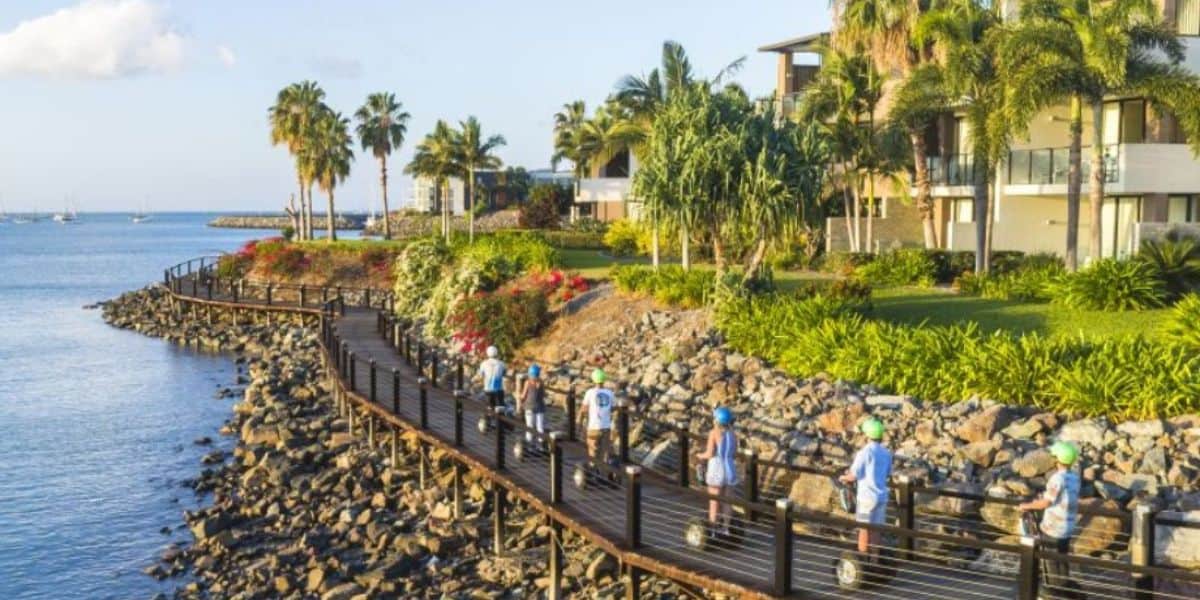 If walking the Bicentennial Boardwalk isn't your thing, why not take a segway tour instead and enjoy one of the best fun things to do in Airlie Beach?
It's a really fun way to see the sights of Airlie Beach, and there are lots of opportunities for stops so you can marvel at the views.

You can choose a segway tour along the shore and boardwalk of Airlie Beach or in the rainforest – click here to see what tours are available.
14 Take a sailing lesson
If you've always wanted to try sailing, the Great Barrier Reef is the best place to give it a go!

This is one of the world's most stunning sailing locations. Whether you're looking to get a formal sailing qualification (over a period of days or weeks) or you just want to experience an afternoon of fun, there are opportunities waiting for you.

Many sailing cruises allow you to get hands-on by putting up the sails and steering, or you can charter a boat with a skipper and learn from them as you go! Take it as easy or as seriously as you like depending on your sailing goals.
15 Tandem skydive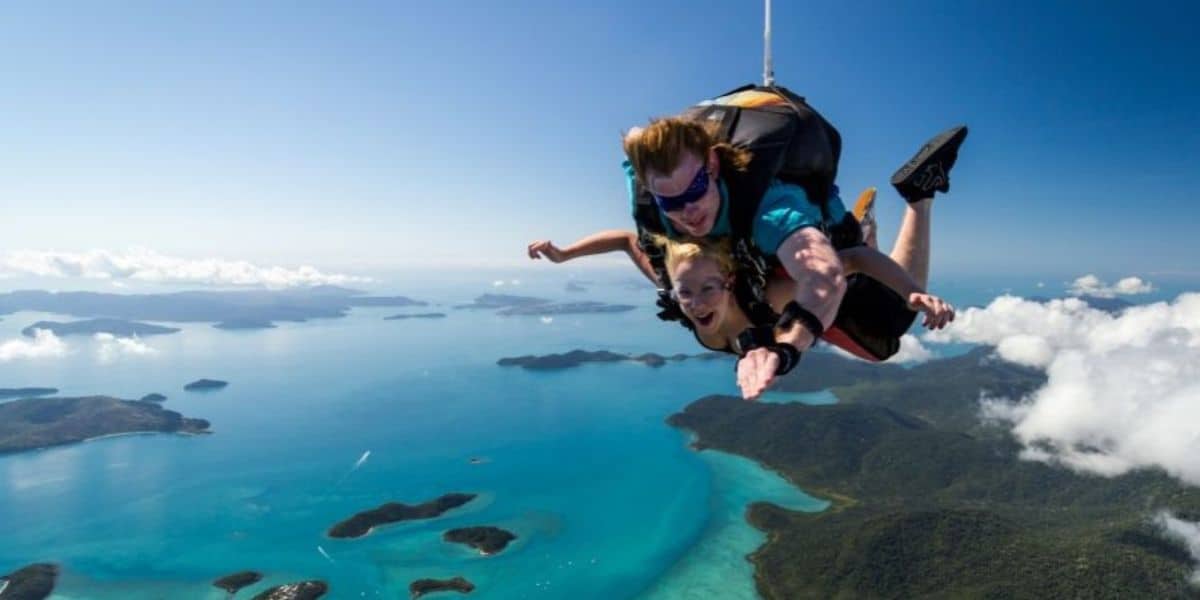 If doing a skydive is on your Airlie Beach things to do and see list, you won't be disappointed. Jumping out of a plane over Whitehaven Beach has to be the ultimate skydive location.

Your skydive combines a scenic flight with a freefall over possibly the best view in Australia! Imagine seeing the white swirls of sand and the vibrant green and blues of the water beneath you as you combine it with the adrenaline of a tandem jump! This is the ultimate skydiving experience and it's something you will never forget.
Skydive Australia offers tandem skydiving – click here to find out more.
16 Learn to scuba
If you've ever been tempted to venture into the underwater world, what better place to learn to scuba dive than in the crystal clear waters of the Whitsundays?

If you're new to the hobby, the best place to begin is to book a Discover Scuba session and learn some basic scuba skills. During the experience, you will come face to face with Queensland's thriving marine life while mastering some basic scuba skills such as hand signals and clearing your mask.

If you fall in love with the underwater world and you have time in your itinerary, you might like to go for your open water certificate which opens up a world of adventure to you.
It really is like setting foot into a brand new world and once you try a Discover Scuba experience, you will be hooked.
Click here to find out more about Discover Scuba sessions.
AIRLIE BEACH DAY TRIPS
While there is plenty of stuff to do in Airlie Beach itself, it's well worth getting out to explore the things to see around Airlie Beach. Below we cover a few places around Airlie Beach which make perfect day trips.
Airlie Beach Hinterland
The Airlie Beach hinterland offers forests, waterfalls, a coffee plantation and secluded natural beauty. If you have a car, a day of exploring the hinterland is one of those great Airlie Beach free things to do. All you need is a picnic, hat, water and sunscreen and you can go off for a day of adventure in nature.

If you don't have a car (or if you just prefer to be taken to the best places and be shown around by locals), a hinterland bus tour is a great option – Click here to check out what tours are available.
Hamilton Island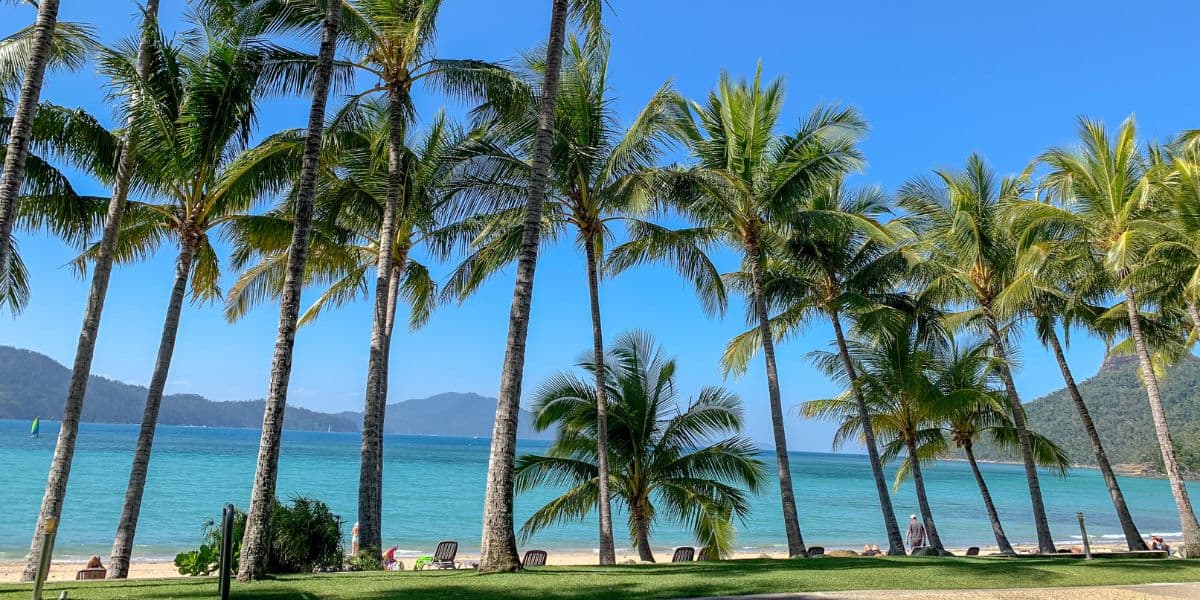 Airlie Beach is known as the gateway to the Whitsundays, so it's no wonder the top 10 things to do in Airlie Beach is to hop on board a boat trip and head to one of the incredible islands. One of those islands is Hamilton.
Hamilton Island is a fantastic choice for those looking for Airlie Beach places to visit on a day trip. You can book a day trip to Hamilton Island and enjoy island life at your own pace. Go for a hike, lay by the pool, enjoy the watersports and enjoy a day of fun in the Whitsundays.

You can visit Hamilton Island as part of a Whitehaven Beach cruise – click here to see what cruises including Hamilton Island are available.
Reefsleep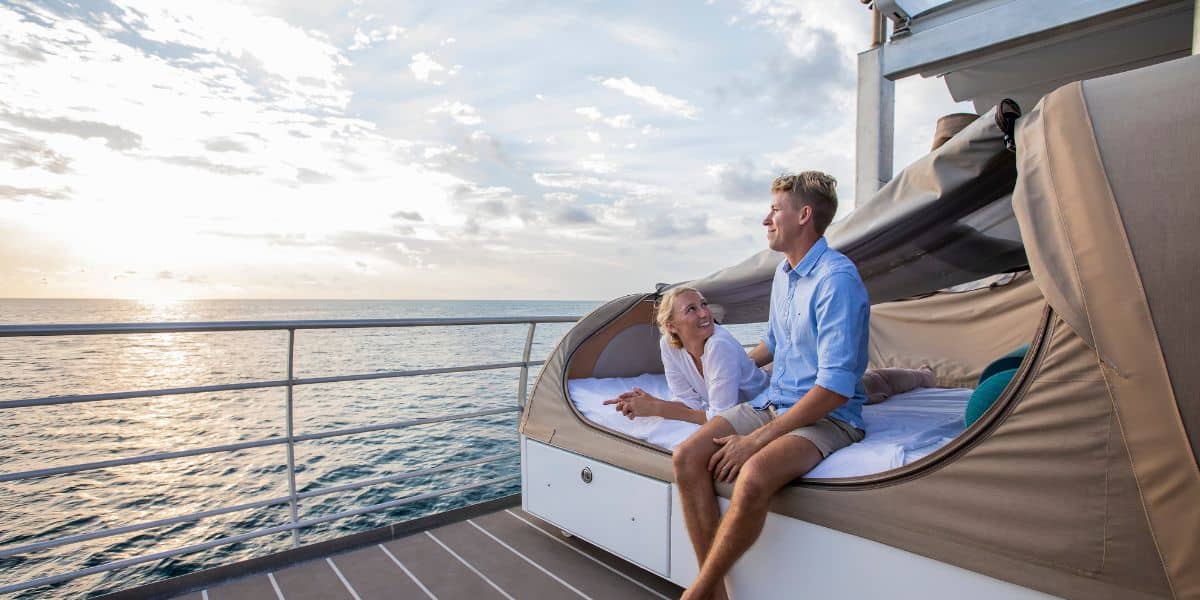 Image credit thanks to Tourism and Events Queensland
Imagine drifting off to sleep to the sound of the lapping ocean, with a blanket of twinkling stars overhead. Now you can experience sleeping in the middle of the ocean on the Great Barrier Reef!
You get to enjoy the reef during the day and through the night in this serene sleepover that includes all meals during your overnight experience. It's an iconic destination and a truly breathtaking experience that you shouldn't miss.
Click here for more information about Reefsleep.
BEST HOTELS IN AIRLIE BEACH
Looking for somewhere to stay in Airlie Beach? We recommend making your booking through Booking.com as they offer a wide range of hotels and most with free cancellation, which is ideal for last minute changes.
However, if you want our recommendation for a hotel, below we've listed our top pick for a luxury hotel, family hotel, mid range and budget hotel.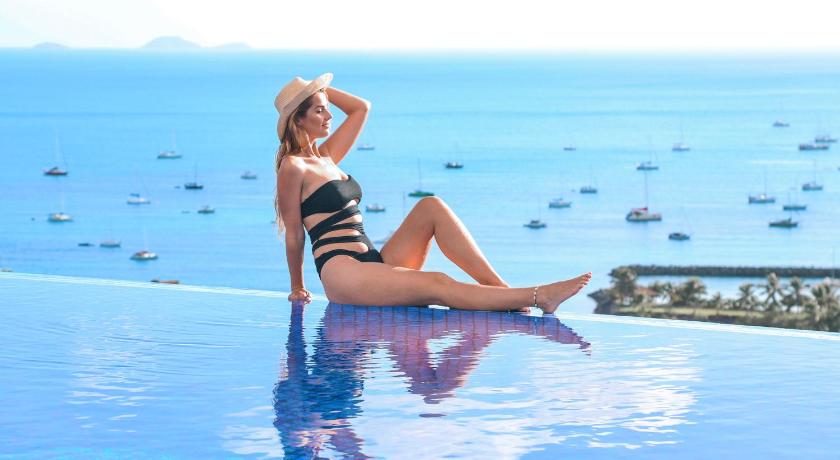 Pinnacles Resort offers luxury apartments with stunning views over the Coral Sea. It's just a 300m walk to Airlie Town Centre, and the port is just 900m away making this resort the perfect location for your stay. There are plenty of things to see at Airlie Beach and this resort places you right in the action.

Air conditioned accommodation is available in the form of one, two and three-bedroom apartments. Some have sea views and hot tubs too. The smaller one-bed apartments have kitchenettes and the two and three-bedrooms have fully equipped kitchens. You can enjoy a coffee machine, flatscreen TV, free Wi-Fi, a dishwasher and a washing machine in these high-spec apartments.

The resort offers an incredible 20m infinity pool where you can gaze out across the turquoise waters to watch the boats go by. As it is positioned on a hill, you get the most spectacular 180-degree views. There is also a gym on site, and an electric vehicle charging station.

This award-winning accommodation is a stylish and convenient option if you're looking for a luxury self-contained apartment at Airlie Beach.
Click here for more information or to book.
One of the best family things to do in Airlie Beach is to stay at the Big4 Adventure Whitsunday Resort – the kids will have a blast! It really is a paradise for families and although there are so many things to see and do in Airlie Beach, you might find you don't even want to leave the resort some days as the epic water park and pool can entertain a family for days. The resort is located 4.1km from Airlie Beach and is just 850m away from Whitsunday Plaza Shopping Centre.

A range of accommodation options are available, from caravan and campsite pitches to cabins of various sizes and grades. Everything from a small studio through to a three-bedroom condo is available for up to eight people. Linen is provided in the cabins, along with free limited Wi-Fi. Some units feature a dishwasher and DVD player.

The resort features a heated pool for year-round swimming and an incredible 13 waterslides for some amazing thrills! There is tennis, mini-golf and pedal cars available, as well as an outdoor cinema.
Families adore this resort and we think one of the best things to do at Airlie Beach with kids.
Click here for more information or to book
Conveniently located on Shute Harbour Road, just a few minute's walk from the Whitsunday Shopping Centre, Mantra Club Croc is a comfortable base for your Whitsunday adventures.

Accommodation is in the form of hotel rooms (family rooms and interconnecting rooms are also available) offering views of the garden, pool or coast. Rooms feature king or twin beds, air conditioning, bar fridge, tea and coffee making facilities and 50-inch TV with Foxtel channels. Some room types include a balcony.

The hotel is focussed around its tropical lagoon pool and gardens, with lots of alfresco seating so you can relax and unwind. There is also a restaurant on-site, a fully equipped gymnasium and free limited Wi-Fi in public spaces.

Mantra Club Croc is a comfortable and easy base for your Airlie Beach stay.
Click here for more information or to book.
Right in the centre of Airlie Beach, YHA Airlie Beach is well-placed for enjoying the local nightlife, restaurants and cafes. It is just 300m from the coach terminal and 15 minutes' walk to Abel Point Marina.

This budget-friendly option offers multi-share, double, twin and family rooms with private balconies. All rooms are air conditioned. Rooms feature lockers, linen and free Wi-Fi. You'll find a shared kitchen and a spacious guest lounge with TV as well.

The hostel features a swimming pool so you can cool off after a long day exploring.

This is a great option if you're looking for a clean, convenient and inexpensive place to stay during your visit to Airlie Beach.
Click here for more information or to book.
ENJOY AIRLIE BEACH!
Hopefully, this guide has given you lots of inspiration on things to do in Airlie Beach.
If you're planning a trip to Airlie beach, I highly recommend you check out our Whitsunday guide which provides links to everything you need to know to plan your trip.
I'd also recommend you join our free Queensland Travel Guide Facebook community, where you can ask all your questions and find even more great trip suggestions.
If you're heading to Airlie Beach, you might also be interested in the following nearby destinations: