Are you planning to visit Cairns?  This article covers the best things to do in Cairns, including tourist attractions, activities and places to visit.
The Queensland Travel Guide acknowledges the Djabugay; Yirriganydji; Yidinji and Gunggandji peoples, the Traditional Custodians of the Cairns region. We pay our respects to their Elders, past, present and emerging, and recognise their continued spiritual and cultural connections to Country. Always was, always will be, Aboriginal land.
There are plenty of things to do from Cairns!  Known, of course, for being the capital of Tropical North Queensland and the gateway to the Great Barrier Reef.  It is also the perfect place to base yourself to explore nearby areas such as Kuranda, Port Douglas and the Daintree.
Of course, the gorgeous Great Barrier Reef is one of the most popular Cairns attractions! But other top things to do in Cairns include a walk along the Esplanade, a swim at the Cairns Lagoon (no crocodiles here!), a visit to Rusty's Markets, a feast on freshly caught seafood and much, much more!
There really is something for everyone in Cairns, whether this is your first visit or one of many. There are some fabulous places to visit in Cairns, whether coming with kids or bringing that special someone.
This Cairns must do guide will help you decide what to add to your itinerary. It covers a broad range of Cairns activities, including all the popular Cairns tourist attractions, the best Cairns places to visit, and all the essential information such as locations, opening hours and ticket prices.
In addition, this guide includes tips on the best tours to do in Cairns and where to stay.
So let's get into it and check out the top attractions and activities in Cairns!
This post may contain compensated links. Please refer to our disclaimer here for more information.
CAIRNS THINGS TO DO MAP
Before we get started on all the great activities Cairns has to help you plan your itinerary, check out the map below. This map shows the location of all the things to do around Cairns covered in this guide.
I recommend you first make your Cairns to do list and then use this map to plan your day to day itinerary, so you're not travelling back and forth all over town.
BEST THINGS TO DO IN CAIRNS
Below we cover the top attractions and activities to do in Cairns.
1 Great Barrier Reef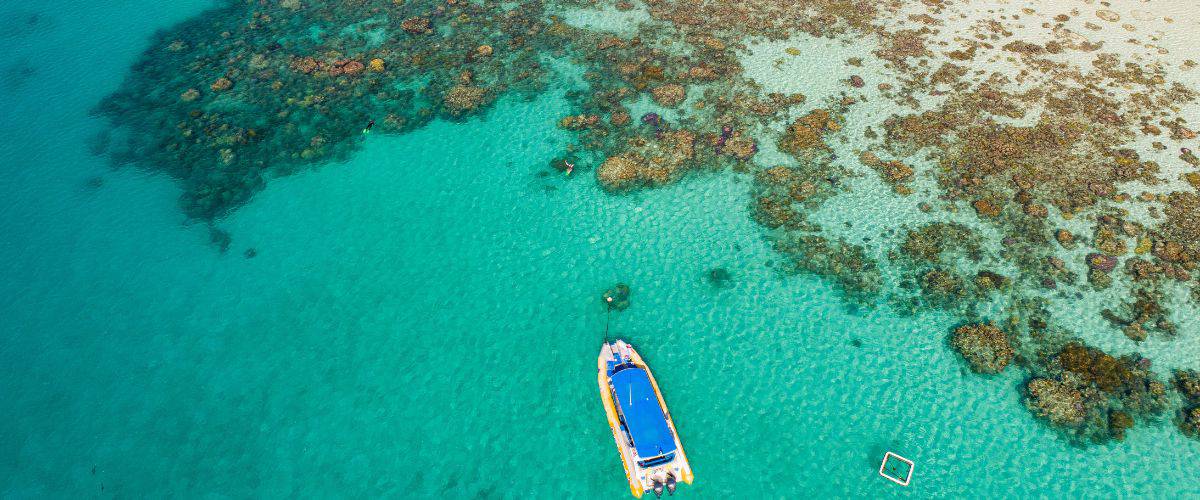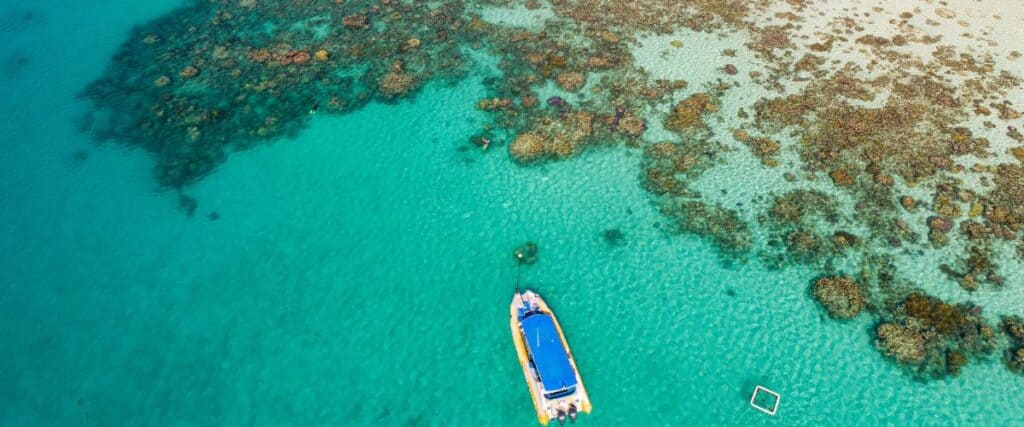 Among the top 10 things to do in Cairns is to see the Great Barrier Reef! In fact, I'd say it's number one on the best Cairns tourist attractions list!
Some people come to Australia just to see the Great Barrier Reef, so you can't miss it if you've gotten as far as Cairns. As the world's largest coral reef, the Great Barrier Reef covers over 300,000km and Cairns is practically right in the middle.
The best way to explore this natural phenomenon is to book a snorkelling trip from Cairns, which allows you to spend a full day out on the reef, enjoying the spectacular scenery from a boat and diving beneath the surface to spot the hundreds of marine species that make up this protected ecosystem.
The Great Barrier Reef really is number one when it comes to places to visit near Cairns, so pack your togs (Aussie for bathers or swimsuit) and get ready to see the amazing diversity of life that exists under the sea.
Click here to view a range of Great Barrier Reef cruises.
2 Go to the beach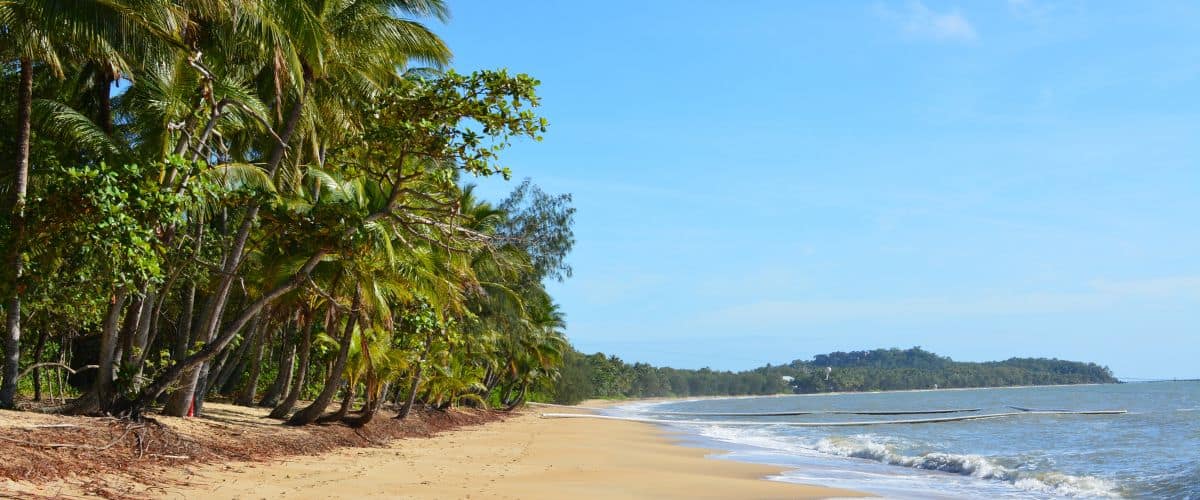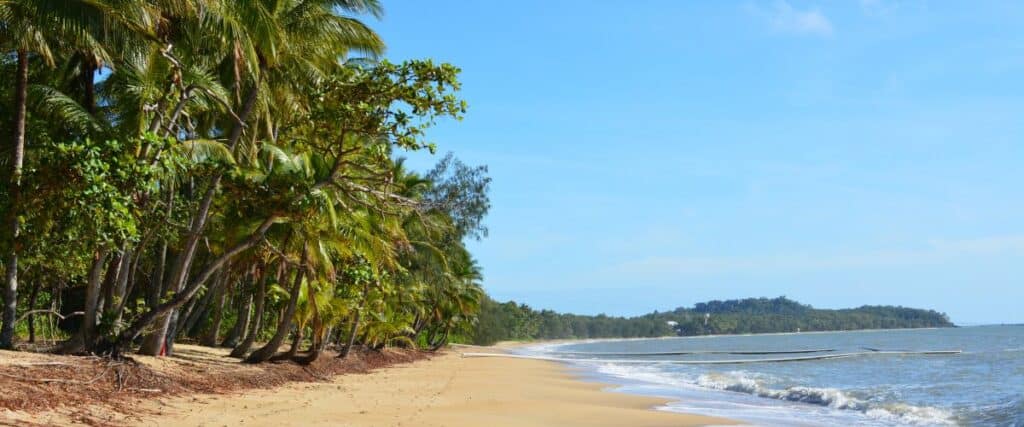 The North Queensland coast has some of the most beautiful beaches in the world, so if you're looking for things to do in Cairns for free, this should be on your list.
Some of the best beaches close to the city include Trinity Beach, only 20 minutes drive away, secluded Clifton Beach, and Palm Cove, with its bustling resort town.
Finally, Nudey Beach (not actually a nudist beach) is often voted the best beach near Cairns, located on Fitzroy Island, a short boat ride away.
Cairns beaches can be a bit risky with stingers and crocodiles, so it's best to stick to lifeguarded areas to stay as safe as possible. Most of the main beaches mentioned above have nets up during the stinger season from November to May (frustratingly, this is also Australian summer).
3 Cairns Esplanade Lagoon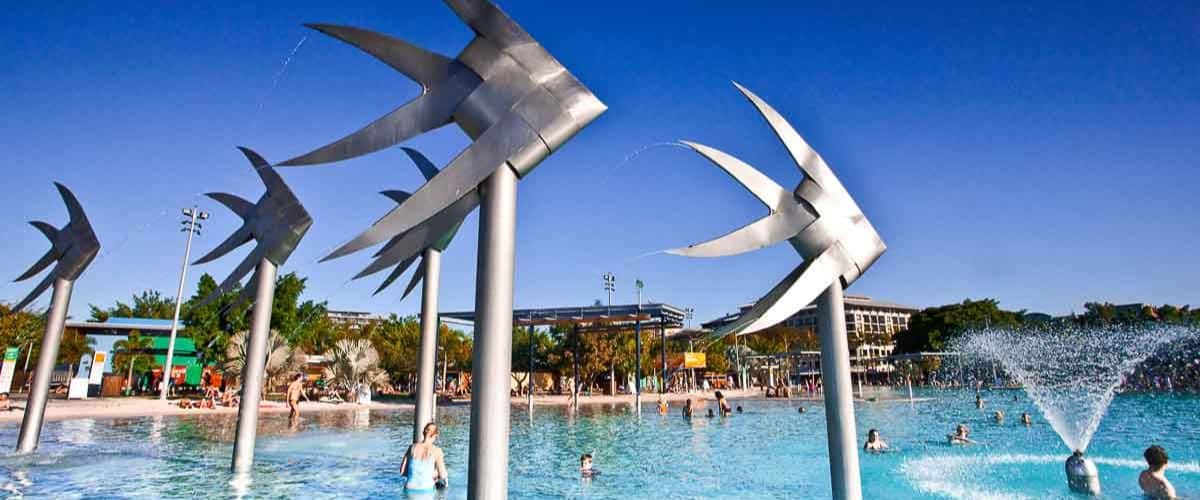 When you think of Cairns and Queensland, most people think of beaches, but Cairns doesn't actually have any beaches in the city. However, you can visit one of the beaches mentioned above or the Cairns Esplanade Lagoon – it's certainly one of the activities for kids in Cairns.
Similar to Streets Beach in Brisbane, the Cairns Lagoon is a saltwater pool made to look like a beach with sand bought in and everything. It's an ideal spot for swimming, especially for young children or less confident swimmers, as there is no danger from the surf and lifeguards are on patrol.
You could even jump in for a night swim when the beach is illuminated and the kids have gone. It's one of the more romantic things to do in Cairns.
Location: 52 – 54 Esplanade, Cairns
Opening Hours: Wednesday 12 pm to 9 pm | Tuesday to Thursday 6 am to 9 pm
Cost: Free
4 Cairns city tour
With so many things to do and see in Cairns, it can be impossible to see it all – particularly for those short on time. So a good way to see Cairns's highlights is via a guided city tour.
Cairns Discovery Tours operates daily trips around the city with air conditioned vehicles and local guides. Their tours are around 5.5 hours long and cram in many Cairns city attractions, including the Cairns Museum, St Monica's Cathedral and the Botanic Gardens.
Your city tour also includes a cafe stop and Devonshire tea to help keep your energy up for all the sightseeing.
Location: Pick up from your Cairns accommodation
Opening Hours: Tours depart most days at 12:30 pm
Cost: $89 per adult and $55 per child – click here to book your tickets online.
5 Cairns Aquarium
While many of the best things to see and do in Cairns are outside the city centre, the Cairns Aquarium is right in the heart. This makes it a great option for anyone needing things to do in Cairns with kids without spending time getting in and out of cars.
Amazingly, 16000 marine animals live in the middle of an Australian city, and when you visit Cairns Aquarium, you can even get up close enough to touch some of them. So if you've ever wondered what a stingray or a turtle feels like, this is your chance to find out with the marine touch tank exhibit at the aquarium.
The Cairns aquarium isn't just for tourists either; its turtle hospital plays an important role in helping rehabilitate sea turtles in the local area. When you visit the aquarium, you can learn about and help support this program.
Location: 5 Florence St, Cairns City
Opening Hours: Daily from 10 am to 3 pm
Cost: $45 per adult | $29 per child (3-14) | $133 per family (2A+2C) | Under 3s are free – click here to purchase tickets online.
6 Tour the breweries
There are few better ways to spend an afternoon in Cairns than hopping between the microbreweries and distilleries, trying tasting paddles or just whatever's on tap.
For craft beer fans, some of the best breweries in town are Sauce Brewery, Barrier Reef Brewing and Macalister Brewery. Then there is Wolf Lane Distillery, Narrow Tracks Distilling and FNQ Distillery for gin, liqueurs and other spirits.
While you could do your own tour, an organised brewery tour is a great way to avoid transport hassles and get good value for money on tastings. You also get the inside scoop on which drinks each place specialises in and a behind the scenes tour.
Location: Tours start from Sauce Brewery
Opening Hours: Tours start at 12:30 pm
Cost: $160 per person
7 Cairns Botanic Gardens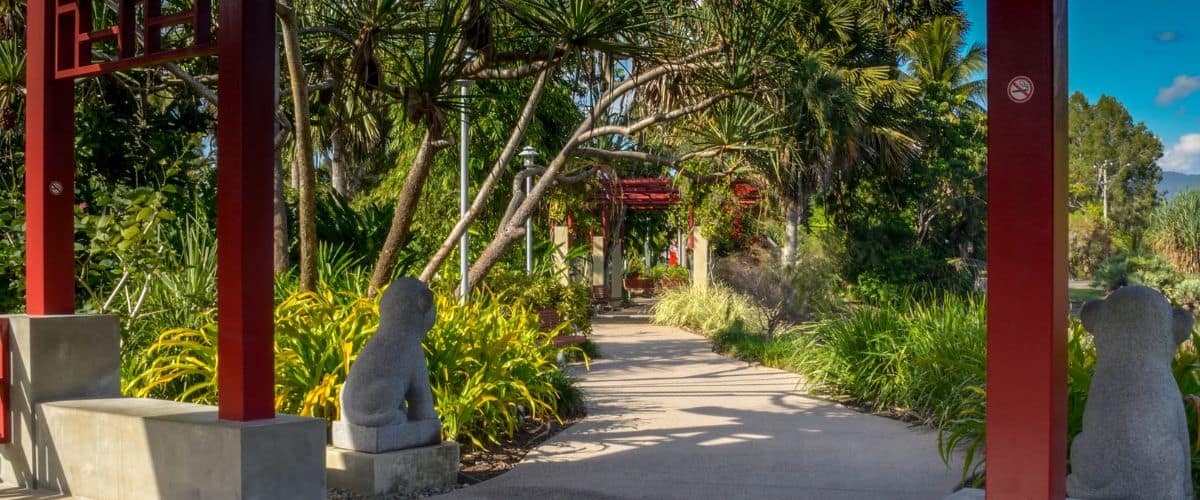 A visit to the Cairns Botanic Gardens is the best way to see and explore the area's famous tropical rainforest while staying close to the city.
There are 11 different areas of the gardens with different themes, including a bamboo collection, a Chinese friendship garden and a nature playground for the kids.
You can join one of the free walking tours run every weekday or book a private one, such as an insect photography tour; it's definitely one of the more unique things to do in Cairns!
Location: Collins Avenue, Edge Hill
Opening Hours: 7.30 am to 5.30 pm every day
Cost: Free
8 Discover nocturnal wildlife
If you're brave enough to wander in the rainforest at night, you'll be rewarded with sightings of some of Queensland's best wildlife. The World Heritage listed rainforest around Cairns is home to platypuses, wallabies, rat-kangaroo and even forest dragons (cute lizards).
The best way to see all these creatures is to go with an experienced guide who can help you spot wildlife in the dark. Wait a While Rainforest Tours runs trips that include dinner and an afternoon at Lake Barrine.
Location: Pickup from your Cairns accommodation
Opening Hours: Tours run for 8 hours from 2 pm
Cost: $199 per adult and $175 per child – click here to book your tickets online.
9 Kuranda Scenic Railway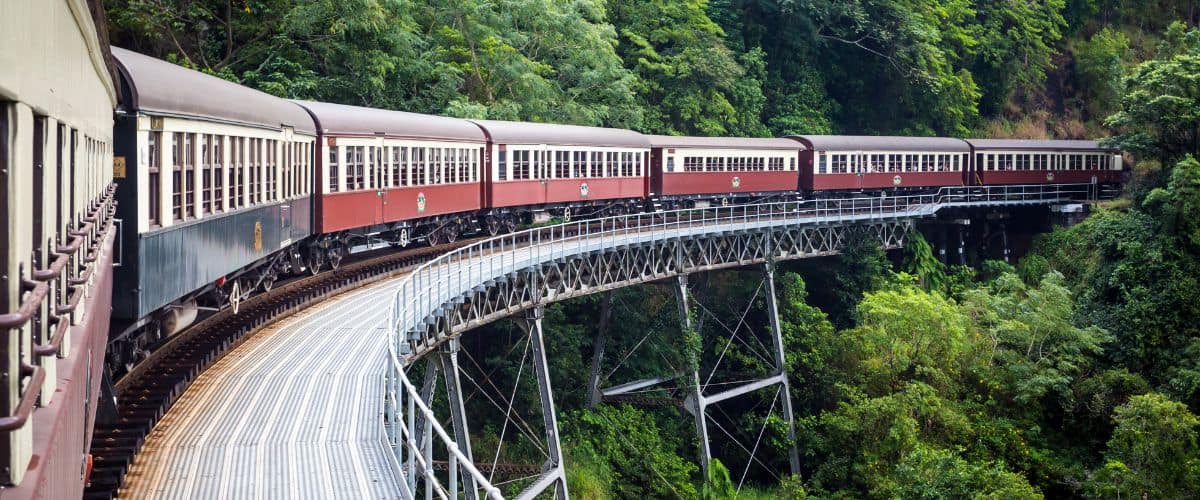 Kuranda is a small village located only 25 kilometres from Cairns but with unique scenery. The Macalister Range mountain area around Kuranda is very different to coastal Cairns.
The historic Kuranda Scenic Railway is the main attraction of the town and one of the best things to do near Cairns. The railway starts in Cairns and stops at Freshwater before winding through the lush world heritage listed rainforest towards Kuranda. On the way, it passes steep ravines, waterfalls and the Barron Gorge.
While the Kuranda railway was originally built in the 1800s to transport supplies to mine workers, it has been renovated in a more luxurious and comfortable style while retaining its antique feel with polished woodwork and leather booth seats. There is now also helpful commentary provided on the sites along the way.
The journey takes just under 2 hours, climbing over 300 metres from sea level, going through 15 tunnels, around 93 curves, and across 37 bridges.
While you can easily purchase tickets just for the Scenic Railway and explore Kuranda on your own, there are plenty of guided tours you can join, showing you Kuranda's highlights.
Click here to see a full range of Kuranda tours.
Location: Bunda St, Cairns
Hours: Departs Cairns 9.30 am and Kuranda return 3.30 pm | Departs Freshwater 9.55 am and Kuranda return 3.30 pm
Cost: One way – $50 per adult | $26 per child (4-14) | Under 4s are free | Return – $76 per adult | $38 per child (4-14) | Under 4s are free – Click here to book your tickets in advance.
10 Skyrail Cableway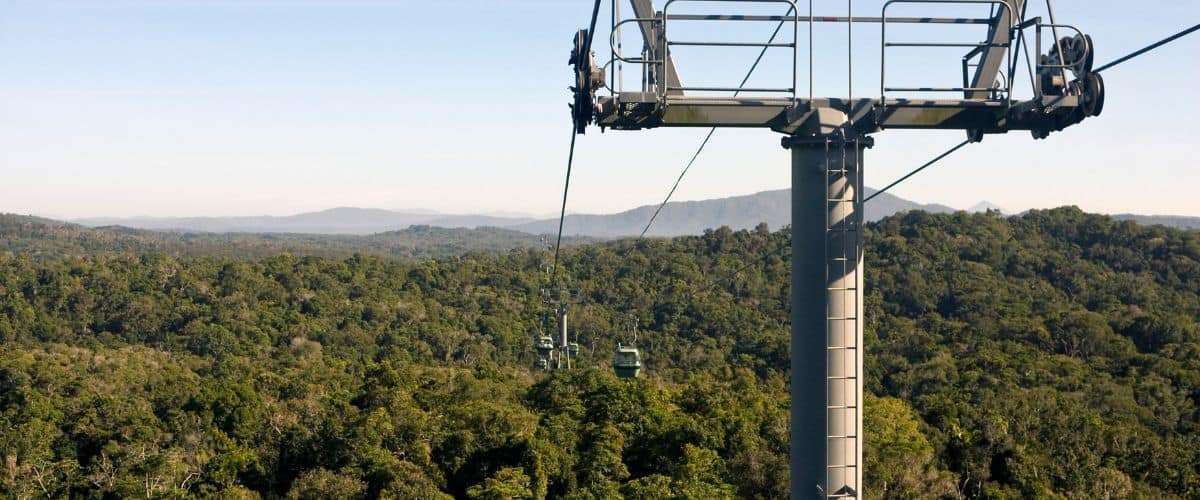 The Skyrail Rainforest Cableway is an alternative to the Scenic Railway for getting to Kuranda. Instead of chugging through the rainforest, you can glide above it on the 7.5-kilometre gondola journey that offers sweeping views of Cairns, the hinterland, the Barron Gorge National Park and the Coral Sea.
One of the longest gondola trips in the world, the Kuranda Skyrail includes stops at Red Peak Station to explore the rainforest and ancient kauri trees and at Barron Gorge to view the impressive Barron Falls.
Taking the Skyrail to Kuranda and returning by the Scenic Railway would make an awesome day out for all ages and it's perfect for anyone looking for things to do in Cairns without a car.
Location: 6 Skyrail Drive, Smithfield
Hours: Daily 8.30 am to 4.45 pm
Cost: One way – $59 per adult | $29.50 per child (4-14) | $147.50 per family (2A+2C) | Return – $88.50 per adult | $44.25 per child (4-14) | $221.25 per family (2A+2C)
11 Dinner cruise
Whether you're looking for a cocktail party or a romantic dinner, a night cruise out on the calm water at Trinity Inlet is one of the top things to do in Cairns.
Being out on the water allows you to discover the beauty of Cairns from a different perspective. While spending an evening on a catamaran, you can take in the sights and sounds of the city and watch the sunset.
The views aren't the only thing to enjoy. Onboard you can dig into a lavish buffet meal with fresh seafood and local produce. In addition, the boat is fully licensed so that you can enjoy a cocktail or some local beers over the 2.5 hour cruise.
You could also combine a dinner cruise with an afternoon tour of Cairns. Perfect for those short on time and wanting to see the best Cairns attractions and activities.
Location: A Finger, Cairns Marlin Marina
Opening Hours: Departs daily at 6.30 pm (check-in at 6 pm)
Price: $105 per adult | $55 per child (4-14)
12 Scenic flight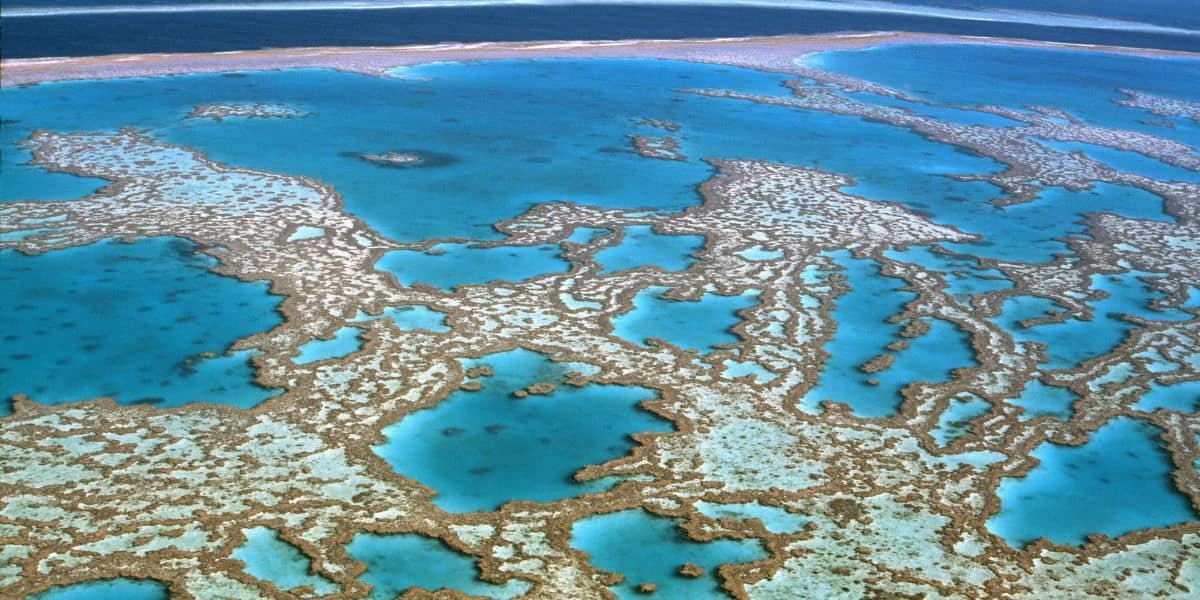 To truly understand the enormity and beauty of the Great Barrier Reef, you really have to get above it, which is best done in a helicopter.
Many Great Barrier Reef scenic flight options operate, with different destinations and flight lengths from 10 minutes to over an hour. Some include snorkelling trips and boat cruises, so you can see the coral reefs from three different angles and make a day of it with some of Cairns' best things to do.
Click here to see a range of different scenic flight options from Cairns.
13 Hartley's Crocodile Adventure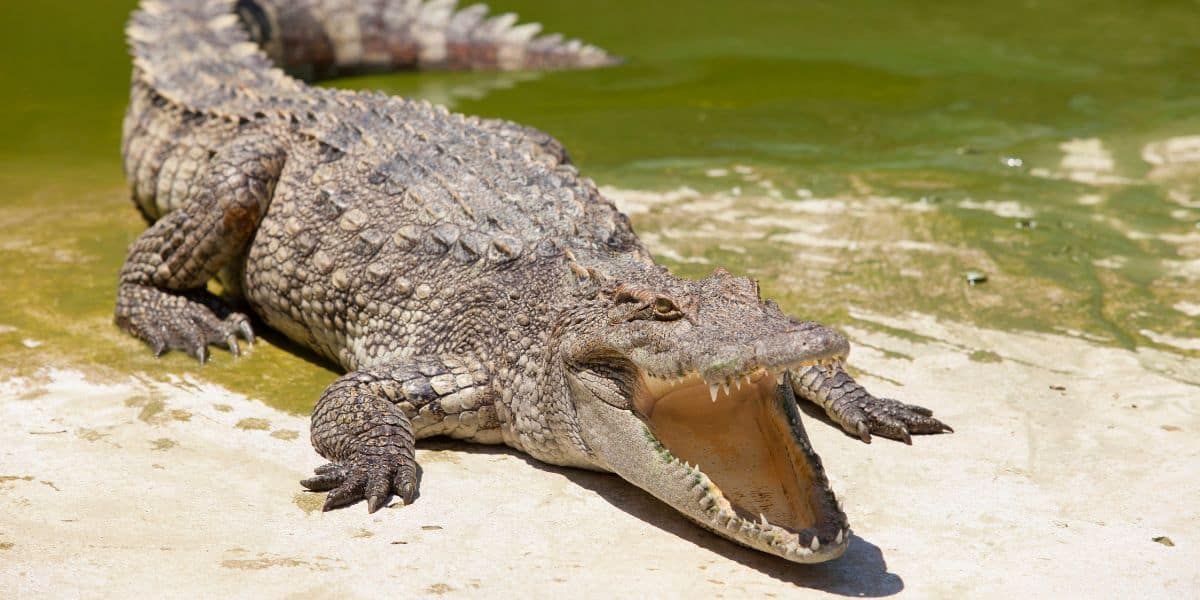 Queensland, especially the northern area around Cairns, is well-known for its giant crocodiles. However, if you don't have the time to track down crocodiles in the wild (such as on a Daintree River cruise), then a trip to Hartley's Crocodile Adventure is your opportunity to see these magnificent and vicious creatures.
Rather than operating like a traditional zoo, Hartley's is in a large bushland area where visitors can wander boardwalks and stop at viewing platforms to see the crocs and other creatures going about their business in their natural habitat. This has a much more authentic and sustainable feel about it, which we can all appreciate when it comes to wildlife experience.
It's not just scaly crocodiles at Hartley's either. You can also see cute and cuddly creatures like koalas and native birds.
Location: Captain Cook Hwy, Wangetti
Opening Hours: Daily 8.30 am to 5 pm
Cost: $43 per adult | $21.50 per child (4-15) | $107.50 per family (2A+2C) | Under 4s are free – click here to book your tickets online with included transfers.
14 Go canyoning
Canyoning is almost like white water rafting without the raft. It's wet, dirty, and a heck of a lot of fun. You climb cliffs, abseil, zipline and jump into rock pools. You'll feel like a real life James Bond rappelling down through a waterfall. You don't need to be super fit either; just open to adventure.
Canyoning tours generally run as full day trips from Cairns and head out to Crystal Creek Canyon. Safety instructions, gear and experienced guides are provided for you and some snacks to help replace all the energy you burn.
Location: Tours depart 58 Grafton Street, under The Benson Hotel
Opening Hours: Tours are 6 hours, departing 6:30 am or 12 pm
Cost: From $199 per person – click here to book your tickets online.
15 White water rafting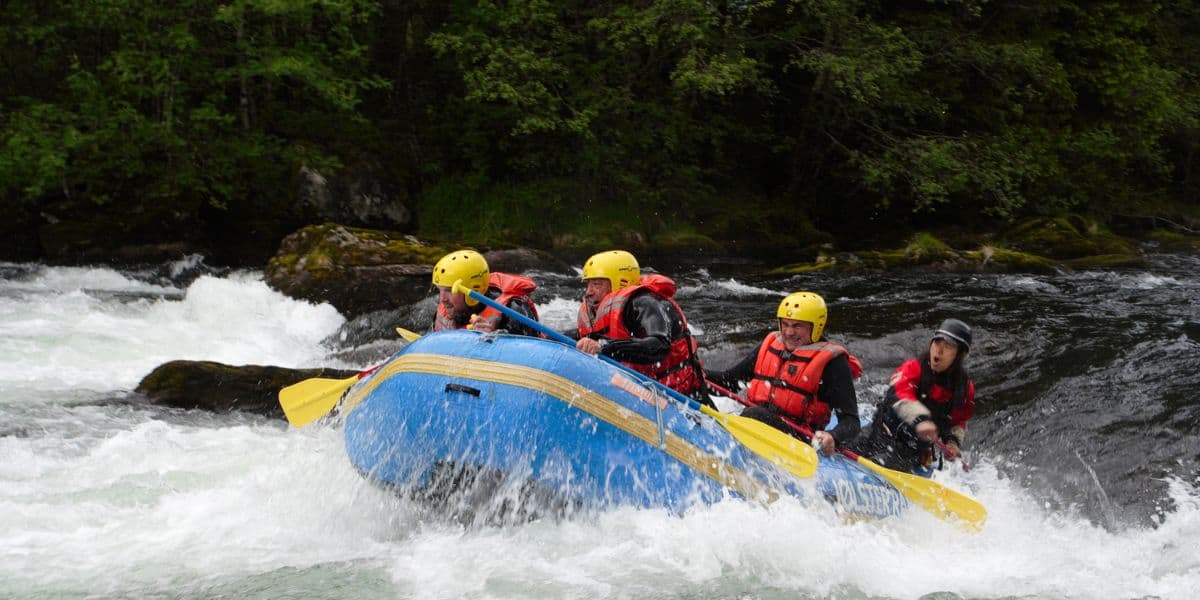 The Barron and Tully Rivers around Cairns are ideal for white water rafting for beginners and advanced rafters. The Barron River is gentler and suitable for school age kids, so this can be a great option for things to do in Cairns with family.
Joining a half day white water rafting tour is one of the most adventurous and exciting ways to experience the rainforest and rivers in Far North Queensland. Expect a wild ride as you fly through ravines and down small waterfalls.
Rapids range from grades 1 to 4 and the tours are led by expert rafters who will teach you everything you need to know and help you navigate the rapids in a safe environment.
Location: Pick up from your accommodation
Opening Hours: Tours usually run daily for a half or full day
Cost: Rafting tours range in price but usually start around $119 per person for a half day tour or $230 per person for a full day tour, including lunch. Click here for white water rafting in the Barron River or here for the Tully River.
16 Learn traditional fishing skills
While you can go for an educational, cultural experience in Cairns (see above), if you prefer to get more hands on, learning traditional Aboriginal fishing may be one of the best activities in Cairns for you.
With Adventure North Australia, you can spend a day on the water learning to catch fish and mud crabs amongst the beauty of the Daintree National Park.
Your guides will include local indigenous people who still use many traditional methods and can teach you about their culture and history. You can even opt to do a Dreamtime Walk to learn that tradition.
Location: Pick up from your Cairns accommodation
Opening Hours: Trips leave most days at 9:30 am
Cost: $266 per adult and $246 per child – click here to book your tickets online.
DAY TRIPS FROM CAIRNS
One of the best things around Cairns is to explore the nearby islands and the surrounding villages and towns. Below we cover some of the best day trips you can easily do from Cairns.
Kuranda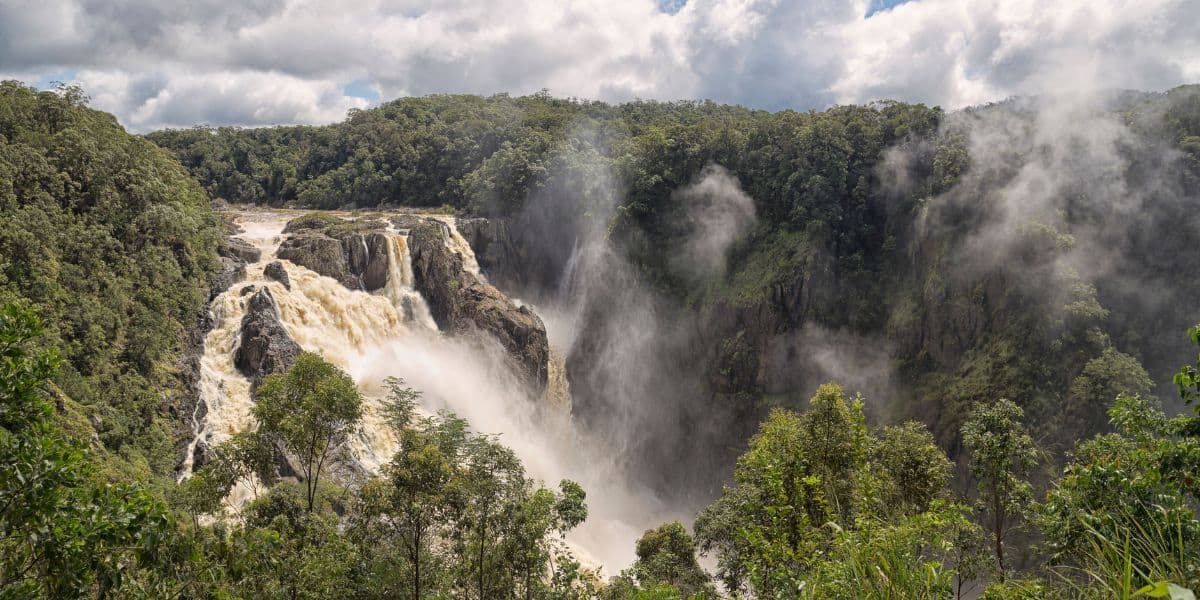 Kuranda is a picturesque mountain village approximately 25 kilometres from Cairns in Far North Queensland. Surrounded by the World Heritage listed rainforest of the Barron Gorge National Park, this popular tourist destination is known for its stunning scenery, wildlife and cultural heritage.
Getting to Kuranda from Cairns is half the fun via the famous historic Kuranda Scenic Railway or the modern-day Kuranda Skyrail (find more information about this above).
Kuranda is also home to many wildlife parks, including the Kuranda Koala Gardens and the Birdworld Kuranda, where you can see various animals, such as koalas, kangaroos, and exotic birds. Or Australian Butterfly Sanctuary – home to over 2000 butterflies from a variety of species.
For those interested in local culture, at Rainforestation you can watch a traditional dance, learn to throw a boomerang or play the didgeridoo, as well as discover some of Australia's wartime history with a ride in a World War II Army Duck.
The Kuranda markets are a must-visit for anyone interested in shopping for unique souvenirs, locally-made arts and crafts, or trying delicious tropical fruits and snacks. With a range of stalls selling everything from handmade jewellery to exotic spices, the markets offer a true taste of the local culture.
Most Kuranda attractions can easily be accessed on foot – most attractions are side by side or only a few minutes' walk away. Alternatively, you can also book all inclusive day trips from Cairns.
Daintree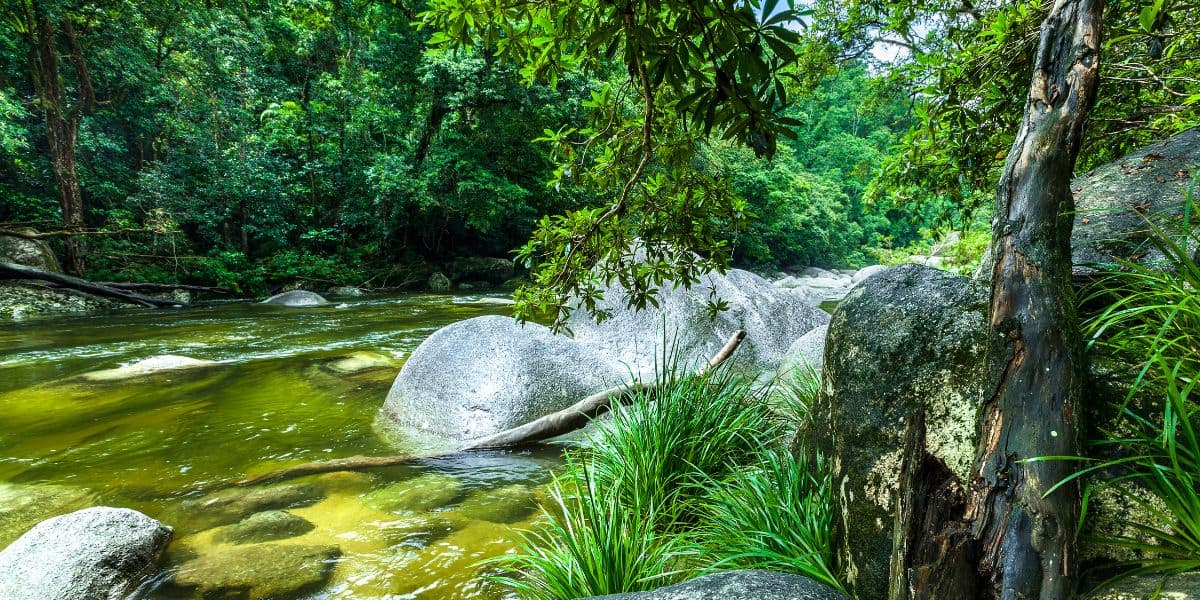 The World Heritage listed Daintree Rainforest is a breathtaking natural wonder in Far North Queensland. Covering almost 900,000 hectares, this is Australia's largest continuous tropical rainforest area, home to an incredibly diverse array of flora and fauna.
The Daintree area covers the Mossman Gorge at the southern point, the Daintree River at its centre and then up to the dense rainforests of Cape Tribulation. The region has numerous tourist attractions, including the lush, dense rainforest, crocodile infested rivers, cool freshwater streams, pristine beaches and the Great Barrier Reef.
The Daintree is home to an incredible array of species for those interested in wildlife, including exotic birds, marsupials, and reptiles. A highlight of any visit to the Daintree is the opportunity to see the iconic Saltwater Crocodile in its natural habitat.
Visitors can also enjoy various outdoor activities, including bushwalking, swimming, and snorkelling while enjoying the area's stunning natural beauty.
This is the only place in the world where 2 World Heritage listed sites exist side by side – Daintree National Park and the Great Barrier Reef.
You can visit the Daintree on a day trip from Cairns or, better yet, spend a few days exploring this magnificent area. Alternatively, you can also book all inclusive day trips from Cairns.
Atherton Tablelands
The Atherton Tablelands is a beautiful and diverse region in Far North Queensland, Australia. With its lush rainforests, sprawling green hills, winding roads and idyllic swimming spots, the Tablelands is a popular tourist destination known for its natural beauty and outdoor recreation opportunities.
Visitors to the Atherton Tablelands can enjoy various outdoor activities, including scenic walks, bushwalking, and water sports. The region also has several popular attractions, including the famous Curtain Fig Tree and the picturesque Lake Barrine. The Tablelands also offer a range of adventure activities, such as hot air ballooning, horse riding, and abseiling.
The Atherton Tablelands is also renowned for its delicious local produce, with a range of local markets and farm-to-table restaurants showcasing the region's fresh and flavorful ingredients. As a result, the Tablelands is a food lover's paradise, from coffee and chocolate to fresh fruit and vegetables.
For those interested in local culture and history, the Atherton Tablelands has a rich heritage, with many historic sites and landmarks to explore. Such as Paronella Park, built by an early settler who dreamt of building a castle next to Mena Creek Falls. Unfortunately, the castle is now in ruins, but it's still a spectacular sight. Click here to book your tickets online.
The Atherton Tablelands is best visited over a few days with your own vehicle. However, those short on time can book an all inclusive day trip from Cairns.
Port Douglas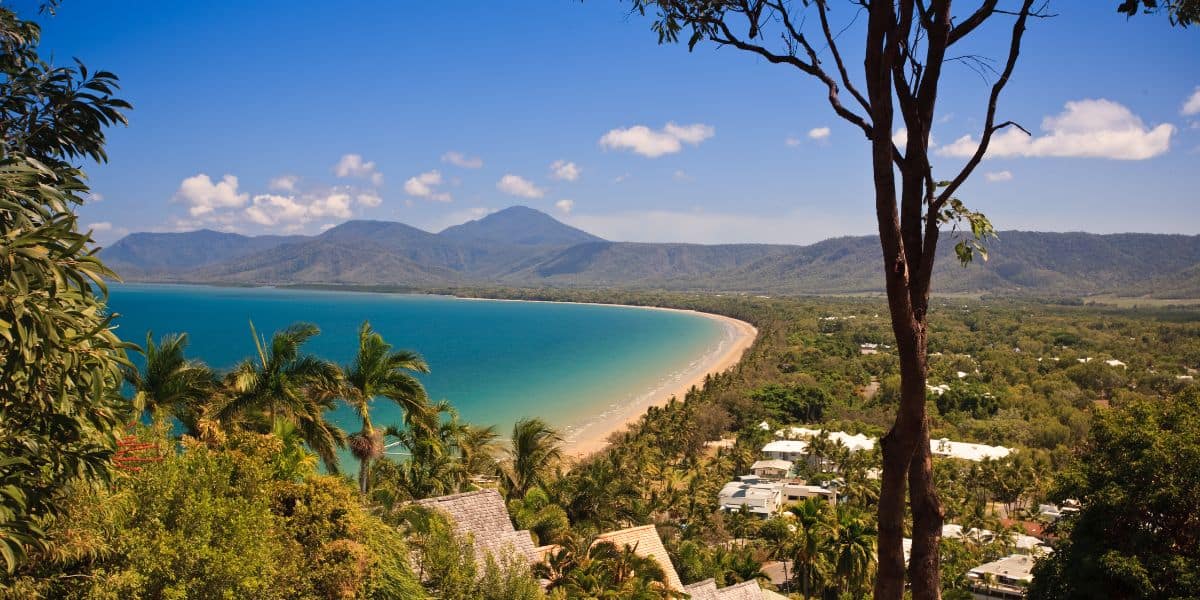 Just an hour's drive north of Cairns is Port Douglas, a stunning coastal town known for its picturesque beaches, lush tropical rainforests, and rich cultural heritage.
Visitors to Port Douglas can enjoy various outdoor activities, including swimming, snorkelling, and fishing. The town also has several popular attractions, including the famous Four Mile Beach and the iconic St Mary's by the Sea Chapel.
Port Douglas is also a food lover's paradise, with many local restaurants, cafes, and bars offering delicious cuisine and tropical cocktails. From fresh seafood to exotic tropical fruits, Port Douglas is a great place to sample the flavours of Far North Queensland.
In addition to its natural beauty, Port Douglas is rich in cultural heritage, with a range of historic sites and landmarks to explore.
Green Island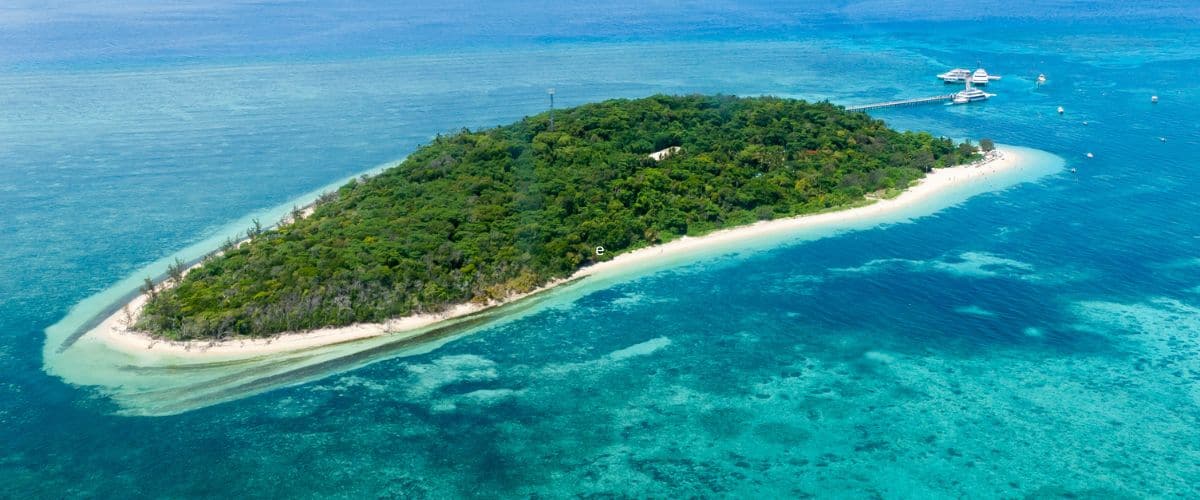 Green Island is a beautiful coral cay located in the Great Barrier Reef, a short boat ride from Cairns. With its pristine beaches, lush tropical vegetation, and vibrant coral reefs, Green Island is one of the popular tourist attractions near Cairns.
While at Green Island, you can enjoy time at the beach, go snorkelling, take a glass bottom boat tour and much more. Most day trips also include a delicious lunch.
Click here for a range of Green Island day trips from Cairns.
Fitzroy Island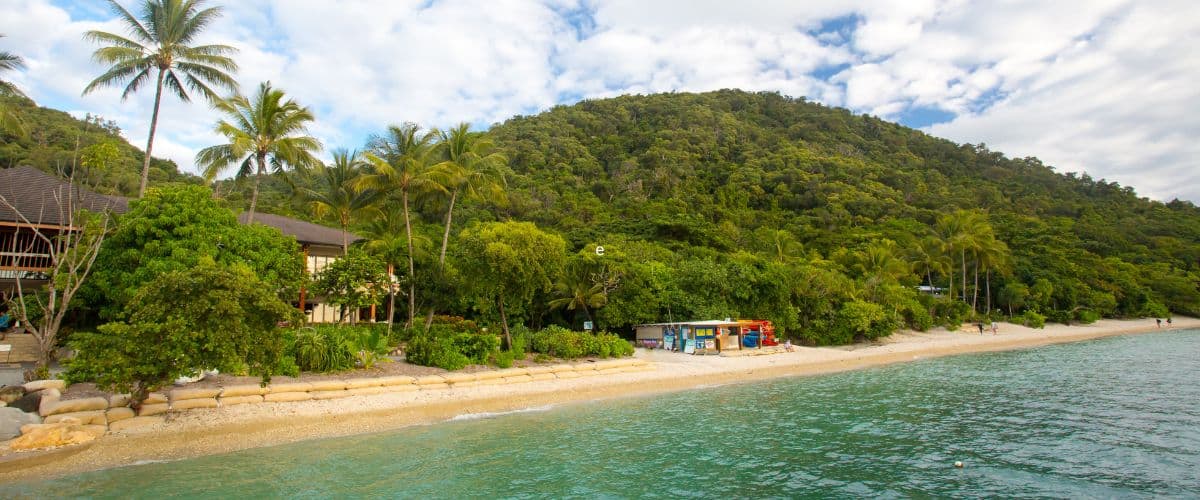 Fitzroy Island is a tropical paradise straight out of the movies with white sand beaches, turquoise ocean and bright green forest. Most of the island is designated as a national park to help preserve the special environment.
Whether you want to laze on the beach, snorkel or spot fish from a glass-bottomed boat, Fitzroy Island is a very relaxing and scenic day trip from Cairns.
Click here for a range of Fitzroy Island day trips from Cairns.
Michaelmas Cay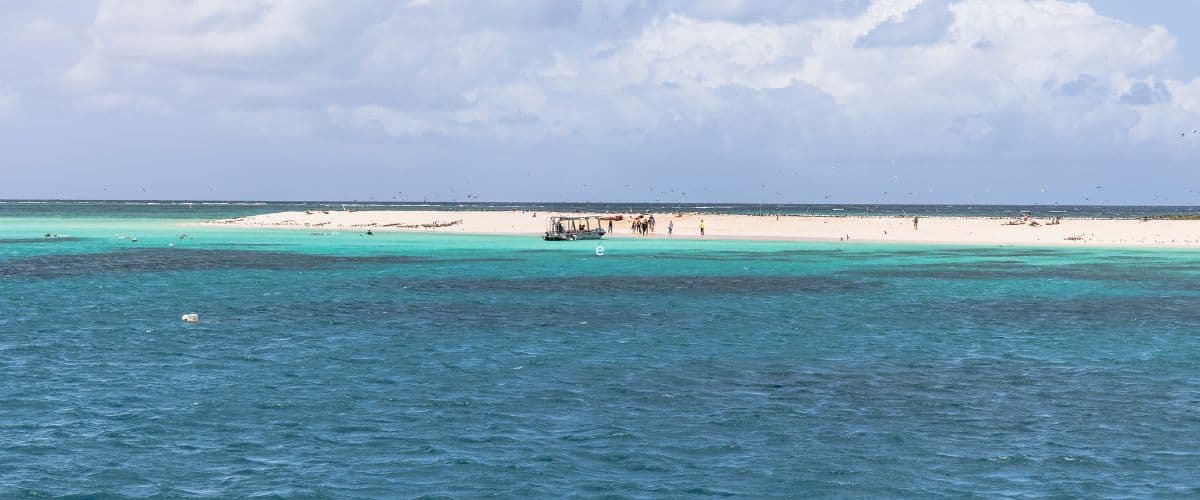 Michaelmas Cay is among the 900-odd islands of the Great Barrier Reef and is a stunning place to spend a day on the water enjoying marine and bird life.
The catamaran day trips to the Cay include a guided snorkel with a marine biologist who can help you identify the colourful species of fish and coral, as well as a trip in a semi-submersible to get the scuba experience without needing a license. You can snorkel and swim or spend time on the boat deck enjoying the included food and drinks.
Click here for a range of Michaelmas Cay day trips from Cairns.
BEST HOTELS IN CAIRNS
Looking for somewhere to stay in Cairns? We recommend booking through Booking.com as they offer a wide range of hotels and most with free cancellation, which is ideal for last-minute changes.
However, if you want our recommendation for a hotel, we've listed our top pick for a luxury hotel, family hotel, mid range and budget hotel below.
Crystalbrook Riley is a luxurious five star resort in the heart of Cairns. With its stunning architecture, stylish interiors, and prime location, Crystalbrook Riley is the perfect place for anyone looking for a luxury stay.
Located in a central position along the Cairns Esplanade, you are within walking distance of a range of restaurants, cafes, shops and even the marina where the boats leave for the Great Barrier Reef.
Although you may never want to leave the resort with all its first class facilities. You'll love relaxing in the cabanas alongside the lagoon style pool, being pampered at the on site day spa or dining at one of the many restaurants, cafes and bars at the property. There is even a rooftop bar with fabulous views of the area.
This first class property offers a range of luxurious accommodation options, including rooms with spectacular ocean views from private balconies. Rooms sleep two in either a king bed or two singles and families can be catered for in interconnecting rooms.
Click here for more information or to book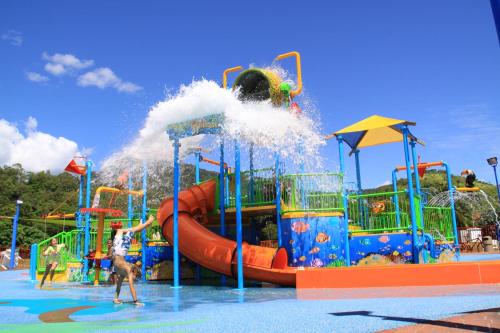 The Ingenia is part of the Big 4 chain of holiday parks, which provide some of Australia's best family, budget and camping accommodations. We've stayed with them several times in different locations and always found the facilities fantastic; the Cairns property has even won several tourism awards.
Ingenia offer campsites for those with tents or vans, as well as self-contained cabins and villas to suit families. Many of these buildings are the size of full houses with lots of space for families to spread out and to accommodate extra people on couches and fold out beds.
On top of the accommodation options, there are many activities for kids, including planned school holiday events, two pools, slides and a splash pad.
Adults will enjoy the onsite restaurant, which offers takeaway for in room or poolside dining, plus the neighbouring sports bar.
The only downside with the property is it's not located in a central part of town, so it's really only suitable for families with their own vehicle. It's about a 15 minute drive to Cairns from here.
Click here for more information or to book
Close to the Marina end of The Esplanade, the Mantra Hotel is in a central location, so you can easily walk around to all that Cairns offers. It's also part of the Accor group of hotels, so a great option for those wanting to collect loyalty points.
Room options range from standard hotel units to 3 bedroom apartments, many of which are self-contained and ocean facing with balconies to take in the views. Accommodation is extremely spacious, especially the apartments, which have full lounge areas as well as kitchens and bedrooms.
Facilities at the Mantra are less extensive than more luxury accommodations, but there is still a good pool for enjoying in the Cairns heat and a gym for any fitness fanatics.
The Mantra doesn't have a restaurant, but there are four places to eat in the same building complex, so you won't have to go far. Plus, the hotel has BBQ facilities on the roof if you prefer to cook yourself.
Click here for more information or to book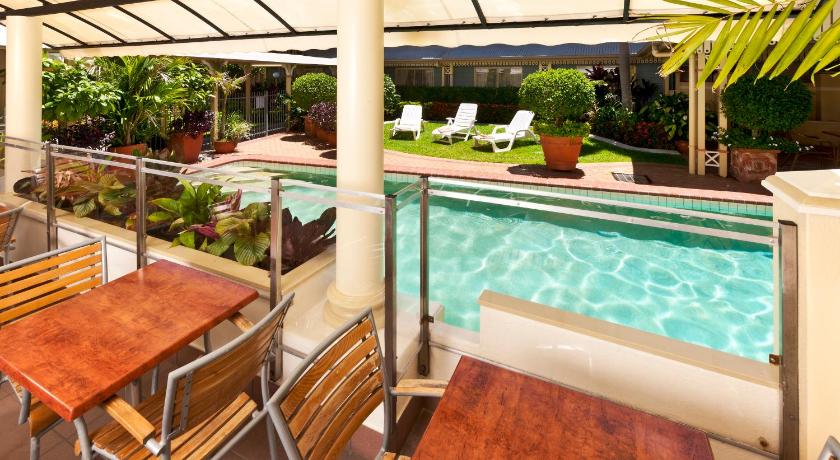 Located only a few blocks from the Esplanade, the Queen's Court is just a 10 to 15 minute walk from restaurants and several of the Cairns top things to do. However, there is plenty of onsite free parking for those with cars.
The budget double or twin rooms are cozy but affordable, while the more premium suites can accommodate families or larger groups with a queen and single or three single beds. The suites also have cooktops and microwaves on top of the tea and coffee making facilities that the smaller rooms have.
Even if you stay in the cheapest room, you can enjoy the hotel facilities, which include a free continental buffet breakfast, good wifi and an outdoor pool. In addition, the transit lounge, where you can chill out before check-in, is a bonus that all hotels should have!
Click here for more information or to book
ENJOY CAIRNS!
Hopefully, this guide has given you lots of inspiration on things to do in Cairns.
If you're planning a trip to Cairns, I highly recommend you check out our guide to Tropical North Queensland, which provides links to everything you need to know to plan your trip.
I'd also recommend you join our free Queensland Travel Guide Facebook community, where you can ask all your questions and find even more great trip suggestions.
If you're heading to Cairns, you might also be interested in the following nearby destinations:
Kuranda (coming soon)
Port Douglas (coming soon)
Atherton Tablelands (coming soon)