Heading north and wondering what to do in Townsville? This article covers the best things to do in Townsville, including tourist attractions, activities and places to visit.
The Queensland Travel Guide acknowledges the Wulgurukaba of Gurambilbarra and Yunbenun, Bindal, Gugu Badhun and Nywaigi; the Traditional Custodians of the Townsville region. We pay our respects to their Elders past, present and emerging, and recognise their continued spiritual and cultural connections to Country. Always was, always will be, Aboriginal land.
While Townsville is often overlooked as a tourist destination, it's in fact a great spot for a holiday with a range of things to offer all sorts of travellers.
Townsville things to do and see range from strolling down the Strand Esplanade – the seaside foreshore decked out with water parks and cafes or hiking up to iconic Castle Hill for fabulous views across the city.
Other popular Townsville attractions include Reef HQ where you can observe all manner of sea life or head out to gorgeous Magnetic Island and chillax in paradise for a few days.
There really is something for everyone in Townsville, whether you're making a brief stop on your way north or staying for a few days.
This Townsville to do guide will help you decide what to add to your itinerary. It covers a broad range of attractions and activities in Townsville including all the popular attractions Townsville has, the best places to visit in Townsville and all the essential information such as locations, opening hours and ticket prices.
So let's get into it and check out the fun things to do in Townsville.
This post may contain compensated links. Please refer to our disclaimer here for more information.
TOWNSVILLE THINGS TO DO MAP
Before we get started on all the great attractions in Townsville, to help you plan your itinerary, check out the map below. This map shows the location of all the things to do around Townsville covered in this guide.
I recommend you first make a list of your must do Townsville attractions and activities and then use this map to plan your day to day itinerary so you're not travelling back and forth all over town.
BEST THINGS TO DO IN TOWNSVILLE
Below we cover the top Townsville tourist attractions and places to visit around the region.
1 Castle Hill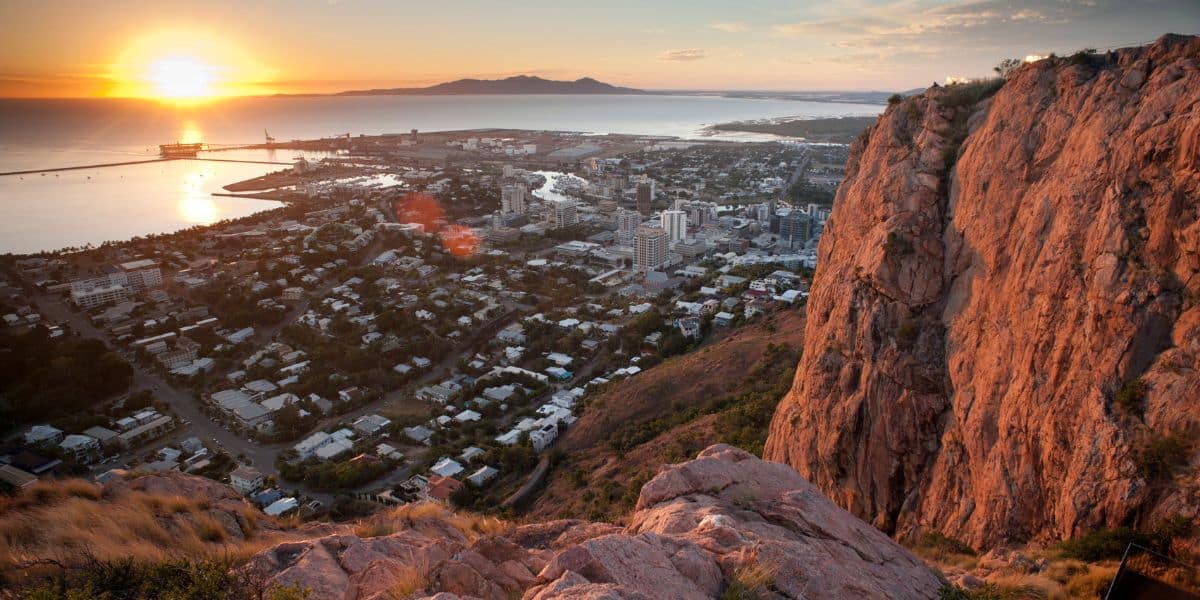 You can't miss Castle Hill, the huge pink hill towering in the centre of Townsville. This striking granite monolith is the backdrop for many Townsville activities, and it is one of the top things to do in Townsville.
The popular Castle Hill walking tracks have fantastic views over Townsville, so it's no surprise that 2500 locals visit these trails daily. But it's also the perfect spot for tourists to orientate themselves to the city. The hill is just a few metres short of a mountain, so you can expect the views to keep improving as you get higher and higher.
The steep walk or cycle to the summit is well worth the effort for the sublime 360-degree views, but you can drive most of the way if you want to avoid the climb. Just watch out for local runners enduring the steep roads on foot!
Visit at sunset to make the most of the spectacular panorama over Townsville and Magnetic Island. And don't forget your camera – Townsville tourist attractions don't get more stunning than this.
While exploring Castle Hill, look out for the World War II observation bunker. The Hill's exceptional vantage point was utilised by American soldiers during the war. Local legend states that they proposed the idea of demolishing the hill and using the rock to build a bridge to Magnetic Island. But thankfully, the hill still stands tall today and remains one of the top 10 things to do in Townsville!
Facilities at Castle Hill include vehicle access and parking, bathroom amenities, drink fountains, and benches.
Location: Castle Hill, Townsville
Opening Hours: Always open
Cost: Free
2 Wander the Strand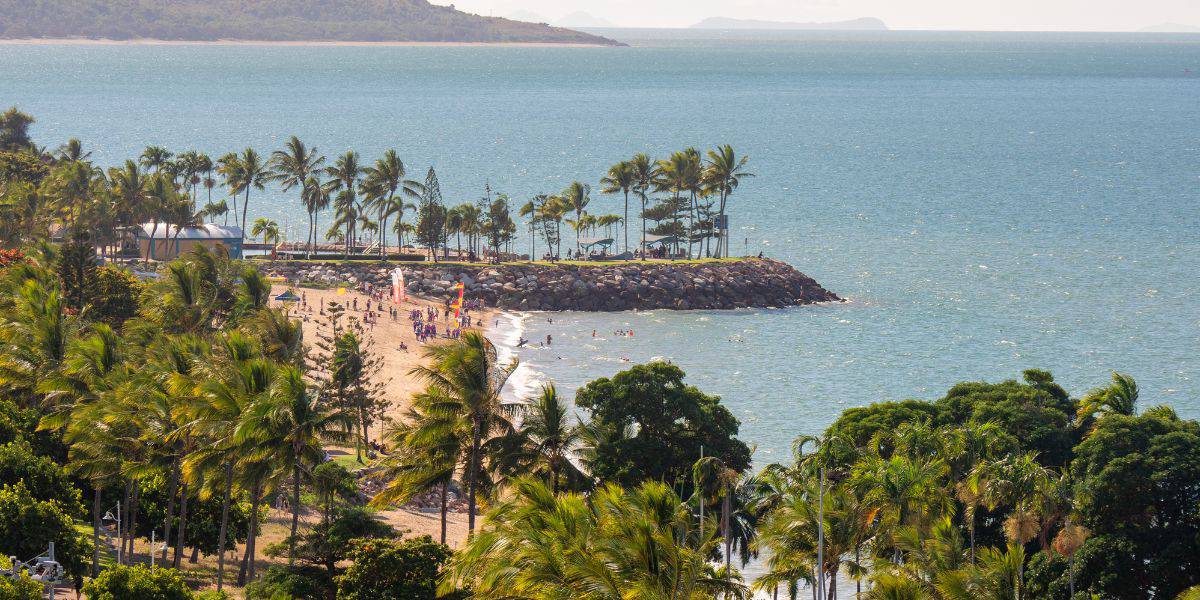 Image credit thanks to Tourism and Events Queensland
One of the most popular attractions in Townsville is the Strand, a beautiful beachfront promenade that stretches for 2.5 km along the Coral Sea.
The Strand is an excellent spot for swimming, sunbathing, and relaxation. The beach is patrolled by lifeguards during the day, ensuring that visitors can swim safely. There are also numerous shelters and picnic tables available for visitors to use, making it a great spot for a picnic or a BBQ.
If you're feeling active, you can walk, jog or bike ride along the promenade while enjoying the stunning views of the Coral Sea. You can also hire a stand-up paddleboard, kayak or even a jet ski to explore the water.
For families with children, The Strand has a number of playgrounds, water parks and skate parks to keep the little ones entertained. There is also the Strand Rockpool where children can safely splash around in the shallow water.
For those who are interested in history and culture, The Strand also has a few points of interest. The Strand jetty is a popular spot for fishing and is also a great spot to watch the sunset. The Jezzine Barracks, located at the northern end of The Strand, is a historic military site that has been transformed into a cultural and recreational precinct.
The Strand also has a number of restaurants, cafes, and bars, offering a range of dining options to suit all tastes and budgets. Whether you're in the mood for a casual coffee or a gourmet meal, you're sure to find something to satisfy your cravings along The Strand.
Location: The Strand, Townsville
Opening Hours: Always open
Cost: Free
3 Cape Pallarenda Conservation Park
With fantastic coastal views and seemingly endless trails to explore, the Cape Pallerenda Conservation Park is one of the most underrated things to see in Townsville.
The Cape Pallarenda headland has a fascinating history. The site was a quarantine station in the early 1900s before becoming a location for strategic defence in World War II. As you explore the park on foot or mountain bike, you'll still see the WWII structures jutting out of the headland.
There is a huge range of signposted and paved trails, including the Graves circuit walk, the Shelly Cove Trail, and the Forts Walk. Many have amazing views back over Townsville.
Other tracks provide beach access to one of the park's quiet bays, so the trails are one of the most underrated free things to do Townsville offers, especially if you're looking for an ocean swim without the city crowds.
Location: Cape Pallarenda Road, Graves Circuit, Pallarenda
Opening Hours: Always open
4 Museum of Underwater Art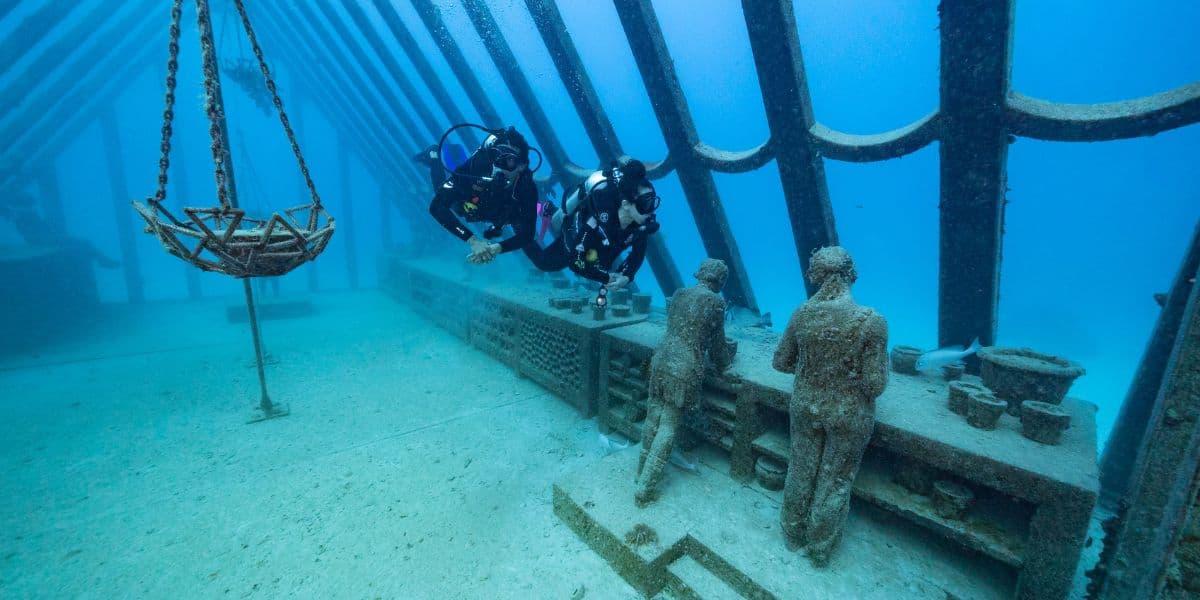 Image credit thanks to Tourism and Events Queensland
Have you ever been to a museum that required descending into watery depths to see the artworks on display? Take the plunge at the Museum of Underwater Art to experience one of the most unique things to do in Townsville.
Travel by boat to the Museum of Underwater Art (or MOUA). This attraction is definitely one of the first places to go in Townsville for art lovers and water lovers alike, but everyone has something to gain from the globally-significant artworks on display here.
The distinctive art pieces were created by Jason deCaires Taylor, the world's leading underwater sculptor, and is Jason's only underwater art museum in the Southern Hemisphere.
MOUA is a keen reminder of the importance of reef conservation and was created to inspire and educate visitors about protecting the Great Barrier Reef alongside other reefs around the world. In fact, the artworks themselves actually support reef restoration due to the corals planted around them.
The magical museum can be visited by snorkelers, first-time divers, and certified divers looking for cool things to do in Townsville. You'll swim around the structures alongside the resident schools of fish and be amazed by the huge installations. The coral was recently planted, so it will only get more colourful as the years go by.
If you're nervous about taking the plunge, visit The Strand for the Ocean Siren display. This display is always open, but best viewed in the evening to see it lit up. The sculpture was installed alongside Townsville's iconic strand jetty and changes colour in response to the live water temperature.
Take a full-day tour from Townsville to explore the Great Barrier Reef and the Museum of Underwater Art. Click here to see what is available.
Location: 340 Flinders St, Townsville (information centre)
Opening Hours: Tours board at 7 am in Townsville and return at 5 pm.
Cost: $274 to $400 (including return boat tour and equipment)
5 Alligator Falls
Located in Bowling Green Bay National park, Alligator Falls is an easy-to-moderate one-day hike with sweeping Queensland views, making it one of the most beautiful places to go near Townsville for hikers.
Beginning at the Alligator camping area, a half-hour drive from Townsville, you'll then continue along the 8.5km trail to Alligator Falls. The total hike is 19km, with stunning grassy woodlands and riparian forests along the way. You may also see kookaburras, kangaroos, skinks, bearded dragons and Brumbies.
The track includes four creek crossings, and the final 1km leading up to the falls follows a sharp incline. However, you'll be rewarded with beautiful views of the falls, so it's worth the scramble to the top.
The freshwater creek is a perfect spot to cool down with a swim or by relaxing in the shade of the rainforest. The diverse nature and wildlife on display make this one of the best things to do in Townsville for free.
Location: Alligator Creek Road, Townsville
Opening Hours: Always open
6 Museum of Tropical Queensland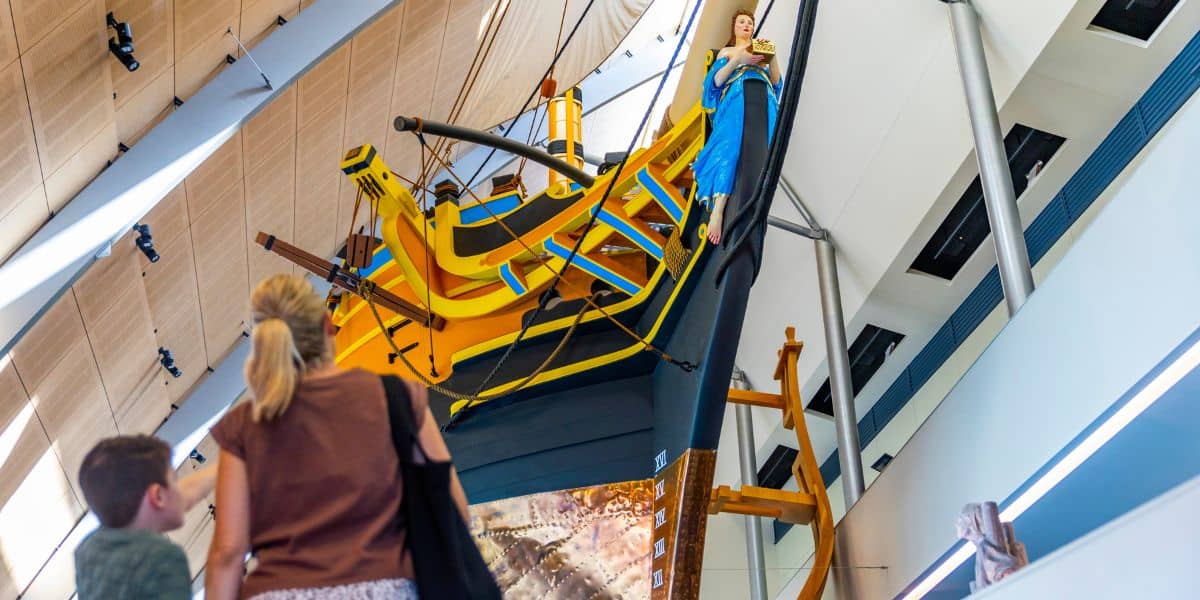 Image credit thanks to Tourism and Events Queensland
If you're looking for fun things to do in Townsville with kids, the Museum of Tropical Queensland provides visitors with the unique opportunity to visit the Great Barrier Reef, a rainforest, or a shipwreck – without even leaving Townsville city centre!
Showcasing life in the tropics throughout history, you'll get up close with dinosaurs, learn about Queensland's cultural and natural history, and learn how the past has shaped Queensland's tropics today.
There are many family-friendly Townsville indoor activities within the museum, from free interactive displays and they can even help fire a ship's cannon (at 11 am and 2:30 pm daily).
Among the exhibits includes exploring the wreck of the HMS Pandora while learning the story of the HMS Bounty, an English ship that was taken over by mutineers in the late-1700s. You'll also walk through dinosaur displays, interesting coral and fossil exhibits, and journey through the rainforest and reef ecosystems.
There is also a fantastic cafe on site with views across the river. Open from 10 am – 3 pm daily, the cafe serves hot and cold food and drinks, including gluten-free options. Other amenities include bathrooms and free WiFi.
Location: 70-102 Flinders St, Townsville
Opening Hours: Daily from 9.30 am to 4 pm
Cost: $15 Adults | $8.80 Kids (3 – 15) | $38 Family (2A+2C)
7 Townsville Museum and Historical Society
With two large exhibition halls displaying extensive historic artifacts, the Townsville Museum and Historical Society is one of the most interesting Townsville places to visit for local history enthusiasts.
Memorabilia on display includes a large number of photographs, books, radios and other historical remnants of Townsville. Visitors can imagine what the city looked like before electricity and how it has developed to become the city we know today.
The museum is run by passionate volunteers who are on hand to answer your questions.
Location: 1/27 Barbeler St, Currajong
Opening Hours: Weekdays 9 am to 2.30 pm | First and third Sunday of the month 1.30 pm to 3.30pm
Cost: $5 Adults | $2 Kids
8 Sunset cruise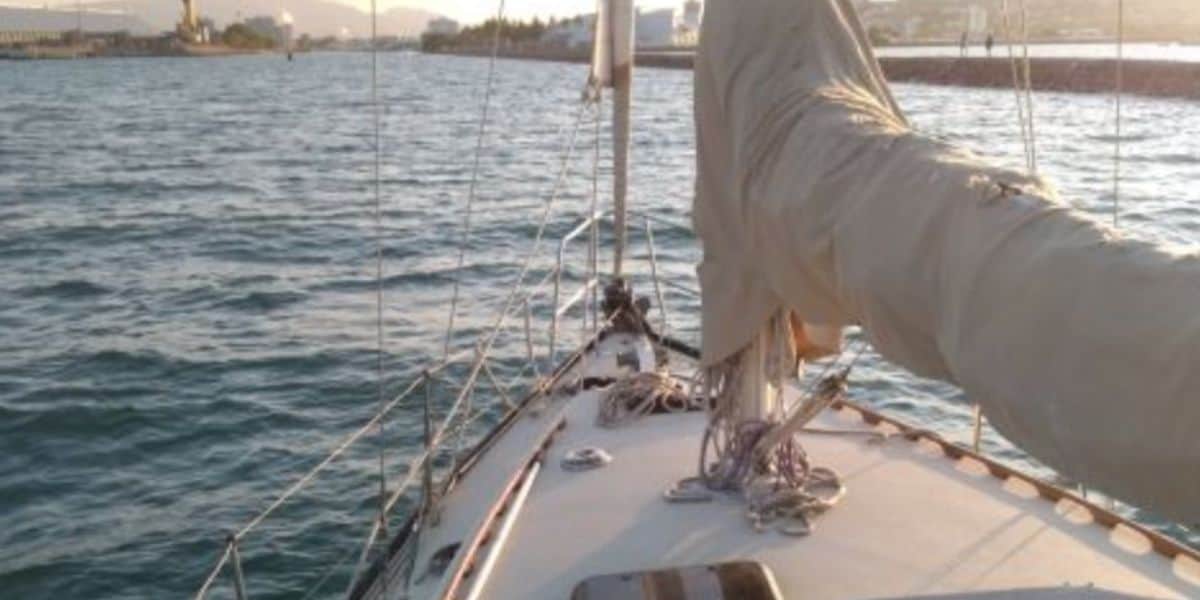 Setting sail at sunset is definitely one of the most romantic things to do in Townsville, although this fantastic cruise is one of the 10 best things to do in Townsville and surrounds for anyone.
Your cruise will depart from Townsville before you watch the sunset with the amazing backdrop of the UNESCO-listed Great Barrier Reef. This is a great way to witness the beautiful Coral Sea coast as the sky transforms the waters into a golden masterpiece. You'll even see Castle Hill from the waters and pass by Magnetic Island.
Small-group tours are available, some with the option of sparkling wine and antipasto platters, though you could also bring your own treats in a cooler bag. Either way, this is certainly another of the most fun activities Townsville offers.
Experience the magic of sunset in Australia's tropical north on a sunset tour. Click here to check what's available.
9 Go snorkelling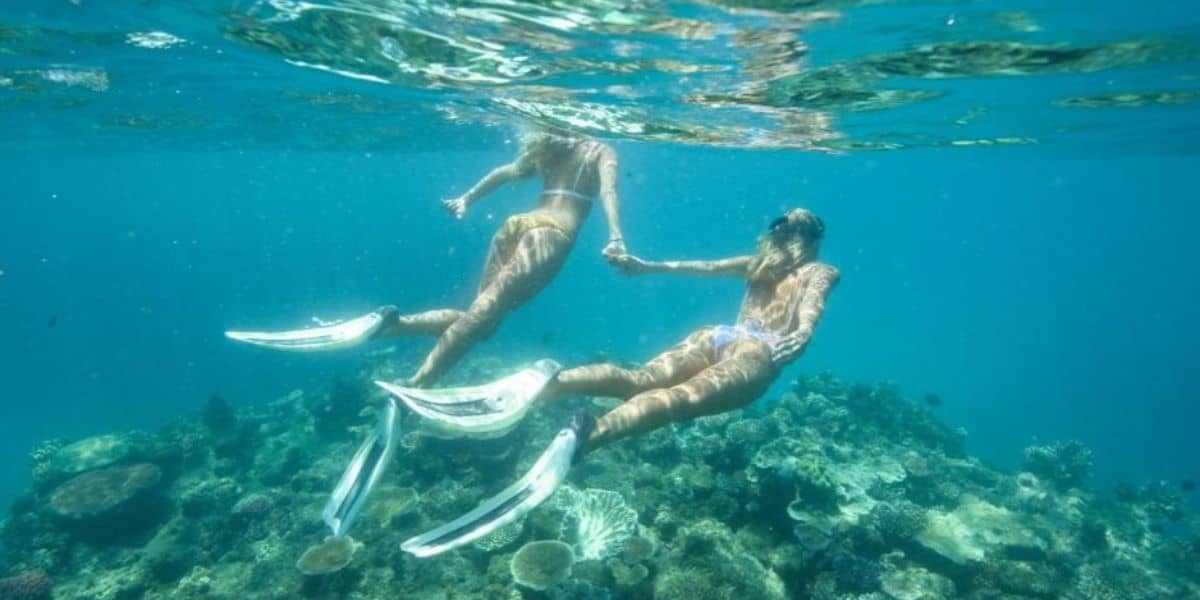 Some of the best places to see near Townsville are actually under the water – so its the perfect destination for those who enjoy snorkelling.
The most popular snorkelling site near Townsville is the stunning Magnetic Island due to its many sparkling tropical bays. Many of the sandy bays are shallow and so perfect for snorkelling. On the Eastern side, you'll find crystal clear water and coral reefs.
Alternatively, take a full or half-day snorkelling trip to the Great Barrier Reef or the Museum of Underwater Art – two of the most magical places to visit near Townsville. Most Townsville snorkelling tours head to the central section of the reef, including the John Barrier Reef.
Aside from the colourful corals, you'll spot some amazing marine animals, including parrot fish, Maori wrasse, clown fish, and angel fish. Lucky visitors might also see turtles, stingrays, white-tip sharks, and black-tip sharks – so it's definitely one of the best things to do and see in Townsville for animal lovers!
Many tours include an opportunity for snorkelling. Click here to check what tours are available.
10 Scenic helicopter flight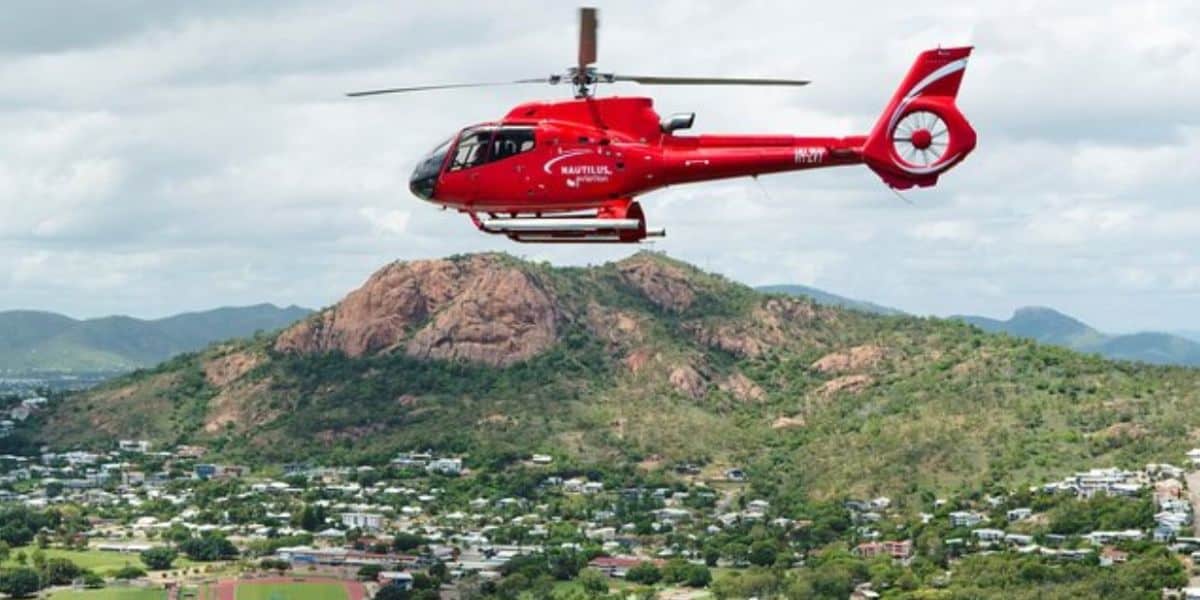 If you're looking for exciting things to do near Townsville, you really can't beat a mesmerising helicopter tour soaring over the city skyline.
You'll have aerial views over all the most iconic places to see in Townsville, including Castle Hill, the gorgeous Strand beaches, Townsville port, Poss River, and the Coral Sea.
30-minute flights include unbeatable views over Cleveland Bay and Magnetic Island as you learn about the region's UNESCO World Heritage sites from your local guides. You'll be provided with a headset, so you don't miss anything!
For more unrivalled scenery, other Townsville helicopter tours take visitors over Hinchinbrook Island, a prehistoric island known for its dense rainforest, mangroves, and secluded coves. If you're looking for truly magical stuff to do in Townsville, you won't find much that's more memorable than this!
A number of operators run scenic helicopter tours. Click here to check what tours are available.
11 Anderson Botanic Gardens
With 25 hectares of greenery to explore, the Anderson Gardens is the largest of Townsville Botanic Gardens and another of the relaxing free activities Townsville offers.
From huge tropical trees and fruit orchards to the World Cycad Garden and Grand Avenues, there's much to see within the well-maintained gardens. Look out for birds and wallabies enjoying the shade under colourful blossoms and native plants.
Anderson Botanic Gardens is the perfect spot for picnics, cycling and tranquil walks. The oasis is open to all, with much of the park being accessible by car and wheelchair-friendly, so it's one of the most convenient things to do in Townsville for families.
And if you're looking for free things to do in Townsville with toddlers, take your little ones to feed the ducks in the large billabong or head to the children's playground.
Location: Gulliver Street, Mundingburra, Townsville Area
Opening Hours: Open between sunrise and sunset
Cost: Free
12 Explore the coast by jet ski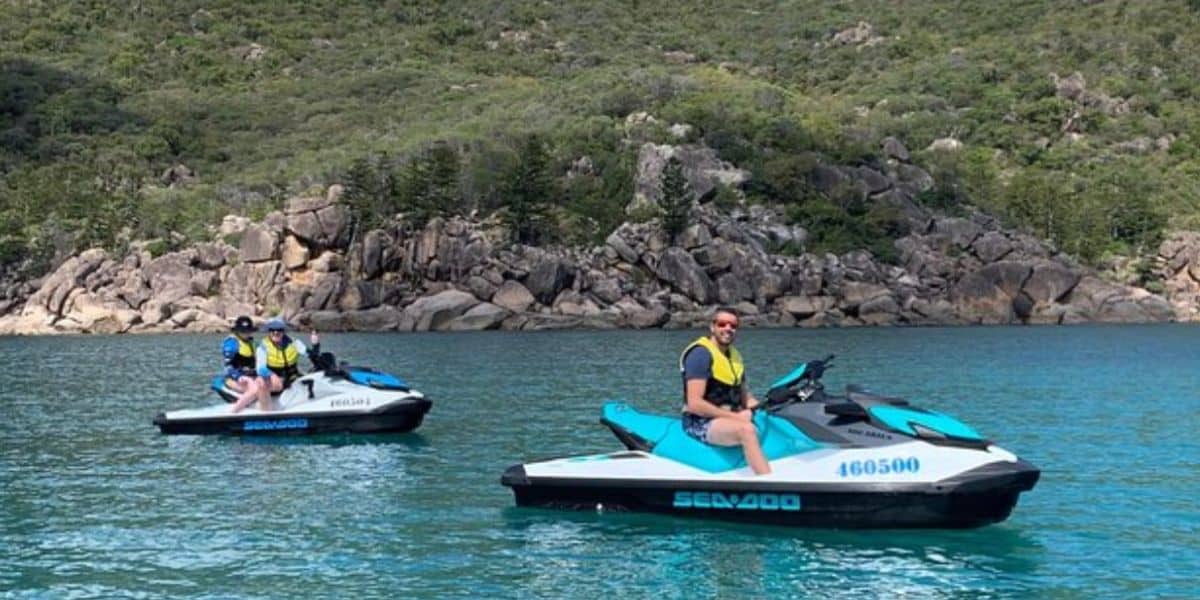 Soar along the South Pacific Ocean on a jet ski to enjoy one of the most fun activities to do in Townsville.
You'll begin with a safety briefing before zipping around Magnetic Island, with unrivalled views of its stunning beaches from the ocean. Turtles, dolphins, whales, and dugongs are among the fascinating marine animals that might join you in the water.
Other jetski tours will take you along the Townsville coast to Cape Pallarenda, with plenty of stops for photos, unless you're a thrillseeker who doesn't want to slow down!
Jet skis have two seats, so this is one of the most fun things to do in Townsville for couples or friends. Your local guide will also be on hand to show you all the best spots.
You can hire jet skis or take part in an organised jet ski tour. Click here to check what tours are available.
13 Maritime Museum of Townsville
If you'd prefer to stay above water as you explore the region's maritime history, check out the fantastic Maritime Museum of Townsville.
There is a lot to take in at this small museum which covers much of Townsville's marine history, from the port and local shipwrecks to present-day shipping. You'll also learn how the city was impacted by WWI and WW2.
Games and interactive exhibits make history come to life and turn the museum into one of the most unexpectedly fun things to do with kids in Townsville. The displays include videos, models and VR headsets that allow you to look around the old ships virtually.
The museum is run by volunteers who are on hand to share their knowledge and assistance.
Location: 42-68 Palmer Street, South Townsville
Opening Hours: October to April: 9.30 am to 2 pm | May to September: 9.30 am to 2.30 pm | Closed Sundays (pending volunteer recruitment)
Cost: $12 Adults | $6 Kids | $20 Family
14 Billabong Sanctuary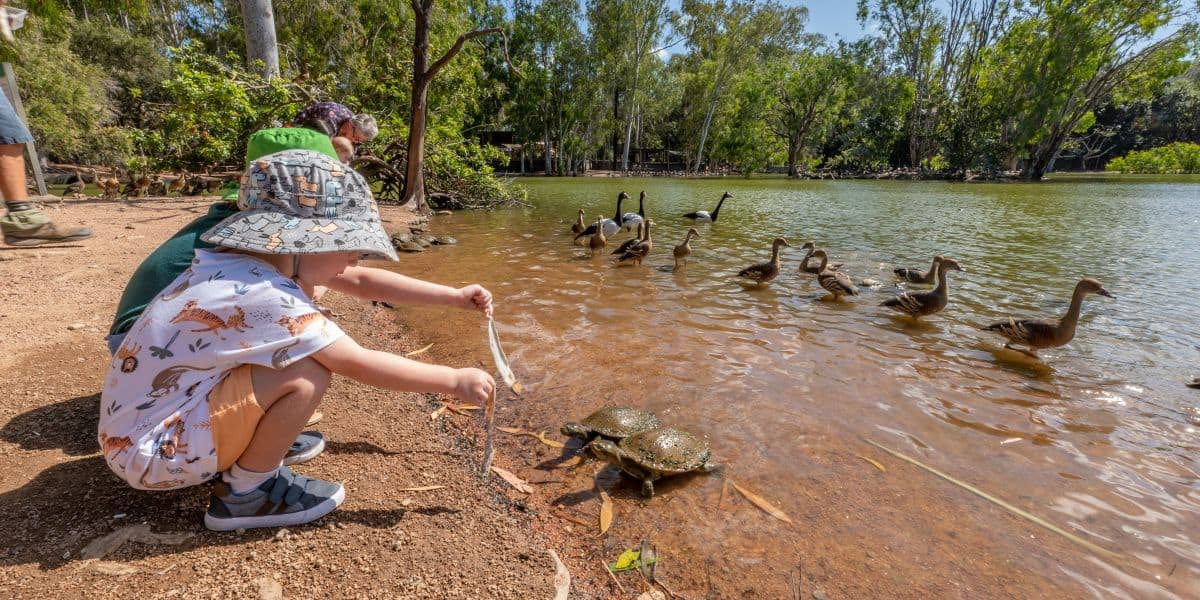 Image credit thanks to Tourism and Events Queensland
Get up close and personal with some of Australia's most fascinating animals at Billabong Sanctuary. This Australian native animal wildlife park is nestled beside a billabong in a beautiful tropical bushland setting.
It goes without saying that this is one of the fun things to do in Townsville for kids, with lots of interactive animal shows throughout the day, such as animal feedings, photo opportunities and talks from knowledgeable wildlife experts.
You'll build special memories while meeting adorable koalas, wombats, parrots, and kangaroos. Or, if you're feeling brave enough, don't forget to meet the crocs and snakes too!
Location: 2 Muntalunga Dr, Nome
Opening Hours: Daily from 9 am to 4 pm
Cost: $43 Adults | $28 Kids (4 – 16) | $130 Family (2A+3C)
15 Street Art Walking Trail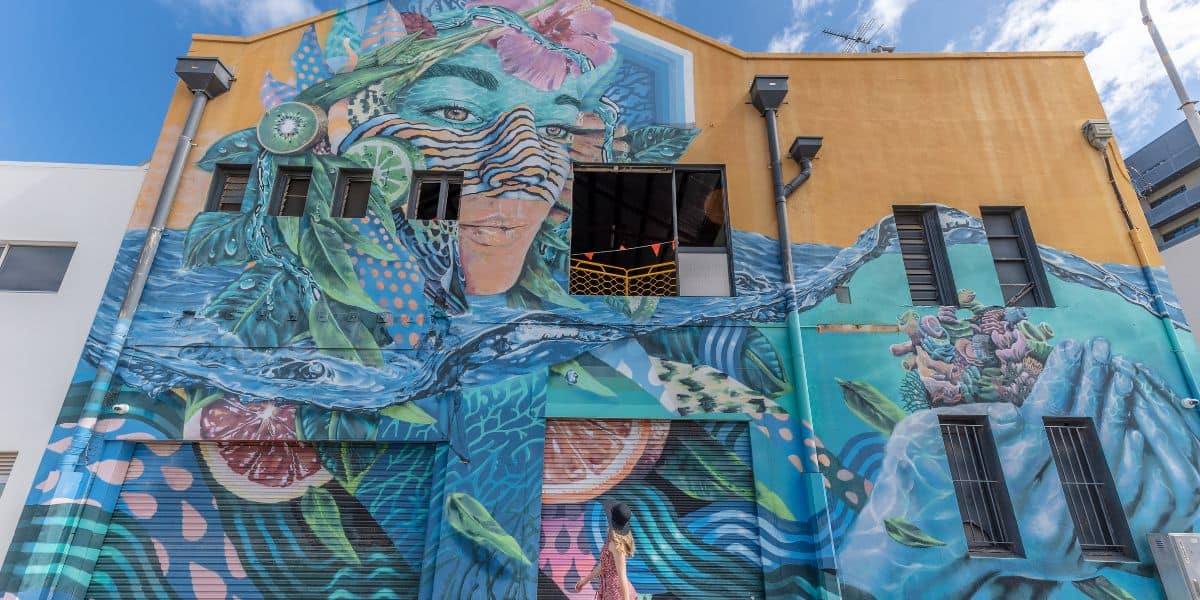 Image credit thanks to Tourism and Events Queensland
The Street Art Walking Trail is certainly one of the more colourful things to see Townsville has. On a self-guided walking tour, you'll amble down bustling city streets, back lanes, and vibrant alleyways to spot the striking murals on display.
The innovative street art scene is always evolving, with local and internationally renowned artists adding to Townsville's kaleidoscopic pathways. Street artists who've left their mark in Townsville include ROA and HAHA, alongside indigenous Australian artists Nicky Bidju Pryor and the RUN collective.
Use the Street Art Walking Trail: Augmented Reality edition map to find augmented reality stickers along the streets. As you wind your way around the CBD, use your smartphone to transform the murals into an augmented-reality dreamscape.
This fun combination of virtual reality combined with murals makes it a fun option for things to do in Townsville for teenagers, alongside being another of the best Townsville free things to do.
Download your Street Art Walking Trail: Augmented Reality map here.
16 Town Common Conservation Park
There are miles of recreational trails to explore at the Town Common Conservation Park, with mountain views, coastal wetlands and lagoons, and stunning beaches to enjoy.
Nature lovers will love absorbing the wildlife from the viewing areas and birdwatching huts. As you walk around the bushland, look out for native birdlife, including brolgas (Australian cranes), jabiru (the black-necked stork), pelicans, magpie geese, bustards, and red-backed finches. If you're looking for Townsville places to see birds, then this is where you'll find them!
Finish your walk or cycle with a visit to the rugged Shelley Beach. Or, if you don't mind a climb, walk from Bald Rock to Mt Marlow for spectacular views.
Location: Cape Pallarenda Road, Townsville
Opening Hours: Daily from 6.30 am to 6.30 pm
TOWNSVILLE DAY TRIPS
While there are so many things to do in and around Townsville- this is a keyword so i'll let you fix it if you're keen, there are a few places nearby that make great day trips.
Magnetic Island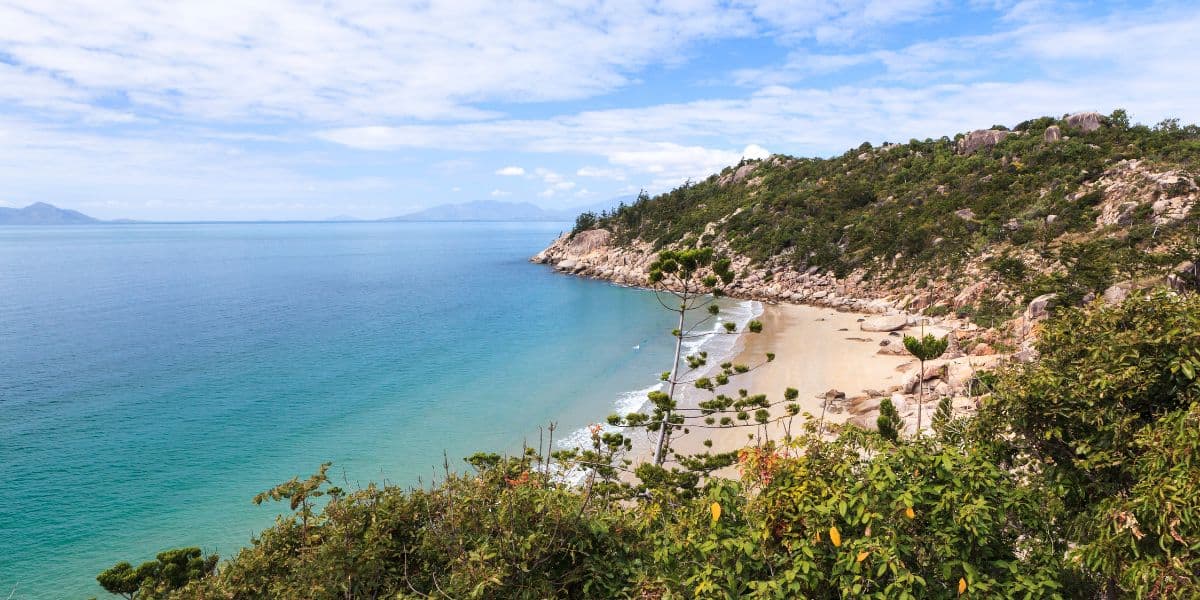 Magnetic Island is one of Queensland's most beautiful natural attractions and is based just 8km away from Townsville.
The island offers fabulous water and land activities, from hiking through the National Parks while spotting koalas and wallabies to snorkelling along the pristine bays beside the dugongs and tropical fish. If you prefer to stay overnight, the island also offers boutique shopping, spa treatments, coastal restaurants, and picturesque island resorts.
You can explore Magnetic Island on a day tour or DIY it with a ferry transfer.
If you choose to DIY your day trip, begin by taking the 25-minute ferry crossing from Townsville to Nelly Bay Ferry Terminal on Magnetic Island. There are two ferry companies to choose from; SeaLink, the passenger ferry, or Magnetic Island ferries, the vehicle ferry.
Once you've arrived, you can drive around the island or buy a day pass for the local bus, which goes between the stunning Horseshoe Bay and Picnic Bay jetty via the ferry terminal. You can also make a stop at Arcadia Hill for fabulous views across Cleveland Bay.
Alternatively, take things easy and choose a convenient Magnetic Island day tour from Townsville so you can relax and make the most of the amazing scenery. Day tours make stops at the island's most gorgeous viewpoints, such as Geoffrey Bay and the breathtaking Horseshoe Bay Beach.
Click here to check what tours are available.
Wallaman Falls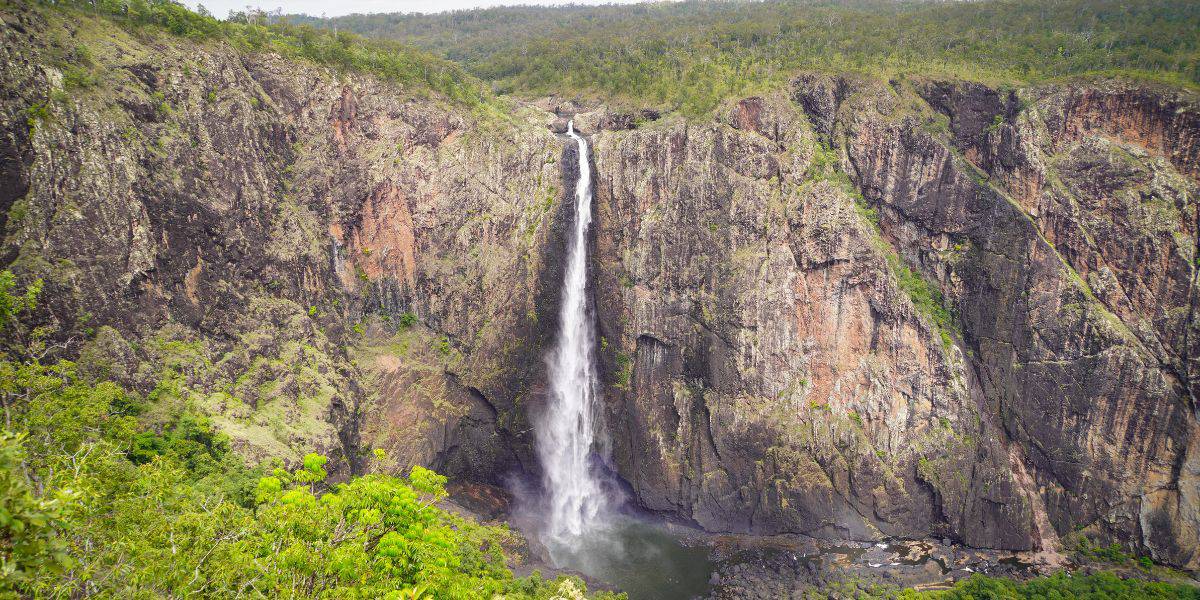 Image credit thanks to Tourism and Events Queensland
Wallaman Falls is the highest permanent single-drop waterfall in Australia and well-worth adding to your list of places to visit around Townsville.
The 286-metre falls are located in Girringun National park, part of the Wet Tropics Heritage Area and where you'll find some of our planet's oldest rainforests. This land is also home to many endangered plants and animals.
The main viewing platform is wheelchair-friendly and just a short walk from the car park. To get to the base of the falls, take the circuit track to admire the waterfalls close up or go for a swim. The 4km return walk can get very steep and slippery, so wear good shoes and be especially careful hiking over the rocks during the wet season.
Following a scenic 2-hour drive from Townsville, finishing with a winding mountain road, you'll find clean toilet facilities, picnic tables, camping spots, and other walking trails near the Wallaman Falls car park.
Ayr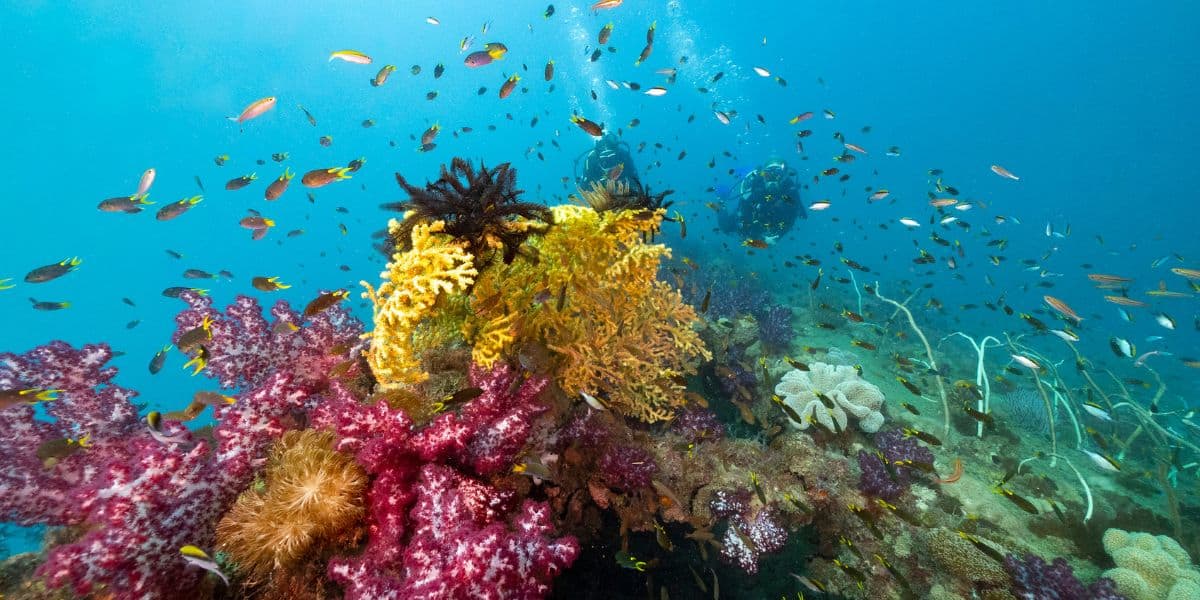 Image credit thanks to Tourism and Events Queensland
Just a 1-hour drive from Townsville, Ayr is a wonderful day trip for families or certified divers.
While you're in Ayr, there are several fantastic attractions to visit, such as the Ayr Nature Display Museum, Plantation Park, and Alva Beach.
However, the town is best known for its proximity to the renowned SS Yongala wreck, which is considered one of the best historic wreck dives in the world.
The SS Yongala Wreck lies 33 meters down on the sandy floor of the Great Barrier Reef Marine Park, with the top of the wreck reaching around 15 meters deep. After sinking in 1911, the 110m-long wreck wasn't dived for many decades and remains relatively untouched.
The endless corals, historical artifacts, and marine life make the wreck one of the most extraordinary things to see near Townsville, and you can still swim over the engine room, anchor, funnels, and top deck.
A number of operators run dive trips to the Yongala Wrecks. Click here to check what tours are available.
Charters Towers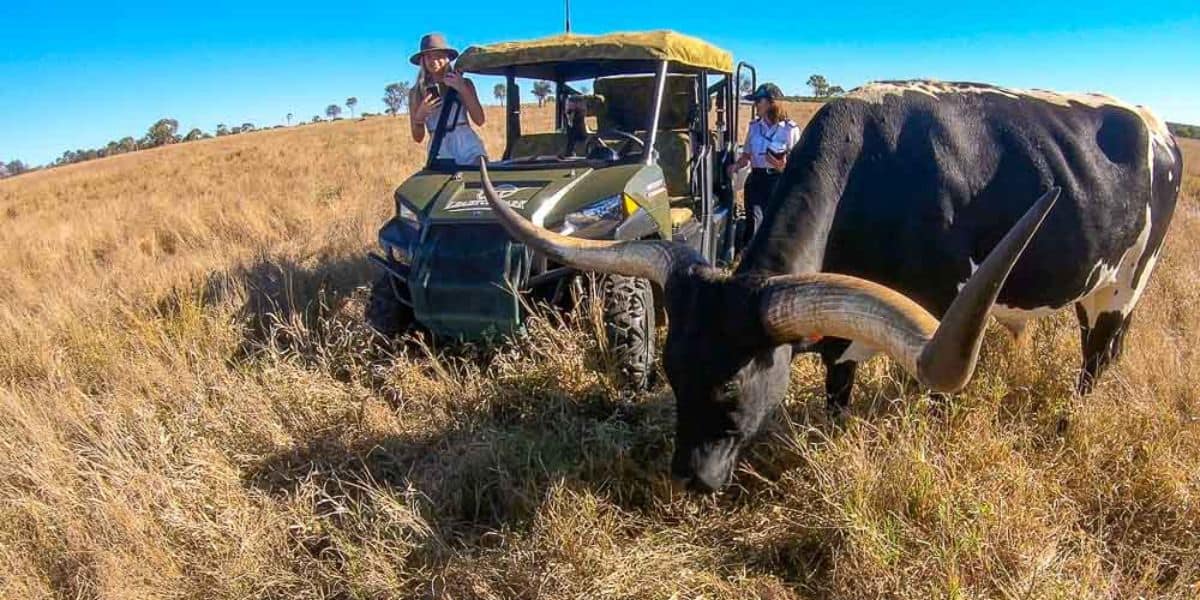 Head back in time with a visit to Charters Towers. The rural town was founded in 1871 following the discovery of gold in the region. With its distinctive history and authentic outback atmosphere, Charters Towns remains one of the best things to see around Townsville.
Don't miss a guided tour around the Venus Gold Battery. You'll get an inside look at how gold was extracted and discover the true stories of Australia's early mining communities.
Finish a Charters Towers day trip with a sunset at Towers Hill or watch a movie at the iconic Tors Drive-In cinema, which has been showing features since 1966.
The town is a 90-minute drive from Townsville and a brilliant day out for families in the area.
Abergowrie State Forest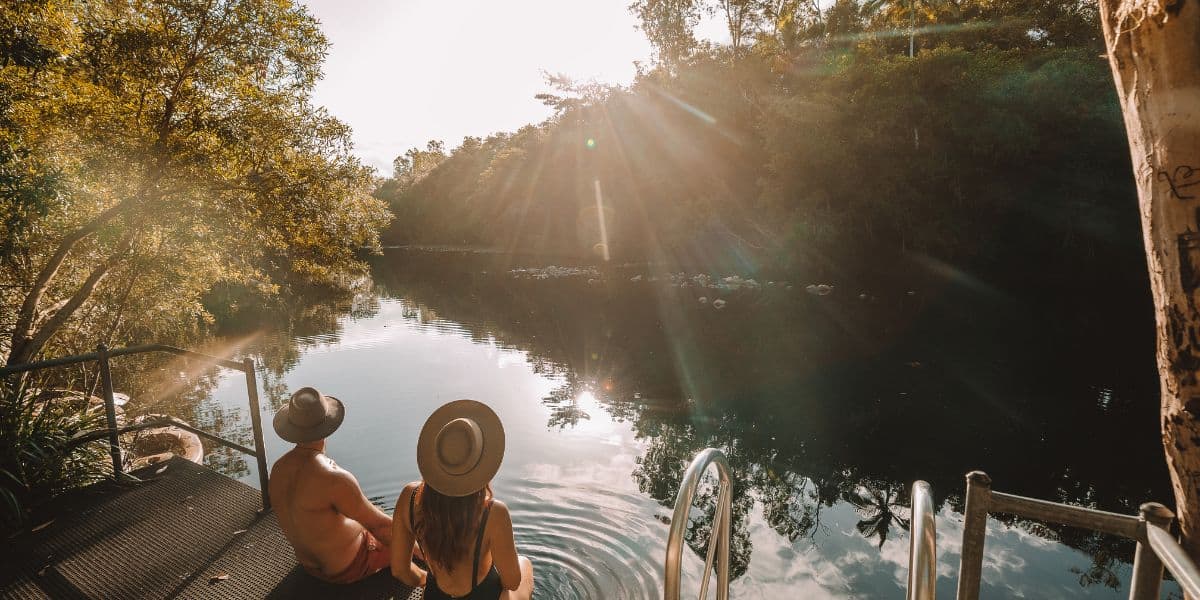 Image credit thanks to Tourism and Events Queensland
Get deep into nature at the Abergowrie State Forest, a magical woodland containing tropical rainforest, eucalyptus trees and exotic pine plantations.
The site is home to a number of trails, including the Broadwater Creek and Rainforest Circuit, alongside waterside picnic spots and refreshing swimming holes.
Most visitors begin their day at Broadwater Creek, where you'll find a campsite with toilets and showers. It's a lovely spot to see wallabies and birds while wandering along the relaxing boardwalks.
The Abergowrie State Forest is approximately a 2-hour drive from Townsville – perfect for nature lovers looking for things to do around Townsville region and beyond.
Crystal Creek
Just an hour's drive north of Townsville, Crystal Creek is the perfect day trip for those looking for somewhere nice to cool off. The area is known for its stunning natural beauty and in particular its number of refreshing swimming holes.
One of the most popular swimming holes is Big Crystal Creek, a picturesque creek that winds its way through the rainforest. The water here is crystal clear, and visitors can often spot fish and turtles swimming in the creek. The area is also popular for picnics and barbecues, with plenty of shady spots available to relax and enjoy the scenery.
Another popular swimming hole is Paradise Waterhole, which can be found along the Cloudy Creek Trail in Paluma Range National Park. The waterhole is surrounded by lush rainforest, and visitors can often spot wildlife, such as wallabies and possums. The waterhole is also popular for camping, with a range of camping facilities available for visitors who want to spend the night in the park.
The Little Crystal Creek swimming hole is surrounded by towering granite boulders and lush vegetation. Visitors can swim in the cool, clear water, explore the nearby walking trails, or relax and enjoy a picnic in the shade.
Don't forget a photo opportunity under the bridge over Little Crystal Creek. Built in 1933, the bridge is a stunning example of early 20th-century engineering and is considered one of the most beautiful bridges in Australia.
BEST HOTELS IN TOWNSVILLE
Looking for somewhere to stay in Townsville? We recommend making your booking through Booking.com as they offer a wide range of hotels and most with free cancellation, which is ideal for last-minute changes.
However, if you want our recommendation for a hotel, below we've listed our top pick for a luxury hotel, family hotel, mid range and budget hotel.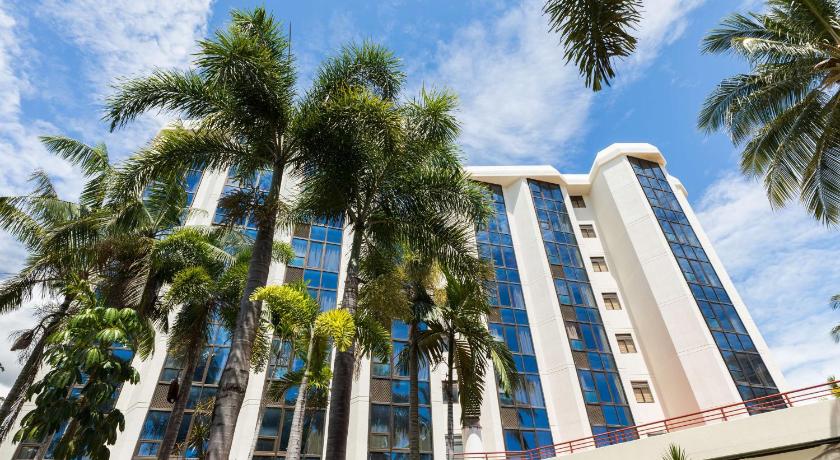 The Rydges Southbank Townsville is undoubtedly the best boutique hotel in the heart of the city. It's just a short walk from many of Townsville's family-friendly attractions, including the Maritime Museum of Townsville and the Museum of Tropical Queensland.
Considering the luxurious interior – the hotel is also surprisingly affordable, with king, queen, or rooms with two double beds available.
The hotel's excellent facilities include a spa, an outdoor swimming pool, and an a la carte restaurant where you can enjoy their Signature breakfast.
Best of all, Rydges boasts beautiful views. Not many Townsville things to see can beat waking up to sunrise over the iconic Castle Hill and the marina from the comfort of your stylish hotel room.
Click here for more information or to book
The Big4 Tasman Holiday Park Rowse Bay is perfect for families. It's conveniently located near Castle Hill and less than a 10-minute drive to The Strand and Breakwater Ferry Terminal (where you can get a ferry to Magnetic Island).
Each cabin or villa features a kitchenette, air-conditioning, and a patio. There are many different sizes to choose from, depending on the size of your family, from 2-person studios to chalets and villas sleeping up to 8 people.
It's easy to keep everyone entertained with an array of family-friendly onsite facilities, including tennis courts, a children's playground, gardens, an outdoor pool and a BBQ area.
With comfortable rooms, a stone's throw away from many of the best Townsville things to see and do, Big4 Tasman Holiday Park is the perfect Townsville accommodation for families.
Click here for more information or to book
The Rambutan Resort is in a convenient location, close to many of the best Townsville activities, such as the Museum of Tropical Queensland and the Magnetic Island ferry terminal.
Both double and family rooms are available, and some rooms sleep up to 9 people. The facilities include a rooftop swimming pool, from where you can enjoy city views from the terrace, restaurant, and trendy poolside bar.
With Rambutan's resort-style rooftop pool and convenient location, it's an ideal place to stay for families or couples wanting to stay close to the top Townsville places to see.
Click here for more information or to book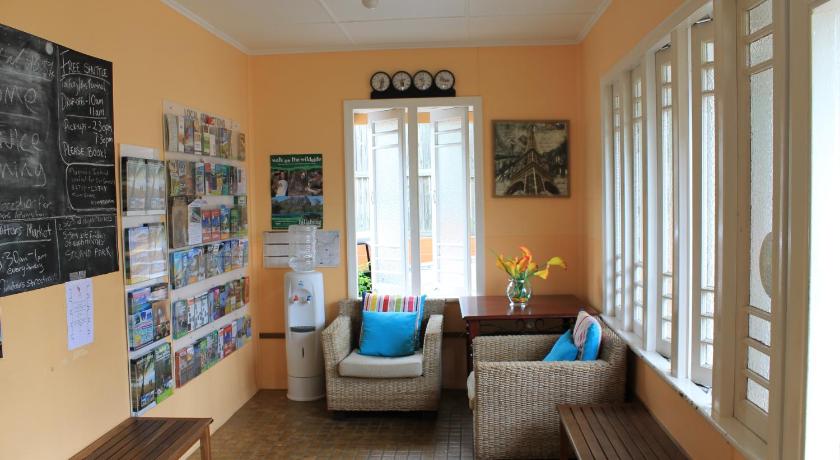 The Civic Guest House is a great budget-friendly hostel with a superb location near the top activities Townsville offers, such as Castle Hill and the Maritime Museum of Townsville.
Although the 4-bed dorms are excellent for backpackers, the air-conditioned double rooms with shared bathrooms are perfect for budget travellers who need privacy.
Guests also have access to a shared kitchen, laundry, and games room. The peaceful guesthouse even offers a free shuttle service to the bus and ferry terminals, making it extra convenient for day trips to Magnetic Island, which is a must do in Townsville.
Click here for more information or to book
ENJOY TOWNSVILLE!
Hopefully, this guide has given you lots of inspiration on things to do in Townsville.
If you're planning a trip to Townville, I highly recommend you check out our guide to North Queensland, which provides links to everything you need to know to plan your trip.
I'd also recommend you join our free Queensland Travel Guide Facebook community, where you can ask all your questions and find even more great trip suggestions.
If you're heading to Townsville, you might also be interested in the following nearby destinations:
Port Douglas (coming soon)