Are you planning a trip to Canungra? This article covers all the best things to do in Canungra, including tourist attractions, activities and places to visit.
The Queensland Travel Guide acknowledges the Yugambeh People, the Traditional Custodians of the land on which Canungra is situated. We pay our respects to their Elders past, present and emerging, and recognise their continued spiritual and cultural connections to Country. Always was, always will be, Aboriginal land.
Main image credit thanks to Tourism and Events Queensland
Canungra is a small town in the Scenic Rim region of Queensland, around 90 km south of Brisbane. Neighbouring Beechmont is just 16 minutes away. Nestled in the foothills of Lamington National Park and surrounded by the picturesque Gold Coast Hinterland, it's a pretty region with plenty of Gold Coast hinterland attractions.
Canungra is known for its natural beauty, with stunning views of mountains and rainforests, and it is a popular destination if you love the great outdoors. If you're looking for Canungra things to do, the town offers a variety of activities, including hiking, camping, rock climbing and birdwatching.
Canungra has a relaxed and friendly atmosphere, with various shops, cafes and restaurants. It also has a rich history, with several heritage-listed buildings, including the Canungra Hotel, built in 1890.
The town is also home to several wineries, and visitors can enjoy wine tastings and tours of the vineyards. Wine tasting is definitely one of the best things to do at Canungra, as you get to enjoy the stunning scenery while you sip!
This post may contain compensated links. Please refer to our disclaimer here for more information
CANUNGRA THINGS TO DO MAP
Before we get started on all the things to do in Canungra and the surrounding area to help you plan your itinerary, check out the map below. This map shows the location of all the places to visit and things to do covered in this guide.
BEST THINGS TO DO IN CANUNGRA
Below we cover the top places to visit and things to do in Canungra.
1 Lamington National Park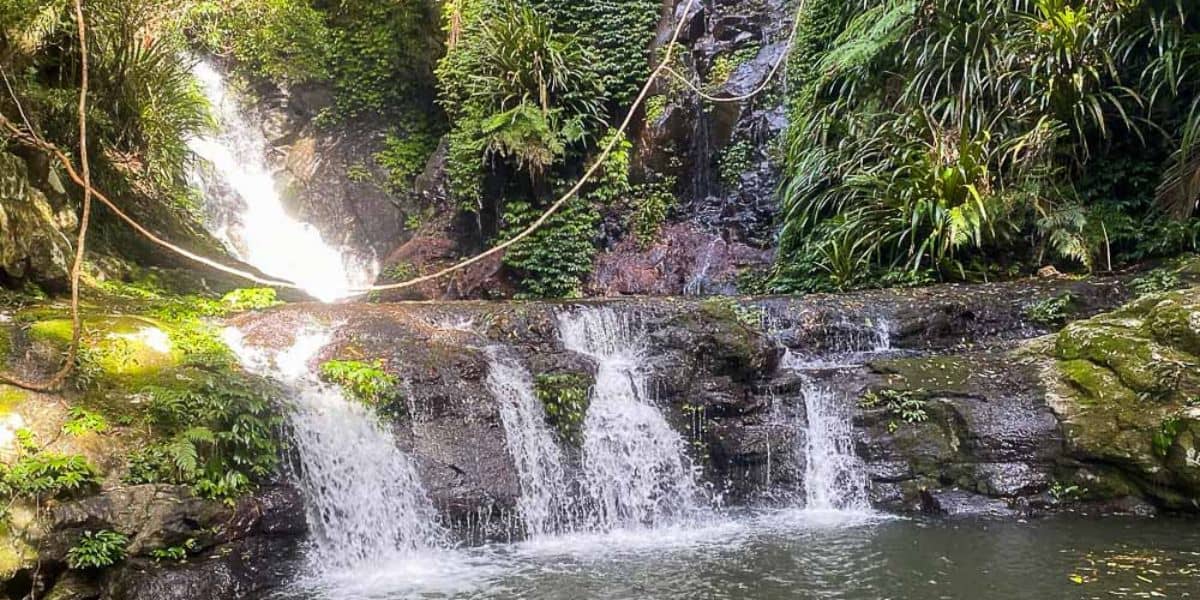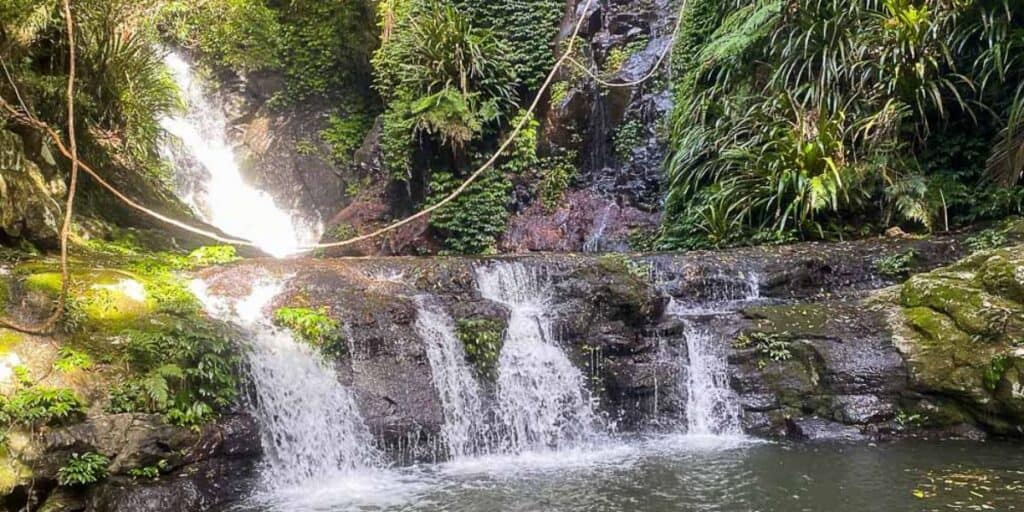 Covering 26 square kilometres of wild subtropical rainforest, exploring the World Heritage Lamington National Park is a must while visiting Canungra.
The views across the Scenic Rim will blow you away, but it's venturing into the rainforest that's seriously unforgettable. There is an extensive range of walking tracks through the bush – 320 km worth of trails, suitable for many fitness levels. Various paths weave past magical rockpools, lookouts and waterfalls.
With incredible biodiversity, it's a must-visit for wildlife enthusiasts. Look out for over 160 species of birdlife and a wide variety of reptiles, frogs, invertebrates, and mammals.
Outside the park are some excellent wineries and restaurants to wind down – perfect for a relaxing weekend away from Brisbane or further afield.
You can even visit Lamington National Park as part of a day tour. Click here for more information.
Location: Lamington National Park Road, Canungra
Hours: Always open
Cost: Free
2 Lahey's Tramway Tunnel
For any railway lovers or those intrigued by abandoned places, this curious tramway tunnel is one of the must-see things to do in Gold Coast Hinterland.
Following the short rail trail, you'll reach the 91-metre-long tunnel. Visitors can no longer go inside the tunnel, but it's an interesting spot to see from the outside while learning about its history from the display boards.
The location dates back to 1901, when it was made by cutting through solid sandstone, and it is now a heritage-listed tunnel. It was part of the tramline used to transport timber around the region, and in 1915 alone, an enormous 15000 short tons of logs were carried across the tramway.
However, back then, local families also got in on the action, and it was reported that locals would catch a ride along with the timber – including children hitching a ride to school!
The line was dismantled by 1933, though the tunnel was used again to store ammunition during the Second World War.
Location: Darlington Range Road, Canungra
Hours: The walk to the tunnel is always open. The tunnel itself is closed permanently (but you can learn about the history on information boards and see the entrance to the tunnel).
Cost: Free
3 Canungra and District Historical Assoc Inc.
History lovers will enjoy seeking out local stories at the Canungra and District Historical Assoc Inc. This unique museum and Historical group has the largest collection of local stories.
Look out for storyboards around the town that tell the historical stories about the area's history.
Location: Storyboards are located all around the township of Canungra and in DJ Smith Park in the centre of town.
Hours: Storyboards are always open to view
Cost: Free
4 O'Reilly's Rainforest Retreat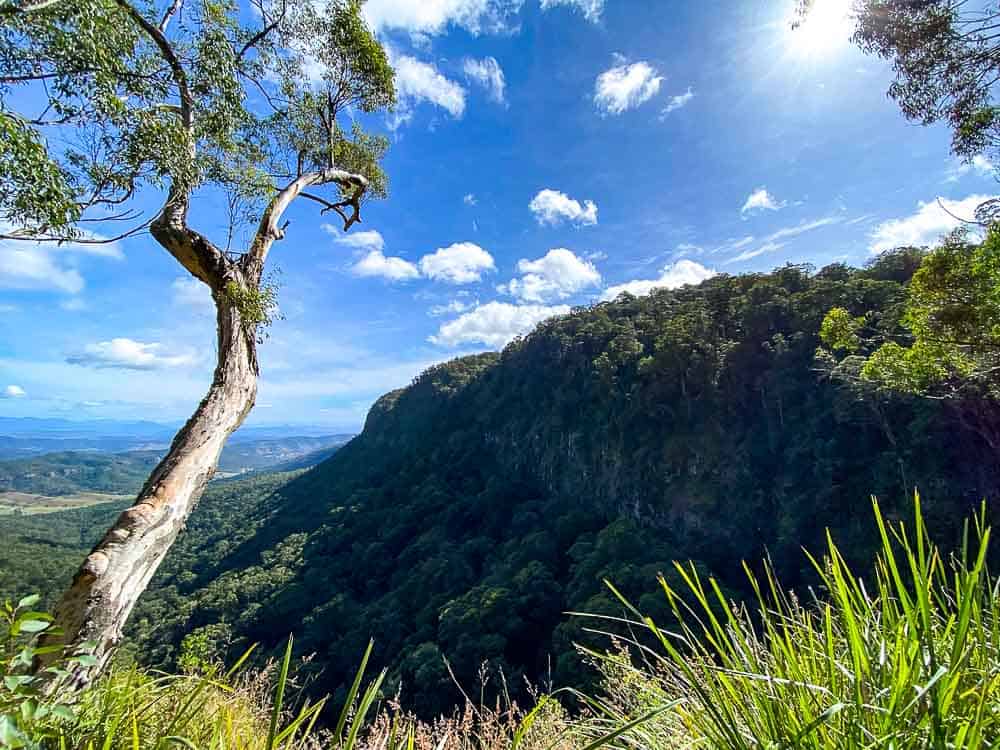 Most people visiting Lamington National Park choose to stay at O'Reilly's Rainforest Retreat – but you can also stop in for a day visit too. The century-old ecotourism retreat has really made its mark in the area and for good reason.
O'Reilly's is home to some excellent guided wildlife walks perfect for nature lovers. The retreat also provides segway, bike, glow worm tours, and more.
The popular Tree Top Walk is a great way to make the most of the region's rainforest views while getting a little adrenaline rush from being 16-30 metres above the ground. As you meander around the walkway and nine suspension bridges, you'll get a brilliant bird's eye view of the forest.
If you don't want to drive up the winding road to O'Reilly's, you can visit O'Reilly's Rainforest Retreat as part of a day tour. Click here for more information.
Find a full review of O'Reilly's Rainforest Retreat here.
Location: Lamington National Park Road, Canungra
Hours: Open for day visitors as well as guests, view tours and experiences on their website
Cost: A range of free and paid activities are available
5 Cedar Glen Farmstay
If you don't mind staying a little outside Canungra, Cedar Glen Farmstay is a great option when looking for accommodation Gold Coast hinterland has because their farm stay activities are some of the best things to do around Gold Coast hinterland.
Onsite farm activities include meeting all the animals who call Cedar Glen Farm their home, such as pigs, ducks, sheep, chickens, peacocks, and even donkeys! Plus, you can have a go at feeding their friendly alpacas and camels.
To get into the Australian hinterland spirit, you can also join in with boomerang throwing – yes, it really will come back – or whip cracking.
For those feeling more adventurous, join the team for a guided hike into the Cedar Glen Caves at 9:00 am on Mondays, Wednesdays and Saturdays, or make a new pal-paca on a Guided Alpaca Walk.
Click here to find out about accommodation and activities.
Location: 3338 Kerry Rd, Darlington
Hours: Times of activities vary
Cost: Varied depending on the activities you choose
6 The Paddock Restaurant
If you're a foodie looking for things to do in Beechmont, then you won't regret turning up for a meal at The Paddock Restaurant. Bookings are essential.
Situated upon the picturesque Beechmont Estate, the restaurant serves unpretentious paddock-to-plate fine dining. It's a fantastic place to taste the best local produce from sustainable farms around the Scenic Rim while enjoying the stunning natural environment.
Location: 422 Binna Burra Road, Beechmont
Hours: Lunch daily from 12 pm to 3.30 pm (seated by 1.30 pm, house guests only) | Dinner 6 pm to late (seated by 7.30 pm) Wednesday to Sunday
Cost: Two courses $85 | Three courses $95
7 Mountview Alpaca Farm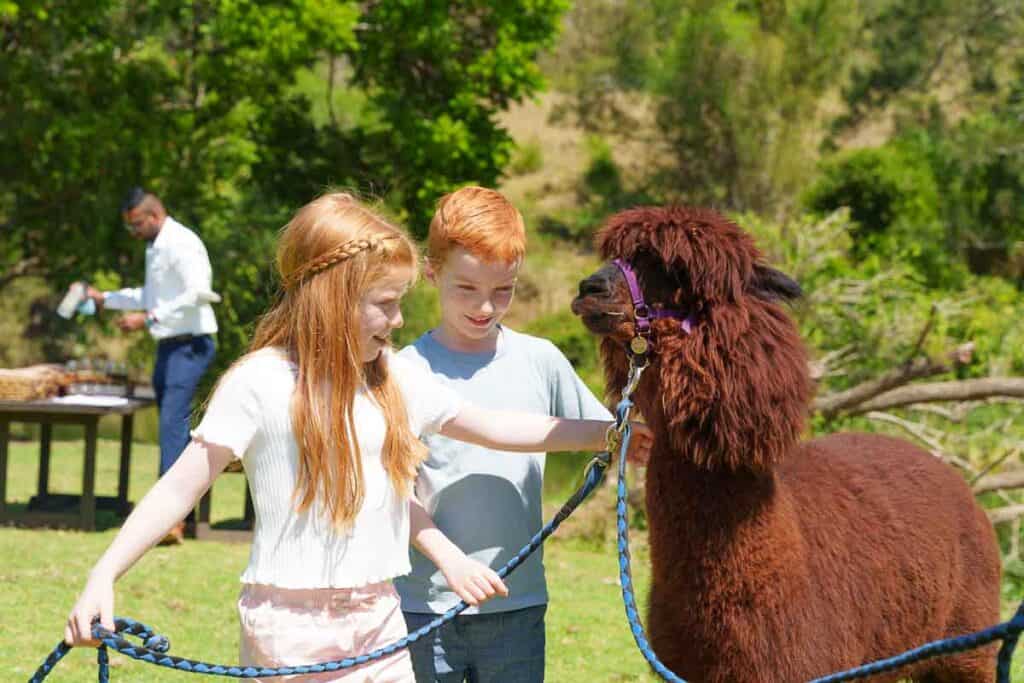 In an area known for its diverse subtropical wildlife, you might not expect to hang out with alpacas during your trip to Canungra! But, of course, that's all part of the fun.
A visit to the family-owned Mountview Alpaca Farm is one of the best things to do around Gold Coast Hinterland for families. The farm was recently relocated to a more accessible location at the Canungra Valley Vineyard, so it's a great idea to combine the two activities.
During your visit, you can meet, walk with, and feed the alpacas – over 80 of these fluffy animals are on site! You can also learn how the farm trains some of their alpacas to be therapy animals, ready to spread woolly joy around local hospitals and aged care facilities.
There are a few experiences, from meet-and-greets to luxe boho picnics and wheelchair-friendly cuddles. So make sure you visit the farm during your next Canungra day trip!
You can visit Canungra Valley Vineyard and Mountview Alpaca Farm as part of a half day tour. Click here for more information.
Location: 852 Lamington National Park Rd, Canungra
Hours: Monday to Friday from 9.30 am to 3.30 pm | Saturday and Sunday from 9 am to 4 pm
Cost: A 30-minute alpaca experience: $24.50 Adults | $12.50 Kids (5 – 15 years)
8 Outpost Cafe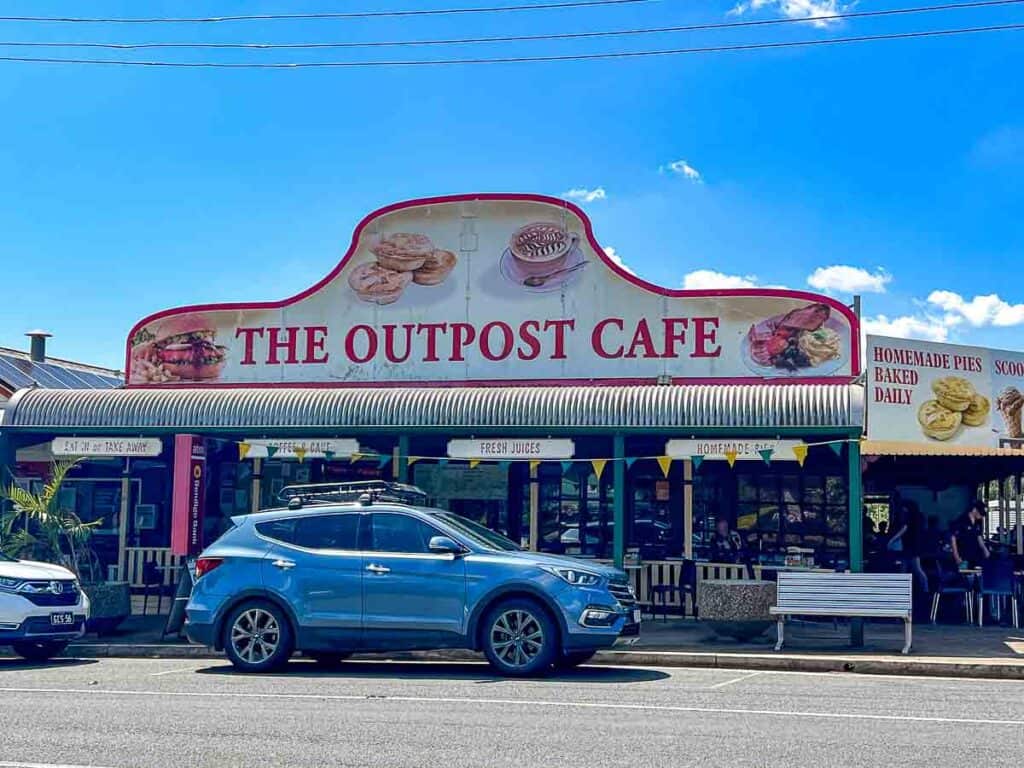 Grabbing a pie from the historic Outpost Cafe is undoubtedly one of the best things to do in Canungra. The cafe once served 120 meals daily to the local Canungra Army Barracks after being built in 1946.
Today, the cafe is open seven days a week, so stop in to enjoy a tasty selection of pies, sausage rolls, all day breakfast, burgers and more. They also serve delicious ice cream too!
Location: 44 Christie St, Canungra
Hours: Monday to Friday, 5 am to 3:30 pm | Weekends 5 am to 4:30 pm
Cost: Pies start from $6.50
9 Denham Scenic Reserve and Denham Falls
Enjoying a walk within Denham Scenic Reserve is one of the most underrated things to do in the Scenic Rim.
The one-hour return trail begins at Doncaster Drive. From here, you'll wind through lush vegetation before arriving at a pretty viewpoint above Lip Falls. The pathway to the water hole is currently closed but still makes for a gorgeous view.
Please note that the path is steep and narrow in places and isn't recommended for young children or those with mobility issues. Take appropriate footwear, especially after rainfall when the rocks become slippery.
Location: Doncaster Drive, Beechmont
Hours: Always open
Cost: Free
10 O'Reilly's Canungra Valley Vineyard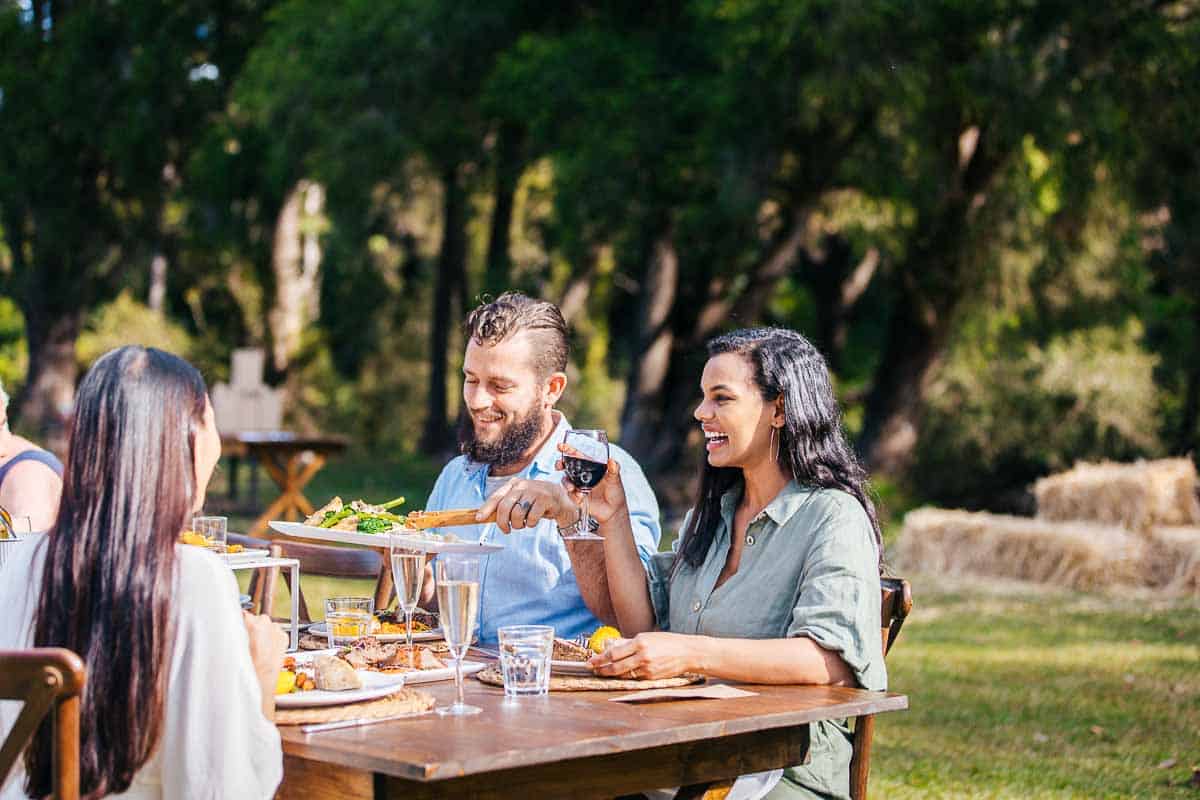 If you're looking for the perfect setting for your next picnic, look no further than O'Reilly's Canungra Valley Vineyard.
The onsite historic 165-year-old homestead will even provide the picnic basket, pizza, or cheese board of your choice, so you can tuck into a delicious lunch after enjoying a relaxing stroll through the pleasant vineyard grounds.
Aside from taking a picnic to enjoy the extensive grounds – we recommend taking your treats and sitting beside the banks of Canungra Creek while listening to local musicians – it goes without saying that a cellar door is a fabulous place for wine tastings, too.
A few hours at O'Reilly's Canungra Valley Vineyard is perfect for all from romantic dates to family affairs or even a group of friends.
You can visit Canungra Valley Vineyard and Mountview Alpaca Farm as part of a half day tour. Click here to find out what's available.
Location: 852 Lamington National Park Rd, Canungra
Hours: 10 am to 4 pm daily
Cost: Picnic baskets $80 for two adults (extra adults can be added for $40 per person, add kids for $15 per person)
11 Canungra Hotel
Immerse yourself in the Gold Coast Hinterland without sacrificing modern comforts with a meal or stay at the Canungra Hotel and Bistro. The original guesthouse opened in 1916, offering accommodation to business people travelling to the local sawmill.
Today, the renovated grounds have been transformed into lush gardens. Meanwhile, the building has been modernised to allow for extra privacy and comfort – without taking away any of the building's historic charm.
For a taste of country hospitality and an excellent base for those looking for a place to stay on the Gold Coast Hinterland, the Canungra Hotel is well worth a stop.
Location: 18 Kidston St, Canungra
Hours: Lunch opening: Weekdays from 12 pm to 2 pm, Weekends 11.30 am to 2.30 pm | Dinner opening: Monday to Thursday from 5.30 am to 8 pm, Friday to Saturday 5.30 pm to 8.30 pm, Sunday 5.30 pm to 8 pm
Cost: Menu ranges from $8.50 to $36
12 Sarabah Estate Vineyard
With Canungra being an emerging wine region, it's no surprise that the Sarabah Estate Vineyard is another of Canungra's best things to do.
Aside from wine tastings, the family-owned estate is also open Friday to Sunday for a delicious lunch or wood-fired pizza in the Chalet Bistro. Or why not have a delightful picnic within the vines before meeting the onsite farm animals?
Location: 46 Rymera Rd, Sarabah
Hours: Friday from 10 am to 5 pm | Saturday from 10 am to 8 pm | Sunday from 10 am to 5 pm
Cost: Woodfired pizzas from $23 | Mains ranging from $26 – $43 | Sharing boards and platters also available | Wine tasting $15
13 Binna Burra Tea House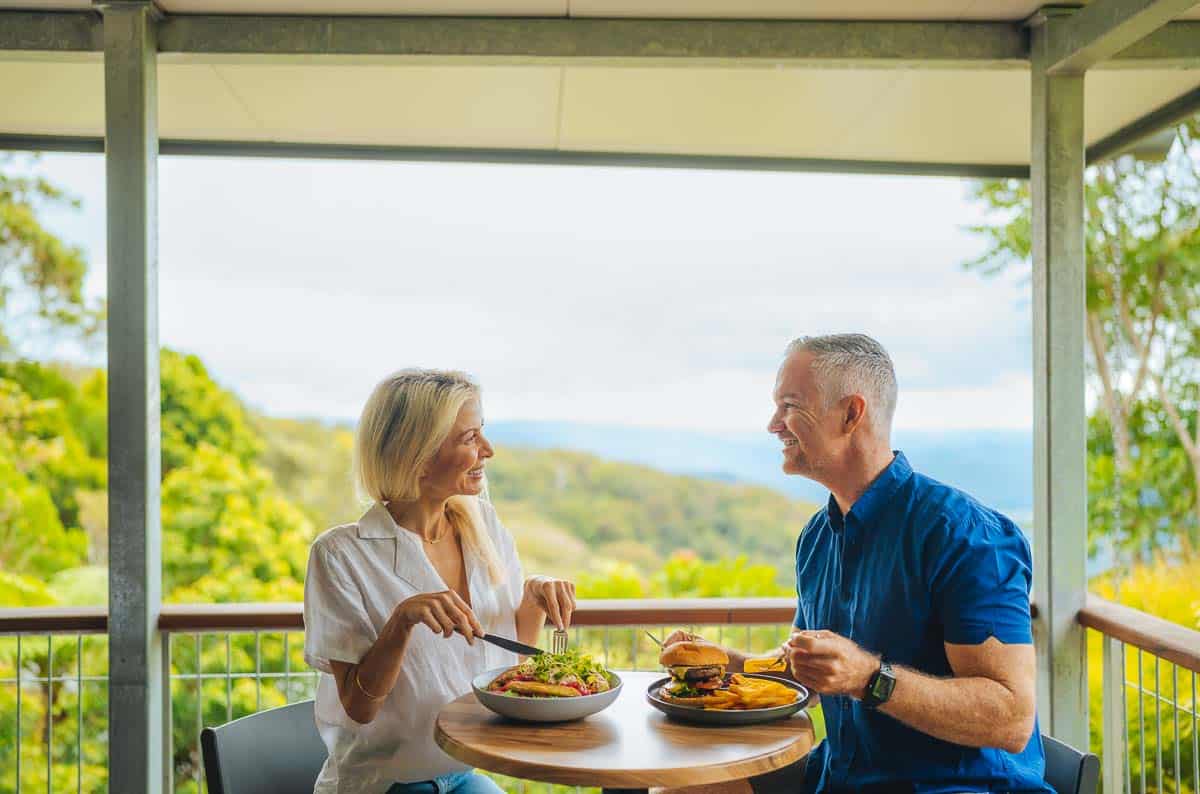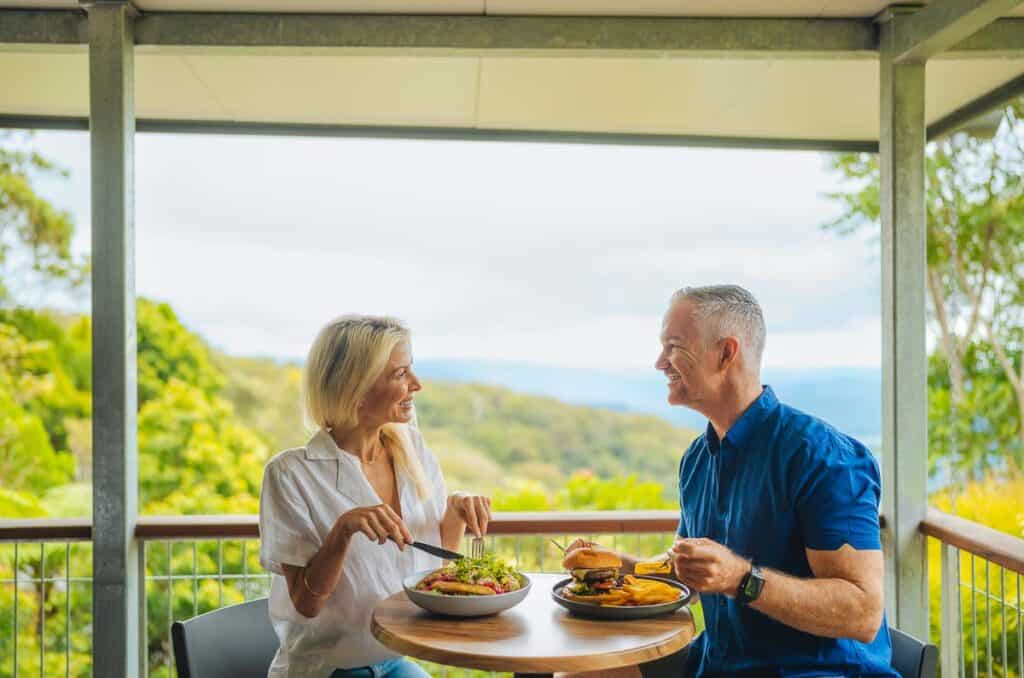 If you're looking for lovely things to do around Canungra, don't miss a tasty meal at the Binna Burra Tea House.
The tea house opens for breakfast, lunch, and dinner, and they have a wonderful menu packed with local produce and goodies. It's known for its convenient shop and fabulous views across the Numinbah Valley, which you can enjoy during your meal.
The tea house is right across from Lamington National Park, and you can book a variety of guided walks from the tea house. Alternatively, stay overnight at one of the charming Binna Burra Lodges.
If you want to do something really special, book a two or 3-course dinner in the Binna Burra Conservatory. You can enjoy mountain views and a gorgeous hinterland sunset from the large windows.
Location: 1069 Binna Burra Rd, Gold Coast
Hours: Sunday to Thursday 7:30 am to 7:30 pm | Friday and Saturday 7:30 am to 8:30 pm
Cost: Cafe open for breakfast, lunch and dinner | Cook your own meal at one of the BBQ points on the campsite – $60 for BBQ breakfast pack for two to $60 | Deluxe BBQ pack for two $60
14 Canungra Village Markets
If you're looking for a unique souvenir from your time on the Scenic Rim, this is the place to come.
Since 2013, the Canungra Village Markets have been a hub for local creators, farmers and artisans to showcase their goods. You can even meet the growers and cooks behind the treats as you explore the stalls within the spacious outdoor market.
Location: Moriarty Park, Monarch Drive
Hours: Second Sunday of the month from 8 am to 1 pm
Cost: Free entry
15 Rosins Lookout Conservation Park
If you're travelling around the Gold Coast Hinterland, you don't want to miss the mountainous views the region is famous for. Head to the Rosins Lookout Conservation Park for an excellent vantage point over the rolling hills and beyond.
While there, you can stop for a picnic or look for paragliders who take off from the nearby launch spot. If you fancy a coffee, pop by The Flying Bean Cafe across the road while making the most of the excellent views.
Location: Beechmont Road, Beechmont
Hours: Always open
Cost: Free
16 Beechmont Markets
Shop for local produce, tasty treats, and local goods at this cheery farmer's market.
Beechmont Markets are the perfect way to support small businesses while seeking unexpected treasures or picking up a regional goodie to take home as a souvenir.
Location: 1835 Beechmont Road, Beechmont
Hours: Third Sunday of the month from 8 am to 1 pm
Cost: Free
17 Canungra Books and Art
Second-hand book lovers will find a treasure trove that awaits them at Canungra Books and Art. They stock an exciting range of vintage copies, classics, and contemporary novels, alongside featuring works by local authors.
Besides books, you can also find a fab selection of records, vintage goods and clothing, and local art pieces.
Location: 6 Kidston Street, Canungra
Hours: Daily from 9.30 am to 4 pm
Cost: Free to browse
18 Canungra Show and Rodeo
If you're after unique and family-friendly Scenic Rim experiences, then you'll love the Canungra Show and Rodeo.
The show features a wide range of activities and rides for the little ones, such as an animal farm and puppet show. Attractions include the horse and cattle events, plus fireworks at the end of the day.
You can even participate in creative classes, where you'll have the opportunity to try something new and learn everything from flower arranging to needlework.
Location: Canungra Sports and Recreation Ground, 1 Coburg Road, Canungra
Canungra Show
Hours: Takes place on a Saturday in late August annually
Cost: $15 Adults | $8 Kids | $40 Family (2A+2C) (Ticket prices from 2022 event)
Canungra Rodeo
Hours: Takes place on a Saturday in July annually
Cost: TBC
TOURS OF CANUNGRA
If you're looking for things to do in Beechmont and around Canungra, a day tour is a great option so you can sit back and relax and enjoy being driven around all of the best spots.
O'Reilly's and Lamington National Park from Gold Coast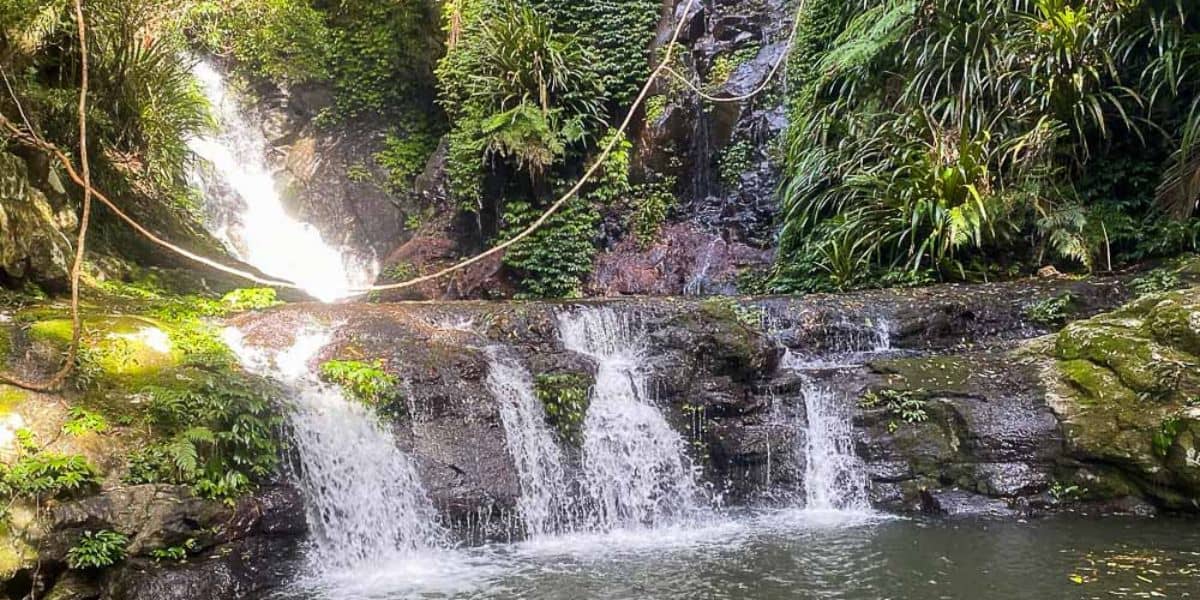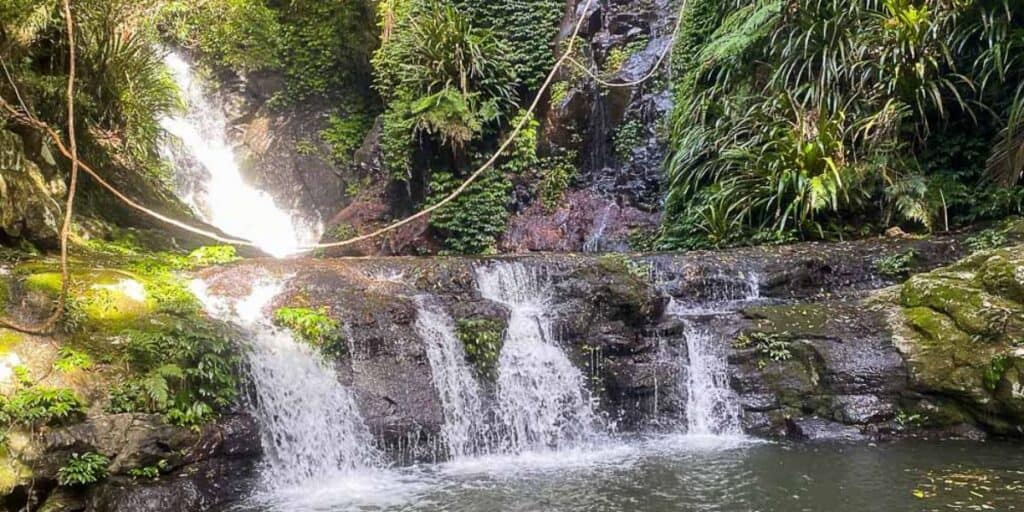 If you want to make the best of the extraordinary Gold Coast Hinterland attractions but are short on time, then this combined tour from Surfers Paradise is a brilliant option.
You'll start the day with a visit to Tamborine Mountain, where you'll enjoy the beautiful Gallery Walk and panoramic lookouts. Next, you'll take part in wine tasting at the picturesque O'Reilly's Canugnra Valley Vineyards before enjoying the lush rainforest views from the Tree Top Walkway.
Your local guide will also give you a great insight into the history of Lamington National Park before you head back to the city.
Click here for more information or to book
Lamington National Park, O'Reilly's and Vineyard Tour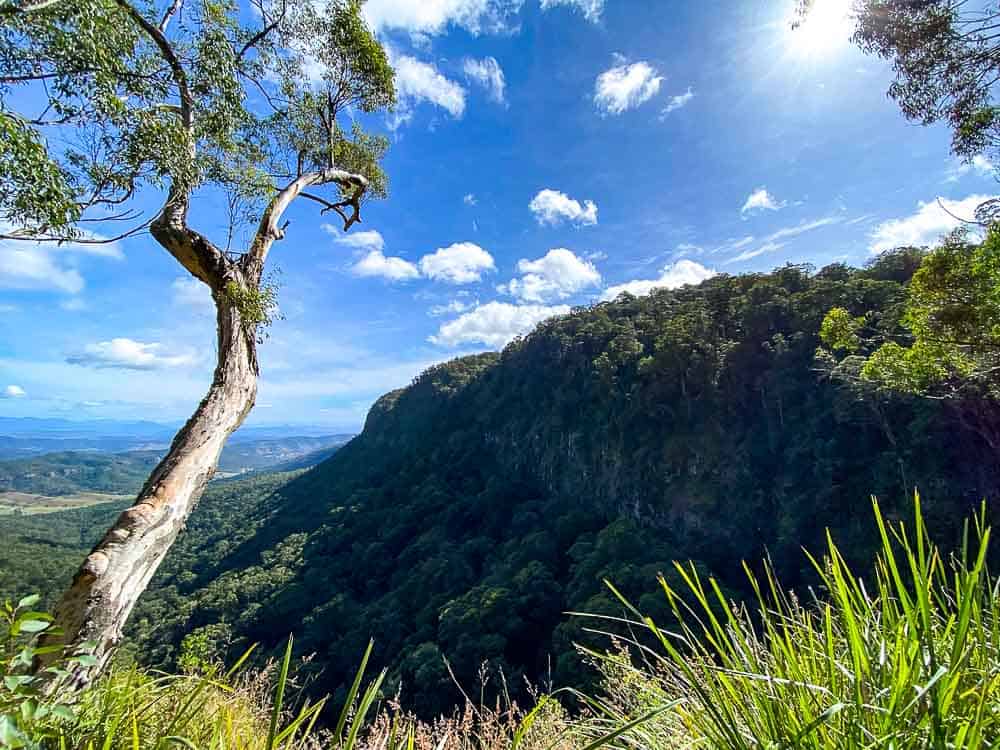 Make the most of the region's subtropical rainforest and upcoming wine region with this fun-filled day tour.
Once you arrive at Lamington National Park, you'll have time to take in the beautiful mountain scenery and discover the rainforest with a treetop canopy walk.
You'll also stop at Canungra Valley Vineyard for more beautiful views. While you're there, you'll sample local wines, feed beautiful birds, including Crimson Rosellas and King Parrots, and even have the opportunity to meet adorable alpacas.
Click here for more information or to book
Canungra Valley Vineyards and Alpaca Farm Half Day
This tour is the perfect option for a half-day experience from the Gold Coast.
At 9 am, you'll be picked up from your hotel before enjoying a scenic drive to O'Reillys Canungra Valley Vineyard and Alpaca Farm.
Here, you'll be treated to a stunning morning picnic in a tranquil hinterland setting and enjoy tasting the local wines. For an additional cost, you can also cuddle alpacas.
Before heading back, you'll stop at Canungra township to see the unique treasures on offer at the local stores – ideal if you're looking for souvenirs.
Click here for more information or to book
CANUNGRA DAY TRIPS
While there is plenty to keep you occupied around Canungra, if you're keen, you can do some great day trips from the area. For most of these places, it's recommended you stay at least a few days in each, but if you only have a day, then a day trip is possible.
Springbrook National Park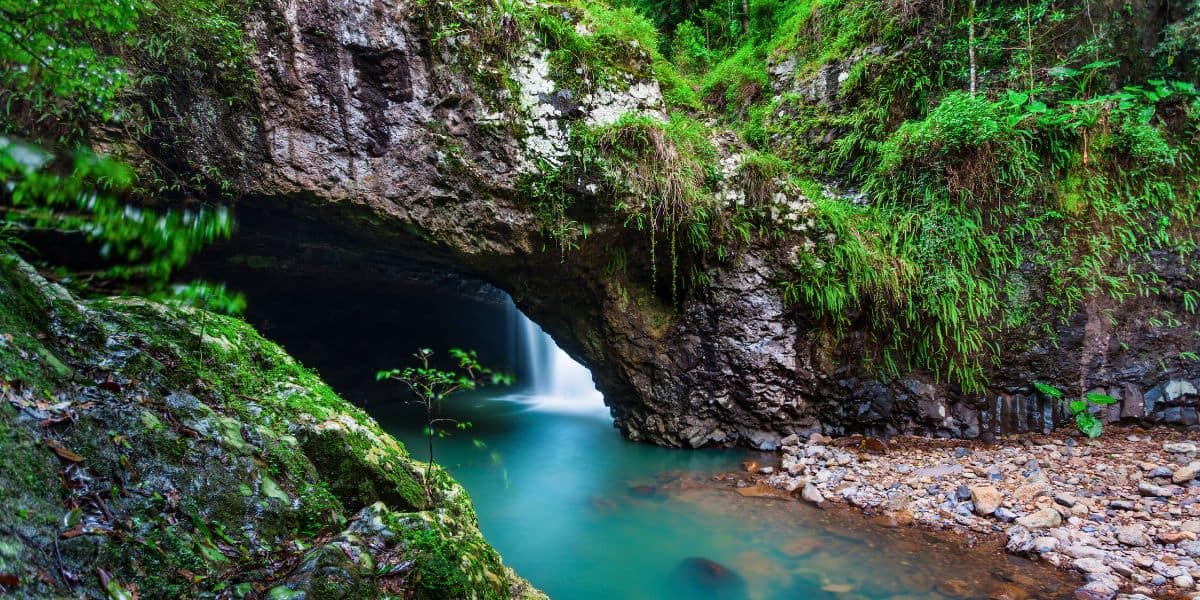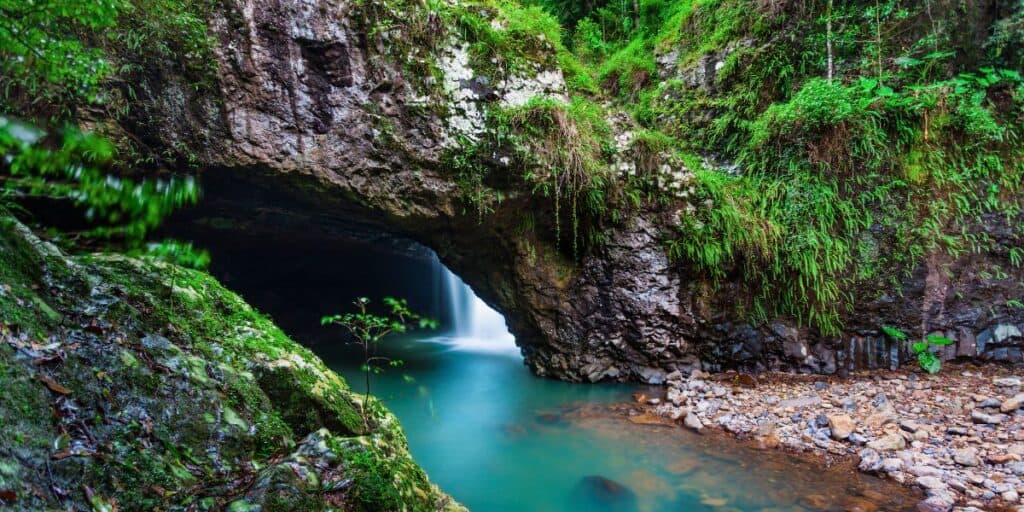 If you love spectacular waterfalls, exciting hiking trails, lush rainforest views, and you enjoy wildlife spotting – then a visit to Springbrook National Park is a must. Springbrook National Park is around an hour's drive from Canungra and an awesome place to visit.
Springbrook is part of the Gondwana Rainforests of Australia World Heritage Area, one of Queensland's five World Heritage properties. It boasts ancient vegetation that dates back over 100 million years!
Visit the Natural Bridge rock formation and see the beautiful waterfall. If you can visit at night, you'll discover glow worms in their natural habitat (a very different experience from the artificial Glow Worm Caves).
A range of operators offers tours to Springbrook National Park, including the glow worms – most of which pick up from Brisbane or the Gold Coast. Click here to see what's available.
Brisbane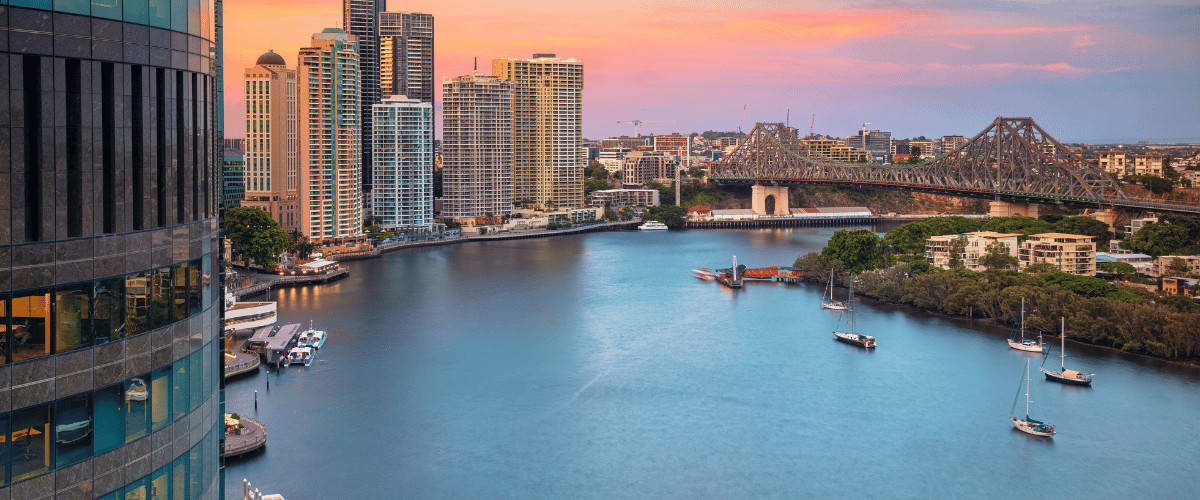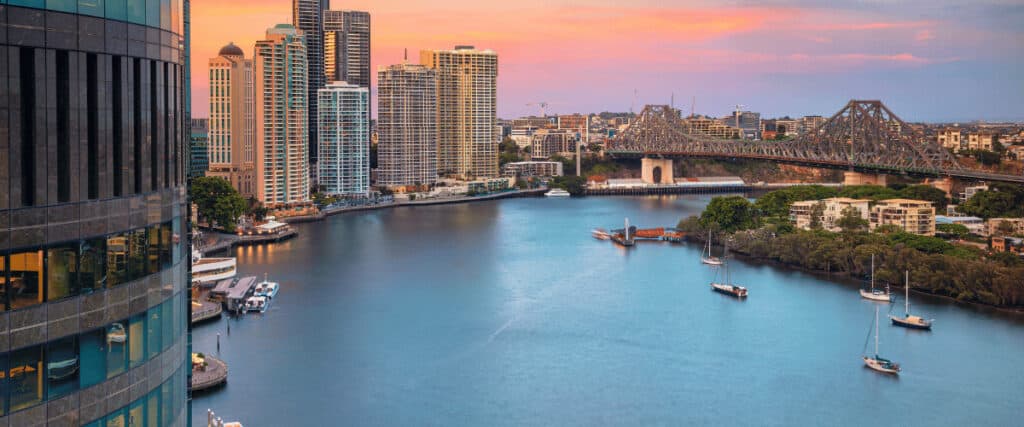 Laid back and vibrant, Brisbane makes a great day trip from Canungra. The capital of Queensland, Brisbane boasts everything from lush parklands and gardens to modern galleries and cosmopolitan waterfront dining.
There are so many attractions to choose from in Brisbane. There are the Queensland Museum, QAGOMA (The Queensland Art Gallery and Gallery of Modern Art) and the National Maritime Museum for culture seekers.
For wildlife lovers, there is Lone Pine Koala Sanctuary. For lovers of gardens, there is Roma Street Parkland and the tranquil Southbank Parkland. For thrill seekers, there is the bridge climb, rock climbing and kayaking.
You can't beat a simple stroll along the river or a swim at the iconic Streets Beach.
Thanks to its year-round sunshine, Brisbane is the perfect destination at any time of the year and it's a great opportunity to combine your stay in your Gold Coast hinterland resorts with a city break.
Click here for our full guide on things to do in Brisbane.
Gold Coast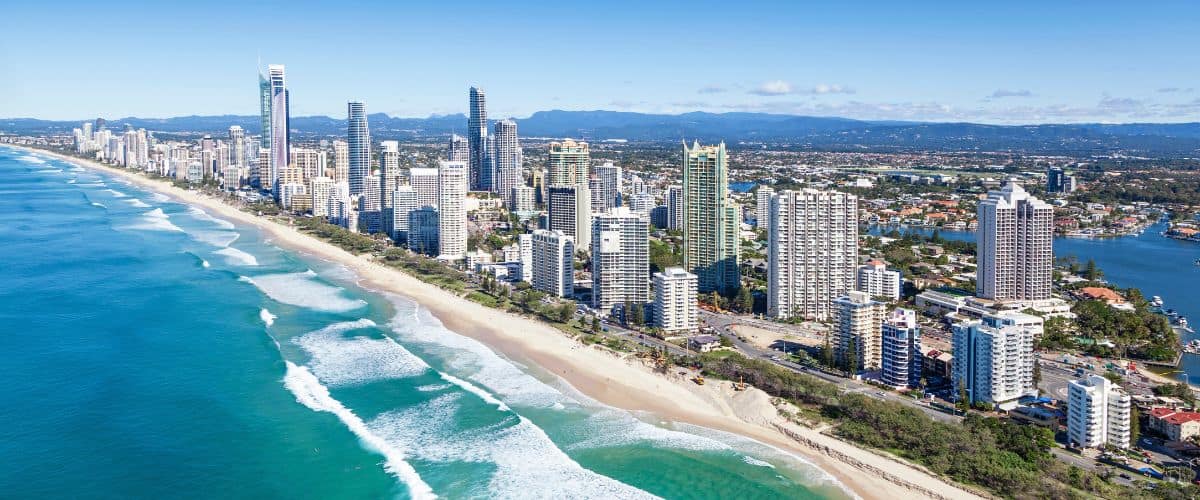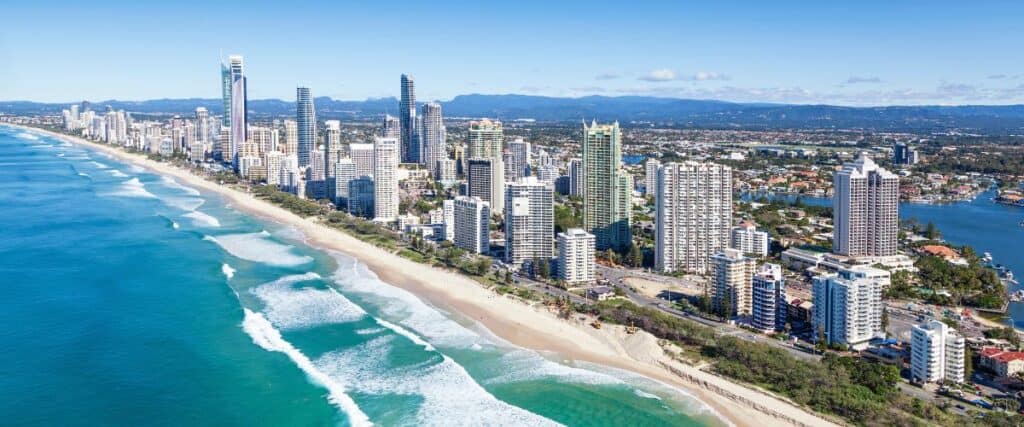 Queensland's Gold Coast is one of Australia's most popular destinations. If you get the opportunity, taking a day trip to the Gold Coast is a great idea.
The Gold Coast is a beautiful beachside haven packed with fun things for tourists to enjoy, and it's the perfect place to visit from the hinterland.
The Gold Coast is the place to go if you're looking for fast-paced theme parks like Wet 'n' Wild, Warner Bros. Movie World, WhiteWater World, Dreamworld and SeaWorld, so it makes a great day trip from Canungra.
There's also surfing, hot air ballooning, kayaking and plenty more to keep you entertained.

If you can only spare one day for a Gold Coast day trip, you'll have difficulty deciding how to spend it as there is so much to see and do!
Click here for our full guide on things to do on the Gold Coast.
WHERE TO STAY IN CANUNGRA
Looking for places to stay in Canungra? It is recommended you book through Booking.com as they offer a wide range of room types and most with free cancellation, which is ideal for last minute changes.
However, if you want our recommendation for a hotel, we've listed our top pick for a luxury hotel, family hotel, mid range and budget hotel below.
Best luxury accommodation: Night Fall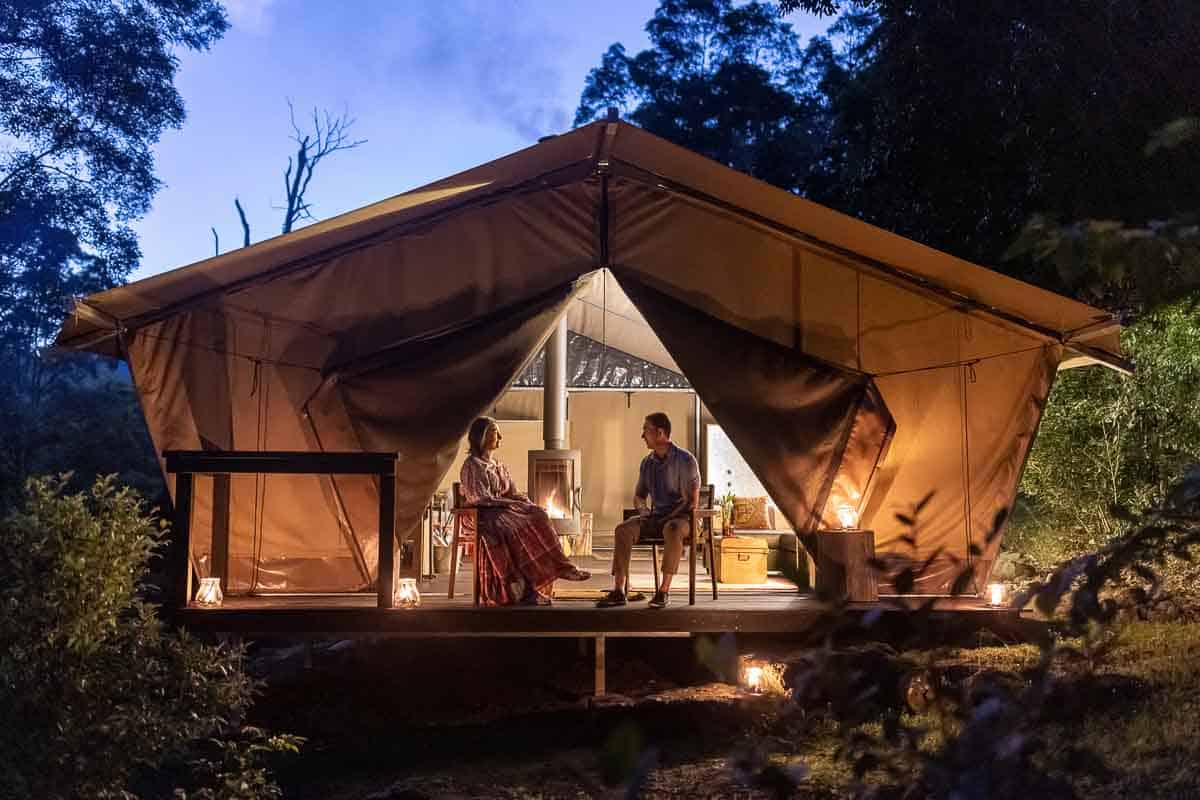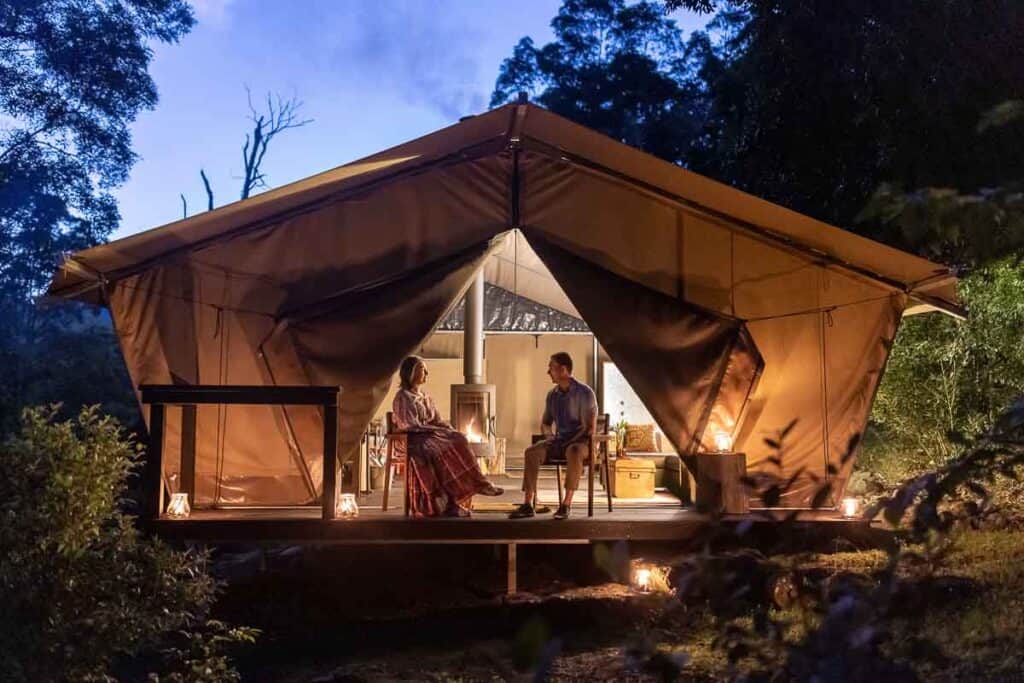 Right on the edge of the ancient Lamington National Park, a glamping experience at Nightfall promises to be a magical stay.
Couples will unwind in the redefined luxury of safari tents, nestled within the stunning nature of the Scenic Rim and the crystal-clear Christmas Creek. At night, the starry sky just adds to the immersion.
Each tent has a 380-degree rotating fireplace, a king-size bed, a lounge and dining area with a kitchenette, vintage twin baths, and a rain-head shower. The property also has a bar, communal lounge, outdoor furniture, and dining area.
Meal times are all part of the experience. Your hosts will cook home-grown food on the woodfire. And with just eight guests on-site at a time, you'll feel secluded and immersed in the beautiful natural environment.
If you're looking for a romantic place to stay in Canungra and the Scenic Rim, you can't beat a magical glamping experience at Nightfall.
Click here for more information or to book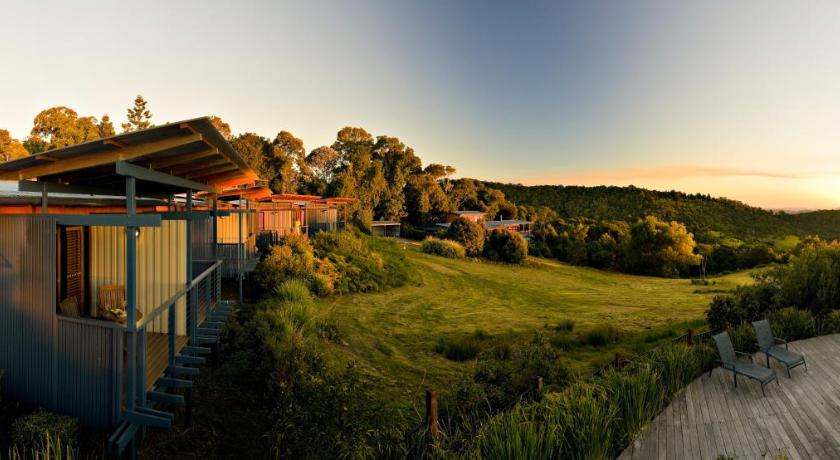 O'Reillys Rainforest Retreat offers fantastic accommodation within Lamington National Park that is simply perfect for families. Not only is it located near many attractions, but you can enjoy many fun activities onsite, including complimentary guided bird walks and the Tree Top Walk.
Every retreat room has a fridge and coffee facilities. Villas are air-conditioned with a full kitchen, TV, and BBQ on the deck, which overlooks the mountains or rainforest.
Best of all, you'll find all the facilities you need onsite. Enjoy the rainforest views while swimming in the infinity pool, unwind in the hot tub, watch the little ones play in the kids' room, or read a book beside the fireplace in the library.
The onsite restaurant, O'Reillys Dining Room, serves wholesome, hearty meals, and the Rainforest Bar is the perfect spot to sit back and watch over the mountain views with a glass of wine.
All in all, O'Reillys Rainforest Retreat is a unique accommodation that will surely be memorable. You and the family will be talking about your stay here for years to come.
Click here for more information or to book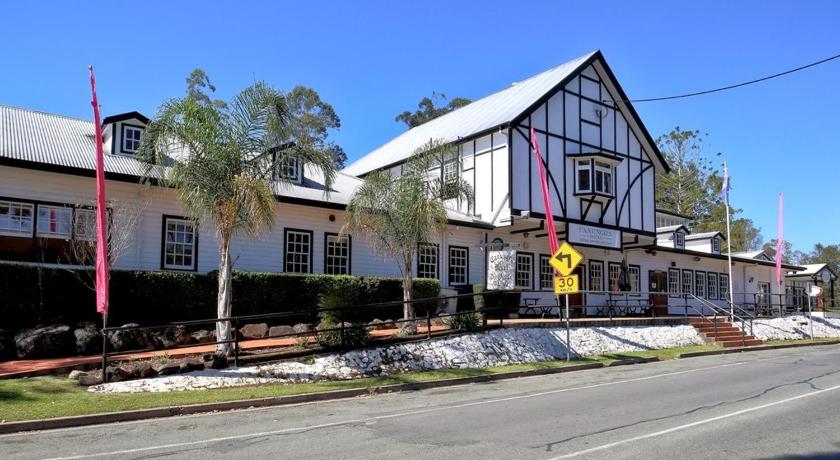 For convenient accommodation close to all the area's main attractions, the Canungra Hotel is well situated just a 2-minute walk from the town centre. The hotel is set within a lovely renovated building with a great blend of historic touches and modern amenities.
Choose between a queen room or a king suite, which sleeps up to four guests. Each room has air-conditioning, heating, free WiFi, and a TV.
Onsite facilities include free parking and the Settler's Restaurant, serving an extensive menu of wood-fired pizza, seafood, steak, and more. Guests can also relax in the bar, which has live entertainment on Friday and Saturday evenings or play billiards in the gaming lounge.
This is an excellent base for a Canungra holiday as it's convenient and clean, with everything you need nearby.
Click here for more information or to book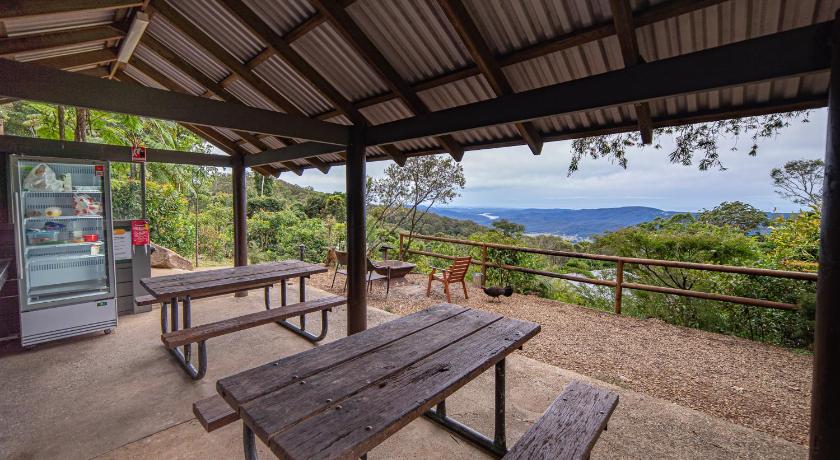 Located in Beechmont, Binna Burra Campsite is a fantastic budget-friendly accommodation near Canungra. It's just a few miles from many local cafes, plus fun activities at Lamington National Park and O'Reilly's Tree Top Walk.
Permanent safari camping tents have comfortable beds sleeping up to six people. Tents have USB charging ports, inside lighting, an outdoor table with chairs, and suite-style tents also include a private terrace and fire pit. Linen is not provided but can be booked if you'd rather not bring your own.
Other campground facilities include a shared bathroom, free parking, an outdoor area with a terrace, fire pits, coin-operated laundry, and a barbecue. Guests also have access to the bar and coffee shop. You can eat at the restaurant and ask for packed lunches for when you explore the area during the day.
If you aren't into sleeping under canvas, book a stunning Sky Lodge with excellent mountain views. These award-winning apartments come at a higher price but will feel worth it when you're relaxing in front of your private gas fireplace and watching the sunset from your spa bath or private balcony.
Click here for more information or to book safari tents at the Rainforest Campsite.
Or
Click here for more information or to book the Sky Lodges
ENJOY CANUNGRA!
Hopefully, this guide has given you lots of inspiration on things to do in and around Canungra and Beechmont.
If you're planning a trip to Canungra and Beechmont, I highly recommend you check out our Scenic Rim guide, which provides links to everything you need to know to plan your trip.
I'd also recommend you join our free Queensland Travel Guide Facebook community, where you can ask all your questions and find even more great trip suggestions.
If you're heading to Canungra, you might also be interested in the following nearby destinations: