Are you planning a trip to Boonah? This article covers all the very best things to do in Boonah, including tourist attractions, activities and places to visit.
The Queensland Travel Guide acknowledges the Ugarapul People, the Traditional Custodians of the land on which the Boonah region is situated. We pay our respects to their Elders past, present and emerging, and recognise their continued spiritual and cultural connections to Country. Always was, always will be, Aboriginal land.
Main image credit thanks to Tourism and Events Queensland
Boonah is a historic rural town in Queensland's glorious Scenic Rim region. Known for its quaint country charm, the main Boonah things to do centre on the region's stunning natural attractions and outdoor adventure opportunities.
With Main Range National Park, Moogerah Peaks National Park, and Lake Moogerah and Lake Maroon, visitors can enjoy epic outdoor adventures on the water or land. If you love bushwalking, fishing, paddleboarding or kayaking, it's a pristine and serene environment to escape daily life's hustle and bustle.
As well as the spectacular outdoor Boonah attractions, there are plenty of other things to do near Boonah. The Scenic Rim is heaven for foodies, with lots of delicious local food and wine to enjoy, not to mention the charming pubs in Boonah where you can enjoy a hearty feed after enjoying all of the fresh country air.
So let's get into it and help you discover the best Boonah tourist attractions to enjoy during your visit to the region.
This post may contain compensated links. Please refer to our disclaimer here for more information
THINGS TO DO IN BOONAH MAP
Before we start on all the top things to do around Boonah to help you plan your itinerary, check out the map below. This map shows the location of everything we've covered in this what to do in Boonah guide.
I recommend you first make a list of your must-do Boonah attractions and then use this map to plan your day to day itinerary so you're not travelling back and forth all over town.
THINGS TO DO IN BOONAH AND ITS SURROUNDS
Below we cover the best things to do in Boonah and the surrounding area.
1 Lake Maroon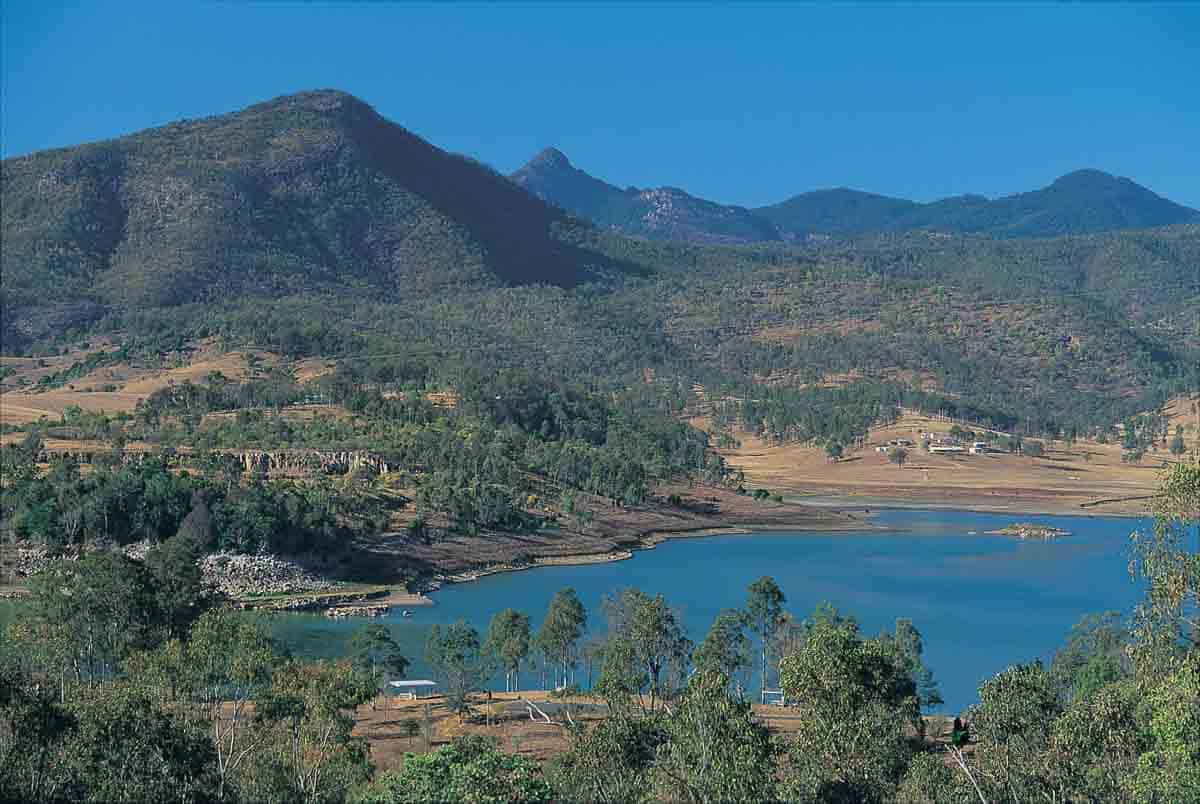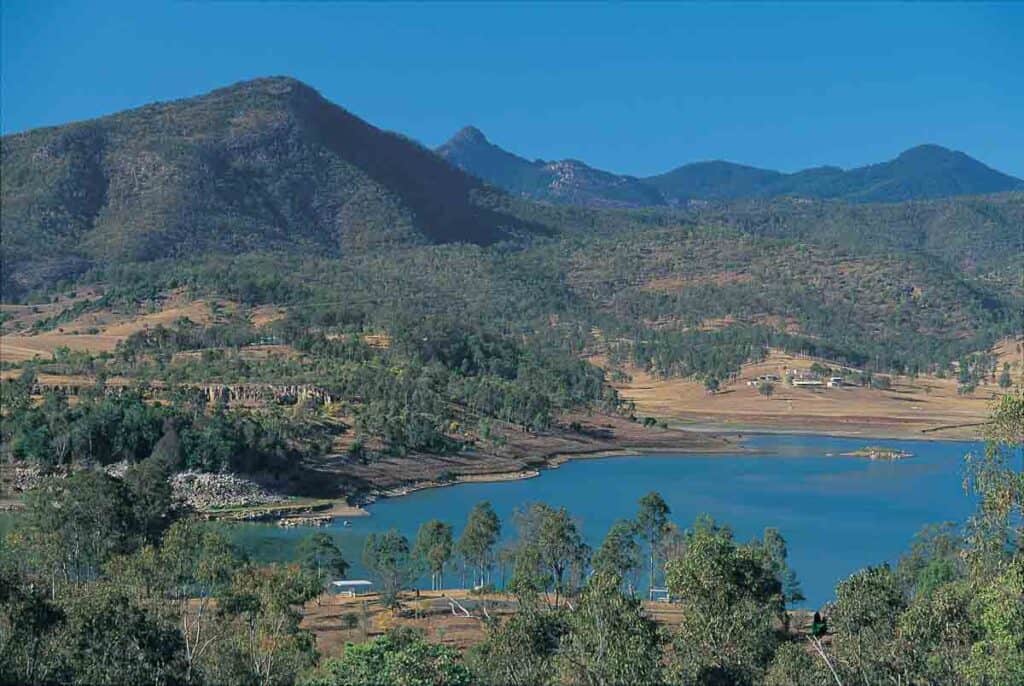 Just a 30km drive South of Boonah, Lake Maroon is surrounded by gorgeous bush scenery and fantastic mountain views next to the Maroon Dam wall.
You can enjoy plenty of water-based activities on the lake, such as fishing, sailing, boating, kayaking, and water skiing. Facilities include BBQs, a picnic area, and public toilets.
Camping at Lake Maroon is also popular, with designated campsites, homesteads, and even lakeside cabins available.
Location: Bicentennial Park, Maroon
Hours: Always open
Cost: Free
2 Clydesdale Spectacular
Since the 1800s, the region has had a relationship with the Clydesdale breed of horses, many of whom still make their home in the area. The Clydesdale Spectacular shows how prevalent the passion for this breed remains.
You can enjoy the Scottish Pipes and Drums Bands at the two-day event while wandering around the market stalls and local food trucks. There are many events, from leather kit or knot tying workshops to working dog displays and colourful ceremonies.
And, of course, the event also celebrates and showcases the Clydesdale horses.
Location: Boonah Showgrounds, 8 Melbourne St, Boonah
Dates: Next event June 2023
2023 ticket prices: $25 Adult one day | $45 Adult two day | $10 Kids (5-17 years) one day | $15 Kids (5-17 years) two day | Under 4s Free | Parking $5 per car
3 Lake Moogerah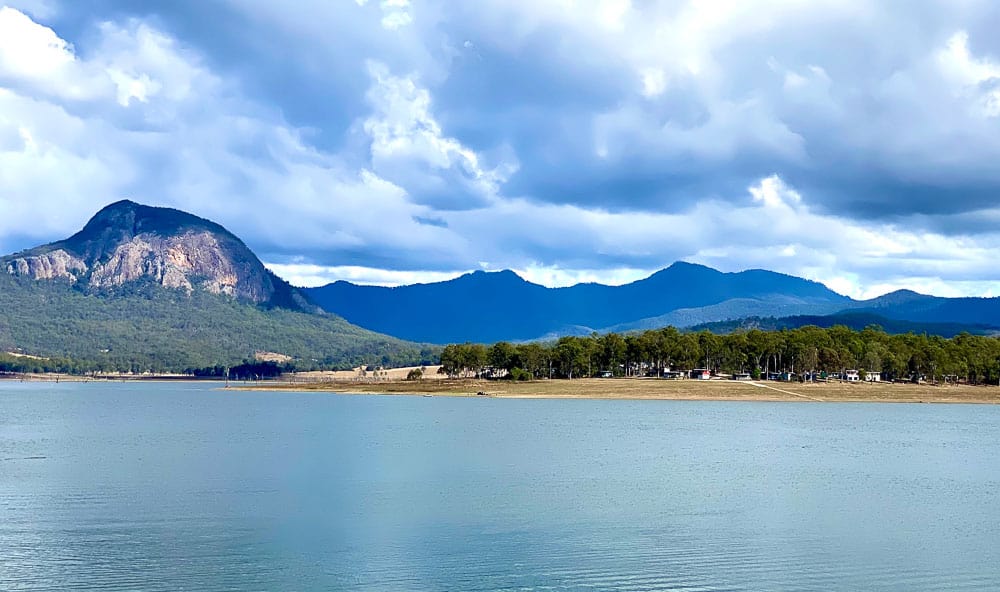 You can't go wrong with this expansive blue lake for a peaceful spot to enjoy boating, camping, or simply relaxing at the waterside.
Enjoy water activities like jet skiing, boating, kayaking, water skiing and designated swimming areas. Or if you want to relax and enjoy the scenery, you can grab a drink from the cafe. Public toilets, BBQs, and picnic facilities are available for those wishing to make a day of it.
While there, stroll through Haigh Park and walk across the 219-metre-long arched Moogerah Dam, where you can take in the views from 38 metres high or look out for turtles blow.
For any hiking enthusiasts, the brilliant Mt Edward hiking trail starts from the far end of the Dam Wall before weaving through Moogerah Peaks National Park.
Lake Moogerah is one of the best places to visit on the Scenic Rim for families looking for a day out near the water.
Location: 144 Moogerah Connection Road, Moogerah
Hours: Always open
Cost: Free
4 Main Range National Park
With breathtaking views across mountain peaks and ridges, visiting Main Range National Park is one of the best things to do in Scenic Rim for nature lovers.
It's part of the Gondwana Rainforests of Australia World Heritage Area, so you can expect spectacular bushwalks and potential sightings of rare and endangered wildlife. Bird species found here include Albert's lyrebird, the eastern bristlebird, and the black-breasted button quail.
The best things to do in Main Range National Park include going for a picnic by Queen Mary Falls or Cunninghams Gap or taking on one of the park's many trials.
There are a variety of tracks to choose from, including the 1.6km Rainforest Circuit which has an excellent platform lookout, the family-friendly Cliff Circuit or Pioneer Graves Track, and the challenging but rewarding 10.2km Mount Mitchell track – which has incredible views if you don't mind some cliff scrambling.
Please note that before hiking in Main Range National Park, be aware that the rugged terrain can be difficult for walkers who aren't prepared or inexperienced. Familiarise yourself with the routes and chat with park staff before attempting any of the extended tracks unguided, as they are remote and can be hazardous.
Location: Cunningham Hwy, Warwick
Hours: Always open
Cost: Free
5 Moogerah Peaks National Park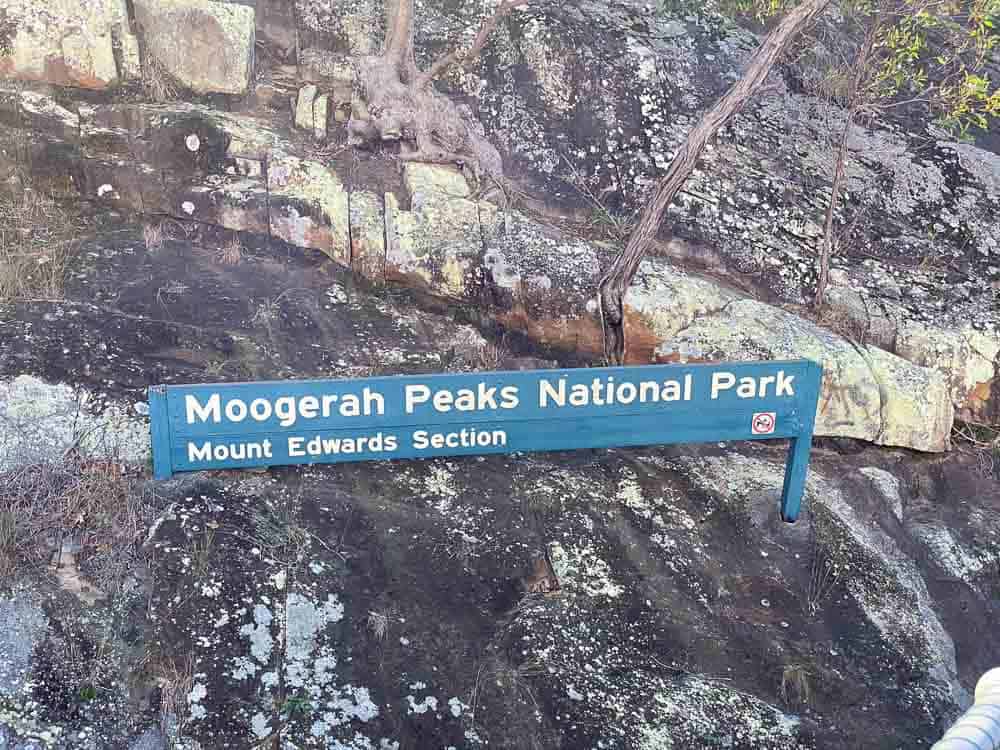 With some of the region's most impressive peaks, which were once carved by ancient volcanoes and are today cloaked in eucalypt forest, it's no surprise that Moogerah Peaks National Park is a favourite spot amongst bushwalkers.
The two short trails in the Mount French section are among the best walks for casual visitors. The North Cliff Track leads to Logan's Lookout and has fantastic panoramic views across the Fassinfern Valley, where you can spot the Main Range escarpment, Flinders Peak and beyond.
Alternatively, the Mee-bor-rum circuit is slightly trickier but winds through heathland before rewarding walkers with amazing views of Tamborine, Lamington, and Mount Barney from the East Cliff lookout. Continue to the circular platform for superb views over the heathland and Mount French.
As with Main Range National Park, other walks are recommended for experienced walkers only unless done with a local guide.
There is also a picnic area at Mount French, with tables, gas barbecues, and public toilets – all with wheelchair access.
Location: Moogerah Peaks National Park, Moogerah
Hours: Always open
Cost: Free
6 Boonah Country Markets
Held in Springleigh Park, the Boonah Country Markets is an excellent spot to support small local businesses and find unique or delicious bargains.
As you wander around the stalls, you'll find everything from regional produce and pretty plants to hand-made goodies and eclectic gift ideas.
If you want to take home a souvenir of your Boonah holiday, the markets are the perfect spot to pick up a local memento from your stay.
Location: Springleigh Park, Boonah
Hours: Runs on the second and fourth Saturday every month from 7 am until 12 noon
Cost: Free to browse
7 Kooroomba Vineyard & Lavender Farm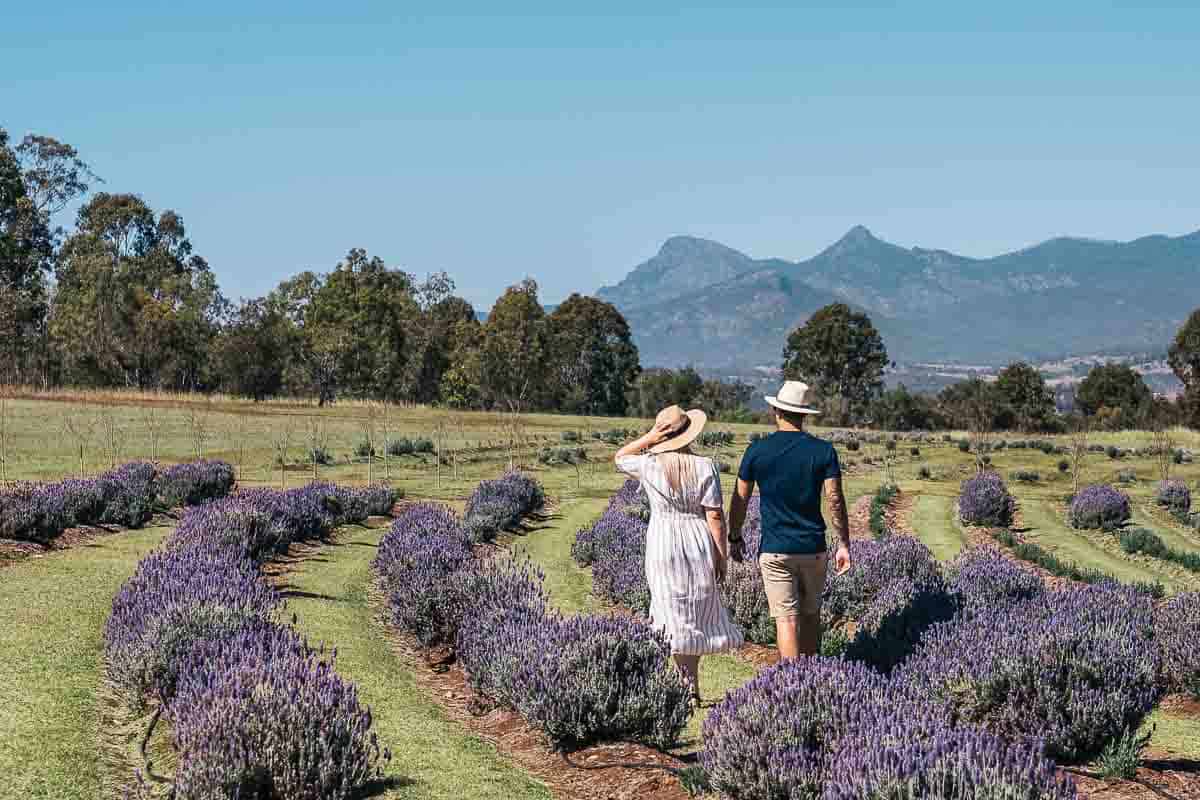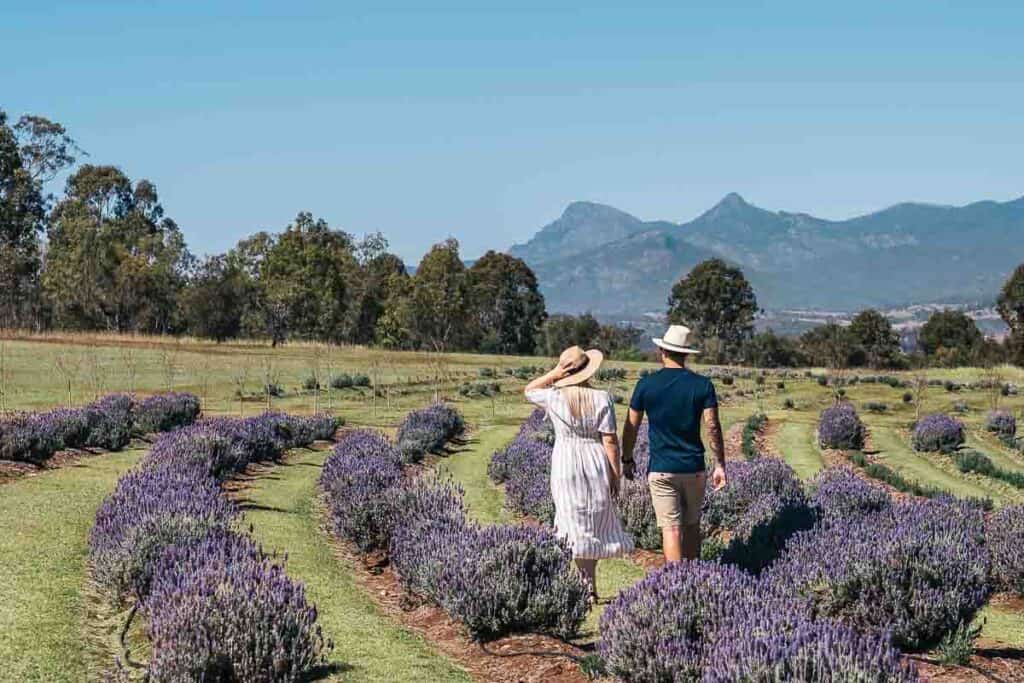 If you're planning a more relaxing visit to Boonah, then Karoomba Vineyard & Lavender Farm is a great option.
Onsite, you'll find an excellent cellar door, the Kooroomba Restaurant, alongside a picturesque six-hectare vineyard and magnificent lavender fields. Stop by the Lavender Gift Shop for unique souvenirs or soak up the breathtaking Scenic Rim scenery.
Expect 5-star service as you relax in the rustic yet contemporary architecture. Wine lovers will love the varied selection of regional wines before tucking into some Modern Australian cuisine made with local produce.
Location: 168 FM. Bells Road, Mount Alford
Hours: Wednesday to Friday from 10 am to 3 pm | Weekends 10 am to 4 pm (hours may vary due to functions)
Cost: Explore the shop, restaurant and cellar door and spend as much or as little money as you like!
8 Scenic Rim Cooking Classes
Do something different and get an authentic taste of the Scenic Rim with these brilliant local cooking classes.
You'll use fresh, seasonal and local ingredients before getting stuck in with your hands-on but friendly and sociable cooking lessons. All classes are small, so you'll get plenty of individual attention and they offer classes for all skill levels, from seasoned chefs to total beginners.
If you're looking for unique things to do in Boonah, then these cooking classes are an ideal way to spend an afternoon.
Click here to find out what classes are coming up.
Location: 229 Kooroomba Drive, Mount Alford
Hours: Select dates, advance booking essential
Cost: Prices range from $145 to $165 per class
9 Scenic Rim Brewery and Cafe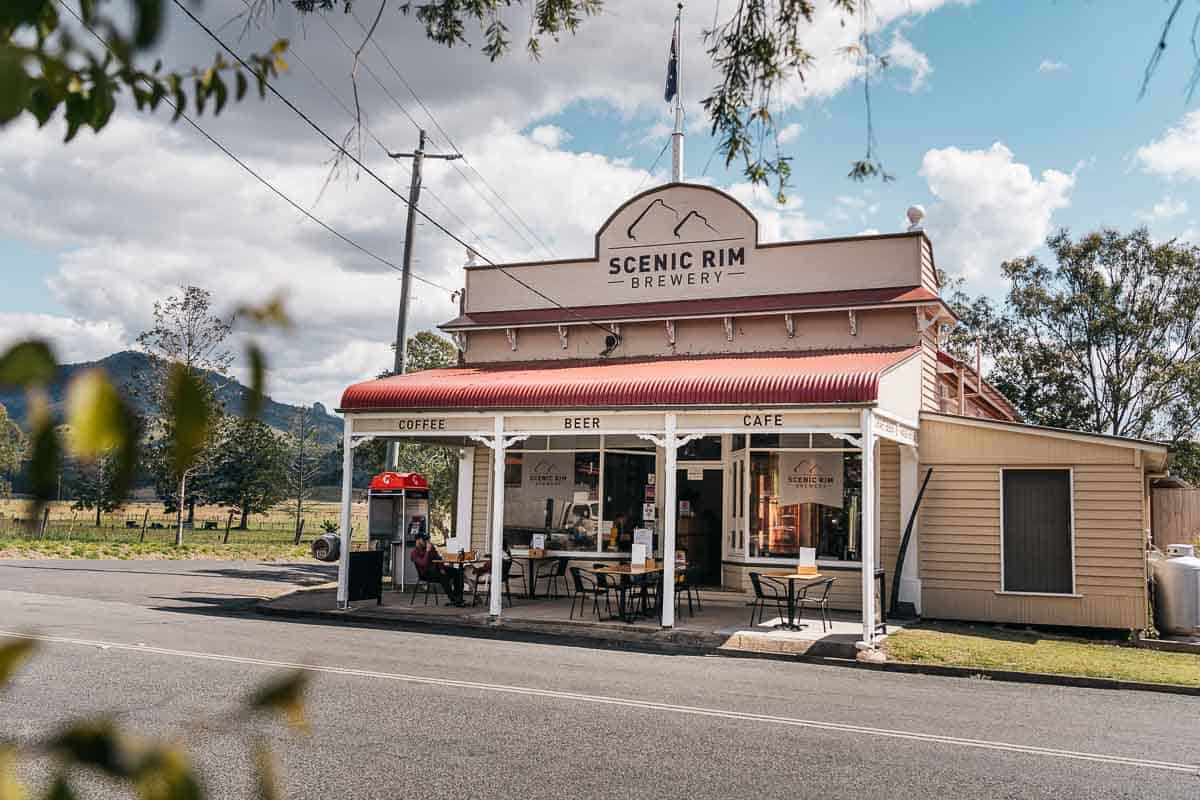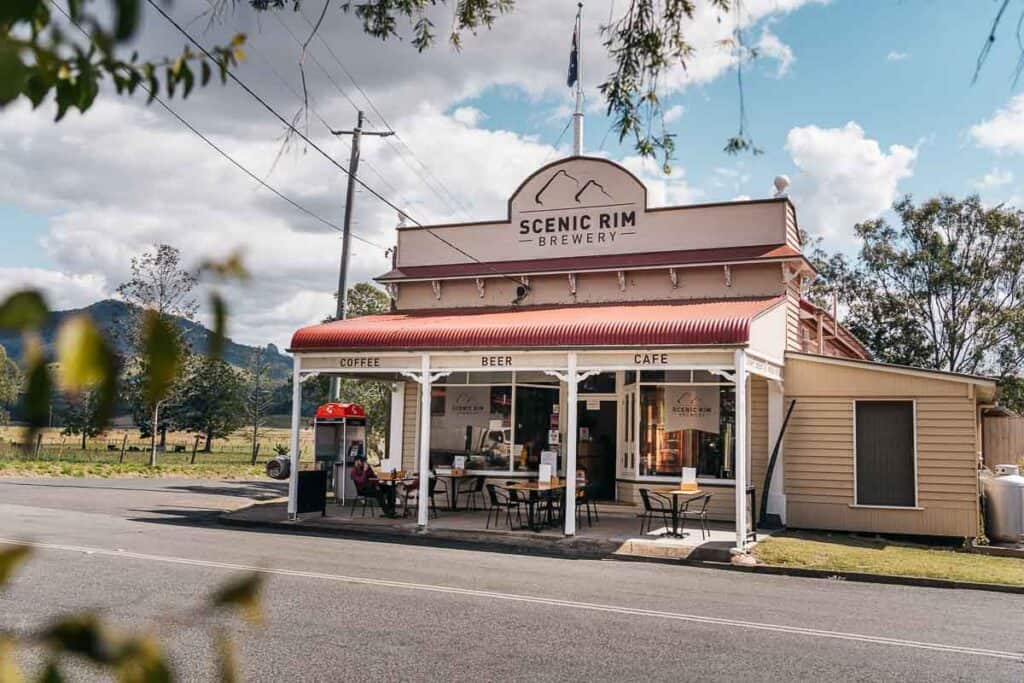 If you fancy a more casual eatery, then this family-friendly cafe and ice cream shop is the perfect place to stop. Their craft beer is brewed onsite, and the cafe serves something for everyone.
Location: 898 Reckumpilla Street, Mount Alford
Hours: Thursday to Sunday from 10 am to 5 pm
Cost: Enjoy the craft beer, cafe and ice creamery; prices vary
10 Queensland Moto Park
Set across 1800 acres of Scenic Rim's Wyaralong area, the Queensland Moto Park provides a fun day out for everyone – from kids and casual trail riders to MX/Enduro competitors.
Onsite facilities include the QMP Moto Cafe, a children's playground, hot showers, and camping. But the park's highlight is the 50 kilometres of trails, including three junior MX tracks, where you can ride or learn.
Location: 110 Goan Rd, Coulson
Hours: Thursday to Monday and all through the school holidays from 8 am to 4 pm
Cost: Costs range from $12.90 to $71.30; check the website for full details
11 Drayhorse Shires Cobb & Co Wagon Tours
The Drayhorse Shires Cobb & Co Wagon Tours are truly charming, with each tour commencing with visitors meeting the beautiful Shire horses and foals who live here. You'll also see horse-drawn carriages before sitting down to a delicious drover's lunch filled with local produce and treats.
Tours finish with a fabulous ride on a horse-drawn Cobb & Co carriage, which has to be one of the most relaxing ways to enjoy the Scenic Rim scenery!
Location: 2560 Boonah Rathdowney Road, Maroon
Shire Horse Farm and Drover's Lunch Cobb & Co Trip
Hours: 12.30 pm to 3 pm
Cost:: $160 Adults | $89 Kids (under 5 free)
Morning Tea option
Hours: 9 am to 11.30 am
Cost: $120 Adults | $59 Kids (under 5 free)
A package including an overnight stay is also available.
12 Bunjurgen Estate Vineyard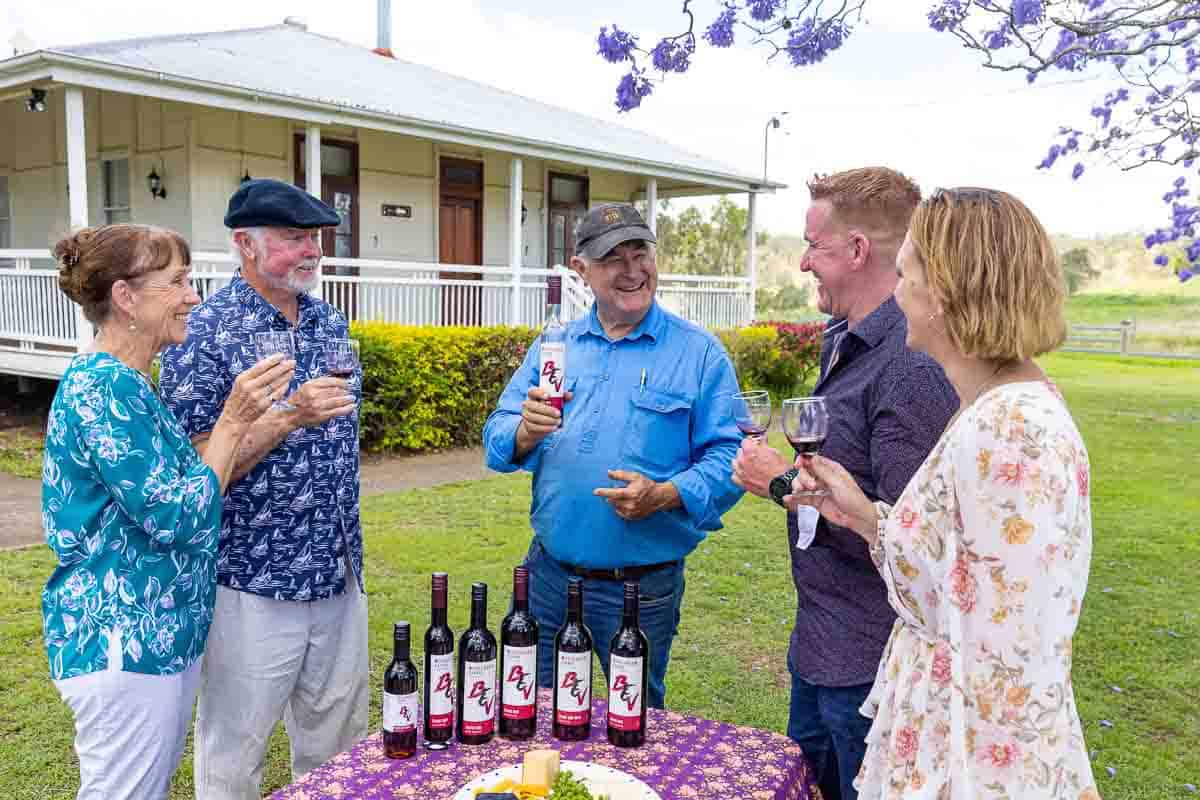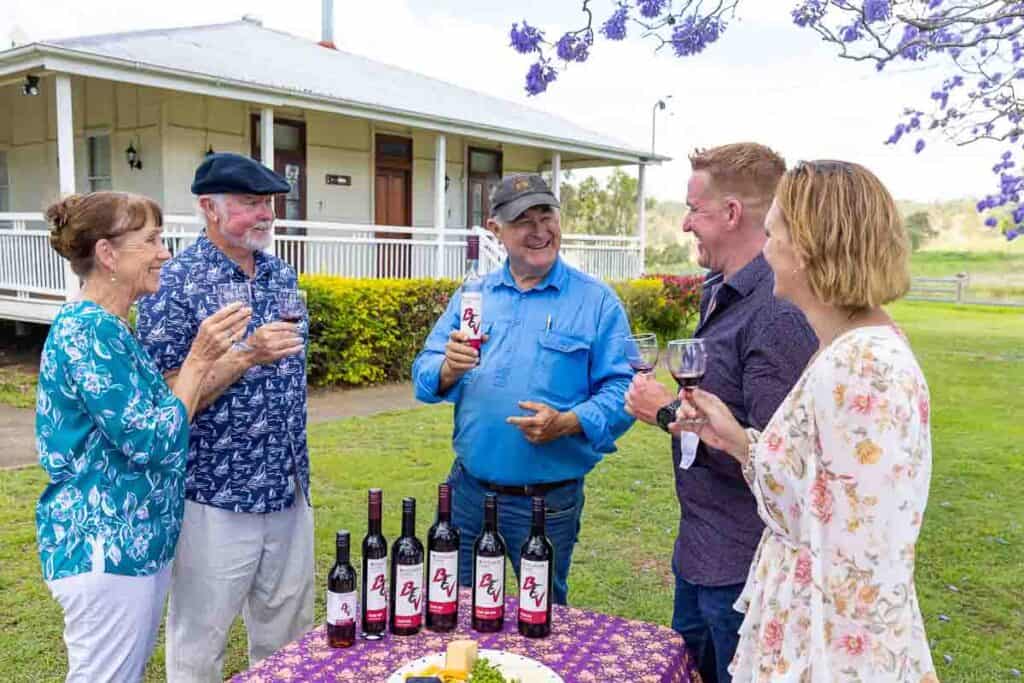 With 60 delightful acres to explore, visiting the Bunjurgen Estate is undoubtedly another of Boonah's best things to do.
The boutique and award-winning vineyard has 2200 vines that you can walk around. You'll enjoy tasting their iconic wines at the cellar door while soaking up the welcoming local hospitality.
Elsewhere, the countryside is perfect for a stroll to spot kangaroos and a fantastic spot for a picnic.
Location: 121 Brent Road, Bunjurgen
Hours: Thursday to Sunday, from 10 am to 5 pm
Cost: Depends on how much wine you buy!
13 Boonah Golf Club
With excellent putting surfaces around picturesque fairways and well-located bunkers, Boonah Golf Cub is a must-do for any golfers who visit Scenic Rim.
While you're there, don't miss sitting out on the large deck at the clubhouse. The bistro has fantastic views over the Hinterland landscape!
Location: Bruckner Hill Rd, Dugandan
Hours: Club is open Monday to Thursday 7 am to 5 pm | Friday and Saturday 7 am to 11 pm | Sunday 7 am to 5 pm
Cost for non members: $25 18 holes | $18 9 holes | $15 cheap Tuesday
14 Fly in a glider
Why not try something different while in Boonah and book a flight experience with Boonah Gliding Club?
While gliding through the air with your expert pilot, you'll have unbeatable aerial views over the picturesque hinterlands, from rolling hills to the far ranges on the horizon.
This not-for-profit organisation has fantastic reviews, so you know you're in safe hands when you take to the sky.
You can book a gliding experience with Boonah Gliding Club.
Location: Boonah Airfield, Degfen Road, Boonah
Cost: $245 pp for a 30 minute experience | $295 pp for a 45 minute experience
15 Boonah Cultural Centre
Boonah Cultural Centre is a family-friendly attraction and the cultural hub for the area.
The centre hosts fantastic events by artists and companies from regional areas and worldwide. It's well worth checking their programme to see if they have any exciting exhibitions or performances during your stay.
Location: 3 High Street, Boonah
Hours: Programme of events and activities take place at various times
Cost: Varied
16 Flavours Cafe
Combine stepping back into Boonah's history with a great meal at Flavours Cafe.
Built in 1916, the cafe was initially used as the Boonah Buttery Factory office. The property was listed on the Scenic Rim Heritage Register almost a century later to acknowledge its historical significance.
Today, you can enjoy a wholesome menu of home-cooked meals from inside the charming interior or sitting on the veranda.
The cafe is wheelchair accessible and caters to dietary requirements with gluten-free, veggie, and vegan options.
If you want to learn more about the history, enquire in advance about their free history talks, which cover the arrival of early families into Boonah, the local butter industry, and the history of the building itself.
Location: 8 Railway Street, Boonah
Hours: Monday to Friday from 7 am to 3 pm | Weekends from 7 am to 4 pm
Cost: Varied
BEST TOURS OF BOONAH
If you're short on time or don't have your own transport, a group tour is often the best way to see the highlights of Boonah.
Below we've listed our favourite tour that includes Boonah's attractions.
Scenic Rim Farm, Food and Wine Experience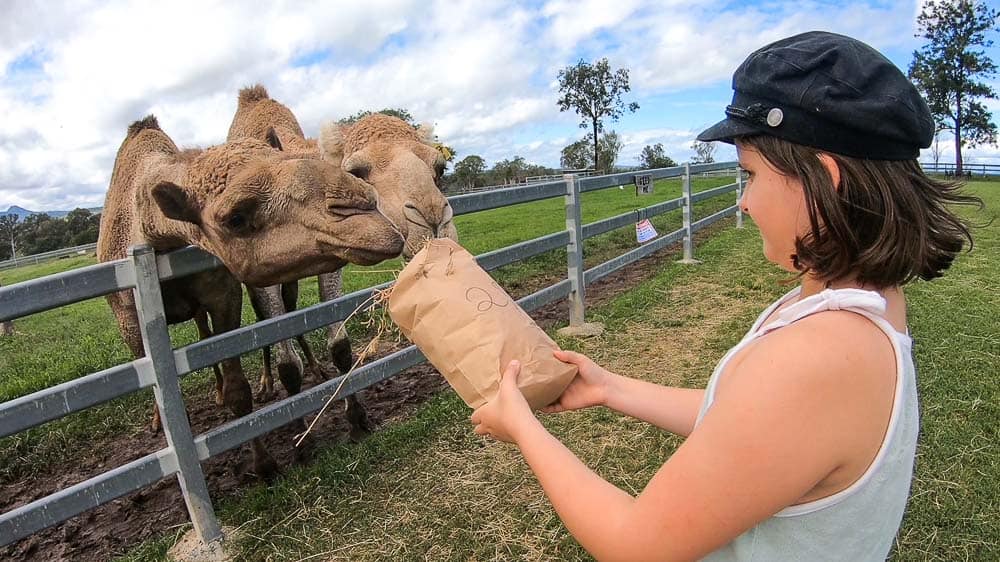 This premium, personalised small-group tour is the best way to make the most of a Boonah day trip and the surrounding area.
As you tour around the picturesque Scenic Rim, you'll learn about the history of this incredible landscape and discover why the area is known for its fantastic country hospitality.
Your taste buds will be satisfied after sampling award-winning wines and beers and tucking into delicious regional produce. This includes dairy produce at Summer Land Camels, a definite highlight as you will overlook the valley at morning tea.
At the boutique Bunjurgen Estate Vineyard, you'll meet the winemaker for a personal tasting and tour of the gorgeous estate, and your craft beer tasting will be held in the heritage-listed Scenic Rim Brewery.
Finally, you'll also see the historic town of Kalbar and take in the beautiful views over Lake Moogerah.
Click here for more information or to book your tour.
BOONAH DAY TRIPS
While there is plenty to keep you occupied in the Boonah region – if you're keen, you can do some great day trips from the area. For most of these places, it's recommended you stay at least a few days in each, but if you only have a day, then a day trip is possible.
Brisbane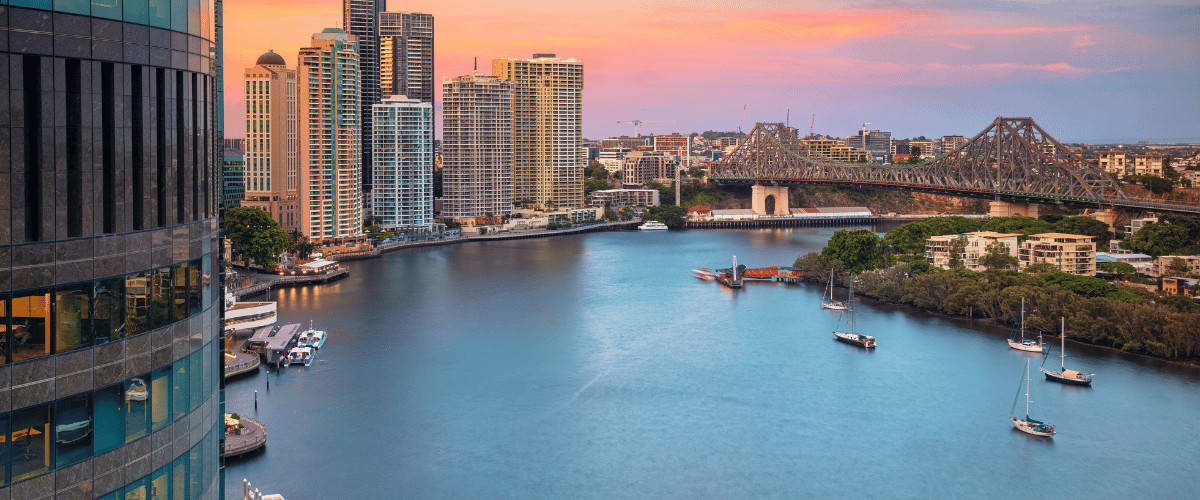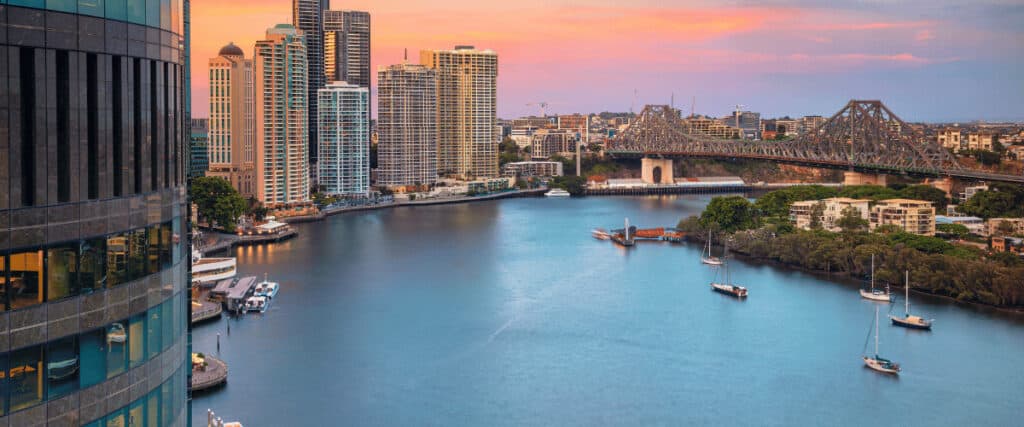 Laid back, clean and vibrant, Brisbane makes a great day trip from Boonah. Brisbane is the capital of Queensland and it boasts everything from lush parklands and gardens to modern galleries and cosmopolitan waterfront dining.
There are so many attractions to choose from in Brisbane. There are the Queensland Museum, QAGOMA (The Queensland Art Gallery and Gallery of Modern Art) and the National Maritime Museum for culture seekers.
For wildlife lovers, there is Lone Pine Koala Sanctuary. For lovers of gardens, there is Roma Street Parkland and the tranquil Southbank Parkland. There is the bridge climb, rock climbing and kayaking for thrill seekers. 
You can't beat a simple stroll along the river or a swim at the iconic Streets Beach.
Thanks to its year-round sunshine, Brisbane is the perfect destination at any time of the year and it's a great opportunity to combine your Ipswich stay with a city break.
Click here for our full guide on things to do in Brisbane.
Gold Coast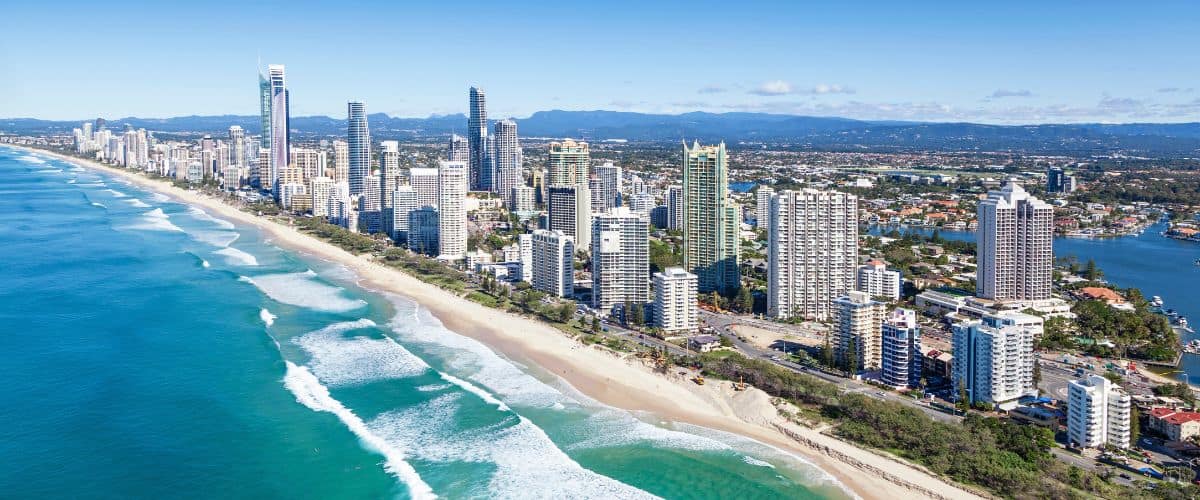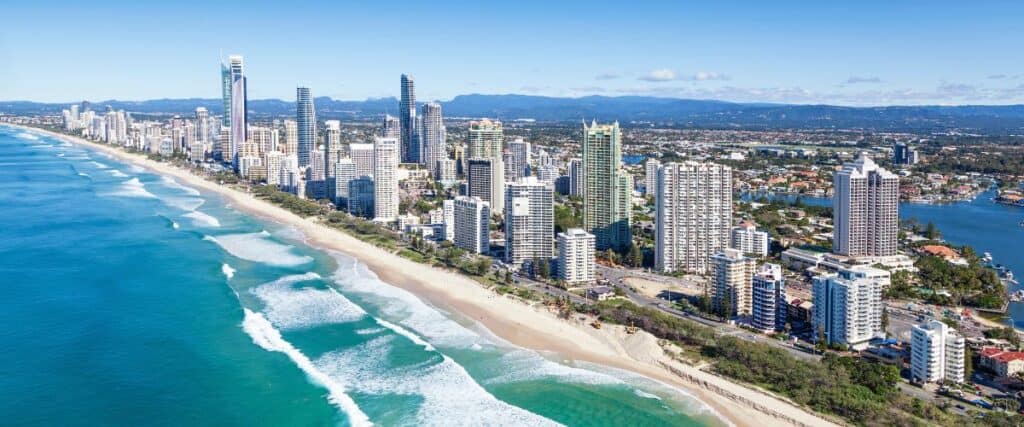 Queensland's Gold Coast is one of Australia's most popular destinations. If you get the opportunity, taking a day trip to the Gold Coast is a great idea.
The Gold Coast is a beautiful beachside haven packed with fun things for tourists to enjoy and a beautiful hinterland to explore.
The Gold Coast is the place to go if you're looking for fast-paced theme parks like Wet 'n' Wild, Warner Bros. Movie World, WhiteWater World, Dreamworld and SeaWorld, so it makes a great day trip from Boonah.
There's also surfing, hot air ballooning, kayaking and plenty more to keep you entertained.

If you can only spare one day for a Gold Coast day trip, you'll have difficulty deciding how to spend it as there is so much to see and do!
Click here for our full guide on things to do on the Gold Coast.
Gold Coast Hinterland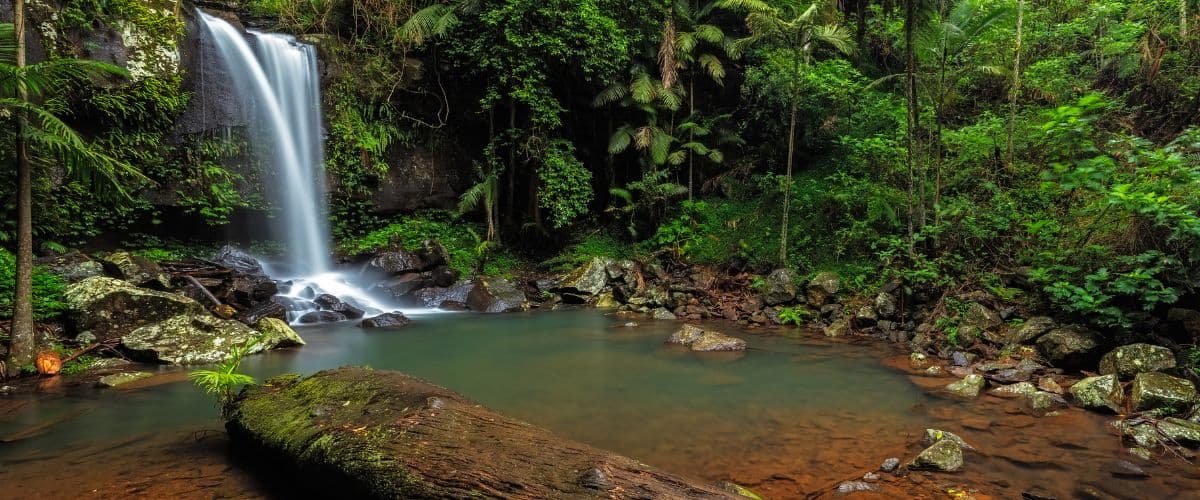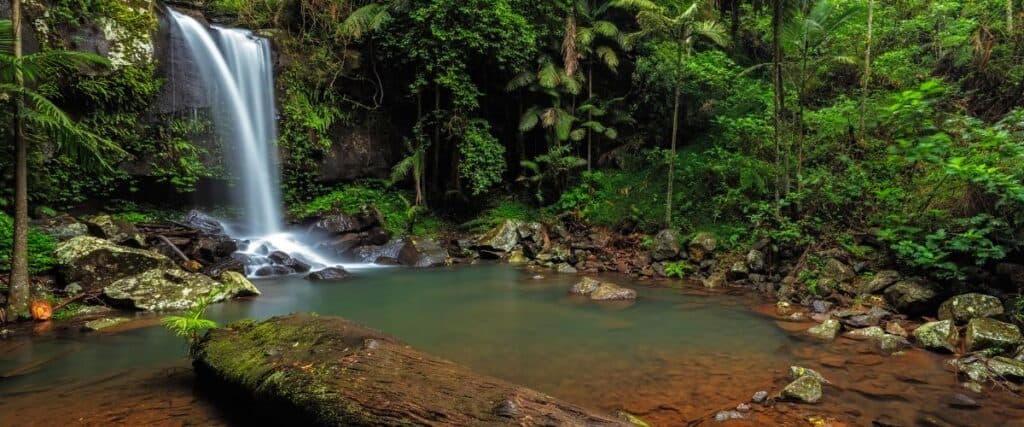 About an hour and a half drive from Boonah, you'll find the Gold Coast Hinterland, a picturesque part of southeast Queensland known for its natural beauty, small villages and local produce.
Home to several national parks (including Lamington National Park, Springbrook National Park, and Tamborine National Park), the hinterland is perfect for those who enjoy hiking, picnicking, and birdwatching. The parks are also home to various native plants (some ancient trees in the lush rainforests of Lamington National Park date back 5000 years) and animals.
In addition to the beautiful National Parks, the hinterland is home to several small towns and villages, including Mt Tamborine, Canungra, and Beechmont. These communities are known for their quaint charm and offer a range of accommodations, dining, and unique shopping options for visitors.
For wine lovers, you'll be pleased to know that the region has an emerging wine industry, with many local wineries producing high-quality wines from grapes grown in the area's rich, volcanic soil. This makes the hinterland a popular destination for wine tastings and winery tours.
While we recommend hiring a car and exploring the area on your own, there are several tours you can join to explore the area. For example, you could take a day trip to see the highlights of Tamborine Mountain, visit the popular Natural Bridge during the afternoon, spend the day tasting the region's beautiful wines, spot glow worms during an evening walk or take a bird's eye view of the region from a hot air balloon.
WHERE TO STAY IN BOONAH
Looking for somewhere to stay in Boonah? We recommend booking through Booking.com as they offer a wide range of room types, most with free cancellation, which is ideal for last-minute changes.
However, if you want our recommendation for a hotel, we've listed our top pick for a luxury hotel, family hotel, mid range and budget hotel below.
If you're looking for the best places to stay in Boonah, you won't find better than Ketchup Bank Glamping. Location-wise, it's the perfect blend of convenience and authentic Australian bush atmosphere, as it has a beautiful natural setting while still being just a 15-minute drive from Boonah and Scenic Rim National Parks.
The eco-retreat will make you feel extra cosy with top-quality linen, pillows, and electric blankets. Outdoor facilities include a picnic area with comfortable outdoor furniture from which you can enjoy the mountain views, BBQ facilities, and an outdoor fireplace to keep warm.
While you are welcome to self-cater, the property also offers packed food hampers filled with regional goodies, which you can arrange in advance.
Activities include movie nights, hiking trails, canoeing, fishing, and a tour desk if you wish to explore further afield. You may also see wildlife that call the area home, from wallabies and koalas to goannas and wedge-tailed eagles.
Ketchup Bank Glamping is truly the best way to treat your partner to a private romantic getaway in the Scenic Rim.
Click here for more information or to book
Best family hotel: Karalee Farmstay Getaway
Karalee Farmstay Getaway is a great option for unique family-friendly accommodation just a short drive from Boonah.
The property is a 30-minute drive from Boonah and the national parks and under 5 miles to the nearest restaurant. However, you'll also have everything you need at your fingertips, as the spacious holiday home has a fully equipped kitchen, laundry facilities and living room.
The property has two bedrooms and caters to up to eight guests, perfect for families. Other facilities include heating, street parking, books and DVDs, and a large garden area with barbecue facilities.
The kids will love seeing the friendly farm animals at the farm stay, such as cows, dogs, chicks and goats. If time permits, kids can enjoy an educational tour of the farm (including animal cuddles!), and you can be sure the scrambled eggs at breakfast will be extra fresh.
If you're looking for a beautiful place to stay with kids in the Scenic Rim, look no further than Karalee Farmstay Getaway.
Click here for more information or to book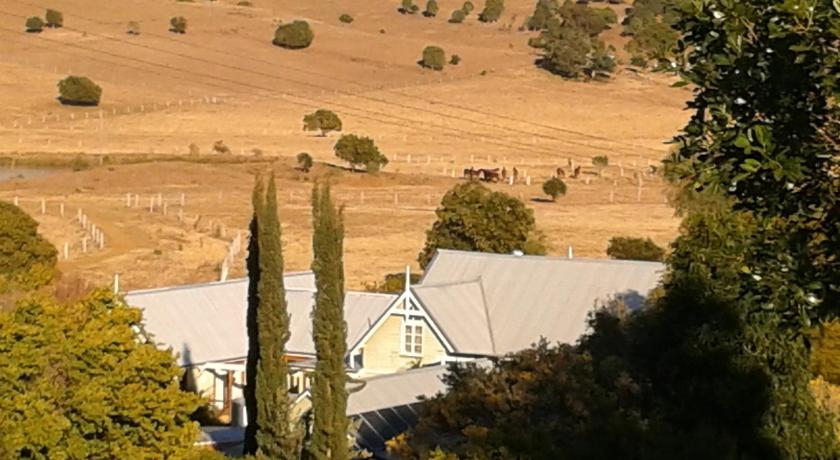 The Old Church Bed and Breakfast is a top-rated B&B in Boonah. This cheerful accommodation offers homely double rooms with garden views. It's 5 minutes from the town and has easy access to many of the region's best attractions.
Air-conditioned rooms feature a seating area, TV, and full kitchenette with microwave. All rooms include a coffee machine, a private bathroom, and free wifi, and some rooms have a terrace or mountain views.
A continental breakfast is available, plus there's a snack bar, a large shared kitchen, and optional packed lunches to keep you going while you explore the Scenic Rim. There's also a garden and shared lounge for relaxing after a busy day.
This pretty rural B&B is a great way to make the most of the hinterland scenery. Since the Old Church Bed and Breakfast was converted and beautifully restored from an old church, your stay here will be full of charm, tranquillity, and character.
Click here for more information or to book
Just 250 metres from the centre of Boonah, you won't find a more centrally located accommodation than Boonah Motel! You have views over the Bicentennial Lagoon from the property and are within walking distance from the nearest pubs and cafes.
At the Boonah Motel, you can choose between queen or twin rooms catering to up to three guests. Rooms feature air-conditioning and heating, a TV, complimentary toiletries, a desk, a refrigerator, and a tea and coffee maker.
Other facilities include a pretty outdoor area with a garden, a picnic area, and BBQ facilities. The outdoor salt-water pool is open all year round, and breakfast is available in your room.
A stay at the Boonah Motel proves that you don't need to splash out to find the best accommodation in town, as it offers comfortable and top-rated accommodation in a great location.
Click here for information or to book
ENJOY BOONAH!
Hopefully, this guide has given you lots of inspiration on things to do in Boonah.
If you're planning a trip to Boonah, I highly recommend you check out our Scenic Rim guide, which provides links to everything you need to know to plan your trip.
I'd also recommend you join our free Queensland Travel Guide Facebook community, where you can ask all your questions and find even more great trip suggestions.
If you're heading to Boonah, you might also be interested in the following nearby destinations: