Are you planning to visit Stanthorpe? This article covers the best things to do in Stanthorpe, including the surrounding regions of the Granite Belt.
The Queensland Travel Guide acknowledges the Kambuwal people, Malintji and Kuunkari people, the Traditional Custodians of Stanthorpe. We pay our respects to their Elders past, present and emerging, and recognise their continued spiritual and cultural connections to Country. Always was, always will be, Aboriginal land.
Located in the Southern Queensland Country – close to the New South Wales border, Stanthorpe or more broadly the Granite Belt region may be one of Australia's best kept secrets.
There are plenty of Stanthorpe things to do, from enjoying tasting wine at boutique wineries, sampling local produce from farm gates, exploring stunning national parks and much more. It really is such a diverse and vast region, so there is something for everyone here.
To help you decide what to do in Stanthorpe, we've compiled this guide which covers all the best Stanthorpe attractions, including some of the best wineries to visit in Stanthorpe and other places to visit.
In addition to all the wonderful things to do and places to visit in Stanthorpe, this guide also includes all the essential information such as locations, opening hours and ticket prices where necessary.
So let's get into it and help you discover the best Stanthorpe places to visit.
This post may contain compensated links. Please refer to our disclaimer here for more information.
STANTHORPE THINGS TO DO MAP
Before we get started on all the things to see in Stanthorpe, to help you plan your itinerary, check out the map below. This map shows the location of all the things to do around Stanthorpe covered in this guide.
I recommend you first make a list of your top priority things to see and do in Stanthorpe and then use this map to plan your day to day itinerary so you're not travelling back and forth all over town.
BEST THINGS TO DO IN STANTHORPE
Below we cover the top places to visit and top things to do in Stanthorpe.
1 The Big Apple at Vincenzo's Cafe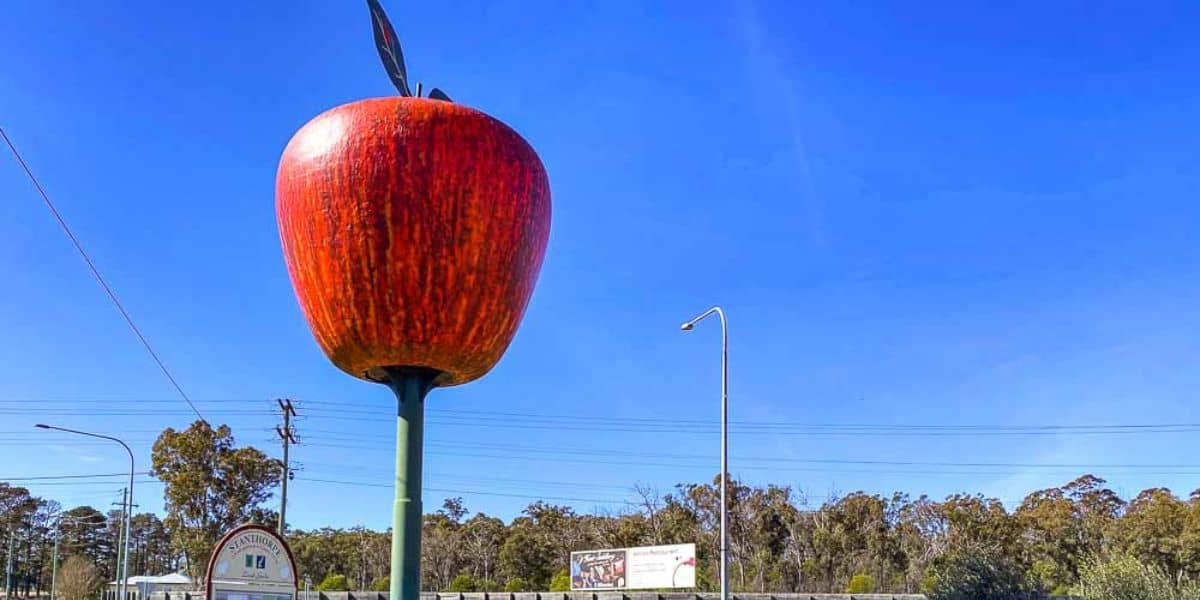 Did you know that Stanthorpe is the apple capital of Queensland, responsible for almost all of the Queensland apple crop? To mark this contribution to the local economy, there is a giant apple that you can't miss on the drive into Stanthorpe.
A photo at the enormous fruity landmark is one of the must do Stanthorpe activities.
And if you're hungry head on into Vincenzo's Cafe, they're open for breakfast and lunch daily, plus apple sales of course. They even offer wine tastings too.
While you're at the Big Apple, walk on towards the old railway station you see behind you. This makes for a good photo opportunity and trains only pass here once a month so there's no risk of being run over.
Location: New England Hwy and Amiens Road, Stanthorpe
Opening Hours: 8.30 am to 4 pm daily – although you can always grab a photo of the Big Apple!
Price: Free for photos
2 Eat applied pie at Suttons Stanthrope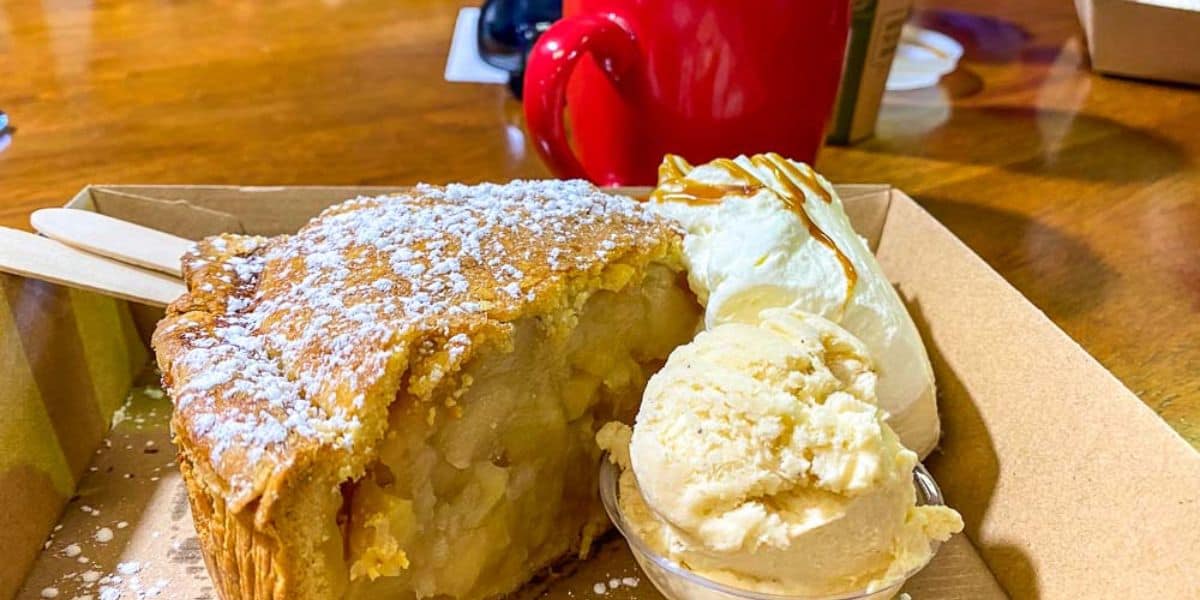 If visiting the Big Apple has given you a taste for apple-flavoured treats then the place to go is Suttons for a slice of their famous apple pie.
The Sutton's apple pie is hand made in the kitchen on site, with apples taken straight from their real working apple orchard. Even the pastry is made on site. Sutton pies are so popular that they cook up to 800 kgs of apples onsite every week!
There are plenty of other delicious apple products to try at the Suttons Juice Factory and Cidery Cafe too, like juice, cider and preserves, or you can purchase from their store and take your goods home to eat later.
And before you leave be sure to pop your head in the window and see Dave Sutton using the machine peeling apples.
Location: 10 Halloran Drive, Thulimbah
Hours: Daily from 9.30 am to 4.30 pm
3 Big Thermometer
Stanthorpe is supposedly Queensland's coldest town, not that there's a lot of competition in Australia's sunny state. But in recognition of this dubious honour, or maybe just because Australians love giant landmarks, one of the more unique Stanthorpe things to see is the Big Thermometer.
You can grab a photo of this memorable monument and then take a walk along the picturesque Quart Pot creekside. The local visitor information centre can also be found here, so it's a good place to stop on your way into town to collect some brochures or tips on visiting Stanthorpe.
Location: 28 Leslie Parade, Stanthorpe
Hours: 24 hours / 7 days a week
Price: Free
4 Quart Pot Creek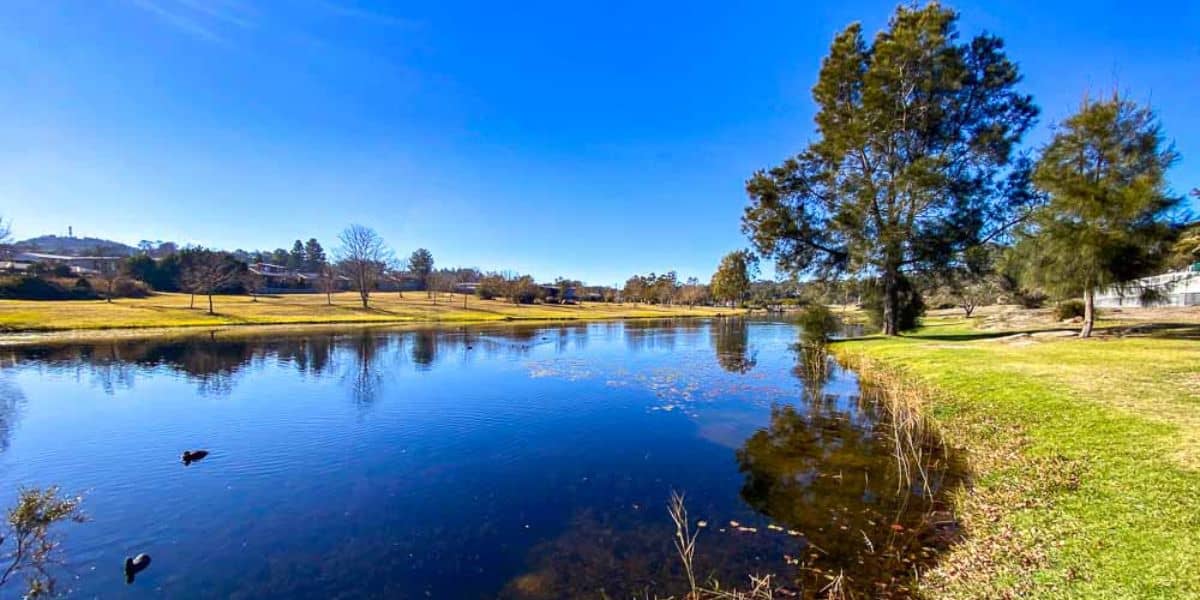 When it comes to outdoor locations in Stanthorpe, there are not many places prettier than Quart Pot Creek. The creek meanders through Stanthorpe out to Spring Creek where it then forms the Severn River.
Quart Pot Creek is a lovely place for a walk or run with around 5 km of landscaped trails or settle in for a picnic if you have time and the weather is warm.
If you have small travellers in tow, then bring some bread to feed the ducks in the creek.
Location: 28 Leslie Parade, Stanthorpe
Hours: Always
Price: Free
5 Red Bridge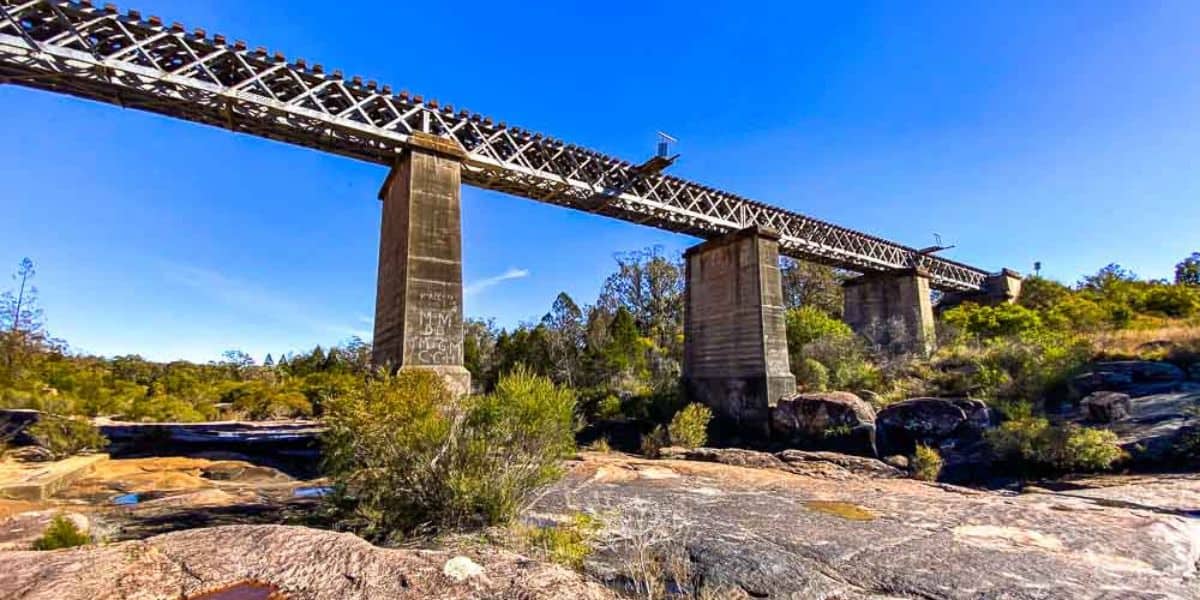 The Red Bridge might not actually be red anymore but this gorgeous old historic railway bridge is still worth checking out. Officially called the Quart Pot Creek Rail Bridge, it was built in 1886 as part of the Brisbane to Sydney interstate rail link, entirely by manpower.
The Red Bridge is a scenic spot to stop for a walk along Quart Pot Creek. In fact, you can squeeze three of the top places to see in Stanthorpe in one stroll as the Big Thermometer is only a few kilometres away.
Location: Heritage Park Stanthorpe – park at the end of Pioneers Parade and follow the pathway down to the bridge.
Hours: Always
Price: Free
6 Stanthorpe Cheese Shop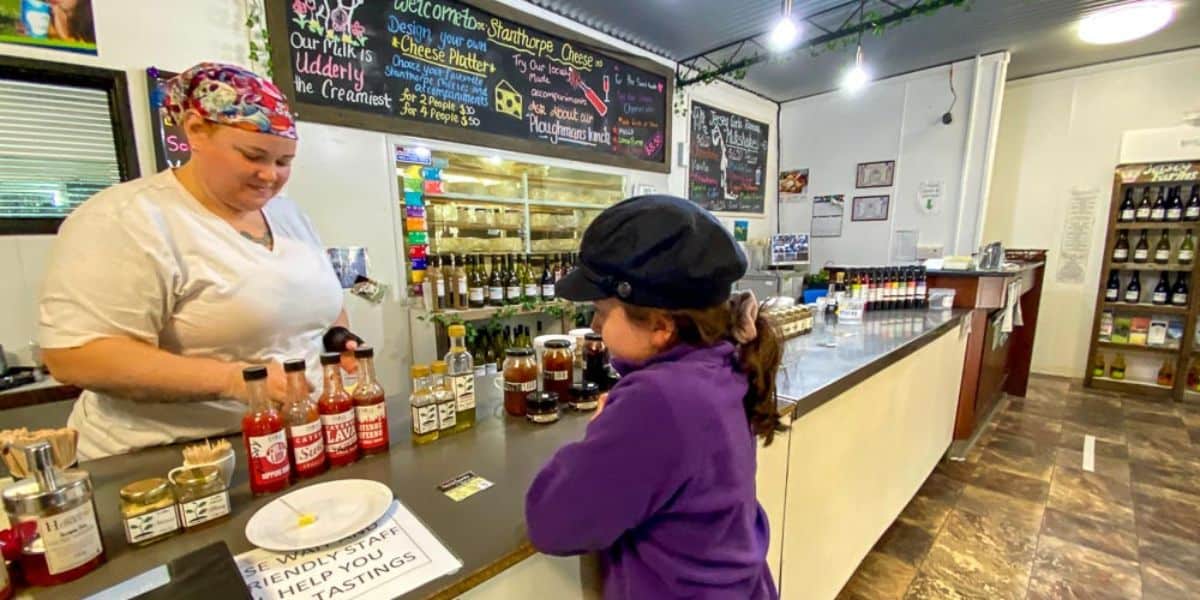 If you love cheese, then a visit to the Stanthorpe Cheese shop is a must during your trip. The Stanthorpe Cheese shop is the highest and coldest dairy farm cheese shop in Queensland and makes cheeses from a single herd of purebred Jersey cows.
At the Cheese Shop, you can try the range of cheeses before you decide what to buy and take home with you. On any given day you can expect to be able to try around 12 different cheeses as well as a range of other great local produce.
There is also the Jersey Girls Cafe on site where you can try their fantastic Ploughman's lunch which comes with cheese, bread or crackers, relishes, eggs and cured meat.
Make sure to visit on an empty stomach!
Location: 4 Duncan Lane, Thulimbah
Hours: Daily from 9.30 am to 4 pm
Price: Depends on how much you like cheese
7 Stanthorpe wineries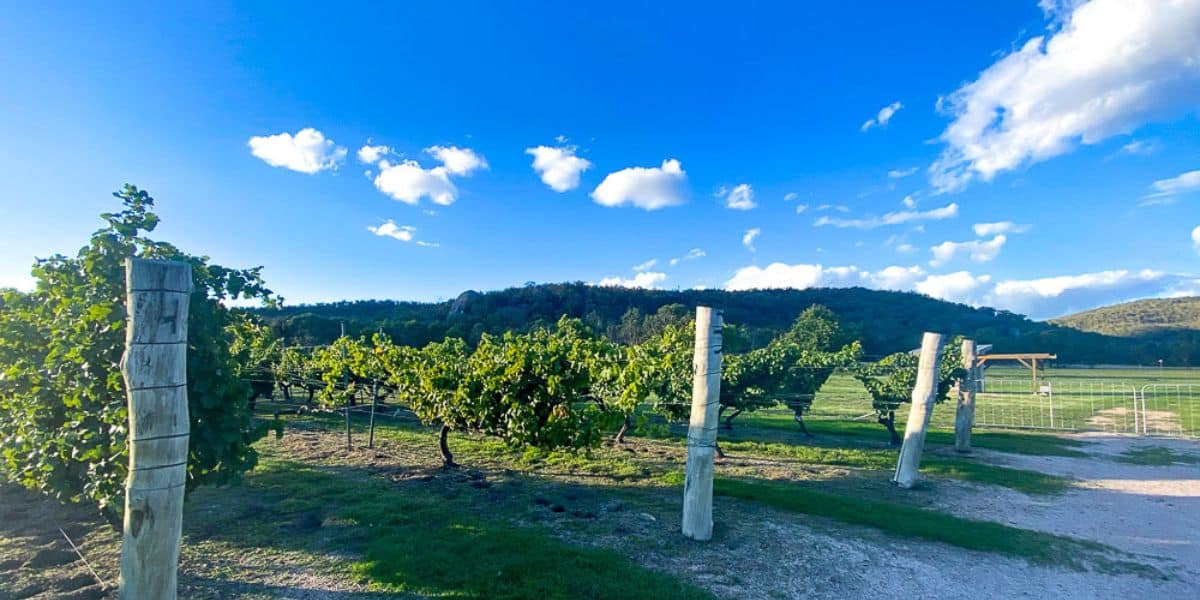 A visit to Stanthorpe wouldn't be complete without visiting at least a couple of wineries!! Devote a day (or two) of your itinerary to wine tastings and wander through the vineyards where you can all see the grapes.
Of course, there are approximately one zillion wineries in Stanthorpe but these are a few whose wines we can especially recommend:
Balancing Heart Vineyard
Balancing Heart Vineyard gets its name from the natural granite rock formation which resembles a heart balancing on a rock. The property is gorgeous with the cellar door, surrounded by a range of massive granite boulders in the background as well as the vineyard and dam in the foreground. You can even see as far as the next state from here!
Balancing Heart Vineyard offers a range of red and white wines from classic Chardonnay and Shiraz to Verdelho, Viognier, and their signature blends Campfire White and Campfire Red.
Location: 221 Old Wallangarra Rd, Wyberba
Hours: Monday to Thursday from 10 am to 4.30 pm | Friday to Sunday from 10 am to 9 pm.
Girraween Estate Vineyard
The Girraween Estate is a lovely little vineyard where the owner's Steve and Lisa do absolutely everything from growing the grapes to making the wine and marketing and selling it.
Girraween is well known for its Cabernet Sauvignon, Shiraz and Sparkling wines –so definitely give those a taste while you're there!
Location: 41 Hickling Lane, Wyberba
Hours: Weekends and public holidays from 10 am to 5 pm and during the week by appointment
Ballandean Estate Wines
The Ballandean Estate is the oldest winery in the Granite Belt Region, dating back to 1932, although the cellar door was only opened 50-odd years ago.
Today it is still Queensland's oldest family owned and operated winery and extremely popular for it so advance bookings are a must on weekends.
Location: 354 Sundown Road, Ballandean
Hours: Open daily from 9 am to 5 pm
Summit Estate Wines
If you're in town on a Friday or Saturday night head down for their sunset sessions nights from 4 to 6 pm – bring a picnic and drink their beautiful wine. It's dog friendly too!
Location: 291 Granite Belt Dr, Thulimbah
Hours: Friday and Saturday 10 am to 7 pm | Sunday to Monday 10 am to 2 pm | Thursday 12 pm to 4 pm
8 Granite Belt Brewery
Granite Belt Brewery has been brewing refreshing craft beers and ciders since 2012, all hand crafted and bottled onsite in their 1000 litre microbrewery.
The core range includes Pale Ale, Lager, IPA, Session Ale, Applethorpe Cider & Irish Red Ale, plus seasonal brews like chocolate porters, spiced pumpkin ales & wheat beers.
If you're not a beer drinker, then the brewery also serves a wide selection of wines from the best local Granite Belt wineries.
Location: 146 Glenlyon Drive, Stanthorpe
Hours: Daily from 10 am to 5 pm
Price: Tasting paddles start at $12
9 Stanthorpe Heritage Museum
The Stanthorpe Museum features 14 different buildings, including over 20,000 historical artifacts and 2 collections of national significance.
At the museum, you can step back over 100 years into a School Residence from 1894 complete with old desks and slates and inkwells, or Ardmore House a summer holiday home from the 1920s filled with period collections.
The museum is particularly focused on pastoral life, tin mining, Aboriginal, Red Cross, medical and social life in colonial Australia. If any of those topics are of interest, then add this spot to your list of places to visit near Stanthorpe.
Location: 12 High Street, Stanthorpe
Hours: Wednesday to Friday 10 am to 4 pm | Saturdays 1 pm to 4 pm | Sunday 9 am to 1 pm
Price: $10 per adult | $3.50 per child (5 – 14) | Family Pass $20
10 Castle Glen Winery and Distillery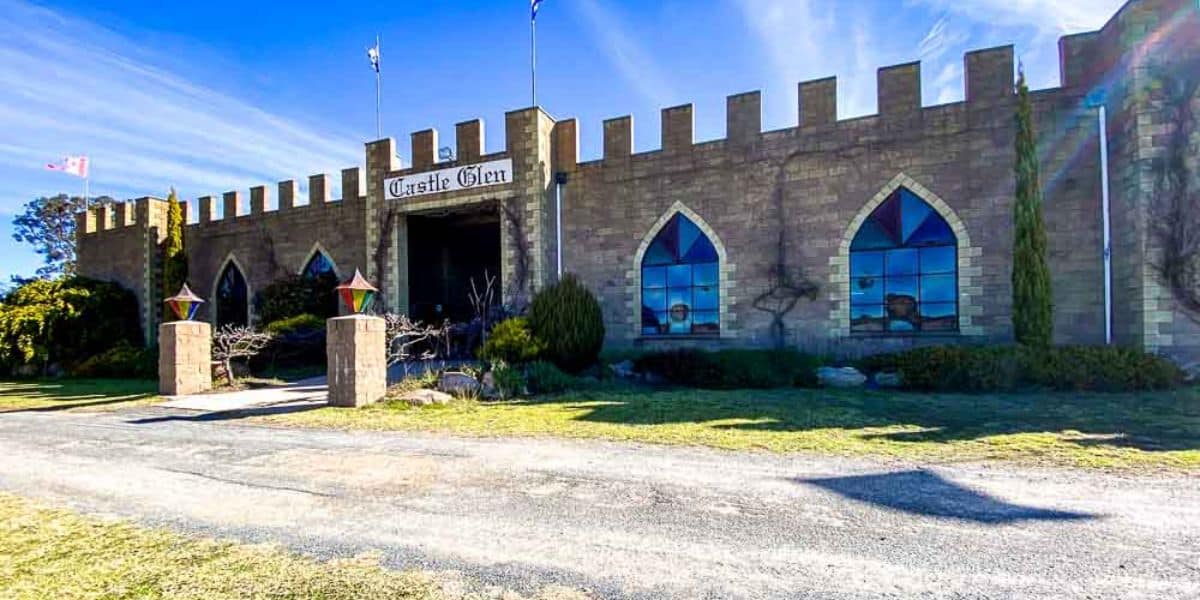 While it might resemble an old medieval castle, the reality is Castle Glen was built in 1994. The castle is, in fact, a winery and distillery and not the home of any form of royalty or nobility. It's also largely solar-powered – an advantage over many genuinely old castles.
For anyone who enjoys their liqueurs, spirits, beers, ciders and wines, a stop by Castle Glen will be a memorable part of your Stanthorpe trip. Owner Cedric Millar makes all his own beverages which are 100% Natural, Chemical Free and Preservative Free.
He also makes vegan and fat-free Crème Liqueurs which are a world first.
Location: 3184 Amiens Road, Thulimbah
Hours: Daily from 10 am to 4 pm
Price: Free
11 Nicoletti Orchards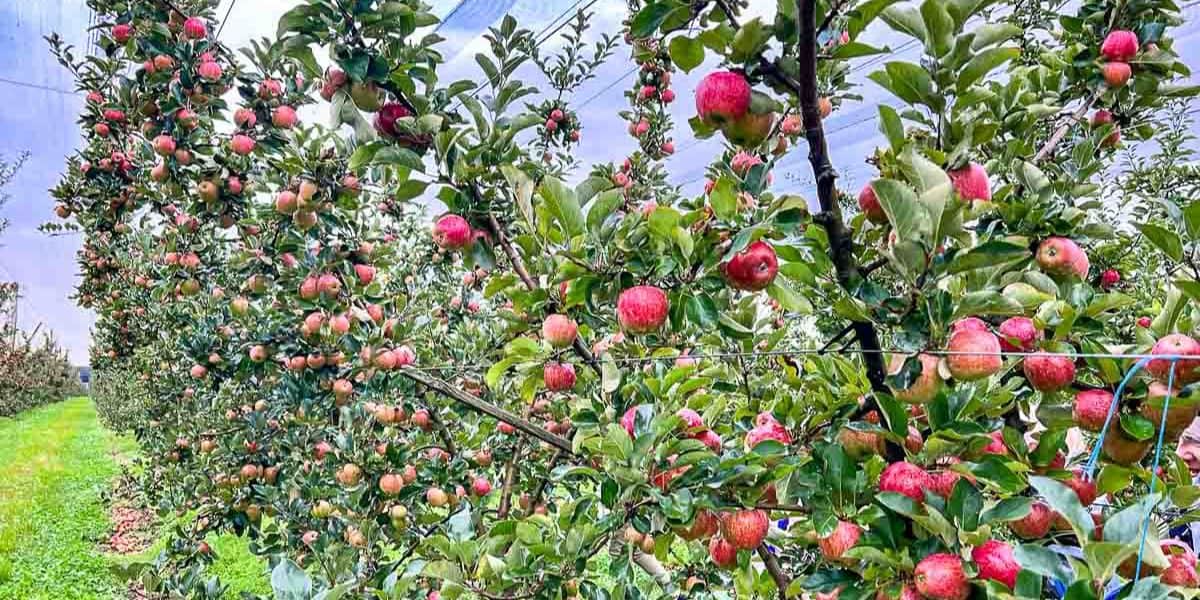 If you're visiting Stanthorpe in autumn then you're in luck, it's apple season. The best way to experience Stanthorpe's favourite time of year is to go and pick your own apples at Nicoletti Orchards.
Third generation apple growers Daniel and Toni Nicoletti occasionally open up their orchard for tours, as well as allowing visitors to wander through the fruit trees and pick their own apples.
If the orchard isn't open for tours when you're in town, you can still stop by the farm gate and stock up on some freshly picked apples.
If Nicoletti Orchards are closed, you could see if Eastern Colour are open – so also do apple picking.
Location: 61 Nicoletti Lane, Pozieres
Hours: Varies – check their website and pre book for apple picking.
12 Washpool Skin Wellness
A visit to Washpool Skin Wellness will definitely get you in a relaxed and indulgent holiday mood. This soaperie sells soaps and beauty products that are developed and handmade at the store by soap maker Melissa Thomas and her family.
Everything is made using the purest of ingredients including butter and milk, cold pressed oils, extracts, infusions, botanicals and essential oils.
The smell of all these ingredients hits you before you even walk through the door. This is the perfect place to stock up on gifts or something special for yourself!
They even offer soap making workshops, so be sure to check out if any classes are n before you come to Stanthorpe.
Location: 4/7 Reeves Road, Stanthorpe
Hours: 9 am-4 pm Weekdays (except closed Wednesday) and Saturday | 9.00 am-1.00 pm Sunday
Price: Soap prices start from around $7
13 Donnellys Castle
Not an actual castle in the towers and fortress walls sense, Donnellys Castle is a granite rock formation, which you can explore by walking between and over the large boulders. There is a range of cave like entrances with narrow crevices plus a great lookout on top of one of the granite outcrops.
Donnellys Castle was once a hideout for the notorious bushranger "Thunderbolt" who used to roam the New England Tablelands but now it's better suited to picnics with tables and bathrooms onsite.
Location: Donnellys Castle Road, Pozieres
Hours: Always – best during daylight
Price: Free
14 Mt Marlay Lookout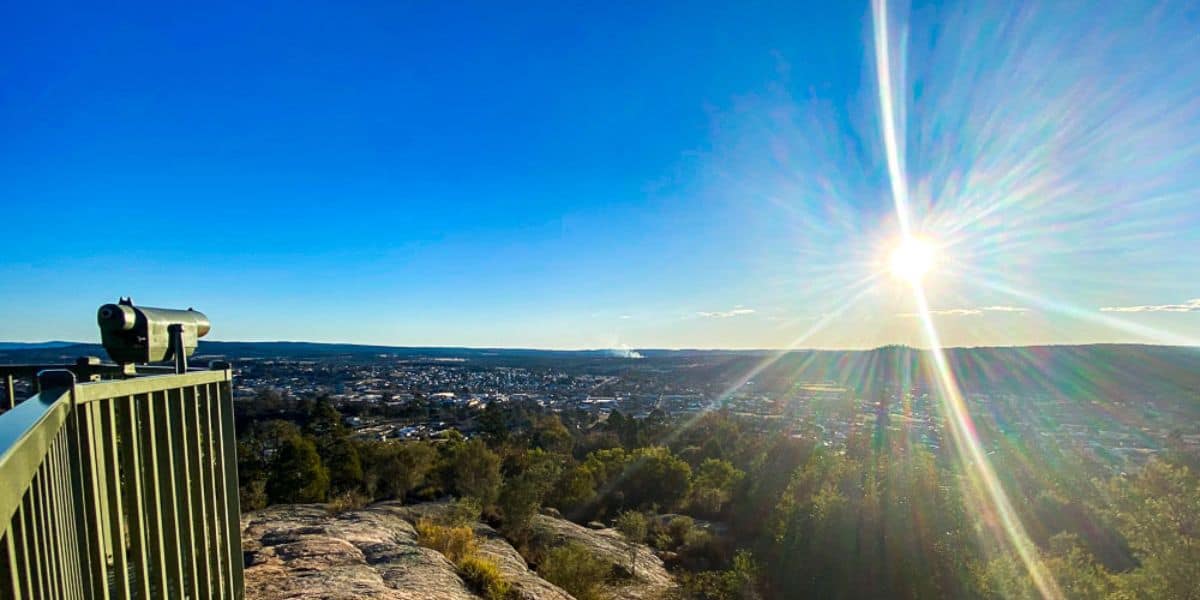 Mount Marlay boasts the best panoramic views of Stanthorpe and it's not even very far from the centre of town.
You can climb the paved stairway to the top and then take a walk around the circuit path at the summit looking out over the Granite Belt. For an even better view, try using the free mounted binoculars there.
It's only 25 minutes from the car park to the summit and you can even take a picnic to enjoy at the top. It's one of the most romantic things to do in Stanthorpe, especially if you go at sunset.
Location: Lock Street, Stanthorpe
Hours: Always but best during daylight
Price: Free
15 Mt Marlay Mountain Bike Trails
As well as the lookout, Mt Marlay features 8 mountain bike trails with a mix of difficulties and unique granite terrain. The trails are also good for runners and hikers, just beware of the bikers flying downhill!
The total trail distance is 7km, with some easy options like the Green Granite and Rusty trails and one double black diamond rated trail, Gnarly Marlay.
You can reach out to the Stanthorpe Mountain Biking Club on Facebook for trail or bike hire tips.
Location: Access the trails from the top of Lock Street
Hours: Always but safest during daylight
Price: Free
16 Granite Belt Christmas Farm
Even if you're not visiting at Christmas time, the Granite Belt Christmas Farm is one of the best things to see Stanthorpe offers. Here you can see rows and rows of real life Christmas trees being grown – there are around 15,000 trees on the property all up.
Fun fact – it takes 7 years to grow the perfect size Christmas tree, which requires pruning four times a year.
From December 1 each year, families can come and select their own Christmas trees and take part in special Christmas events. However, throughout the year there are events such as Christmas in July and Easter egg hunts.
As well as the real Christmas trees, there is a range of things here for visitors to do, including feeding Santa's farm animals, shopping for Christmas decorations or enjoying a gourmet picnic amongst the pine trees.
Picnic baskets are available for purchase (pre-order required) and include treats like bruschetta, shaved ham, crumbed chicken, mixed leaf salad, white crusty loaf, cheese, relish, aioli and rocky road.
Location: 321 Aerodrome Rd, Applethorpe
Hours: Closed during February and March, otherwise open daily 9 am to 4 pm
Price: Free – $2 for animal feed
17 Truffle Discovery Centre
The Granite Belt doesn't just produce apples, there are plenty more extravagant exports of the region including the most expensive edible fungus in the world – Truffle!
At the Truffle Discovery Centre, as well as getting to smell and taste a range of truffle products, you can learn all there is to know about truffles through informative talks and interactive exhibits.
Even if you don't like fungi, the Truffle Discovery Centre also offers a range of local produce including honey, mustard, balsamic, aioli and more. You'll need at least a good half hour to work your way through the food.
Location: 335 Church Road, The Summit
Hours: Wednesdays and Weekends from 10 am to 3.30 pm
Price: Entry is free
18 Jamworks Gourmet Foods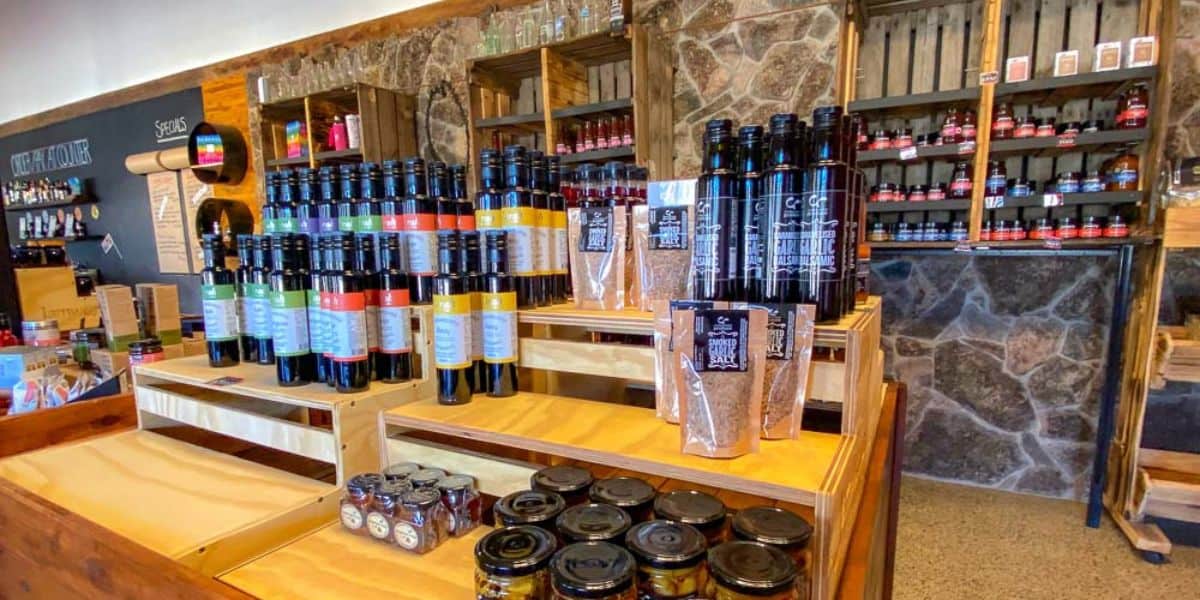 Jamworks Gourmet Foods have been making jam locally in Queensland for over 20 years. They now make around 87 different products from classic raspberry to a decadently boozy peach and chardonnay, using local produce found around the Granite Belt.
If you're hungry, you can grab some lunch at their on-site cafe, it's dog friendly too!
Location: 7 Townsend Road, Glen Aplin
Hours: Wednesday to Friday 10 am to 4 pm | Weekends 9 am to 4 pm.
Price: Depends on what you buy!
19 Go fishing at Storm King Dam
A dam might not sound all that interesting but once you've seen the area you'll understand why Storm King Dam is one of the most scenic places to visit around Stanthorpe.
The picturesque setting is home to many water birds and fish, plus it's an ideal spot for picnics and water sports like boating and fishing.
There are plenty of facilities nearby including toilets, picnic tables, and barbecues, as well as a swimming area and playground for the kids.
Location: Eukey Road, Stanthorpe
Hours: Always open but visiting in daylight is best
Price: Free
20 Explore Stanthorpe's Street Art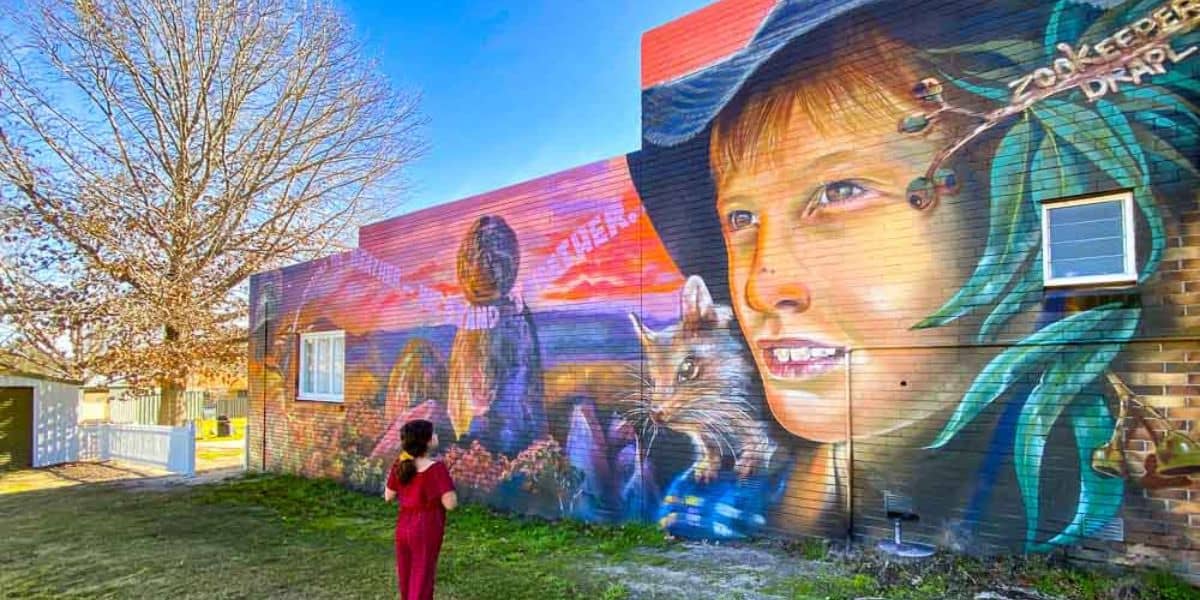 For creative travellers, discovering local street art is always a fun activity and can lead to some great travel snaps. Fortunately, Stanthorpe really delivers in this regard with plenty of cool murals scattered around town. Here are some you might want to check out:
Weeroona Park, Old Ambulance Building (Marsh Street): "Whatever the Weather, We Stand Together" is a beautiful tribute to the emergency services that worked hard to save properties during the February and September 2019 bushfires.
Weeroona Park, YMCA / Gallery Alleyway (Marsh Street): Between the Art Gallery and the Swimming Pool are a few fun interactive type murals that the kids will enjoy getting their photo taken with.
Brass Monkey Statue: Locals refer to winter in Stanthorpe as Brass Monkey Season – which is what this little sculpture is referring to. This statue is located on the corner of Maryland and Railway Streets outside the newsagent.
South Wall of the Country Club Hotel (Laneway off Maryland Street): Here you'll find some fun murals which were painted during the 2016 Stanthorpe Apple and Grape Harvest Festival.
Farley Piazza (Maryland Street): In the piazza, you may think you've just stepped into a piazza in Italy with the great mural here celebrating the local Italian community.
Backpackers Mural: Just outside Australia Post on Maryland Street, you'll find this artwork which depicts the backpackers who come to town to help pick the crops.
Public Toilets Around Town: Funnily enough, a popular place to find some bright and colourful murals are the public toilets around town. Check out the toilets behind Farley Street Piazza, Brock Park, the Lions Club on Wallangarra Road and Storm King Dam.
Location: See above
Hours: Always – but best seen in daylights
Cost: Free
21 Aloomba Lavender Farm
The Aloomba Lavender Farm covers 6 acres of rolling purple fields (in season that is) with around 120,000 plants. The property is part of a much larger 4000 acre cattle farm just to the east of Stanthorpe. It's beautiful enough that many couples choose to get married here.
At the farm, you can enjoy the views and peruse the gift shop stocked full of all kinds of lavender products from dried bunches to skincare. They also have a very cute bed and breakfast onsite as well as camping facilities.
Location: 5425 Mt Lindesay Road, Liston via Stanthorpe
Hours: 10 am to 4 pm Thursday to Monday
Price: Free to view the farm
22 Ballandean Pyramid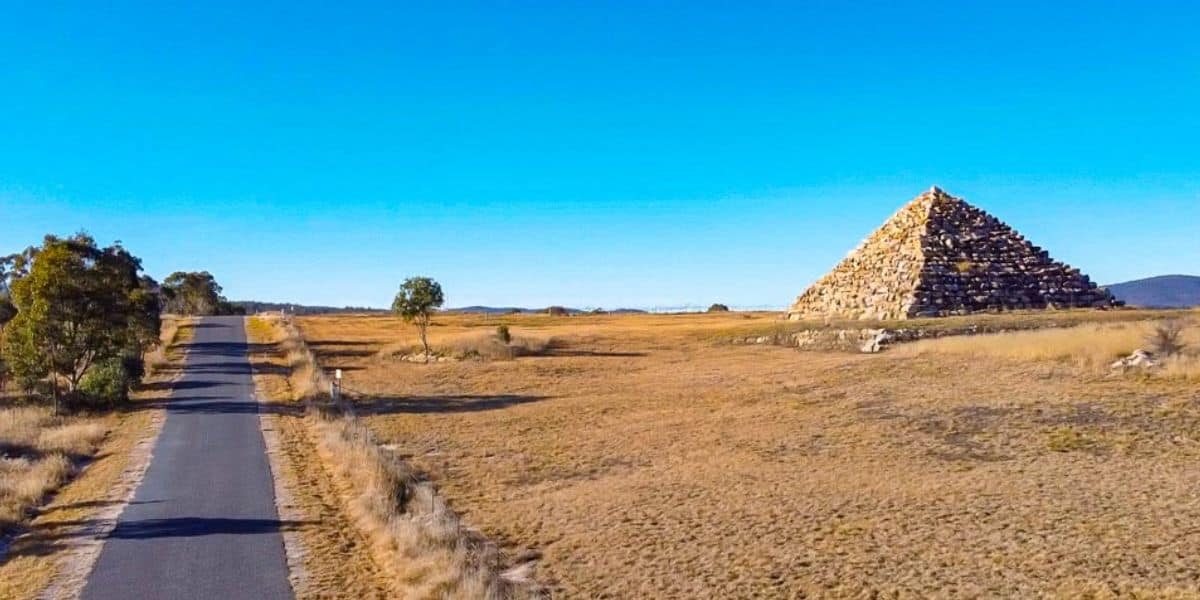 Did you know there's a pyramid in Australia? A bit unusual we know but it makes a great photo opportunity. The Ballandean Pyramid is just outside of Stanthorpe and stands 17.5 metres high and 30 metres square at the base. The structure is built from blocks of local granite, a full 7500 tonnes of rock and took 8 months to complete.
Unfortunately, the pyramid is on private property so you can't get all that close, but you can take a photograph from a distance.
To reach the pyramid, turn off the highway (eastward towards the Ballandean Tavern) on Eukey road, then turn immediately right onto Jacobsens Road. Follow Jacobsens Road for 1.7km until you reach the giant pyramid on the right.
Location: Jacobsens Road, Ballandean
Hours: Always
Price: Free to look
23 Market on the Mountains Artisan Market
If you happen to be in town on the second Sunday of the month, be sure to head on down to the Market on the Mountains. Wandering the various stalls in search of unique treasures is one of the best ways to spend a lazy Sunday morning.
Some of the items for sale at the markets include handicrafts, organic products, plants, jewellery and loads more.
Everything is 100% local so it's a great place to pick up souvenirs or gifts.
Location: Exhibition Centre, Stanthorpe Showgrounds – High Street Stanthorpe
Hours: The second Sunday of the month from 8 am to 12 pm.
Price: Entry is free
24 Wallangarra Railway Station Cafe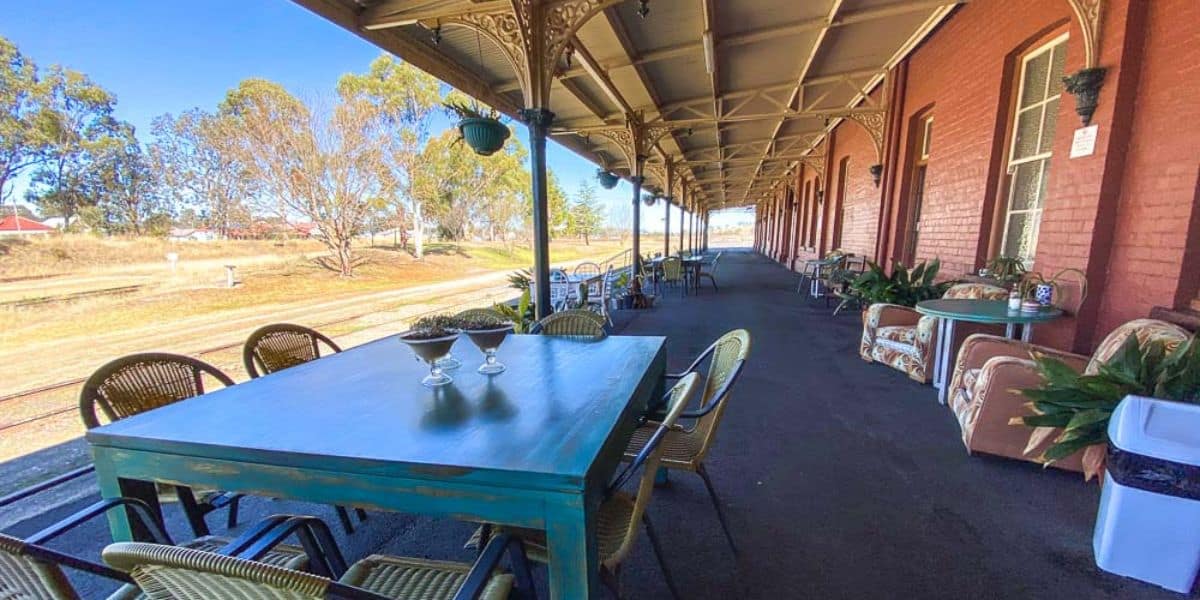 While a railway station might not seem like a logical spot for a meal, the Wallangarra Railway Cafe offers great value and good food.
The cafe's main attraction however is its location literally on the state border between Queensland and New South Wales. Head along to get a photo with one foot in NSW and one in Qld as well as a photo with the awesome Queenslander sign.
The historical Wallangarra Railway Station opened in 1888, and from then until 1930, this railway station was the only way people could travel from Brisbane to Sydney on the train. Eventually, with the new coastal train line, train services stopped coming through Wallangarra by 1997 with now only the Downs Explorer tourist train passing through once a month.
There is now a small museum here as well.
Location: Rockwell Street, Wallangarra
Hours: Cafe: daily from 8 am to 2.30 pm | Museum: daily from 9 am to 3 pm.
Price: Meals start from around $14 for adults and $7 for kids – the museum is free as are all the photo opportunities.
25 Balancing Rock at Girraween National Park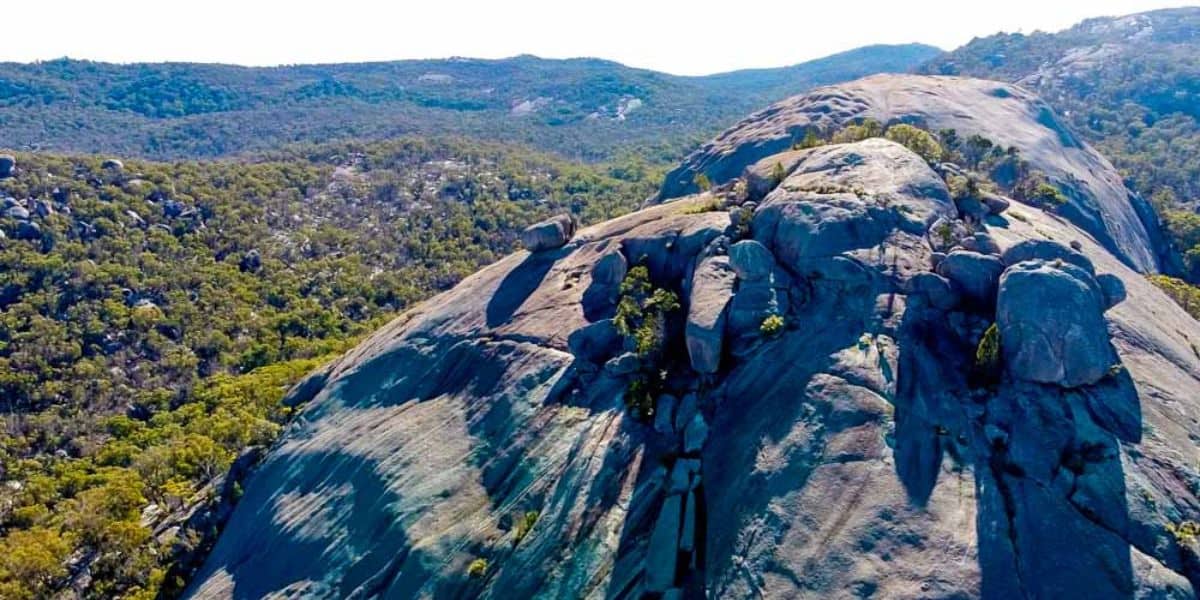 If you need some exercise after indulging in the amazing local produce and wine, then a hike up to Balancing Rock in Girraween National Park is a great option.
This walk is a 3.6km return, typically taking around 90 minutes to 2 hours to complete. As well as Balancing Rock it takes in the Granite Arch, another of the cool rock formations in the area.
Just make sure you have shoes with good grip for this walk, and prepare to scramble on all fours for parts of the climb to the top. The views are well worth the effort.
The start of the above walks is about a 30 minutes drive from Stanthorpe. The National Park has a range of walking trails through picturesque landscapes of massive granite outcrops that protrude from the ground, flowing streams, deep plunge pools, gorgeous waterfalls, wildlife and fauna.
Location: Walks start from the car park at Bald Rock Creek Camping Area, Pyramids Road Ballandeen
Hours: Always – best done in daylight.
Price: Free
26 Apple and Grape Harvest Festival
Possibly Australia's most popular harvest festival, the Stanthorpe Apple and Grape Harvest Festival celebrates the produce of the Granite Belt Region.
The event is held over 10 days and attracts tens of thousands of visitors. The festivities include art exhibitions, food fiestas, poetry competitions and town parades culminating in the grape crushing.
Location: Events are held in various locations all over Stanthorpe
Opening Hours: Friday 23 February to Sunday 3 March 2024 and every second year after that
Cost: Entry is free although some festival events are ticketed
27 Stanthorpe Berry Festival
Stanthorpe is a real foodie place so it shouldn't be a surprise that they have not one but two major food festivals. The Berry Festival is held annually in November when Stanthorpe goes strawberry crazy.
There are taste testings, eating competitions and cooking demonstrations, often with celebrity chef showings. It's a perfect day out for berry fans of all ages and one of the great things to do in Stanthorpe in Summer.
Location: Weeroona Park, Marsh Street, Stanthorpe
Hours: All day 18 November 2023 and every year
Cost: Ticket prices vary by event
28 Granite Belt Maze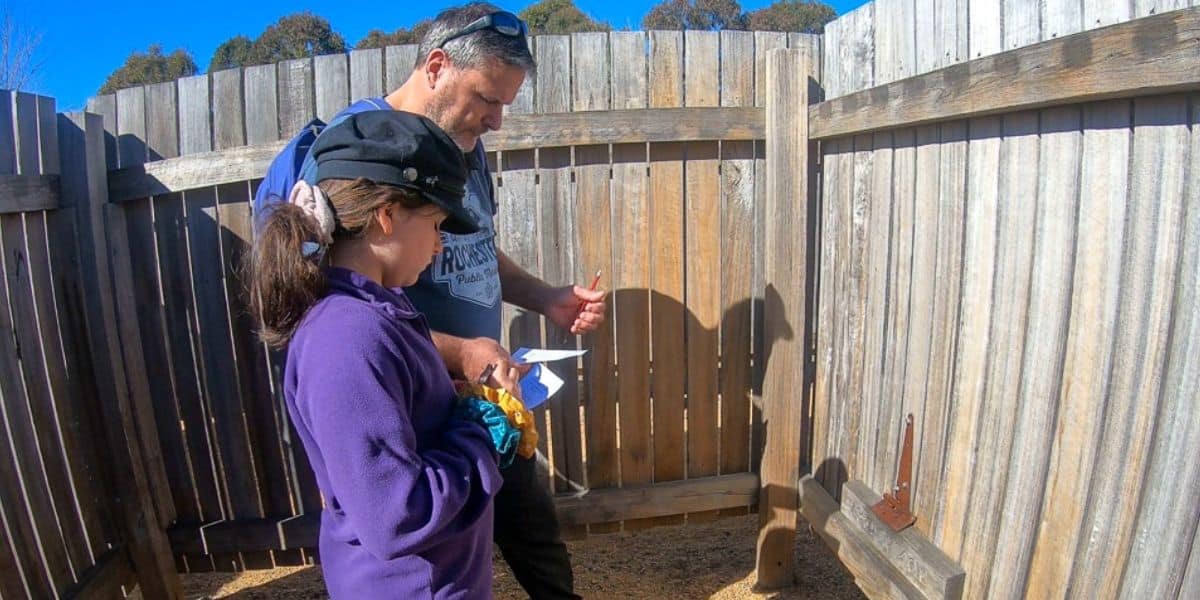 A fun Stanthorpe activity for kids is the Granite Belt Maze and Mini Golf. Admission here buys you a chance to play at the 3 different timber mazes plus the 9 hole mini golf course and giant chess.
The mazes are each of varying degrees of difficulty with a large main maze for all ages to enjoy as well as two smaller mazes designed for kids to enjoy on their own.
If you're up for a double challenge, as you go through the mazes, you can look for clues to complete a few riddles the staff give you as you arrive.
Location: 364 Old Warwick Rd, Glen Niven
Hours: Daily (except Tuesdays and Wednesdays) from 9 am to 5 pm, open daily during school holidays and closed during the month of February. Best to double check opening hours via their website.
Price: $18 per adult | $13 per child (5-16) | Family Pass $56 (2A+2C)
29 Stanthorpe Regional Art Gallery
Seeing local art is a great way to learn about the culture and heritage of a place and the Regional Art Gallery is the place to go to do that. The collections feature both local Stanthorpe artists and works from other Australian artists in formats ranging from textile to photography.
Location: Stanthorpe Civic Centre (during renovations), 61 Marsh Street
Opening Hours: Tuesday – Friday 10 am to 4 pm | Weekends 10 am to 1 pm
Price: Free entry
30 Enjoy handmade pastry from ZEST Pastries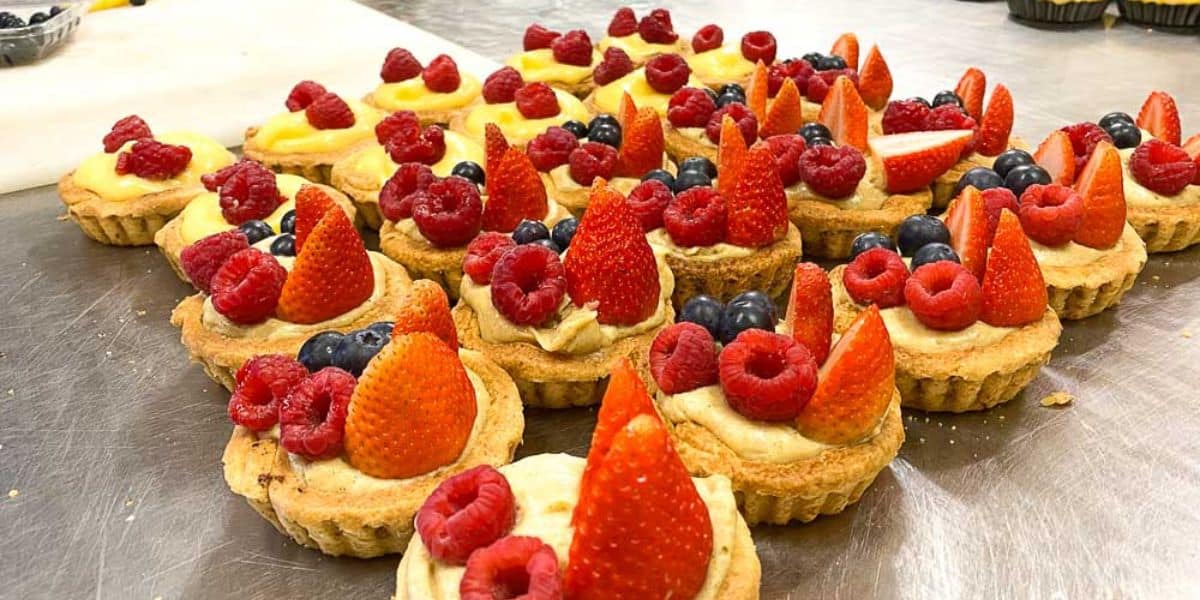 Zest Pastries was started by Stephen Lambert in 2013 and he has made every single pastry since day one.
Zest's offerings include homemade bread, pies, sourdough, tarts, croissants and danishes. And if you want something more substantial than the delicious pastries, they serve breakfast and lunch most days.
For any budding pastry chef, Stephen also offers workshops for pretty much anything you want to make. The workshops are BYO so you can enjoy local wine as you learn.
Location: 54 Maryland St, Stanthorpe
Hours: Tuesday to Friday 7 am to 4.30 pm | Saturdays 7 am to 2 pm.
Price: Most items start at around $9
31 Learn to be a Winemaker for a weekend
Speaking of local wine, if you've ever wanted to try making some then Stanthorpe is the place. Queensland College of Wine Tourism's 'Winemaker for a Weekend' program lets you spend two days learning how to pick, crush and press grapes and the art of fermentation.
There is plenty of delicious local food and wine served up over the weekend although you have to come back some months later to try your own wine once the bottling process is complete.
Location: 22 Caves Road, Stanthorpe
Hours: The course is 9 am to 3 pm and is held usually once a month
Price: $395 per person
32 Heavenly Chocolate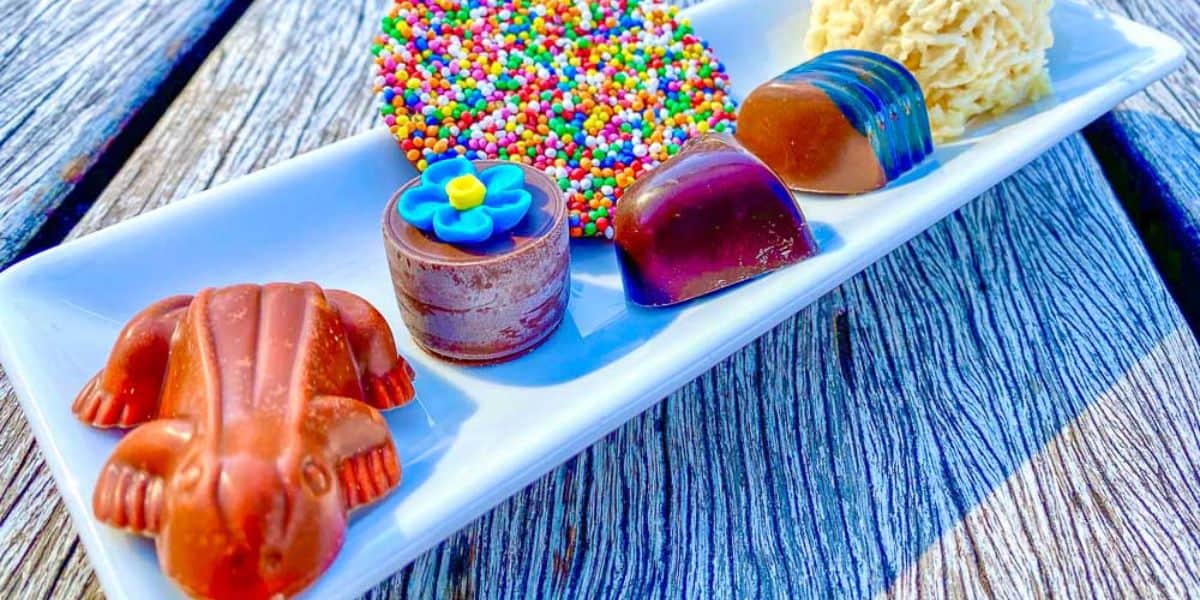 There aren't many things to do in Stanthorpe with kids tastier than a trip to the Heavenly Chocolate Shop at Wisteria Cottage. If you're visiting in winter, then it's the perfect place to get warmed up with a very rich cup of European style hot chocolate – they have over 20 different flavours to choose from!
After a morning of bushwalking in Girraween National Park or along Quart Pot Creek, you'll have worked up an appetite for the yummy treats which you can enjoy outside at one of the tables by the chook pens.
Location: Pyramids Road, Stanthorpe – not far from the entrance of Girraween National Park
Hours: Friday to Monday from 10 am to 4 pm
Price: Depends on how much you buy!
33 See snow in winter!
If you thought it doesn't snow in Australia or in Queensland, you'd be wrong! So if you want to see a winter wonderland down under, then Stanthorpe is the place to see as it's officially Queensland's coldest town.
While it doesn't snow every year and if it does snow, it's usually fairly light and only a day here and there. Although Stanthorpe has been known to be blanketed in snow – but it's rare. When it does snow – you'll see an influx of tourists in town as seeing snow really is one of the top things to do in Stanthorpe in winter.
If it doesn't snow – there's always the Snowflakes in Stanthorpe festival, held annually on the last weekend in June. The festivities include ice skating, snow fights and wintery food stalls.
Location: Anywhere in town
Hours: Coldest days are usually in late June/July
Price: Free
BEST HOTELS IN STANTHORPE
Looking for somewhere to stay in Stanthorpe? We recommend making your booking through Booking.com as they offer a wide range of hotels and most with free cancellation, which is ideal for last minute changes.
However, if you want our recommendation for a hotel, below we've listed our top pick for a luxury hotel, family hotel, mid range and budget hotel.
A short drive out of Stanthorpe centre, the Granite Gardens Cottages are perfect for anyone wanting a country retreat. The cottages are set on a large 5 acre property dotted with trees, ponds, manicured gardens and streams.
The property offers four stand alone cottages, all suitable for couples. The cottages come with a kitchenette featuring a stovetop, fridge, coffee machine and microwave, a cozy fireplace, and a private balcony.
There are two types of standalone cottages, both with large beds suited to a couple and plenty of outdoor space for barbecues or just reading on the porch. Spa cottages come with a spa and private deck with views of the gardens and lake.
Cottages also come supplied with locally sourced breakfast supplies as well as a cheese board and homemade sweets.
Click here for more information or to book.
On the main street of Stanthorpe, the Apple and Grape Motel is perfect for families wanting to be a short walk away from the supermarket, shops, cafes and restaurants and convenient to all the Stanthorpe tourist attractions.
The motel is well suited to groups of different sizes with queen, twin and family rooms. The family rooms have a double and two single beds all in the one room. The rooms are all fairly open plan with a kitchenette and dining table – so you can self cater for the family.
Road trippers will appreciate the undercover parking available onsite and the motel also offers wifi and in-room TVs.
Click here for more information or to book.
For any beer lovers who dream of sleeping in a brewery, the Granite Belt Retreat is a dream come true. And for anyone else who thinks that a brewery sounds like a terrible place to spend the night then think again, this bush retreat is made up of very romantic cabins in the woods.
There are several different types of cabins from spa chalets to family and pet-friendly options. There is even a 4 bedroom house option for large families or friend groups.
All cabins have wood fires to help you stay cosy in Granite Belt winters plus tea and coffee making facilities. The property has wifi but it doesn't reach all cabins perfectly so you may need to go up to the lobby to check those emails.
Even though there are no real kitchens in the cabins, you can pop down to the on-site restaurant for lunch or dinner or a housemade craft brew.
Click here for more information or to book.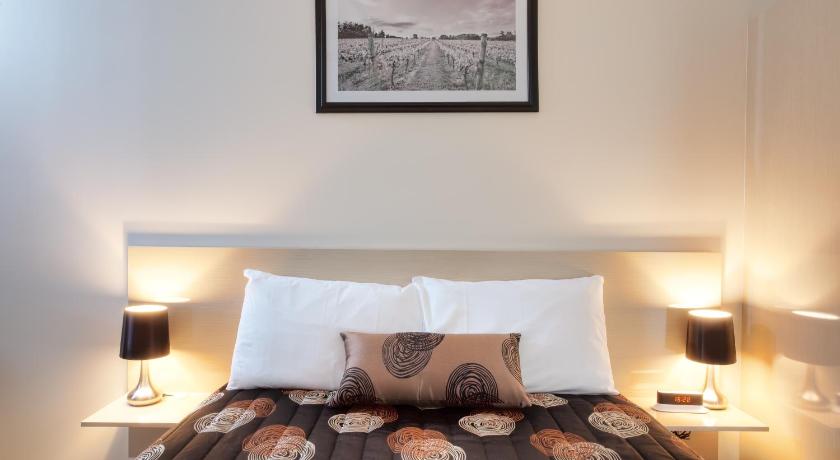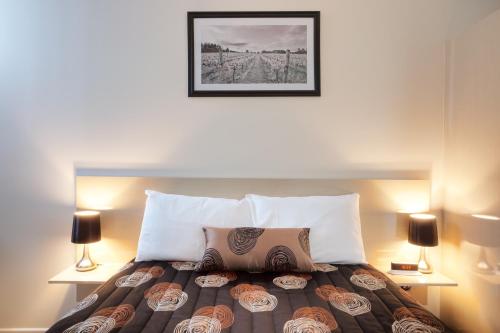 While the High Street Motor Inn might be a budget option, you don't have to make too many compromises, you can even get a steak dinner on-site. It's only a few steps from your room to dinner or cocktails at the Aussie Beef Steakhouse.
The Motor Inn's rooms come in double, twin and family configurations (2 singles and a double) with small kitchenettes for making tea, coffee and toast. The larger rooms also have a dining table and microwave.
The property doesn't have a ton of amenities but it's only a short drive from the centre of town and great value for money if you're looking to make your dollar go further in Stanthorpe.
Click here for more information or to book.
ENJOY STANTHORPE!
Hopefully, this guide has given you lots of inspiration on things to do in Stanthorpe.
If you're planning a trip to Stanthorpe, I highly recommend you check out our guide to Southern Queensland Country which provides links to everything you need to know to plan your trip.
I'd also recommend you join our free Queensland Travel Guide Facebook community, where you can ask all your questions and find even more great trip suggestions.
If you're heading to Stanthorpe, you might also be interested in the following nearby destinations:
Toowoomba (coming soon)
Scenic Rim (coming soon)