Are you planning a trip to Rathdowney? This article covers all the very best things to do in Rathdowney, including tourist attractions, activities and places to visit.
The Queensland Travel Guide acknowledges the Mununjali, Yugambeh and Ugarapul People, the Traditional Custodians of the land on which the Scenic Rim is situated. We pay our respects to their Elders past, present and emerging, and recognise their continued spiritual and cultural connections to country. Always was, always will be, Aboriginal land.
Rathdowney can be found in the glorious Scenic Rim region of Queensland, 34 km south of Beaudesert. This tiny rural town is known as the gateway to Mount Barney National Park, so it's the perfect base if you're planning a Mt Barney hike or one of the short Mt Barney walks.
With a focus on the wild and wonderful landscape, Rathdowney is a peaceful destination with opportunities for all kinds of leisure activities, from lawn bowls and fishing to horse riding and tennis.
The town itself may be quiet, but it has everything you need to enjoy your stay (as well as to stock up before you take a Mount Barney hike.)
Love camping? Rathdowney has camping options nearby, but if you prefer to sleep in a bed and enjoy the view from more comfortable surroundings, there are a range of accommodation options in the area.
So let's get into it and help you discover the best things Rathdowney has to offer during your visit to the region.
This post may contain compensated links. Please refer to our disclaimer here for more information
THINGS TO DO IN RATHDOWNEY MAP
Before we get started on all the things to do in Rathdowney to help you plan your itinerary, check out the map below. This map shows the location of everything we've covered in this Rathdowney guide.
BEST THINGS TO DO IN RATHDOWNEY
Below we cover the best things to do in Rathdowney and the surrounding area.
1 Mt Barney National Park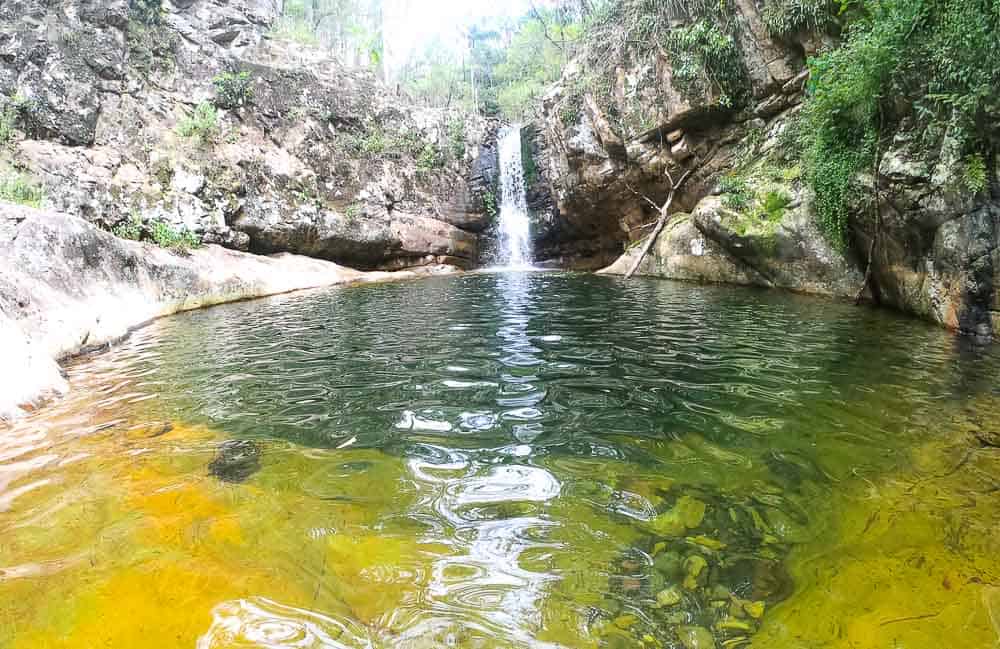 Less than an hour from Rathdowney, Mt Barney National Park offers visitors a chance to enjoy nature as well as the peace and quiet. The park is home to one of Queensland's highest peaks and offers a picturesque backdrop of rolling terrains and dense forests.
There are four walking tracks around the base of Mount Barney (all classified as grade 4 walking tracks), as follows:
Yellow Pinch Lookout: 2 km return steep walk, providing fantastic views of Mount Barney from the top. Allow at least one hour to complete this walk.
Cronan Creek Falls: 12 km return easy walk, takes you along the crystal clear creek, through the rainforest to Cronan Creek and Cronan Creek Falls (pictured above), where you can take a dip before returning. Allow at least four hours to complete this walk.
Lower Portals:7.4 km return walk, which takes you to a deep natural swimming pool set within the gorge of Mount Barney Creek. Allow at least 3 hours to complete this walk.
Upper Portals: 8 km return walk, which takes you past where the water continues to carve out smooth channels through the rock. Allow at least 3 hours to complete this walk.
There are no official walking tracks to the summit, but there are routes that experienced, confident scramblers can take to reach a rewarding view at the top.
There are picnic areas, BBQs and toilets adjacent to the main entry, and you can even join an organised bushwalk on occasion.
Location: Upper Logan Road, Mount Barney
Hours: Always open
Price: Free
2 Scenic Rim Adventure Park
The Scenic Rim Adventure Park offers a thrilling escape on its 680 acres for visitors of all ages. There are various outdoor activities, including mountain biking trails, 28 km of 4WD tracks or trails to explore the area on foot.
The park also has fourteen camping areas spread out around the area. There are toilet blocks within walking distance of all camping areas, but hot showers are only at the entrance. For those who prefer a little luxury, glamping tents are available for hire.
Other facilities on site include basic children's play areas, tyre games and a maze. The park is also perfect for spotting wildlife such as koalas and wallabies.
Location: 636 Tamrookum Creek Road, Tamrookum Creek
Hours: Daily from 8 am to 6 pm
3 Captain Logan Lookout Park
Captain Logan Lookout Park is well worth checking out if you want to catch some great views. Named after the early explorer Captain Patrick Logan, this spot is peaceful, overlooking Rathdowney.
The park has great signage, so you'll get the lowdown on the local history and the park's native birdlife.
If you're thinking of a picnic with a view, there are spots to lay down your blanket and enjoy the peace and quiet.
Location: John Street, Rathdowney
Hours: Always open
Price: Free
4 Rathdowney Historical Museum (and Visitor Information Centre)


Image credit thanks to Tourism and Events Queensland
The Visitor Information Centre is a great place to learn a few things about the area and has a selection of brochures, leaflets and information on what there is to see and do in the area.
The Rathdowney Historical Museum was opened in 1984 and is within the Visitor Information Centre building. It showcases a collection of artifacts, photographs, and memorabilia, bringing to life the stories and traditions of Rathdowney's past.
Volunteers from the local community have put the collection together, which includes historical buildings such as the prison hut, an old shop and the tramway building. There is also a World War 1 cabinet and family histories from the area.
Location: 82 Mt Lindesay Highway, Rathdowney
Hours: Daily from 9 am to 3 pm
Price: Gold coin donation for the museum
5 Barney Creek Vineyard and Cottages
Barney Creek Vineyard and Cottages produce a range of high quality wines that are available for purchase at their cellar door.
Adjacent to the vineyards are the cottages, overlooking rows of grapevines. The cottages are well-equipped, blending rustic charm with modern amenities that ensure a comfortable stay.
Visitors to Barney Creek can enjoy wine tastings, vineyard tours or just walks among the vines. The combination of fine wines, comfortable accommodation and nature makes Barney Creek Vineyard and Cottages a great destination for wine enthusiasts and nature lovers.
Location: 198 Seidenspinner Road, Mount Barney
Hours: Cellar door open for tasting on weekends from 10 am to 4 pm from April to August | Wine can be purchased from reception or online at other times
6 Yarriba Dreaming Indigenous experiences
If you're looking for a local cultural experience while visiting the area, Yarriba Dreaming offers half day, full day and even three day cultural tours. Each tour is rooted in the Goori way, emphasising connection to the land, nature and ancient traditions.
Activities included in the tours range depending on the length but include things such as meditation at sunrise, learning survival skills (including shelter building and fire making and bush tucker hunts), smoking ceremonies, traditional storytelling around a campfire, a camp oven dinner and self made sweet damper.
The experience culminates in a reflective picnic and a farewell smoking ceremony, preparing participants for their onward journey.
Location: Mount Barney Lodge, 1093 Upper Logan Road, Mount Barney
Hours: Tour dates vary, so check the website
Price: Half day tours $150 per person | Full day tours $250 per person | 3 day tours $1995 per person
7 Rathlogan Grove Olive Farm and Shed Cafe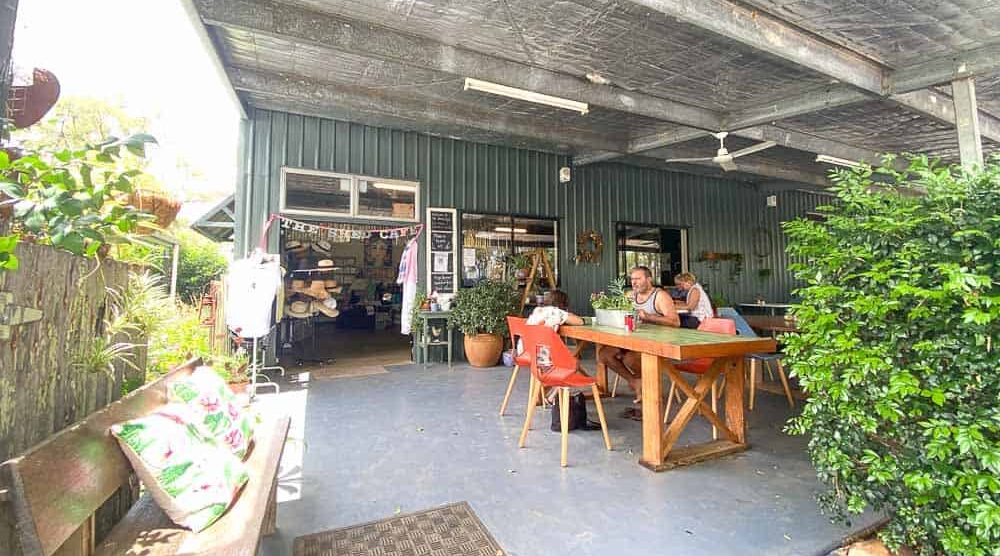 At Rathlogan Grove, they harvest and press premium olives to produce top quality olive oils from their grove of 1200 olive trees. Their olives are hand picked and processed on site.
If you'd like to sample some of their produce, head to the Shed Cafe, open on weekends. Here, you can purchase Rathlogan Grove olives, oils and tapenades and indulge in a delicious menu that champions local produce, with the star ingredient being the farm's olive oil.
Location: 4 Upper Logan Rd, Rathdowney
Hours: Weekends from 8 am to 4 pm
Price: Lunch from $15 | Cakes from $5
8 Mountain biking
Thanks to the rugged landscape, keen mountain bike riders will find an abundance of great trails within about 30 minutes of Rathdowney. There is a great choice of cross-country, downhill, and technical trails with jumps that suit riders of varying abilities.
The closest options are Tamrookum Creek Bike Park and Kooralbyn Valley Mountain Bike Park, which both offer shuttle services to the park. Make sure to check open days, though as they are sporadic and organised around their planned events.
If you don't mind the approximately 35 minute drive, though, Mount Joyce Mountain Bike Trails is one of the best spots in the area, with over 30km of trails. These range from green trails (suitable to most skill levels) to double black diamond trails for experienced riders. They are open most weekends and have a shuttle service to get you safely to the top of the trails.
9 Oaky Creek Farm and Harvest Cafe
The Harvest Cafe is a great spot to enjoy views of the hinterland and gardens while enjoying a delicious bite to eat. Most dishes are made with fresh, locally sourced ingredients and the menu changes seasonally.
The farm produces more than 50 types of fruit and vegetables but specialises in producing garlic, ginger, and turmeric and their garlic salts are very popular.
Location: 08 Oaky Creek Road, Oaky Creek Qld 4285
Hours: Weekends from 8 am to 3.30 pm
Price: Lunch from $18
10 Rathdowney Hotel
The Rathdowney Hotel, known by locals as the "Rathy Hotel", has been a prominent landmark in the town since the early 1900s. The hotel's bar and dining area offer a range of local brews and a menu filled with typical Australian cuisine.
Accommodation options are available for those wishing to extend their stay, making it a convenient stopover for travellers exploring the Scenic Rim region.
Location: Corner of Collins Street and Mt Lindesay Hwy, Rathdowney
Hours: Pub opening hours vary throughout the year, so give them a call
Price: Meals from $12
11 Go fishing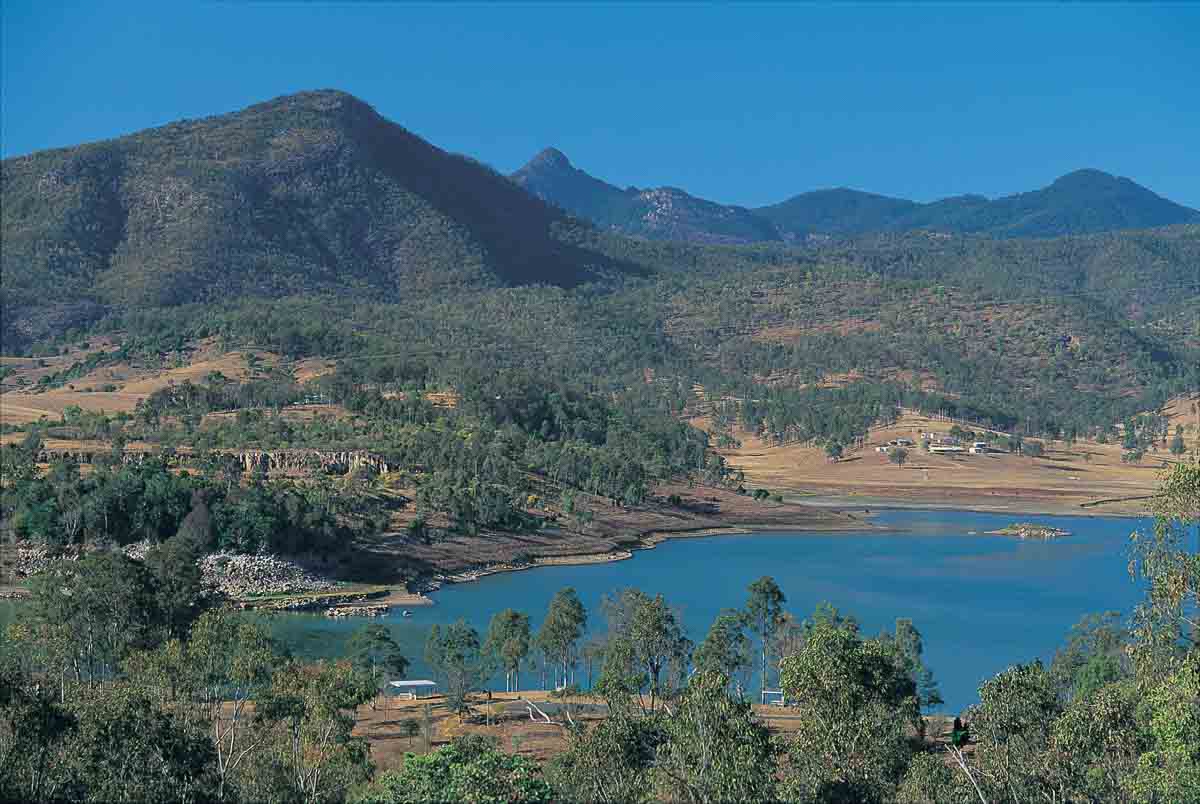 Image credit thanks to Tourism and Events Queensland
Fishing in the area is great, thanks to the proximity to various waterways, and the area offers a diverse range of fishing opportunities.
The Logan River and Maroon Dam are two primary spots for anglers. You can catch freshwater species like Australian bass, yellowbelly, and the occasional catfish. The waters are serene and the views are scenic, so a day fishing is definitely peaceful.
Apart from these spots, nearby dams and smaller creeks are also potential fishing locations. Likewise, many of these spots are fairly private and surrounded by peace and quiet.
12 Rathdowney Lawn Bowls
For anyone who loves a game of barefoot bowls, a visit to the Rathdowney Memorial Bowls Club on a Friday or Saturday is a must.
Open since 1987 and located right in the centre of town, the club is a well established place with great facilities and friendly locals to share a game with. You can also book the place out for parties and special occasions.
Location: 86 Mt Lindesay Highway, Rathdowney
Hours: Fridays from 9 am to 5 pm | Saturdays from 9 am to 1 pm
RATHDOWNEY DAY TRIPS
While visiting Rathdowney, you can do some great day trips from the area.
For most of these places, it's recommended you stay at least a few days in each, but if you only have a day, then a day trip is possible.
Springbrook National Park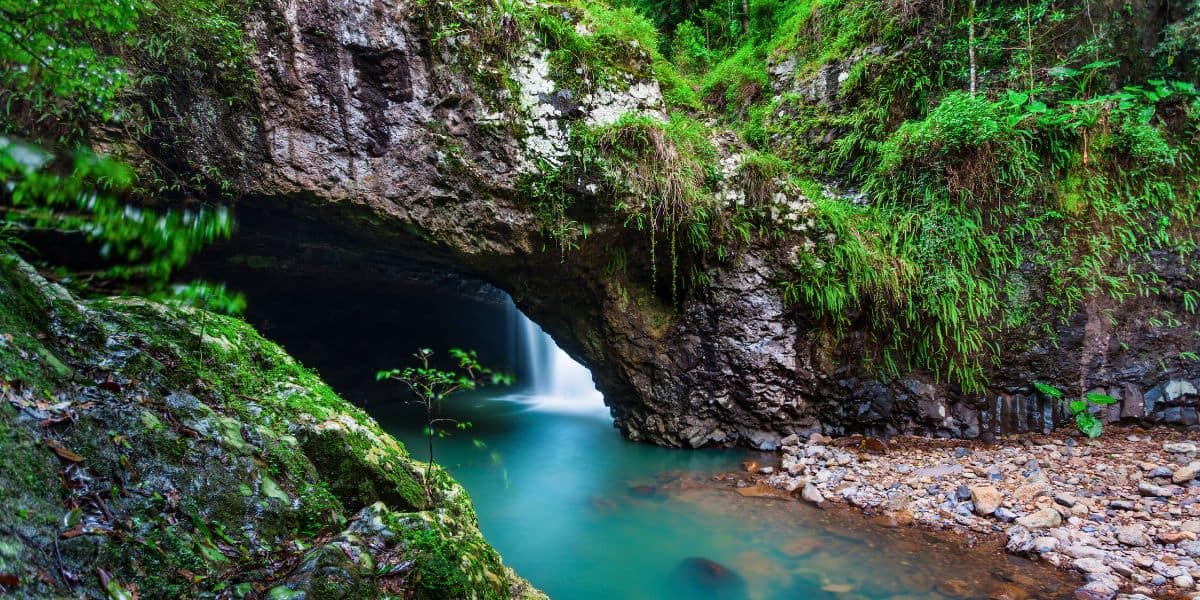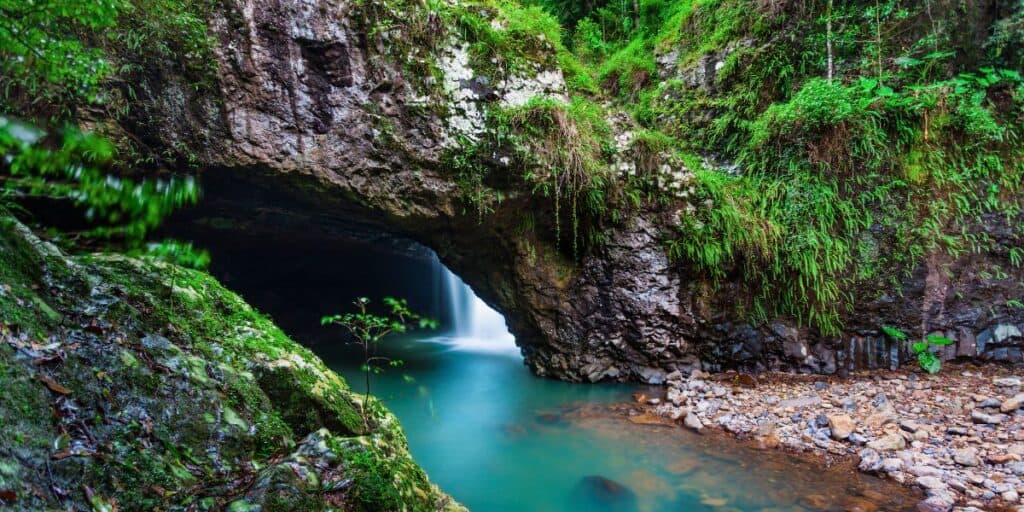 Springbrook National Park is a World Heritage-listed sanctuary encompassing over 6,000 hectares; the park is celebrated for its stunning natural features and rich biodiversity.
One of the most popular spots is the Natural Bridge, a rock arch formed by the cascading waters of a waterfall, slowly eroding the rock beneath. Beneath this bridge, a cave hosts a colony of glow worms, producing a bioluminescent display after dark.
The Purling Brook Falls is another highlight, with water crashing nearly 100 meters into the valley below. The Best Of All Lookout offers sweeping views that stretch to Mount Warning and, on clear days, even as far as Byron Bay.
Home to tons of flora and fauna, including several rare and endangered species, Springbrook National Park is a vital conservation area and there is a great chance to do some animal spotting.
A range of Springbrook National Park tours are available. Click here to see what's available.
Brisbane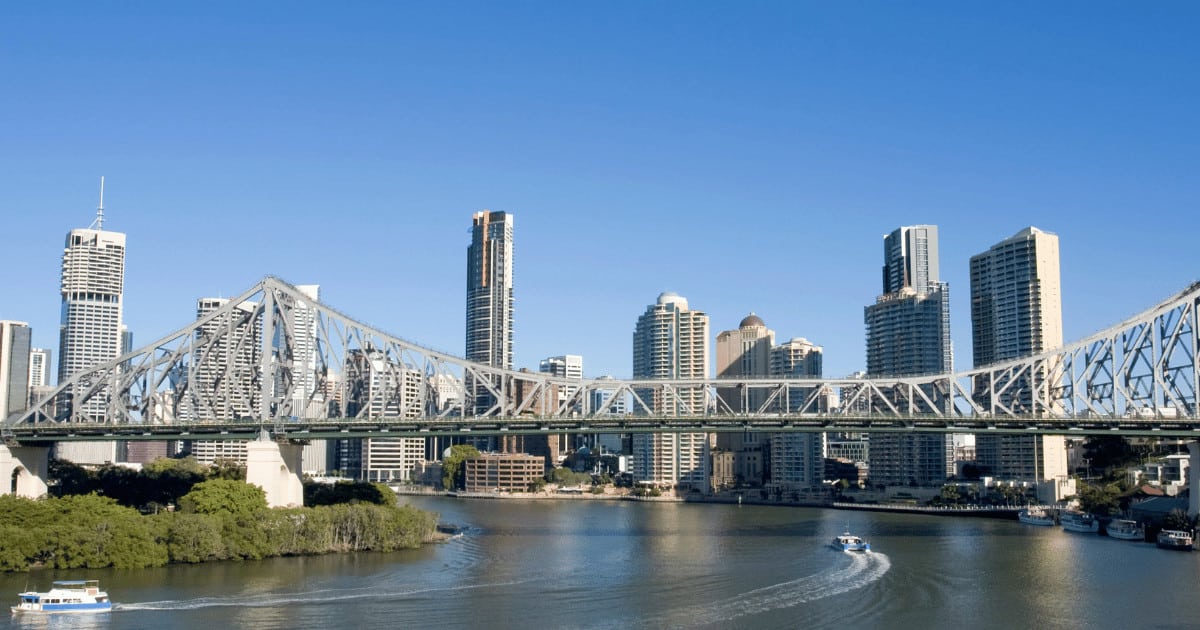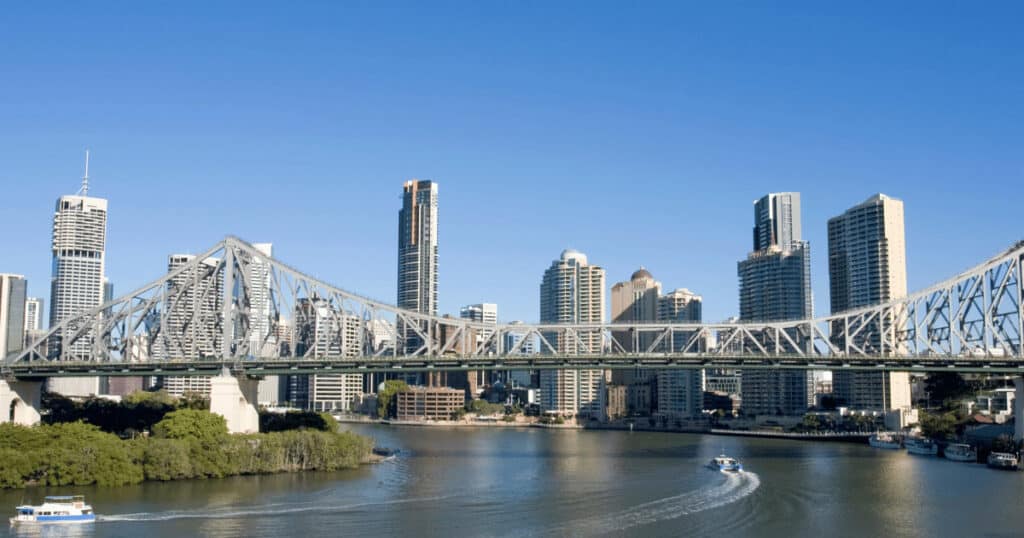 At just over an hour and a half drive from Rathdowney, a day trip to Brisbane is possible for those wanting to visit the Queensland capital.
Brisbane is laid back and vibrant, featuring everything from lush parklands and gardens to modern galleries and cosmopolitan waterfront dining.
There are so many attractions to choose from in Brisbane. There are the Queensland Museum, QAGOMA (The Queensland Art Gallery and Gallery of Modern Art) and the National Maritime Museum for culture seekers.
For wildlife lovers, there is Lone Pine Koala Sanctuary. There are Roma Street Parkland and the tranquil Southbank Parkland for lovers of gardens. There is the bridge climb, rock climbing and kayaking for thrill seekers.
Lastly, you can't beat a simple stroll along the river or a swim at the iconic Streets Beach.
Click here for our full guide on things to do in Brisbane.
Gold Coast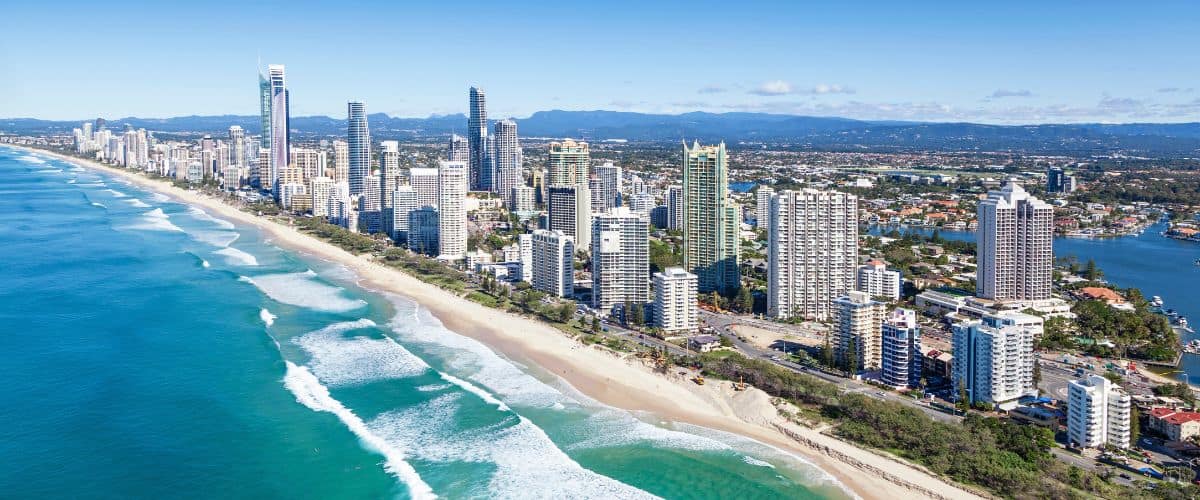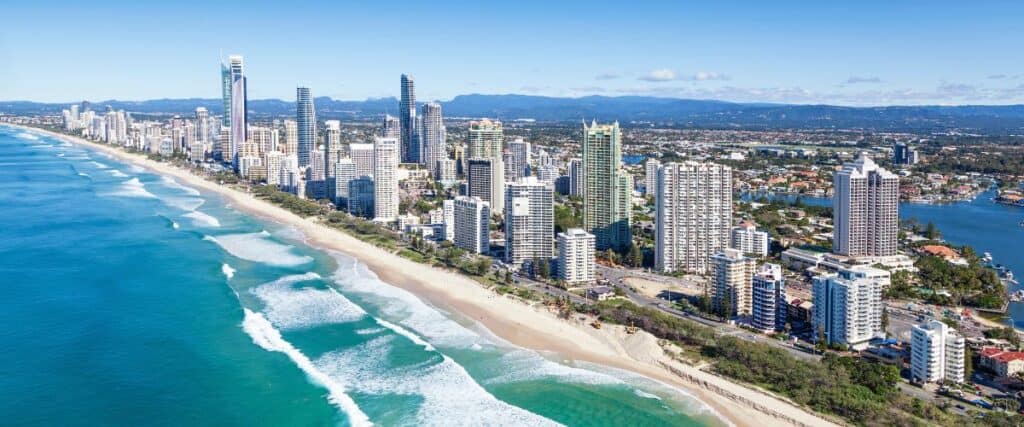 The Gold Coast stands as one of the must-visit spots in Queensland. If you're in Rathdowney, consider pencilling in a day excursion to this coastal gem.
A pristine blend of sandy shores and exciting attractions, the Gold Coast offers a refreshing contrast to the hinterland's tranquillity.
For those chasing adrenaline, the coast boasts thrilling amusement parks such as Warner Bros. Movie World, Wet 'n' Wild, Dreamworld, WhiteWater World, and SeaWorld, making it a delightful detour from Canungra.
But it's not just about theme parks. Dive into activities like surfing, embark on a serene hot air balloon ride, or paddle through the waters with kayaking.
With only a day to explore the Gold Coast's myriad offerings, you'll be spoilt for choice, as every corner promises a new adventure.
Click here for our full guide on things to do on the Gold Coast.
WHERE TO STAY IN RATHDOWNEY
Looking for places to stay in Rathdowney or camping near Rathdowney? It is recommended that you book accommodation through Booking.com as they offer a wide range of room types most with free cancellation, which is ideal for last minute changes.
However, if you want our recommendation for where to stay in Rathdowney, we've listed our top picks for luxury and family accommodation and the best options for camping near Rathdowney.
Tuckeroo Cottages and Gardens is just a 12 minute drive from Rathdowney. The cottages offer great views of the surrounding mountains and valleys, making it a top choice for nature lovers.
Each cottage has all the necessary modern facilities, ensuring a comfortable stay. Expect a spacious interior with a log burner to help you stay cosy, a modern bathroom, well equipped kitchenette (including a dishwasher and coffee machine) and a deck with a view.
Guests can make use of a range of amenities, such as a common area with BBQ facilities and a wood fired pizza oven.
While it feels like a secluded paradise, it's conveniently situated close to Rathdowney and nearby attractions. Tuckeroo Cottages and Gardens is a blend of great facilities, breathtaking views, and adorable cosy cottages.
Click here for more information or to book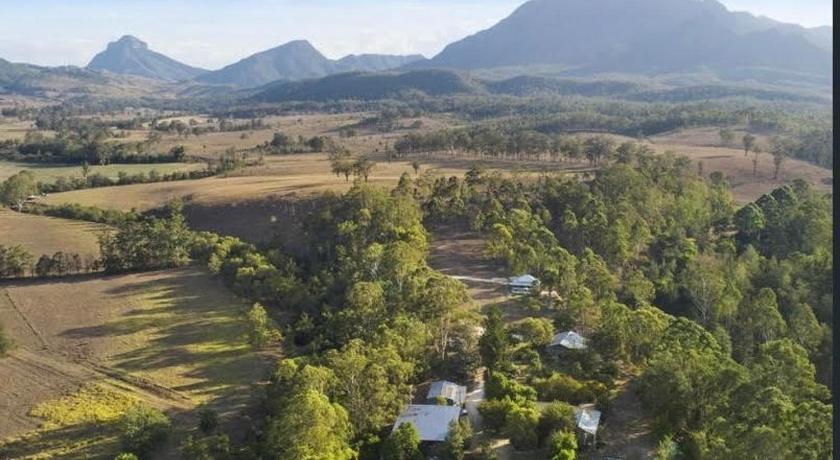 Barney Creek Vineyard Cottages, just a 25 minute drive from Rathdowney, are an idyllic escape right in the heart of wine country.
There is just one family cottage at Barney Creek, which features four bedrooms, each with a double bed. There's also the option of adding a cot if necessary. The cottage also features two modern bathrooms, a fully equipped kitchen, and inviting living spaces.
Outside is where this family accommodation really shines – thanks to the private swimming pool. There is also a creekside deck with a fire pit and a BBQ on the verandah.
Of course, the vineyard property also offers parents the chance to enjoy wine tasting sessions where they can sample the estate's finest blends.
Those considering a stay at Barney Creek Vineyard Cottages get a combination of nature and the charm of vineyard living with comfortable, modern accommodation, making it a great choice for a family retreat.
Click here for information or to book
Best camping options
Rathdowney and the surrounding area is well known for its fantastic camping spots. Below are a few to consider.
Bigriggen Park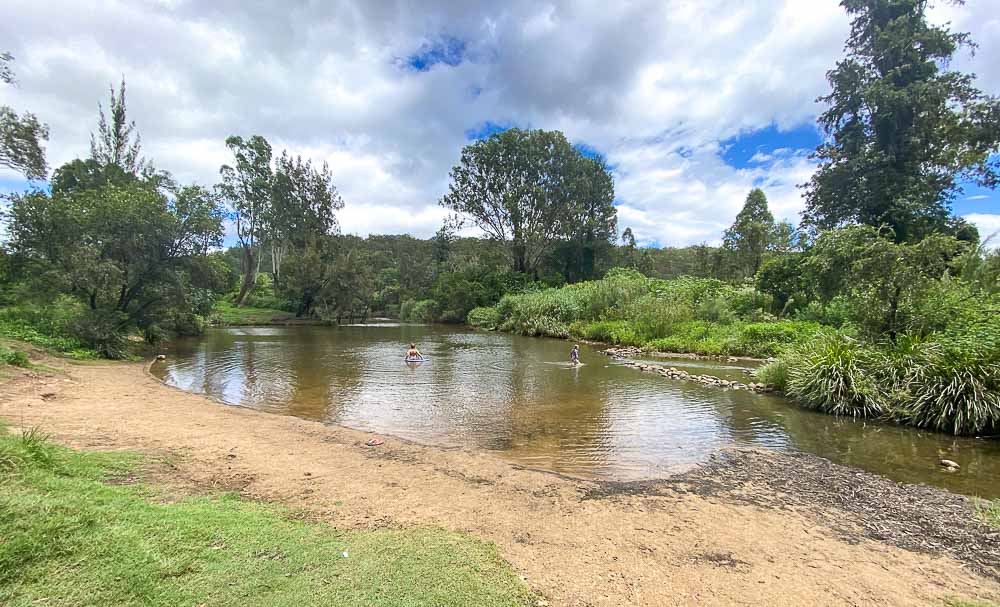 Surrounded by stunning landscapes, Bigriggen Park, just 10km outside of Rathdowney, offers various camping options to suit all kinds of campers.
Whether you're looking for powered sites for caravans and motorhomes or unpowered sites for tents and swags, they've got you covered. Each area is spacious, allowing for privacy while being close to the campsite amenities.
The facilities include amenities blocks, BBQ facilities, and a camp kitchen to ensure you have all the conveniences of home. The park even has a children's playground, ensuring young adventurers have plenty to entertain them. Those wishing to cool off can even take a dip in the river.
For those contemplating a camping trip, Bigriggen Park offers a blend of natural beauty, top notch facilities, and a convenient location, making it an excellent choice for all campers, even those with dogs.
Click here for information or to book
Flanagan Reserve Bush Camping
Flanagan Reserve Bush Camping, just 15 minutes from Rathdowney, is a great option for those seeking an authentic Australian bush camping experience.
Flanagan Reserve provides ample space, Whether you're bringing a caravan, pitching a tent, or setting up a swag under the stars. There are no marked campsites or powered sites here; guests are just free to find their own perfect spot.
Facilities include well maintained amenities blocks (showers are 20c per minute), BBQ setups, and even a dedicated area for campfires, perfect for those chill evening gatherings. For families, the reserve offers safe swimming areas, making it kid-friendly.
The reserve is 2WD accessible, so those with a smaller vehicle don't have to worry, and it is also pet-friendly. The reserve's prime location also positions it as a gateway to the broader Scenic Rim and some great national parks and hiking trails.
Flanagan Reserve Bush Camping offers a mix of untouched nature, convenient facilities, and a strategic location, promising an unforgettable bush camping adventure for all.
Click here for information or to book
Mt Barney Lodge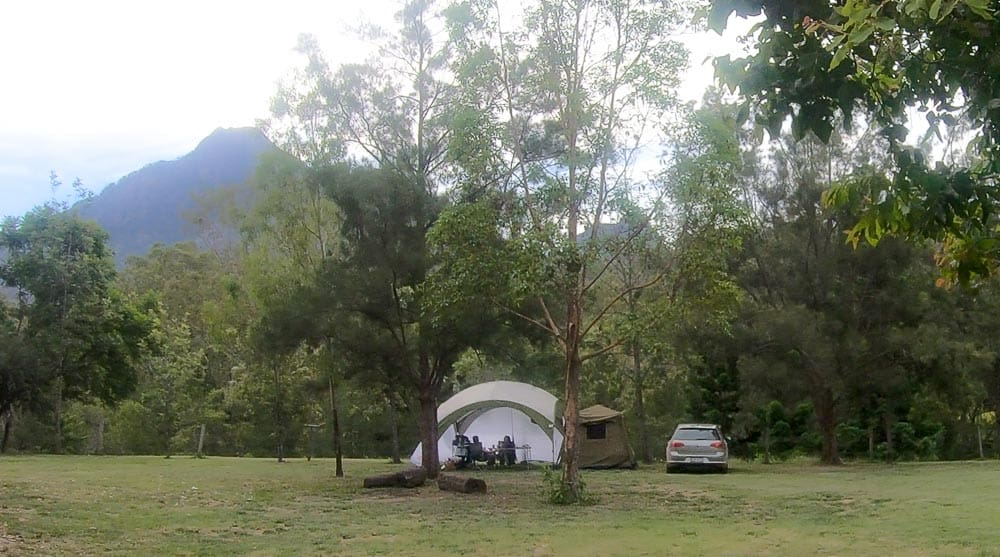 Mount Barney Lodge, set against the impressive backdrop of Mount Barney, offers a perfect blend of rugged beauty and creature comforts just a 20 minute drive from Rathdowney.
Whether you're keen on unpowered tent sites, want a powered site for your camper trailer or caravan, or desire more luxury in their eco-tents, Mount Barney Lodge meets everyone's needs. Each site is thoughtfully positioned, ensuring guests enjoy the natural surroundings while maintaining privacy.
You'll find clean amenities blocks, communal cooking areas equipped with BBQs, and fire pits for that quintessential camping experience (firewood is also for sale on-site). For the more adventurous, the lodge organises guided ascents, nature walks, and even wilderness courses.
Its proximity to Rathdowney ensures easy access to town conveniences, while its location provides the perfect base for exploring the renowned Mount Barney National Park and its various trails.
Click here for information or to book
ENJOY RATHDOWNEY!
Hopefully, this guide has given you lots of inspiration on things to do in Rathdowney.
If you're planning a trip to Rathdowney, I highly recommend you check out our Scenic Rim guide, which provides links to everything you need to know to plan your trip.
I'd also recommend you join our free Queensland Travel Guide Facebook community, where you can ask all your questions and find even more great trip suggestions.
If you're heading to Rathdowney, you might also be interested in the following nearby destinations: