Are you planning a trip to Heron Island? This article covers the best things to do on Heron Island, including tours, activities and how to get there.
The Queensland Travel Guide acknowledges the Taribelang Bunda, Gooreng Gooreng, Gurang, and Bailai Peoples, the Traditional Custodians of the land on which Heron Island is situated. We pay our respects to their Elders past, present and emerging, and recognise their continued spiritual and cultural connections to Country. Always was, always will be, Aboriginal land.
Main image credit thanks to Tourism and Events Queensland & Mark Fitz
Heron Island is a gorgeous little coral cay on the Great Barrier Reef off the coast of Gladstone. Its stunning coral reefs and abundant marine life make it the perfect destination for an island getaway.
Despite being a small island, there are plenty of Heron Island activities to keep you busy, whether you're there for a few days or a week. Spend your days swimming, snorkelling and diving in the crystal clear waters around the island. Expect to see various marine life, including colourful reef fish, sea turtles, and even manta rays.
For those who prefer to stay on land, there are still lots of things to do Heron Island offers, such as beautiful walks, bird watching, marine biologist talks, and relaxing by the pool – you can even spot turtles laying eggs and little hatchlings at certain times of the year.
For those considering a holiday to the Island, this Heron Island things to do guide will help you plan your trip.  The guide covers all the different activities on the island, accommodation options, and how to get there.
This post may contain compensated links. Please refer to our disclaimer here for more information.
BEST THINGS TO DO ON HERON ISLAND
Below we cover all the top things to do on Heron Island.
1 See the turtles nest and hatch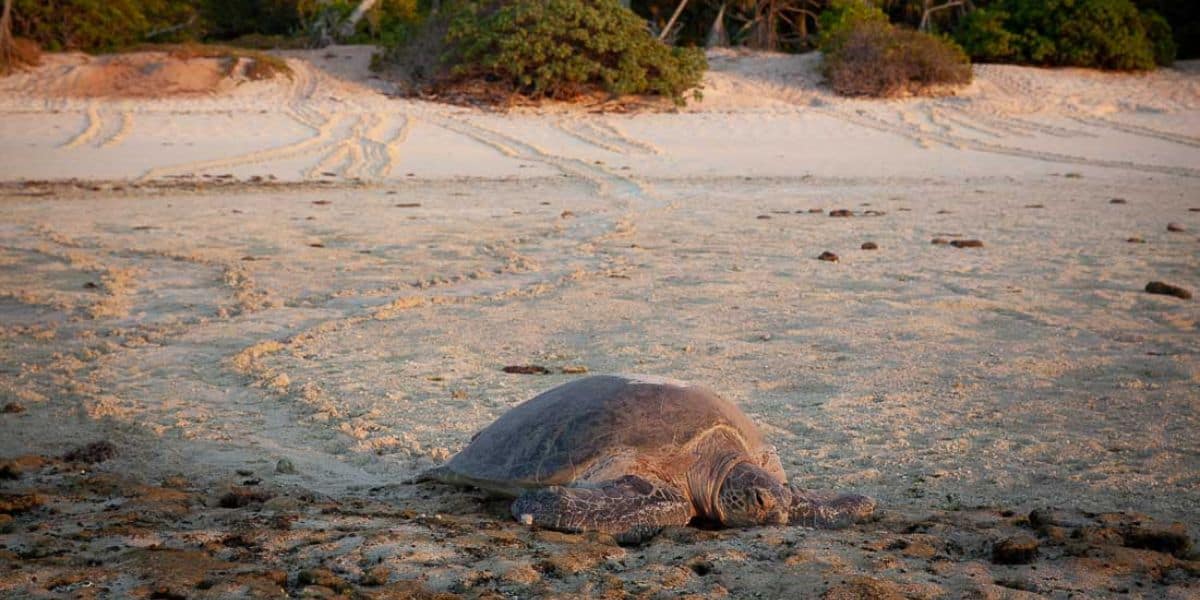 Image credit thanks to Tourism and Events Queensland & Michelle Schofield
One of the most exciting things about visiting Heron Island is that it's a nesting location for Loggerhead Turtles and Green Turtles, so it goes without saying that one of the best things to do in Heron Island is to see turtles nest and hatch.
To experience the fascinating nesting season, you should visit between October and May. This is when turtles lay their eggs, and later in the season, you can watch the hatchlings make their way across the beach into the ocean for the first time. Watching turtles nest or hatch is a truly special event you shouldn't miss if you plan a trip to Heron Island.
The best time of day to watch the turtles return from the ocean and crawl across the beach to nest is at nighttime, two hours on either side of high tide. Sunset and sunrise are the best times to see the hatchlings make their monumental first trip into the ocean!
Although you can watch the turtles independently, it's highly recommended that you make the of this exceptional experience by joining one of the free guided turtle walks. Going with a knowledgeable local guide not only means you're more likely to spot the turtles, but you'll also have an excellent opportunity to learn about sea turtles and their intriguing nesting process.
Tours will book out well in advance, so booking your free guided turtle walk before you arrive is worth booking! The free walking tours usually last 90 minutes and occur during the early morning or late evening – the best times to see the turtles!
2 Scuba dive
If you're hoping to dive a bit deeper (literally!) into the various underworld of Heron Island, then you'll be pleased to know that there are approximately 20 dive sites around the island.
Since Heron island is in the heart of the Great Barrier Reef, divers can experience up to three breathtaking dive sites each day of their stay. The world-class diving here will give adventurous divers a close-up look at the majestic coral gardens and pinnacles that decorate the ocean floor. In fact, this location is so stunning that the famous underwater explorer Jacque Cousteau named Heron Bonnie in his top 10 favourite dive sites!
Dives are relatively shallow, with an average depth of 10-25 metres, but simply teeming with reef sharks, turtles, manta rays, fish and invertebrates.
A range of dive trips is available for both beginners and experienced divers, including all the equipment you need. You can also take your PADI scuba diving course here. Dive packages book up in advance, so it's worth reserving your spot well before you arrive.
Location: Various dive sites are accessible from Heron Island
Cost: Costs vary for dives, equipment hire and courses. Beginner divers (over 12 years of age) can do a PADI Discover Scuba course for $200
3 Guided reef discovery walks
The complimentary guided reef discovery walks are another wonderful way to learn about the island.
The commentary from your naturalist guide will focus on the formation of the reef and the coral and marine wildlife that live beneath the island's crystal waters. You'll also learn about the threats to coral reefs and how this relates to the relationships between marine species and their adaptations for survival.
The 90-minute walks allow guests to see some bizarre and brilliant creatures that live around the island. Guests are advised to wear enclosed footwear during this particular tour.
Location: Meet at the Information Centre
Opening Hours: Only available on certain days when the tide is particularly low during daylight hours
Cost: Free
4 Go snorkelling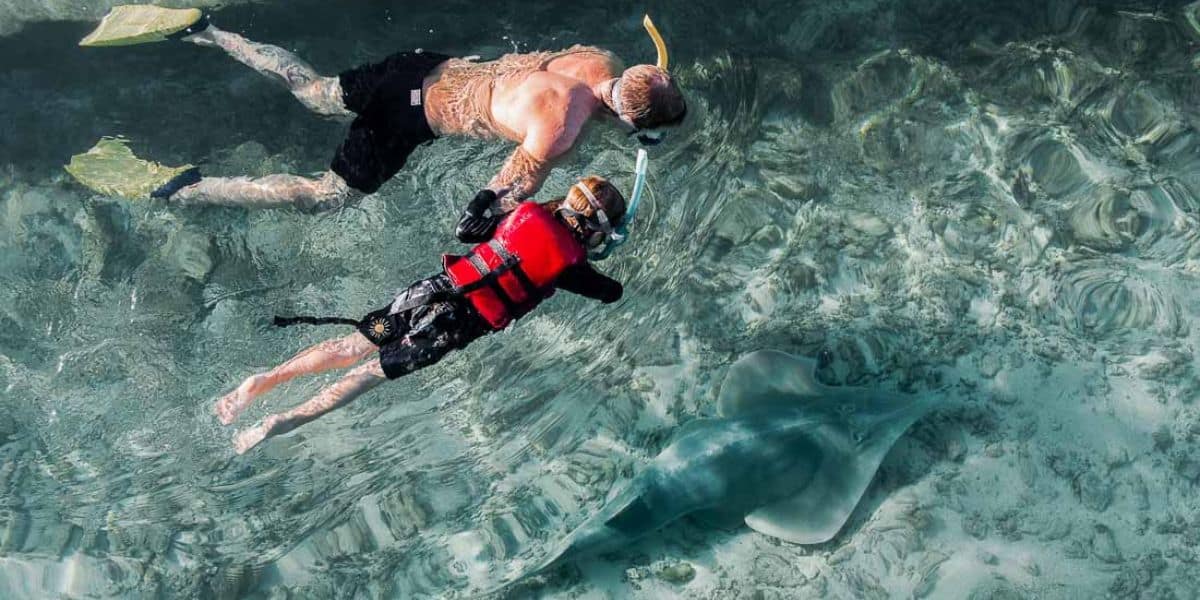 Image credit thanks to Tourism and Events Queensland & AWOL Family
You don't have to go far to find amazing snorkelling spots on Heron Island – there are some incredible places to see marine life right off the beach! The water is generally shallow and amazingly clear, so you'll have fantastic visibility over the fascinating creatures who make their homes along the shore.
Look out for turtles, reef sharks, rays, and lots and lots of fish! Shark Bay and the Gantry (in front of the Pandanus Lounge) are fantastic family-friendly places to start.
To take advantage of the incredible snorkelling on Heron Island, why not join a guided snorkelling Heron Island tour? You'll get 90 minutes with an experienced guide who will show you the best spots, including a close look at all the diverse coral along the reef's edge during a 45-minute drift snorkel.
And if you're a snorkelling novice, you can also take a complimentary snorkelling lesson in the swimming pool. These free lessons will get you well-acquainted with your mask, snorkel and fins before you take on the ocean. Booking is essential, and you can pick up the equipment at the Marine Centre.
The best time for snorkelling is either side of the high tide because, during low tide, the water is usually too shallow. Just note that snorkelling in the harbour is not allowed between 8:00 am and 5:30 pm to allow for boat traffic.
Location: Ideal spots for beginners are straight off the beach from the Gantry or Shark Bay
Opening Hours: Best done two hours on either side of high tide (tide times are displayed outside the Marine Centre and in the daily 'Heron Times')
Cost: All snorkelling gear is available free from the Marine Centre. You can also take a free snorkelling lesson. Guided snorkelling tours are also available: $50 Adults | $35 Kids
5 Semi-Submersible 'I-spy' tour
Don't feel like getting dressed up in a mask and fins? No stress – everyone can enjoy the mesmerising aquatic environments of Heron Island, and the semi-submersible tour is another fantastic way to see the underwater world without even getting your hair wet!
Your naturalist guide will show you the reef from the I-Spy semi-submarine and point out a range of marine animals and coral, including turtles, rays, and reef sharks. Their expert commentary is the perfect way to learn about Heron Island's ecology, geology, and aquatic wildlife.
Location: From the Marine Centre
Opening Hours: Regular tours available. Check with the Marine Centre
Cost: $60 Adults | $40 Kids
6 Junior Rangers Program
For curious kids aged 7 to 12, it's well worth nurturing their budding sense of exploration and love for the environment by signing them up for the Junior Rangers Program. The interactive program was developed by Heron Island's team of marine biologists in association with the University of Queensland and QLD Parks and Wildlife Service.
This fun and educational program includes various nature-based activities, from reef and island walks to bird watching. The activities change throughout the year, but there's always an emphasis on encouraging our youngsters to be environmentally aware and stay curious.
Your kids will also get a hands-on opportunity to learn about ecology, forest awareness, turtle nesting, coral formation, and whale watching.
The program runs during the Queensland school holidays, and attendees also receive a workbook, badge, and hat to remember their experience.
Location: Contact Reception to book
Opening Hours: During Queensland school holidays, at various times
Cost: $30 Kids (7 – 12 years)
7 Kayaking and paddleboarding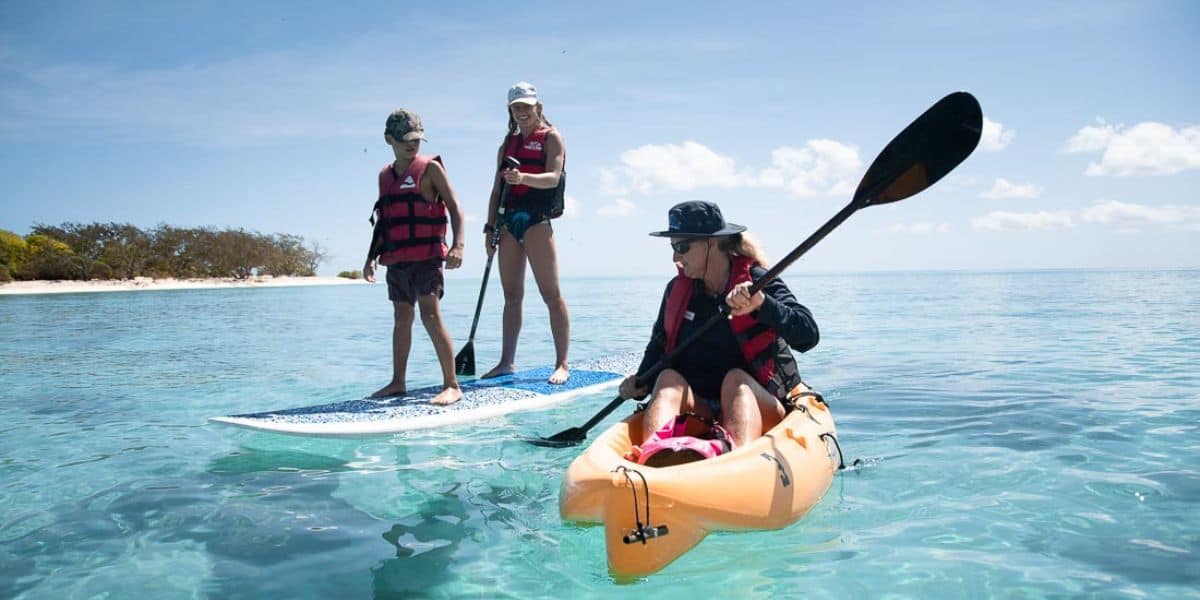 Image credit thanks to Tourism and Events Queensland & AWOL Family
Joining a kayaking or paddleboarding tour is a great way to explore the reef. The water is so clear that you can see many beautiful corals and marine life from above!
Guides know precisely where to take guests to find the most abundant coral ecosystems and will give you some great insights into the reef as you float around the crystal-clear waters. You might even spot some sharks exploring the reef with you – but don't worry, only the small ones!
Please note that individual kayak and paddleboard hire is unavailable to keep you and the corals safe, so pre-book your guided tour at the Activity Centre.
Location: From the Marine Centre
Opening Hours: Regular group tours are available. Check with the Marine Centre
Cost: $40 single kayak | $70 double kayak | $40 paddle board
8 Guided bird walk
Heron Island's captivating wildlife doesn't just belong below the water! On the guided bird tour, you'll be encouraged to look up and spot the thousands of birds who make their home here. And they really do mean thousands of birds; up to 200000 birds live on Heron Island at the peak of the nesting season!
The guided bird walk begins at the Information Centre before weaving around the jetty, beach, and shipwreck. Birds commonly seen at Heron Island include Black Noddy Terns, the Buff Banded Rail, and Eastern Reef Egret, although the exact species you'll see differ depending on the season, hour of the day, and tide.
The best time for birdwatching on Heron Island is January when many birds return for peak breeding season, but you can see exciting birds here all year round. The free 60-minute walks depart throughout the day, so check with the activity centre.
Location: Meet at the Information Centre
Opening Hours: Walks
9 Unwind at the Aqua Soul Spa
Beautifully hidden within the ancient Pisonia forest, the Aqua Soul Spa is a fabulous way to unwind after exploring the island. Inspired by the rich ecosystems of the Great Barrier Reef, guests are invited to embrace the natural benefits of mother earth.
There is a wide range of massages and beauty treatments on offer. You cannot help but feel rejuvenated after enjoying one of the spa's signature therapies while gazing through the floor-to-ceiling windows towards the secluded forest.
The spa is very popular, so book before you arrive if you'd like a relaxing massage while visiting this beautiful location.
Location: Nestled in the ancient Pisonia forest at the resort
Opening Hours: Operating on limited days. Contact the resort to check, and be sure to book in advance.
Cost: Depends on how many treatments you have!
10 Stargazing
Due to its remote location, Heron Island has no light pollution, giving it the perfect conditions for observing the stars.
It's well worth taking advantage of the island's fantastic night sky visibility by joining a free stargazing tour. The one-hour tours are at the Island's Helipad. Astronomy guides will also set up a telescope so you can see the moon close up and maybe even the rings around Saturn.
Stargazing is subject to weather conditions and cloud coverage, so check with the activity centre to see if they're running during your stay.
Location: Night sky tours take place at the island's Helipad with a telescope, but you can do your star gazing from anywhere if you bring your binoculars!
Opening Hours: Weather dependent
Cost: Free
11 Guided island walks
Expanding your mind on Heron Island isn't just limited to kids! On a guided island walk, older children and adults can get a fascinating insight into the island's flora and fauna.
During the 90-minute nature walk, your guide will explain how environmental factors contributed to the formation of Heron Island. You'll also learn about the wildlife, including the birds and sea turtles, as you wind through Pisonia Forest, Shark Bay, and North Beach.
These walks are a perfect opportunity to get background knowledge about this unique destination, and your guide will point out things that an inexperienced eye wouldn't be able to spot on their own. The guided island walk is definitely one of the best free things to do on Heron Island!
Location: Meet at the Information Centre
Opening Hours: Walks run at various times
Cost: Free
12 Sunset cruise
One of the best Heron Island things to do is to finish the day with a sunset cruise around the island!
Sunset cruises begin with a pre-departure drink at the Wistari Terrace, which has fabulous views over the reef. After boarding your cruise, you'll sail along the stunning shoreline and watch the sunset over the ocean.
Cruises last 90 minutes and depart throughout the day. We recommend booking with the Marine Centre in advance to avoid disappointment. These cruises are subject to conditions and are occasionally cancelled due to poor weather.
Of course, you could also watch a beautiful Heron Sunset independently from the beach or jetty.
Location: From the Marine Centre
Opening Hours: Evenings
Cost: $50 Adults | $35 Kids (8 and over) | Add a cheese platter for $15 (gluten-free available for $16)
13 University of Queensland Research Station Tours
Did you know that the Southern Hemisphere's largest island-based research station belongs right here on Heron Island? Over 60 institutions utilise The University of Queensland's research centre, and it has been an important base for conducting world-class research and teaching since its construction in 1951.
The facility occasionally runs tours for lucky members of the public, giving intrigued guests an inside look at their current investigations and experiments. It's undoubtedly one of the best Heron Island activities and features a touch tank and access to some restricted areas within the centre.
Opening Hours: Limited tours operating. Check availability at reception.
Cost: $20 Adults | $6 Kids
14 Enjoy panoramic ocean views with a glass of wine at Baillie's Bar
With incredible panoramic views over the reef and its stunning marine inhabitants, it's well worth stopping for a drink at Baillie's Bar. Look out for sharks, turtles, rays and fish as you relax on the terrace!
The bar has an extensive drinks menu that isn't too pricey compared to the mainland, so it's an ideal spot for enjoying a soft or alcoholic drink. Baillie's Bar occasionally puts on live music, and you can enjoy using the pool table, card games, library or board games at any time. The expansive lounge area is a comfy spot to chill out when you're not out exploring.
Although the bar serves food, it's worth noting their meals often sell out before lunchtime. However, they sell snacks and small bites throughout the day.
Location: Beside the ocean
Opening Hours: During the day for coffee, ice cream, and snacks and into the evening for sundowner drinks
Cost: Depends on how long you stay!
HERON ISLAND ACCOMMODATION
There is just one resort on Heron Island, appropriately named the Heron Island Resort.
The resort has a wide range of accommodation options, perfect for couples, families, and groups of any size. The rooms on Heron Island aren't anything fancy, but they will give you a comfortable place to stay while exploring the island.
To help you pick which accommodation is best for you and your family, here is a brief rundown of all the rooms available on Heron Island, ordered from the lowest to highest cost:
Turtle Rooms
The Turtle rooms are nestled within the Pisonia Forest and are the cheapest rooms on the island. These rooms come with either double beds and one single bed or family rooms with an additional rollaway bed for up to 5 people.
Reef Rooms
Like Turtle Rooms, Reef Rooms are compact and comfortable. However, this option is on the stunning North Beach. Turtle and Reef Rooms are a little further from resort facilities than other accommodations, but only a short walk away from everything you need.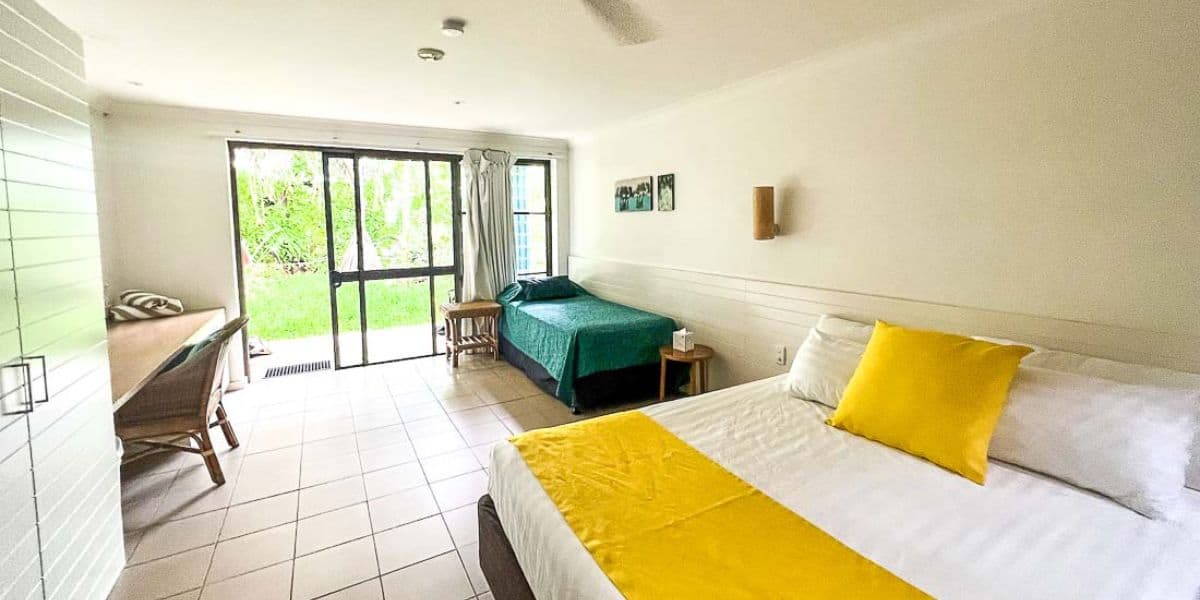 Beachside Rooms
Close to the resort facilities and with excellent beach views, Beachside rooms accommodate up to four people. So if your budget allows, it's worth choosing at least a Beachside Room during your stay on Heron Island.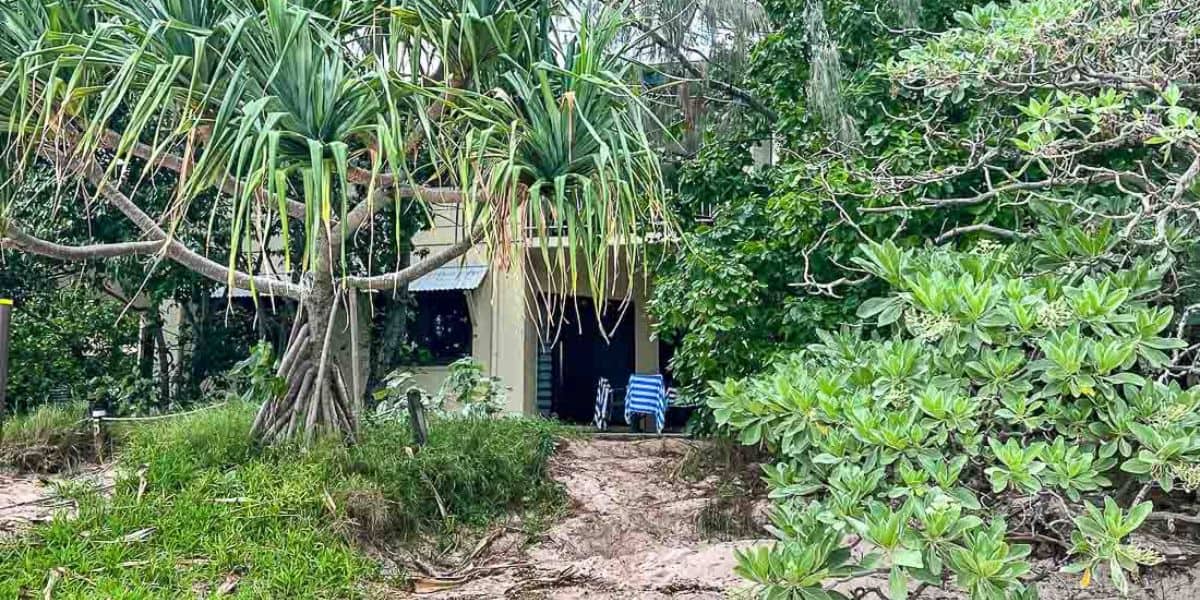 Wistari Suites
The Wistari Suites have a stunning garden setting and spacious interior; these rooms accommodate two people. In addition, Wistari Suites are conveniently near the resort facilities, reef, beaches, and jetty.
Point Suites
The Point Suites are the best accommodation option for reef views and well-located near the resort facilities – perfect for couples who want to enjoy a fantastic Heron Island sunset together from the comfort of the terrace.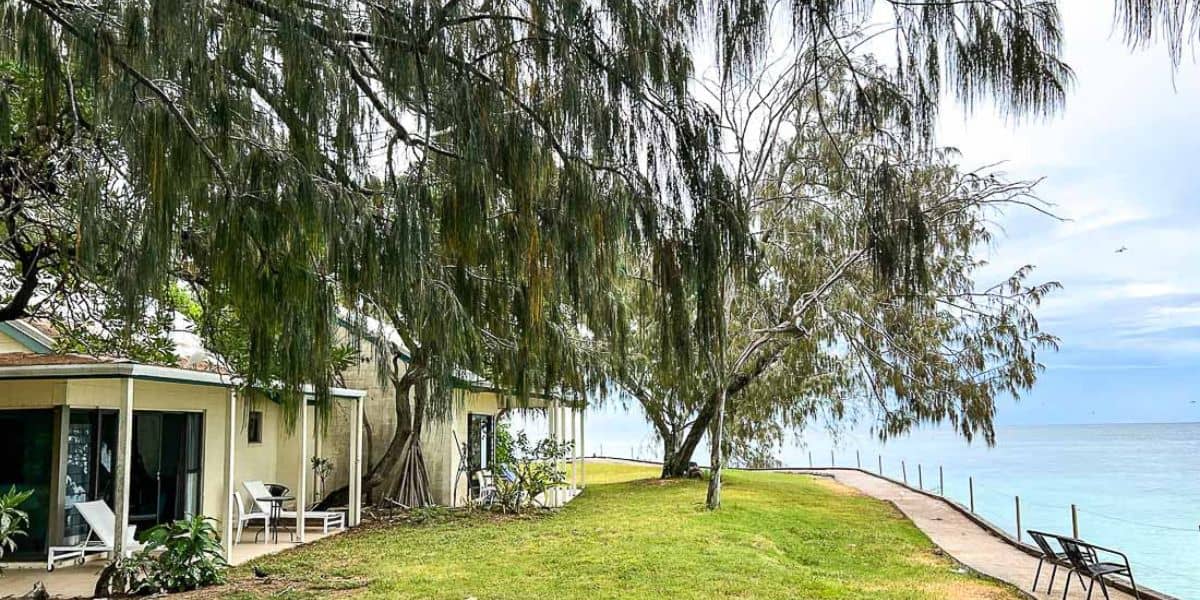 Beach House
Set beside the ocean with reef views and a private boardwalk onto the beach; the Beach House is a fantastic and luxurious accommodation option for groups of up to four people.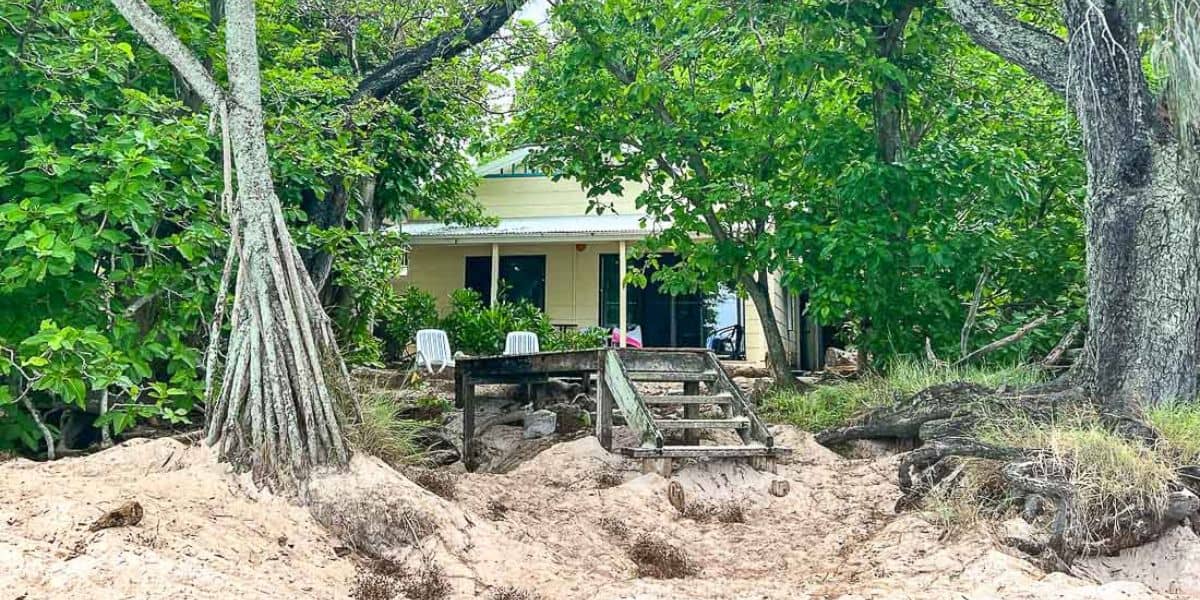 Superior Point Suites
With a premium position facing the ocean, Superior Point Suite is the perfect option for secluded stays looking over unparalleled reef views.
Every room has an ensuite bathroom, a small or large lounge area, ceiling fans, and an outdoor terrace or balcony. Beach towels are also provided.
Wistari Suites, Point Suites, and Beach Houses also come with air-conditioning.
Although rooms don't have cooking facilities, you'll find tea and coffee-making facilities plus a small fridge in every room. In addition, every room rate includes a buffet breakfast at Shearwater Restaurant, which also serves lunch and buffet dinner at an additional cost.
Please note that every room on Heron Island is keyless, although you can lock rooms from the inside, and safes are available at reception if needed.
Resort facilities include a resort shop, where you can pick up toiletries, basic medication, souvenirs, snacks and drinks, and laundry facilities.
We recommend booking through Booking.com as they offer a wide range of room types, most with free cancellation, which is ideal for last-minute changes.
Click here for more information or to book
GETTING TO HERON ISLAND
The ferry to Heron Island leaves at 9.30 am, and the return ferry to Gladstone is at 12.45 pm, arriving at 3.15 pm. The ferry operates daily except for Tuesdays, Thursdays and Christmas Day.
The boat trip takes 2 hours each way, costing $85 per adult and $45 per child (3-12) each way. You can check in at the Heron Island Ferry Terminal between 7:45 am and 9:00 am.
Tip: Getting to Heron Island by boat can be rough, and it is recommended to take seasickness tablets beforehand. However, our trip to Heron Island wasn't rough at all and was an enjoyable trip.
If you really want a splurge, you can also take helicopter flights to Heron Island, so why not travel in style with a 30-minute helicopter ride from Gladstone Airport to Heron Island? Helicopter transfers cost $560 one way per person or $940 return. The helicopter only fits four people, including the pilot, and the views of the reef are absolutely brilliant!
ENJOY HERON ISLAND!
Hopefully, this guide has given you lots of inspiration on things to do in Heron Island.
If you're planning a trip to Heron Island, I highly recommend you check out our guide to the Capricorn Region and Surrounds, which provides links to everything you need to know to plan your trip.
I'd also recommend you join our free Queensland Travel Guide Facebook community, where you can ask all your questions and find even more great trip suggestions.
If you enjoy island style holidays, you might also be interested in the following destinations:
Great Keppel Island (coming soon)
North Stradbroke Island (coming soon)