Are you planning a trip to K'gari? This article covers the best things to do on K'gari, including tours, activities and places to explore.
The Queensland Travel Guide acknowledges the Butchulla People, the Traditional Custodians of K'gari. We pay our respects to their Elders past, present and emerging, and recognise their continued spiritual and cultural connections to Country. Always was, always will be, Aboriginal land.
Just off the coast of Queensland, you'll find K'gari, the largest sand island in the world and a UNESCO World Heritage site. It is a must-visit destination for nature lovers and adventure seekers and while a day trip from the Sunshine Coast or even Brisbane is possible – the things to do K'gari offers are so vast that even a week is not enough time to do it all.
Some of the more popular K'gari things to do include exploring its stunning beaches, freshwater lakes and lush rainforests. Tourists flock to places like Lake Mackenzie and Eli Creek to swim in the crystal clear waters, while those who like to fish head to Seventy Five Mile Beach.
K'gari is the ideal spot for 4WD enthusiasts with the entire island pretty much off the beaten track. Campers can set up on the beach for a cheap night's stay, or there is a range of accommodation to choose from for those who prefer a more comfortable night's sleep.
K'gari is of course home to wild dingos – which are best observed from afar. K'gari is also home to a range of other wildlife including massive goannas, eagles, wallabies and possums. In the water, you'll find dolphins, turtles and rays, and from July to November you'll see migrating humpback whales.
To help you decide exactly what to do and which things to see on Kgari – this guide covers all the most popular places and all the essential information such as locations, opening hours and ticket prices, where necessary.
This post may contain compensated links. Please refer to our disclaimer here for more information.
THINGS TO DO K'GARI MAP
Before we get started on all the things to do at K'gari to help you plan your itinerary, check out the map below. This map shows the location of all the top things to do on K'gari which are covered in this guide.
I recommend you first make a list of your top K'gari things to do and see and then use this map to plan your day to day itinerary so you're not travelling back and forth all over the island.
BEST THINGS TO DO ON K'GARI
Below we cover the best things to do and places to visit on K'gari.
1 Whale Watching

One of the absolute best things to do on K'gari (Fraser Island) is whale watching! K'gari is known as one of the best places to go whale watching in the world.

During the months of July through to October, you can see humpback whales playing, socialising and basking in these sheltered waters. It's a truly unforgettable experience.

If you're staying at Kingfisher Bay Resort and you're looking for things to do on K'gari without a car, you can book a whale watching trip that leaves from the resort jetty or you can pick up a tour from Hervey Bay that includes sightseeing and exploring on K'gari.

A range of operators offer whale watching cruises – click here to see what's available.

Alternately, if you prefer to stay on dry land, you can look for whales from the shore on K'gari (Indian Head is a great vantage point) so always keep an eye out for the sprays in the ocean – this is one of those fantastic free things to do on K'gari that never gets boring!
2 Go Sailing
There may be plenty to keep you entertained on the island but getting out on the water is one of those things to do at K'gari (Fraser Island) that you should definitely put on your to-do list.

Whether you go for a sundowner cruise, a wildlife watching tour or an eco sailing adventure where you can get involved in sailing the boat, it's a great opportunity to have fun on the water. It's a fabulous way to see K'gari's coast, and you might be lucky and spot a dingo on the beach as you sail by.
A range of sailing trips are available – click here to see what's available.
3 75 Mile Beach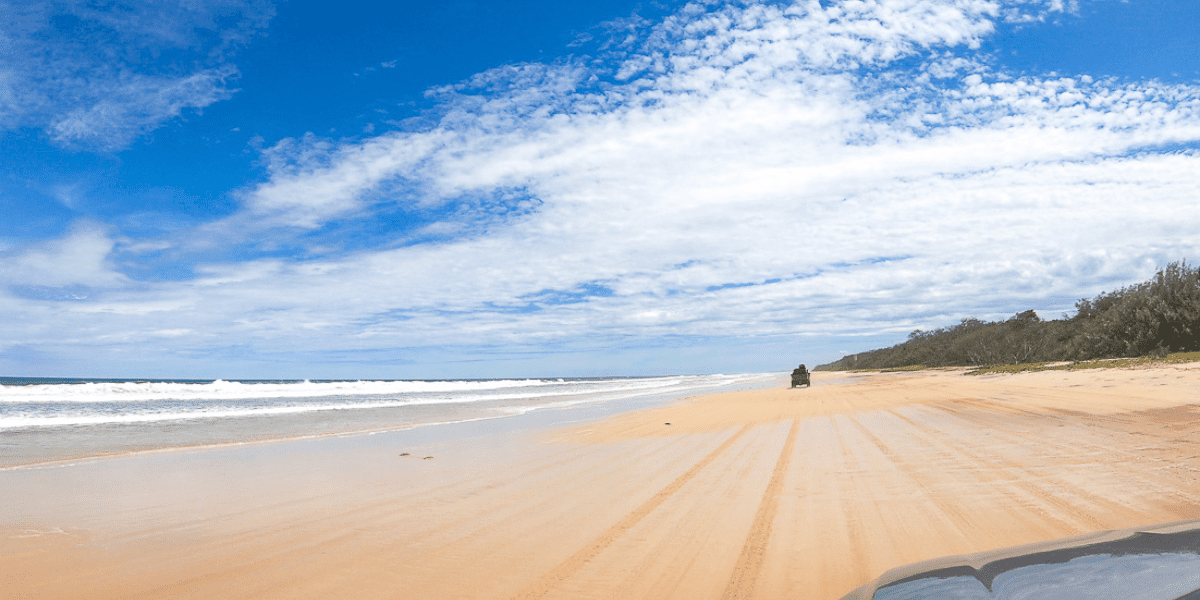 75 Mile Beach is a must-see attraction on the east coast of K'gari. It's the island's very own beach highway as well as being a landing strip for light aircraft!
With sand dunes on one side and the ocean on the other, 75 Mile Beach is a scenic stretch of sand that leads you to some of the island's top attractions, including the Pinnacles coloured sands, the Maheno shipwreck and Champagne Pools.

Keep your eyes peeled for wildlife as your drive – you might be able to see dingos on the sand or spot turtles or whales in the ocean. The water here is known for its shark population and strong surf and riptides, so swimming is not recommended, but it's a great place to go fishing.

Be sure to check the tide times before driving on 75 Mile Beach and only drive outside two hours of high tide.
Location: Eastern side of the island
4 Scenic flight – take off from the beach!
Taking a scenic flight has to be one of the most exciting and fun things to do! K'gari (Fraser Island) as scenic flights use the beach highway as their runway. It's an incredible experience taking off and landing beside the 4WDs that are driving along the sand next to your plane.

The scenic flights last 20 minutes and it takes you over all the main sights such as the massive sand dunes, the rainforest, lakes, and shipwreck. You might even be lucky enough to see a pod of whales as you soar over the ocean!

You can take a scenic flight with Air Fraser. This can either be booked as an individual experience, or some day tours offer this as an optional add on so talk to your tour operator on the day.

It is well worth the expense for this experience as it's one of those K'gari things to do that will stay in your memory long after your holiday is over.
5 Lake Boomanjin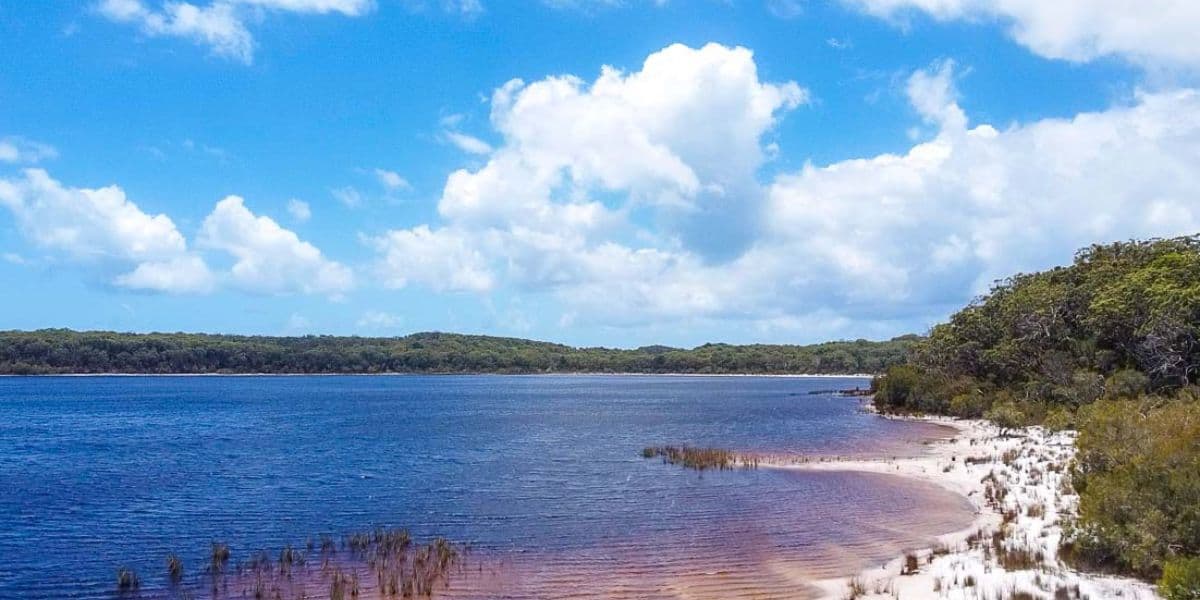 Lake Boomanjin is one of many lakes to explore on K'gari. At 200 hectares, it's the world's largest perched lake, and it's a hidden gem away from the tourist trail.
A perched lake is a depression in a sand dune that has collected rainwater over time, forming a large body of water. There are 40 perched lakes on K'gari, and they're the perfect spot for swimming and cooling off (there are no sharks in sight!).

Lake Boomanjin is a reddish brown colour because of the tea trees growing in the area. The lack of clarity in the water makes it less picture perfect than some of the more pristine lakes, but it's a beautiful, natural area and is sacred to the Butchulla People so it's worth a visit.

The lake has soft white quartz-rich sand and shallow water by the banks, making it ideal for families with young children.
There is a fenced picnic area near the car park and toilets but, due to the presence of dingos, no food or drink is allowed on the banks. The lake is just a short walk from the car park so it's easy to stop off for a quick swim.
Location: Towards the southern end of the island
6 Lake Birrabeen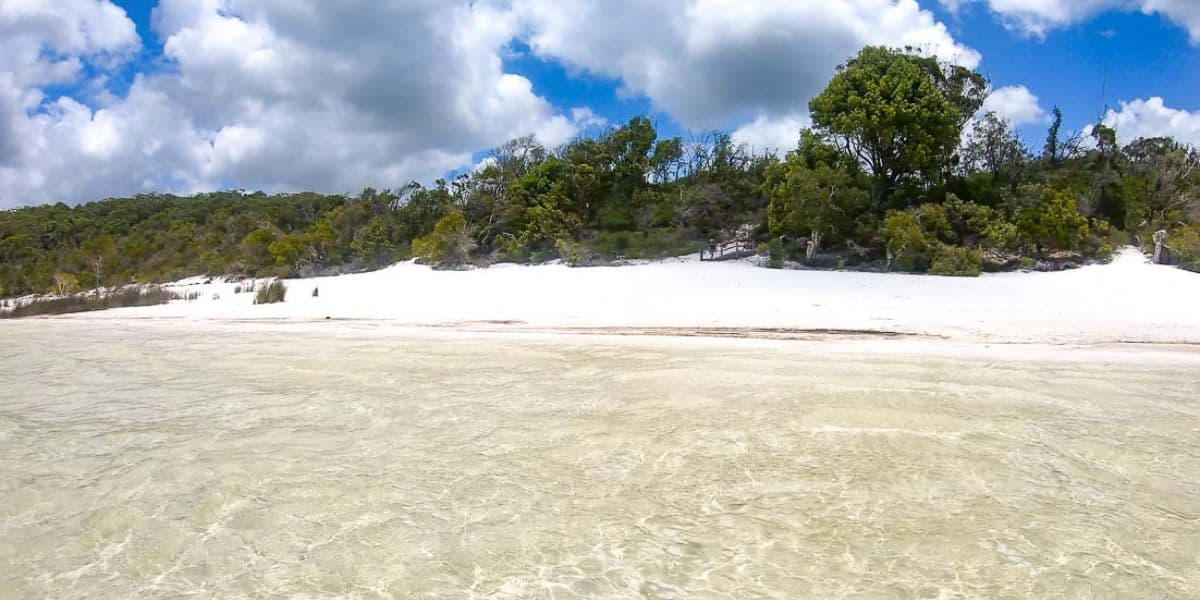 If exploring unspoilt lakes is on your things to see on K'gari list, you won't be disappointed.
Located 25 minutes inland from Lake Boomanjin, Lake Birrabeen is another stunning lake on K'gari.

With crystal clear water and a pure white sandy shore, it's a great spot for swimming or kayaking. It's less crowded than the more well-known Lake McKenzie yet no less stunning!
Be sure to bring a picnic, as there are toilets and picnic tables available so you can relax and spend some time there. There are two car parks with entrances to the lake, so if the first one doesn't have a picnic area, continue to the second one to find it.
Location: Inland towards the southern end of the island
7 Central Station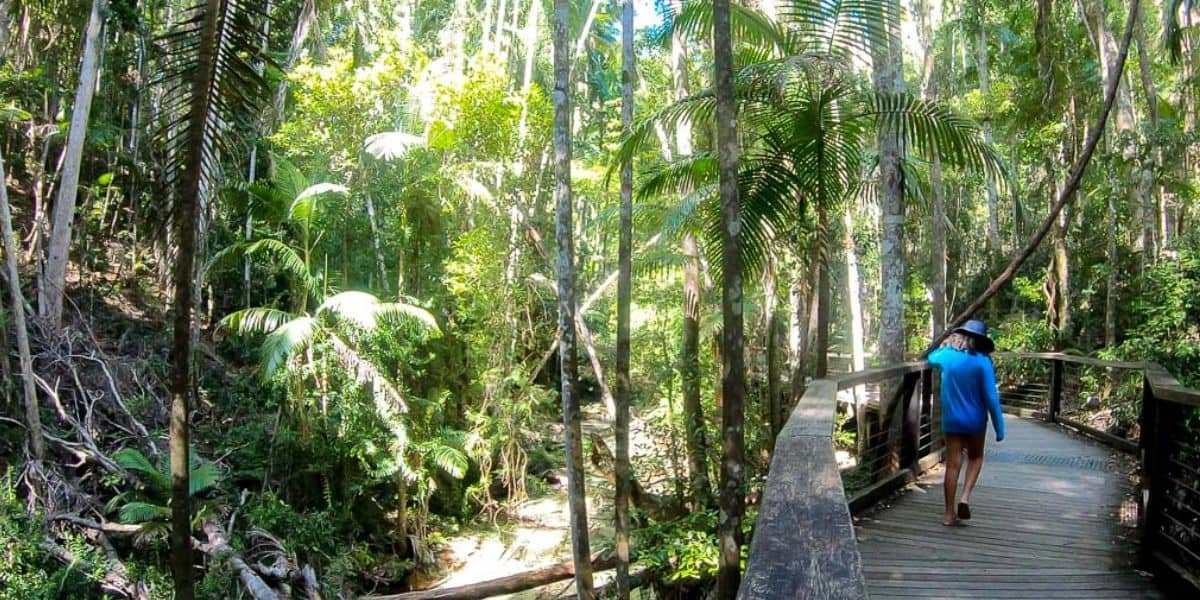 Located 25 minutes inland from Eurong, Central Station offers visitors a glimpse into K'gari's history as a former forestry camp. It should be up there on your things to see K'gari list as there is something for everyone from history buffs and nature-seekers to hikers and forest bathers.
For those seeking outdoor adventures, Central Station is the starting point for various hiking trails.
The 0.7 km Wanggoolba Creek track is an easy walk suitable for families or those who are less mobile. It takes you on a scenic boardwalk through the subtropical rainforest where you can spot towering trees, enormous ferns, and you might be lucky enough to encounter some of K'gari's unique wildlife.

There are plenty of other hiking opportunities from Central Station. The Pile Valley Circuit is a more challenging 4.6 km round trip, taking 1.5 to 2.5 hours. The 2.8 km one-way Basin Lake hike takes about 1 to 1.5 hours. If you're up for a longer challenge, you can hike to Lake McKenzie via Basin Lake. The 6.6 km one-way journey takes about 2.5 to 3 hours.
Central Station is home to several interesting buildings and there are items on display from its days as a busy forestry camp. There are a range of information boards and an information centre where you can learn about the small school for the children of the forestry camp workers that operated in 1917 with just 40 pupils.
The information centre is also a great place to learn about K'gari's dingos and the island's unique flora and fauna.
Location: In the middle of the island
8 Valley of the Giants
The Valley of the Giants is a stop on the Fraser Island Great Walk (more on that later). It offers a lush, ancient rainforest for camping in the central dunes. It's the perfect place to relax and soak in the incredible natural beauty of the unspoilt forest.
Location: Central on the island
9 Lake McKenzie (Boorangoora)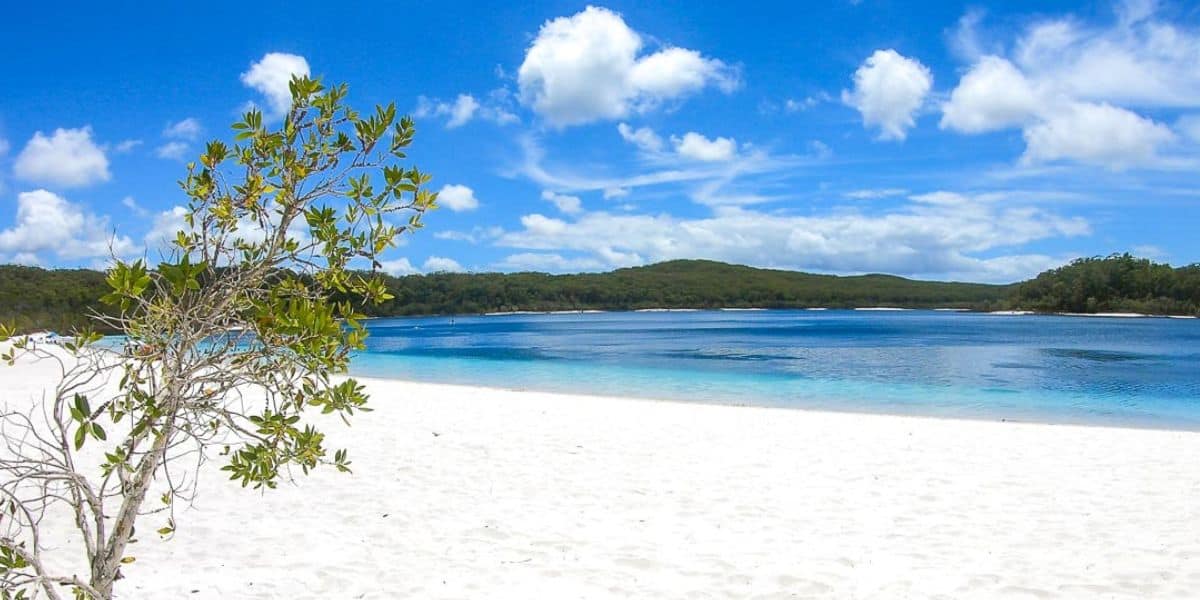 A visit to Lake McKenzie should definitely be on your K'gari top 10 things to do list as it's one of the island's most famous sights.
Lake McKenzie is a 20-minute drive from Central Station. This absolutely breathtaking perched lake features crystal clear water and dazzling white sand. It's the perfect location for swimming, floating and paddling. The sand is 98% pure silica, making it ultra-fine and providing a shimmering, iridescent blue colour to the water.
To avoid the crowds (as it's a tourist hotspot), it's best to visit Lake McKenzie early or late in the day if you can, although there are still likely to be people around at any time of the day due to its popularity as one of the best things to do on K'Gari (Fraser Island). To find a quieter spot, consider walking a little and moving away from the entrance to the lake

If you're visiting with your own vehicle (not as part of a tour), don't forget to bring floaties for your kids, as well as kayaks or SUPs to enjoy the water. Coming on your own gives you full flexibility to enjoy the location for as long as you like (whereas tours have a short time window before it's time to move on).
Please note food and drinks other than water are not allowed near the lake due to the presence of dingos. However, there are several enclosed picnic areas near the car park (along with toilets), so you can take a picnic. The walk from the car park to the lake is short so it's a very accessible lake for everyone.

If you're looking for things to do on K'gari without a car, all of the main tours include a stop at Lake McKenzie so you don't need to miss out on this iconic K'gari attraction.
Click here to see what tours are available.
Location: 20 minutes from Central Station
10 Lake Wabby and Hammerstone Sandblow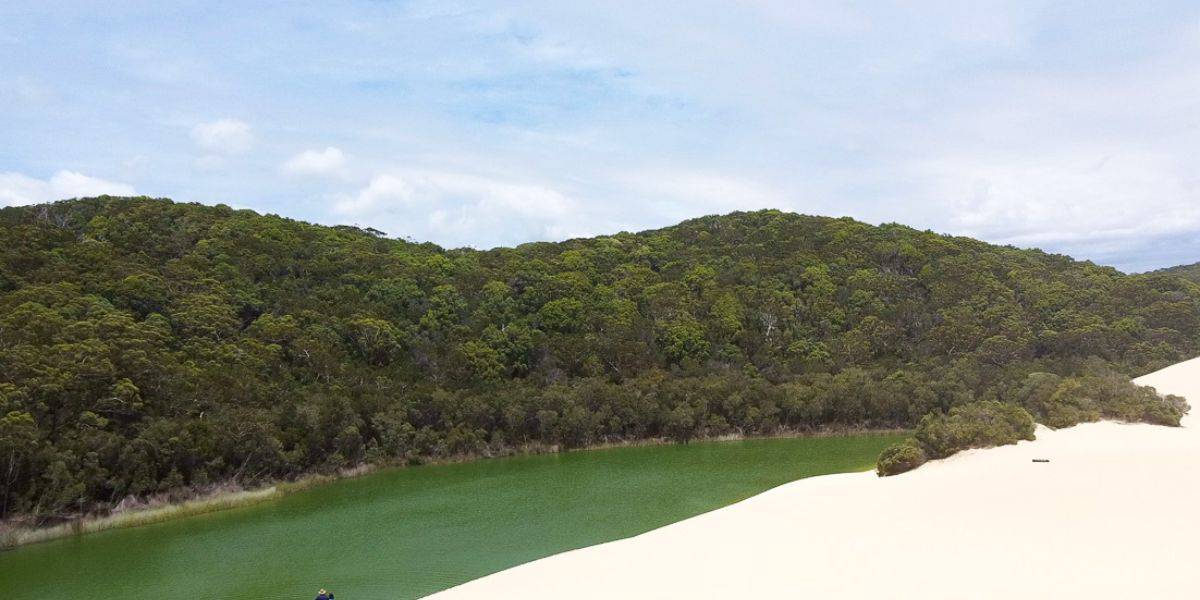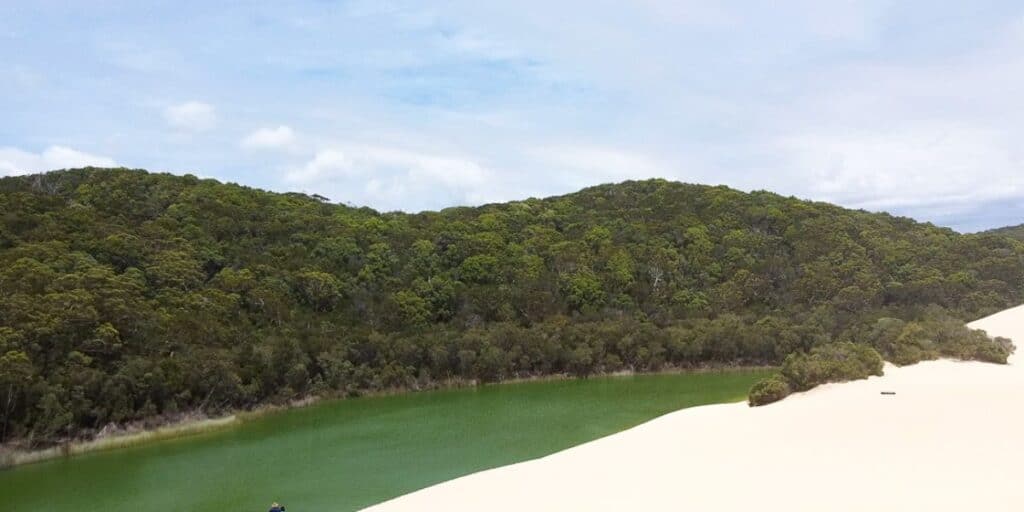 Hammerstone Sandblow and Lake Wabby are must-visit destinations to add to your K'gari things to see list. You'll find them a 45-minute drive from Lake McKenzie.
To get to Lake Wabby, you'll need to be prepared to cross Hammerstone Sandblow, one of K'gari's largest sand dunes. Be warned: the walk is challenging – taking approximately 45 minutes – so make sure you bring good shoes, a hat, sunscreen and plenty of water!
Most of the hike is through bushland with a gentle incline ending with some stairs. The walk across the sand blow itself is more challenging but it's well worth the effort.
The landscape across the sand dune is absolutely breathtaking, making it one of the top five things to do on K'gari (Fraser Island).

Although not as picturesque as some of the other lakes on K'gari, Lake Wabby is still a beautiful emerald green and it's the ultimate place to cool off after your hot hike!
Unfortunately, Lake Wabby is not going to be around forever. The Hammerstone Sandblow is slowly filling it in at a rate of one metre per year, so make sure it's on your K'gari things to see list now before it's swallowed up by the environment.
The walk up the sand blow may be challenging but the downhill part is much easier and a lot more fun! If you bring your boogie boards, you can use them to sandboard down the dunes. (Just remember: you have to carry them UP there first though.)

For those with young children or who are unable to manage the walk, there's a nearby lookout with stunning views of Hammerstone Sandblow and Lake Wabby. The lookout is off Cornwells Break Road and is about 450 metres from the lookout car park.
The starting point for the Lake Wabby track is well-sign posted on 75 Mile Beach and there is a small car park area well away from the ocean.
Location: 45 minutes from Lake McKenzie
11 Lake Garawongera
Lake Garawongera, located near Happy Valley on K'gari, is a pristine lake surrounded by large trees that offer ample shade.

A single large paperbark tree on its sandy bank provides the ultimate K'gari picnic spot. With picnic tables and toilets, the lake is the ideal place to break for lunch as you explore the island.
Location: Inland from Fraser Island Retreat
12 Float or Paddle down Eli Creek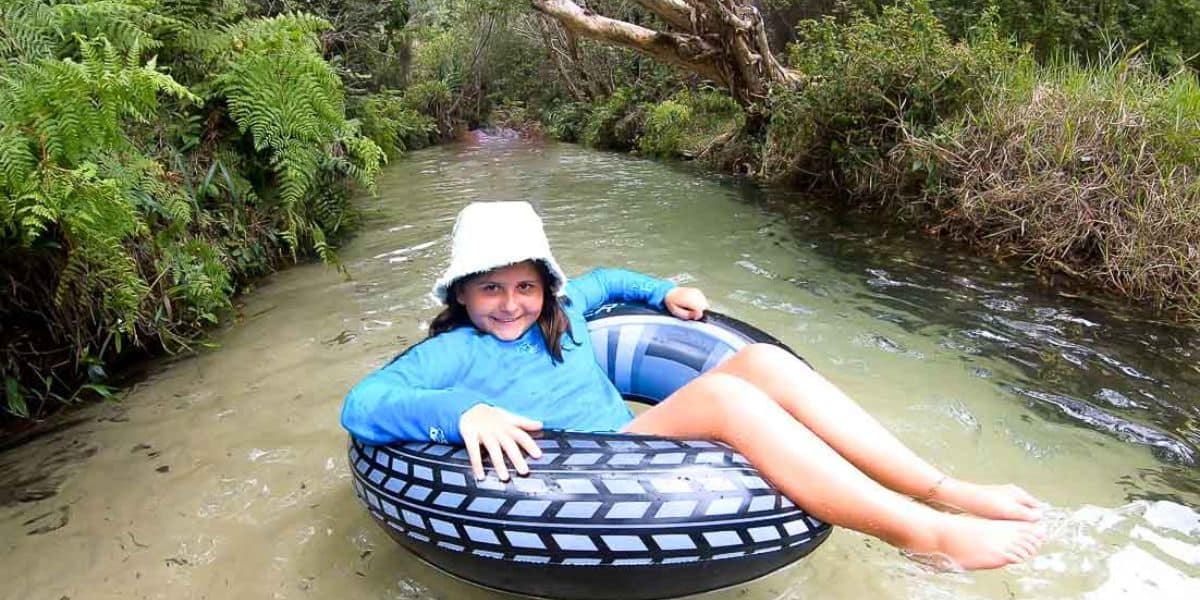 Eli Creek is one of those fun things to do in K'gari. All of the K'gari tours include a visit to Eli Creek as floating or wading down the creek is one of the K'gari best things to do.
Located along 75 Mile Beach, the stunning Eli Creek pours 80 million litres of clear, filtered rainwater into the ocean every day.

A pandanus-lined boardwalk runs alongside the creek and you can walk to the end, get into the creek (with inflatables, or just paddle) and make your way back to the ocean in the water. If you plan on paddling, it's a good idea to wear swimmers on your lower half, but if you roll your shorts up high and the tide is right, you might be lucky to just get the bottom of them wet!

The creek is not passable during high tide, so check your tide times before planning when to visit. Toilets are available on the other side of the footbridge.
Location: Halfway along 75-Mile Beach
13 S.S. Maheno Shipwreck
The SS Maheno Shipwreck is a 10-minute drive north of Eli Creek and is another of the K'gari things to see and do that you cannot miss.
K'gari's famous, half-buried shipwreck has become a landmark attraction. Built in 1905, this ship has a fascinating history from being an ocean liner to a hospital ship during World War One. Eventually, it was sold to Japan for scrap and as it was being towed away, it was hit by a cyclone which snapped the tow chain. It drifted to K'gari and has laid there ever since.
Although much of it is now covered by sand, the partially visible shipwreck is one of those top things to do on K'gari that really only takes ten minutes to look at and take some photos but it's well worth a stop while travelling along 75 Mile Beach.
Location: Just north of Eli Creek on 75 Mile Beach
14 Knifeblade Sandblow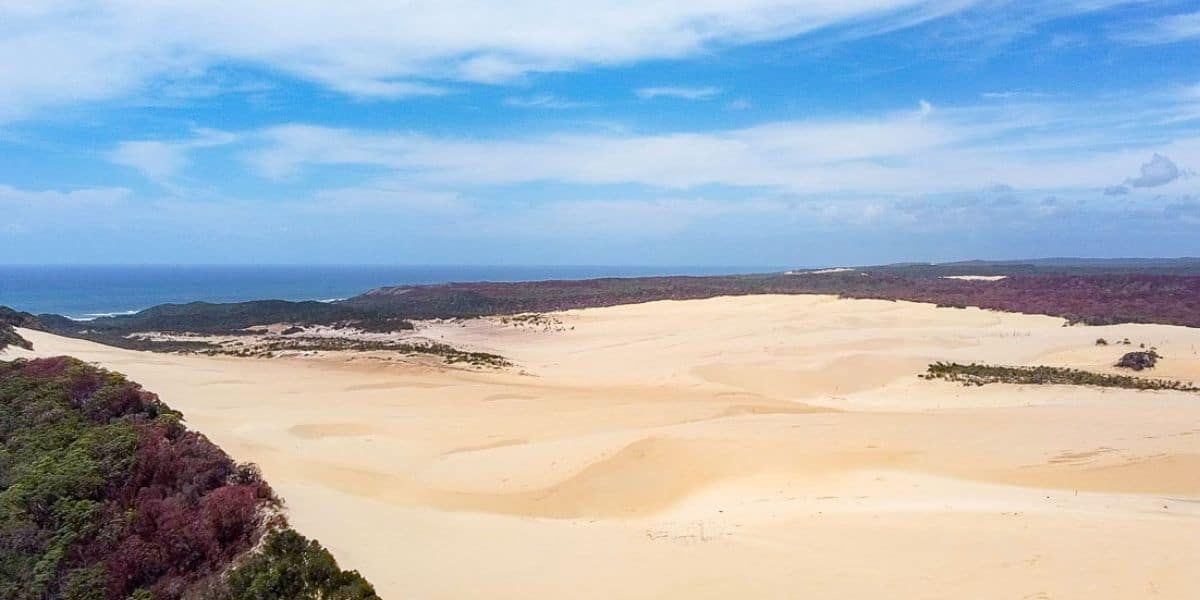 The sand blows on K'gari are breathtaking, especially Knifeblade which is the largest sand blow on K'gari – it's as if the sand goes on forever!

Knifeblade Sandblow towers 115m above sea level and stretches 3.5km inland, growing 1m each year. It's an awe-inspiring sight to behold and is one of those top things to do on K'gari.
To see the incredible Knifeblade Sandblow, head to the inland lookout on Woralie Road. You'll find a small car park that leads you on a 500m walk uphill to the lookout.
Location: Woralie Road
15 Lake Allom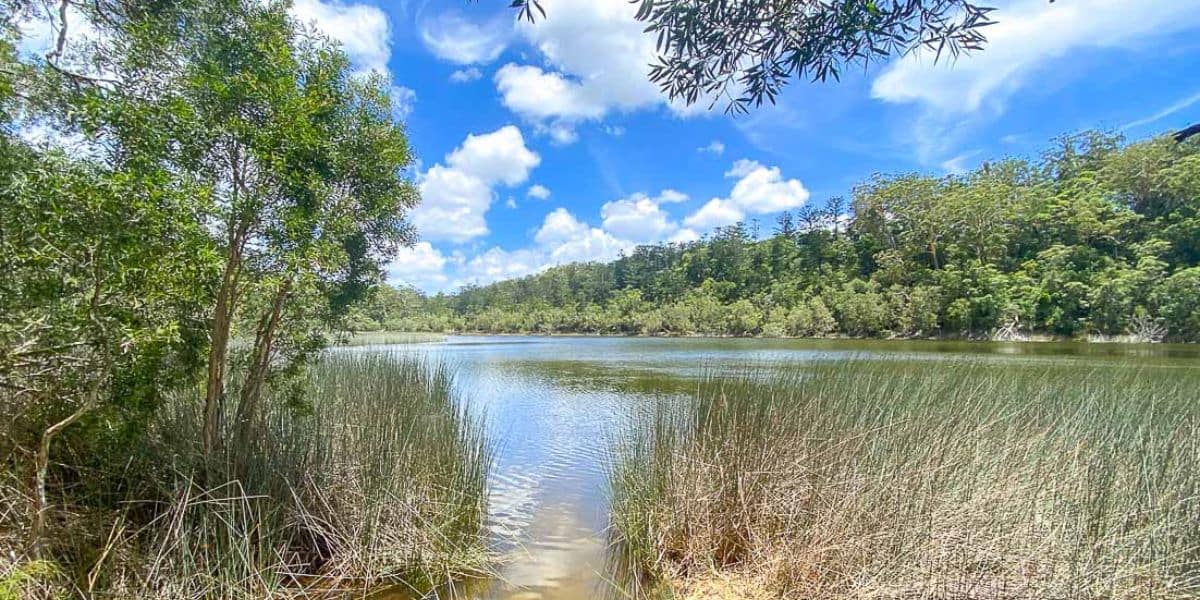 A short distance from the Knifeblade Sandblow lookout, Lake Allom is known for its thriving turtle population.

A 200m return walk from the car park leads you to a viewing area, where you can also observe birds and goannas or launch a kayak so you can enjoy wildlife spotting from the water.

Swimming is not permitted at Lake Allom, but there is a 1.4km circuit around the lake so you can enjoy the surroundings from the banks.

There is a picnic area with tables and toilets near the car park, so you can stop for morning tea or lunch before you go wildlife spotting.
Location: Not far from Knifeblade Sandblow lookout
16 Indian Head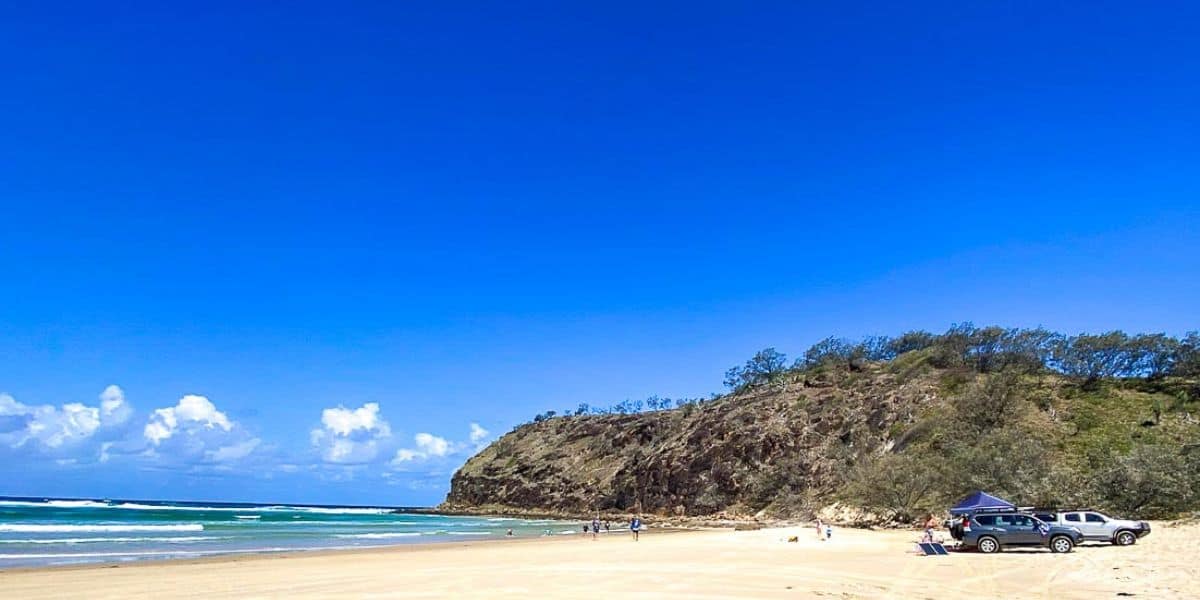 Indian Head is a coastal headland on K'gari and it marks the highest and most easterly point of the island.

The hike to the top of Indian Head takes about 20 minutes. It is steep in some parts with slippery sections, so sturdy walking shoes are essential. The climb is worth it for the breathtaking views across the beach and ocean, where you might be lucky to catch a glimpse of turtles, manta rays, fish, sharks, dolphins, and even whales during whale season.
Note that the road around Indian Head can be soft, so drive with caution.

Location: North on 75-Mile Beach
17 Champagne Pools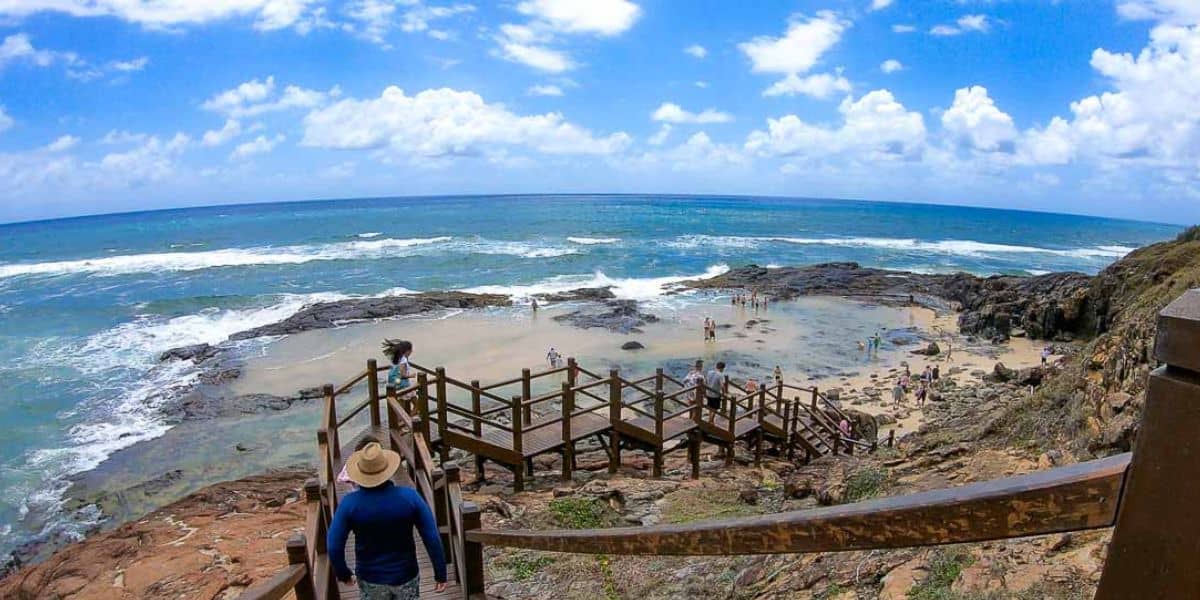 The Champagne Pools at Middle Rocks are a stunning natural wonder, so don't forget your camera as this is one of the top 10 things to do on K'gari and you will want to capture the scene.
The Champagne Pools get their name because of the sea bubbles that flow over the various rock pools, creating natural shallow spa baths. This series of natural volcanic swimming pools are great for swimming, snorkelling and paddling.

The pools are accessed by a short boardwalk and a few steps (which can feel steep on the way back up!). There are plenty of rocks and sandy areas near the pools to place your towels and bag.
Sit or stand in the Champagne Pools and let the waves gently wash over you. Be mindful not to stand on the rocks, as the waves can be strong.

It's recommended to visit at half-tide for the best conditions, as low tide may not have enough water in the pools, and high tide can be a bit too rough.
There are two car parks for the Champagne Pools, but the southern one tends to be busier. If it's full, keep driving to the second one (the toilets are located at the southern car park).
Location: Middle Rocks, just north of Indian Head
18 Waddy Point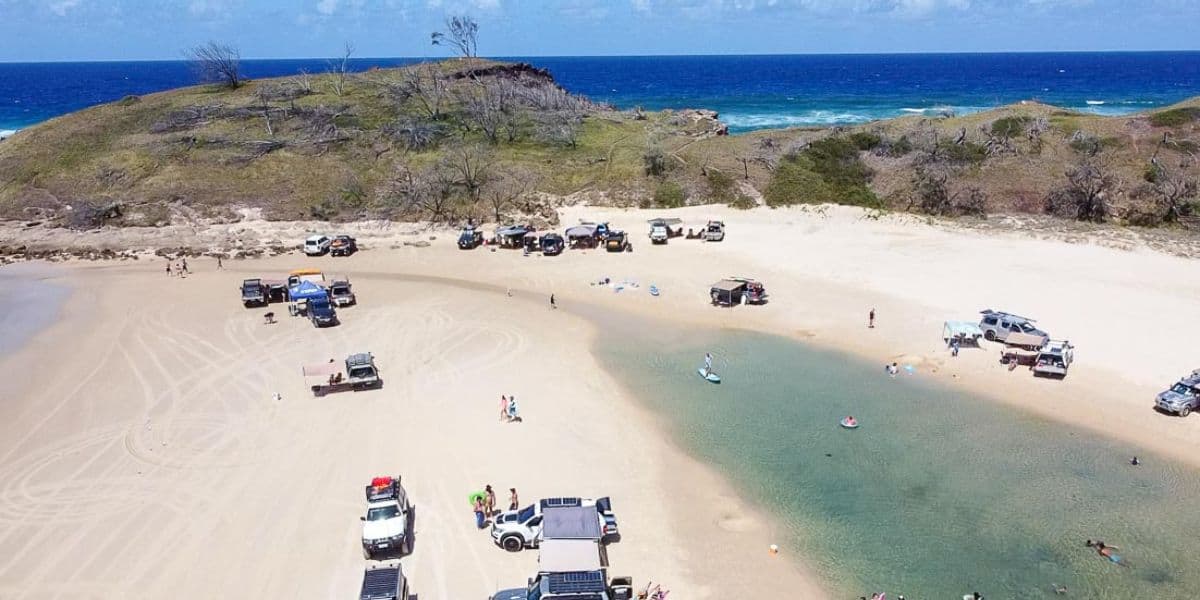 Waddy Point is a breathtaking area boasting miles of wide, pristine beaches, towering sand dunes, turquoise oceans and crystal-clear tidal lagoons.
Many people set up camp at the largest lagoon as it's perfect for swimming, kayaking, and stand-up paddleboarding, so that area can get busier.

Waddy Point is also a prime fishing spot. Plan to spend a good part of the day here, bring your own shade and some lunch. It's one of the best K'gari things to do and see.
Location: North of Champagne Pools
19 Go Fishing
K'gari offers an abundance of fishing opportunities.
Top fishing locations include 75 Mile Beach, Waddy Point, Sandy Cape, Indian Head and Middle Rocks. K'gari's waters are filled with fish including whiting, dart, bream, mackerel, tailor, trevally, tuna, and flathead. Bait harvesting is easy on the island with an ample supply of worms, pipis and yabbies.
Fishing is only permitted on beaches and not in freshwater lakes or streams.
Pack your own fishing gear or book a fishing tour from one of the resorts.
20 Ocean Lake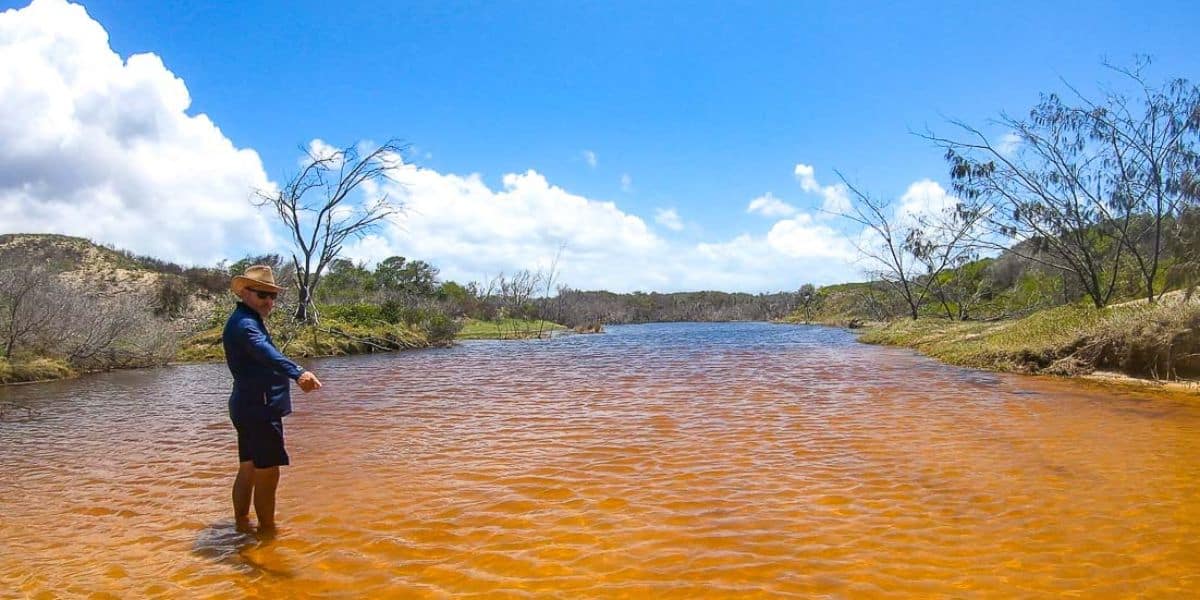 K'gari is home to many beautiful lakes, including Ocean Lake. Although not as stunning as some of the southern lakes, Ocean Lake is worth a visit when in the northern part of the island.

The lake's dark colour, caused by surrounding tea trees, makes it unique, and the water is still crystal clear. This is a great location for paddling or kayaking/stand-up paddleboarding.
Location: North of Waddy Point
21 Sandy Cape Lighthouse
Visiting Sandy Cape Lighthouse involves navigating the notorious drive at Ngkala Rocks – this is not a journey for the faint-hearted! The best advice is to tackle this drive as close to low tide as possible.
Sandy Cape is at the island's northernmost tip. Few visitors venture this far so it's somewhere you can enjoy peace and tranquillity.

At Sandy Cape, you'll be greeted by a sprawling beach with pure white sand and turquoise waters, surrounded by towering sand dunes and sparse vegetation.
For a unique experience, drive an additional 7.5 km to the heritage-listed Sandy Cape Lighthouse. Built in 1870 on Flinders Sand Blow, the lighthouse offers a challenging climb to the top, reaching 128m above sea level and a height of 26m, making it the tallest lighthouse in Queensland.
Location: Northern tip of the island
22 K'gari's Western Beaches and Creeks
Not many people venture onto the western side of K'gari, which is a shame as there are some truly beautiful places to explore.
Driving on this side of K'gari can be more difficult due to the soft, boggy sand, and some 4WD rental companies even prohibit driving here.
If you do get the chance to visit the western side, don't miss the chance to explore Awinya Creek, Bowarrady Creek, Woralie Creek, and Coongul Creek.

These western creeks offer fantastic opportunities for swimming, kayaking, and stand-up paddleboarding. Plan to visit around lunchtime, bring some shelter and a picnic.

Unfortunately, the beaches on this side are known for stingers, so swimming in the ocean is not recommended.
Location: Western side of the island
23 The Great Walk
Ever dreamed of meandering through ancient rainforests, beside pristine lakes and over powder-soft dunes? For a true wilderness experience, The Great Walk could be your perfect K'gari itinerary!

This 90 km walk can be tackled in chunks or in its entirety. You will need to be moderately fit to tackle this multi-day trek. You can complete the full walk in around eight days (although you might want to stretch it out to allow yourself time to enjoy the camping spots along the way).

If camping isn't for you, Auswalk run self guided walks where you can stay in hotel accommodation on the way and have meals provided.
Location: 90 km of trails from Dilli Village to Happy Valley (although you can tackle as much or as little of it as you like)
24 Go on a Wildlife Nightwalk
If you love wildlife, a night walk is one of those fantastic things to do. K'gari offers all kinds of exciting sights and sounds after dark. From spotting spiders' eyes shining like diamonds under the light of a torch to seeing sugar gliders jump in the trees above, it's an exciting experience for all the family.

Kingfisher Bay Resort offers ranger-guided night walks, or take your torch and go and explore for yourself.
25 Spot a Dingo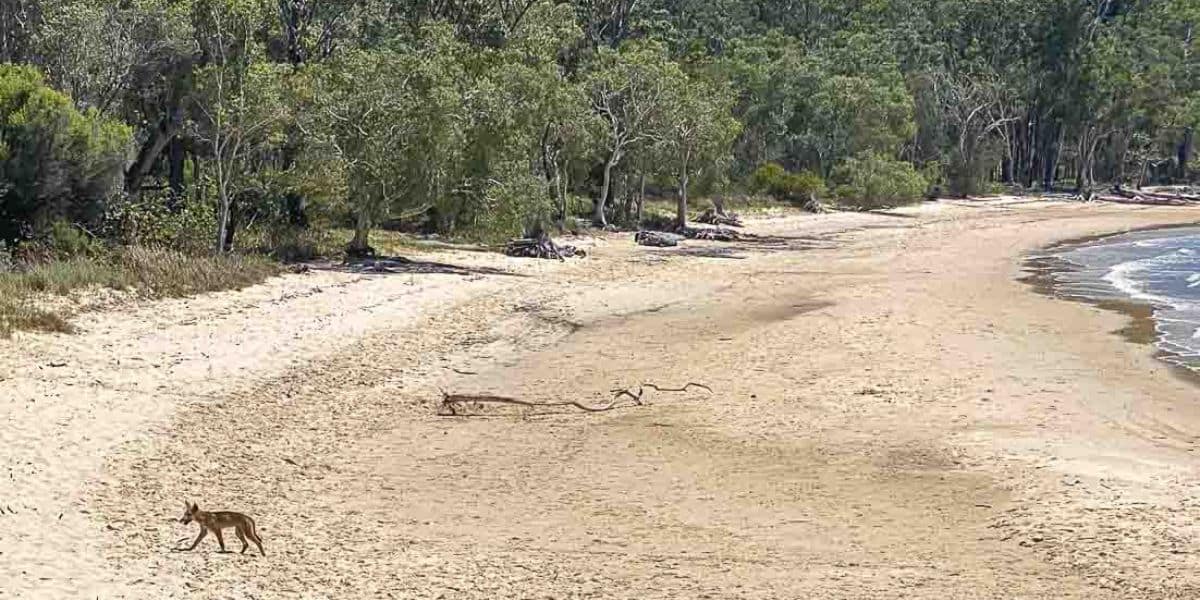 Dingoes are wild animals that live on K'gari in packs. During your time on K'gari, hopefully you'll be lucky to see one from a safe distance.

There are said to be around 25 to 35 packs living on K'gari, each containing up to 12 dingoes.

Dingoes have had a bad reputation in the media, but you just need to treat them with caution as they are wild animals that deserve respect. Don't let children play alone, secure your food and rubbish while camping, follow signage about where you can and can't take food and never feed them.
You will have lots of opportunities to spot a dingo while exploring K'gari.
26 Listen to the Dreamtime Story: The Tale of the Butchulla Women
Join a guided tour to learn about this Aboriginal dreamtime story that is so important to the traditional land owners of K'gari.

Resorts such as Kingfisher Bay also offer the opportunity to learn about the tale of the Butchulla women through their talks, tours and Junior Eco Rangers programme.
Location: Kingfisher Bay Resort
27 Pinnacles Coloured Sands
Another one of K'gari's top attractions is the coloured sand cliffs known as the Pinnacles. This spectacular rock formation displays coloured orange, red, yellow and brown sands.

This colourful natural landscape makes a great photo opportunity.
It's a quick stop along 75 mile beach – you don't need to allow long to explore but it's well worth adding to your K'gari things to do list.

Location: 75 Mile Beach
28 Try some Bush Tucker
If you're keen to try some local bush tucker, head to Kingfisher Bay Resort. Here you can take part in a bush tucker talk and taste session to learn all about the region's traditional foods.

Kingfisher Bay's Seabelle Restaurant also offers a bush-tucker infused menu if you'd like to try some of the bush tucker ingredients served in a carefully curated way alongside other fresh, Australian produce.
Location: Kingfisher Bay Resort
BEST TOURS OF K'GARI (FRASER ISLAND)
If you're short on time or don't have your own 4WD, a group tour is often the best way to see the highlights of K'gari. While there are lots of day tours of K'gari from Hervey Bay and other mainland locations (see the list below), you'll also be able to pick up a day tour from your resort if you're staying on K'gari.
Below we've listed some of the best tours of K'gari.
K'gari Coach Tour (from Hervey Bay)
This is the perfect tour to see all of the main sites and key attractions on K'gari, including the Maheno Shipwreck, Lake McKenzie and Eli Creek.

You'll be transported from Urangan in an air-conditioned coach, and your knowledgeable driver will lead you on a fun tour of K'gari. Lunch at K'ari Beach Resort is included, along with National Park fees and the return ferry trip.

You can add the scenic flight to the trip for an extra fee, so it's well worth considering that.
Click here for information and to book your tour
Remote K'gari Tour (from Hervey Bay)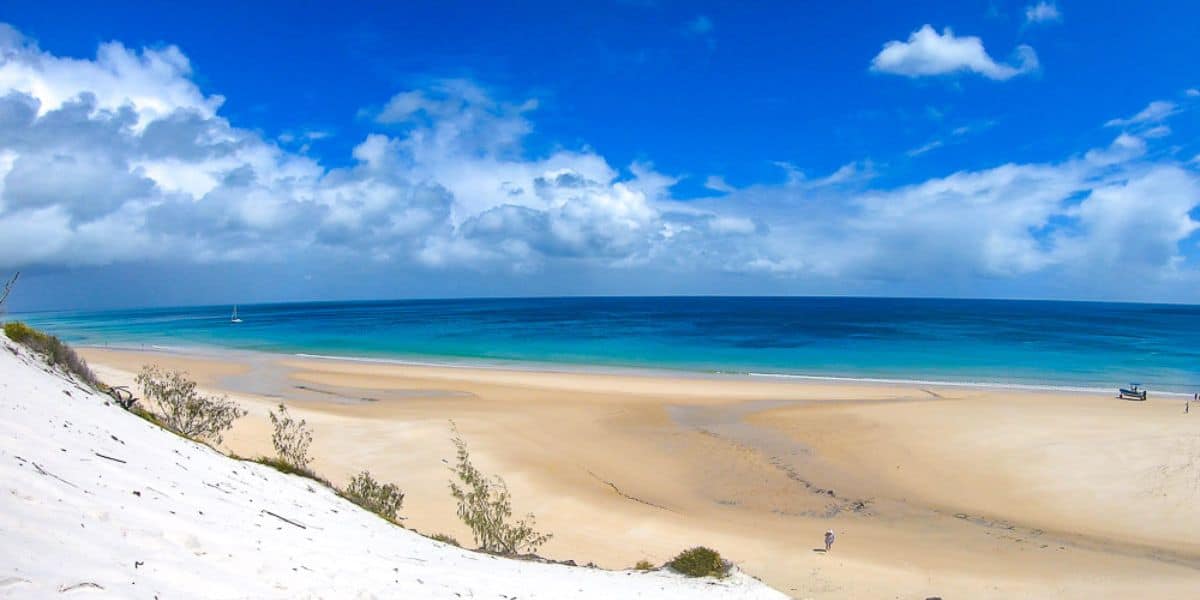 This tour that departs Hervey Bay has a focus on more off-the-beaten-track locations and more unique K'gari experiences. This tour includes paddling a kayak in K'gari's pristine waters along with snorkelling opportunities – look out for turtles and rays!

If you're a wildlife-lover looking for something a little different to the regular sightseeing tours, this is the tour for you. This trip includes guided walks, beach activities, watersports and lunch.
Click here for information and to book your tour
K'gari Aussie BBQ Cruise (from Hervey Bay)
Beach lovers can explore K'gari's more remote western banks or Pelican Banks (depending on the season) on this beach BBQ cruise. It's a great opportunity for wildlife spotting, and there will be ample opportunities for water activities including kayaking and swimming.

This is a beach adventure to enjoy the untouched paradise rather than a regular sightseeing tour and it's perfect if you want to immerse yourself in the stunning natural environment.
Click here for information and to book your tour
Multi-day tours of K'gari
Multi-day tours of K'gari are also available if you have the time to spare. There is so much to see and do on K'gari so to really experience the best things to do on K'gari, stay for longer. Click here to see what's available.
BEST HOTELS IN K'GARI (FRASER ISLAND)
Looking for somewhere to stay in K'gari? We recommend making your booking through Booking.com as they offer a wide range of hotels and most with free cancellation, which is ideal for last minute changes.
However, if you want our recommendation for a hotel, below we've listed our top pick for a luxury/family hotel, mid range and budget hotel.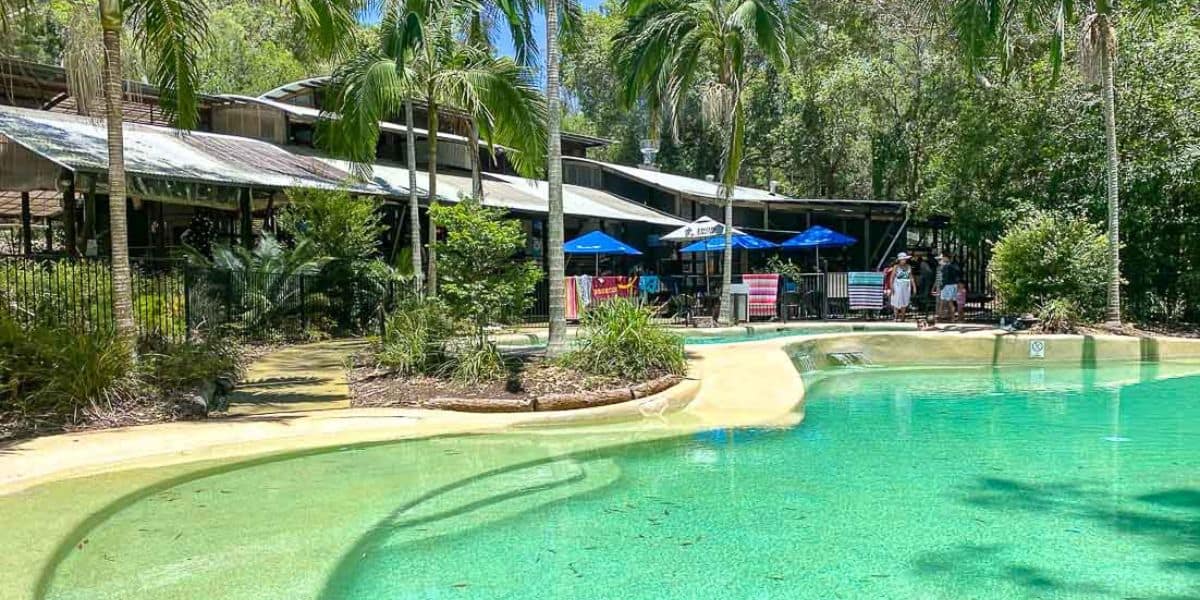 Kingfisher Bay Resort is a great option if you're wondering where to stay on K'gari. If you don't have a 4WD car, you can get the ferry right to Kingfisher Bay Resort and use it as a base as you explore the island on organised tours. It's a safe and secure resort for your K'gari stay (as it's surrounded by a dingo fence), so it's the ideal option for families.

This eco-friendly resort offers a wide range of accommodation types from air-conditioned hotel rooms (with varying grades from basic up to family rooms) to villas and holiday houses, so it's perfect for larger groups. All accommodation includes a TV and essentials such as a kettle, hairdryer, iron and small fridge. Larger accommodation options include dishwashers, kitchens and washing machines.

The resort offers three restaurants and four swimming pools. There are ample tours to choose from including ranger-guided activities, water sports, guided hikes and more. Kids will love the Junior Eco Rangers program (which runs during school holidays).

Kingfisher Bay Resort is a fantastic place to stay during your K'gari holiday, especially if you want to travel without a car and you're looking for a comfortable resort with plenty of facilities.
Click here for more information or to book.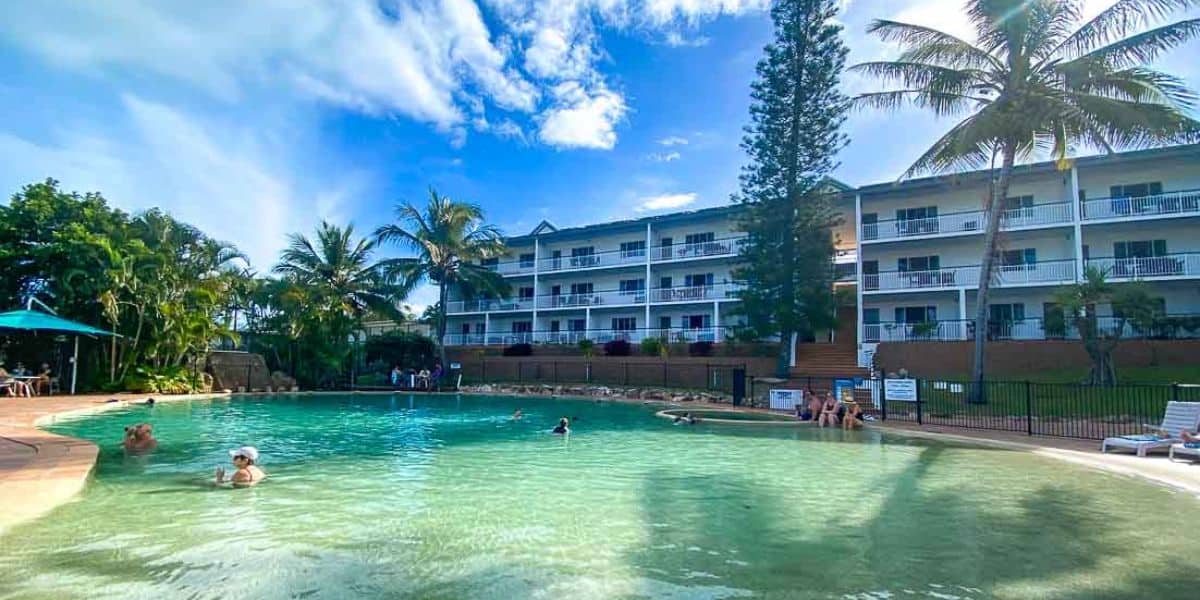 K'gari Beach Resort (formerly known as Eurong) stands in a prime location on the east coast of K'gari and it's an ideal stopover while exploring the island. Please note: You will need a 4WD to get to this resort so you'll either need to bring your own or hire one.
A range of types of accommodation is available including hotel rooms and two-bedroom apartments. All rooms have ceiling fans along with a deck or patio area. The two-bed apartments include cooking facilities, outdoor decks or balconies and ceiling fans. If you want air conditioning in your hotel room or apartment, you will need to request this upgrade as rooms are subject to availability.
The resort is surrounded by a dingo fence, making it safe for families. There is a large lagoon-style pool, a restaurant serving breakfast, lunch and dinner, a bottle shop, tennis courts and a petrol station so you have everything you need on-site. You can also book tours from here too.
This resort is a great base if you're looking for somewhere basic and functional to stay while exploring the island.
Click here for more information or to book.
Fraser Island Retreat at Happy Valley offers budget-friendly cabins and hotel rooms within easy reach of K'gari's main attractions. Accessible only by 4WD, this resort is a central location to base yourself as you explore the island.
The resort has nine spacious cabins that feature one or two bedrooms (the two bedroom cabins can sleep up to six people). They also have four hotel rooms which can sleep up to four people each. Accommodation includes linen, ceiling fans, a fridge/freezer and tea and coffee making facilities.
The resort has a swimming pool, BBQ area (that features a microwave, toaster, and gas cooktop so you can cook up a storm – just remember to pack your own utensils!), a laundry and an on-site shop. The Satinay Bar and Bistro is open for lunch and dinner, so you can relax after a day off-roading.
This is a smaller, quieter resort but it's great for its budget price tag.
Click here for more information or to book.
GETTING TO K'GARI
It's relatively straightforward to get to K'gari via one of the K'gari barges. You can choose to take either the Inskip Fraser Island ferry or one of the two ferries that operate from River Heads.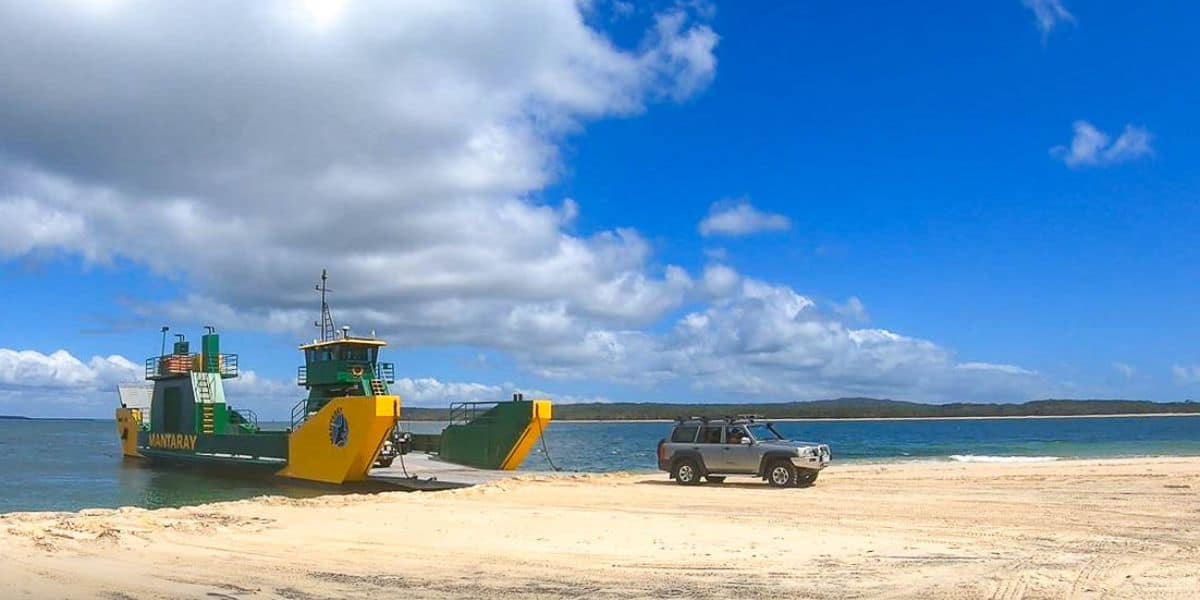 From Inskip / Rainbow
The most popular barge to take across to K'gari is the Manta Ray Barge, often called the Inskip or Rainbow Beach ferry to K'gari. From here it is just a 10 minute journey across to the southern tip of K'gari at Hook Point.
This boat to K'gari operates daily from 6 am to 5 pm. There is no need to book this car ferry to K'gari and there is no set timetable, the barges just cross the strait continually during this time. During peak times, two barges operate and the journey takes just 10 minutes.
Prices start at $130 return for a 4WD including passengers.
From Hervey Bay
If travelling to K'gari from Hervey Bay, one of the River Heads ferries will be the easiest option. River Heads is just a short 20 minute drive south of Hervey Bay.
From River Heads, there are two different ferry operators: the Kingfisher Bay Ferry which arrives at the Kingfisher Bay Resort Jetty, or the Fraser Venture which arrives at Wanggoolba Creek – both on the western side of K'gari.
The Kingfisher Bay Ferry barge times to K'gari are 6.45 am, 9 am, 1 pm and 3.30 pm daily. For the return journey, the barges leave daily at 7.50 am, 10.30 am, 2.30 pm and 5 pm. The trip takes 50 minutes.
The Fraser Venture ferry times to K'gari are 8.30 am, 10.15 am and 4 pm daily. For the return journey, the ferry leaves daily at 9 am, 3 pm and 5 pm.

Please note that this trip is affected by tides and in some cases will arrive and leave from Kingfisher Bay Resort instead of Wanggoolba Creek – so please keep this in mind when booking. This trip takes 40 minutes.
Prices for either ferry start at $65 per adult walk-on return or $205 for a standard 4WD vehicle off-peak and $7 per driver/passenger return.
ENJOY K'GARI!
Hopefully, this guide has given you lots of inspiration on things to do in K'gari.
If you're planning a trip to K'gari, I highly recommend you check out our Fraser Coast guide which provides links to everything you need to know to plan your trip.
I'd also recommend you join our free Queensland Travel Guide Facebook community, where you can ask all your questions and find even more great trip suggestions.
If you're heading to K'gari, you might also be interested in the following nearby destinations: