Are you planning a trip to Yeppoon? This article covers the best things to do in Yeppoon, including tourist attractions, activities and places to visit.
The Queensland Travel Guide acknowledges the Darumbal People, the Traditional Custodians of the land on which the Yeppoon region is situated. We pay our respects to their Elders past, present and emerging, and recognise their continued spiritual and cultural connections to Country. Always was, always will be, Aboriginal land.
Yeppoon is a popular tourist destination on the central coast of Queensland – about an 8 hours drive from Brisbane. The area offers a mix of stunning natural beauty, cultural attractions, and fun-filled activities, making it the perfect destination for a long weekend, a detour while heading north or even a week long escape, as there is plenty of Yeppoon things to do.
One of the more famous Yeppoon attractions is Great Keppel Island – you can spend a few days here or even a day trip if you're short on time. The island is home to some of Queensland's most pristine beaches and offers swimming, snorkelling and scuba diving activities.
Another one of the top things to do Yeppoon offers is a visit to the Capricorn Caves. The caves are a network of ancient limestone formations formed over millions of years and offer a unique underground experience.
There is a range of activities in Yeppoon for adventure enthusiasts, including surfing, fishing, kayaking, and kite-surfing. The area also has several parks and walking trails, making it a great destination for those exploring the great outdoors.
This guide will help you decide what to do in Yeppoon as it covers all the popular things to do around Yeppoon, the best Yeppoon tourist attractions and all the essential information such as locations, opening hours and ticket prices where necessary.
So let's get into it and help you discover the best tourist attractions in Yeppoon and other places in the region.
This post may contain compensated links. Please refer to our disclaimer here for more information.
THINGS TO DO YEPPOON MAP
Before we get started on all the things to see in Yeppoon, to help you plan your itinerary, check out the map below. This map shows the location of all the things to do near Yeppoon, which are covered in this guide.
I recommend you first list your favourite Yeppoon things to see and do and then use this map to plan your day to day itinerary, so you're not travelling back and forth all over town.
BEST THINGS TO DO IN YEPPOON
Below we cover the top places to visit and things to do in Yeppoon.
1 Yeppoon Lagoon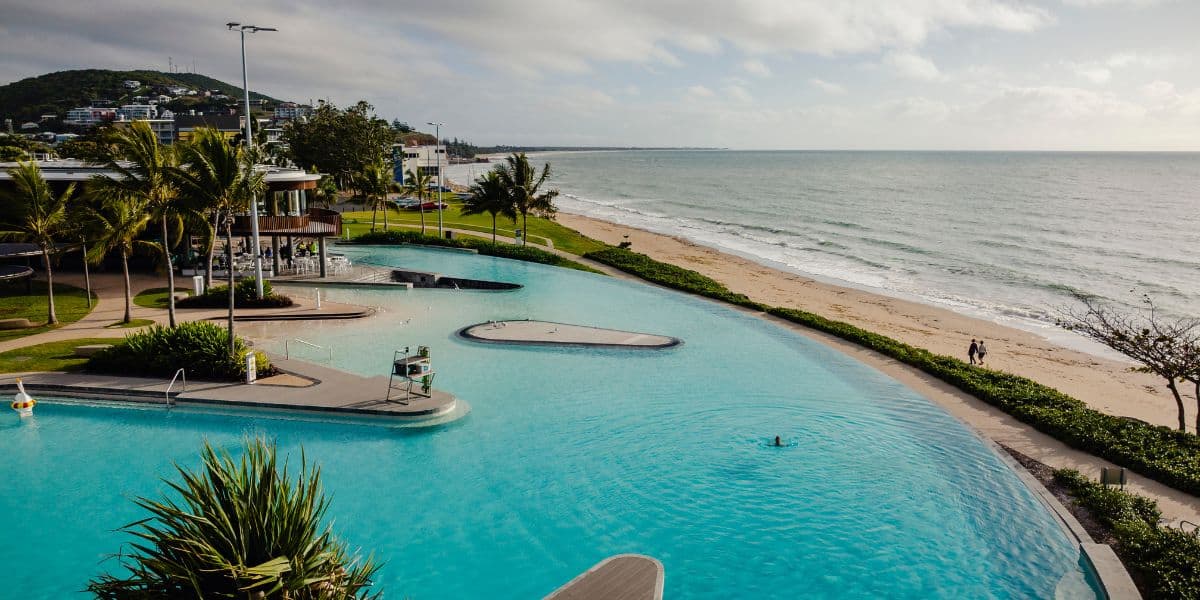 Image credit thanks to Tourism and Events Queensland
You can't miss Yeppoon Lagoon when passing through the Yeppoon foreshore precinct; undoubtedly one of the most fun things to do in Yeppoon! Stretching over 2500 square metres, the resort-style pool is the perfect spot for swimmers of all abilities, including a shallow children's play area with water fountains and an informal lap pool.
When visiting Yeppoon Lagoon, you'll also be treated to amazing views from the infinity edge pool, from where you can gaze over the sparkling coastline all the way to the Keppel Islands.
There's plenty of space to relax around the pool, too, so you could easily spend a full afternoon here. In addition, the surrounding parklands have picnic areas and barbecues if you want to stay for lunch, with many seats under the shade of tropical foliage.
Look out for the pelican lifeguards patrolling the swimming pool! These fun sculptures were named one of Australia's best public art experiences and were installed directly inside the pool.
The Lagoon is definitely a must-do during your visit to Yeppoon, especially if you're visiting with kids in tow!
Location: 3 Lagoon Place, Yeppoon
Hours: Daily from 6 am to 9 am
Cost: Free
2 Spirit Stone
While on your way to Yeppoon Main Beach, don't forget to stop at the 'Spirit Stone' sculpture.
Maurice Lempire designed the circular sculpture in 2001. It was built to commemorate the Federation of the Australian Colonies Centenary in 1901. This historical event made history when the six separate self-governing colonies of New South Wales, Victoria, Tasmania, Queensland, South Australia, and Western Australia formed one nation.
The sculpture has a unique ring-shaped design, with the middle of the circle overlooking the beach and beyond, so it's an excellent spot to take some distinctive photos of your trip to Yeppoon.
Location: Anchor Drive, Rosslyn Bay, Yeppoon
Hours: Always open
3 Shell World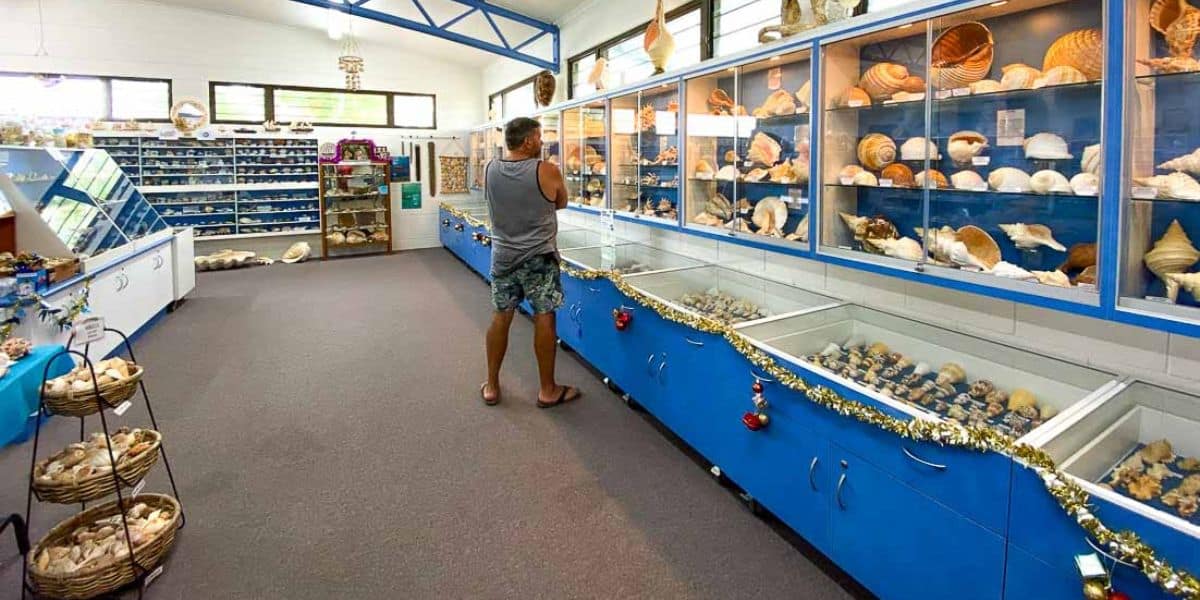 If you've ever strolled along the beaches collecting shells, you'll love Shell World and its impressive display of over 20,000 shells!
Shell World is just a quick stop next to the tourist information centre, so you can stop by while picking up any maps or brochures you need for your stay in Yeppoon,
When looking through the vast collection, you'll be surprised by how varied shells can be – and how beautiful they are. Even for adults, appreciating all the shells on display can be quite a nostalgic experience.
Every land, marine, and fossil mollusc is clearly labelled, alongside various corals and craft items. The shells have been sourced from all over the world, so it can be quite an educational visit.
The centre is operated by a team of passionate volunteers who are on hand if you have any questions and will let the kids pick up and touch some of the more interesting items. If you're after unique souvenirs, the centre has some cute and budget-friendly gift ideas.
If you're looking for family things to do in Yeppoon, we highly recommend stopping by Shell World.
Location: 1 Scenic Highway Yeppoon – entry through the Tourist Information Centre
Hours: Daily from 9 am to 5 pm
Cost: Admission by gold coin donation
4 Street art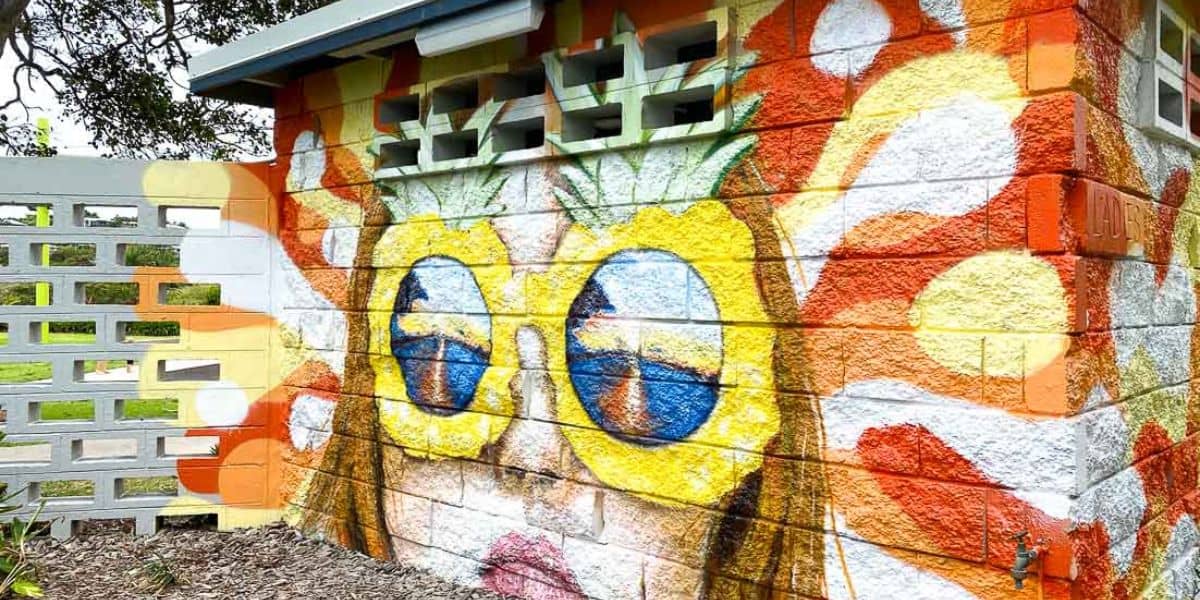 Exploring Yeppoon's colourful street art scene is a wonderful way to get to know the ins and out of this gorgeous coastal town.
You'll spot murals all around the town, even bringing urban areas like the Queen Street car park and Barry Street to life. There is some beautiful artwork by community artists on Hill Street and, if you don't mind the 20-minute drive, Emu Park has some fantastic murals too.
Don't miss the street art in Pie Alley – just off Normanby Street; the artwork has a really interesting history. After Cyclone Marcia caused a lot of damage to the town, the community needed something to lift their spirits. And so, the Australian artists Bill and Luke Gannon painted the town's first ever street art here to symbolise the hope and history of Yeppoon locals.
Walking around Yeppoon's colourful alleyways and spotting the amazing murals is a really fun way to spend an afternoon in Yeppoon.
5 Visit Yeppoon's beaches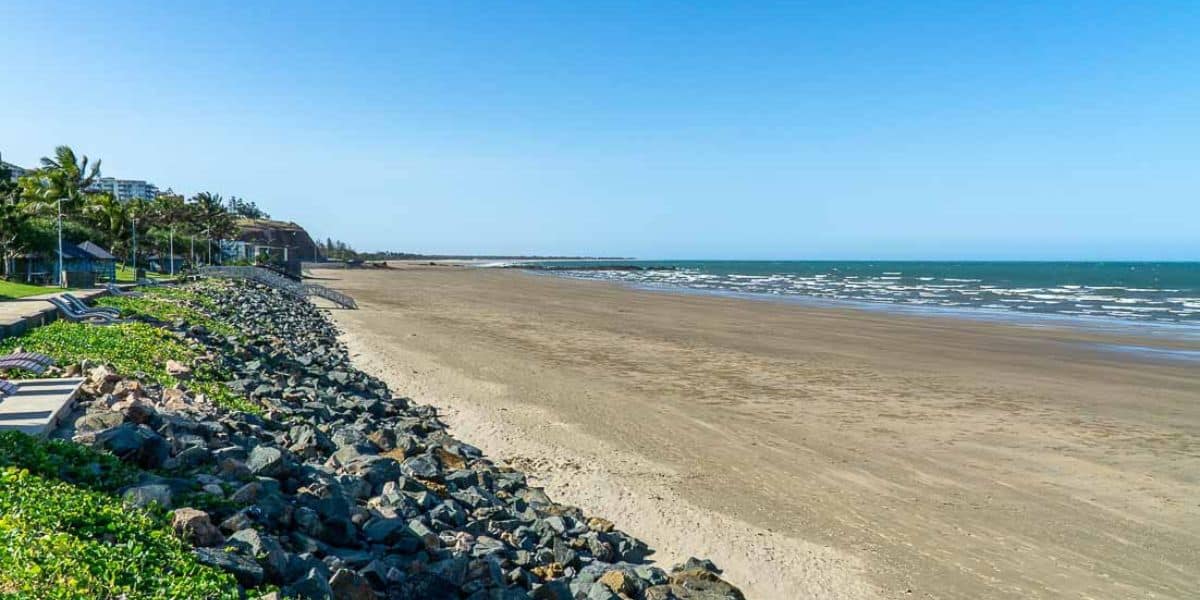 Visiting Yeppoon beach is one of the best things to do in Yeppoon for free during a visit to this vibrant town.
Most of the action is at Yeppoon Main Beach, a long sandy bay with plenty of space for sunbathing, taking a stroll, or building sandcastles. The walkway is pram and wheelchair-friendly, allowing everyone to enjoy the sublime coastal views. If you plan to spend a day here, parking and picnic tables are conveniently located next to the beach.
If you'd prefer to escape the town centre and find some of Yeppoon's more underrated beaches, you'll be pleased to know that there are many amazing bays along this beautiful coastline!
Whether you want to relax or enjoy some outdoor activities, you'll find plenty of options to suit your preference. If you want to unwind at a secluded bay, head to Zilzie Beach for a 600m stretch of sand with a picturesque palm tree. Emu Park Main Beach is perfect for surfing or head to Kinka Beach for excellent swimming facilities.
For amazing views and outdoor activities, such as kayaking, canoeing, and hiking, the wild Mulambin Beach might be more up your alley. Kemp Beach offers similar activities and is one of the area's more secluded and beautiful bays.
Finally, Farnborough Beach is a fabulous family-friendly option, with lots of space for kids and dogs to run free. There's also a park with BBQ facilities and a playground near the entrance by Yeppoon Main Street.
6 Take a sunset cruise
There's no better way to appreciate the beauty of the Capricorn Coast than with a sunset cruise from Yeppoon.
You'll depart from Keppel Bay Marina before taking in the surrounding coastline and islands, which look particularly mesmerising during sunset. The experienced and welcoming crew will point out any interesting views and ensure you have a memorable time.
Many 90-minute cruises greet guests with a glass of champagne upon boarding before a Cheese and Deli board is served, so it's definitely one of the most romantic things to do in Yeppoon at night.
But anyone can enjoy a breathtaking boat trip here, and families will have a great time on the water. So no matter who you're travelling with, a relaxing catamaran journey is a perfect way to end a day in Yeppoon!
A range of operators offers sunset cruises.
7 Wreck Point Lookout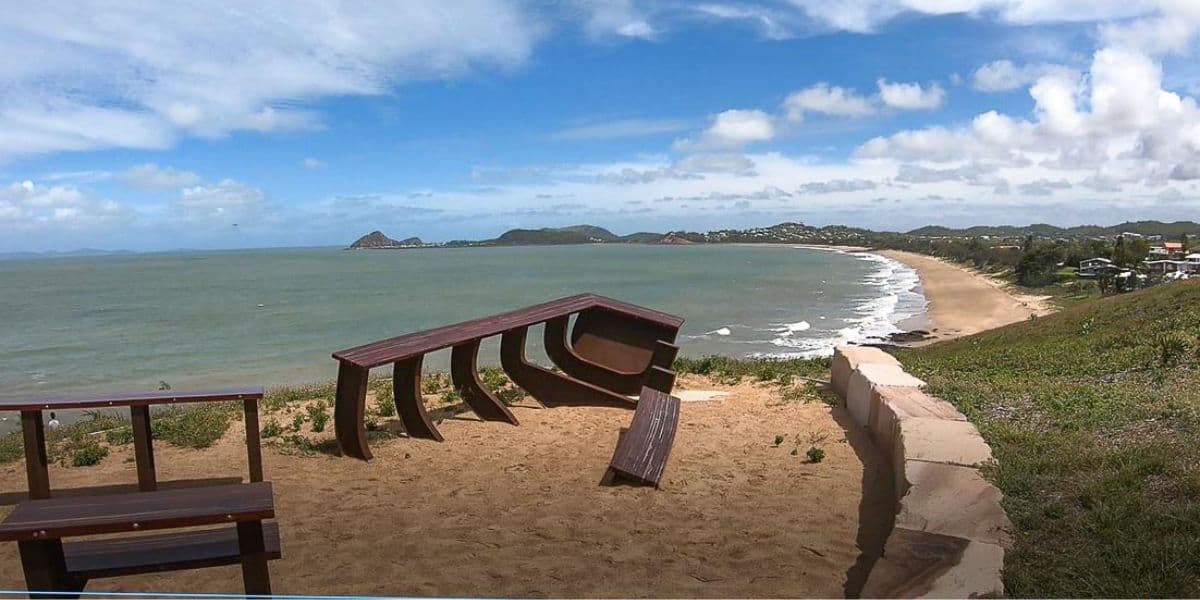 Don't forget your camera when you visit the magnificent Wreck Point Scenic Lookout. Located in the stunning Cooee Bay, just a short drive from the town centre, you'll be treated to 360-degree views of the dazzling Capricorn Coast and the Keppel Islands.
To make the most of the scenery, wander around the nature trail and descend down 68 steps to see its shipwreck-inspired wooden art installation. The symbolic artwork and information boards tell the story of Selina, the 62-ton sailing ship that washed ashore near Cooee Bay in 1848.
After the short walk to the lookout, you'll have fabulous views of Yeppoon, Lammermoor Beach, Rosslyn Bay, and Great Keppel Island. The lookout is great at any time of day, but the best time to come is sunset or dusk when the walkway is lit up with multicoloured lighting.
Location: Matthew Flinders Drive, Cooee Bay
Hours: Always open
8 Fig Tree Creek Markets
On the first Sunday of each month, it's well worth stopping by the Fig Tree Creek Markets to see what local goodies are on offer. If you're wondering what is there to do in Yeppoon on weekends, this option is a community favourite.
Walking around the stalls, you'll see a huge variety of locally handmade, home-baked and home-grown talent. In addition, some truly creative products are on display and available to purchase.
Adding to the vibrant weekend vibes, visitors can enjoy live entertainment as they wander through the fig trees and stalls beside Ross Creek.
Location: Merv Anderson Park – 1 Scenic Highway, Yeppoon
Hours: Saturdays from 6 am to 10 am
Cost: Free
9 Fig Tree Galleries
For art lovers, it's worth stopping by Fig Tree Galleries to see what local gems are on display. Nestled behind the fig trees, the quiet space shows a mix of paintings, pottery, jewellery, and woodwork.
The gallery runs various events and exhibitions throughout the year to showcase local creativity and inspire others, including workshops for anyone who wants to give try something creative in a welcoming setting.
Location: 31-35 Normanby Street, Yeppoon
Hours: Daily from 9.30 am to 4.30 pm
Cost: Entry is free | Paid workshops are available
10 Double Head Track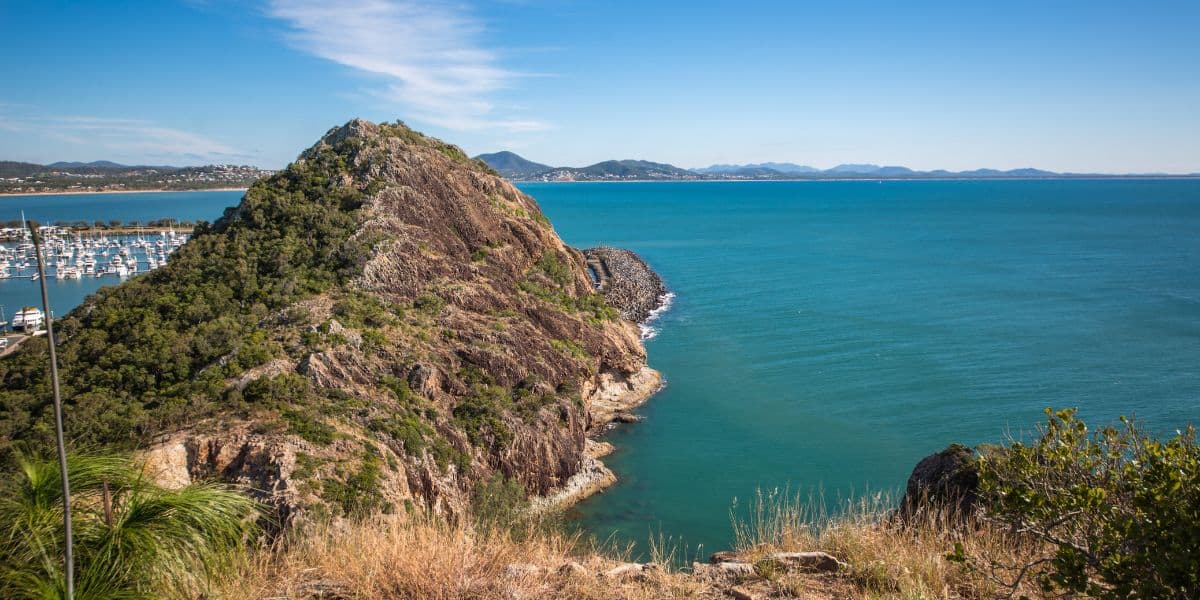 Image credit thanks to Tourism and Events Queensland & Blink Photography
The moderate Double Head Track is short but steep – but the effort of this 40-minute return trail is justified after you're rewarded with glorious views!
Beginning at Shoreline Road, the trail winds around to Pebble Beach. From here, climb to the lookout at Double Head Viewpoint for spectacular views of Bluff Rock.
This first lookout is also known as 'Fan Rock Lookout.' The rock is actually the remnant of an ancient volcano and is characterised by its fascinating hexagonal rock formations that date back over sixty million years!
After taking a break at Fan Rock, continue to the second lookout at Rosslyn Bay. This time you'll have more panoramic views over Rosslyn Bay Harbour, Keppel Islands and the Byfield Ranges.
Besides the wonderful views, the track is well-maintained as it weaves through the native bush and fig trees. It's definitely one of the top 10 things to do in Yeppoon if you want to take on the region's stunning natural beauty.
Location: Capricorn Coast National Park Double Heads Section, Rosslyn
Hours: Always open
11 Live music at The Alley
Enjoying the electric atmosphere at The Alley has to be one of the best free things to do in Yeppoon! This is a great place to enjoy a lively evening with live blues music every night.
The Yeppoon locals running the venue are passionate about great food and music, so you'll be well-fed as you enjoy the live entertainment. An extensive menu of food and drink is on offer, including local wines and beers.
You can get some quality coffee and fresh food from the breakfast or lunch menu in the daytime.
The local community is at the heart of the venue, as the hosts aim to make The Alley a welcoming space for all who visit. This is reflected in the chilled-out atmosphere and great service, so it's a fantastic place to grab a meal while exploring Yeppoon.
Location: 14 Normanby St, Yeppoon
Hours: Fridays and Saturdays from 6.30 am to 11 pm | Sunday to Thursday from 6.30 am – 2 pm (Look out for the live music events on their Facebook page)
Cost: Depends on how much you eat and drink!
12 Bluff Point Track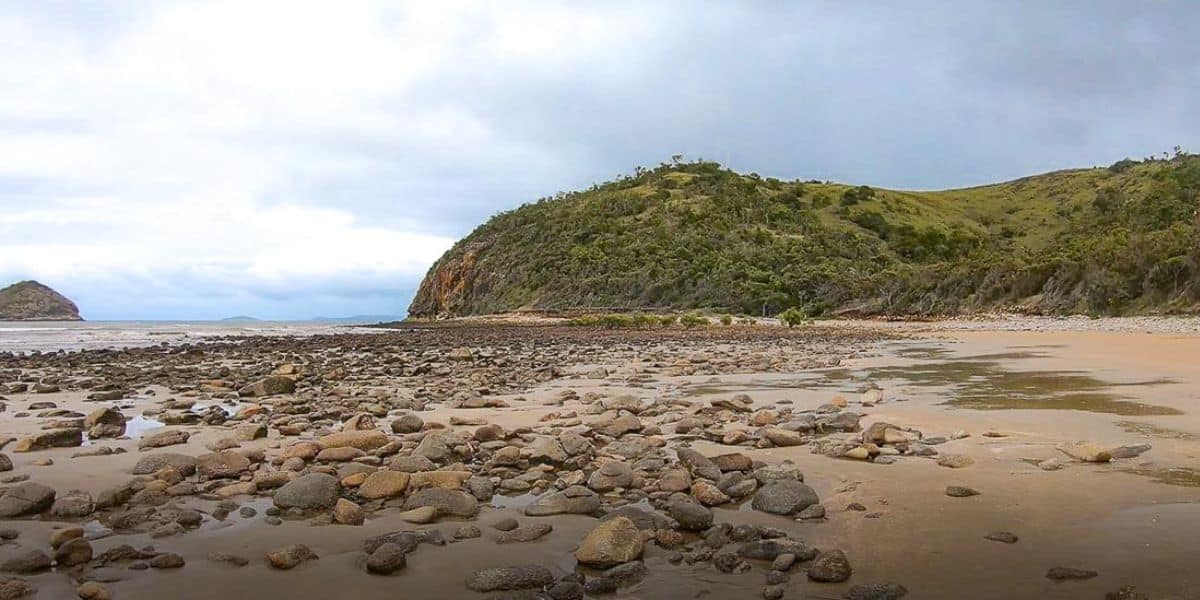 This beautiful 2.3km loop walk offers two amazing viewpoints over the Capricorn coastline and beyond.
The trail begins at Kemp Beach with a steep 600m ascent to the Turtle Lookout, where you can admire the neighbouring islands. Don't forget to look down and watch the turtles bobbing around the rocks below – after all, the viewpoint is called Turtle Lookout for a reason!
After admiring the turtles, continue past the panoramic views at Ritamada Outlook before winding through the eucalypt forest and grasslands. There's lots of native flora to admire, and Blue Tiger butterflies and vibrant wildflowers are often seen decorating the pathways with a splash of colour.
Location: Bluff Point Walking Trak, Rosslyn
Hours: Always open
13 Go fishing
There are some brilliant places to go fishing around Yeppoon. Aside from fishing at the centrally located Ross Creek, the area is better known for off-shore reef and estuary fishing.
Depending on the day, you might catch anything from a giant cod in the estuary to a red emperor at the offshore reefs, with a minimum size of 55cm. In addition, locals often catch tuna, sweetlips, hussar, white trevally, amberjack and mackerel around the area.
14 Emu Park Anzac Court and Memorial Walk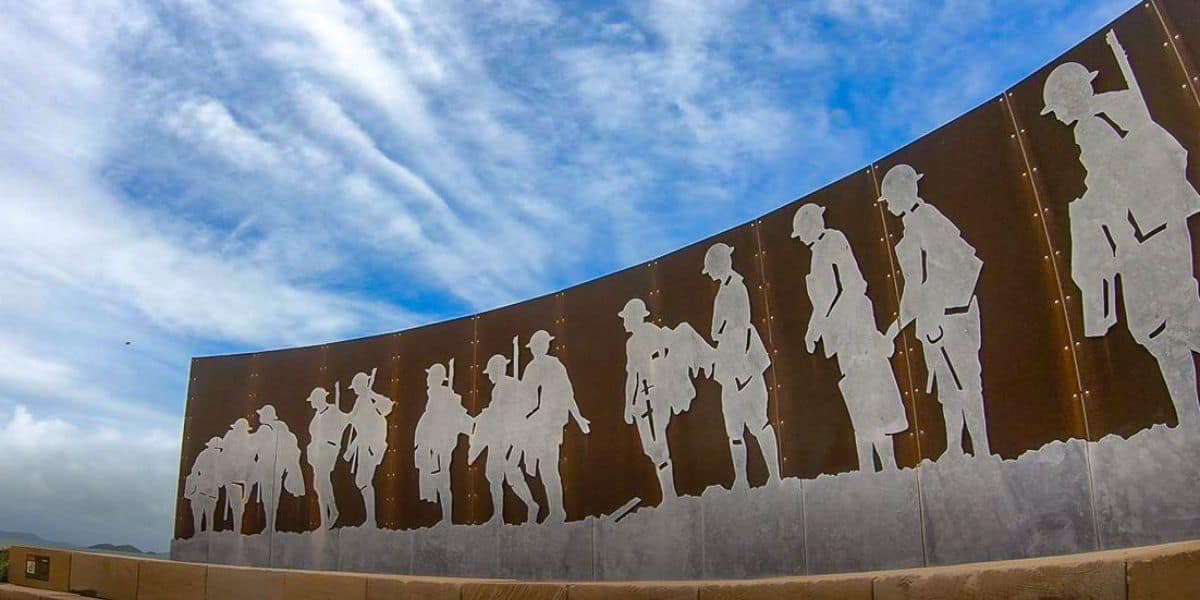 Emu Parks is one of Australia's most unique and well-designed ANZAC memorial walks. Its stunning boardwalk follows the region's stunning coastline, passing beautiful installations that pay tribute to the ANZACs.
As you stroll along the 175m trail, you'll see silhouettes of real service members and floor-to-ceiling storyboards, including portraits of locals who fought in the first world war.
Fusing the beauty of Yeppoon's standout coastline with a touching tribute to local service members, the short walkway is an emotional but reflective experience and definitely one of the most memorable Yeppoon attractions.
Location: 1 Emu Street, Emu Park
Hours: Always open
15 Emu Park Historical Museum
Emu Park Historical Museum is one of the best places in Yeppoon to learn about local history. The not-for-profit museum has some wonderful volunteers to assist anyone visiting one of its fascinating exhibits.
Many of the collections were privately donated, including clothing, model ships, shells, and other memorabilia. You can also see an old train carriage on display while wandering through the historic buildings.
Location: 17 Hill St, Emu Park
Hours: Weekdays 9 am to 1 pm | Weekends casual opening times (hours dependent on volunteer availability)
Cost: Adults $5 | Students $2
16 Singing Ship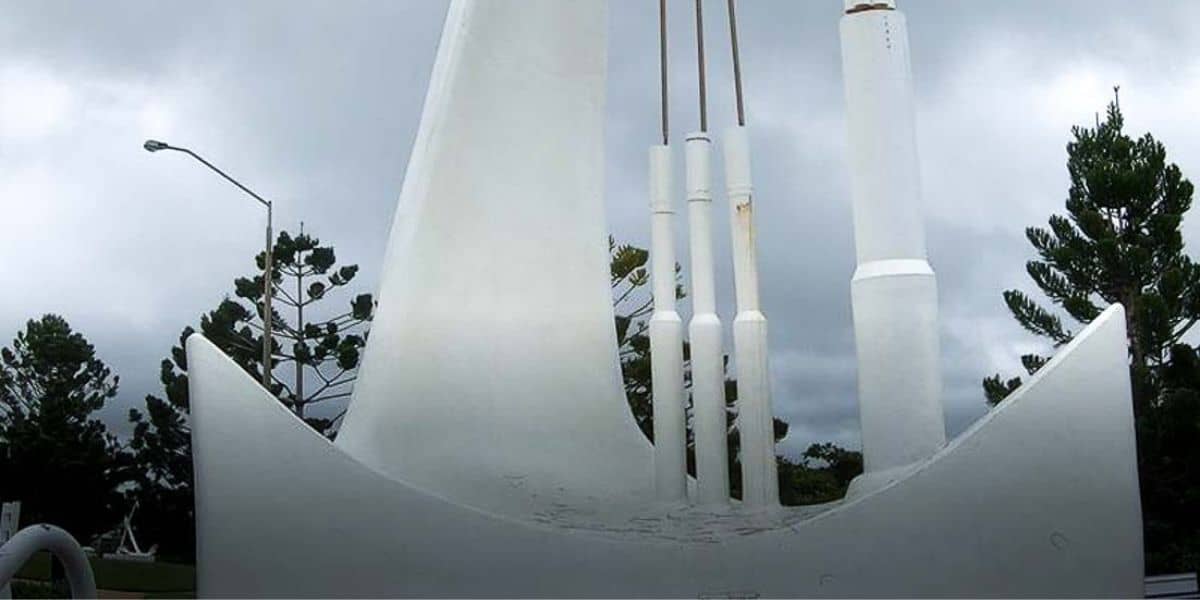 If you're wondering what makes this one of the best things to see in Yeppoon, the singing ship really does sing!
At the end of the Emu Park Anzac Court and Memorial Walk, you'll reach the Singing Ship sculpture. The monument recognises the area's legacy and connections to Captain James Cook, who discovered this bay in 1770.
The memorial incorporates Cook's famous ship Endeavour within its design, representing the sail, mast and rigging. The installation also cleverly uses organ pipes within the structure, which make musical notes when the sea winds blow through them. So the windier the weather, the louder the ship will sing!
Kids will love playing around the singing ship and it's a gorgeous seaside spot to take some lovely family photos to remember your visit to Yeppoon.
Location: Tennent Memorial Drive, Emu Park
Hours: Always open
17 Koorana Crocodile Farm
If you're looking for things to do in Yeppoon with kids, take the family to meet the 3000 crocs at Koorana Crocodile Farm!
90-minute tours begin with an introductory talk and video presentation about crocodile behaviour and conservation. But the real fun starts with a walk around the farm, which includes a croc feeding and hands-on photo opportunity (if you're brave enough).
Seasonal tours include nest raids where staff collect and protect eggs (Dec – Feb) and crocodile hatching (Feb – May).
Location: 65 Savages Road, Coowonga
Hours: Daily from 10 am to 3 pm
Cost: $32 Adults | $14 Kids (under 16) | Kids under 3 free
18 Cooberrie Park Wildlife Sanctuary
Image credit thanks to Tourism and Events Queensland
Meet the residents of Cooberrie Park Wildlife Sanctuary to experience one of the best things to do in Yeppoon area for animal lovers!
Everyone will love all the fun wildlife encounters to be had here. Walking around the open-plan sanctuary, you'll meet snakes, parrots, koalas, kangaroos, wombats, and even monkeys.
Alongside taking photos, feeding and interacting with the animals, visitors can learn about wildlife from the knowledgeable staff and during scheduled animal encounters.
Location: 9 Stones Road Woodbury
Hours: Daily from 10 am to 3 pm
Cost: $30 Adults | $15 Kids (14 and under) | Kids 2 and under free
19 Byfield National Park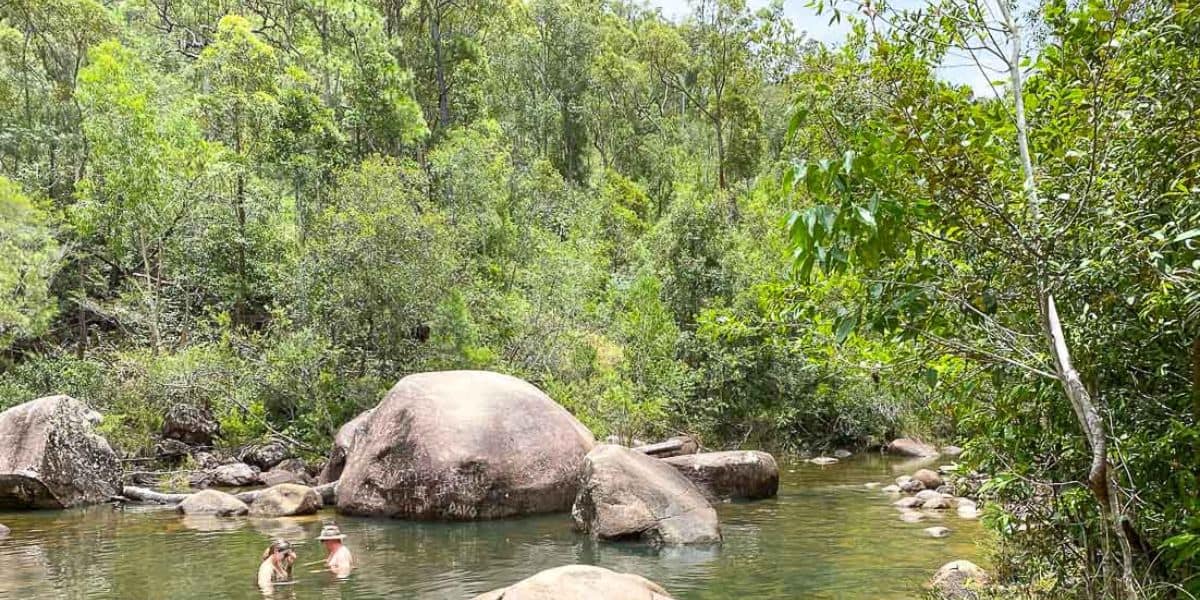 For outdoorsy travellers or anyone who appreciates some great scenery, visiting Byfield National Park is a must-do during your time on the Capricorn Coast.
Just a 30-minute drive north of Yeppoon, you'll reach the stunning Byfield National Park. With miles of rainforest, sand dunes, and mountain scenery to explore, you could spend days traversing the unrivalled wilderness.
The park stretches from the rugged peaks of Mount Atherton to the tranquil Nine Mile Beach. If you're up for an adventure, why not take a 4WD tour through the sand dunes?
There are plenty of bushwalking trails in the park for hikers of all abilities. Try the Banksia Robur Circuit for a pleasant, 2km trek, or go all out and take on the 9km Creek to Coast track.
Stop at Upper Stony Creek, where you'll find great camping spots, a picnic area, and a barbecue. Then, take a tip in the turquoise pools next to the campground for a truly idyllic swimming spot.
You'll see some stunning flora and fauna around the park and a decent amount of native birdlife. Just beware of the cheeky kookaburras who like to charm visitors who enter the park – they might try and steal your lunch!
20 Nob Creek Pottery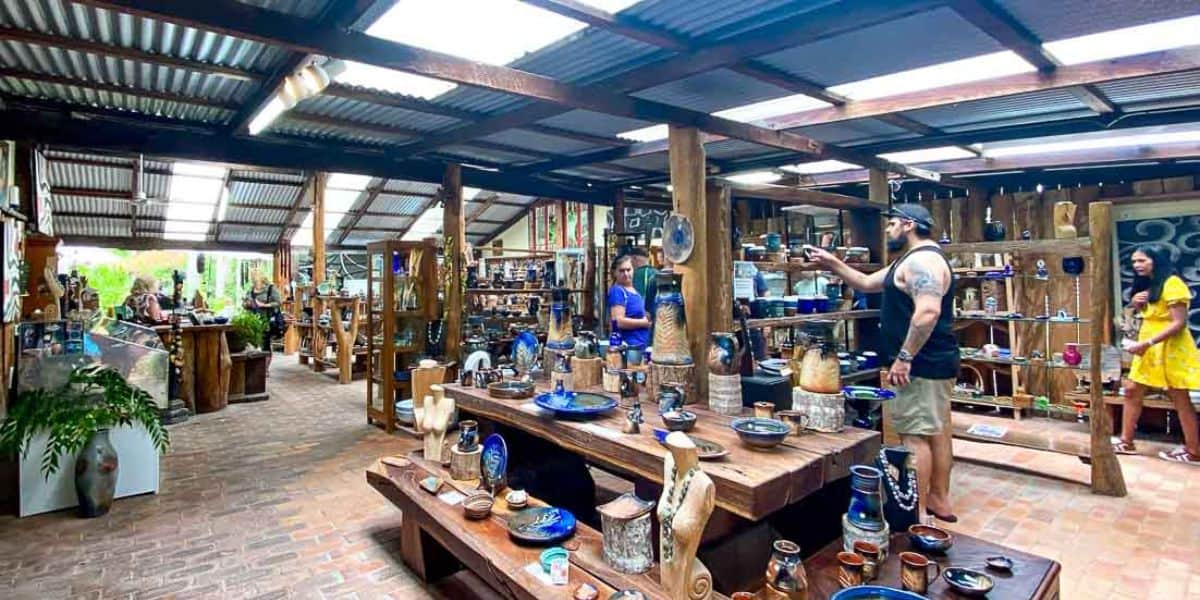 With a vast collection of pottery, paintings, sculptures, and other crafts on display, there's plenty to see at Nob Creek Pottery. Across three large buildings, visitors can admire work by 45 Australian and international artists.
The pottery, in particular, is unique, with various colours and designs on display, including specialised bathroom sinks and tiles. You can watch a short film or peer inside the enormous kiln to learn more about the firing process or ask one of the friendly staff how everything works.
While there, don't miss the gorgeous gardens and picnic area, which make for a great spot to relax with tea or coffee.
Location: 216 Arnolds Road, Byfield
Hours: Fridays, Saturdays and Sundays from 10 am to 4 pm | Daily during school holidays
Cost: Free
21 Cycle the Capricorn Coast Pineapple Rail Trail
This 8.9km return trail is one of the best cycling trails in the area. The route is flat and easy, so it's a pleasant trail to take the whole family or visit for a relaxing walk to escape the urban centre.
You'll weave through native bushland and the suburbs as you follow a disused railway line after the transportation of pineapples was moved to road transport instead.
Location: From Braithwaite Street, Yeppoon
Hours: Always open
22 Jet James Art Gallery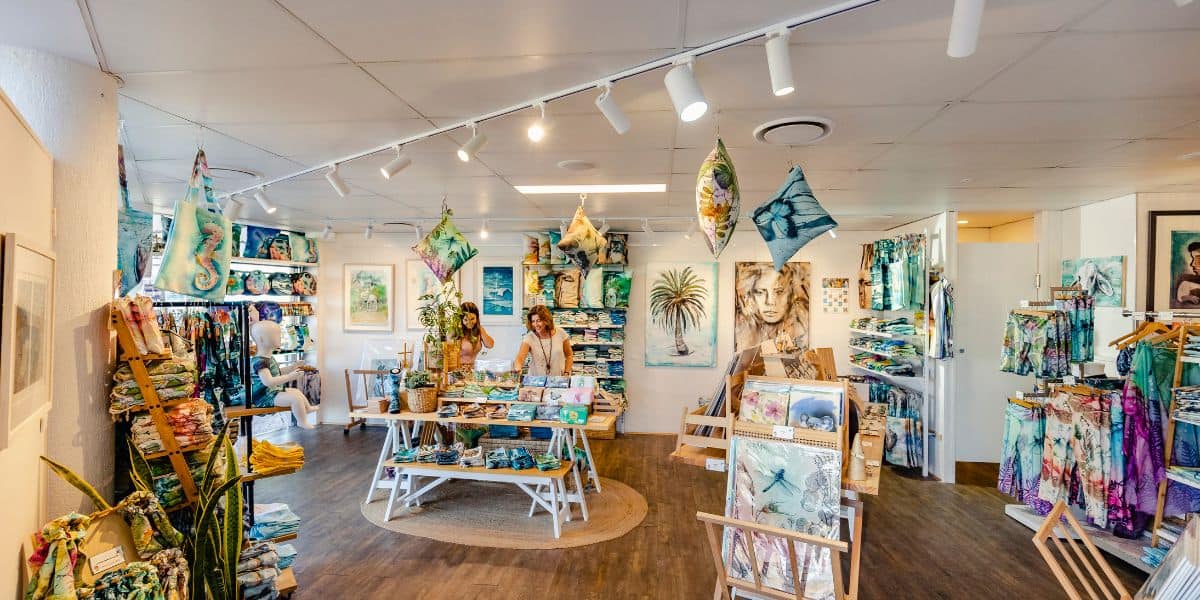 Image credit thanks to Tourism and Events Queensland
If you're wondering what to see and do in Yeppoon and want to leave the area feeling inspired, you should consider visiting the Jet James Art Gallery.
Although Jet James is now an award-winning Australian artist, his life didn't start that way. He was orphaned at age seven following an early childhood riddled with poverty, drug abuse, and domestic crime. His teenage years remained difficult, and drawing became one of his main escapes.
At age 19, he was mentored by the experimental printmaker Peter Indans while studying at Central Queensland TAFE. From there, he developed his love and exceptional talent for printmaking alongside painting and mixed media artworks. He has since won various accolades and his work has been displayed across New Zealand, Australia, and even in the USA and Europe.
Inside the gallery, you'll see a great selection of Jet James' creations alongside the artwork of other innovative local artists.
Aiming to make art accessible for everyone who needs it, the gallery is completely free. Many paintings have been turned into everything from ceramic mugs, totes, and socks, making for wonderful gifts or souvenirs for art lovers.
Location: 1 Normanby Street. Yeppoon
Hours: Monday to Saturday from 9 am to 5 pm | Sundays from 9 am to 3 pm
Cost: Free
23 Yeppoon RSL Military Museum
With a collection of over 5000 artefacts to see, the Yeppoon RSL Museum gives guests a chance to learn about the region's military history. Many items are truly touching, with war diaries, medals, log books, and letters telling local stories on display.
One of the most significant items is a log book from Ron Jarvis, a prisoner of war between 1942 and 1945 during the second world war. His log contains his harrowing accounts of his daily struggles as a prisoner, alongside sketches and poems.
Location: 15 Normanby Street, Yeppoon
Hours: Tuesdays and Wednesdays from 11 am to 3 pm
Cost: Admission by gold coin donation
YEPPOON DAY TRIPS
While there are so many places to go in and around Yeppoon – if you're keen, a few nearby make great day trips.
Great Keppel Island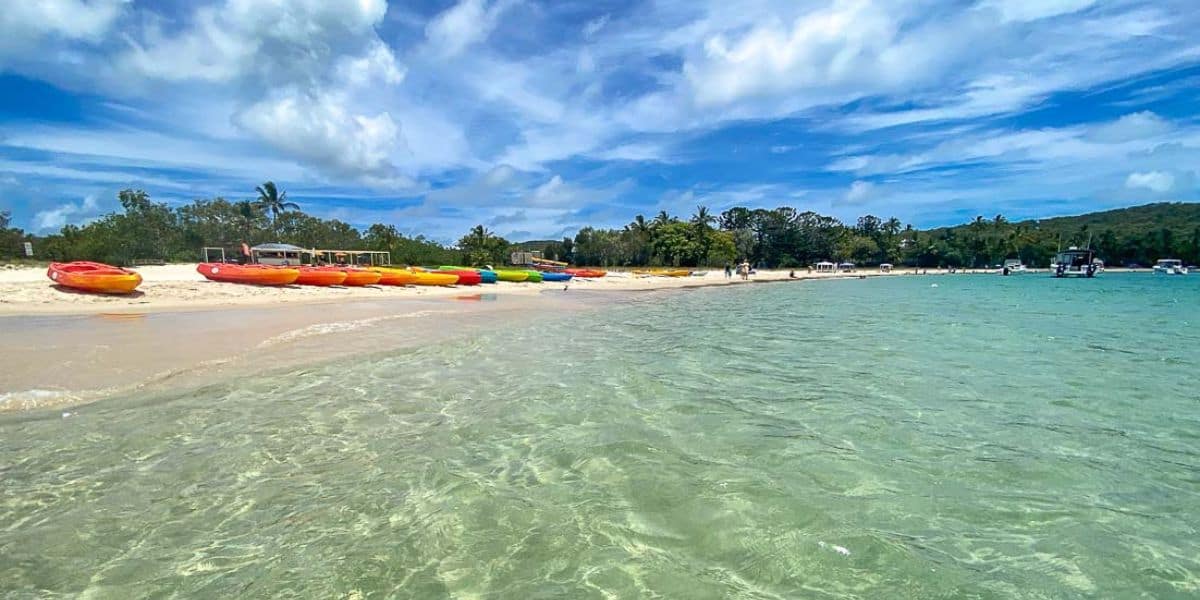 If you're keen to explore more of the tropical paradise on Yeppoon's doorstep, you'll love taking a boat trip to Great Keppel Island. While It's highly recommended you spend a few days here – if you're short on time, a day trip is absolutely possible.
With 17 idyllic beaches, you'll most likely spend your day on the island, swimming, snorkelling, and exploring the serene coastline before relaxing at the picturesque Fisherman's Beach.
While you can easily make your own way over the Great Keppel Island by purchasing a return ferry ticket from Keppel Konnections or Freedom Cats for around $55 return, you can also book tours including lunch and snorkelling gear. These tours are usually around $90 per adult – so weigh up the price and decide what's right for you.
Click here for more information on booking a tour.
Capricorn Caves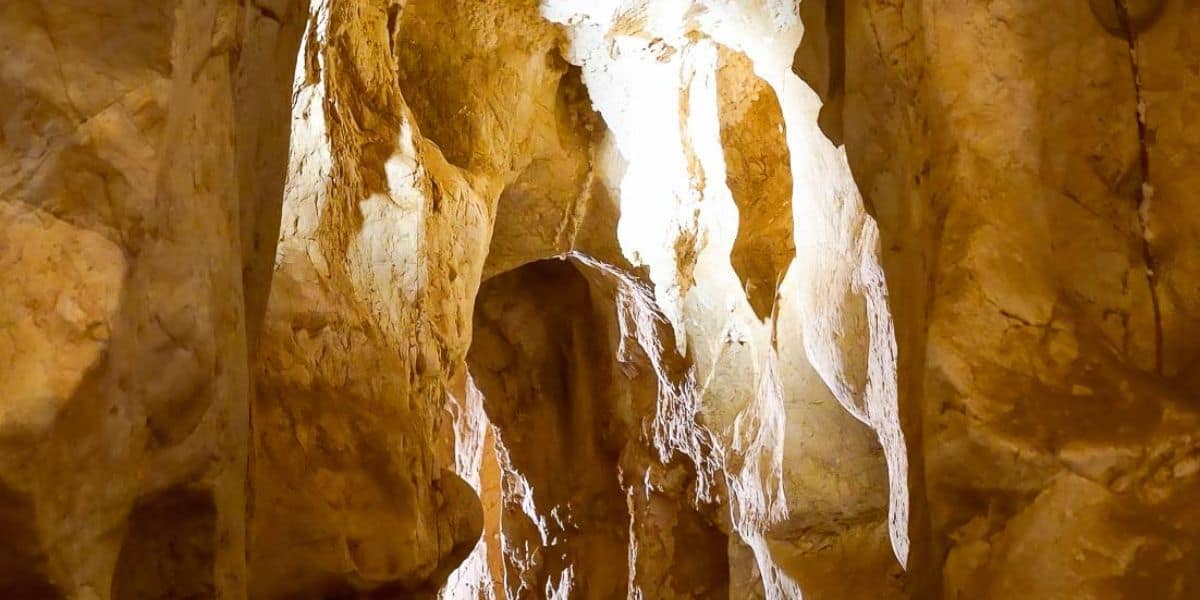 Capricorn Caves is a brilliant day trip from Yeppoon for adventurous travellers. The fascinating cave network can be visited via a local tour. Tours begin with walking through the zig-zag cave tunnels as you admire the incredible geological formations and learn how the brave early explorers navigated the deep passages.
As you cross over caverns using a suspension bridge, you'll learn about the unique native wildlife that lives in the depths of Capricorn Caves, including several endangered species.
In Deep Vault Cavern, a large cathedral-like cave with backlit walls, the lights will go out so you can appreciate the eerie darkness of the caves and its magnificent acoustics! In 'the Flowerpot', you'll pass through an intriguing section of tree roots and learn how the native fauna carves through the thick coral-formed rock.
Several tour and entry options are available. Click here for more information.
Visit Rockhampton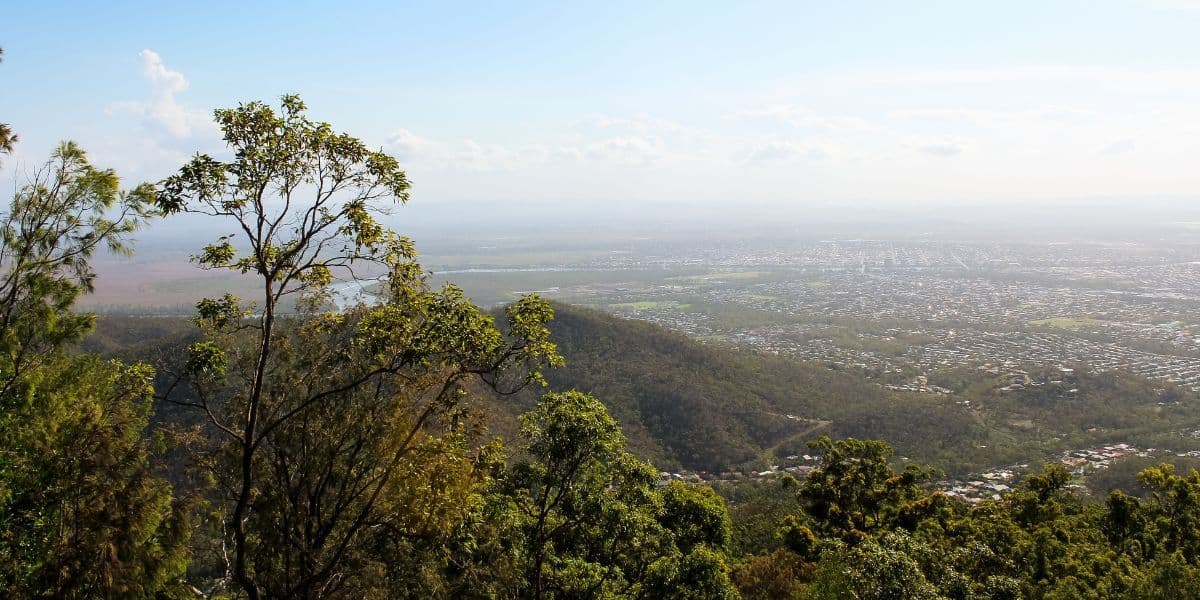 Just a 40 minute drive from Yeppoon is Rockhampton, a vibrant regional city in Central Queensland. While usually a night stop for visitors travelling north or south, there are a few interesting attractions and things to do which make Rockhampton worth a day trip while in staying in Yeppoon.
Rockhampton has a rich history, and visitors can learn about it by visiting the Rockhampton Heritage Village, a living museum that recreates life in a 19th-century village. Other historic sites in the city include the Rockhampton Art Gallery and the Archer Park Rail Museum.
It's also worth stopping by the Rockhampton Botanic Gardens – a beautiful oasis in the heart of the city. Here you'll find gardens, walking paths, picnic areas, the Rockhampton Zoo, and a Japanese garden.
Lastly, the city is famous for its beef – so don't miss the opportunity to savour a meal at one of the town's local pubs.
BEST HOTELS IN YEPPOON
Looking for somewhere to stay in Yeppoon? We recommend booking through Booking.com as they offer a wide range of hotels and most with free cancellation, which is ideal for last-minute changes.
However, if you want our recommendation for a hotel, below we've listed our top pick for a luxury hotel, family hotel, mid range and budget hotel.
The stylish Salt Yeppoon hotel is easily the best accommodation beside the lively Yeppoon Foreshore. It's just a short walk from Yeppoon Lagoon and Farnborough Beach, with many of the town's top-rated cafes and restaurants around the corner.
Air-conditioned apartments come in various sizes, suiting couples or large families. The ocean-view suites also each feature a fully equipped kitchen, laundry facilities, a dining area and a comfortable living area with a TV.
The highlight of the hotel is undoubtedly the two luxurious outdoor pools. A rooftop terrace with resort-style sun loungers overlooks the Yeppoon Foreshore and the stunning Capricorn Coast. There's also an onsite fitness centre and the Vue Wine Bar and Restaurant is on the ground floor.
Salt Yeppoon flawlessly blends convenience and luxury for the perfect stay in Yeppoon.
Click here for more information or to book.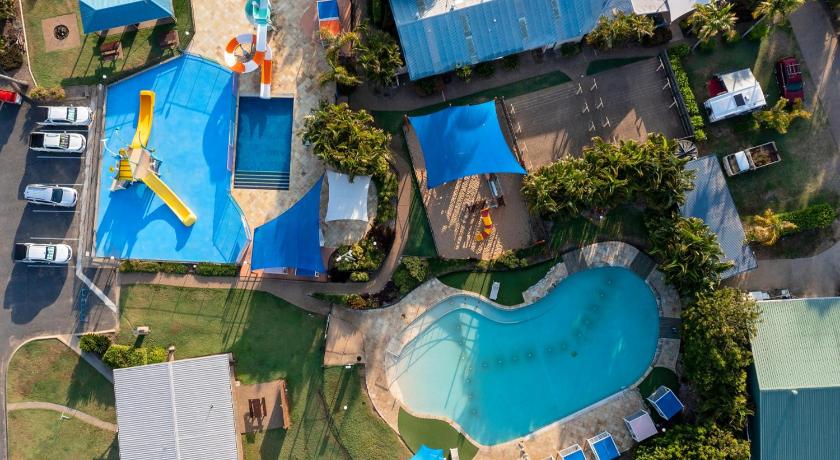 Discovery Parks – Coolwaters Yeppoon offers family-friendly accommodation just 300m from the stunning Kinka Beach and features all the onsite activities you need to keep the kids entertained. The accommodation is just a 5-minute drive from Turtle Lookout and Keppel Bay Marina or a15 minute drive to the town centre.
Air-conditioned cabins range from double rooms to larger chalets for big families. Rooms include free Wi-Fi, a private bathroom, a cosy living space with a TV, a kitchenette and some cabins also come with a terrace.
The kids will be entertained for hours at the onsite waterpark, which includes a brilliant outdoor pool and waterslides. There's also a garden, onsite snack bar, tennis, and children's playground. The park also runs family-friendly activities during school holidays.
This is the perfect accommodation for families looking for a comfortable stay with plenty of onsite activities for the kids to enjoy.
Click here for more information or to book
Seaspray Waterfront Holiday Units offers peaceful beachfront accommodation conveniently situated between Yeppoon Lagoon and Cooee Bay. The property is a short walk to the main centre or a quick drive to many of the area's best short walks and lookouts, including Wreck Point Lookout.
Air-conditioned apartments come in various sizes for up to 4 people and have an ocean or garden view. Units include a full kitchen, BBQ facilities, free Wi-Fi, a TV, and both indoor and outdoor dining areas.
Seaspray Waterfront Holiday Park is directly beside the beach, with gorgeous onsite gardens, a picnic area, palm trees, and swings.
This is a great accommodation for travellers looking for a hotel near the ocean with plenty of activities on your doorstep.
Click here for more information or to book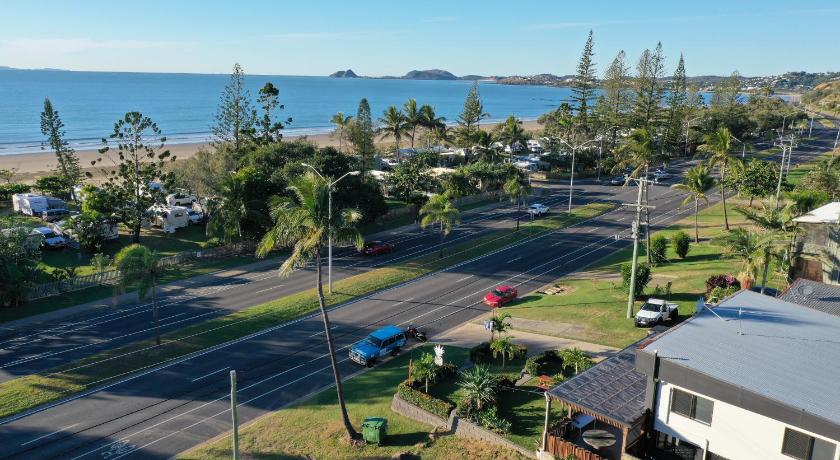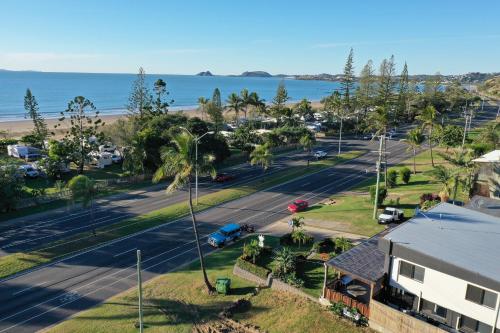 Yeppoon Beachhouse is an excellent hostel that offers modern accommodation at an affordable rate. Across the road from Farnborough Beach, this budget-friendly guesthouse is within a stone's throw from the town centre and many of Yeppoon's key attractions, including the Yeppoon Lagoon and Main Beach.
Air-conditioned accommodation options include spacious dorm rooms or private rooms with modern shared bathrooms. Laundry facilities are available for a small fee.
The guesthouse has a shared kitchen with all the cookware you need to make a tasty meal, with free tea, coffee and milk available anytime. The shared lounge has multiple sofas, a TV with Netflix, and a range of DVDs. If you prefer to relax outdoors, the hostel has its own tropical gardens, which include BBQs, a terrace, and outdoor furniture.
Yeppoon Beachhouse is a top-rated backpackers accommodation suitable for any travellers on a budget looking for a stylish and modern place to stay.
Click here for more information or to book
ENJOY YEPPOON!
Hopefully, this guide has given you lots of inspiration on things to do in Yeppoon.
If you're planning a trip to Yeppoon, I highly recommend you check out our guide to the Capricorn Region, which provides links to everything you need to know to plan your trip.
I'd also recommend you join our free Queensland Travel Guide Facebook community, where you can ask all your questions and find even more great trip suggestions.
If you're heading to Yeppoon, you might also be interested in the following nearby destinations:
Hervey Bay (coming soon)
Heron Island (coming soon)