Are you planning a Hamilton Island getaway? This article covers all the very best things to do on Hamilton Island, including attractions, things to do and where to stay.
The Queensland Travel Guide acknowledges the Ngaro People, the Traditional Custodians of the land on which Hamilton Island is situated. We pay our respects to their Elders past, present and emerging, and recognise their continued spiritual and cultural connections to Country. Always was, always will be, Aboriginal land.
Hamilton Island is one of the most popular Whitsunday Islands and the perfect spot for exploring the Great Barrier Reef. There are plenty of things to do Hamilton Island offers visitors whether you're visiting with kids, friends or even on a romantic getaway. The location also makes it a great base for exploring all the other scenic Whitsunday islands.
Whether you've come for a relaxing break or are keen on trying all the Hamilton Island activities – there is certainly something for everyone here. Spend your days in or around the water swimming, snorkelling, diving, sailing, fishing or kayaking. You can even take catamaran lessons or join in some beach sports.
For those who prefer to stay on land, there are still many Hamilton Island things to do. With the island mostly covered in bushland, there are numerous scenic walks and a wildlife park where you can see native Australian animals. Other activities include playing golf, being pampered at the day spa, or exploring Hamilton Island on an off-road adventure.
For those considering a holiday to the Island, this guide will help you decide exactly what to do on Hamilton Island.  The guide covers all the top things to do on Hamilton Island, accommodation options as well as how to get there.
This post may contain compensated links. Please refer to our disclaimer here for more informa
THINGS TO DO HAMILTON ISLAND MAP
Before we get started on all the Hamilton Island must do activities to help plan your trip, check out the map below.  This map shows the location of all the Hamilton Island attractions and activities covered in this guide.
BEST THINGS TO DO ON HAMILTON ISLAND
Below we cover the best things to do and see on your Hamilton Island trip.
1 Take a scenic flight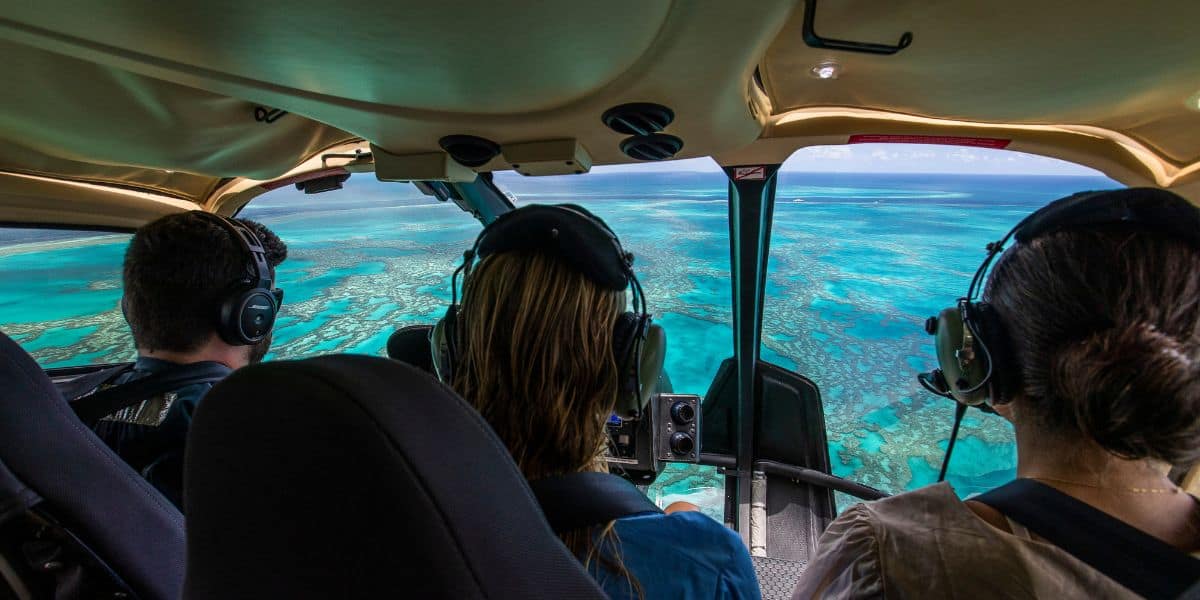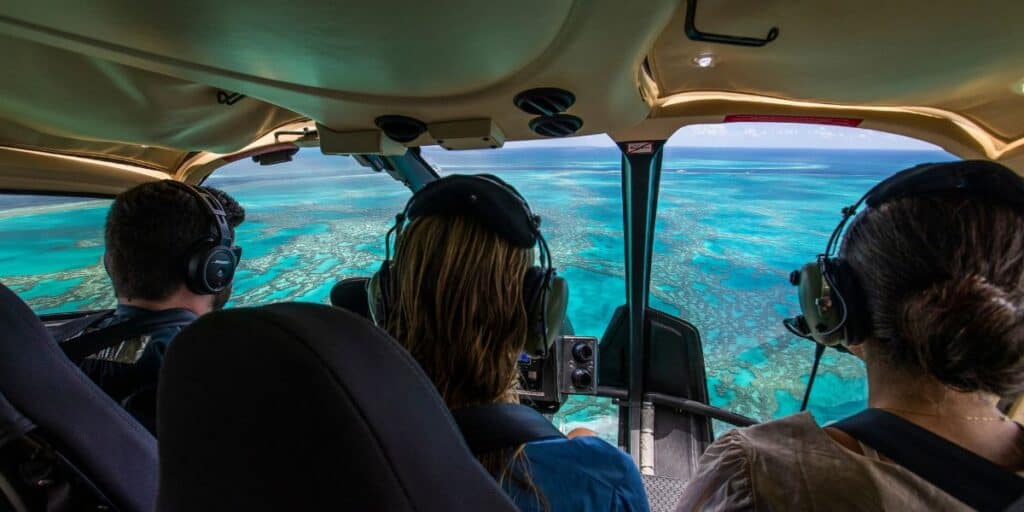 Image Credit Tourism and Events Queensland
Taking a scenic flight over the magical Great Barrier Reef is undoubtedly one of the top things to do in Hamilton Island. 
On a 20-60 minute long scenic flight or helicopter ride, you'll have a wonderful opportunity to see some of the reef's most iconic sights you can't appreciate unless you see them from above.
There's no better way to watch the white sands of Whitehaven Beach contrasting against the azure ocean water, alongside taking in stunning sights such as the gorgeous Hill Inlet, Cid Harbour, and Hook Passage.
From the air, you can also see the beautiful Heart Reef, a romantic reef shaped just like a heart, which is undoubtedly one of the best things to see on a day trip to Hamilton Island.
A range of helicopter and scenic plane flights are available from Hamilton Island.
2 Get pampered at a spa day
If you're looking to treat yourself, enjoying a day spa experience should definitely be added to your Hamilton Island to do list. There's no better way to unwind than with a luxurious spa day in one of the most beautiful places on earth.
The island has two day spas: Spa wumurdaylin and Spa Qualia. The latter is only available for qualia guests.
Both are carefully designed for total rejuvenation and indulgence. You can choose between a variety of Australian treatments which capture the natural beauty and tranquil essence of the Whitsundays.
This is the perfect addition to any Hamilton Island trips for those needing some extra unique relaxation.
Location: Spa wumurdaylin, Resort Dr, Hamilton Island
Opening: Monday to Saturday, 9 am to 6 pm | Sunday, 10 am to 5 pm
Cost: Treatments range from $50 to $500
Exclusive to guests staying at Qualia and availability is limited
Location: Spa Qualia 20, Whitsunday Blvd, Hamilton Island
Opening: Monday to Saturday 9 am to 7 pm | Closed Sunday
Cost: Treatments range from $165 to $1295
3 Play golf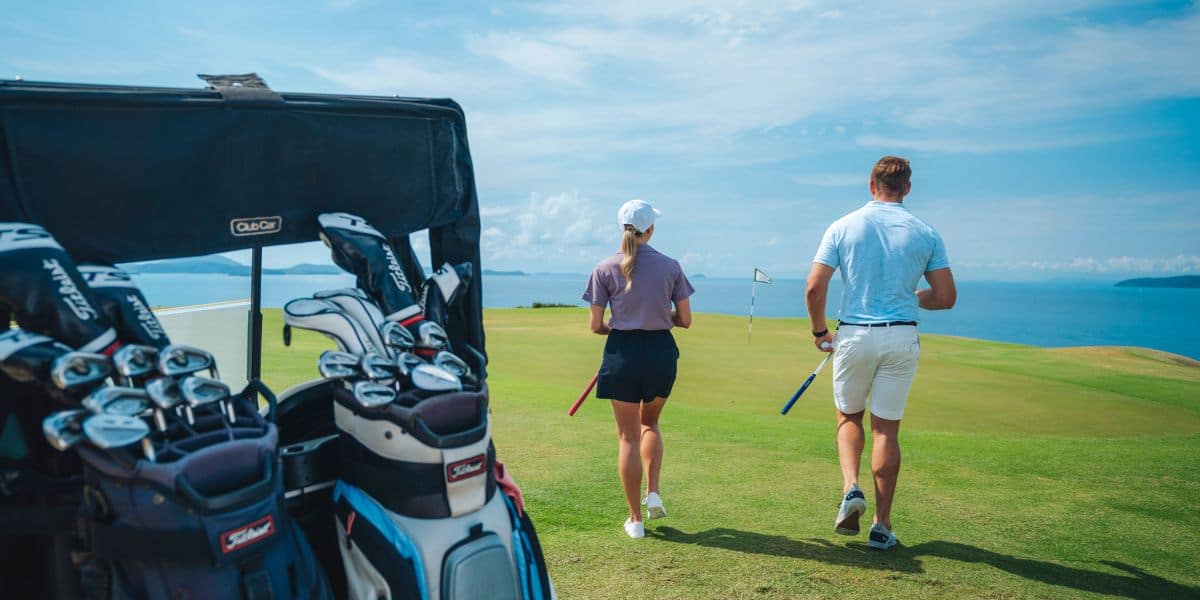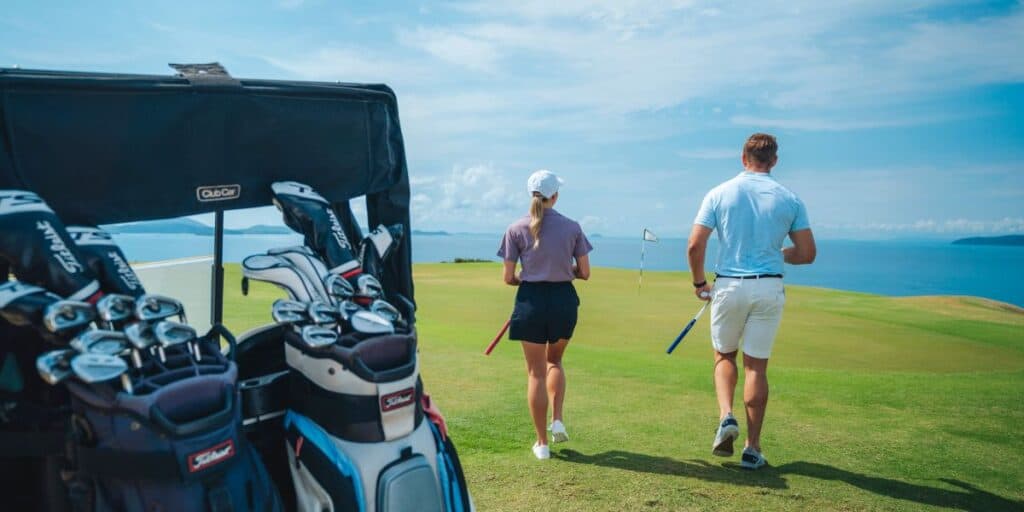 Image Credit Tourism and Events Queensland
Located on its very own island, enjoying a round of golf at Hamilton Island Golf Club has to be one of the most unique activities in Hamilton Island.
The club offers a par 71, championship 18-hole golf course, an aquatic driving range, and a contemporary clubhouse on Dent Island with a fabulous view over the Coral Sea – perfect for a long lunch or relaxing drink.
If you're looking for things to do in Hamilton Island for families, there is a fun mini golf course suitable for anyone over five years old and adults.
Location: Hamilton Island Golf Club, Dent Island (a short ferry ride from Hamilton Island)
Opening: Tee-off times vary, so check in advance | First tee-off time is 7.20 am and last tee-off for 18 holes is 1 pm and 9 holes 2.30 pm all year round
Cost (including ferry from Hamilton Island to Dent Island and golf buggy hire): 9 holes $134 | 18 holes $195 | Club hire $55 per person | Shoe hire $15 per person
4 Visit the beaches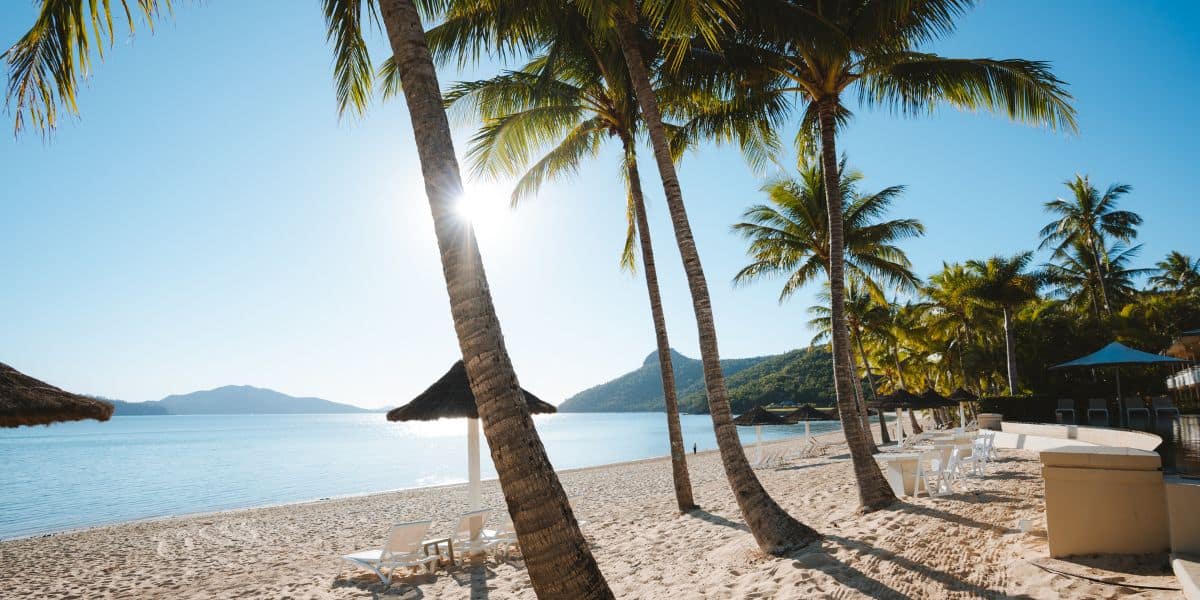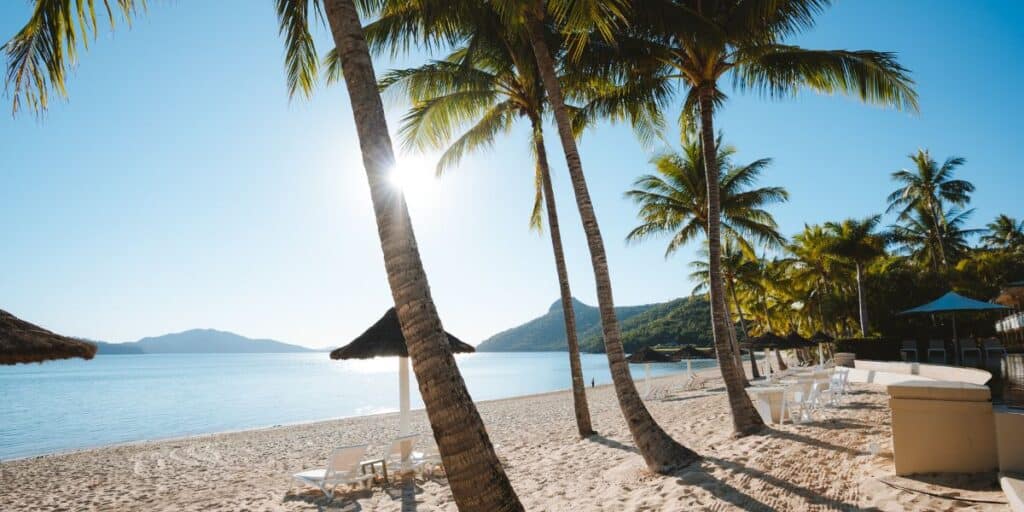 Image Credit Tourism and Events Queensland
Hamilton Island day trips aren't complete without exploring the island's pristine coastline. From enjoying a refreshing dip at the most popular beaches to escaping to a secluded cove nestled between palm trees, there are some beautiful beaches to choose from.
Situated beside many of the island's main accommodations, you won't miss Catseye Beach during your stay. Despite its popularity, this majestic white-sand beach is long enough that it never feels too busy. At low tide, it's the perfect family-friendly beach for a swim or snorkel with young ones.
If you want to feel a million miles away from the marina, take the hour-long walk to the secluded Coral Cove. This coastal gem is a picture-perfect combination of golden sands, island views, and azure waters. If you feel like exploring further, you can continue walking towards the golden sands of Escape Beach.
Alternatively, it's a much shorter walk to the aptly named Hideaway Beach, which has terrific views across the Whitsunday Islands. Whichever pristine stretch of coastline you choose to unwind at, you'll have a wonderful time ticking these gorgeous beaches off your Hamilton Island what to do list.
5 Take a cruise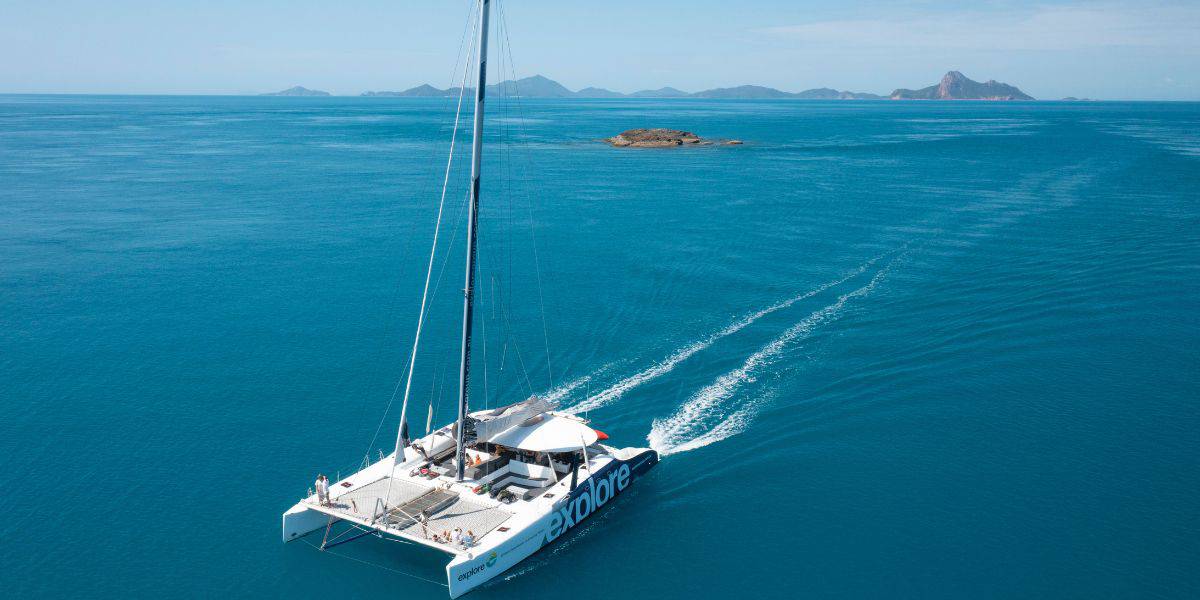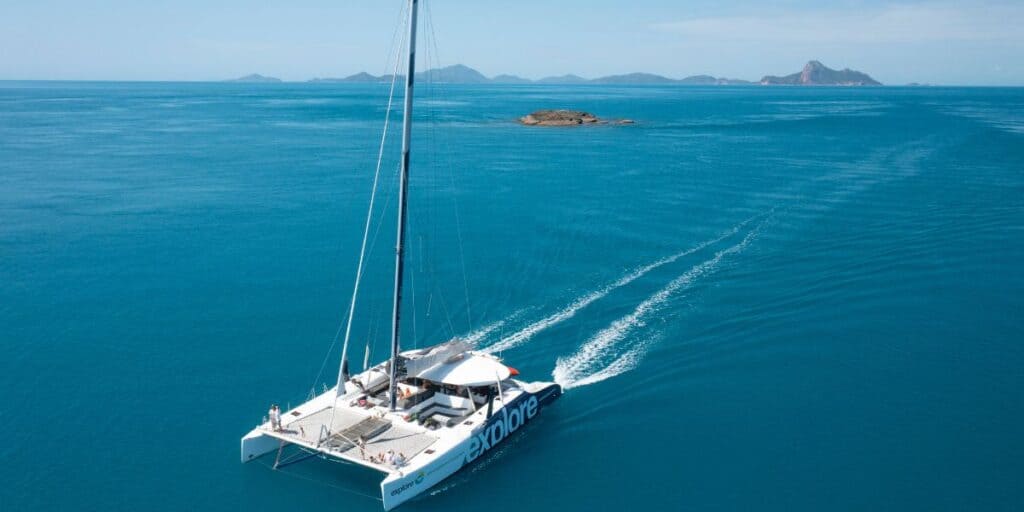 Image Credit Tourism and Events Queensland
Hamilton Island sightseeing takes on a new level once you start enjoying the scenery from the water!
Cruises will take you to picturesque paradises where you can swim in the world's most beautiful waters. Most boat trips head out to Whitehaven Beach, where you can take fantastic photos and explore one of the Great Barrier Island's most famous and unspoiled shorelines.
With unbelievably pure white sands and a pristine natural environment, it's no surprise that Whitehaven Beach has been voted the most beautiful beach in the world! And day trips from Hamilton Island don't get better than exploring this wonderful part of the world on a cruise.
Day cruises, sunset cruises, sailing trips and private charters are available. Click here for more information or to book. 
6 Visit Heart Island or Heart Reef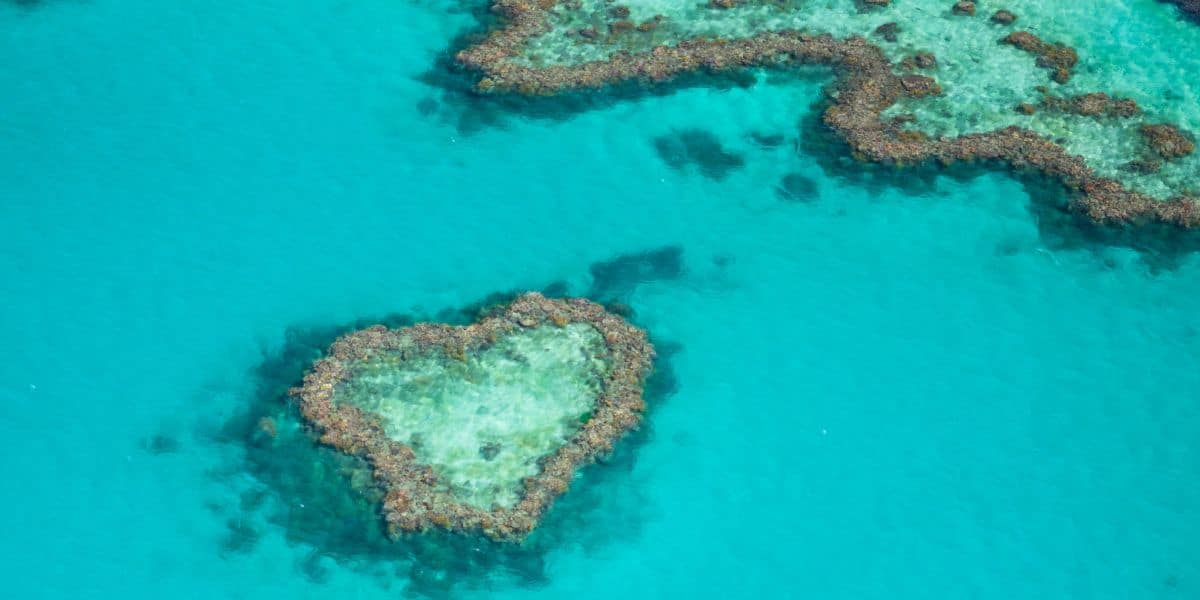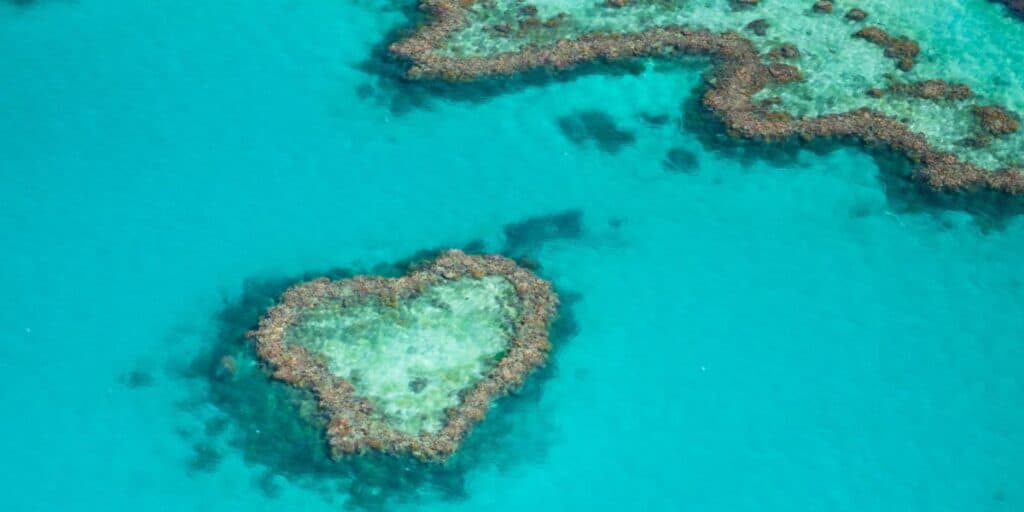 If you're looking for romantic things to do on Hamilton Island, what could be more perfect than visiting Heart Reef?
As the name suggests, the reef is shaped like a heart and has been protected since its discovery in 1975 due to its exceptionally unique qualities.
There are two ways to see the reef. The most popular way is to take a Heart Reef helicopter tour from Hamilton Island. On a one-hour flight over the reef and surrounding area, you can truly take in the perfectly heart-shaped form of the reef from the aerial perspective.
You can visit Heart Island on a tour, where you can see the reef up close and swim nearby. (Although you can't swim directly over the reef since it's protected!) On the way to Heart Island, you'll also get to see the reef from above on the helicopter flight before you arrive.
7 Wakeboarding, tube riding or parasailing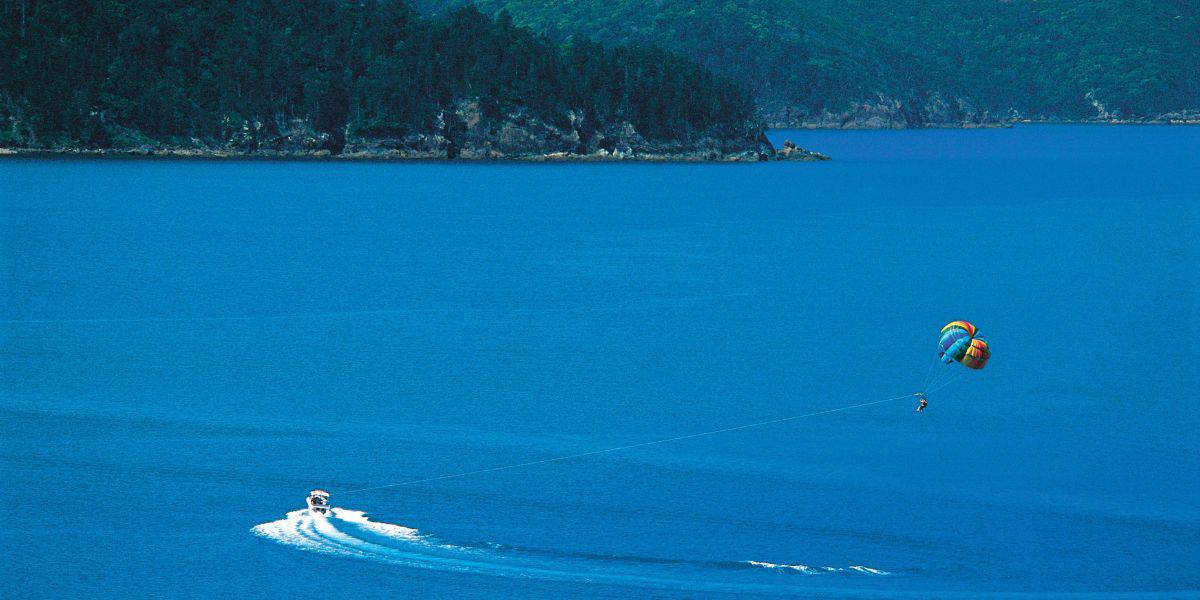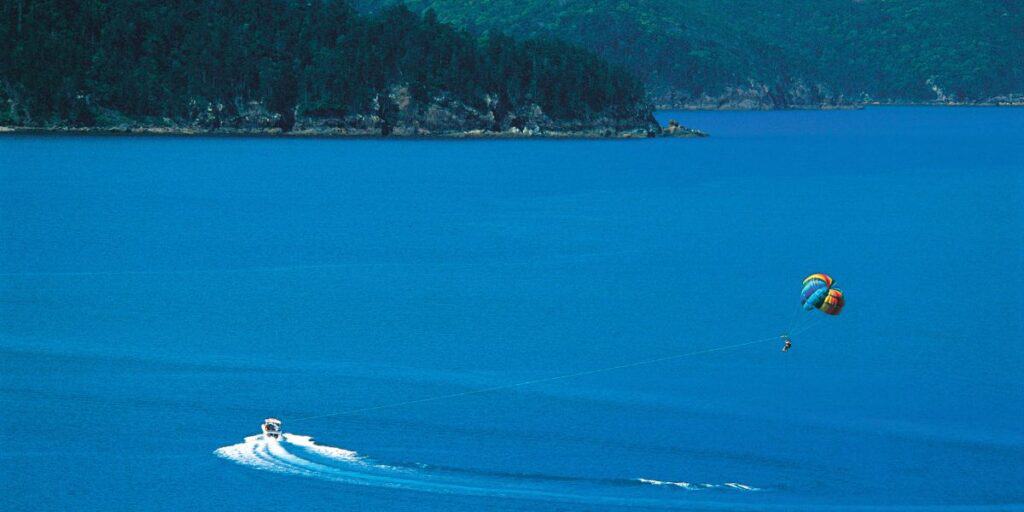 Image Credit Tourism and Events Queensland
This stunning coastline is about more than just relaxation, and there are some fantastic Hamilton Island tours and activities which will allow you to get your kick of adrenaline while exploring the coastline!
From the stunning Catseye Beach, you can choose between various fun watersports. Tube riding is a great way to ride the waves for the whole family, or you could even learn to waterski or wakeboard with the island's expert instructors!
8 Jet boat ride
One of the most exciting and fun things to do in Hamilton Island has to be exploring its gorgeous waterways on a thrilling jet boat ride.
The Jetryder tour is a high-speed, 30-minute ride around the coastline – perfect for adding adventure to your holiday.
9 Go fishing
The waters around Hamilton Island are teaming with marine life, so it's a great spot to go fishing for beginners and experienced anglers.
On a half or full-day fishing charter, you'll have the chance to fish for various reef fish, including coral trout and trawling for giant trevally and Spanish mackerel.
Alternatively, you could hire a motorised dingy to explore the islands and go fishing at your own pace.
10 Stargazing
Due to its remote location and lack of light pollution, Hamilton Island is a beautiful place for stargazing.
You don't need to make unique plans to watch the night sky come to life – just stay up after sunset and watch the stars begin to light up and decorate the sky above.
Some popular spots for stargazing on Hamilton Island include One Tree Hill, the shoreline, or even from a boat charter.
11 Kayaking, paddleboarding or windsurfing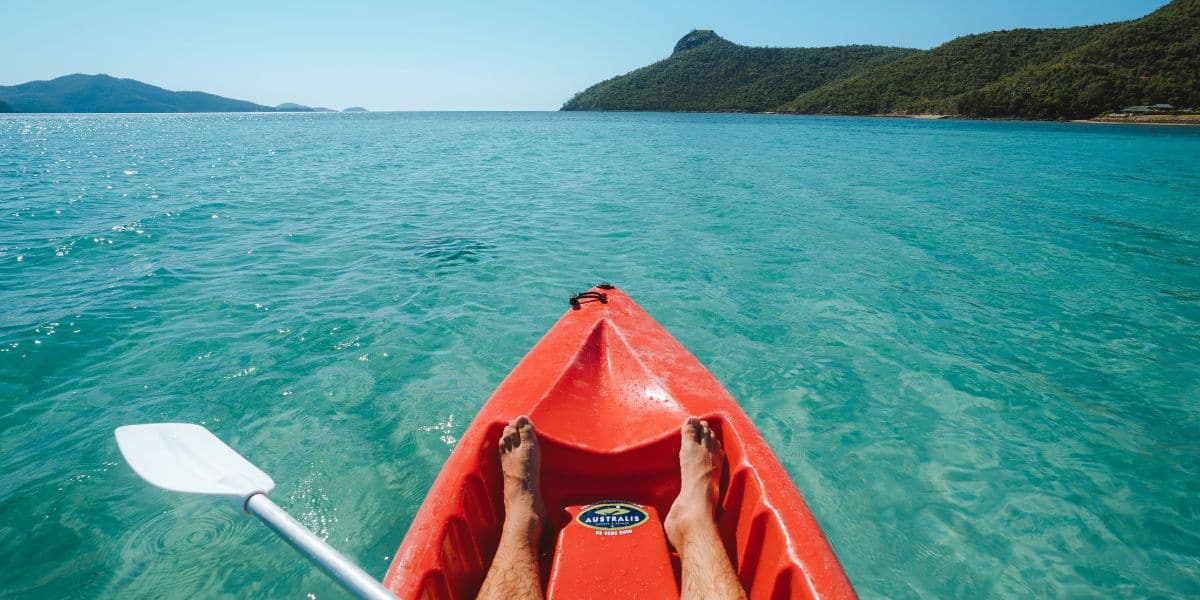 Image Credit Tourism and Events Queensland
If you're looking for fun stuff to do in Hamilton Island, why not explore the stunning aquatic scenery of Hamilton Island at your own pace by hiring a kayak or paddleboard? This is a great family-friendly activity, and no experience is required. 
The water is so clear that this is a wonderful way to experience the lively underwater world, so make sure you look out for manta rays and colourful tropical fish. Kayaking, in particular, is a truly relaxing way to marvel at the marine life which makes its home beside these stunning shores.
Alternatively, experienced windsurfers can cruise along the water with the beautiful backdrop of Catseye Beach – just head to Hamilton Island Beach Spots to rent your equipment.
12 Hire a catamaran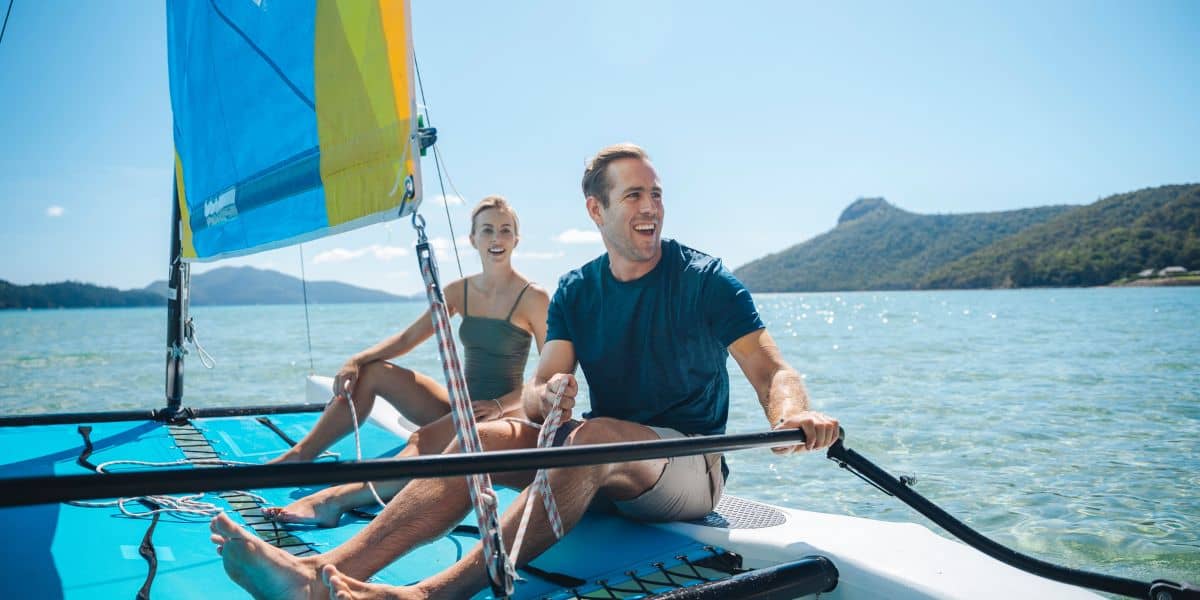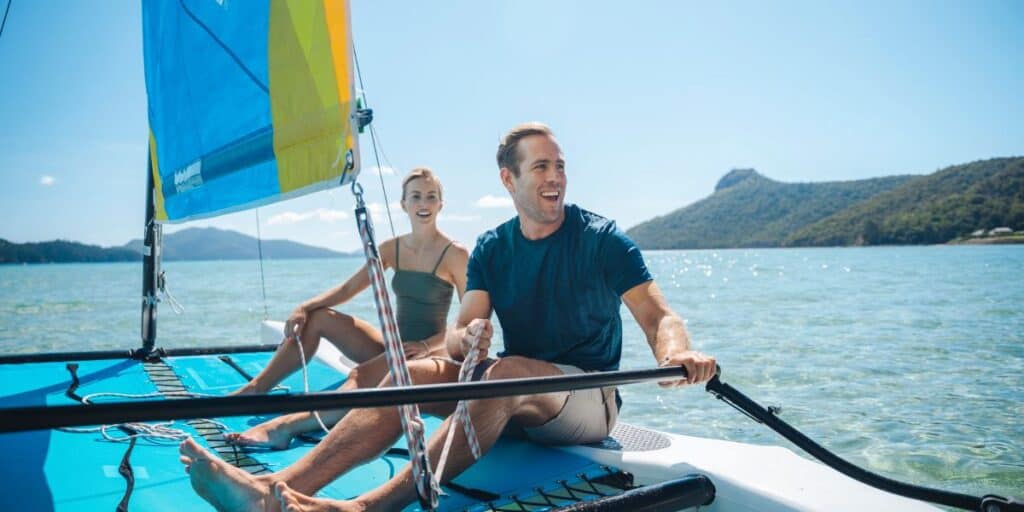 Image Credit Tourism and Events Queensland
If you want to explore the mesmerising coastline at your own pace, then hiring a catamaran is undoubtedly one of the best activities to do in Hamilton Island. 
You can master sailing the catamaran as a family while zipping around the bay at Catseye Beach.
13 Quad biking
If your kids are adventurous, don't miss Quads for Kids during your Hamilton Island daily activities. A fab short quad circuit is made especially for young ones who want to get their adrenaline pumping.
For adults and families, you can go offroading on an ATV tour. Your guide will take you across scenic trails and to the Resort Lookout, which has 360-degree panoramic views across the Whitsundays.
14 Jet ski tour
Zooming along the picturesque coastline on a jetski tour is definitely a must do in Hamilton Island for thrillseekers.
Aside from the adrenaline-pumping fun of gliding along in a jetski, this also allows you to explore some of Hamilton Island's more secluded areas – especially if you go with a guide who can take you to some of the best spots!
As you zoom over the waves, don't forget to look out for beautiful marine life, such as mantas, turtles, and whales.
15 Go for a hike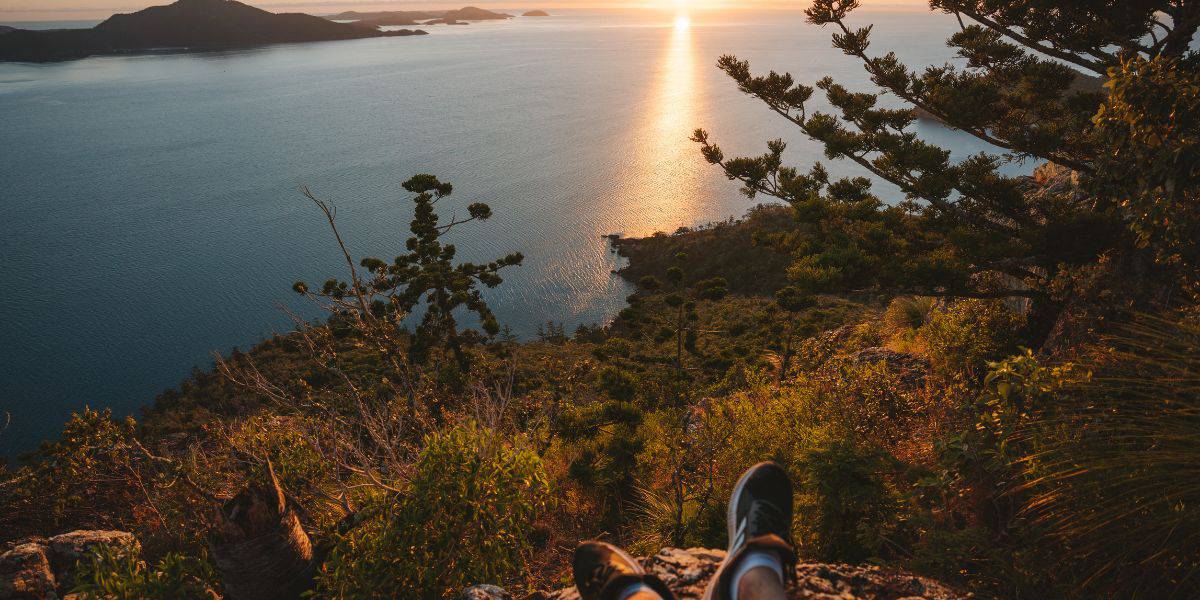 Image Credit Tourism and Events Queensland
If you want to make the most of the stunning landscapes, taking on one of the hiking trails is undoubtedly one of the top 10 things to do on Hamilton Island. It's also one of the free things to do on Hamilton Island too!
If you don't mind an early start, hiking up to Passage Peak for sunrise is an excellent option with amazing views, although this 2.7 km hike is beautiful at any time of day. Just be aware that there are many steps, so expect a steep climb.
A more moderate walk is the gorgeous 1.8 km Saddle Junction trail, which has excellent views over the Whitsundays and provides a great vantage point for spotting whales and dolphins.
Alternatively, mix up exploration and relaxation by taking the Scenic Trail towards Coral Cove and Escape Beach. Following your walk, you can unwind on the sandy shores of these tranquil and secluded coves.
Other excellent hikes on Hamilton Island include the 1.2km Flat Top Hill Lookout trail, which has impressive views over the beaches below, or the 1.7km Resort Lookout walk, one of the island's most popular tracks with stunning scenery.
16 Learn to dive or snorkel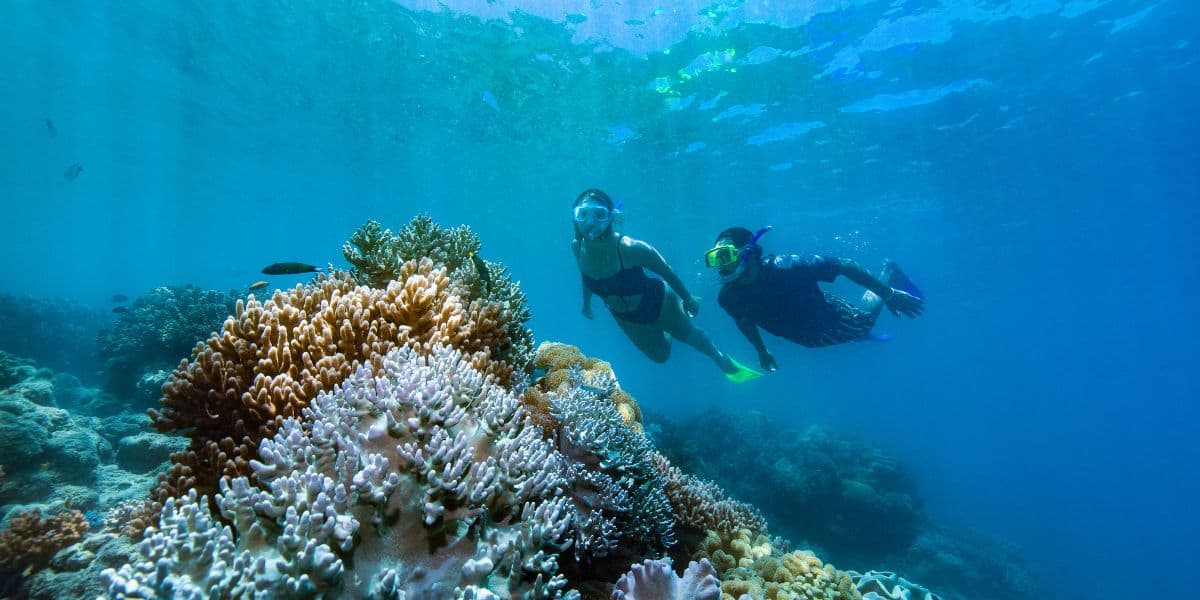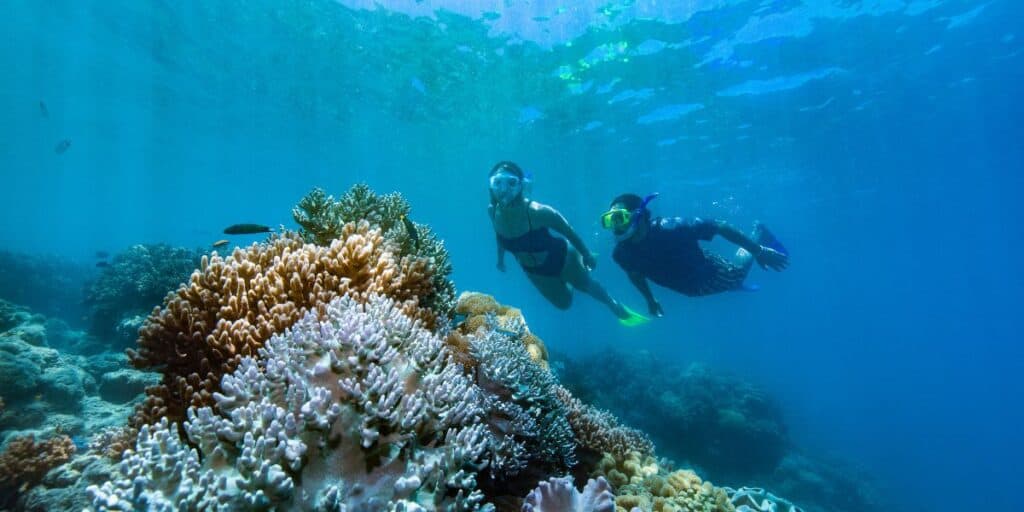 Image Credit Tourism and Events Queensland
Get to know the amazing underwater paradise beneath the island with a snorkelling or diving tour from Hamilton Island. The Great Barrier Reef is one of the world's best dive destinations, and this colourful coral underworld is undoubtedly one of the top places to visit in Hamilton island.
A snorkel trip is perfect for all ages and abilities. Swim in the tranquil waters while lookout out for tropical fish, manta rays, turtles, and seasonal whales and dolphins.
Experienced divers can dive to their heart's content while exploring this marine paradise, while beginners can learn to dive and get a PADI Open Water Certification.
17 Enjoy a BBQ dinner cruise
Another of Hamilton Island best things to do is making the most of a Whitsundays Sunset with a BBQ Dinner Cruise!
As you cruise beside the magnificent Whitsunday Island, you'll be able to appreciate the magic of this region as it transforms under a beautiful sunset.
You'll also tuck into a delicious BBQ buffet dinner after anchoring beside a secluded bay before returning to Hamilton Island under the shimmering cloak of a star-filled night sky.
Click here to check availability and to book.
18 Enjoy a sundowner cocktail on the beach
Head to the stunning cocktail beach at One Tree Hill for excellent cocktails from the hilltop – the perfect spot for watching the sunset – or head to the Island Bar for a luxurious sundowner without leaving the pool!
Island Bar has a beautiful tropical vibe, and, best of all, you can swim up from the Main Pool to the bar to order drinks. Live acoustic music just adds to the relaxing environment – things to do in Hamilton Island don't get much better than this.
19 Relax by the pool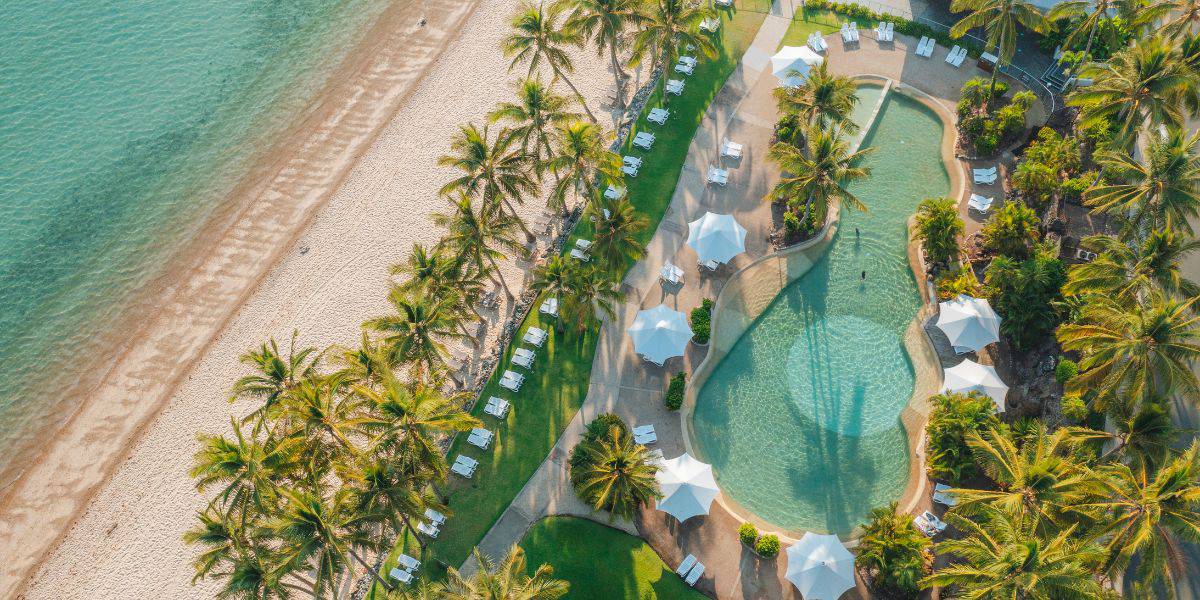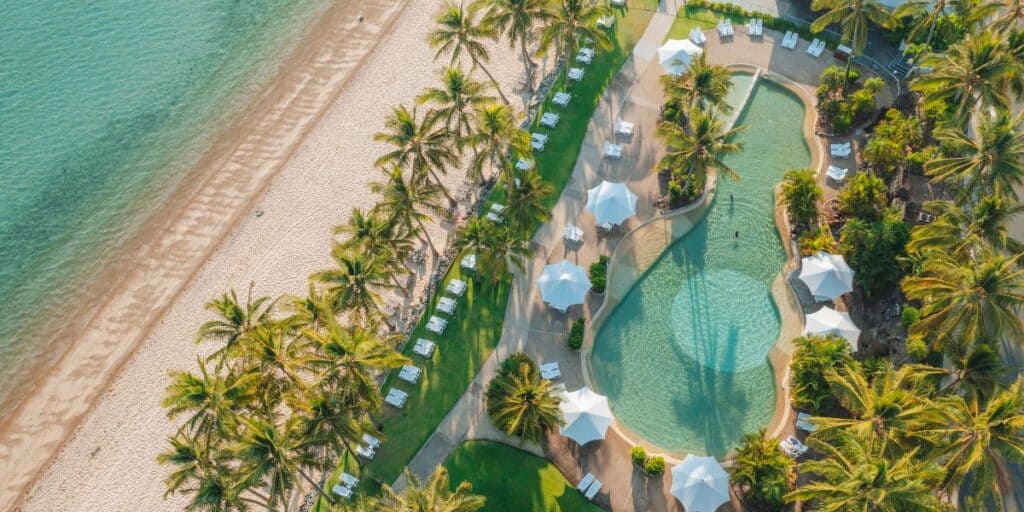 Image Credit Tourism and Events Queensland
Aside from the Main Pool and its swim-up Island Bar – which is certainly one of the best Hamilton Island things to see in terms of laid-back paradise vibes – there are plenty more brilliant pools to enjoy here.
For family fun and tropical relaxation, head to Bougainvillea Pool behind Catseye Beach, or head to Dolphin Pool for excellent views over the beach and ocean.
If you stay at Reef View Hotel, the island's largest hotel, you'll also have access to a tranquil pool surrounded by tropical gardens and sun-drenched deckchairs.
TOURS AND DAY TRIPS FROM HAMILTON ISLAND
Above, we've covered some great things to do on Hami;tpn Island – below, we cover some of the day trips from Hamilton Island too.
Whitehaven Beach and Hill Inlet Chill and Grill Full Day Cruise from Hamilton Island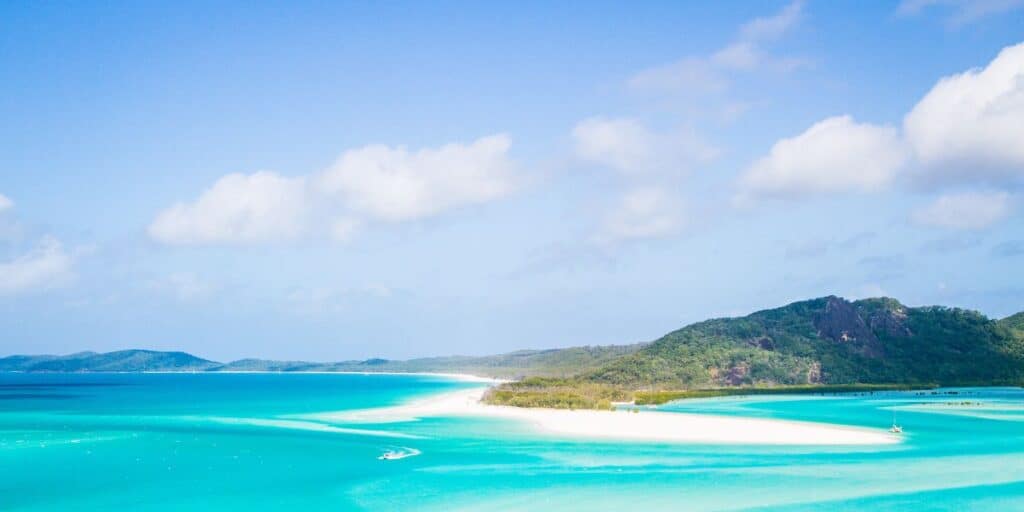 Whitehaven Beach is known to be the most photographed beach in Australia, and it's not hard to see why. You'll want to explore this stunning beach with its pristine white sand and crystal clear waters.
On tour, you'll also see where Pirates of the Caribbean: Dead Men Tell No Tales was filmed before taking a trip to Hill Inlet at the beach's Northern end. You'll get an insight into the region's history while on a guided walk following the path of the original Whitsunday settlers, the Ngaro people.
Click here for more details or to book. 
Great Barrier Reef Cruises from Hamilton Island
Embark on a full-day adventure to discover the Great Barrier Reef's vibrant and diverse underwater world. This is a great way to enjoy the inviting waters, magnificent corals, and marine life that make this region unique.
You'll unwind on a high-speed catamaran with spacious, air-conditioned lounges and sizeable outer viewing decks, perfect for catching glimpses of the spectacular islands you'll pass along the way.
On board, you'll find bars serving refreshments and comfortable seating to make your journey more enjoyable. Throughout the day, curb your hunger with morning and afternoon tea and a sumptuous buffet lunch.
Click here for more information or to book.
2 Day/1 Night Reefsleep Under the Stars Great Barrier Experience from Hamilton Island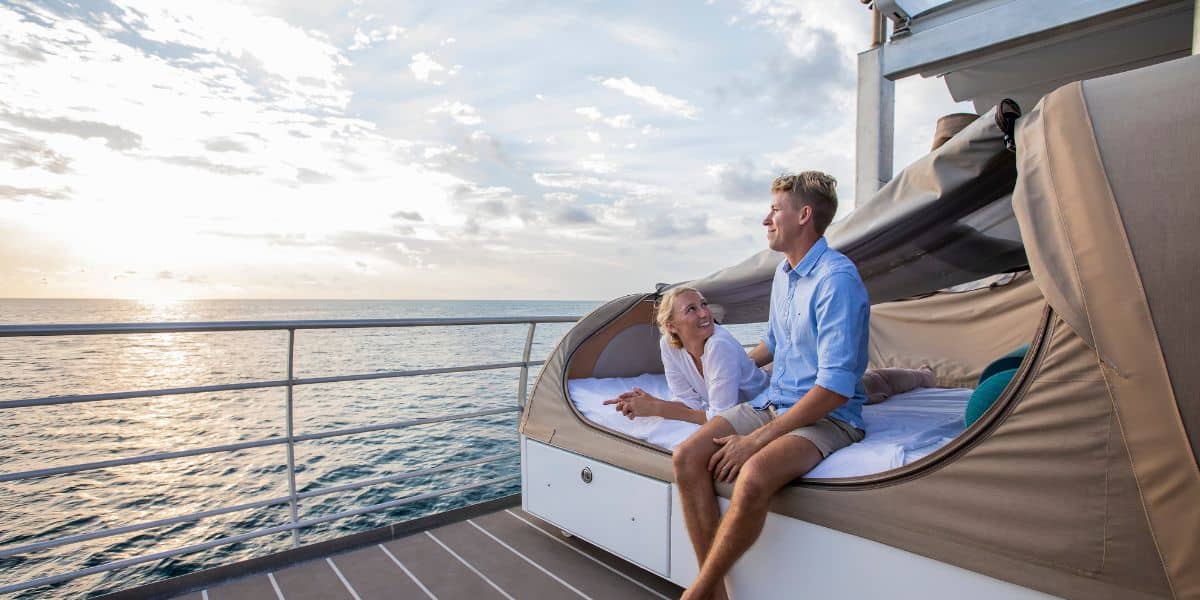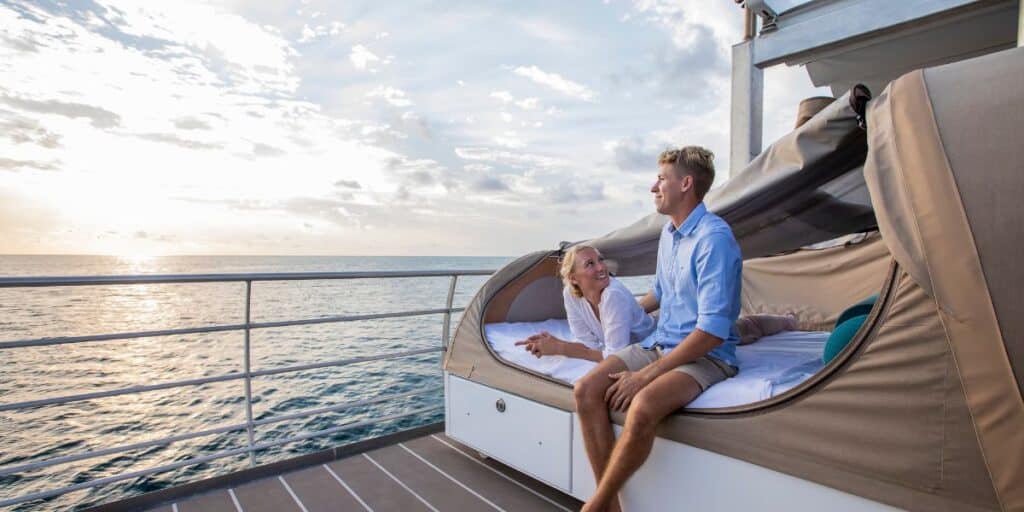 Image credit thanks to Tourism and Events Queensland
If you're looking for magical things to do in Hamilton Island, then why not take the opportunity to spend a night under the stars at the Great Barrier Reef?
Begin your journey with a cruise to the outer reef, taking in the stunning Whitsunday Islands along the way. During the tour, you'll have the opportunity to dive into the clear waters for swimming and snorkelling, ride in a semi-submarine, and visit the underwater observatory before enjoying a delicious buffet lunch.
As the sun sets, sip a drink and enjoy an evening meal of delicious local cuisine served on deck. Then, head to the pontoon's top level and nestle into your cosy Reefbed, surrounded by the ocean and a galaxy of stars. The tranquillity of being in the middle of the sea will lull you to sleep for a truly unforgettable experience.
Click here for more information or to book
HAMILTON ISLAND DAY TRIPS
While there's plenty to do on Hamilton Island, you could easily spend a week there; if you've only got a day, you can still enjoy Hamilton Island on a day trip from Airlie Beach.
Whitehaven Beach and Hamilton Island Tour With Lunch from Airlie Beach
Wondering what to do on Hamilton Island for the day? This tour covers the highlights of the island and nearby Whitehaven Beach.
Start your day with a comfortable and spacious vessel ride from the Port of Airlie to Whitehaven Beach. Then, spend two hours swimming in crystal blue waters, strolling on the white silica sand, or playing beach volleyball.
Finally, after enjoying a pub-style lunch, you can take the shuttle bus to explore the island's attractions or relax at luxurious resort pools and Catseye Beach.
Return to the Port of Airlie after a memorable day exploring the Whitsundays.
Click here for more information or to book
GETTING TO HAMILTON ISLAND
Hamilton Island is the only Whitsunday Island with a commercial airport and has its own marina, making it very accessible to reach by ferry or flight.
The easiest and most popular way to get to Hamilton Island is via ferry from Airlie Beach.
Ferries to Hamilton Island
Passenger ferries depart from the Port of Airlie ferry terminal and the Shute Harbour terminal (just 10 minutes south of Airlie Beach) throughout the day, operated by Cruise Whitsundays. They offer up to a dozen services to and from the Hamilton Island Marina daily. The journey takes approximately 55 minutes.
The ferry schedule and ticket cost change throughout the year, so I recommend checking the current sailing frequency on the Cruise Whitsundays website. 
If you're flying into Proserpine, you can take a coach directly to Airlie Beach. The coaches are very convenient; they drop passengers off at the Port of Airlie ferry departure point. For those driving, long-term parking is available at the terminal.
If you prefer, you can take your private boat directly into the well-equipped Hamilton Island Marina. Yachties are simply asked to contact the Marina team in advance to book a berth via the online booking form.  
Flights to Hamilton Island
You can take a direct commercial flight to Hamilton Island from Brisbane, Sydney, or Melbourne. Jetstar, Virgin Australia and Qantas all offer flight services to the Hamilton Island Airport.
Private flights to Hamilton Airport are also available from Whitsunday Coast Airport at Proserpine or the Whitsunday Airport at Shute Harbour. You can book these directly with Hamilton Island Air.
Best Hotels on Hamilton Island
Looking for somewhere to stay on Hamilton Island? We recommend booking through Booking.com as they offer a wide range of room types, most with free cancellation, which is ideal for last-minute changes.
However, if you want our recommendation for a hotel, we've listed our top pick for a luxury hotel, family hotel, mid range and budget hotel below.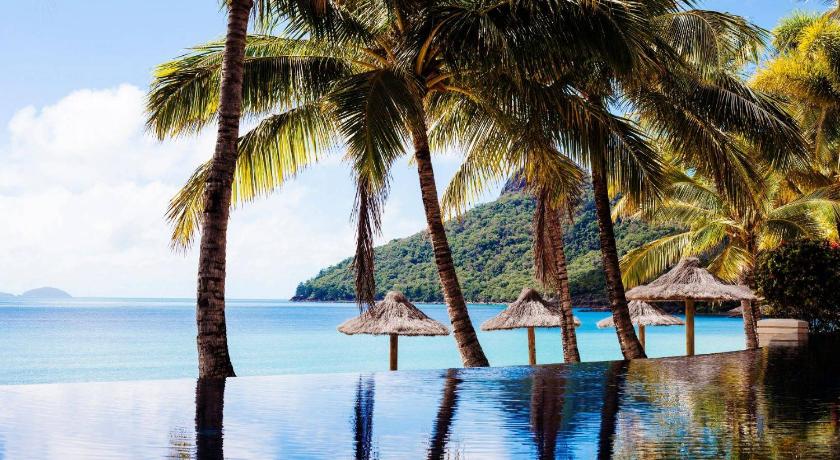 Overlooking the iconic Catseye Beach and nestled within stunning tropical gardens, you won't find a better located hotel than Beach Club. It's within walking distance from many top Hamilton Island activities, such as Bougainvillea Pool and superb beachside eateries. 
Air-conditioned, adult only rooms overlook the beautiful Coral Sea. Every spacious suite has a balcony, private pool, outdoor seating area, minibar, tea and coffee making facilities, and a TV.
This beachfront accommodation has a private beach area for soaking up those ocean views, alongside a free chauffeur service for when you feel like exploring further afield. Meanwhile, the Beach Club Restaurant services a la carte dining and a creative cocktail menu.
Guests are invited to explore the beautiful Whitsunday waters by using the hotel's free watersports equipment, including windsurfing and snorkelling.
For guests who want to experience the perfect blend of modern luxury with the stunning nature of the Whitsundays, then Beach Club is the ideal place to stay on Hamilton Island.
Click here for more information or to book
Sea View Whitsunday Apartments are a brilliant choice for families visiting Hamilton Island, but all kinds of guests will enjoy this stunning property. 
The apartments are just a 10-minute walk from the Hamilton Island Marina, alongside the dining and shopping options available.
Air-conditioned apartments are suitable for couples or families of up to 5 people. Rooms include free Wi-Fi, a private bathroom, full kitchens with a fridge, stovetop, oven, toaster, and kettle, and a comfortable lounge area with a TV, but nothing beats enjoying your morning coffee on your private balcony with sea views.
The stunning outdoor pool is open all year around, and the property is just 50m from the beach. The apartments are also just a 4 minute walk to the Hamilton Island Sports Club and Mini Gold activities.
The Sea View Whitsunday Apartments is an excellent choice for centrally located accommodation with everything you need for a comfortable stay.
Click here for more information or to book
Whitsunday Apartments offer stunning, spacious apartments across from the gorgeous Catseye Beach. Guests are just a walk away from beachside activities, watersports, and a few top-rated cafes and restaurants.
The air-conditioned apartments sleep up to 5 people and have a balcony with brilliant views over the tropical gardens or the Coral Sea. Units include a kitchenette with microwave, fridge, oven toaster, stovetop, private bathroom, TV, and outdoor dining area.
The property has free WiFi in the lobby, but its best feature is the stunning outdoor swimming pool with ocean views, shaded seating areas, and a beautiful outdoor hot tub.
For a fabulous blend of spacious and comfortable rooms, plus excellent views and hospitality, the Whitsundays Apartments is a great choice.
Click here for more information or to book
ENJOY HAMILTON ISLAND!
Hopefully, this guide has given you lots of inspiration on things to do on Hamilton Island.
If you're planning a trip to Hamilton Island, I highly recommend you check out our Whitsundays guide, which provides links to everything you need to know to plan your trip.
I'd also recommend you join our free Queensland Travel Guide Facebook community, where you can ask all your questions and find even more great trip suggestions.
If you enjoy island holidays, you might also be interested in the following destinations:
Heron Island (coming soon)
Wilson Island (coming soon)