Are you planning to visit Great Keppel Island? This article covers all the very best things to do on Great Keppel Island, including activities, tours, where to stay and how to get there.
The Queensland Travel Guide acknowledges the Woppaburra People, the Traditional Custodians of the land on which Great Keppel Island is situated. We pay our respects to their Elders past, present and emerging, and recognise their continued spiritual and cultural connections to Country. Always was, always will be, Aboriginal land.
A short ferry ride off the coast of Yeppoon, you'll find Great Keppel Island – one of the most beautiful islands in the southern part of the Great Barrier Reef.
Surrounded by crystal clear waters – Great Keppel Island is a laid back tropical island paradise. The beaches are sandy and soft and the surrounding turquoise water is teeming with marine life. While inland you have lush tropical vegetation perfect for hiking adventures.
Whether you're visiting with kids, friends or even a romantic getaway – there are plenty of Great Keppel Island things to do.  Most visitors to the island spend their days on or around the water swimming, snorkelling, diving or kayaking.  The island's vibrant coral reefs are home to a diverse array of marine life, including colourful fish, sea turtles, and dolphins.
For those considering a holiday to the Island, this guide will help you decide exactly what to do on Great Keppel Island.  The guide covers all the best Great Keppel Island activities, accommodation options as well as how to get there.
This post may contain compensated links. Please refer to our disclaimer here for more information.
BEST THINGS TO DO ON GREAT KEPPEL ISLAND
Below we cover the top things to do Great Keppel Island has for visitors.
1 Snorkel or dive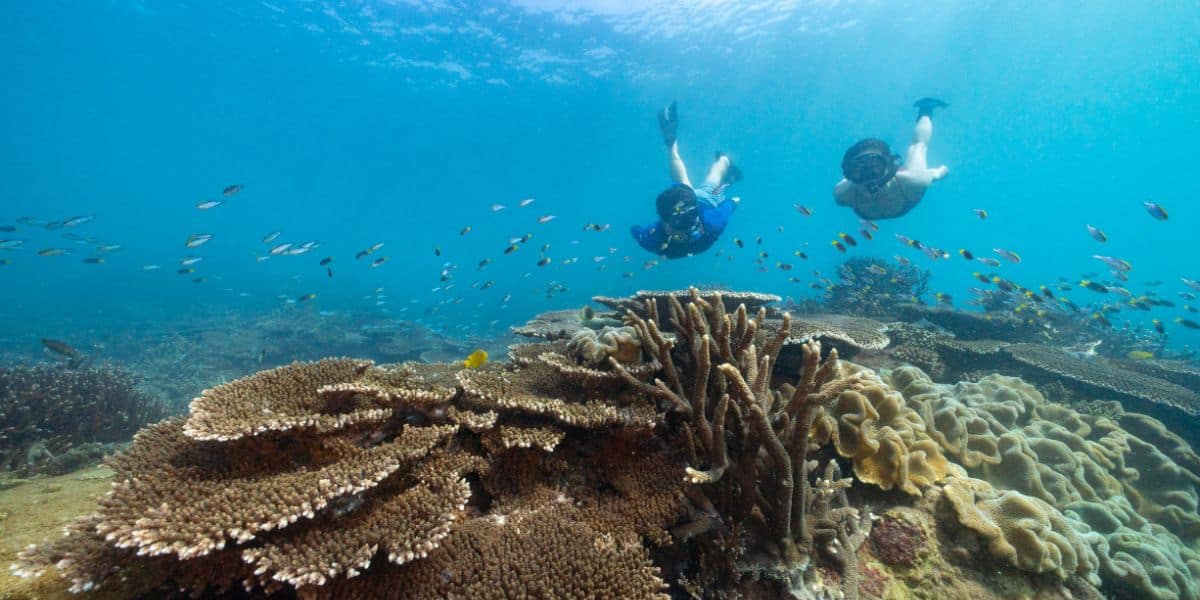 Image credit thanks to Tourism and Events Queensland
Although you'll begin to understand the beauty of Great Keppel Island during your first glimpses of its sandy shores on the ferry over, you don't really appreciate how breathtaking it is until you start exploring underwater!
So whether you're a complete novice or an experienced diver, one of the best things to do in Great Keppel Island is to grab a snorkel and get up close to some of Australia's most beautiful coral reefs.
In fact, the reefs at Great Keppel Island are some of the healthiest – you can find 38 different species of colourful coral and be amazed at the marine inhabitants who live nearby. Due to the crystal clear waters, you'll be able to spot tropical fish, starfish, turtles, stingrays, and dolphins.
Some of the best spots for snorkelling on Great Keppel Island include Shelving Beach, Clam Bay, Big Peninsula at Secret Cove, and Monkey Point. The latter is accessible on foot if you want to go independently, but you'll need some assistance from GKI Watersports or Keppel Watersports to drop you off at the others.
You can hire equipment or take a tour if you want some help finding all the best spots based on the conditions. Just remember to book tours in advance, especially during holiday periods, as they're understandably incredibly popular.
If you want to explore deeper, then why not opt for scuba-diving instead? Keppel Dive is the single PADI dive resort here. They've got you covered for all Great Keppel Island watersports and activities whether you're a complete beginner or an experienced diver.
You can hire snorkelling gear on the island for $20 for the day or join a guided snorkelling tour for $59 per adult and $49 per child. Scuba diving starts from $155 per person.
2 Visit the beaches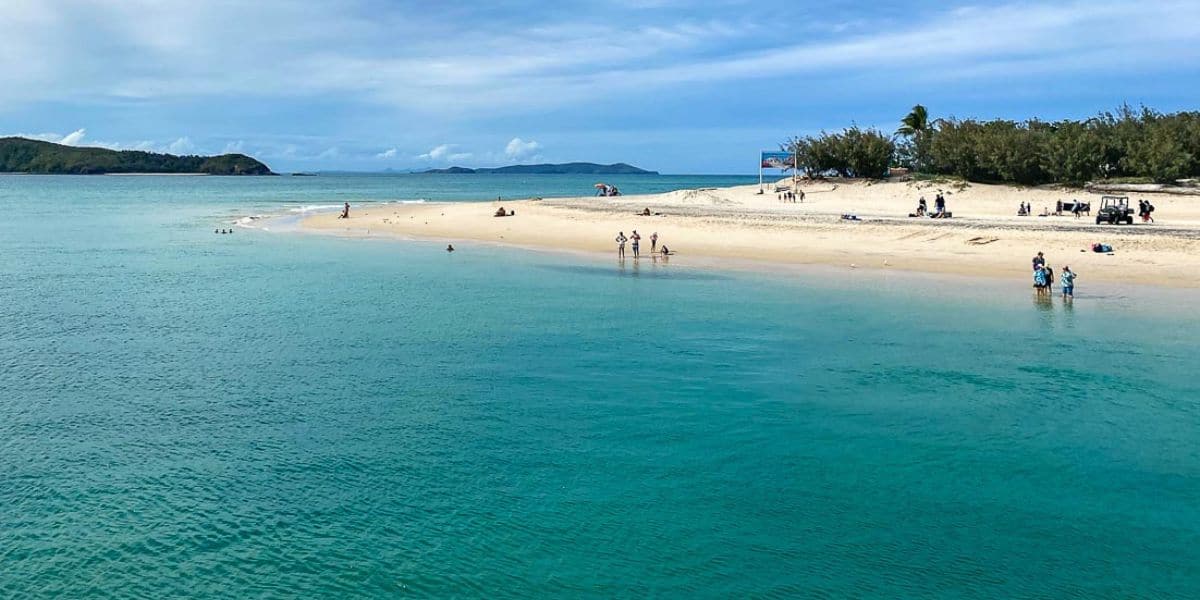 What is there to do on Great Keppel Island? Go to the beach of course! There are 17 beaches on the island, so you're really spoilt for choice, although some are more accessible than others.
The island's main beach is Fishermans Beach, which is also the main hub on the island with plenty of accommodation, Keppel Watersports and the ferry port.
Don't be put off by its popularity; Fishermans Beach is absolutely stunning, with sandy shores and crystal clear water. It's a wonderful spot for swimming, water activities, or just sunbathing on the soft sand.
Next to Fisherman's Beach is The Spit – a great spot for swimming. Walk around a little further on to reach Putney Beach, a stunning palm-lined sandy beach from where you can relax in a hammock or swing. Continue towards the mangroves at the end of the beach to escape the crowds.
If you don't mind a steep walk, Shelving Beach is just 15-minutes away, although you can also get a boat here. If you love snorkelling, this is one of the best spots to see some marine life. Carry on towards Monkey Beach for an even more secluded snorkelling spot – this one is a 35 minute walk from the main hub or a 5 minute boat ride.
Long Beach is another of the Great Keppel Island's most beautiful beaches. It stretches 2km and on the western end, you can find ancient Aboriginal shell middens – the remains of shellfish once eaten by the Woppaburra people, the traditional owners of the Keppel Islands. You can walk here from Monkey Beach or take a boat.
If you don't fancy the walk, GKI Watersports offer beach drop-offs by boat. They can suggest the best beach for the weather conditions and based on your interests, so it's definitely worth chatting with them and seeing what they recommend! They'll even come and collect you at whatever time you ask.
Beach drops start at $70 per return boat trip (up to 6 people).
3 Kayaking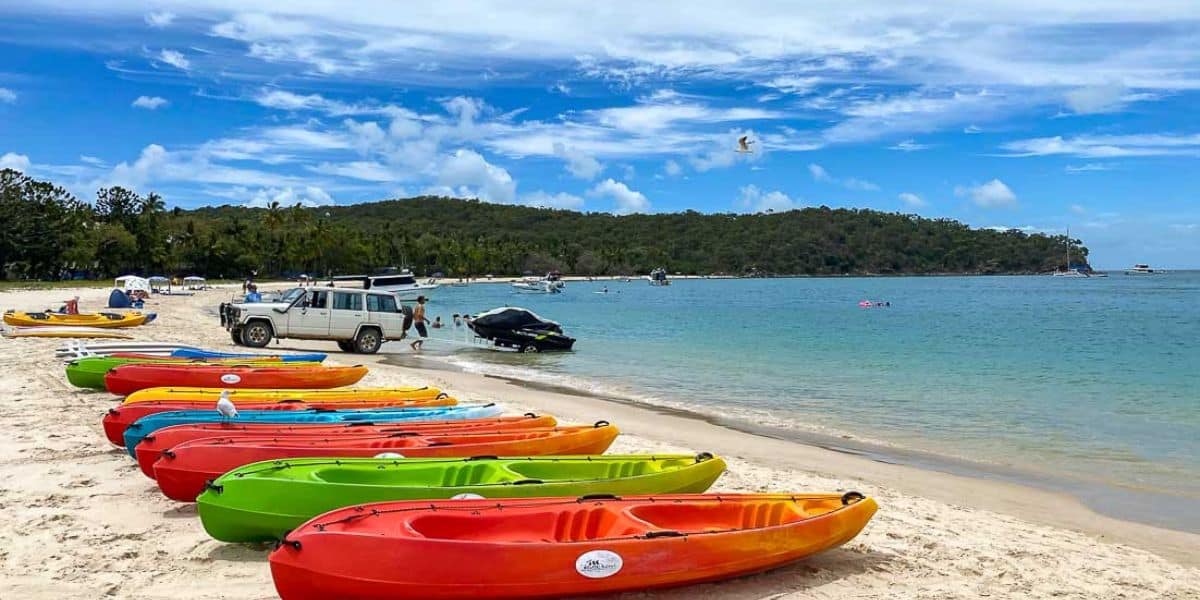 There are a few brilliant ways to experience the beautiful waters around the island, and kayaking is definitely one of the best. The water is usually pretty calm, so most kayaking trips are pretty relaxing.
You can hire a kayak for $20 per hour or join a kayak tour for $60 per adult and $50 per child.
4 Stand up paddleboarding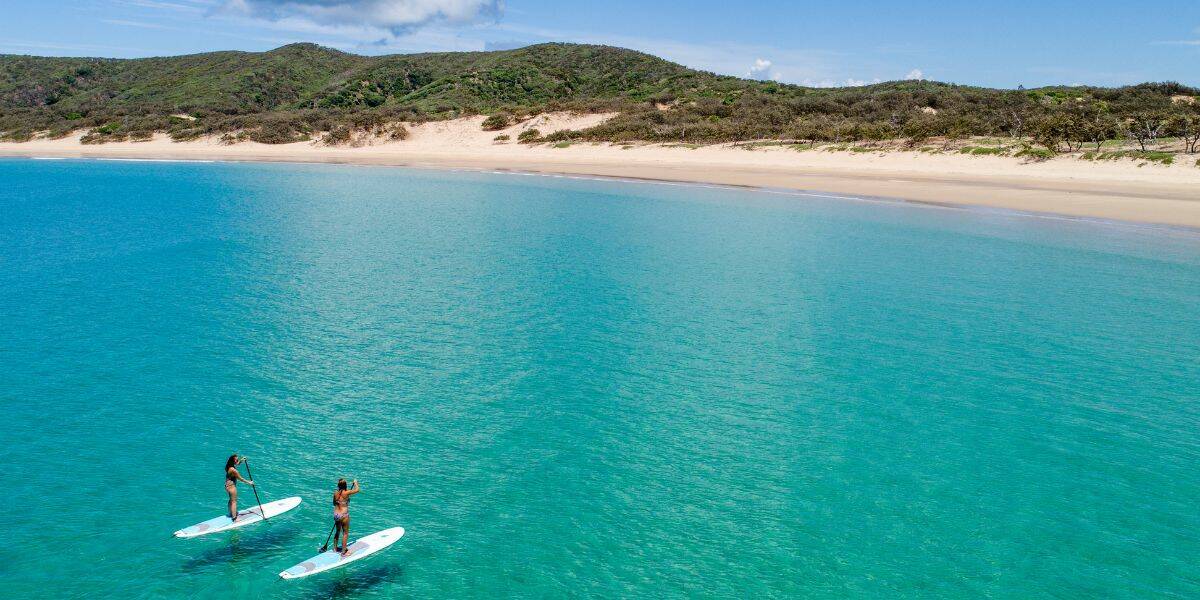 Image credit thanks Tourism and Events Queensland
If you're up for more of a challenge, the stand up paddleboarding is another fantastic way to explore Great Keppel Island.
Because the water is so clear, you can still see the fish and coral while paddleboarding, so don't forget to look out for turtles and rays while gliding around the reefs.
You can hire a board for $20 per hour.
5 Jet ski tour
It's always fun to explore coastal regions on a jetski, feeling the wind rush by as you take on the waves. But what makes jet ski tours on Great Keppel Island so special is that they take you all around the island! After zooming the full 28 km of the island, you'll really see what makes this place so beautiful.
The guys at Keppel Water Sports on Fishermans' Beach can help you out with jet skis.
6 Go for a hike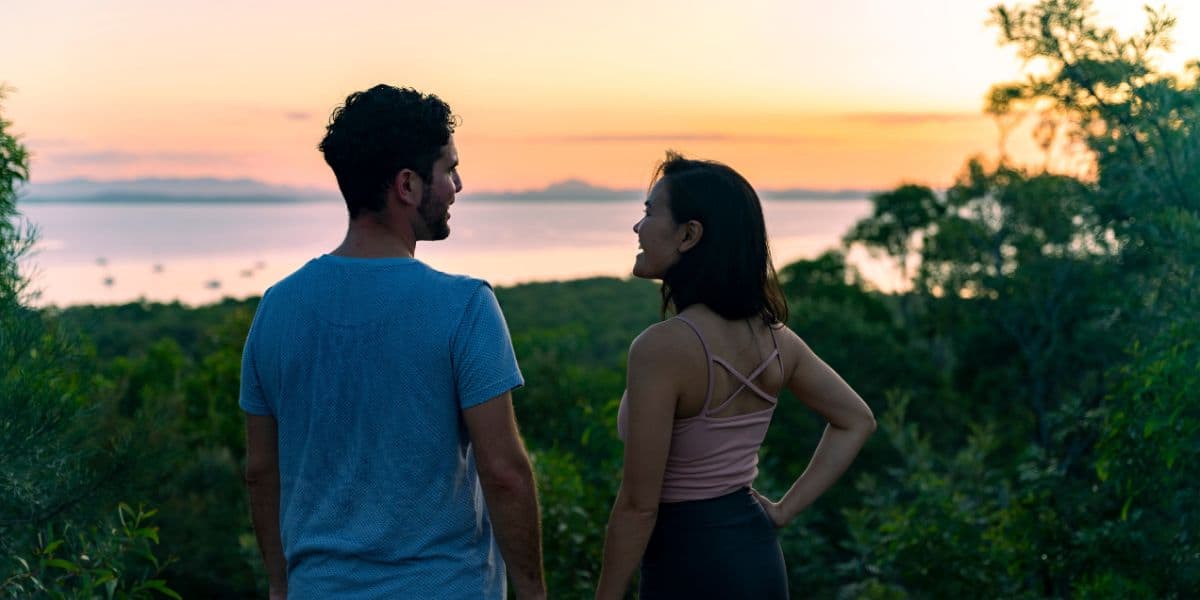 Image credit thanks Tourism and Events Queensland
For the active types, one of the things to do at Great Keppel Island is taking a hike.
The best way to explore inland is via one of the island's six bushwalking tracks. Choose between an easy 1-2 hour walking track to a steep full-day hike, depending on your interests. Either way, you'll get a fantastic insight into the flora and fauna of Great Keppel Island.
As you walk around the island, you'll be sharing the land with brush-tail possums, goanna and blue-tongue lizards. But don't forget to look up into the treetops above as 90 bird species live here!
Hikes are also great to combine with other activities. For example, walking to Monkey Point before going snorkelling at Monkey Beach.
Whatever type of trail you fancy, make sure you bring a pair of comfortable shoes to explore some of the island's most stunning hidden gems.
7 Visit a lookout
If you only have time for one walk during your stay, the Lookout Trail is a great option. This walking track begins by Keppel Watersports at Fisherman's Beach.
The 2.6km return walk takes around an hour and is relatively easy, though be prepared for a few steep sections as you climb to the top. It's worth it for the views from the lookout.
From here, you can continue the walk around Leeke's Beach Circuit if you want to explore more of the island. Alternatively, add on the Mount Wyndham Circuit. This is a more challenging 4 hour walk but it leads to the highest point of the island, from where you'll have incredible 360 degree views!
8 Old Homestead
Built from 1922 to 1924, the Old Homestead is a heritage-listed building and once the home of Lizzie Leeke and her husband Michael O'Neill and later Ralph Leeke.
Although the island has had a difficult past, visiting the homestead is definitely one of the more interesting things to do on Keppel Island if you're keen to learn about its history. When European settlers arrived, they used the island for agriculture and moved thousands of sheep here. Unfortunately, this came with the mistreatment of the Indigenous population.
The island had been mostly vacant for almost 20 years when Lizzie begun running sheep on the island between 1918 until the early 1940s.
You can access the Old Homestead via 4WD or by taking Leeke's Beach Walk.
9 Ancient Aboriginal shell middens
It's well worth looking out for the Aboriginal shell middens while exploring the island. The Woppaburra people are the original owners of the Keppel Islands and have lived in the area for over 5000 years.
The shell middens are mounds of shells left behind from eating shellfish and some of the best evidence of the island's long Aboriginal past.
One of the best-preserved middens can be found at Long Beach. Walk to the western end to find it.
10 Go fishing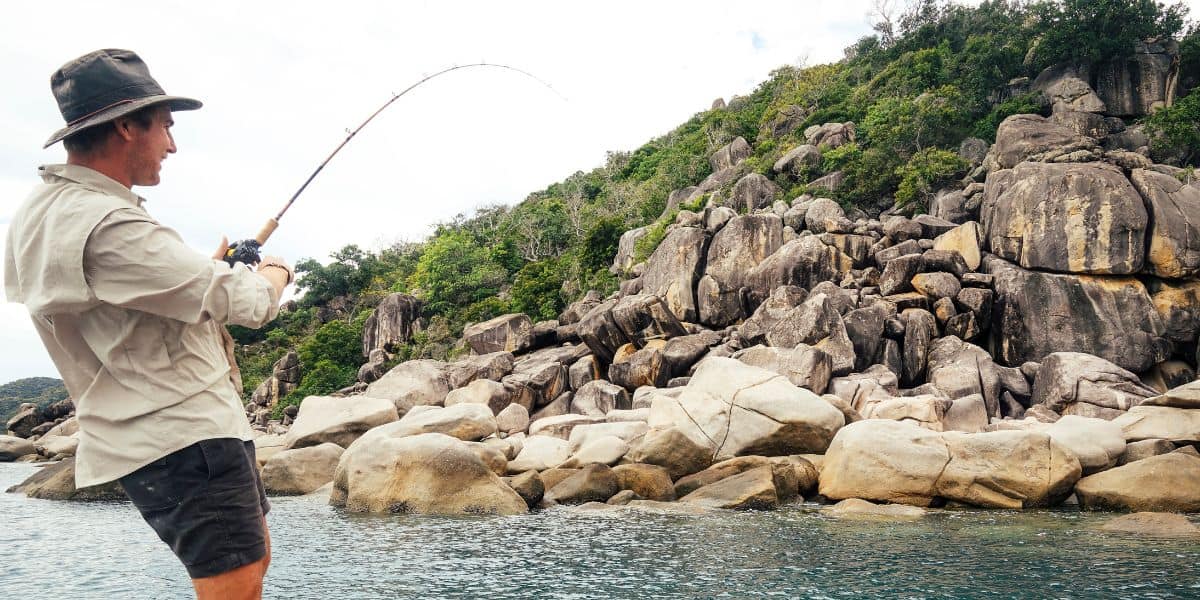 Image credit thanks Tourism and Events Queensland
Fishing is another one of the things to do Keppel Island offers – some say it has some of the best fishing on the East Coast, so it's well worth bringing your fishing gear or hiring some from GKI.
You can fish at Fishermans Beach or Putney Beach near the island's main hub or head to Leekes Beach if you prefer a quieter spot. Leeke's Beach is one of the island's largest beaches and a fantastic spot for fishing. Just make sure you only fish in the designated fishing zones wherever you decide to go.
11 Enjoy a cocktail as the sun sets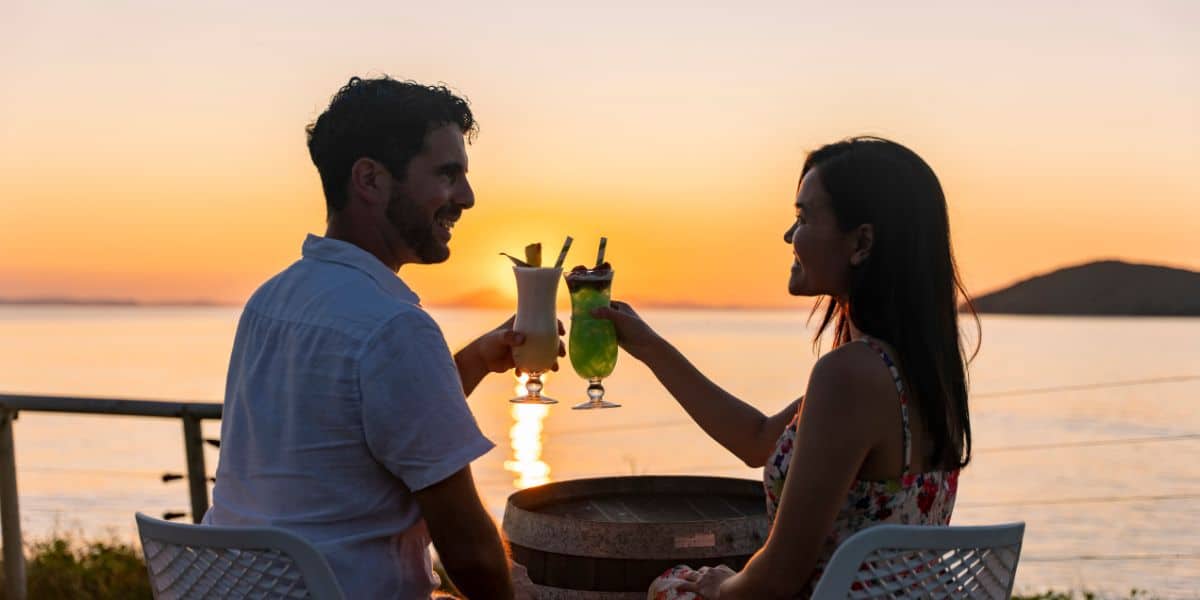 Image credit thanks Tourism and Events Queensland
There's no better way to finish a day on Great Keppel Island than with a delicious cocktail while watching the ocean transform during a colourful sunset.
There is a great selection of cocktails at the Great Keppel Island Hideaway bar. Though if kicking back with a Pina Colada isn't your vibe, they have a great selection of wines and ice-cold beers too. Best of all, the drinks are just $5 during happy hour, and you'll have sublime views over the ocean.
The Hideaway Bar and Bistro also serves dinner and have live music on Friday nights.
12 Go birdwatching
If you're into birdwatching, then you'll be pleased to know that there are over 90 species of bird identified on Great Keppel Island!
Ninety per cent of Great Keppel Island is actually bushland, so you can spot a mix of seabirds, songbirds, wetland birds and birds of prey among the mangroves and forests.
Keep your eyes peeled for sea eagles, ospreys, brahminy kites, honeyeaters, rainbow bee-eaters, kookaburras, and rainbow lorikeets.
You don't need to go on any difficult hikes to spot the birds – grab your binoculars and look out for birds from the beaches or your accommodation.
13 Look for whales (April to November)
Whales are such wonderful creatures, and it's always a pleasure to see them during their annual migration every Winter.
Although you can take a whale-watching boat tour from Yeppoon, you can actually see whales from the land if you've already made it to Great Keppel Island.
HOW TO GET TO GREAT KEPPEL ISLAND
It's easy to reach Great Keppel Island from Yeppoon. Ferries to Great Keppel Island leave from the Rosslyn Bay Harbour multiple times a day, and you can book with two ferry operators, Freedom Fast Cats or Keppel Konnections.
The Keppel Konnections ferries run between the island three times a day and four times on Friday.
Ferries leave the mainland from Keppel Bay Marina at 7:30 am, 9 am, and 3 pm daily, with an additional ferry at 5:45 pm on Friday only. Ferries return from Great Keppel Island at 8:10 am, 10 am, and 2 pm. 4 pm daily, with an additional Ferry at 6:20 pm on Friday only.
Fares begin at $30 for adults and $20 for children, with family tickets for 2A+2C available at $90. Kids under 5 go free.
Check the Keppel Konnections website for any timetable changes or to book tickets.
Freedom Fast Cats ferries leave from Pier One once or twice a day (there are always two departures during school holidays).
They depart the mainland at 9 am and 10:30 am on Mondays and Tuesdays, 7:30 am and 9:15 am on Saturdays, or you can leave at 9:15 am for the rest of the week. Ferries return once or twice a day at either 8.00 am (Saturdays), 9:30 am (Mondays and Tuesdays), 2:30 pm (Tuesdays and Fridays) or 3:45 pm (Mondays, Wednesdays, Thursdays, and weekends).
Fares begin at $55 for adults and $35 for children, with family tickets for 2A+2C available at $150. Kids under 4 go free.
Check the Freedom Fast Cats website for any timetable changes or to book tickets.
WHERE TO STAY ON GREAT KEPPEL ISLAND
Looking for somewhere to stay on Great Keppel Island? We recommend making your booking through Booking.com as they offer a wide range of room types and most with free cancellation, which is ideal for last-minute changes.
Accommodation options on Great Keppel Island are limited and in our view, the best place to stay is at Great Keppel Island Hideaway – the main resort on the island. The good news is the resort has accommodation options for all kinds of budgets and travellers, including couples, families and singles.
Please note that rooms at Great Keppel Island Hideaway include linens and soap, but you'll need to bring your own beach towels and toiletries.
To help you pick the best accommodation for you, here is a brief rundown of the rooms available at Great Keppel Island hideaway:
Island Cabins
The Island cabins sleep 4-6 guests. This fully self-contained accommodation has a kitchenette, fridge, dining area, ensuite and AC.
Most cabins are located within the subtropical gardens, but if you're looking to treat yourself, we highly recommend booking one of the three picturesque beachfront cabins, which overlook Putney Beach and have shared access to BBQ facilities.
Every cabin has an outdoor area. They all have a queen room and bunk beds or single beds in the second bedroom.
Garden Rooms and Palm Rooms
There are 22 motel-style garden or palm rooms which sleep 2-4 people. These rooms include an ensuite, bar fridge, tea and coffee-making facilities, and AC. These rooms are perfect for couples or friends looking for a cheap but comfortable place to stay at Great Keppel Island.
Although these rooms do not have self-catering facilities, they are only a 2-minute walk away from the Bar and Bistro.
Putney Place Studio
Sleeping up to 3 or 5 people, the newly renovated Putney Place Studios are just a 2-minute walk from Putney Beach. The studios include a queen bed, sofa bed, and a basic kitchenette and ensuite.
Family Rooms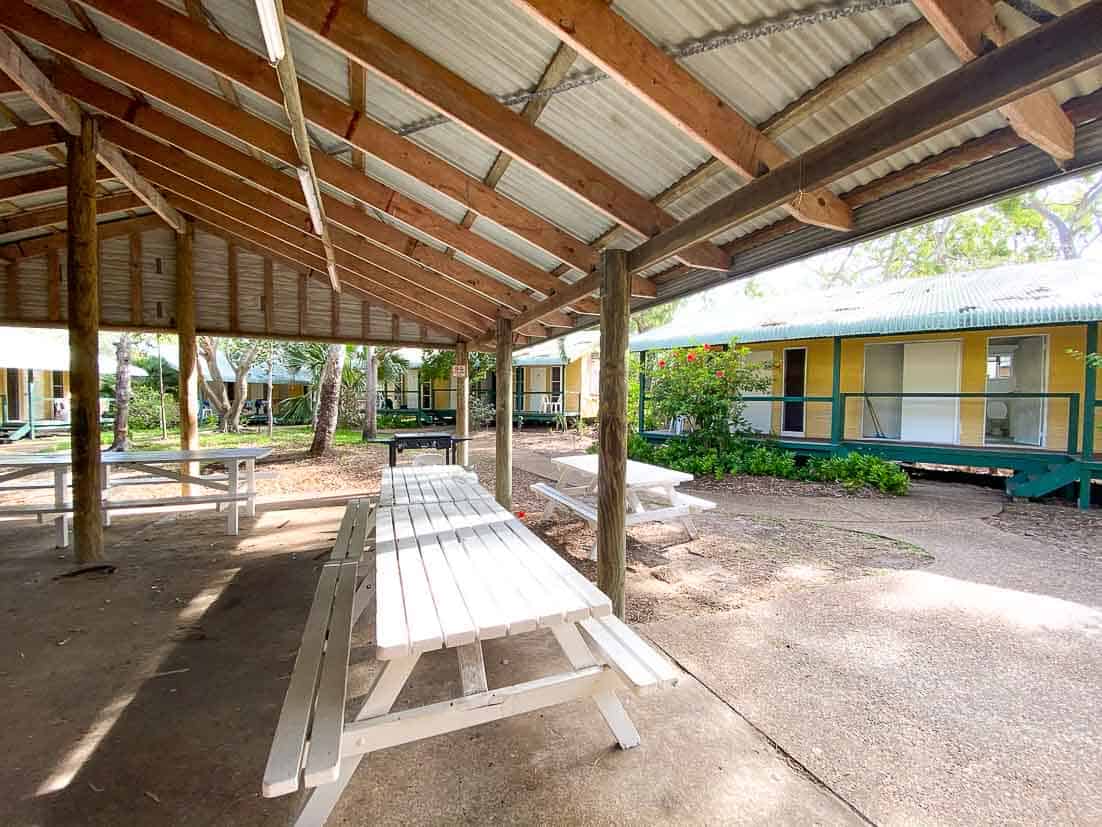 The family rooms are a great option if you're a family travelling on a budget. There are 12 family rooms available, each sleeping up to 5 people. Each features AC, a storage area, and an outdoor sitting area. In addition, you'll share a bathroom with one other room and have access to a communal kitchen, outdoor dining area, and BBQ facilities.
We've stayed here before and they are a great budget friendly option for a cheap family holiday.
A Frame and Hideaway House
For larger groups and families, it's well worth considering one of two holiday homes at the hideaway resort. Each is a stone's throw away from the beach and offers comfortable self-contained accommodation.
The A Frame House sleeps up to 6 guests and includes a six-person dining area, a lounge, a bathroom, a kitchen, a BBQ area, and ceiling fans.
The Hideaway House also sleeps up to 6 guests and features a full kitchen, dining area, lounge, bathroom, and AC.
Click here for more information and to book
ENJOY GREAT KEPPEL ISLAND!
Hopefully, this guide has given you lots of inspiration on things to do on Great Keppel Island.
If you're planning a trip to Great Keppel Island, I highly recommend you check out our Capricorn Region guide which provides links to everything you need to know to plan your trip.
I'd also recommend you join our free Queensland Travel Guide Facebook community, where you can ask all your questions and find even more great trip suggestions.
If you love island holiday destinations, you might also be interested in the following destinations:
Wilson Island (coming soon)