Are you planning a holiday in Maroochydore? This article covers all the best things to do in Maroochydore, including attractions, activities and places to visit for your Maroochydore to do list!
The Queensland Travel Guide acknowledges the Kabi Kabi people and the Jinibara people, the Traditional Custodians of the land on which the Sunshine Coast is situated. We pay our respects to their Elders past, present and emerging, and recognise their continued spiritual and cultural connections to Country. Always was, always will be, Aboriginal land.
Situated along the stunning Sunshine Coast of Queensland, Maroochydore is a coastal paradise with sun-kissed beaches, vibrant culture, and natural beauty. Whether you're seeking relaxation, adventure, or a mix of both, there are plenty of Maroochydore things to do for all kinds of travellers.
One of the best Maroochydore attractions is, of course, its magnificent beaches. From the iconic Maroochydore Beach to the tranquil Mudjimba Beach, each stretch of sand offers something different for visitors to enjoy. Whether you're a sunbather, a surfer eager to ride the waves, or simply someone who enjoys long walks by the water's edge, the beaches Maroochydore offers cater to everyone.

Beyond its natural beauty, Maroochydore boasts a bustling urban scene with charming cafes, restaurants, and boutiques. Ocean Street, the heart of Maroochydore's dining and entertainment precinct, is a haven for foodies and those seeking a lively night out. Here, you can savour diverse cuisines, from fresh seafood to international delicacies, while soaking in the vibrant atmosphere.

So let's get into it and discover all the wonderful things to do Maroochydore offers.
This post may contain compensated links. Please refer to our disclaimer here for more information
MAROOCHYDORE THINGS TO DO MAP
Before we get started on all the things to do at Maroochydore and the surrounding area, check out the map below. This map shows the location of all the things to see in Maroochydore, which are covered in this guide so you can plan your itinerary.
BEST THINGS TO DO IN MAROOCHYDORE
Below we cover all the fun things to do in Maroochydore and the best Maroochydore tourist attractions to visit.
1 Go to the beach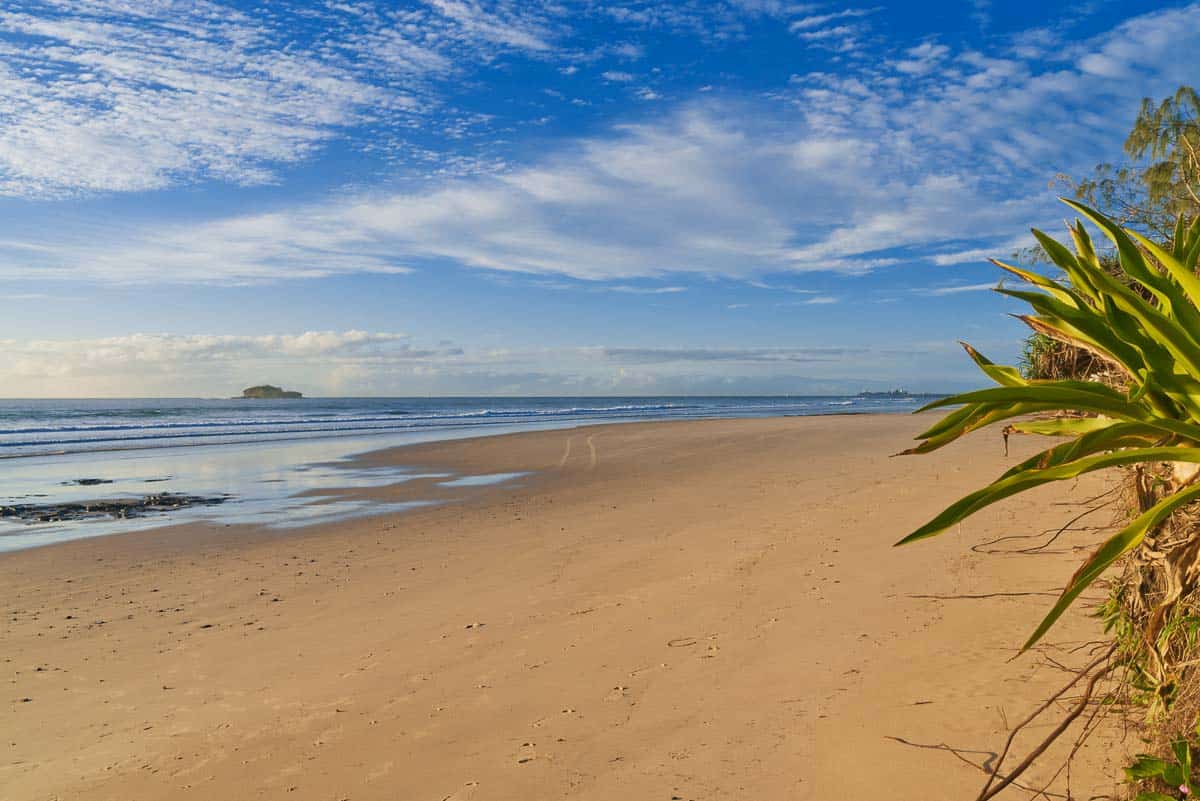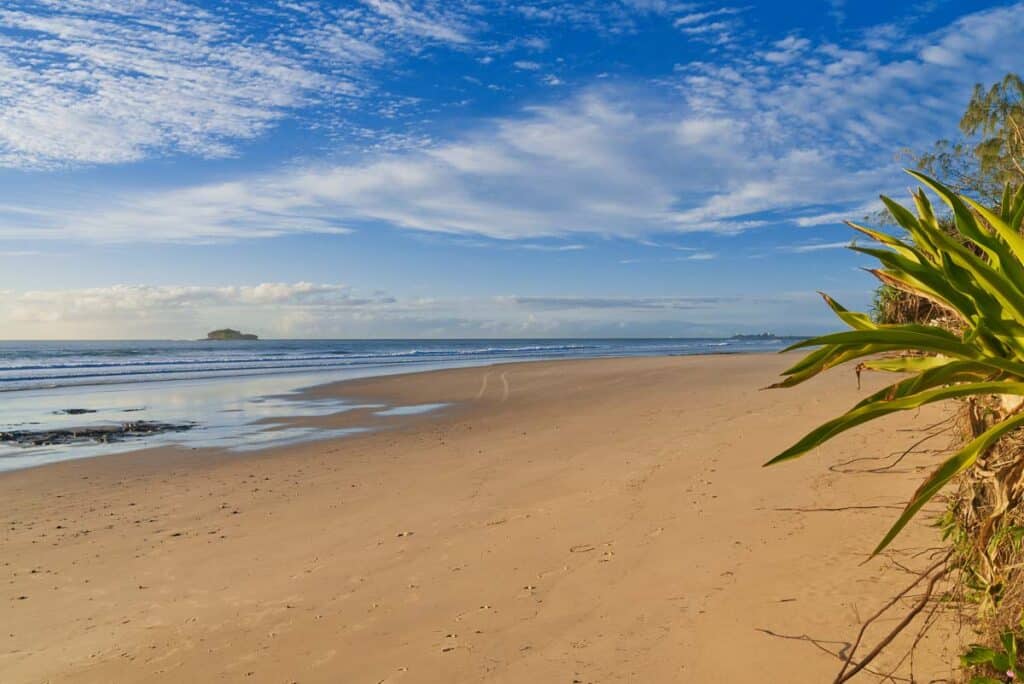 Maroochydore and its surrounding areas have many stunning beaches, each offering a distinct character and a slice of coastal paradise.
Maroochydore Beach serves as the vibrant heart of the region. With its golden sands and inviting waves, this beach is a hub of activity, where surfers ride the swells and families bask in the sun. The iconic Maroochy Surf Club overlooks the beach, providing safety for swimmers and a perfect spot to enjoy a meal or drink with panoramic ocean views.
Cotton Tree Beach, situated just south of Maroochydore Beach, is a hidden gem that caters to relaxation and recreation. This beach is a favoured spot for picnics and gentle dips in the calm waters of the Maroochy River mouth. The adjacent parkland is a family haven, offering shaded areas, playgrounds, and BBQ facilities.
Alexandra Headland Beach, often referred to as "Alex" by locals, to the north of Maroochydore has a striking headland and consistent waves for surfers. The Alexandra Headland Surf Club provides panoramic coastline views, while adventure seekers can take advantage of the surf schools and board rental shops that dot the shoreline.
Mudjimba Beach, a short drive from Maroochydore, offers a more serene and untouched coastal experience. With its relatively uncrowded atmosphere, Mudjimba Beach is an idyllic escape for those seeking solitude. The beach is backed by sand dunes and vegetation, creating a natural beauty perfect for contemplative walks or watching the sun dip below the horizon.
Not only is a day at the beach one of the fun things to do in Maroochydore, but it's also one of the best things to do in Maroochydore for free!
2 Sunshine Brewery
Sunshine Brewery in Maroochydore is a haven for craft beer enthusiasts seeking an authentic and locally inspired drinking experience. This family friendly microbrewery allows you to see, smell and witness the complete brewing process and taste the finished product.
From refreshing lagers to hoppy IPAs and rich stouts, Sunshine Brewery offers a spectrum of flavours that cater to different palates. What sets this brewery apart is its commitment to using high-quality, locally sourced ingredients, which adds a distinct regional character to its brews.
Food Vans visit with wood-fired Pizza every Thursday evening and a rotating mix of vans each Friday for lunch and dinner service.
Location: 28 Fishermans Road, Kuluin, Maroochydore
Hours: Wednesday to Sunday from 12 pm to 7 pm
3 Camp at Cotton Tree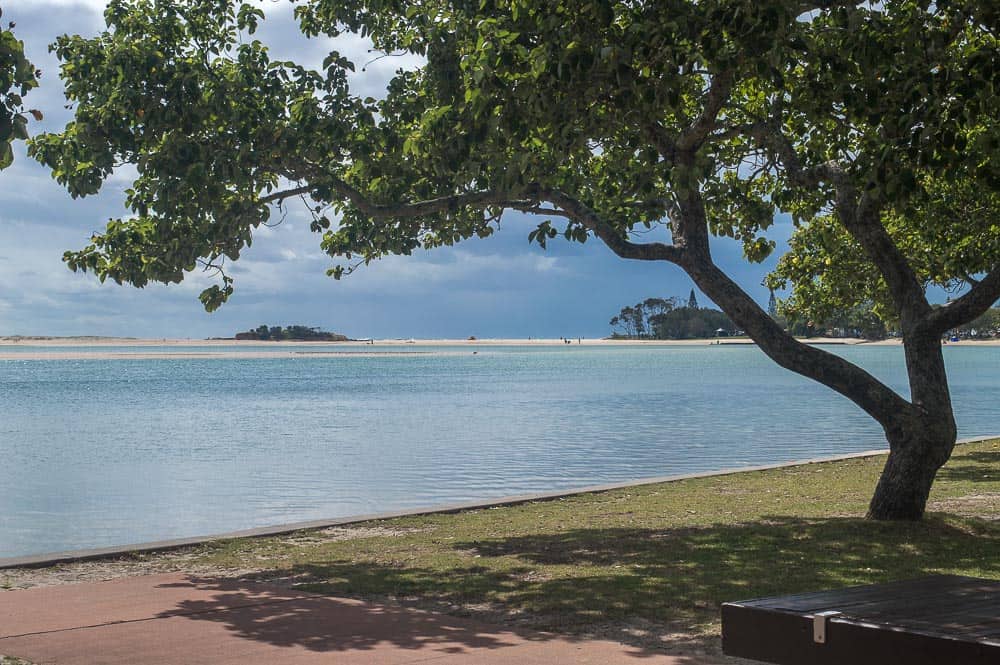 The Cotton Tree Holiday Park is a popular choice for camping enthusiasts, offering a range of accommodation options, including powered and unpowered sites suitable for tents, caravans, and campervans.
The proximity to the calm waters of the river and the picturesque ocean beaches makes it a great location for water-based activities. Whether you're into kayaking, fishing, or leisurely walks along the shorelines. Then as the sun sets over the Maroochy River, campers at Cotton Tree are treated to breathtaking views, the perfect place to relax with friends over a drink or two.
Location: 13 Cotton Tree Parade, Maroochydore
4 Ocean Street for restaurants, bars and live music
Looking for things to do in Marooychodre at night? Then head on down to Ocean Street. Ocean Street in Maroochydore is a vibrant culinary and entertainment hub home to a diverse array of restaurants, cafes, bars, and eateries that cater to a wide range of tastes.
For those with a penchant for Mexican cuisine, La Cantenna offers a lively atmosphere and a menu filled with delectable tacos, nachos, and margaritas. If you're craving modern Australian dishes with a twist, Elixiba is a standout choice, offering plant-based dishes and creative cocktails.
Seafood enthusiasts will find paradise at The Nautical, where you can enjoy sustainably sourced dining from local farms and fisheries. Meanwhile, Junk specialises in Asian fusion food with mouthwatering dishes inspired by Thai, Vietnamese, Malaysian and Chinese food.
As the sun sets, Ocean Street transforms into a lively nightlife destination. Solbar is a local institution that hosts live music events and serves craft beers in a relaxed environment. The Post Office Bar is a perfect spot to unwind with its expansive outdoor seating and impressive craft beers on tap.
5 Cruise Maroochy ECO Tour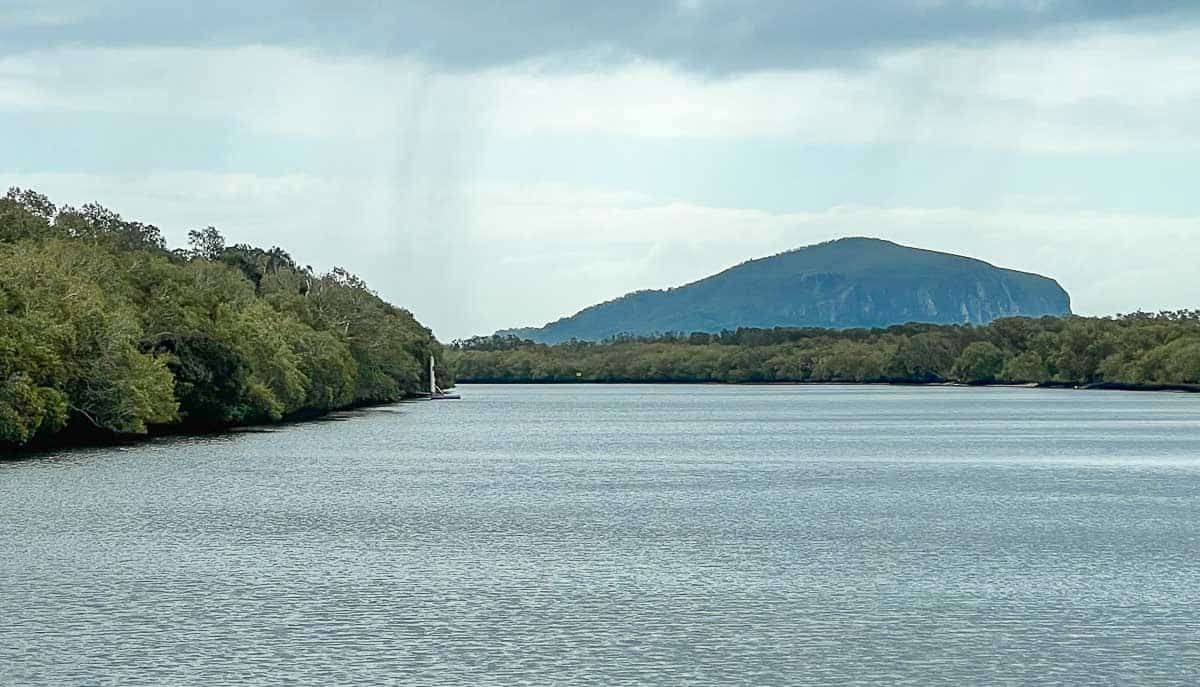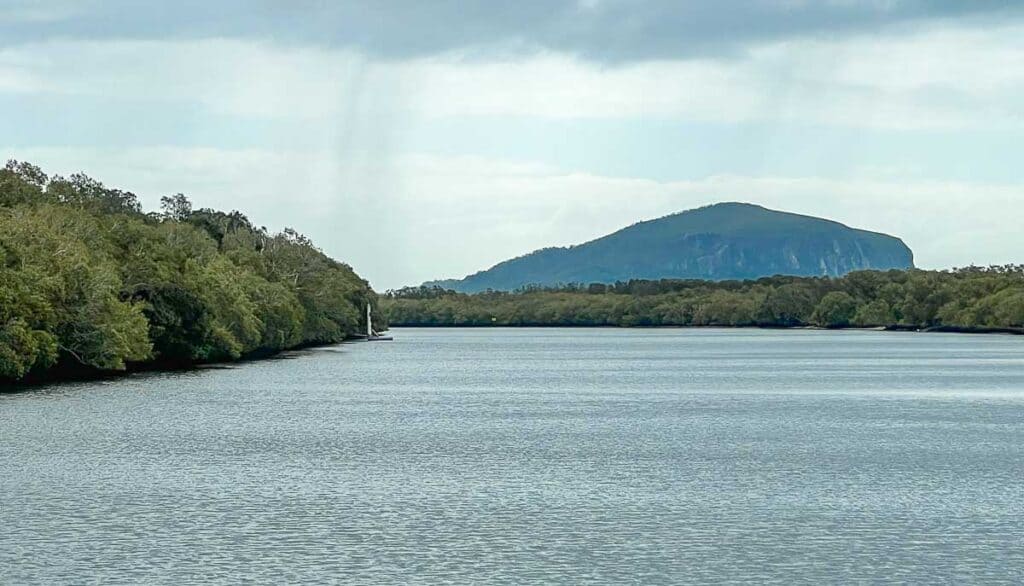 The Cruise Maroochy Eco Tour takes you through the pristine waterways and diverse ecosystems of the Maroochy River and its surrounding areas.
On arrival, you'll be served a delicious Devonshire tea while you sit back and your guide shares insights into the region's ecology, history, and conservation efforts. Guests are welcome to sit downstairs inside or venture to the top deck for an uninterrupted view of the river.
The 3.5 hour tour sets off along the Maroochy River, where you'll see the mangrove-lined shores and lush landscape and Mt Coolum also makes an appearance. Keep your eyes peeled for various wildlife, from colourful bird species to elusive aquatic creatures that call this ecosystem home.
You'll then stop at the Maroochy Wetlands Sanctuary where your guide will take you on a walk along Hand Cut Cane Creek to the Environmental Visitor Centre, pointing out interesting landmarks along the way.
When you return to the boat, a scrumptious BBQ lunch awaits, with a bar where drinks are available for purchase.
It's then a relaxing cruise back to the departure point.
Location: The tour departs from 270 Bradman Avenue Maroochydore
Tour times: Fridays – but varies so check online
Price: $99 per adult | $64 per child (2-14) | Free for kids under 2 – Click here to book your tour online.
6 Maroochy Wetlands Sanctuary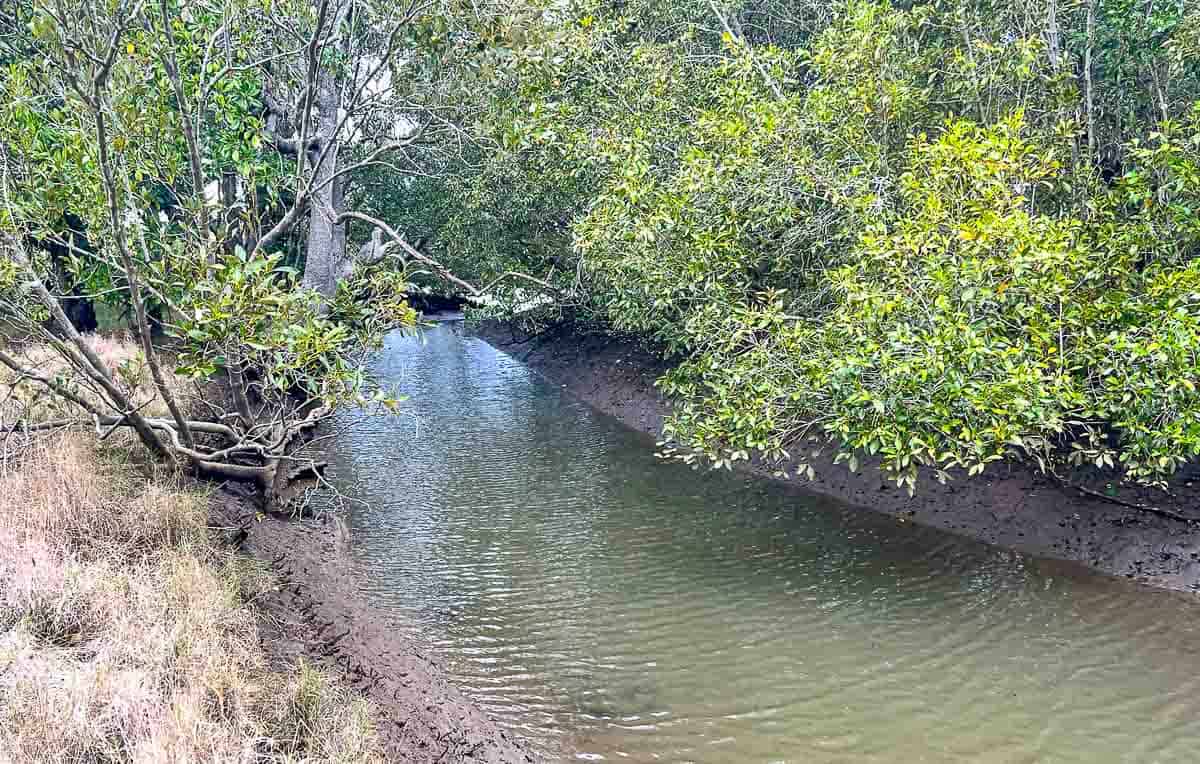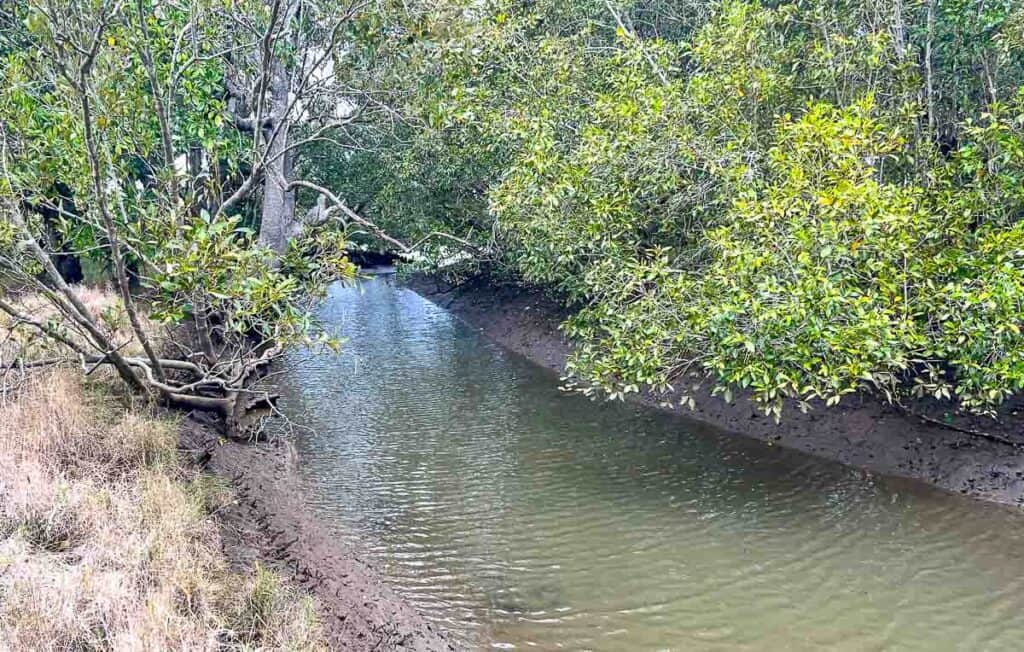 The Maroochy Wetlands Sanctuary is another one of the free things to do Marooychdore offers where visitors can connect with nature and explore a thriving wetland habitat that supports a diverse range of plant and animal species.
On arrival, grab yourself a walking brochure from the Environmental Visitor Centre, then take a self guided walk exploring the marshes, lagoons, and forests via the 2km (return) elevated boardwalk. Interpretive signage offers valuable insights into the wetlands' ecological significance and their role in maintaining the region's biodiversity.
The wetlands are a haven for birdwatching enthusiasts, as the sanctuary is home to over 200 bird species, including migratory birds that visit during various times of the year. Crabs, butterflies, other animals, and organisms also make the wetlands their home.
Location: Sports Road, Bli Bli
Hours: Always
Price: Free
7 Sunshine Plaza
Sunshine Plaza is the Sunshine Coast's premier shopping and entertainment destination, with its bustling retail, dining, and leisure hub. Whether you're after some fun family things to do in Maroochydore or things to do in Maroochydore when raining – you're sure to find something entertaining at Sunshine Plaza.
Sunshine Plaza has a range of retailers, from fashion boutiques to department stores, electronics to homeware. There are also many dining options, from casual cafes to upscale restaurants and entertainment, including a cinema complex, Next Level High Ropes (see below), Plaza Pontoon, Red Lock Escape Rooms, Rush Adventureland, Timezone and VR Hero.
Location: 154/164 Horton Parade, Maroochydore
Hours: Monday, Tuesday, Wednesday, Friday and Saturday from 9 am to 5.30 pm | Thursday from 9 am to 9 pm | Sunday from 10 am to 4 pm
8 Next Level High Ropes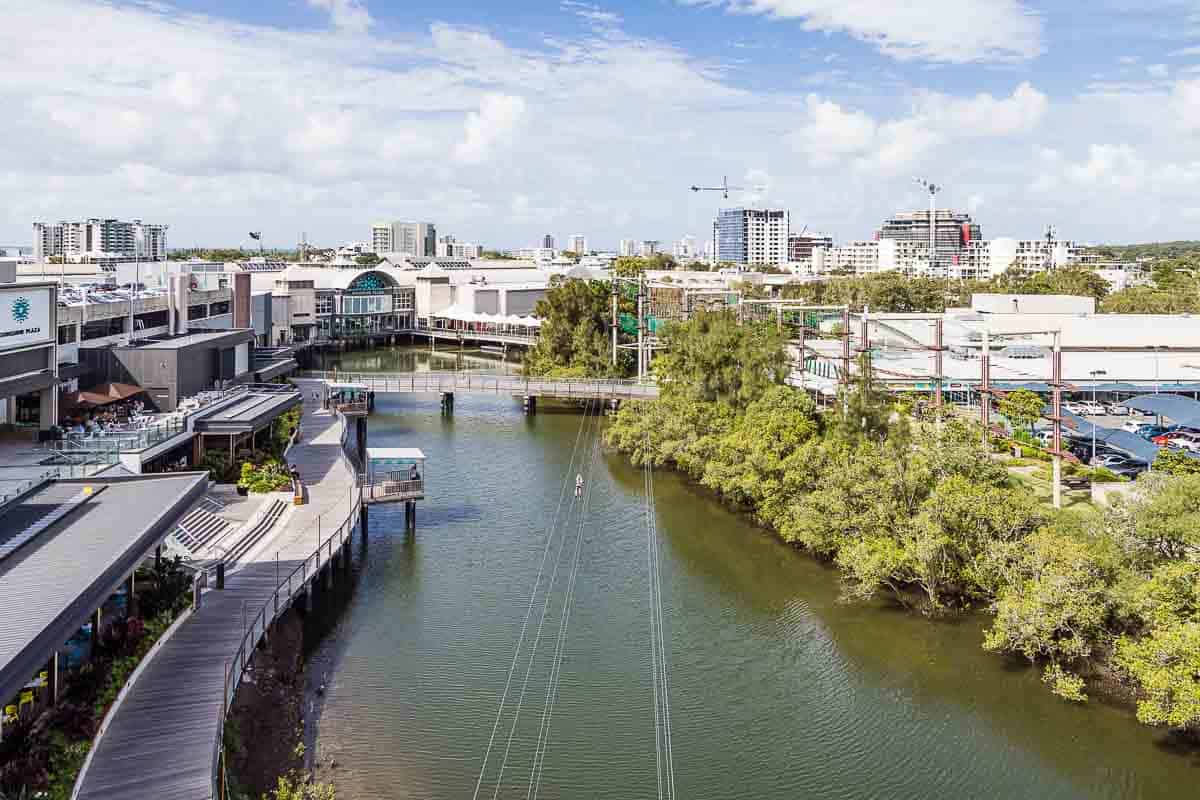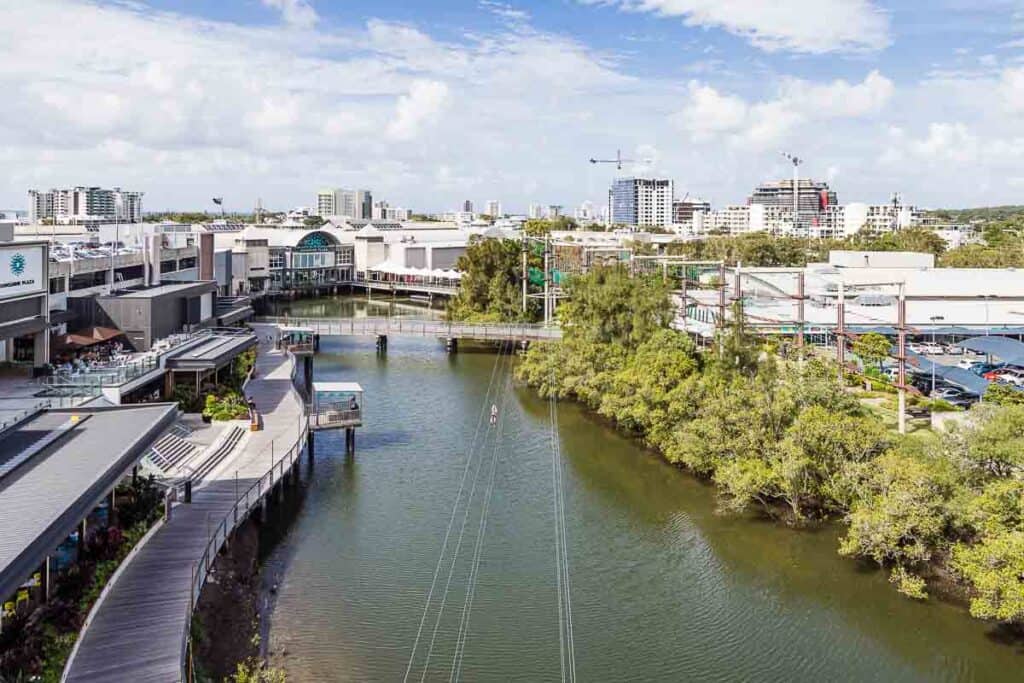 Image credit thanks to Tourism and Events Queensland
If you're after super fun things to do in Maroochydore for kids, then Next Level High Ropes must be on your to do list. Next Level High Ropes is not only Australia's highest and most thrilling adventure park but also Australia's largest high ropes course on poles.
The attraction offers seven challenging circuits, across four levels, with over 145 aerial challenges, including 16 ziplines stretching up to 130m over Cornmeal Creek. You can take in the sights from the viewing deck and enjoy the expansive 360° views overlooking the Maroochydore River.
There is a range of courses with beginner courses suitable for kids starting at just six years of age, right up to the ninja courses ideal for those wanting more of a challenge.
Location: Sunshine Plaza, 154/164 Horton Parade, Maroochydore
Hours: Monday to Friday from 10 am to 5 pm | Weekends from 9 am to 5 pm
Price: 2 hour sessions: $45 per adult and $35 per child | Unlimited sessions: $60 per adult and $50 per child
9 Horizon Festival
Held over ten days in August, the Horizon Festival is a captivating celebration of artistic expression, creativity, and cultural diversity. This annual event transforms Maryoochdore into a hub of dynamic performances, thought-provoking exhibitions, interactive workshops, and immersive experiences that cater to all ages and interests.
At Horizon Festival, attendees can explore various artistic mediums, from visual arts and music to dance, theatre, and literature. The festival's diverse program brings together local, national, and international artists, showcasing their talents through captivating performances and installations.
Look out for the editor of this website who often makes an appearance with the Common People Dance Project.
Click here to see what's on this year at the Horizon Festival.
10 Cotton Tree Markets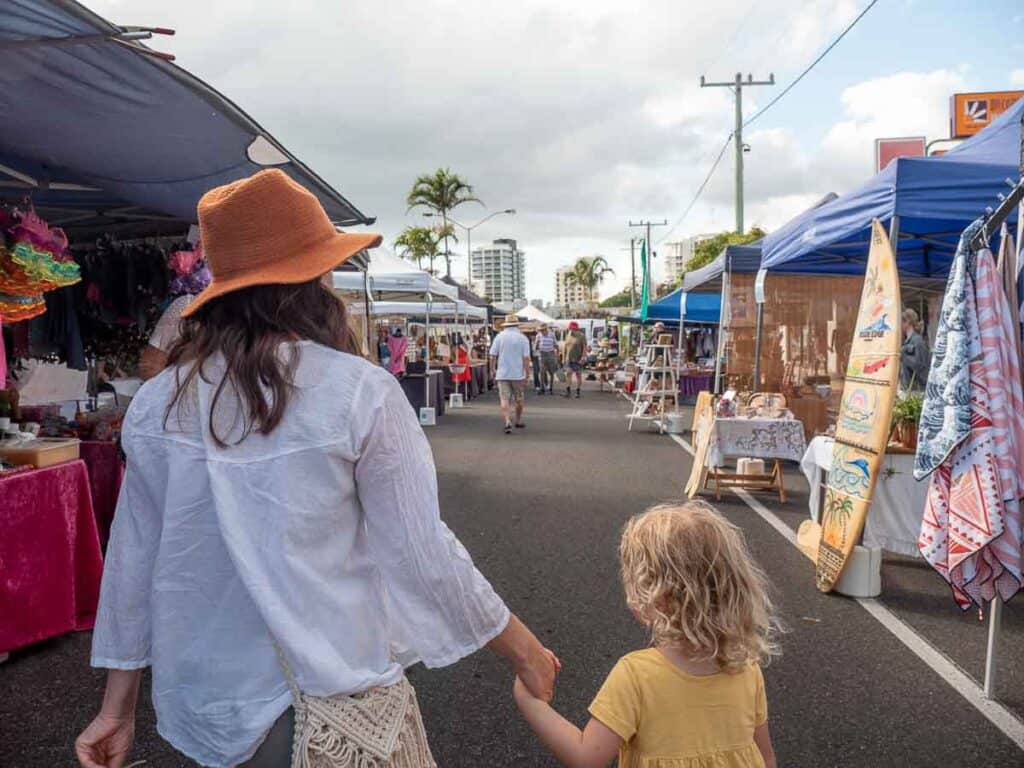 Image credit thanks to Tourism and Events Queensland
Held each Sunday, the Cotton Tree Markets are a treasure trove of unique and handcrafted goods with a diverse array of products, from handmade jewellery and clothing to artworks, home décor, and gourmet treats. Live music performances often fill the air, adding to the festive ambience and creating a space where people can relax, enjoy, and appreciate the local culture.
The markets are also ideal for grabbing breakfast, morning tea or lunch. From local gourmet treats to international flavours, there's freshly brewed coffee and baked goods to savoury bites. Food vendors often use locally sourced ingredients, so you're sampling delicious food and supporting the region's food producers.
Location: King Street, Maroochydore
Hours: Sundays from 7 am to 12 pm
11 Holey Moley
Walking into Holey Moley is like stepping into a world where pop culture, art, and golf collide in the most unexpected ways. The course is an eclectic fusion of imaginative design, featuring holes that pay homage to iconic movies, TV shows, and even nostalgic childhood games.
But Holey Moley is more than just mini-golf – it's a complete entertainment hub. As well as golf, there is bowling, karaoke, arcade games and even escape rooms, as well as a fully stocked bar that serves up delicious cocktails and a range of delicious snacks.
Location: Big Top Shopping Centre – 12/20 Ocean St, Maroochydore
Hours: Daily from 10 am, closing at 10 pm Sunday to Thursday and at 12 am, Friday and Saturday
Price: Mini golf – 9 holes $12 per child and $15 per adult | 18 holes $24 per child and $25 per adult
12 Paradise Seaplanes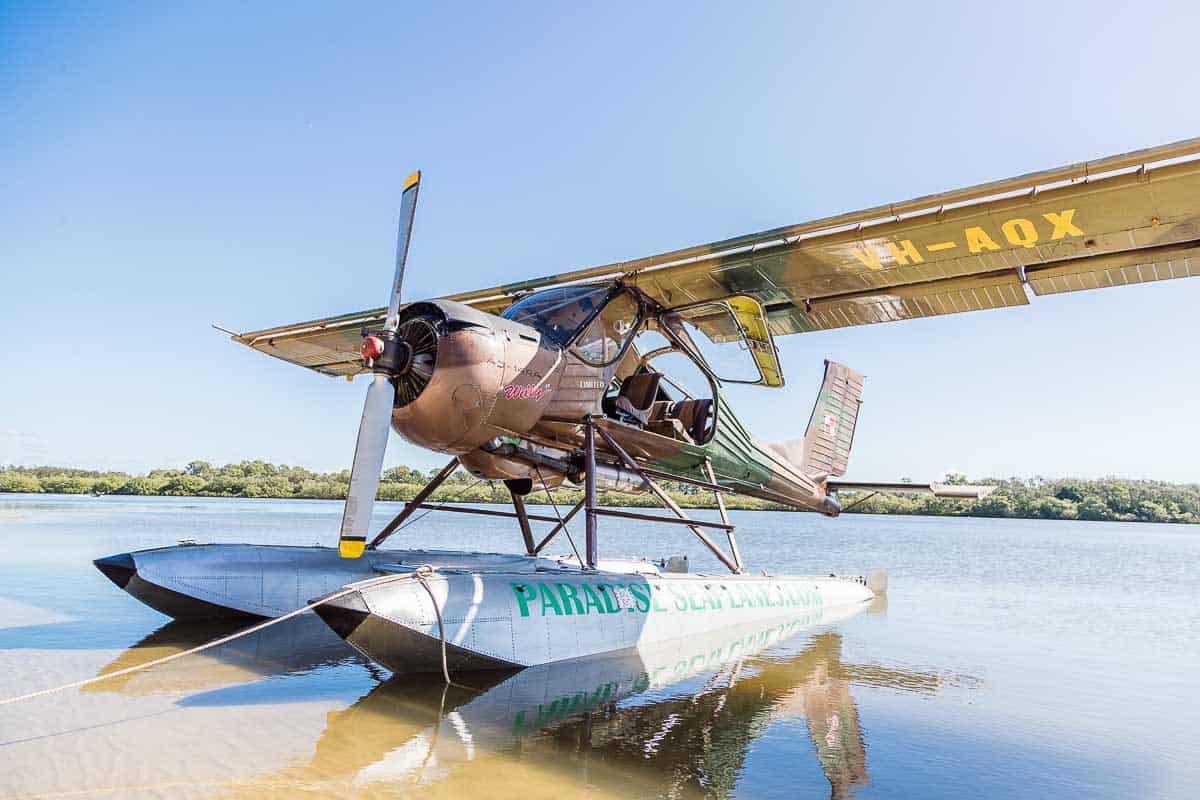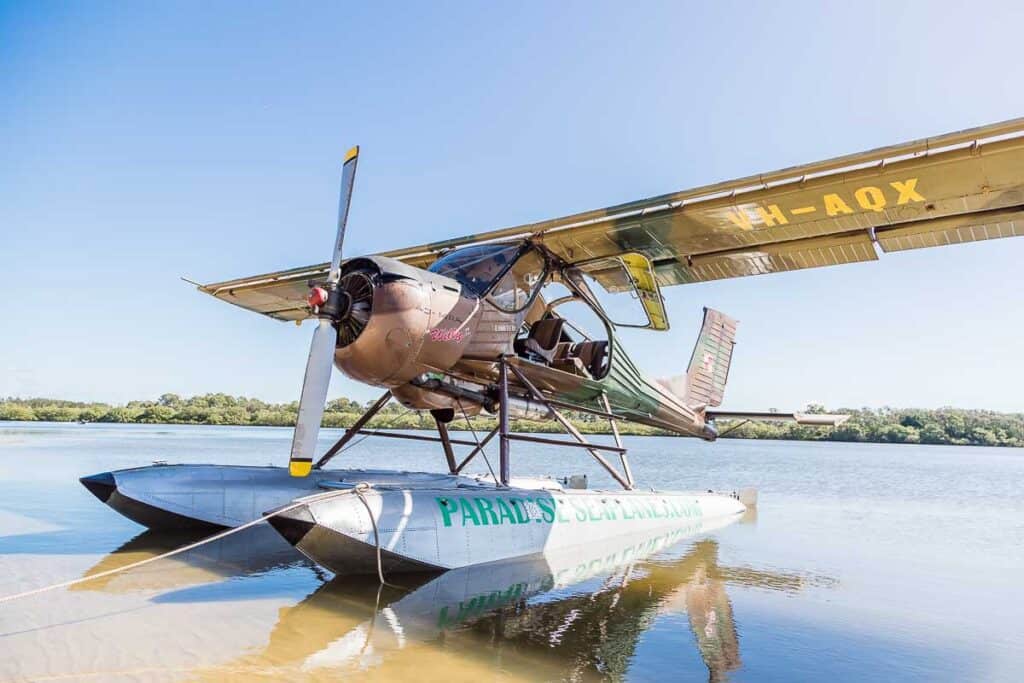 Image credit thanks to Tourism and Events Queensland
Paradise Seaplanes in Maroochydore offers a unique and exhilarating way to experience the breathtaking beauty of the Sunshine Coast from a whole new perspective. Taking off from the Maroochy River, as well as unforgettable views, this seaplane adventure includes the thrill of water takeoffs and landings.
As you soar above the coastline, you'll be treated to panoramic vistas of pristine beaches, lush hinterlands, and sparkling waters. Paradise Seaplanes' experienced pilots provide insightful commentary, offering fascinating insights into the region's history, geography, and natural landmarks as you glide through the sky.
The company offers various packages, including romantic sunset flights and personalised scenic tours, making it an ideal choice for special occasions or simply for those seeking a one-of-a-kind adventure.
Location: 142 Bradman Avenue, Maroochydore
Hours: Thursday to Saturday and Mondays, from 9 am to 3 pm
Price: From $175 per person
13 Maroochy River Conservation Park
The Maroochy River Conservation Park is a pristine natural sanctuary of 174 hectares of land that showcases the delicate balance between waterways, wetlands, and mangrove forests that make up the region's diverse natural landscape. It is a lovely place to wander and another one of the free things to do in Maroochydore.
The park is a haven for birdwatchers and nature enthusiasts, with its network of walking trails leading visitors through a lush environment teeming with native flora and fauna. As you wander along the boardwalks and paths, you're likely to encounter a variety of bird species, including pelicans, herons, and even the occasional sea eagle, all of which call the park's waterways home.
Location: Ocean Road, Maroochydore – opposite Twin Waters Resort
Hours: Always
Price: Free
14 Hire a Boat, SUP or Kayak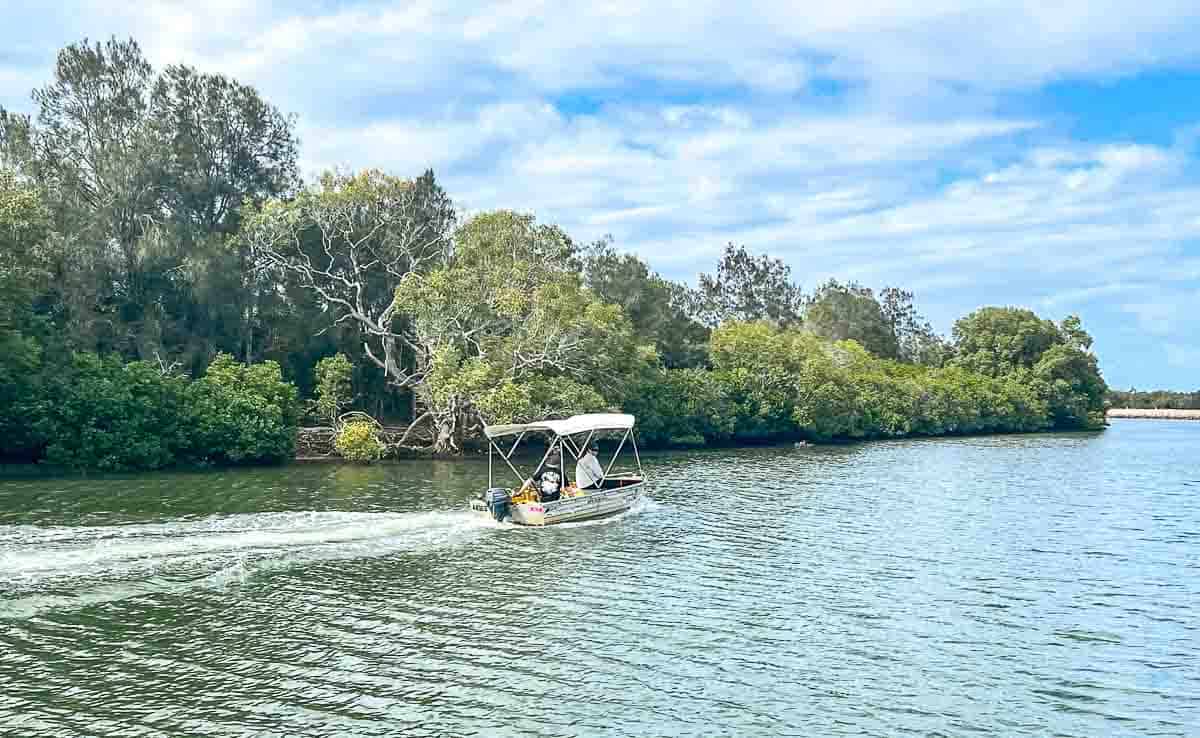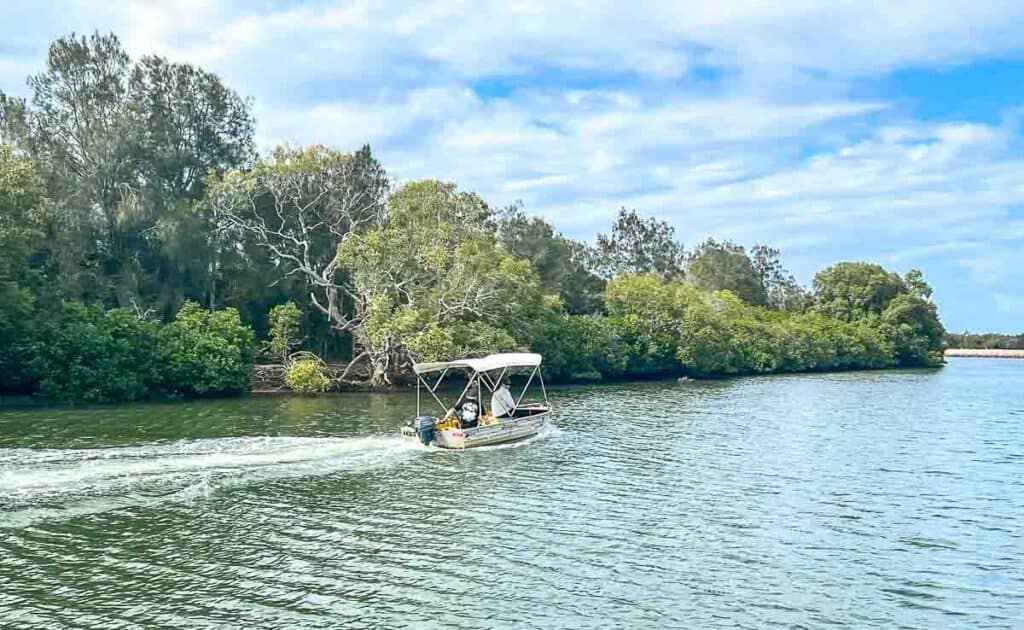 Explore the Maroochy River on your own by hiring a SUP, boat or kayak from Swan Boat Hire. Whether you're after something for an hour or a day – this is a great way to get out and explore the river.
The river's calm waters make this the ideal spot for all skill levels, whether you're a beginner or experienced. You can hire single, double or triple kayaks, which are perfect for all different group configurations or give stand up paddleboarding a go if you're brave.
There is a range of different boat hire options. Hire a tinny for a small group just wanting to explore the river or drop in a line or a BBQ boat for a larger group or those wishing to make a full day of it and cook up some snags. No boat license is required.
Location: From the car park opposite 71 Bradman Avenue, Maroochydore
Hours: Daily from 8 am to 4 pm and until 4.30 pm during September and Christmas school holidays
Price: Boats: from $65 per hour | Kayaks: from $10 per 30 mins | SUP: from $20 per 30 mins
15 Ocean Addicts: Take SUP or hydrofoil surf lessons
Ocean Addicts provides exceptional surfing lessons and stand-up paddleboarding (SUP) experiences. Whether you're a beginner looking to catch your first wave or an experienced surfer wanting to refine your skills, the experienced instructors ensure a safe and enjoyable learning process.
Additionally, Ocean Addicts offers a variety of rentals for those looking to explore the waters on their own. Whether you want to cruise along the coastline on a kayak, try your hand at windsurfing, or venture into the open ocean with a kite, the range of rental options ensures an exciting aquatic adventure for everyone.
16 Maroochy Bushland Botanic Gardens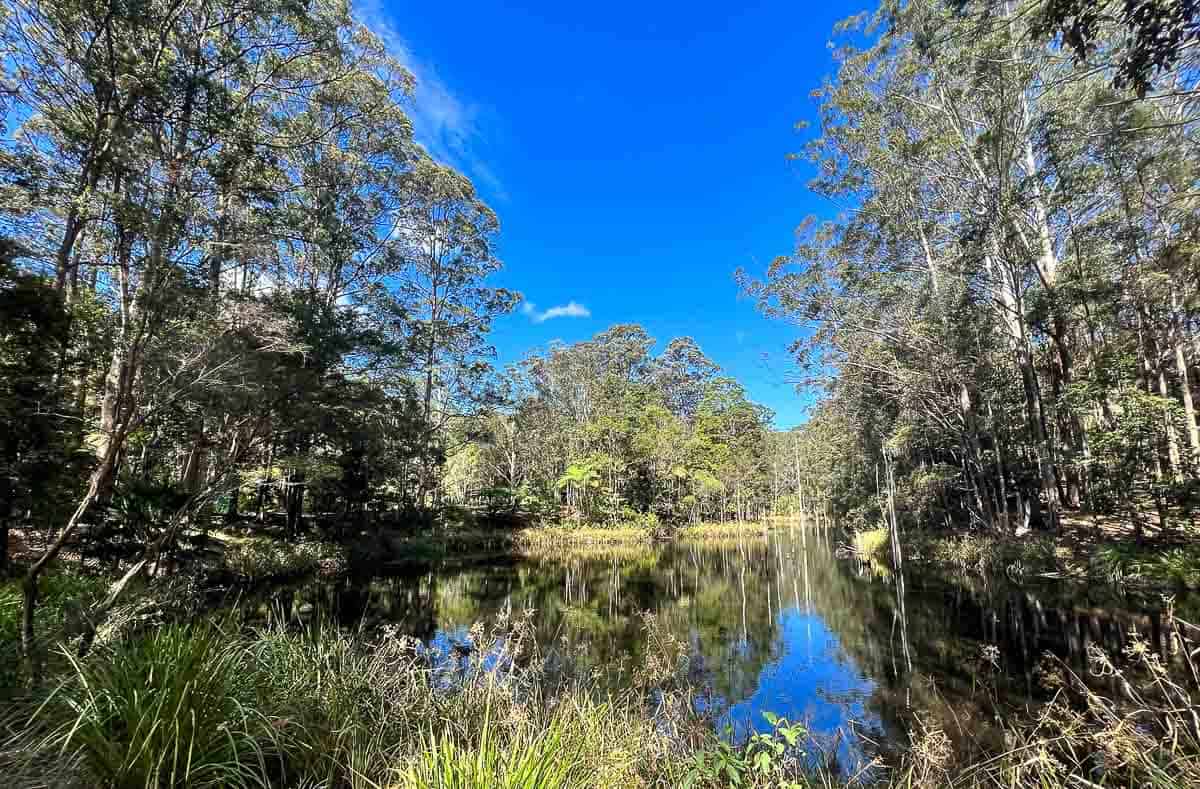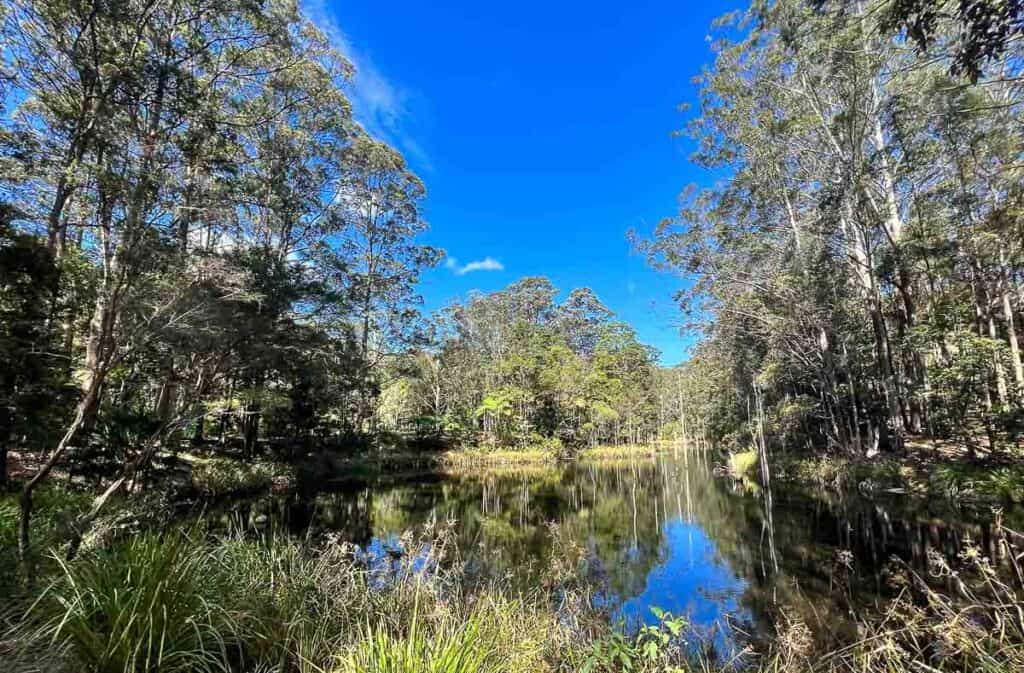 Spread across 82 acres, the Maroochy Bushland Botanic Gardens displays the area's rich biodiversity. As you wander through the eucalypt and riparian forest with its creeks and lagoons, you'll encounter a variety of themed zones that showcase different plants native to the Sunshine Coast. The diversity of the plants provides a home to a range of wildlife, including birds, frogs, reptiles and butterflies. If you're lucky, you may even see a koala or two.
One of the standout features of these gardens is the Arts and Ecology Centre. Here interactive exhibits, educational displays, and informative workshops provide insights into sustainable gardening practices, conservation efforts, and the importance of preserving local ecosystems.
The gardens also have picnic areas with tables and chairs and while there are no BBQ facilities, you're welcome to bring your own. There is also a cafe on site open during the week from 9 am to 2.30 pm.
Location: 51 Palm Creek Road, Tanawha
Hours: Daily from 7 am until 5 pm from April to October and until 6 pm for the remainder of the year.
Price: Free
17 Buderim Falls and Serenity Bridge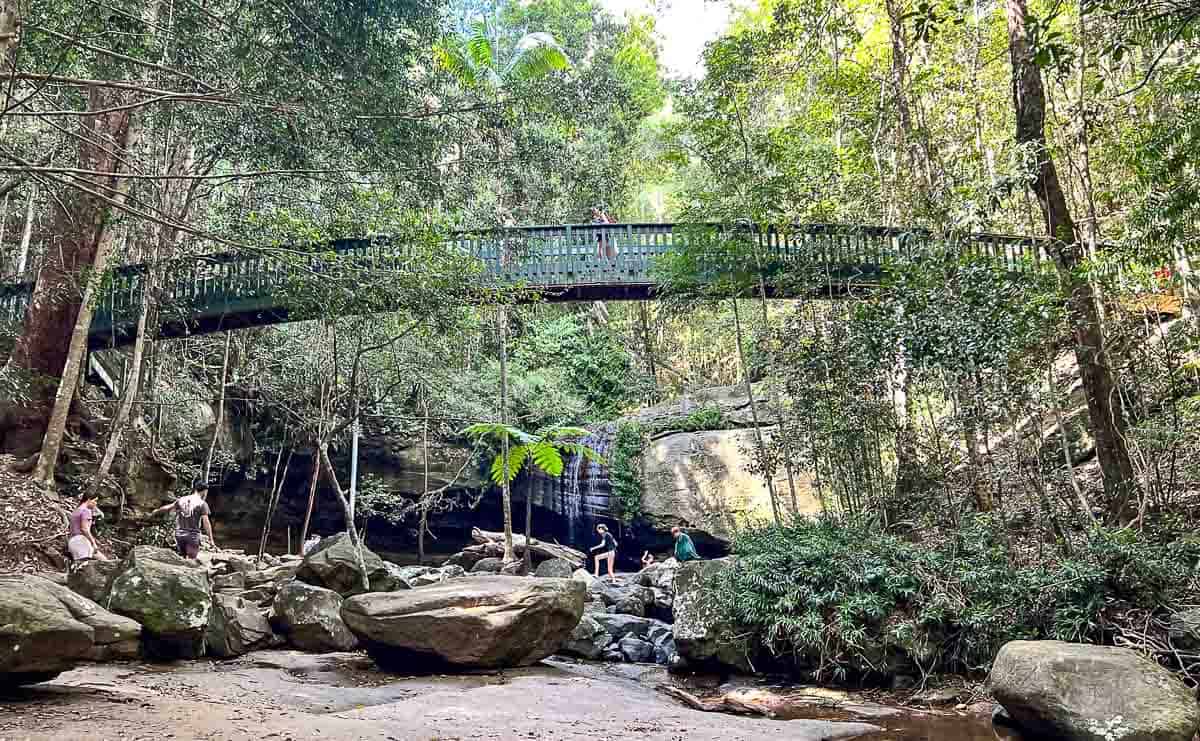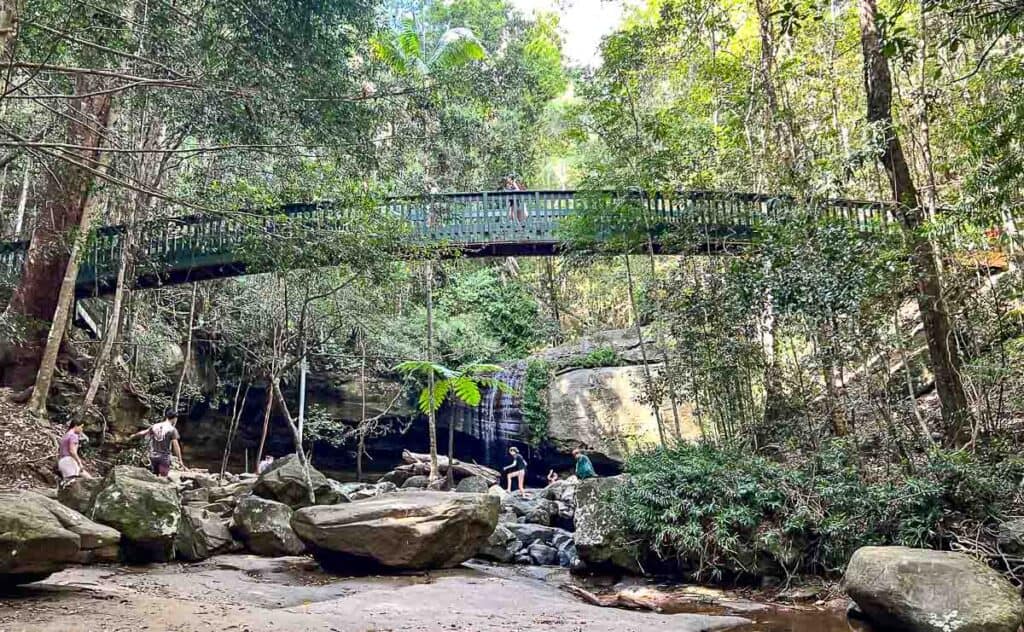 Nestled within the lush rainforest of Buderim Forest Park, Buderim Falls is a hidden gem. The falls are easily accessed via a walking trail through the subtropical rainforest, home to towering trees, dramatic strangler figs, ferns and forest birdlife, such as whip birds and catbirds.
The falls are beautiful, with the water cascading down a series of rock formations into a natural pool at its base. The falls flow year round but look particularly spectacular after rainfall.
Here you'll also see Serenity Bridge, a charming wooden bridge that spans over the falls. The bridge provides an ideal vantage point for photographing the falls' beauty or simply enjoying the serene location.
You can access Buderim Falls via two paths, from either Lindsey Road or Quorn Close.
The path from Lindsey Road is an easy path with a stroller and wheelchair-accessible walk that takes you through the sub-tropical rainforest on a 600 m long elevated boardwalk. Closer to the falls, the walkway ends; you must continue along a more rugged path over rocks and the banks of Martins Creek to the base of the waterfalls.
The 350m bush track from Quorn Close is steeper and leads directly down to the top of the waterfalls. Though a shorter walk, it requires a moderate level of fitness as you're required to navigate numerous stairs on this path.
Location: Via Lindsey Road or Quorn Close, Buderim
Hours: Daily from 8 am to 6 pm
Price: Free
18 Amaze World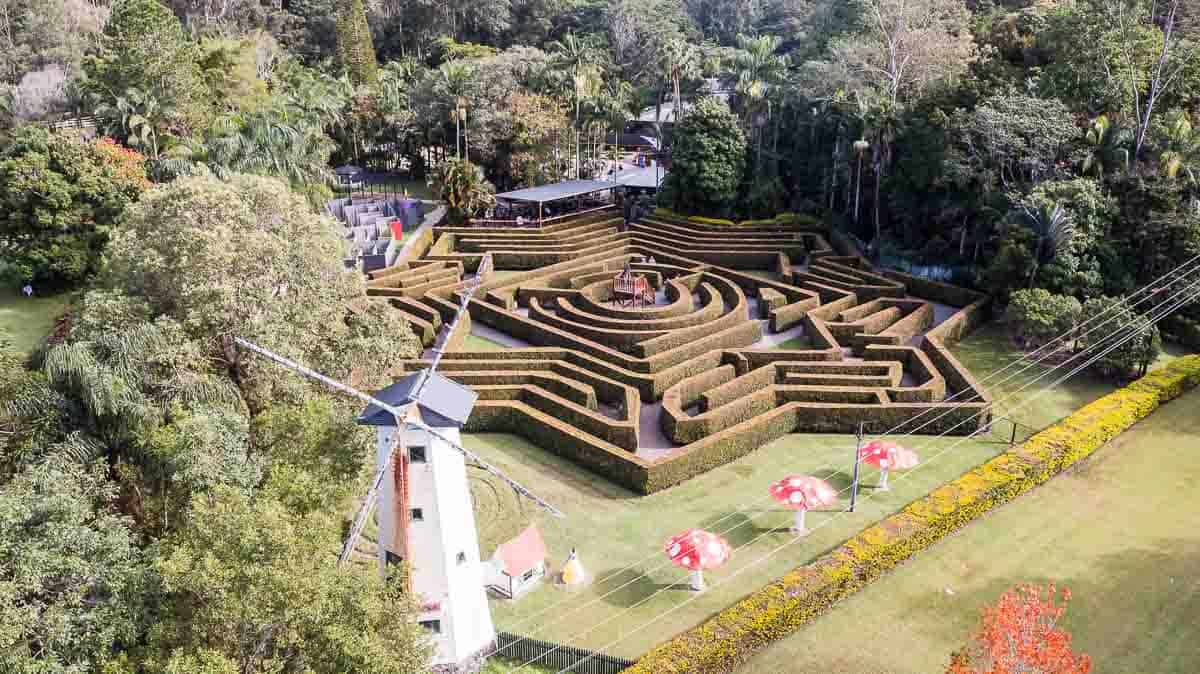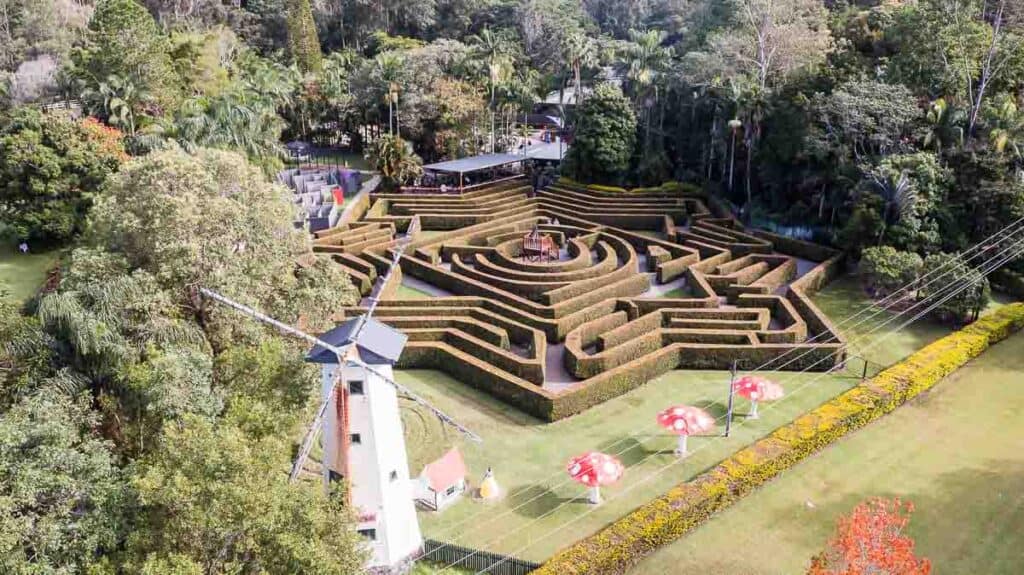 Image credit thanks to Tourism and Events Queensland
Amaze World is a whimsical wonderland that delights visitors of all ages with its unique blend of interactive entertainment.
One of the highlights of Amaze World is the Bellingham Hedge Maze. This living labyrinth of Lilly Pilly's will have you twisting and turning as you navigate to the central viewing deck and back out again. Along the way are various riddles and puzzles where you can test your knowledge as you wander through the hedges.
Other fun attractions at Amaze World include a Timber Maze, 18 hole mini golf course, augmented reality and a playground with water play.
Location: 274 Tanawha Tourist Drive, Tanawha
Hours: Daily from 10 am to 4 pm
Price: Adults $33 | Child (3-15) $27 | Student $30 | Kids under 3 are free | Family Pass (2A-2C) $99 – Click here to book tickets online.
MAROOCHYDORE DAY TRIPS
While there is plenty to keep you occupied around Maroochydore, if you're keen, you can do some great day trips from Maroochydore. For most of these places, it's recommended you stay at least a few days in each, but if you only have a day, then a day trip is possible.
Brisbane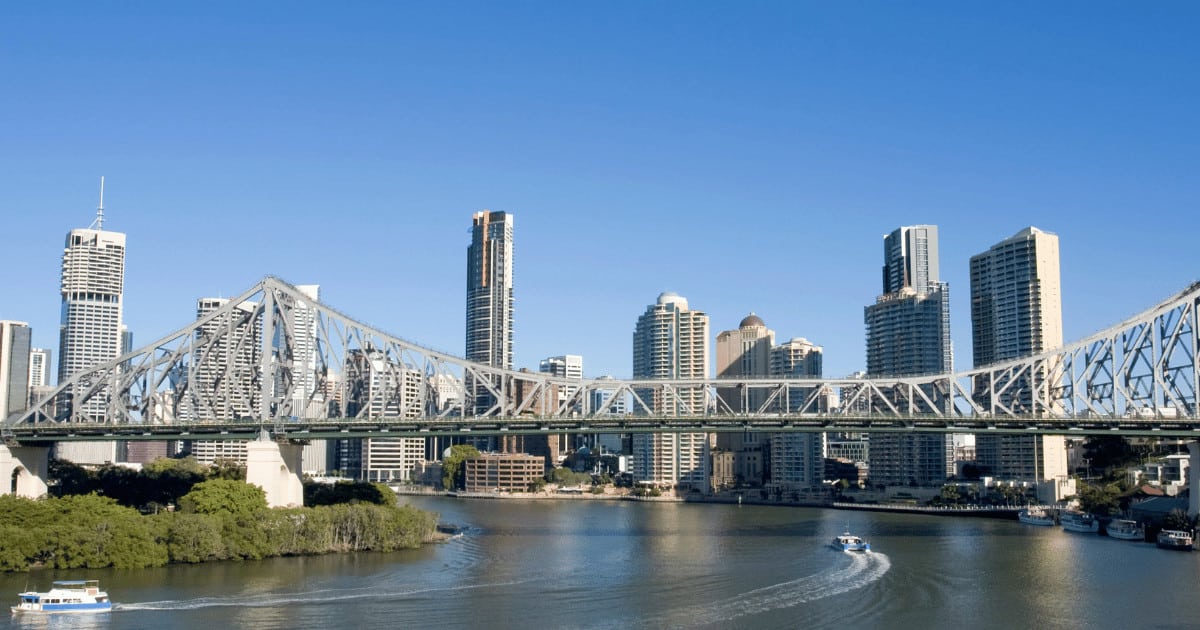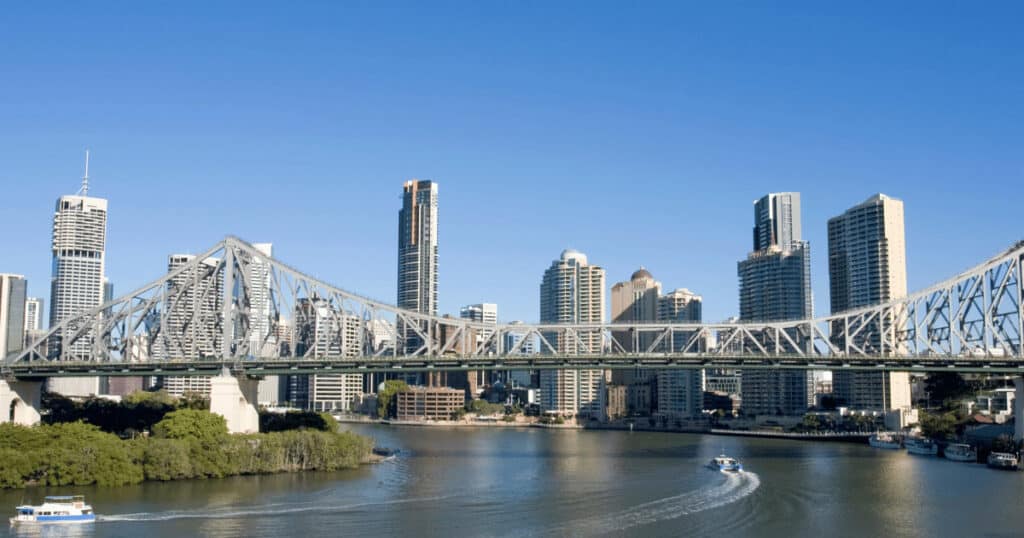 Less than a 2-hour drive from Maroochydore, a day trip to Brisbane is possible for those wanting to visit the Queensland capital. Brisbane is laid back and vibrant, featuring everything from lush parklands and gardens to modern galleries and cosmopolitan waterfront dining.
There are so many attractions to choose from in Brisbane. There are the Queensland Museum, QAGOMA (The Queensland Art Gallery and Gallery of Modern Art) and the National Maritime Museum for culture seekers.
For wildlife lovers, there is Lone Pine Koala Sanctuary. For lovers of gardens, there is Roma Street Parkland and the tranquil Southbank Parkland. For thrill seekers, there is the bridge climb, rock climbing and kayaking.
Lastly, you can't beat a simple stroll along the river or a swim at the iconic Streets Beach.
Click here for our full guide on things to do in Brisbane.
Noosa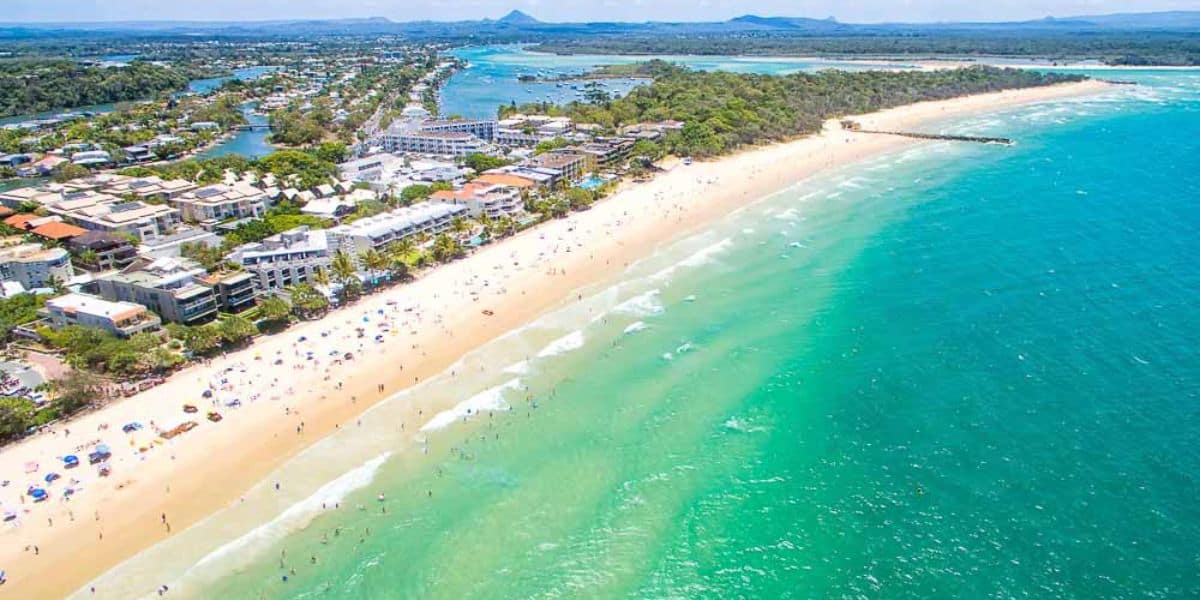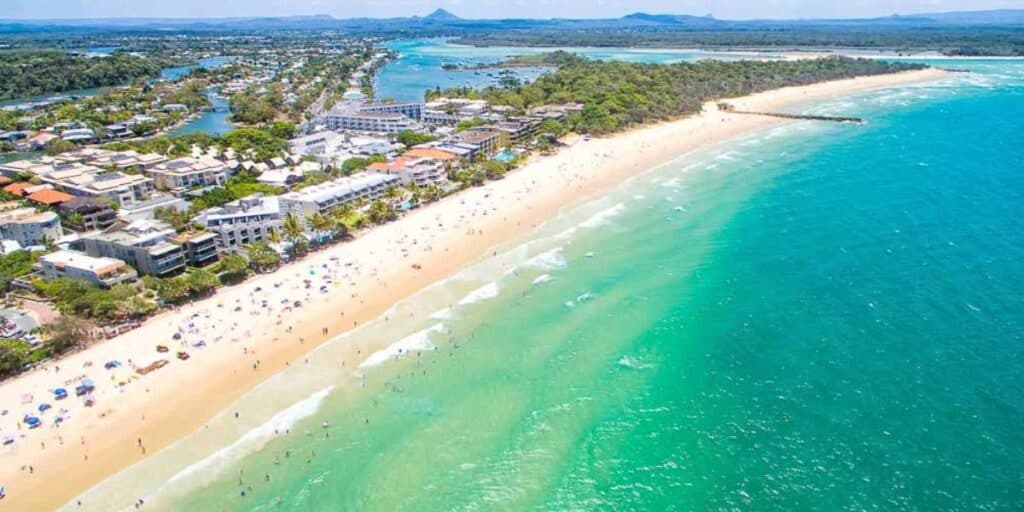 Only 40 minutes drive from Maroochydore is the iconic Sunshine Coast destination of Noosa. It's chic, packed with hip and trendy bars, cafes and boutiques, and has the most incredible white sandy beaches with swaying palms.

Noosa is one of Australia's top holiday destinations and for good reason. Whether you're looking to laze on the beach, go surfing or SUPping, take a food tour, or shop til you drop, you can find it all here and it makes a fun day trip from Maleny.

If you can, stay until after dark when Hastings Street twinkles with thousands of fairy lights.
Click here for our full guide on things to do in Noosa.
Maleny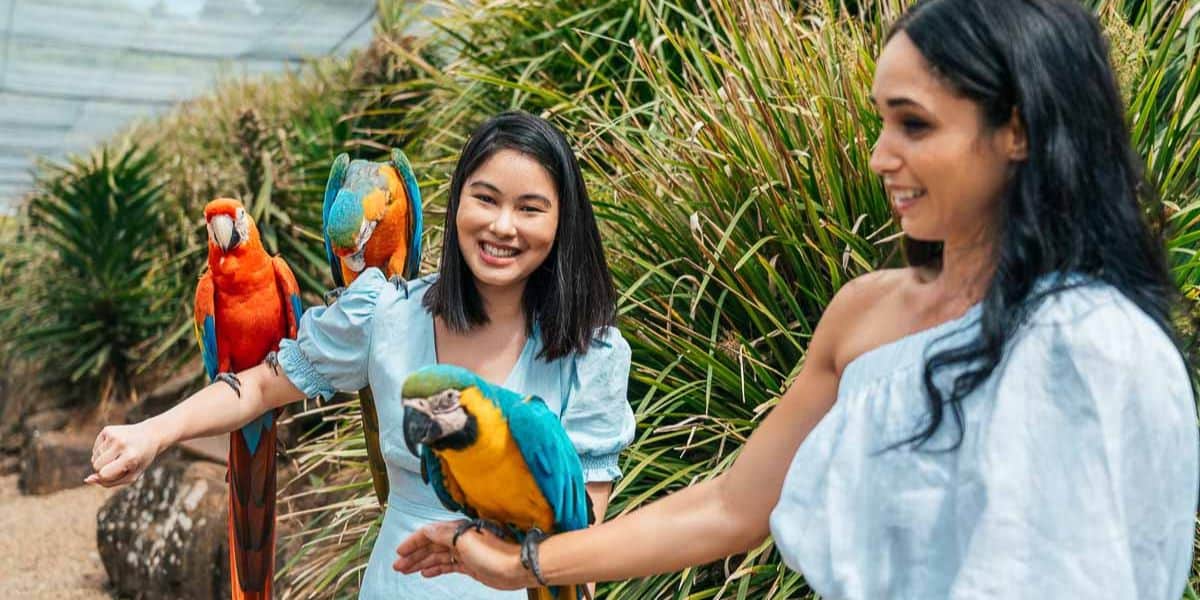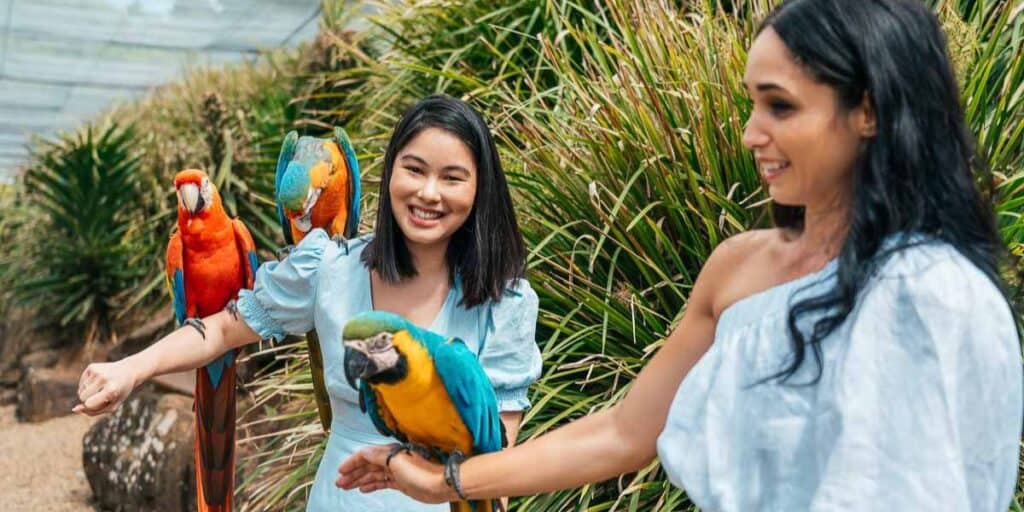 If you're looking to escape to the country to enjoy lush forests, rolling green landscapes and picture-postcard scenery, Maleny is the place to go. Just a 40 minute drive from Maroochydore, this pretty holiday destination offers the most incredible uninterrupted views, along with delicious local produce, quaint shopping opportunities and a thriving arts scene.

There are so many things to see in Maleny, from the glorious Botanic Gardens and Birdworld to hidden gems like Gardner Falls, not to mention must-do activities like touring the Maleny Dairies.

Maleny is a great year-round destination. In winter, you can snuggle up in front of roaring log fires and feast on warming winter dishes, and during summer you can make the most of the cooler hinterland temperatures and get outdoors to enjoy the spectacular landscape.

With lots of great places to eat in Maleny, and a wide range of places to stay in Maleny, it makes a great destination for couples looking for a romantic getaway, or for families looking to unplug and get away from the hustle and bustle of modern life to enjoy the unspoilt scenery.
Click here for our full guide on things to do in Maleny. (coming soon)
WHERE TO STAY: ACCOMMODATION IN MAROOCHYDORE
Looking for accommodation in Maroochydore? It's recommended you book through Booking.com as they offer a wide range of room types and most with free cancellation, which is ideal for last minute changes.
However, if you want our recommendation for the best accommodation Maroochydore offers, we've listed our top pick for a luxury hotel, family hotel, mid range and budget hotel below.
Situated in a prime location with views of the stunning Maroochydore Beach, the Beach on Sixth luxury apartment complex is a premier beachfront accommodation that perfectly encapsulates the relaxed coastal lifestyle of the Sunshine Coast.
Just 50 metres from the golden sands of Maroochydore Beach, guests of Beach on Sixth will wake up to breathtaking ocean views. This apartment complex is also within walking distance to a range of dining options, and just 750 metres from the calm waters of Cotton Tree Beach.
The complex features a heated swimming pool and spa where guests can unwind while enjoying the sea breeze and panoramic views of the coastline. Additionally, the complex offers a gym, BBQ facilities, and secure underground parking.
The rooms at Beach on Sixth are a blend of luxury and modern comfort. The apartments range in size from studio apartments (for two) to 2 bedroom apartments (for 5 to 6 people) and even a three bedroom penthouse (for up to 6 people). Apart from the studio, all apartments have fully equipped kitchens, air conditioning, laundry facilities, open-plan living areas and private balconies with ocean views.
Beach on Sixth offers a picturesque oceanfront retreat and a range of facilities and accommodations catering to a diverse range of travellers. Its prime location, luxurious amenities, and thoughtfully designed apartments make it the perfect spot for a luxury stay in Maroochydore.
Click here for more information and to check the price.
Located on Mudjimba Beach, amongst 36 hectares of natural bushland and a private beach lined lagoon, the Novotel Sunshine Coast Resort offers a blend of natural beauty, top-notch facilities, and spacious accommodation. The resort's setting provides a sense of seclusion while still being a short drive to the vibrant hub of Maroochydore and its many attractions.
This resort is a brilliant place for families because of its numerous facilities. The resort has a stunning lagoon style swimming pool and spa, catamaran sailing and kayaking on the private lagoon, fish feeding, mini golf, a games room and a gym.
The Novotel also has Sola restaurant and bar, which offers an alfresco deck for casual poolside drinks and dining, buffet breakfasts and dinners, high tea or takeaway. There is also the Deli Cafe and Market for essential items such as your morning barista made coffee, alcohol and more.
The resort offers a range of rooms for families and couples, including studio rooms, one and two bedroom suites and luxury overwater bungalows. Studio rooms sleep two and feature tea and coffee making facilities, while the one and two bedroom suites can accommodate families of up to five and feature a kitchenette, small dining area, spa, and balcony.
For the ultimate luxury, book into one of the overwater bungalows. These come in three configurations suitable for two or three people, or the three bedroom grand overwater bungalow can accommodate up to 6 people. Standard overwater bungalows feature tea and coffee making facilities, while the deluxe and grand overwater bungalows feature kitchenettes.
With spacious accommodation options and endless family friendly activities, the Novotel Sunshine Coast is an excellent choice for families looking for incredible accommodation for their Maroochydore holiday.
Click here for more information and to check the price.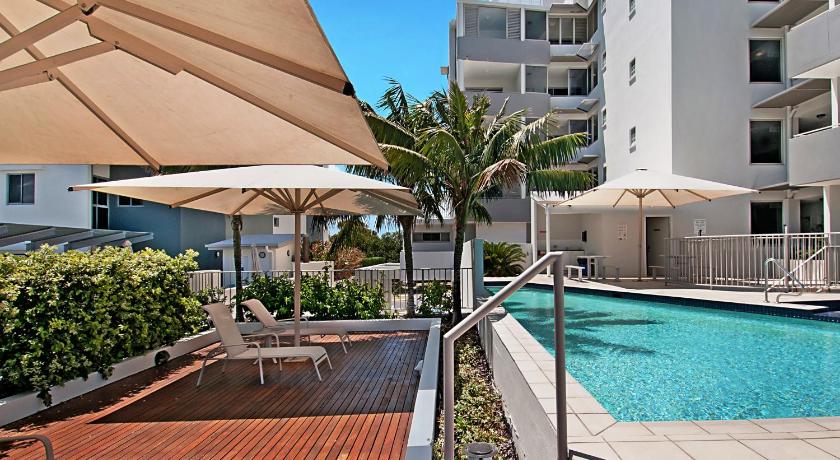 Located in a prime position, close to beaches and cafes, the Rovera Apartments are perfect for travellers seeking accommodation in the heart of Marychoodore. Offering spacious, fully self contained apartments with a range of on site facilities, these apartments offer good value for money.
From Rovera Apartments, you can walk pretty much everywhere. With just 250 metres to the calm waters of Cotton Tree Beach and 400 metres to the surf of Marychoodore Beach, the Apartments are in a prime location. You're also within a short walk of various dining options, including the local surf club.
The fully self contained one, two and three bedroom apartments at Rovera have modern kitchens, spacious living areas, separate laundries, air conditioning and private balconies that provide city or ocean views. One bedroom apartments sleep two; the two bedroom apartment can sleep up to four people, while the three bedroom apartment sleeps up to six.
There are plenty of excellent on site facilities too, including a heated swimming pool and spa, BBQ facilities and secure parking.
For travellers seeking spacious, self contained and conveniently located accommodation in Maroochydore, Rovera Apartments is an excellent choice. Whether you're travelling with family, friends, or as a couple, the central location and on site facilities make it a great option for those looking for great value accommodation.
Click here for more information and to check the price.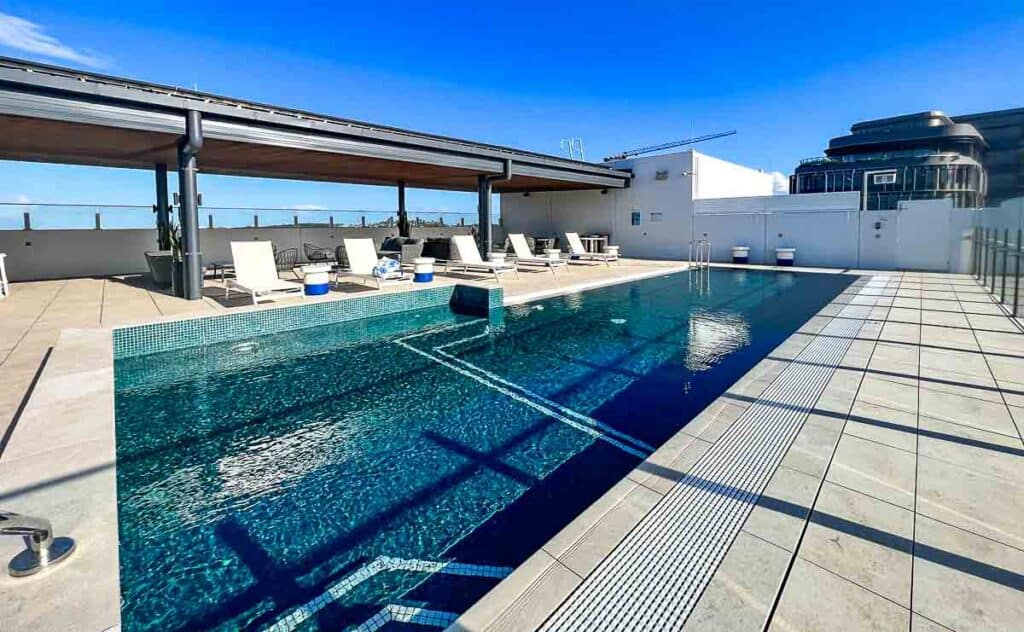 The Holiday Inn Express offers comfortable and affordable accommodation in a central location. While further from the beach than the accommodation listed above; the Holiday Inn is still within a short walk to the beaches but even closer to the Maroochydore dining and shopping precinct.
Located just a 10 minute walk from the popular Sunshine Plaza or Ocean Street from the Holiday Inn, you're never far from the shops, restaurants and cafes. There are also plenty of other dining options within a few minutes walk. Cotton Tree and Maroochydore Beaches are a little further with a 15 minute walk or a short drive away.
In terms of facilities at the Holiday Inn Express, the heated rooftop swimming pool is a highlight, as is the free breakfast each morning. Guests can choose between a grab and go style breakfast or a more leisurely buffet style breakfast. There is also an on site gym and guest laundry.
Rooms are simple yet modern at the Holiday Inn Express, with quality bedding, flat-screen TVs, workspaces, en-suite bathrooms and tea and coffee making facilities. All rooms can accommodate up to two guests, with connecting rooms available for families.
While the Holiday Inn offers simple accommodation with limited on site facilities, it is an excellent option for those after cheap accommodation in Maroochydore in a central location.
Click here for more information and to check the price.
Read our full review on the Holiday Inn Express Sunshine Coast here.
ENJOY MAROOCHYDORE!
Hopefully, this guide has given you lots of inspiration for the best things to do in Maroochydore.
If you're planning a trip to Maroochydore, I highly recommend you check out our Sunshine Coast guide, which provides links to everything you need to know to plan your trip.
I'd also recommend you join our free Queensland Travel Guide Facebook community, where you can ask all your questions and find even more great trip suggestions.
If you're heading to Maroochydore, you might also be interested in the following nearby destinations: