This review provides everything you need to know about glamping at Thunderbird Park in Mount Tamborine.
The Queensland Travel Guide acknowledges the Yugambeh people, the Traditional Custodians of the land on which Thunderbird Park is situated. We pay our respects to their Elders past, present and emerging, and recognise their continued spiritual and cultural connections to Country. Always was, always will be, Aboriginal land.
Are you looking for a luxurious glamping experience? One that takes the whole glamping thing to a completely five star level? If you've answered yes, you need to look at the Woodlands glamping tents at Thunderbird Park.
We recently had the privilege of staying in the family luxe tent at Thunderbird Park, and let me tell you, it was absolutely wonderful!
Not only do you get a luxurious tent with everything you need for a wonderful night's sleep, but outside, you have your very own deck complete with a BBQ, seating, a fire pit and a private shower and toilet.
These glamping tents are not only a place to stay; they are an entire experience in themselves!
If you've ever wanted to experience camping but enjoy your modern comforts a little too much – then read on; glamping at Thunderbird Park is just what the doctor ordered!
This post may contain compensated links. Please refer to our disclaimer here for more information
GLAMPING AT THUNDERBIRD PARK
If that introduction has got you thinking a glamping experience at Thunderbird Park is just what you need – then keep reading below for everything you need to know.
Location
Thunderbird Park is in Mount Tamborine, a renowned destination in the Gold Coast Hinterland and also part of the Scenic Rim region. This gorgeous property is approximately an hour's drive from Brisbane, Ipswich and the Gold Coast.
The popular Mount Tamborine Gallery Walk is just a 10 minute drive away, or an hour's walk if you're keen – but it is a steep walk up there. Around Gallery Walk, you'll find a range of shops, rainforest walks and an IGA supermarket for any last minute supplies.
You will need a car if you wish to use Thunderbird Park as a base while exploring the region, as public transport is not readily available.
Glamping options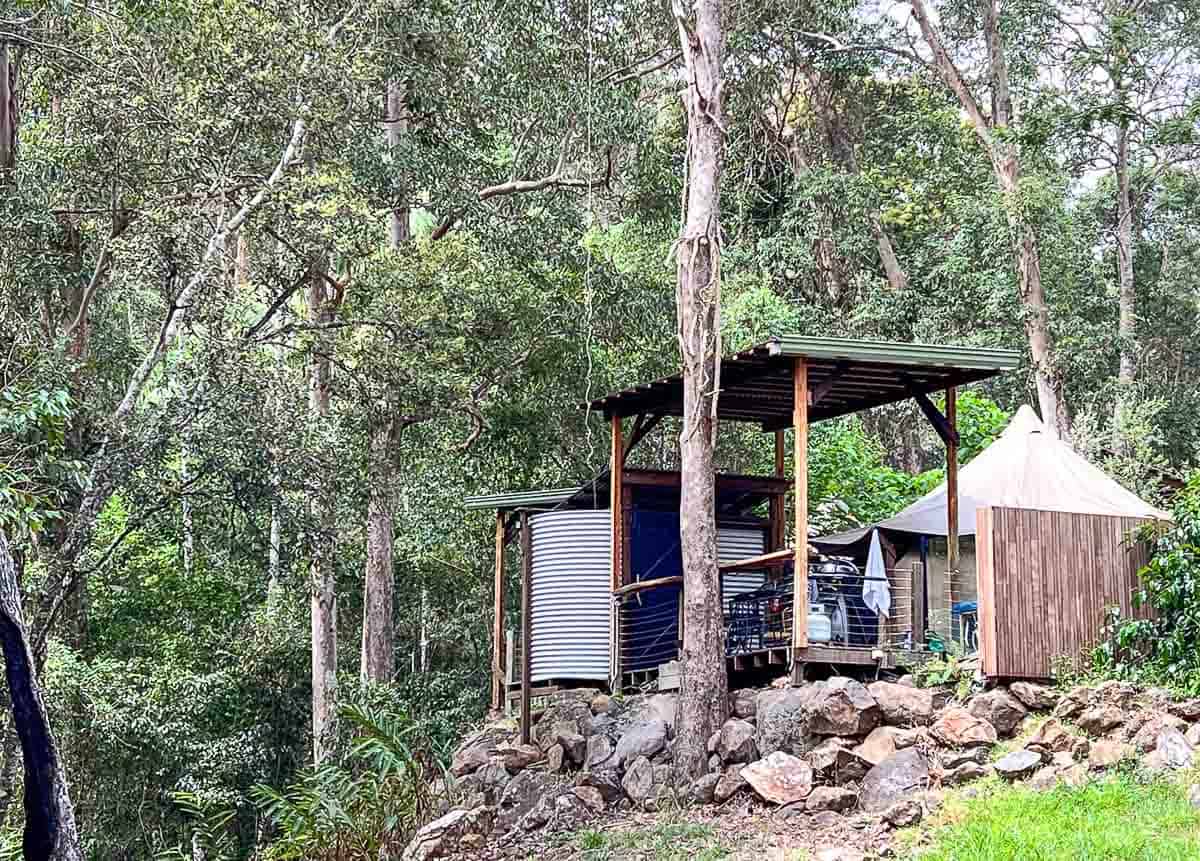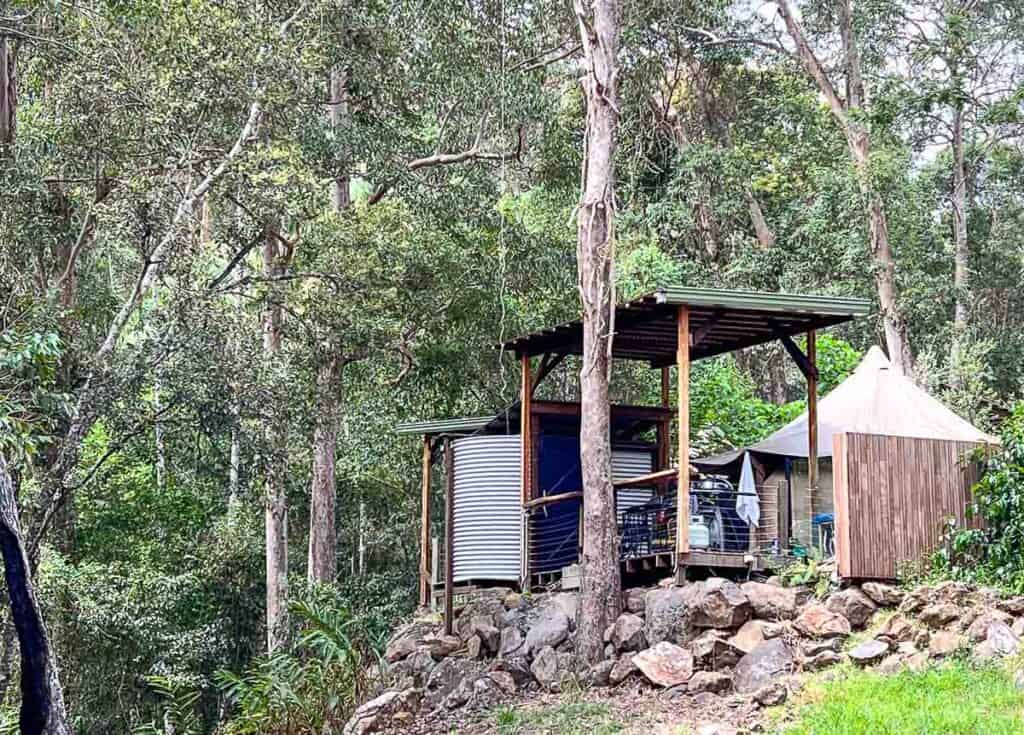 There are 9 standard Woodland tents (including 5 family tents) and 3 Woodland luxe tents (including 1 family tent).
The main difference between the tents is the standard tents come with a king size bed (which can be split into two single beds) and the standard family tents come with an additional two single beds.
For the luxe tents, the family luxe tent comes with its very own heat plunge pool! Yes, you heard me correctly – a plunge pool! While the other two luxe tents come with an outdoor jacuzzi.
As mentioned, we stayed in the Woodland Luxe Family tent – so let's take a look….
Inside the tent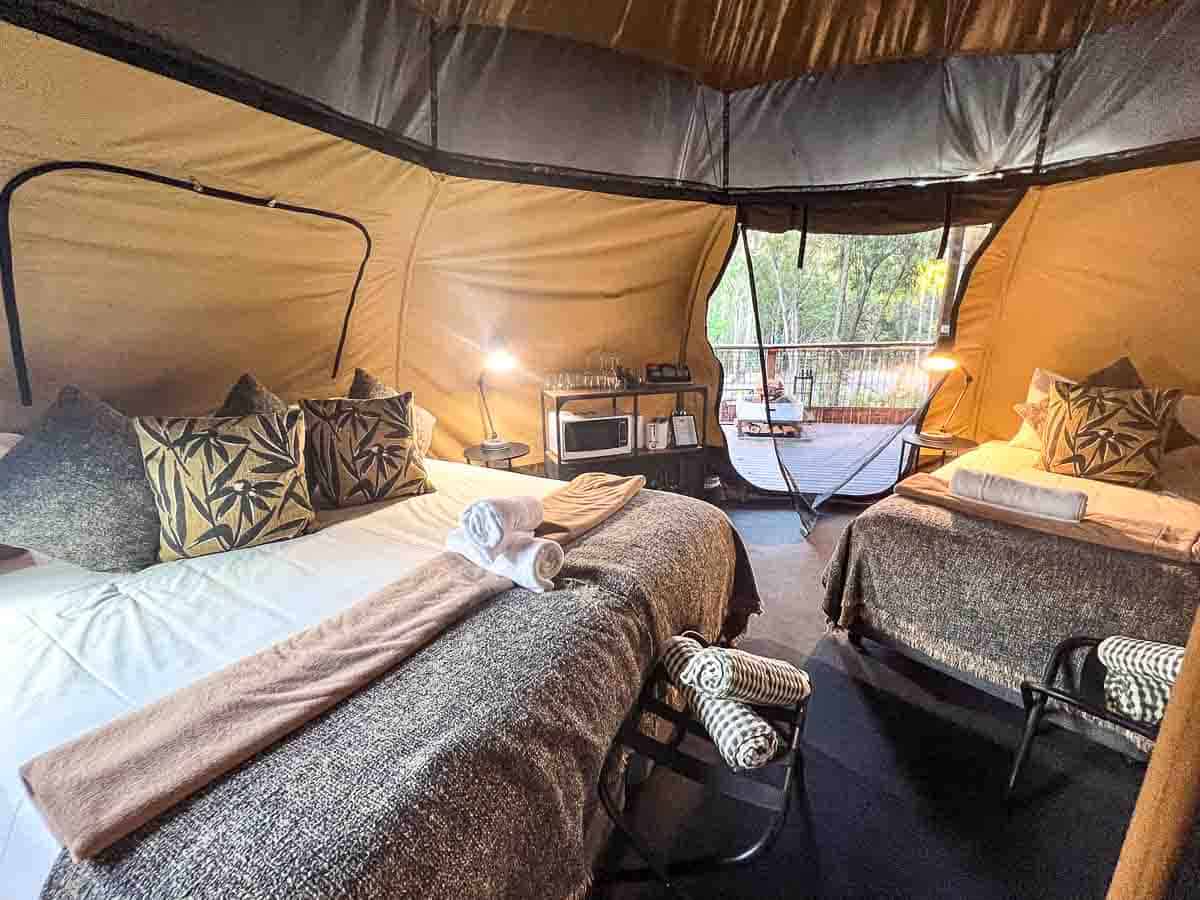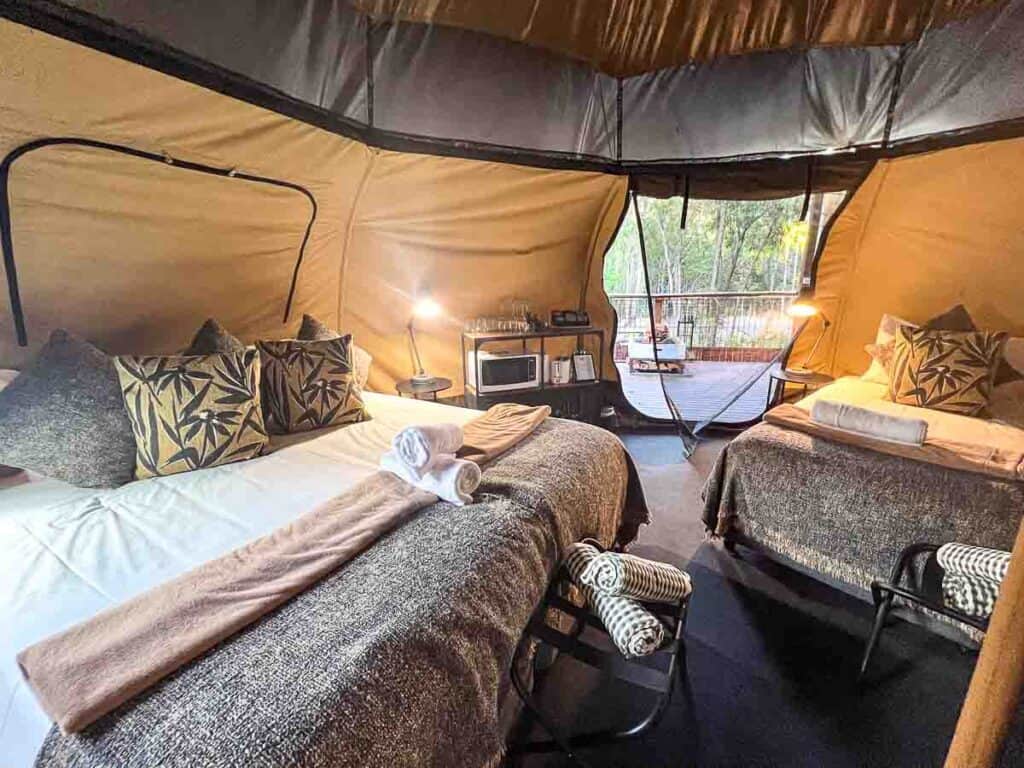 From your designated car park, there is a short pathway that leads you to the main entrance of the Woodland Luxe Family tent.
As soon as we walked in, we were super surprised by just how spacious the tent was. This is no 4 man tent! This is a palace as far as family tents are concerned.
On one side of the tent, you have your king side bed and on the other side are two single beds – very close together mind you – but they are separated enough so the kids won't feel they're sleeping together.
Immediately to your left, as you walk into the tent, you have a small sofa, which can be used as an extra bed for a fifth person. This would make the tent a little less roomy but still not too bad.
On the right side of the tent, as you walk in, you have a great size TV (we never turned it on – too busy!), a dining table, chairs, and even a range of games.
Right at the back of the tent is a little kitchenette area with a microwave, toaster, kettle, glasses, plates, cutlery, and some tea, coffee, and biscuits. Although not a lot of tea and coffee, so you might want to bring some extra supplies. However, we just asked reception for some extras, and they were happy to help.
Beside each bed is a lamp with a USB port – so great for keeping those devices charged. There is also linen, including pool towels, two fans and a heater.
Bathroom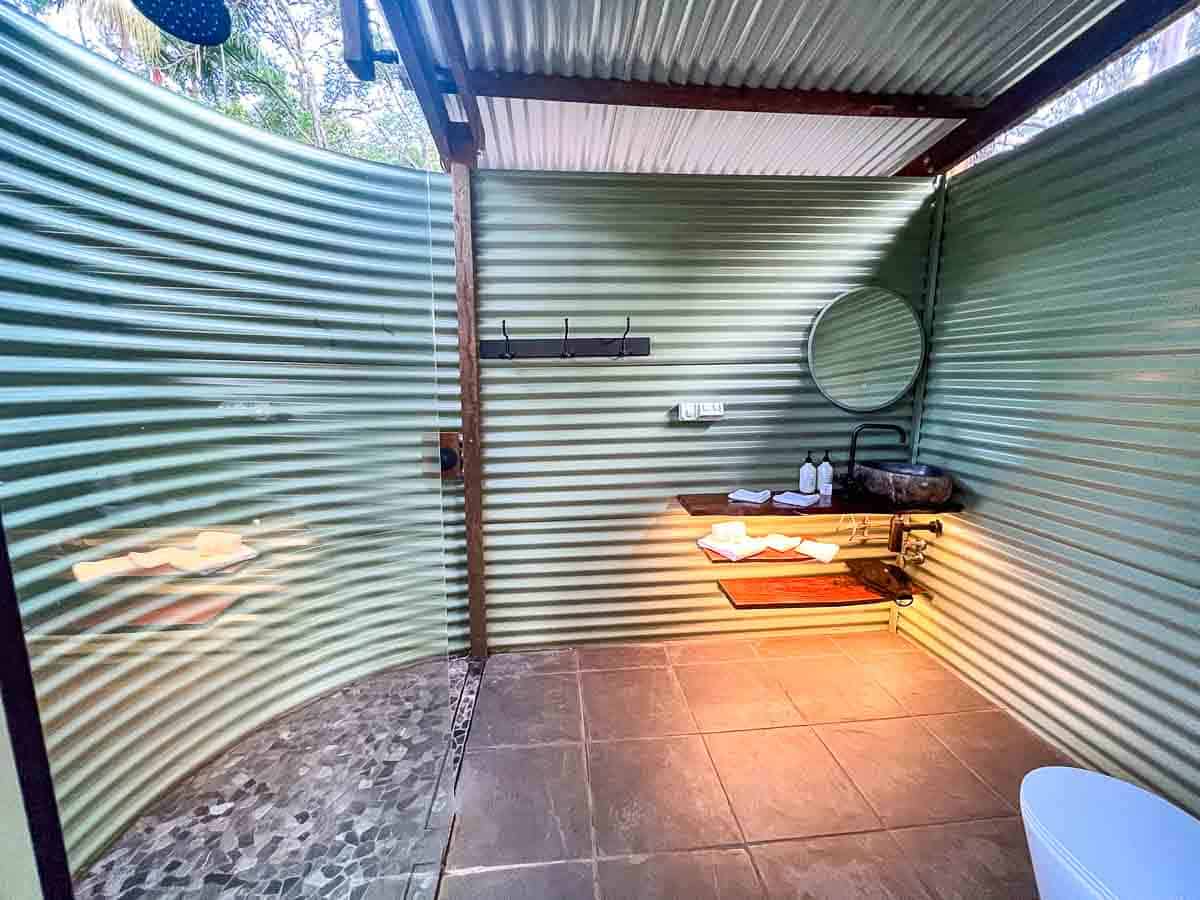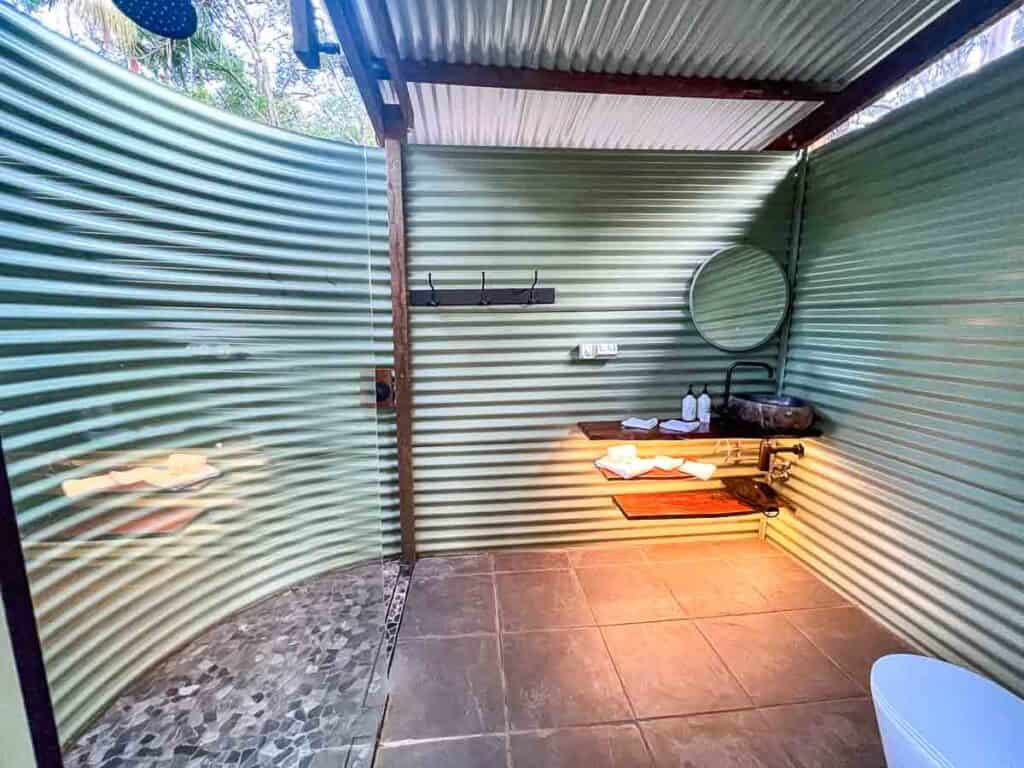 Immediately to your right, as you exit the tent, there is a fantastic outdoor rustic but super modern bathroom.
Despite being outdoors, half of the bathroom is undercover; it's just the shower part that is really outdoors. And don't think this is some camp style shower – there is a huge rain shower head with awesome water pressure and great hot water. We were impressed!
You've then got a toilet and vanity inside with an LED lit mirror, luxurious toiletries and even a hairdryer.
The Deck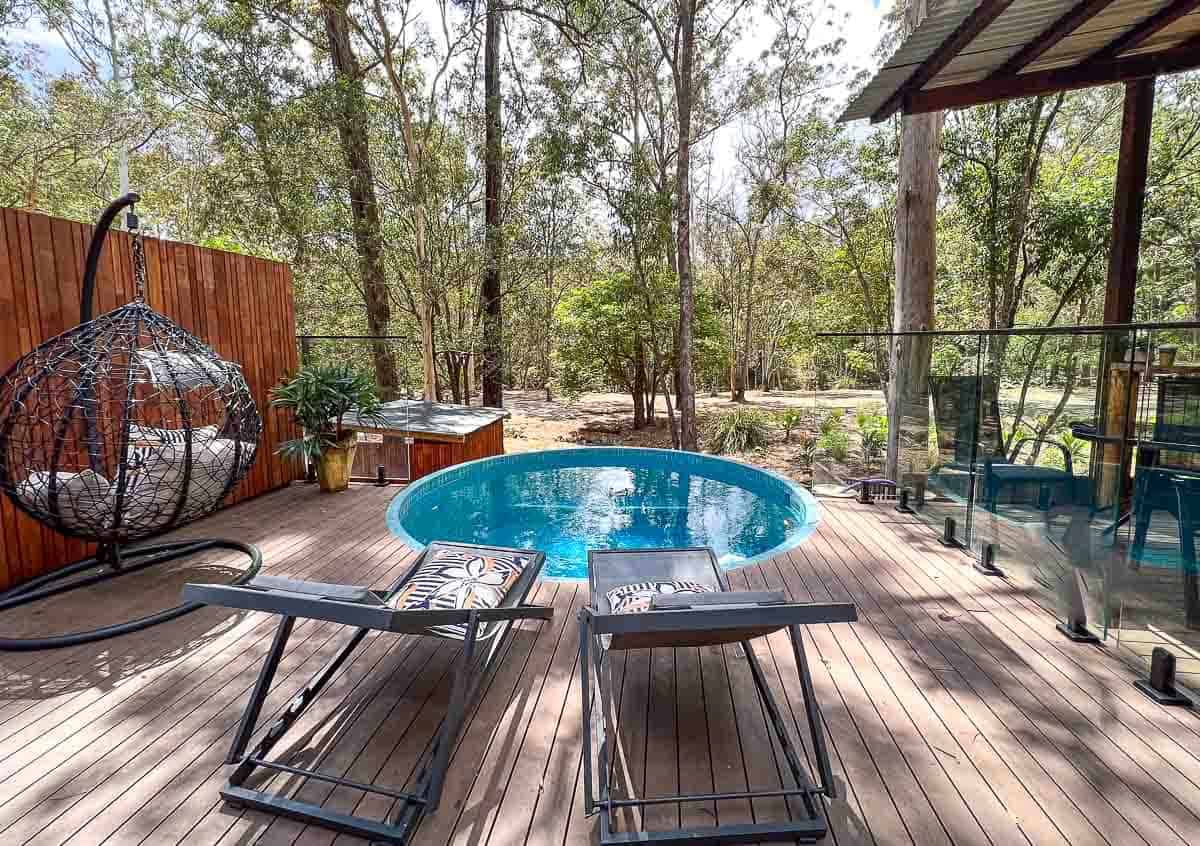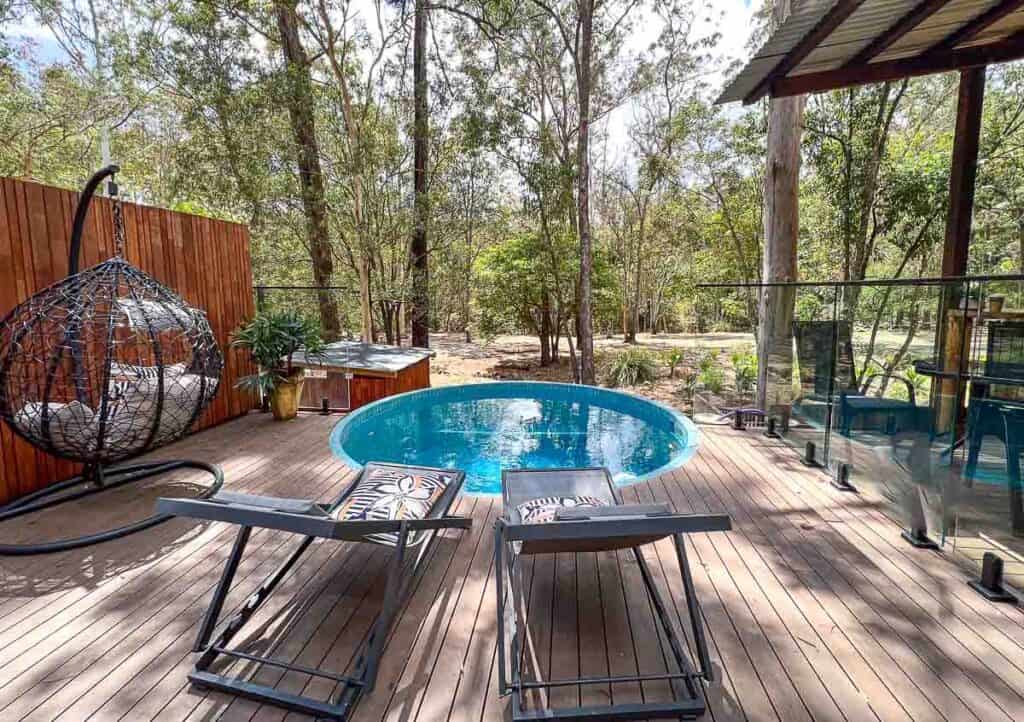 I think the highlight of these glamping tents isn't the tent but rather the timber deck built around each of the glamping tents – and I think the family luxe tent would have to be one of the best – if not the best!
Let's start with the pool!! While it might look smallish in these photos, the plunge pool is actually a really decent size and it's deep! Even if you're 6 feet, you won't be standing up in the centre of this pool.
The pool is the perfect size for a splash for the kids and a nice spot to relax for the parents. There is even built in seating around the pool, and there were a few pool noodles on the deck, which we used to float about.
But my favourite thing about the pool… it's heated. So you can enjoy the pool at any time of the year.
Around the pool are also a couple of sun lounges, with a small table and a couple of swinging egg chairs – so everything you could possibly need to relax by the pool.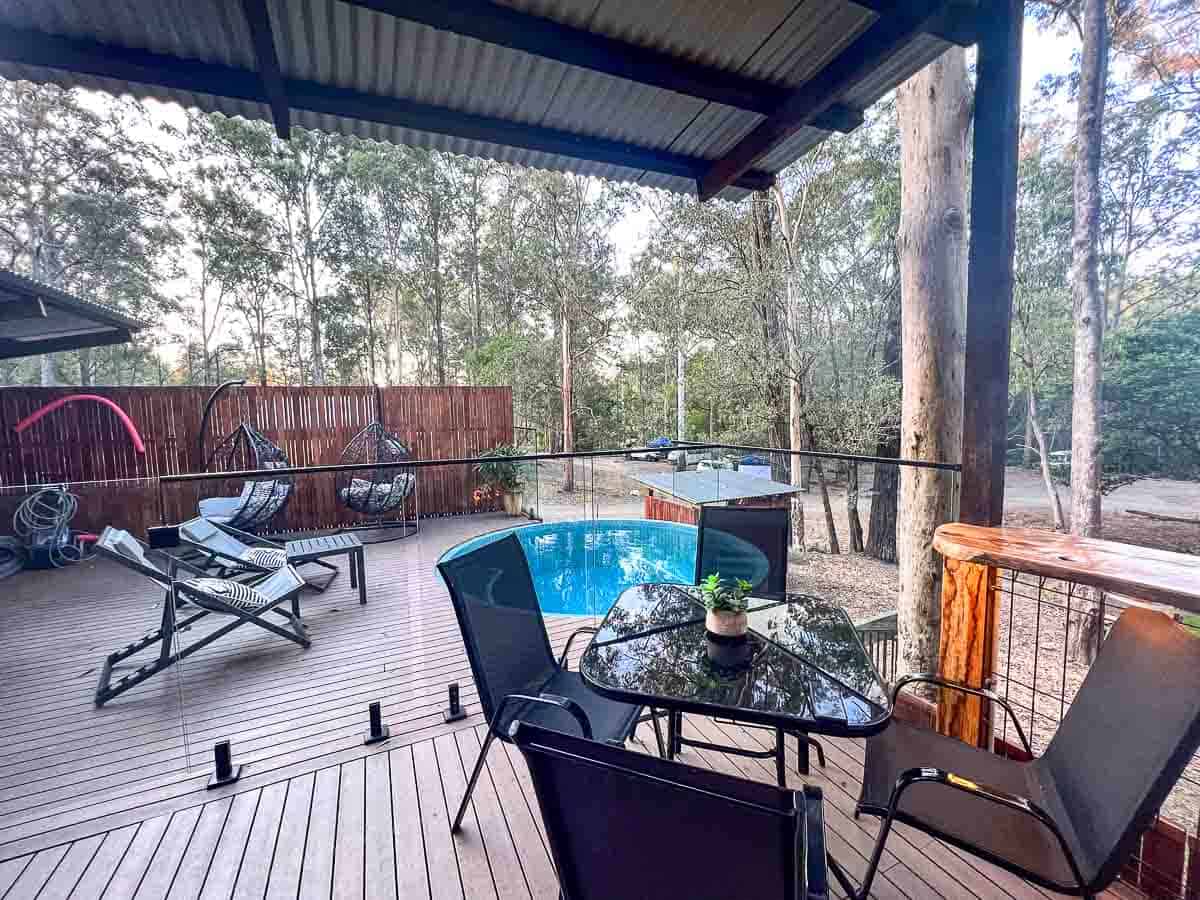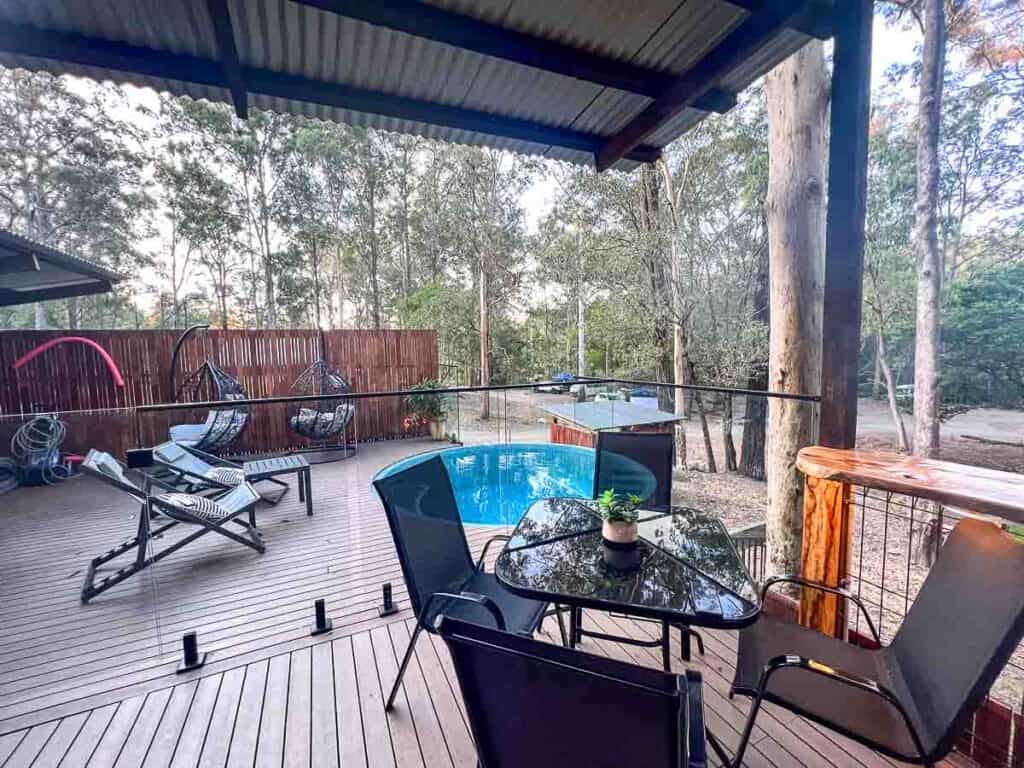 At the back of the deck is a huge BBQ with a small fridge and sink.
When we arrived, inside the fridge was Tim Tams for us all, a jug of cold water and two wine glasses being chilled – which I put to use as soon as I arrived! Under the sink is where you'll find all your cleaning gear.
But wait…. there's more!
The area on the deck I talked about above is fenced off, which is ideal for families with small kids, given the very deep plunge pool. But then there is also a small dining area.
The dining area has a table, four chairs, and a fire pit. The fire pit comes with everything you need to get it started – plus, you get a key to the woodshed to help yourself to more wood as needed.
Having the fire pit at night was sensational – it's what really brings the camping feel to the entire experience.  We all sat around the fire each night while playing board games at the table.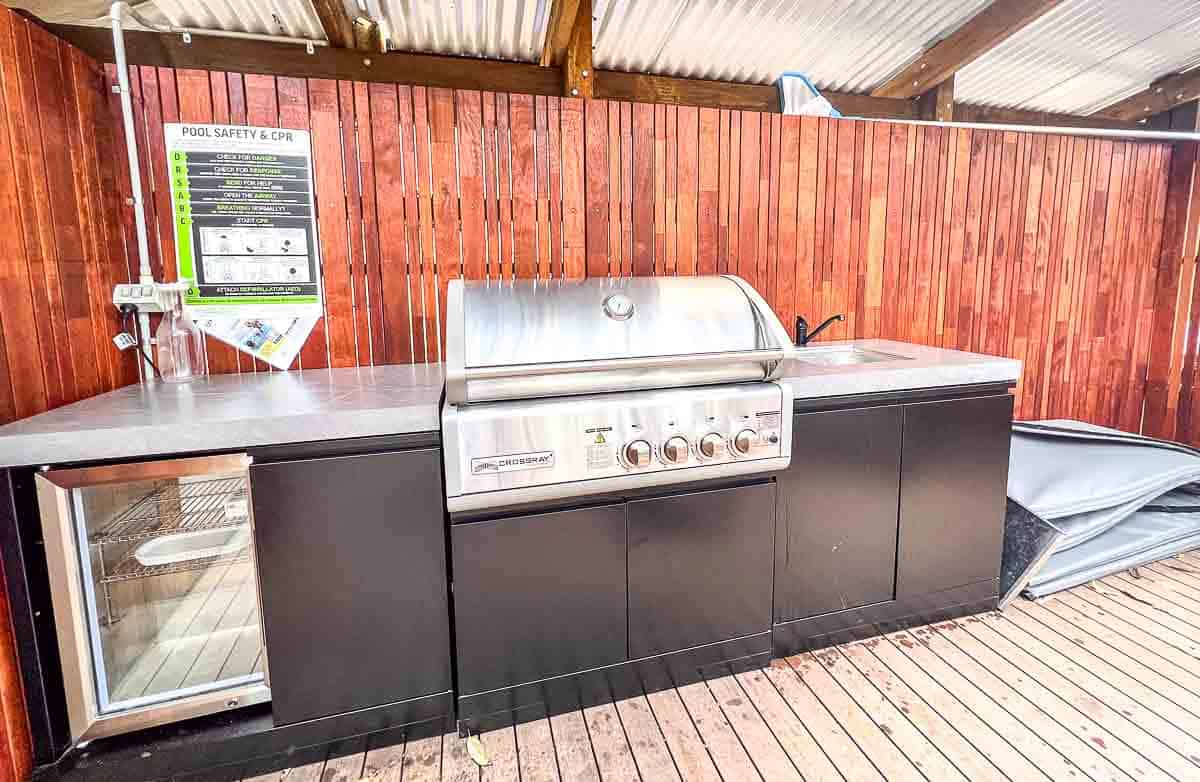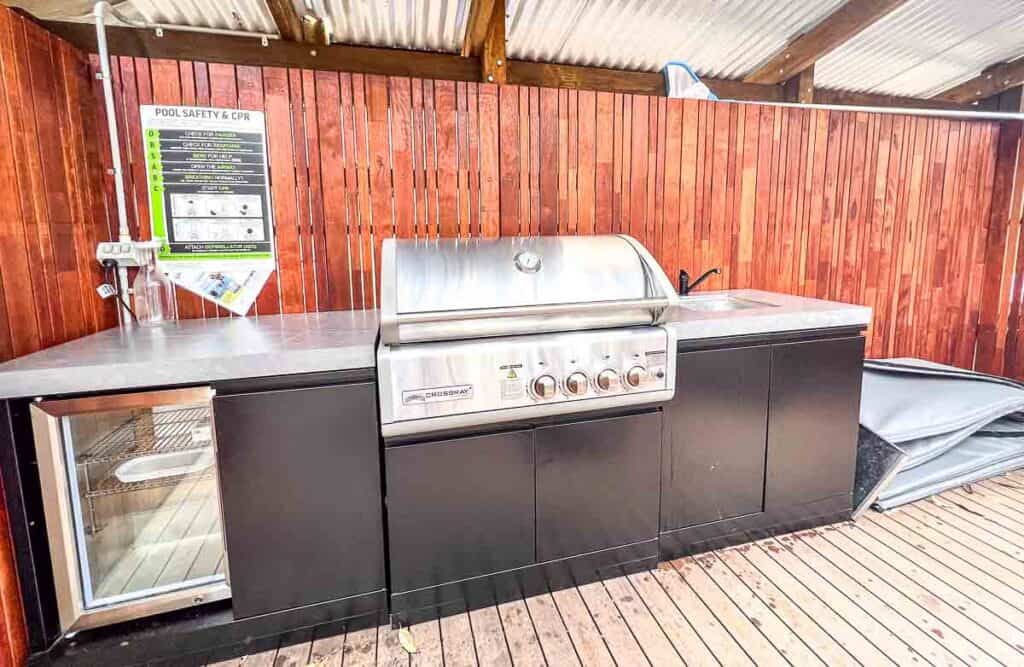 Price
The standard Woodland tents start at $265 per night and the standard family Woodland tents start at $299 per night.
But for those who want the ultimate glamping experience, it's well worth upgrading to the luxe Woodland tents, which start at $299 per night.
An additional person can be added for $20 per night using the single sofa bed – so the standard tents can accommodate up to 3 people, while the family tents can accommodate up to 5 people.
Check in for the Woodlands tents is at 4 pm and check out is at noon.
OTHER ACCOMMODATION AT THUNDERBIRD PARK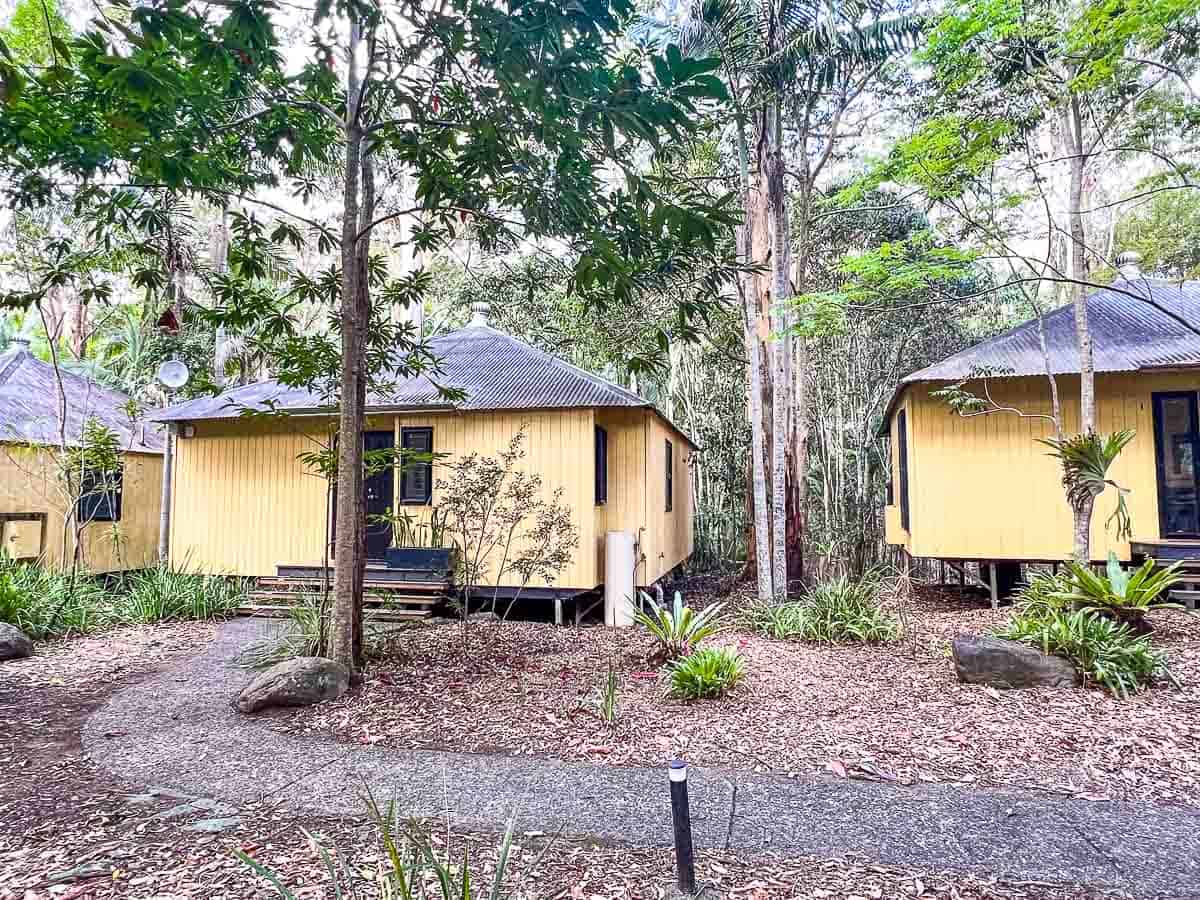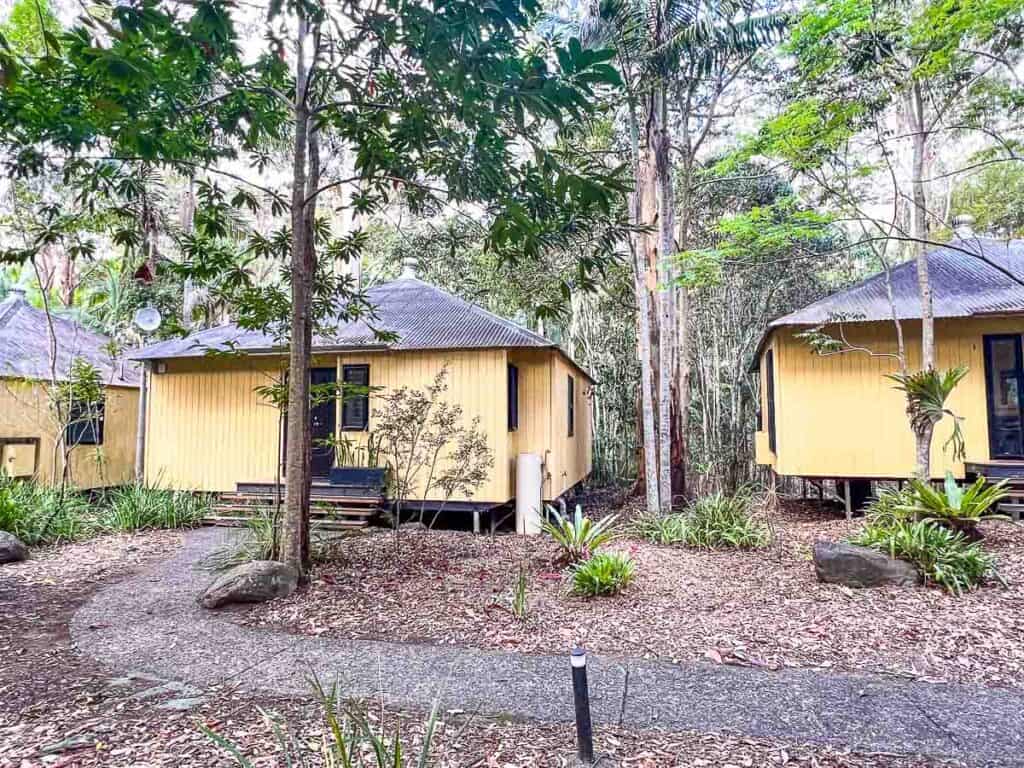 Of course the glamping tents aren't the only accommodation option at Thunderbird Park. There is a range of accommodation options, from basic motel rooms to self contained lodges and camping sites.
You can find a more detailed guide on the different accommodation options at Thunderbird Park here.
THINGS TO DO AT THUNDERBIRD PARK
While I doubt you'll ever want to leave your glamping tent – there are so many things to do at Thunderbird Park, particularly if you go with kids; there are endless activities on offer!
Click here for a detailed list of all the activities – but in the meantime, here are some of the things you can do while camping at Thunderbird Park:
TreeTop Challenge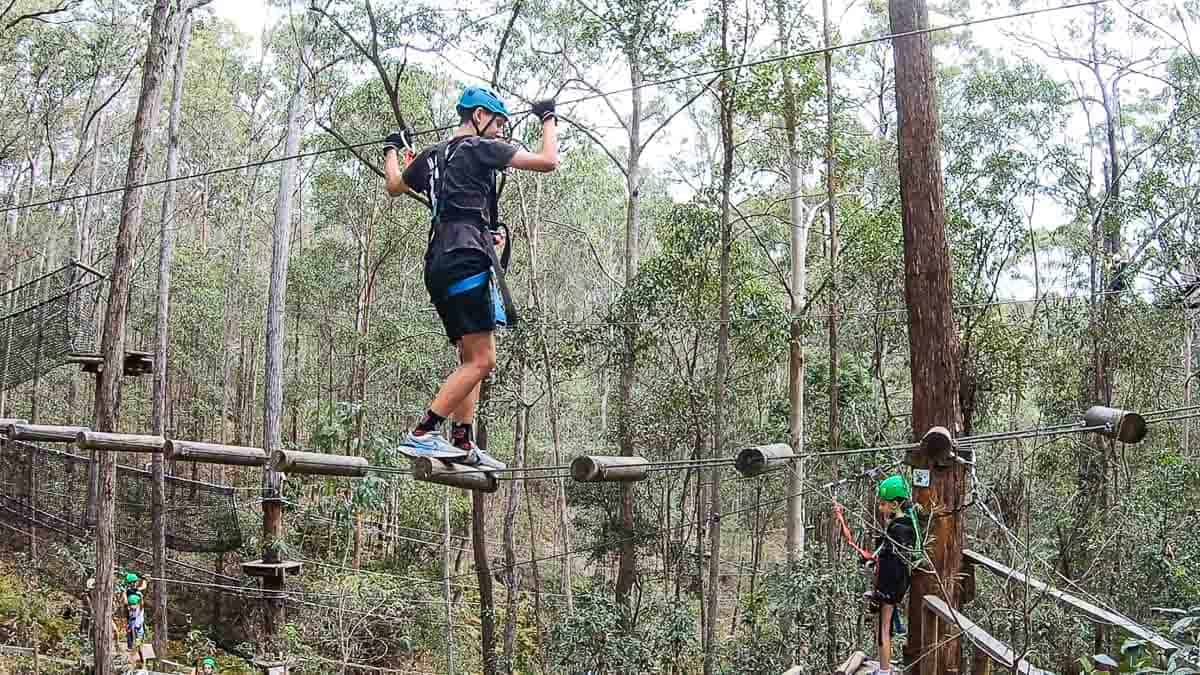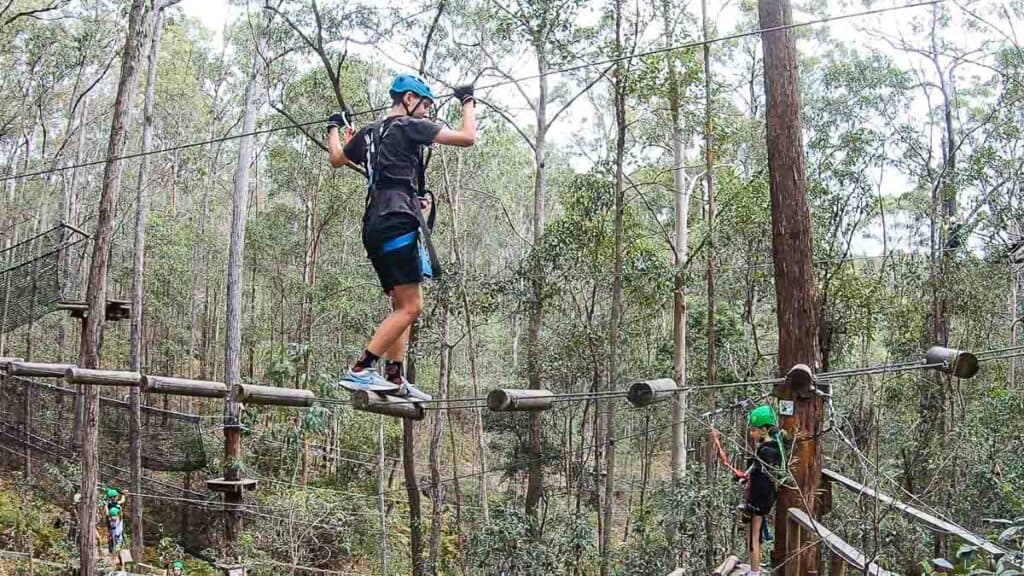 The TreeTop Challenge at Thunderbird Park includes the Treetop Adventure Park, the TreeTop Canyon Flyer and TreeTop Juniors, all thrilling adventures that take you through the rainforest of Mount Tamborine.   There is a range of challenging courses suitable for all ages and skill levels.
Thunderegg Crystal Mine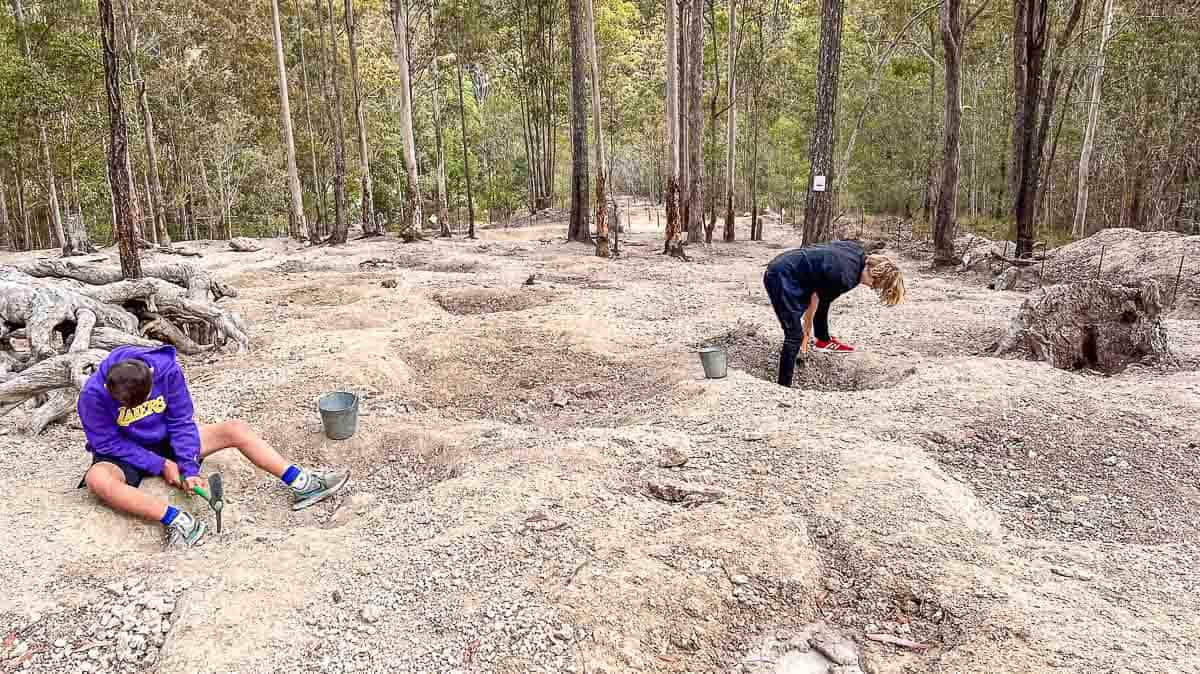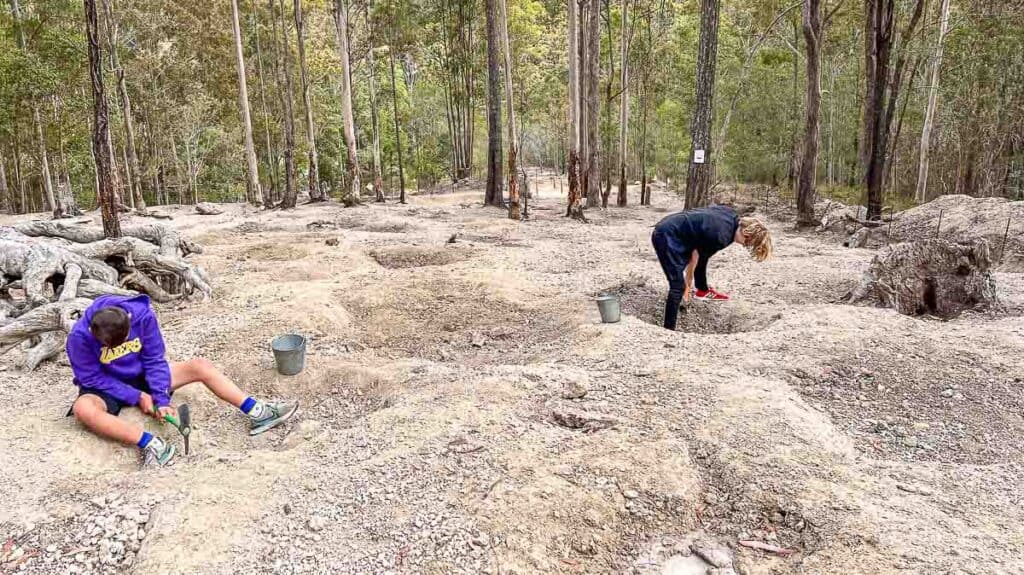 Thunderbird Park is on land that came about some 22 million years ago after the Mount Warning volcanic eruption. In this prehistoric volcanic lava, the kids can go fossicking for thundereggs and have them cut open to see the pretty mineral deposits.
Dig IT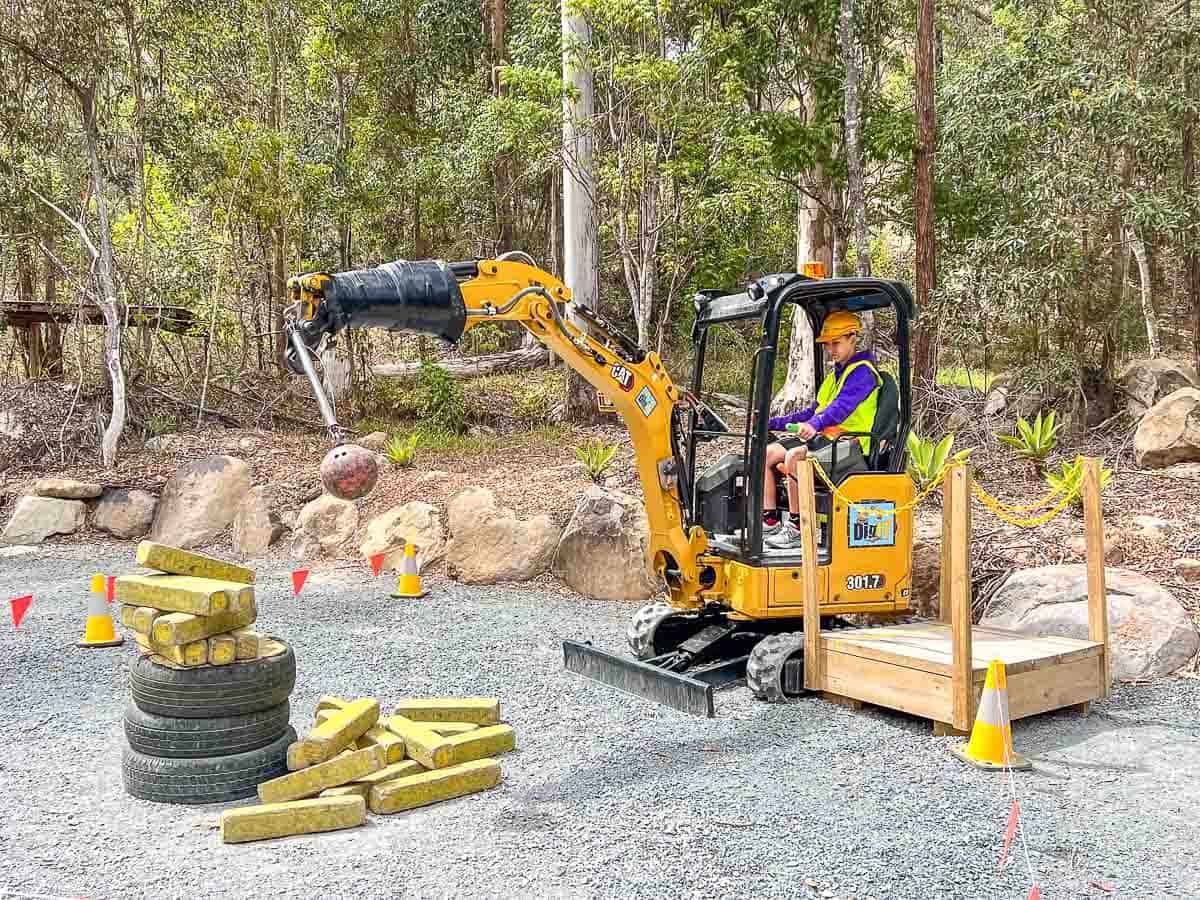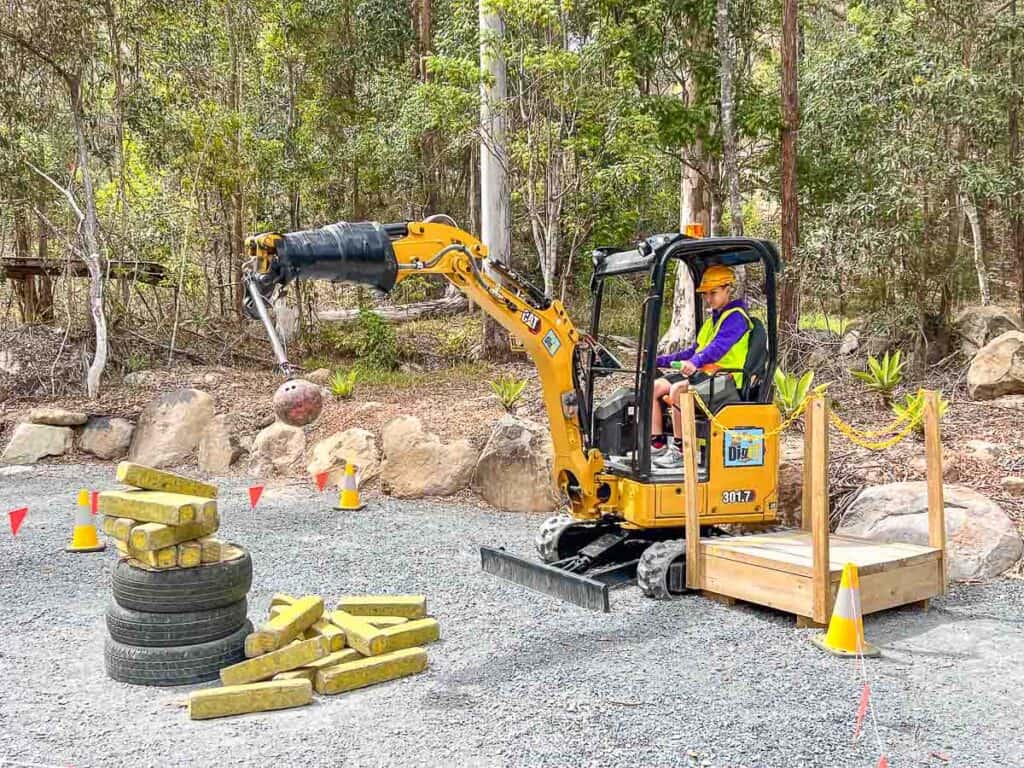 This is Australia's very first mini excavator park where you can operate real excavator machinery across four zones. These are 1.14 true scale, fully hydraulic machines weighing approximately 30+ kilos.
Laser Skirmish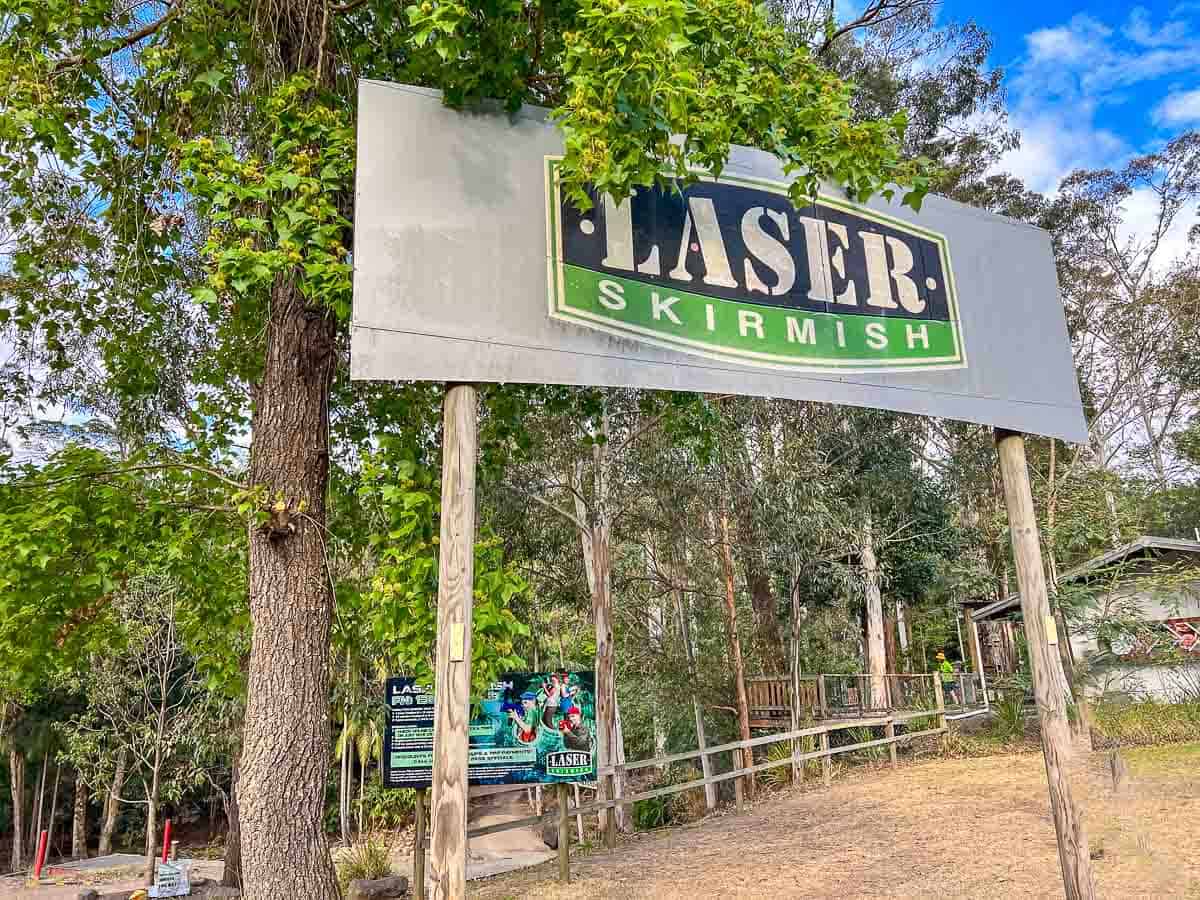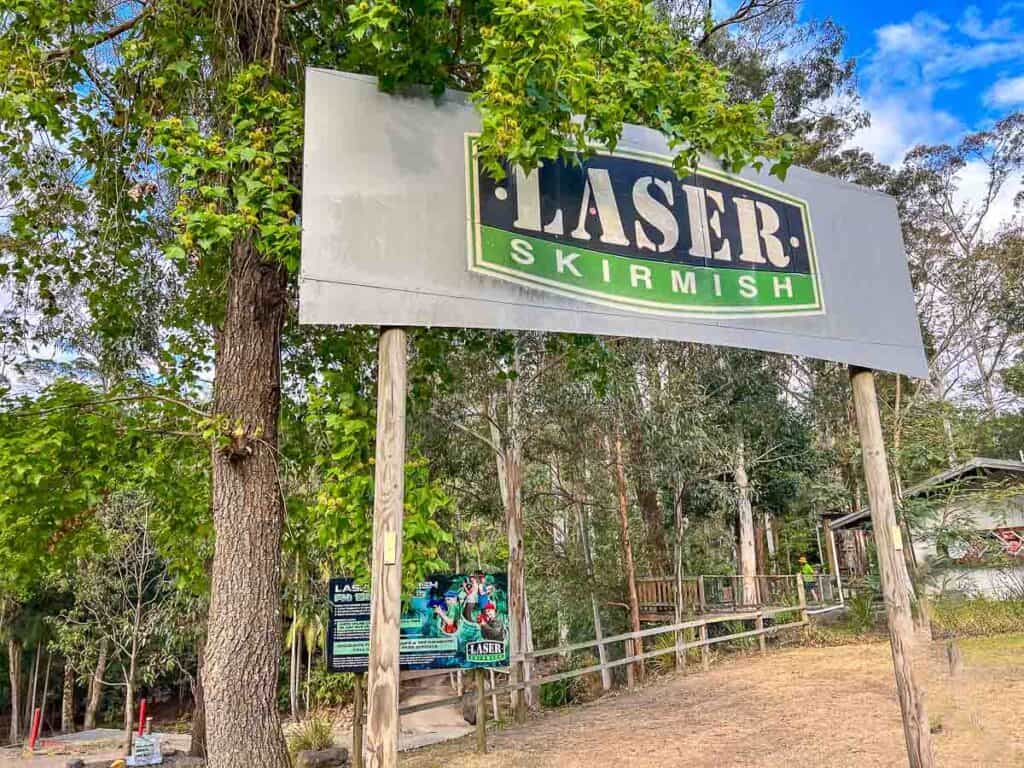 You may have played laser skirmish before, but you have played in the Gold Coast Hinterland, where you get a scenic yet authentic jungle warfare experience. Here, you can stalk through the jungle (well, rainforest really), using the trees and bushes to take cover from enemy fire while hunting and eliminating enemy players.
Adventure Mini Golf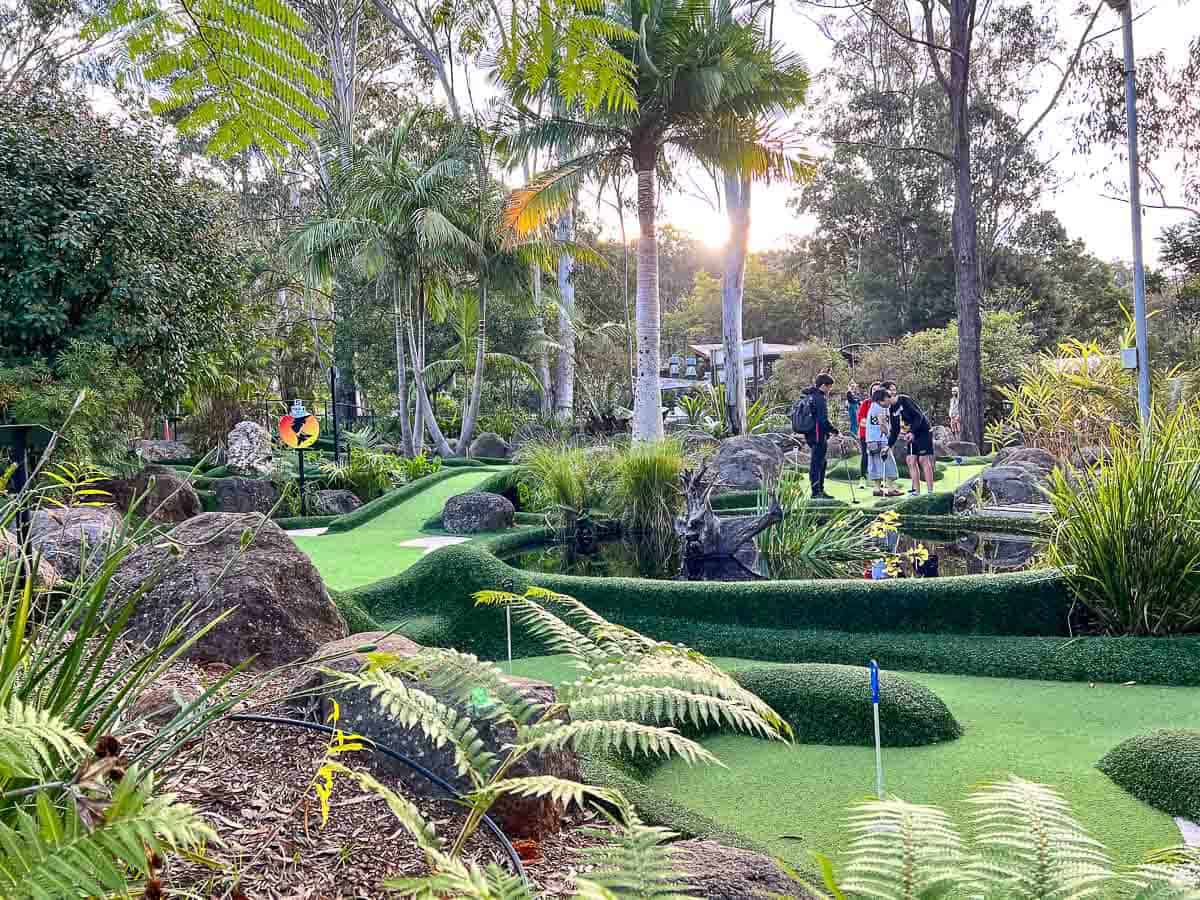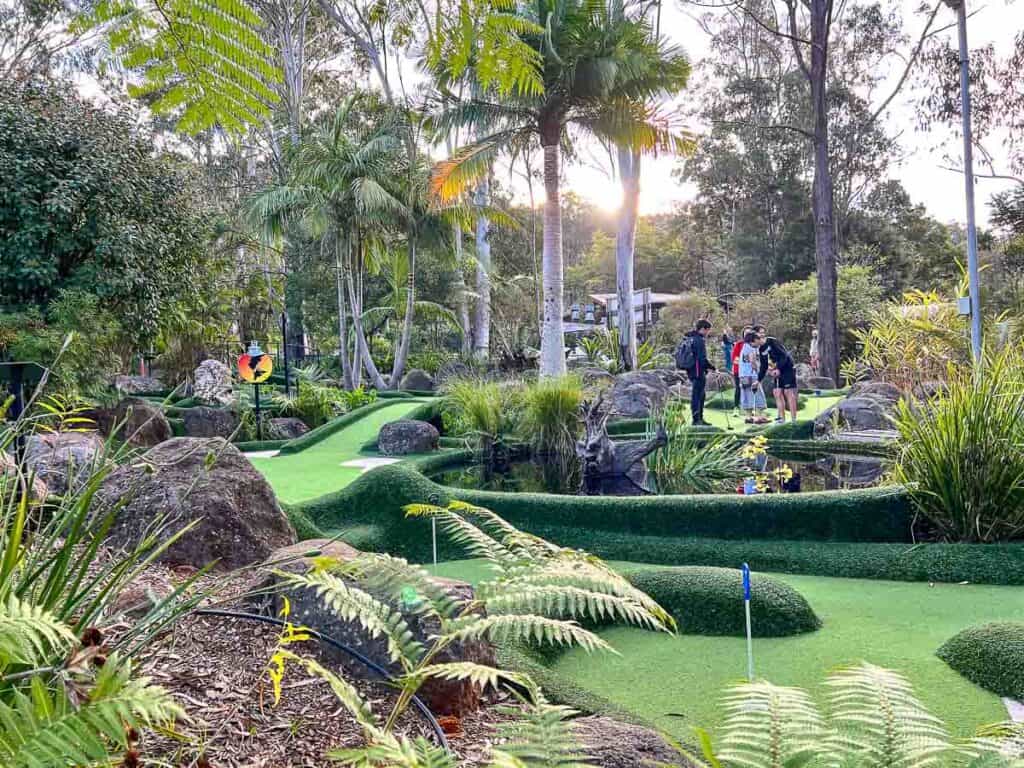 The Adventure Mini Golf at Thunderbird Park is a 9 hole course and it's pretty fun with water hazards, rock traps, bridges, bunkers and other obstacles you'll need to overcome before claiming victory.
Rock Pools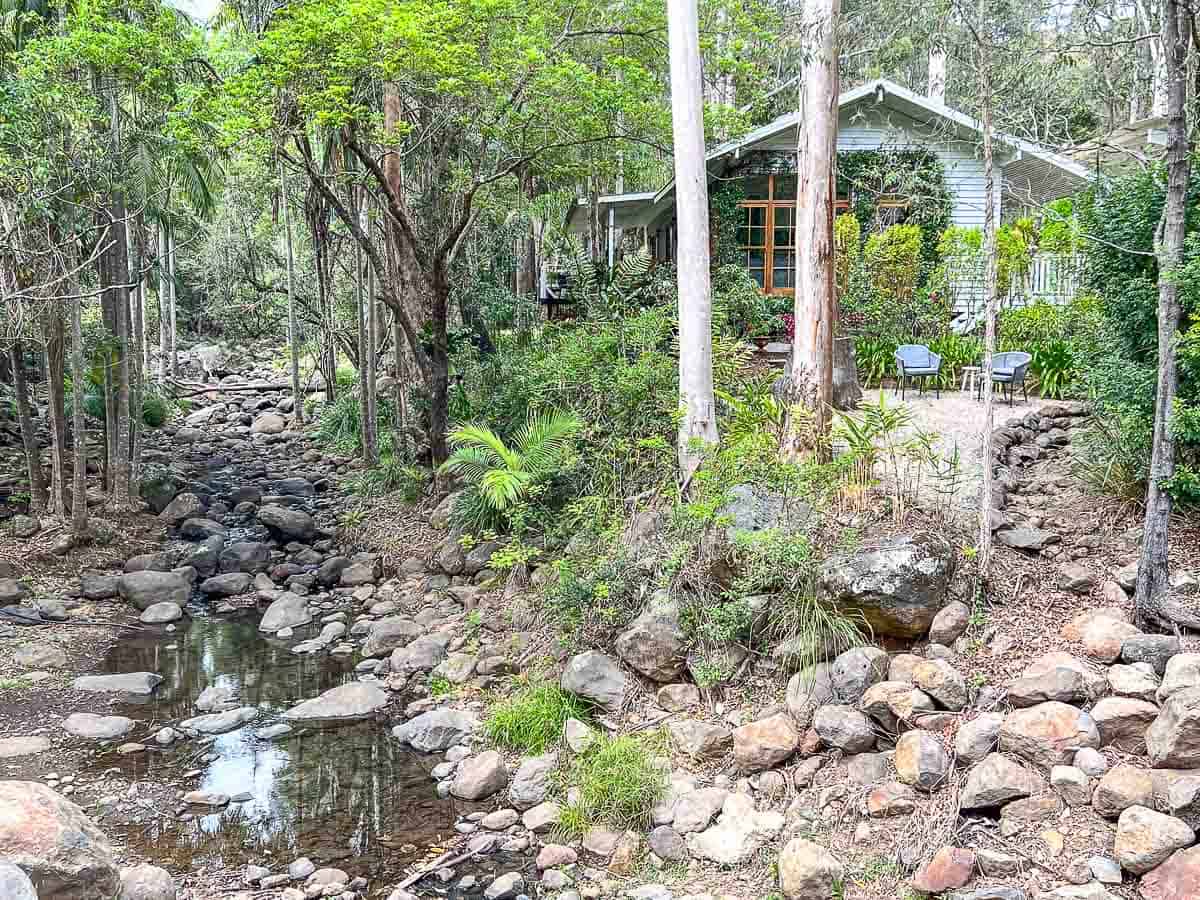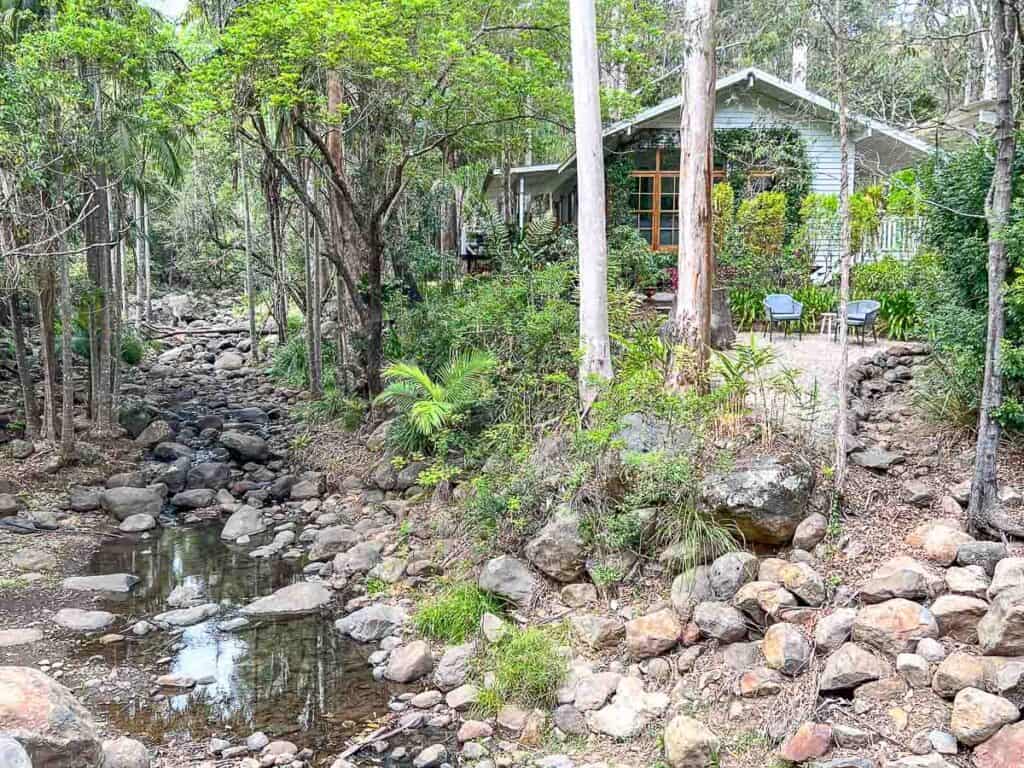 Thanks to a proportion of Cedar Creek flowing through Thunderbird Park, there are several natural rock pools where you can take the kids for a bit of a splash. Keep in mind though, that being natural rock pools, the water level will depend on recent rainfall.
Cedar Creek Falls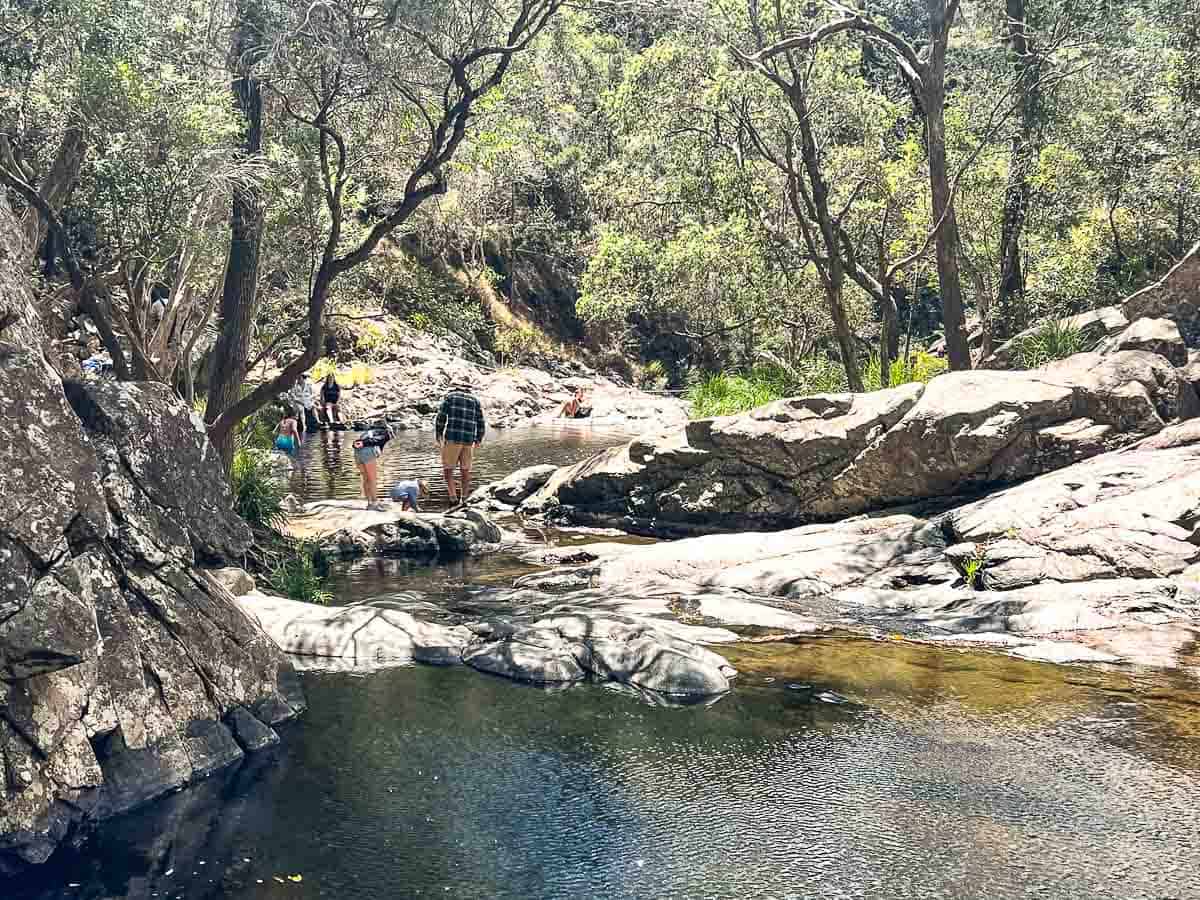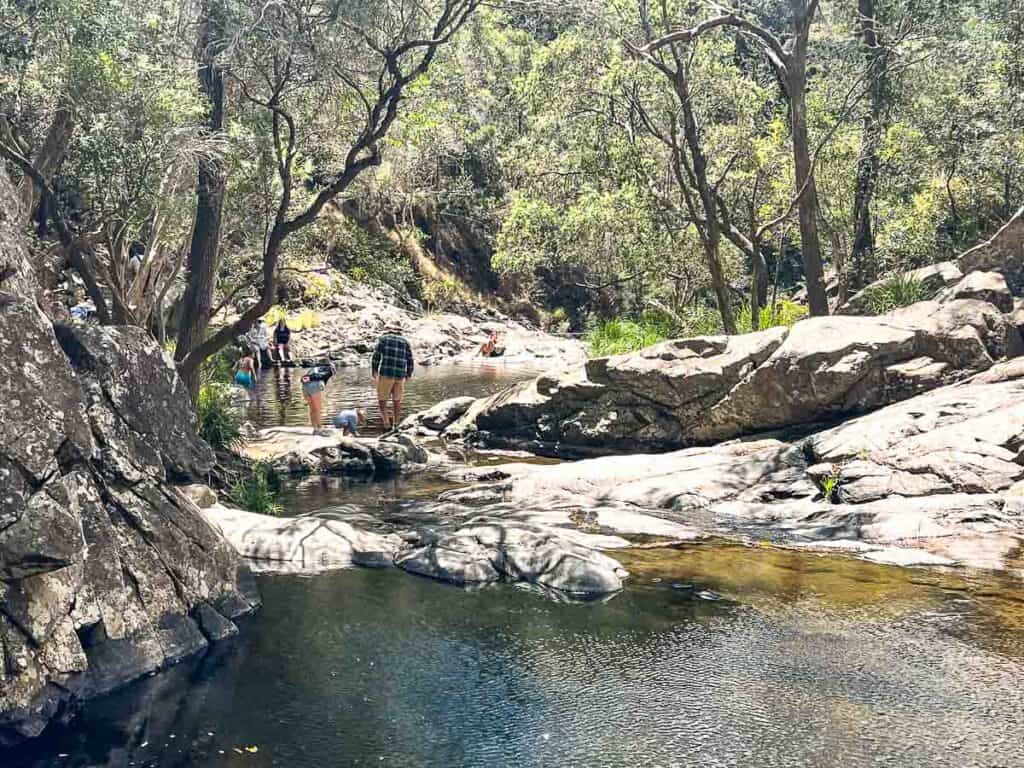 If you follow Cedar Creek a little further, you'll be rewarded with seeing the beautiful Cedar Creek Falls and perhaps swimming in one of the many rock pools there.
While not actually on the property of Thunderbird Park, the falls are just a short walk away.
DINING AT THUNDERBIRD PARK
While your glamping tent has all the essentials to self cater if you don't feel like cooking, there are a couple of dining options at Thunderbird Park.
Terrace Kiosk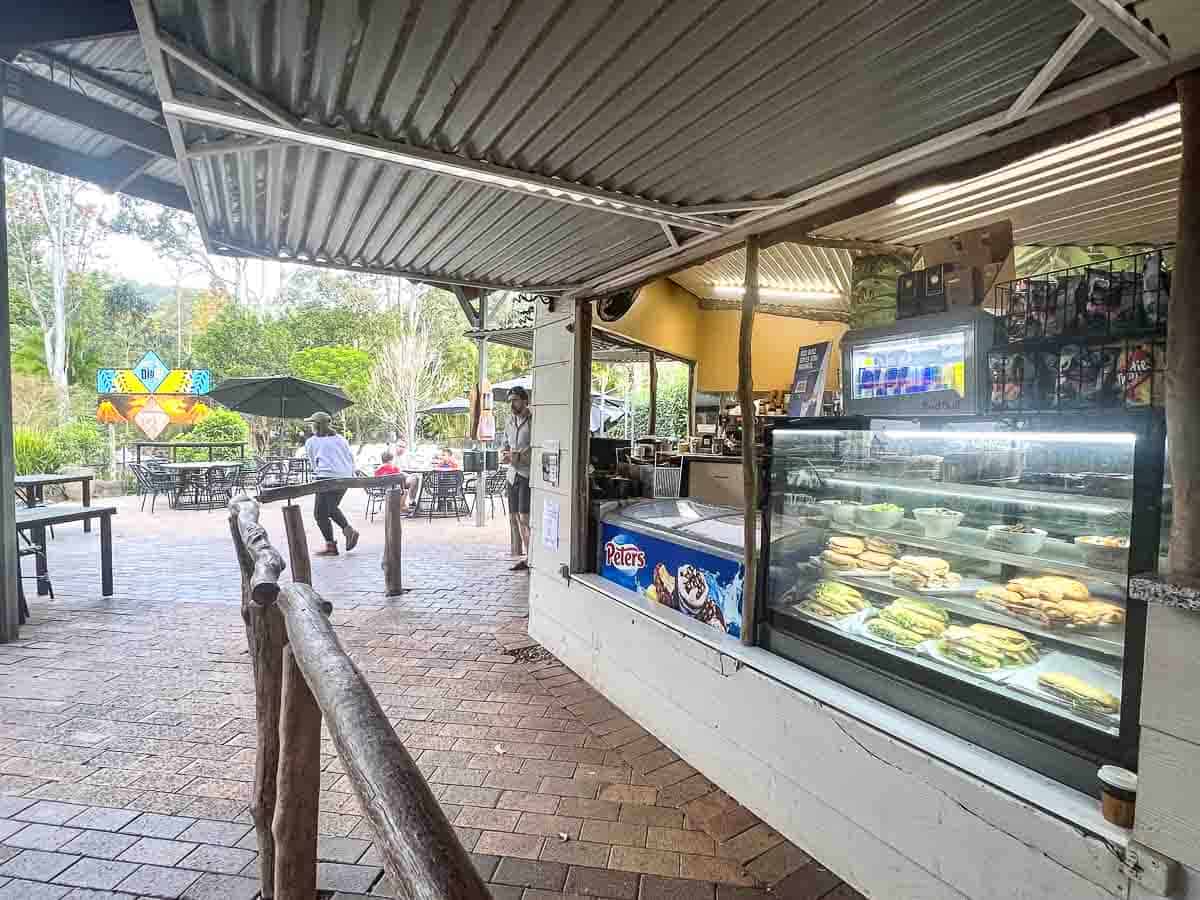 The Terrace Kiosk is the place to go for a casual meal. This outdoor kiosk serves breakfast, lunch, and other snacks, drinks, and coffee daily.
On the menu, you'll find an assortment of bagels ($11 to $15), burgers ($13 to $15), salads ($16 to $18), hot chips ($6 to $10) and pizzas ($17 to $19.50) as well as a basic kids menu ($9 to $14).
The Terrace Kiosk is open daily from 7.30 am to 5 pm. There are extended hours during Queensland school holidays.
Keep in mind the last orders are at 4.30 pm and they are very strict about this – we arrived at 4.33 pm to be told we couldn't order any hot chips.
Rainforest Restaurant and Lounge Bar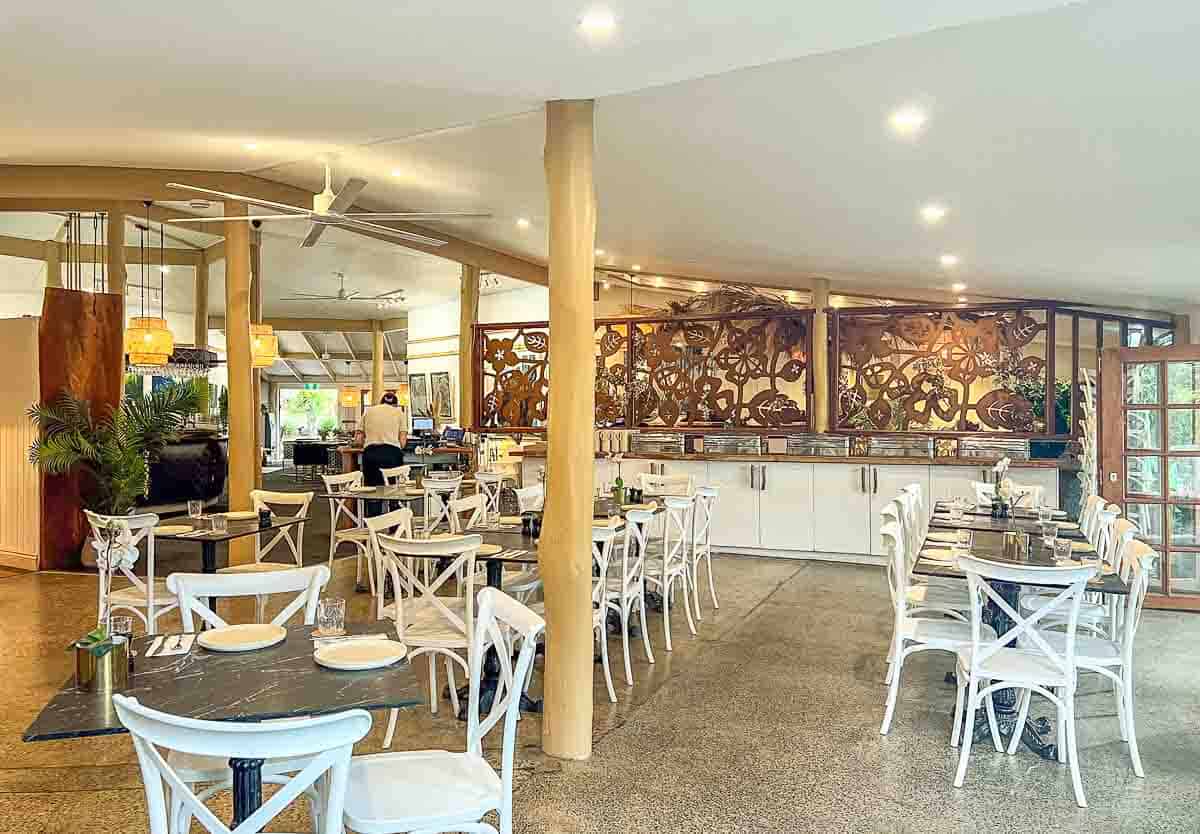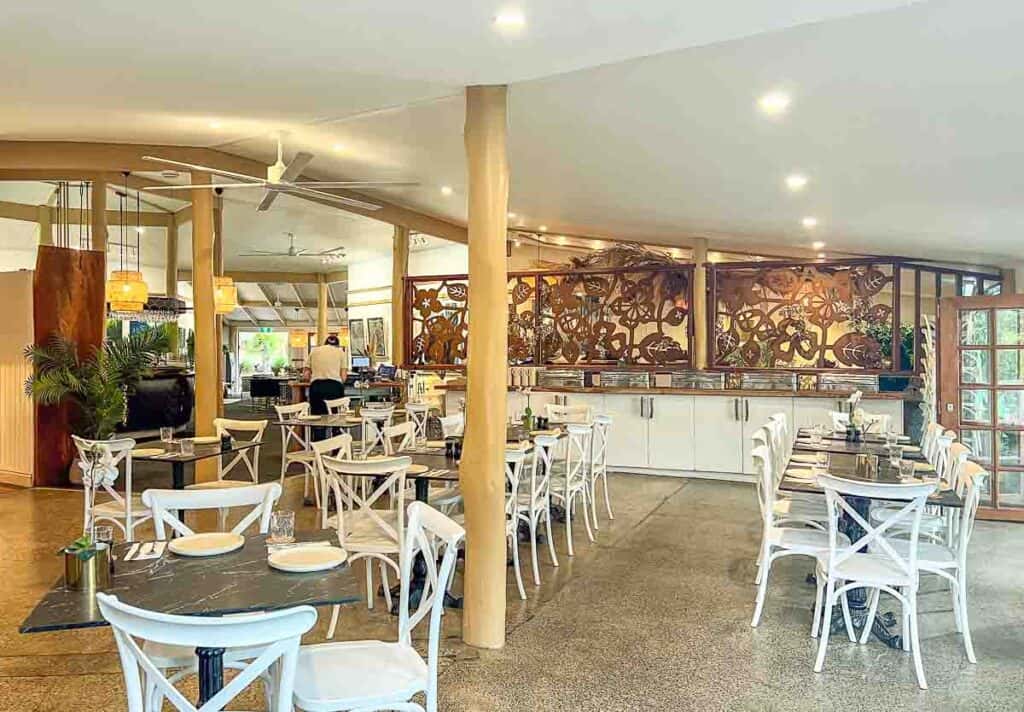 For something a little fancier, head to Rainforest Restaurant, which is open for breakfast, lunch and dinner.
The dishes at the Rainforest Restaurant are designed to be shared – so you can order a range of small plates (for example, lemon pepper squid $18, crab $19 or bao buns $18), large plates (for example, pan seared snapper $41, sirloin $44 or chorizo and prawn pasta $38), as well as and sides (for example beetroot salad $16, fries $13 or flatbread $11).
There is also a relatively small kids' menu serving things such as spaghetti bolognaise, fish and chips or chicken nuggets ($13 each).
The restaurant offers a daily buffet breakfast for $32 per adult and $16 per child.
The Rainforest Restaurant is open daily for breakfast from 7.30 am to 10 am, lunch on the weekends from 11.30 am to 3 pm and for dinner from Thursday to Saturday from 5 pm to 8 pm. There are extended hours during Queensland school holidays.
ENJOY GLAMPING AT THUNDERBIRD PARK!
Hopefully, you found this guide on glamping at Thunderbird Park helpful and are keen to book your own stay.
If you're heading to Mt Tamborine, you might be interested in our full guide on things to do there.
I'd also recommend you check out our full guide to the Gold Coast, which provides links to everything you need to know to plan your trip.
And why not join our free Queensland Travel Guide Facebook community, where you can ask all your questions and find even more great trip suggestions.
You may also be interested in nearby destinations: