This review provides everything you need to know about a stay at the W Hotel Brisbane.
The Queensland Travel Guide acknowledges the Jagera people and the Turrbal people, the Traditional Custodians of the land on which the W Hotel is situated. We pay our respects to their Elders past, present and emerging, and recognise their continued spiritual and cultural connections to Country. Always was, always will be, Aboriginal land.
The W Brisbane is a super trendy, 5 star luxury hotel overlooking the Brisbane River. This hotel has 312 rooms (including 32 suites) and offers modern and funky accommodation retreat in the heart of the city.
We recently spent the night at the W Brisbane as part of a staycation to celebrate a special birthday. In this review, we share our thoughts on the property so that you can decide if it's the right hotel for your next trip to Brisbane.
We were paying guests at the hotel – so you can be rest assured our review is completely unbiased.
This post may contain compensated links. Please refer to our disclaimer here for more information.
W BRISBANE HOTEL REVIEW
Below, we cover all you need to know about the W Brisbane – including location, accommodation options, facilities and dining options.
Location
The W Brisbane has a prime location that couldn't be more central for travellers exploring the city. The hotel is within walking distance of everything! The shops, entertainment, restaurants, public transport and more.
Southbank Parklands is one of Brisbane's top attractions, just a 10 minute walk from the hotel. This area also has cultural institutions like the Queensland Art Gallery, Queensland Performing Arts Centre and the Queensland Museum, not to mention some fantastic bars and restaurants.
The hotel is a stone's throw from some of the city's best shopping, including the Queen Street Mall. In this area, you'll also find cinemas, bars and restaurants, as well as the Treasury Casio.
Guests of the W Brisbane also have easy access to public transportation to venture further afield. The nearest ferry terminal is just 400 metres away, while Roma Street Train Station is just a 5 minute walk.
This central location truly puts the best of Brisbane within easy reach for guests staying at the W Brisbane.
Accommodation Options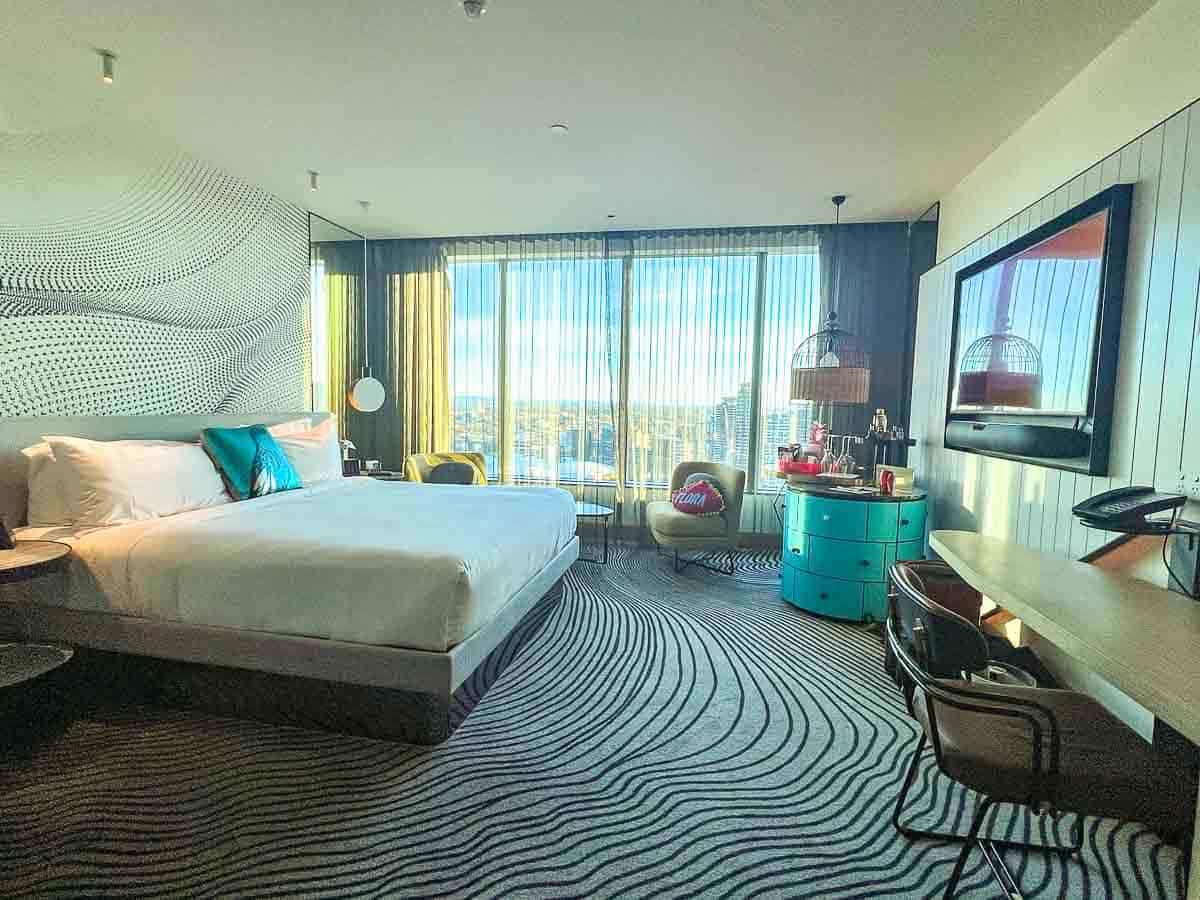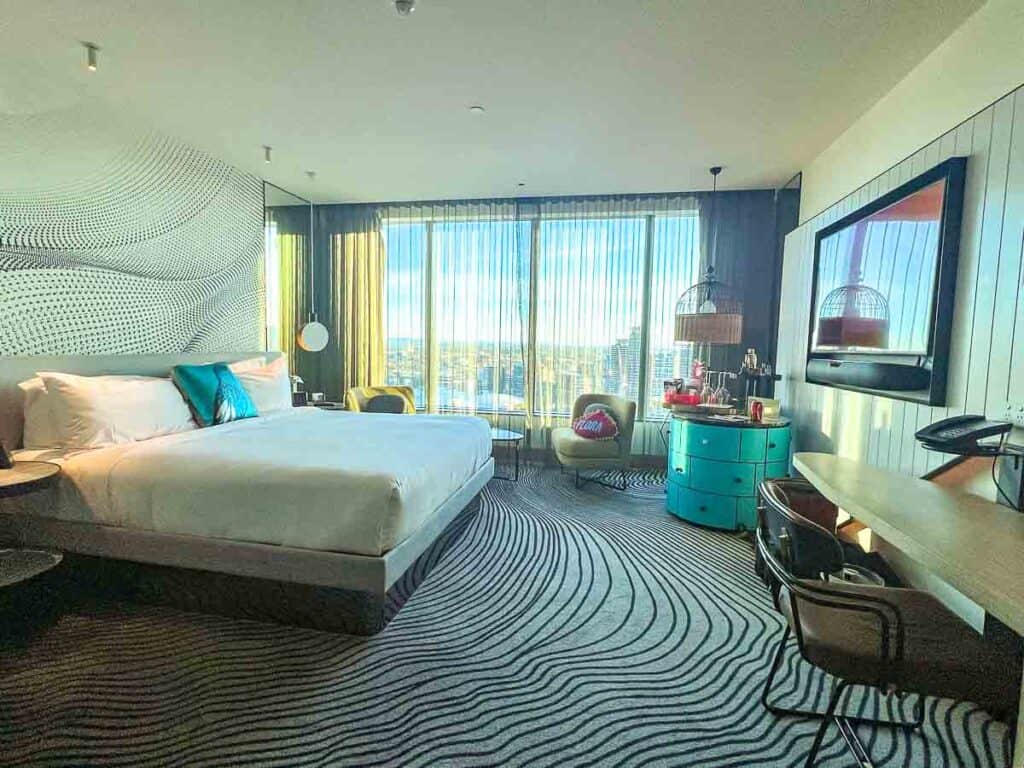 The W Brisbane features 313 rooms. Unlike other CBD hotels, you won't find the usual standard, deluxe and executive room types here. At the W Hotel, you'll find Spectacular, Wonderful, Cool, Wow, Fantastic, Marvellous and Extreme Wow room types and from what I saw – they absolutely live up to their name.
Despite the different room types, all the rooms at the W Brisbane are spacious and have the same ultra cool styling and modern features. So no matter what room you book, you can expect plush beds, high quality linen, coffee pod machines, a 4K TV and free wifi.
We stayed in a Spectacular room which had a great view of the Brisbane River. The room categories below this are Wonderful and Fabulous, with a king bed or two double beds (as does the Spectacular class) and partial river views.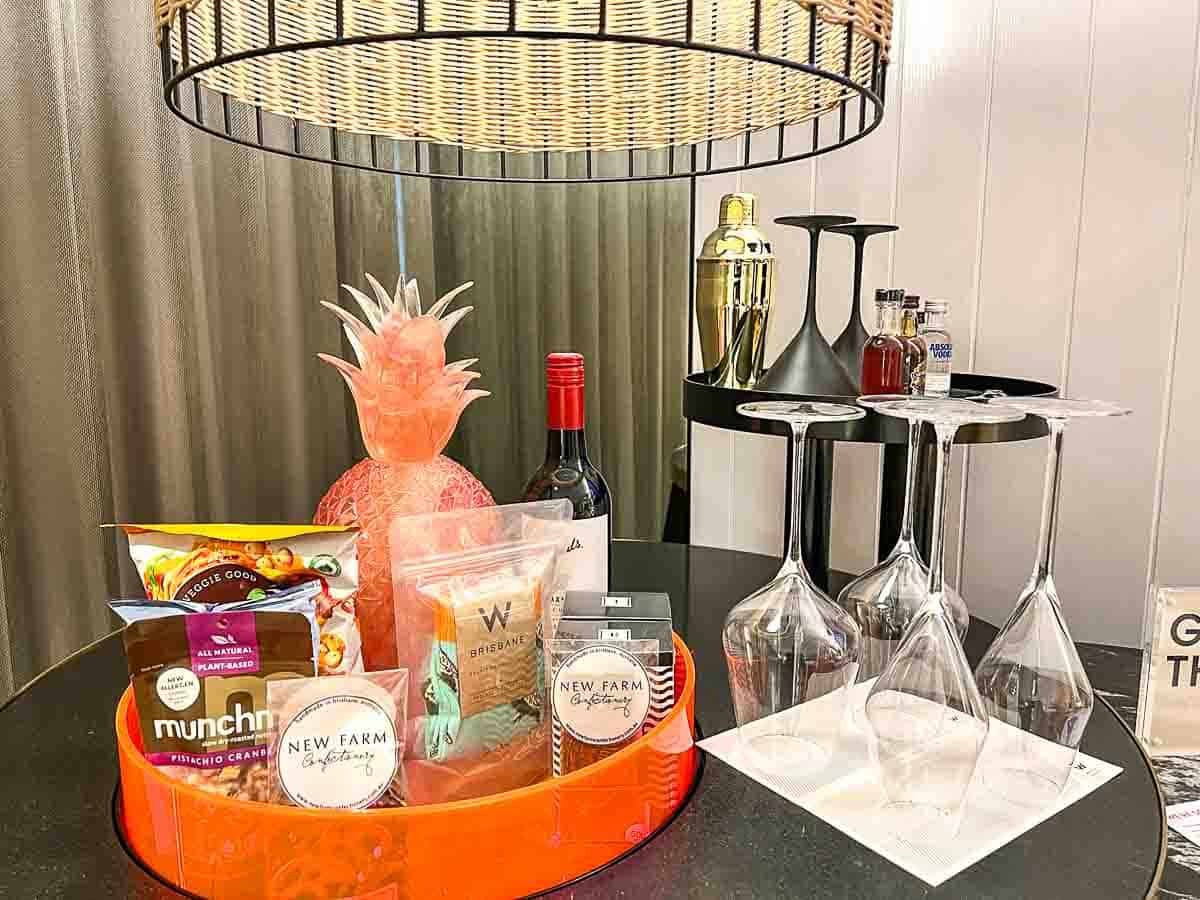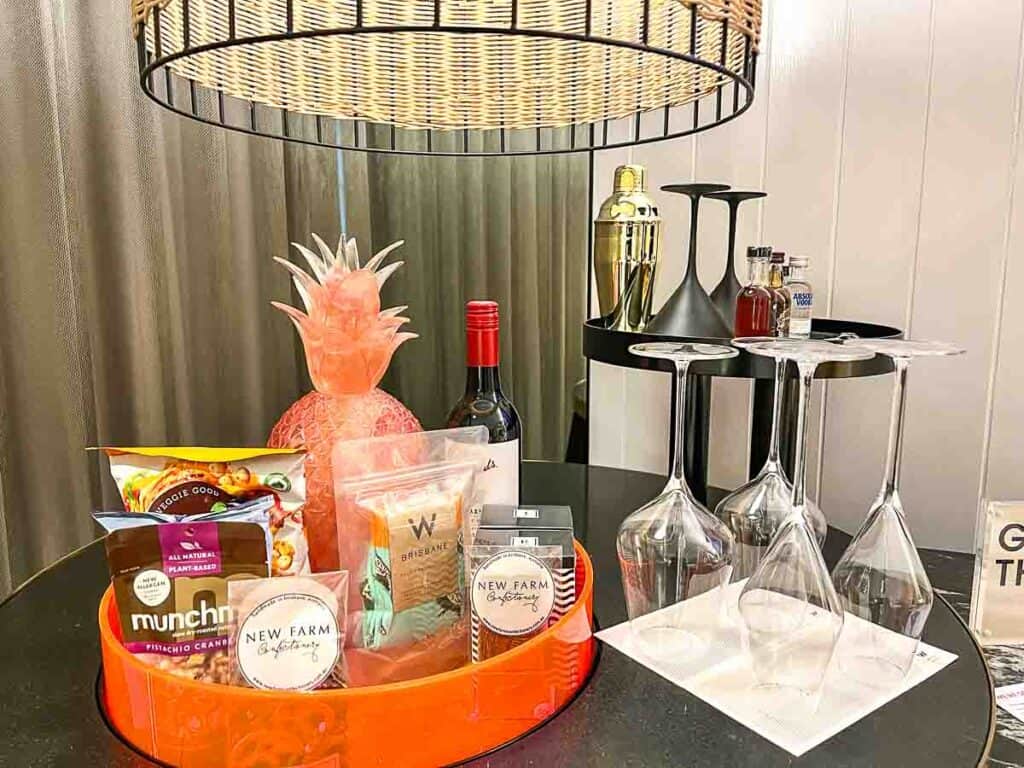 Some highlights of our room included the extensive mini bar, which is housed in a turquoise circular bar fridge (which I'll admit took the two of us some time to work out how to open) and the electric blinds, which at a press of a button, rolled back to showcase incredible views of the Brisbane River.
Another favourite was the huge glassed in bathroom, fitted with a huge walk in shower, spacious bath tub and a separate toilet room.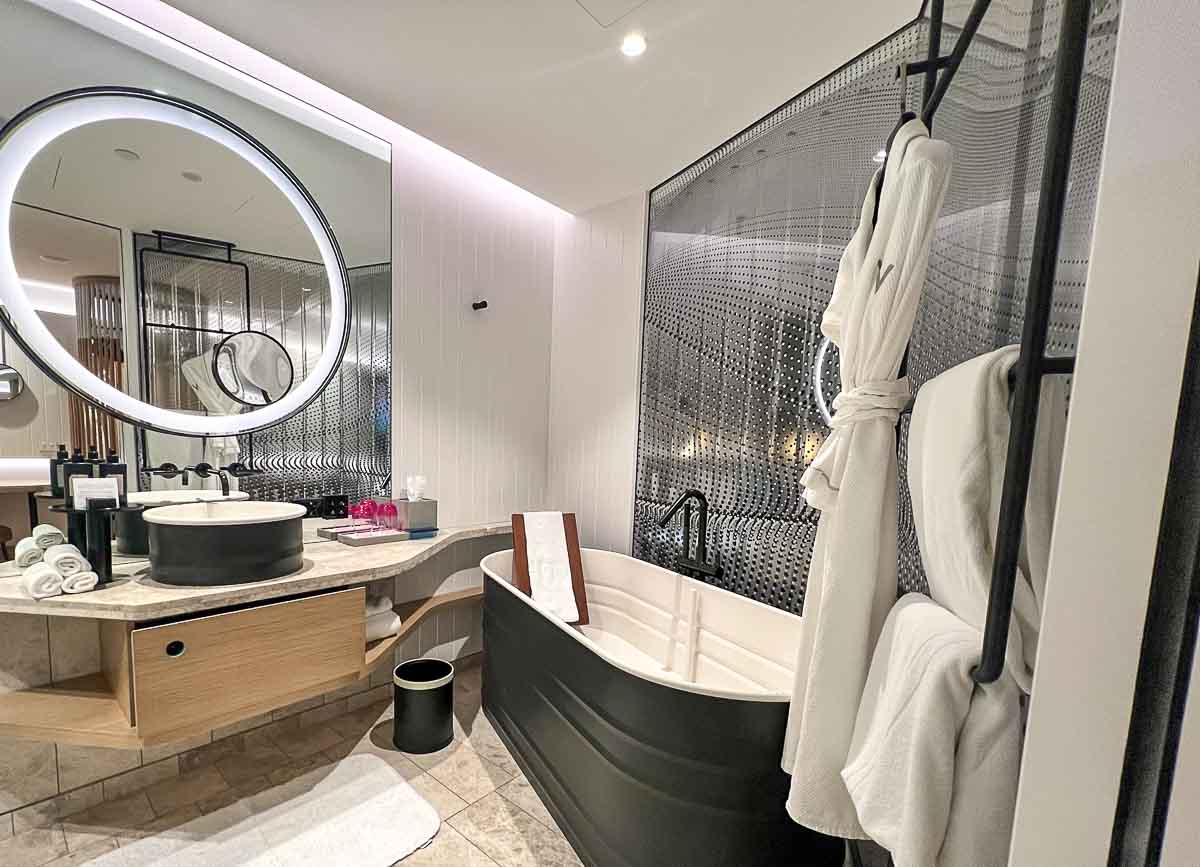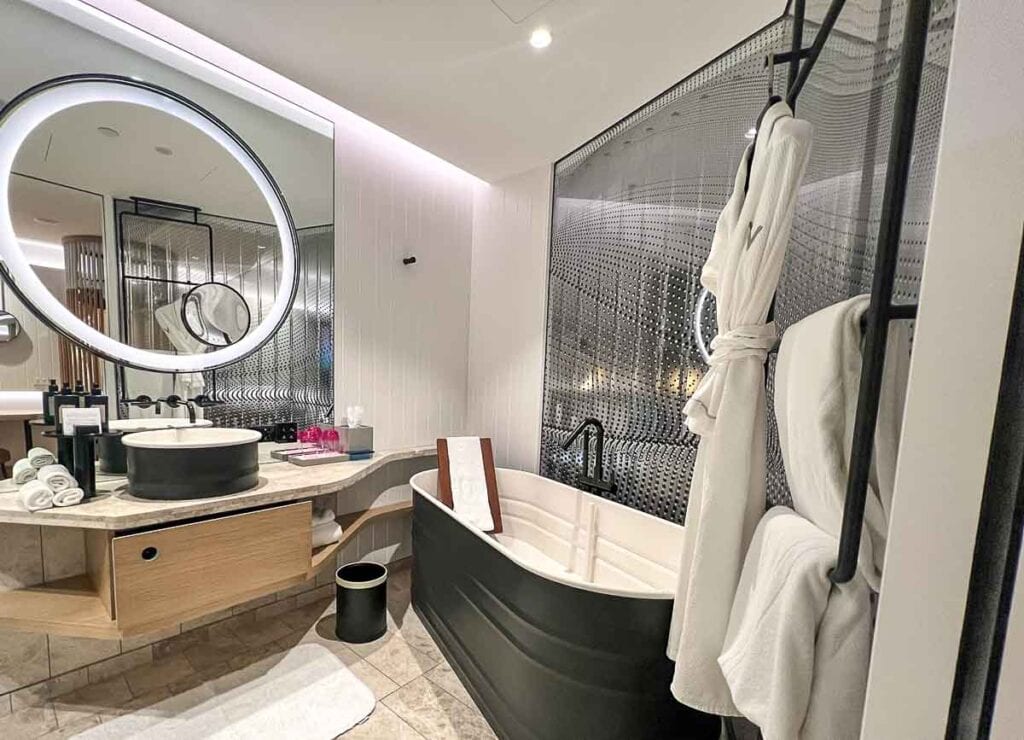 For those wanting to splurge or prefer more space, you'll need to upgrade to a one bedroom suite.
Bedroom suites come in the Cozy, Marvelous, Fantastic or Wow category. These rooms come with additional space thanks to having a separate living area and bedroom. The main difference between these categories is whether the room has a river or partial river view or is on a high or low floor.
Most rooms have the option of having a roll away bed for a third person at an additional charge and most rooms (but not all) have the option of connecting rooms.
Lastly, there is the Extreme Wow Suite for those with plenty of money to spend. This 200 penthouse is on the hotel's top floor with panoramic views of the river and comes with a fully equipped bar and large dining space. The room really needs to be seen to be believed!
All rooms have a check in time of 3 pm, and check out is 12 pm, which is very decent, given many places have a 10 am check out time. Plenty of time to check out the hotel's facilities (see more about facilities below).
Pet Friendly
Not only is this a super cool hotel for people, but it's also an awesome hotel for pets!
Yep, you are no longer left with average accommodation if you want to travel with your dog or cat (yes, even your cat!); at the W Brisbane, you can travel in style. Provided your pet is under 18kgs they are welcome to come and stay with you.
The pet-friendly rooms include clean-up bags, pet beds, pet toys, treats, food, water bowls, wee pads, local pet information, litter box, litter and a 'pet in-room' door sign.
Keep in mind that your pet cannot be left unattended in your room and are not allowed in any public areas.
The room rate with a pet incurs an additional daily fee of $50 plus a non-refundable $150 cleaning fee.
Dining Options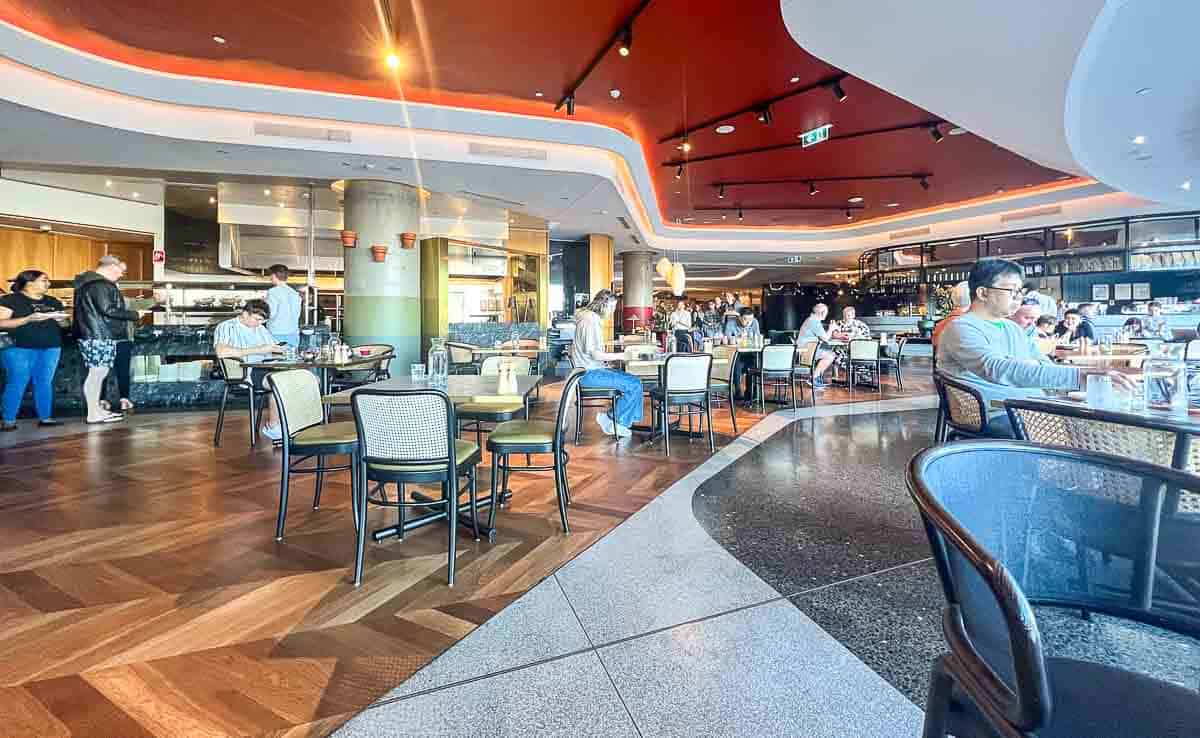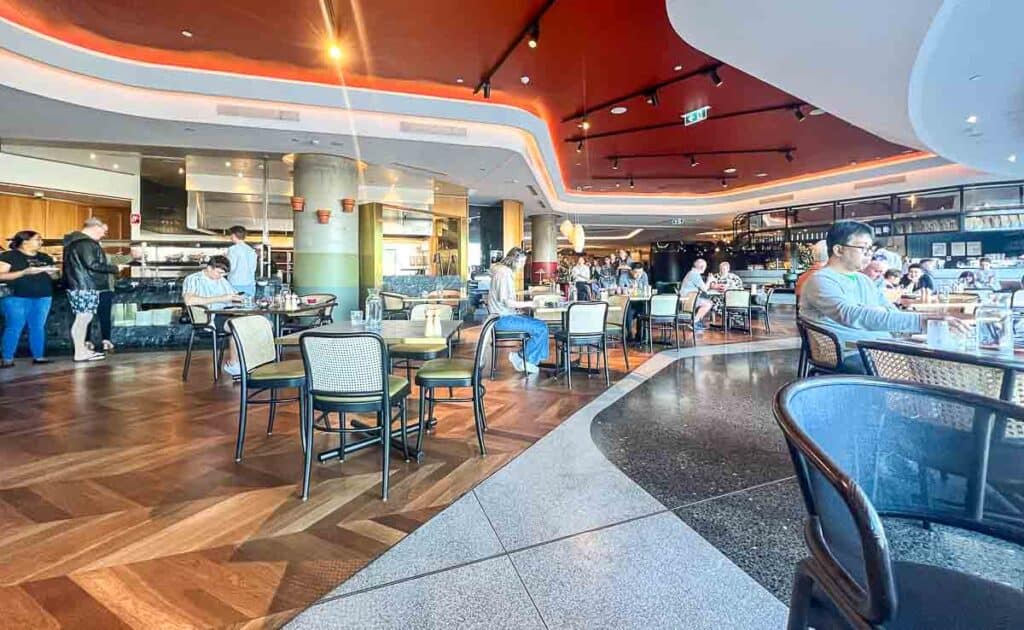 The W Brisbane has three dining venues, which we briefly cover below.
The Lex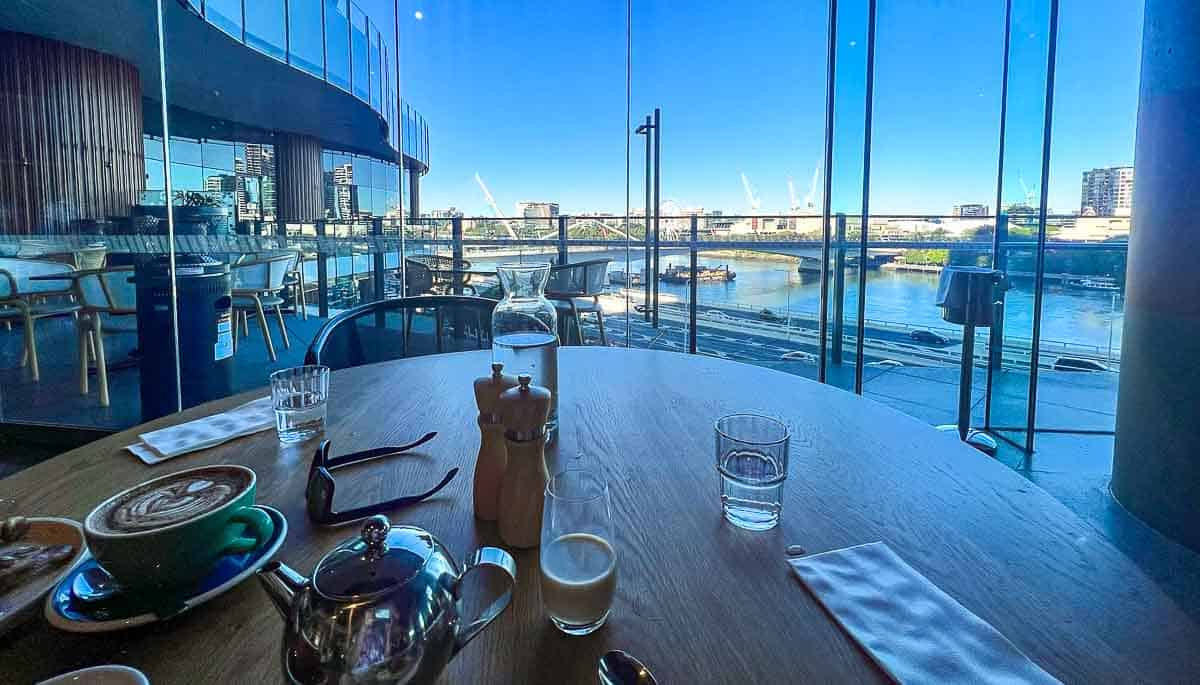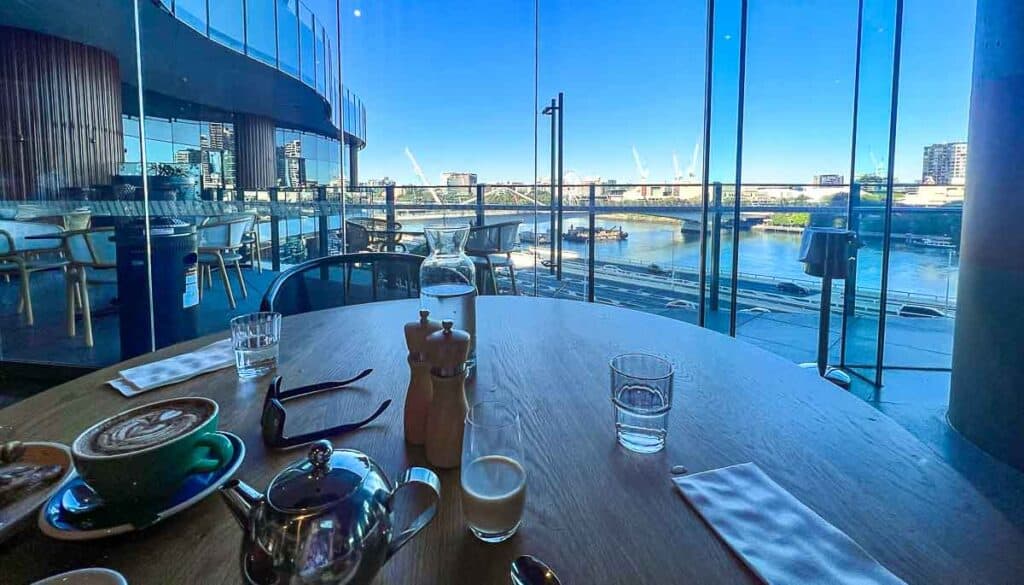 Located on level three with fabulous views across the Brisbane River and out to the Southbank Parklands, the Lex is a New York inspired restaurant focusing on fresh produce and natural cooking techniques.
Menu items range from seafood such as Mooloolaba prawns ($46), Tasmanian ocean trout ($33) or North Queensland champagne lobster ($42) or items from the grill like a wagyu cheeseburger ($38), Darling Downs eye fillet ($76) or a Warwick flat iron steak ($52).
The breakfast buffet is impressive, with a huge range of hot and cold items available, and barista made coffee is included. This is no run of the mill buffet breakfast, which is well reflected in the price ($49 per adult and $24 per child).
If a buffet breakfast isn't your thing, there is also an a la carte menu serving anything from smashed avo on toast ($23) to homemade granola ($23) or eggs just how you like them ($14).
With the stunning river views, The Lex is ideal for those special occasions. I recommend booking in for dinner for Riverfire or NYE – it's an excellent spot for watching the fireworks.
The Lex is open for breakfast from 6.30 am to 10 am on weekdays and 7 am to 10.30 am at weekends. They're open from 12 pm to 3 pm for lunch from Tuesday to Saturday (closed Mondays and Sundays). And for dinner, it's open from 5.30 pm to 9 pm Tuesdays to Thursdays and until 10 pm Fridays and Saturdays.
WET Deck
The Wet Deck is certainly the place to head to, before a night on the town. This ultra cool rooftop bar is located on level four and has fantastic river views, cool tunes, and a vibrant atmosphere.
Whether you're after a fancy cocktail or something to eat, the WET Deck has something for all. The menu is extensive, with a range of great plates to share, such as Tasmania oysters ($7 each), wagyu meatball brioche sliders ($33 for 3) or homemade empanadas ($25). There is a long list of cocktails to match ($22 to $27).
The WET Deck is open Monday to Thursday and Sunday from 11 am to 9 pm and Friday and Saturday from 11 am to 11 pm.
Living Room Bar
The Living Room Bar offers a sleek, chic setting. Here, you can savour a curated selection of craft cocktails, premium wines, and innovative bar snacks, all while DJs spin the latest tunes. It's the perfect daytime meeting place, while after dark, it becomes an immersive experience of light, sounds and visual art.
While sophisticated cocktails are the main attraction at the Living Room Bar ($25-$27), there is a good variety of food on offer including pork panko ($27), steak tartare ($21) or Hervey Bay scallops ($21).
The Living Room Bar is also home to the Sunshine State High Tea, which includes various hot and cold items, including Yeppoon spanner crab, slow cooked lamb pie, salted caramel mousse and Queensland rum and banana cake. Tea and barista coffee are included.
The Sunshine State High Tea is $70 per person and is served on Fridays through Sundays, from 11 am to 3 pm.
The Living Room Bar is open Monday to Thursday from 4 pm to midnight, Friday and Saturday from 11 am to midnight and Sunday from 11 am to 11 pm.
Room Service
If you'd rather make the most of your retro cool room, there is no need to get dressed, let alone leave your room. Room service is available daily from 6 am to 12 am.
Facilities
There are some great facilities at the W Brisbane, which we briefly outline below.
Rooftop pool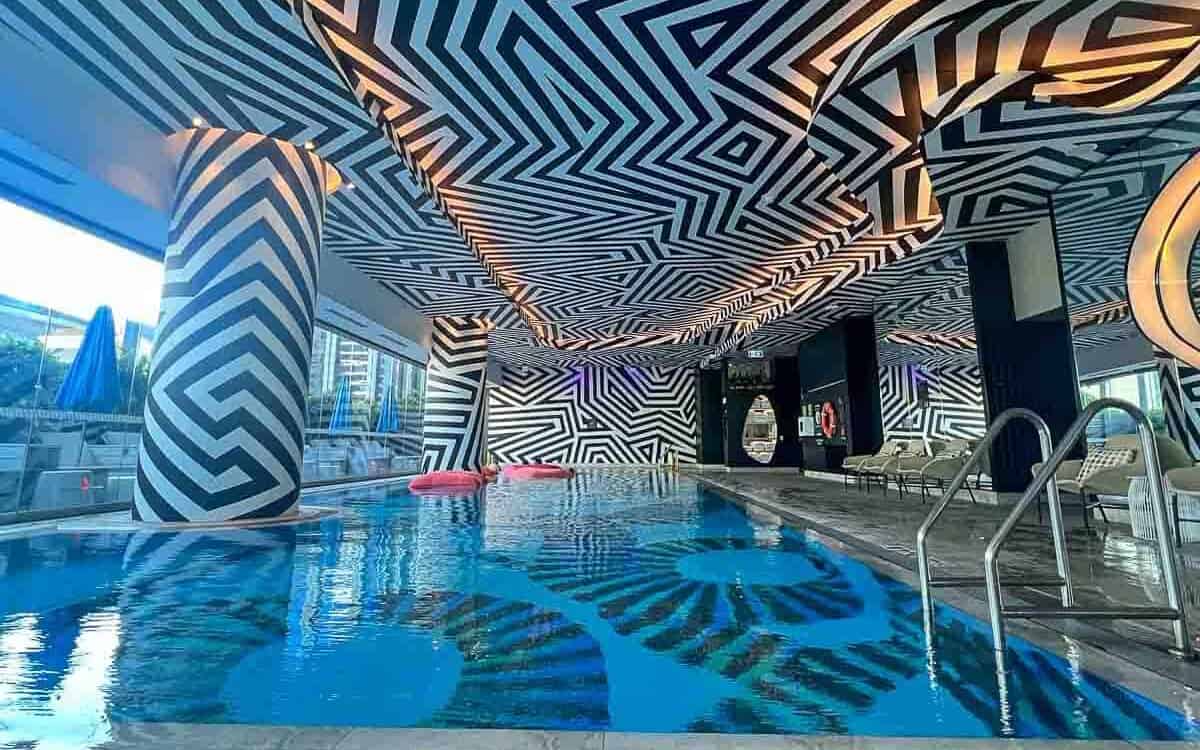 On level four, just outside the WET Deck, you'll find the W's undercover 20 metre swimming pool. With its zebra striped decor, this would have to be the most Instagrammable pool I've ever seen.
The pool is not overly big, and while it's supposedly heated, I still found it too cold to swim in. Around the pool, you'll find a few sun beds and lounges – although not too many, so you may not expect a spot during busy times.
Towels are available on the pool level, so there is no need to bring your own or remove towels from your room. There is also complimentary cold water available.
FIT Gym
For those that like to keep their fitness regime going while away, you'll be pleased to find a state of the art fitness centre at the W Brisbane. The gym features equipment such as ellipticals, treadmills, free weights and upright bikes.
Located on level 6, while you work out, you'll enjoy fabulous views of the Brisbane skyline.
FIT Gym is open 24 hours, so it's always a good time to work out.
AWAY Spa
Located on level five, the AWAY Spa is ideal for those looking for some pampering while away.
The day spa features six treatment rooms, including a couple's space. Treatments on offer include a range of massages, body scrubs, facials, make up services, hair treatments, waxing and more.
All treatments include access to the mineral rich vitality pools, 'His and Hers' steam and sauna rooms. Even if you don't have a treatment booked, guests can use the saunas and steam rooms between 6 am and 8 pm.
Make the most of your spa treatment by spending time in the relaxation pods. These pods fave the river and you can chill while enjoying a drink or two.
Located on level 5, the AWAY Spa is open daily from 9 am to 5 pm. It's recommended to book well ahead of time, as we found out the hard way the spa books out well in advance.
W The Store
If you're after any resort wear while staying at the W Brisbane – head to level one, where you'll find W The Store sleeping garments from the brand Robe.
Robe offers a collection of cotton/silk robes, kaftans and swimwear, as well as accessories like sunglasses, hats, skin essentials and homewares.
W The Store is open Fridays from 12 pm to 6 pm, Saturdays from 10 am to 6 pm and Sundays from 10 am to 3 pm.
Parking
There is parking at the W Brisbane for $60 per day – this is valet parking.
Alternatively, there is parking on site provided by Wilson Parking. Pricing varies depending on what day you park. But pricing is much cheaper if you book in advance online.
Who is the W Brisbane for?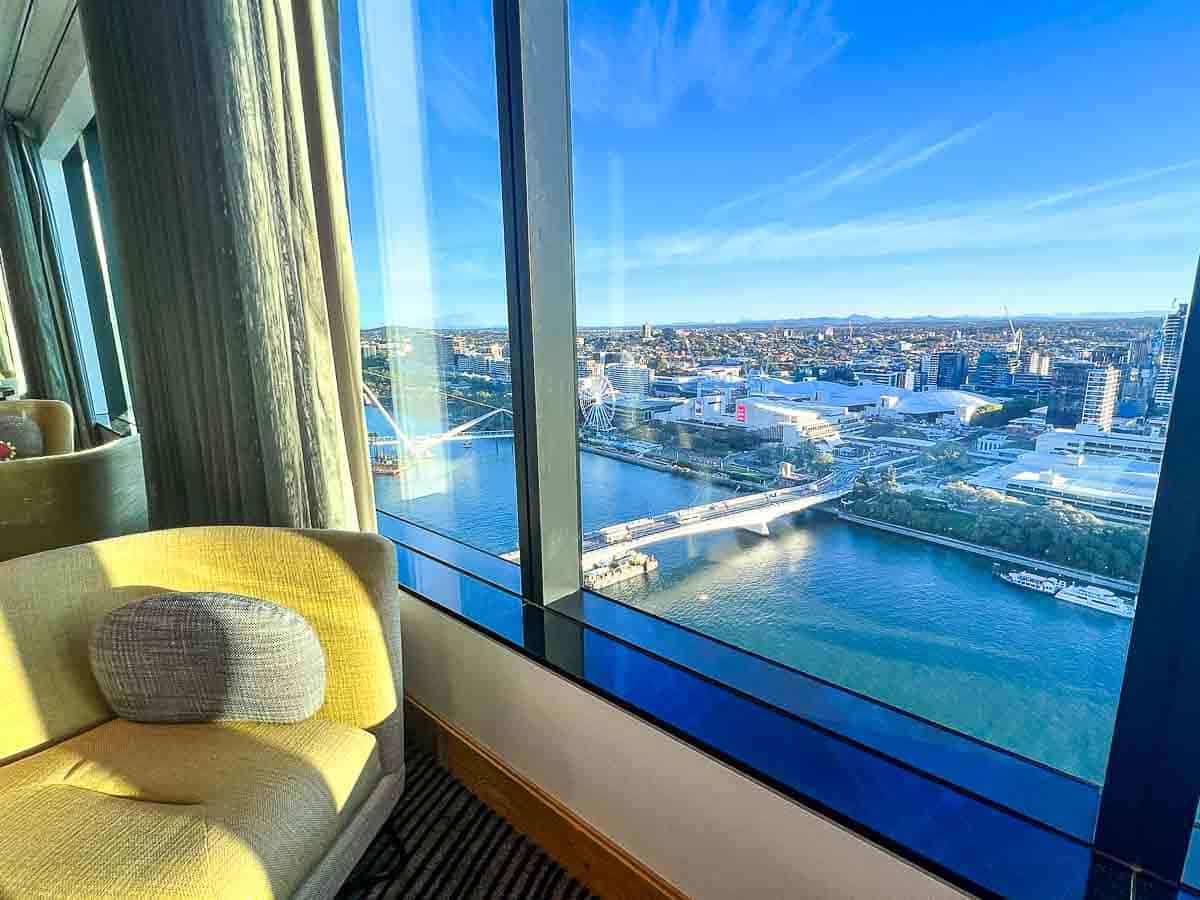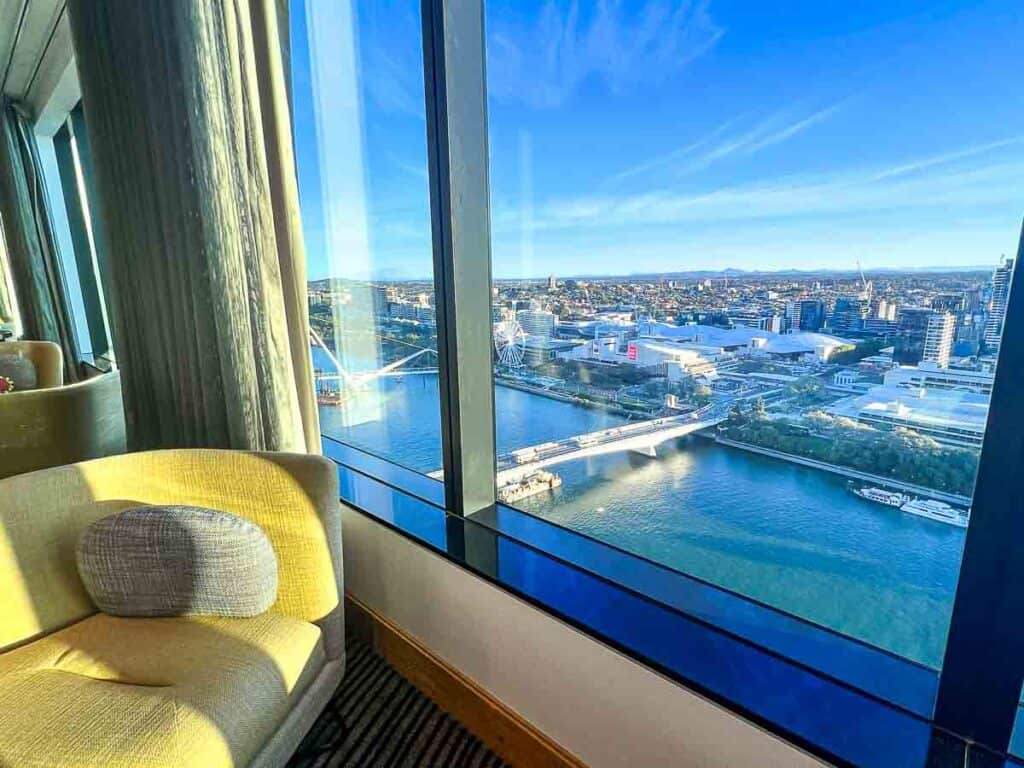 The W Brisbane is perfect for those looking for a luxurious hotel with the wow factor in a central location in Brisbane. Whether you're in the city for a special occasion or staying for a long weekend – from the W Brisbane, you have easy access to restaurants, shops, entertainment and transport.
With the stunning heated pool, fitness centre, day spa and multiple bar and dining options, you may not even leave the hotel. However, if you do, you've got everything you need within walking distance.
The W Brisbane is ideal for couples or a group of friends looking for a fun weekend in the city.
Book Now
We booked our stay through Booking.com as we like the flexibility this provides with their book now, pay later and the free cancellation.
If you've decided the W Brisbane is perfect for your Brisbane stay, click here to check the current pricing.
ENJOY THE W BRISBANE HOTEL
Hopefully, this review has helped you decide whether the W Brisbane Hotel is for you.
If you're planning a trip to Brisbane, I highly recommend you check out our guide to Brisbane, which provides links to everything you need to know to plan your trip.
I'd also recommend you join our free Queensland Travel Guide Facebook community, where you can ask all your questions and find even more great trip suggestions.
If you're heading to the city, you might also be interested in our full guide on things to do in Brisbane, as well as the following nearby destinations: