Short on time but want to experience Outback Queensland? We have the perfect 7 day itinerary for you which covers a road trip from Longreach to Winton.
The Queensland Travel Guide acknowledges the Traditional Custodians of the land on which Longreach and Winton are situated, the Iningai and Koa people. We pay our respects to their Elders past, present and emerging, and recognise their continued spiritual and cultural connections to Country. Always was, always will be, Aboriginal land.
Outback Queensland offers a unique, adventure-packed experience where you can explore the rugged wilderness, immerse yourself in important cultural stories, enjoy a yarn with the friendly locals and dive deep into the region's fascinating historic roots.
If you want to enjoy the best Outback Queensland has to offer but you're short on time, this 7 day itinerary brings together the best Outback Queensland attractions and sights so you won't miss a thing.
This post may contain compensated links. Please refer to our disclaimer here for more information.
WHY YOU SHOULD VISIT OUTBACK QUEENSLAND
The Great Barrier Reef, K'gari (Fraser Island) and the Gold Coast tend to be at the top of most people's Queensland bucket lists. The thriving reefs, towering rainforests, pristine lakes and expansive surf beaches are all worthy sights in Queensland, but one location that often gets overlooked (even though it's bucket-list worthy) is Outback Queensland.
The Queensland outback offers an authentic and unique Australian experience that you cannot afford to miss.
Queensland has such a diverse landscape with stunning beaches and World Heritage-listed rainforests, but to fully experience Queensland you need to visit the outback. Over half of Queensland is made up of this wild and vast landscape, so to miss this essential region out of your itinerary is missing the true heart of Queensland.
Queensland's outback has a rich history, strong cultural traditions and a unique ecosystem, and it offers such a different travel experience to the coastal towns of Queensland.
In the Queensland Outback, you can…
see kangaroos emus, echidnas, koalas, camels and birds in their natural environment
enjoy a cold beer at an outback pub while friendly local bushies spin you a yarn using Aussie slang that you can barely translate
cruise down rivers in old paddle boats while learning about the area's fascinating pioneering history
hang out in the shearing shed with the shearers and their cattle dogs to see sheep being clipped using century-old methods
gallop across the land in an old Cobb & Co stagecoach as red dust whips in your hair and experience how locals travelled 100 years ago
marvel at the real life footprints of dinosaurs that roamed the earth millions of years ago
gather around the campfire eating stew and damper and listening to stories of local legends and bushrangers.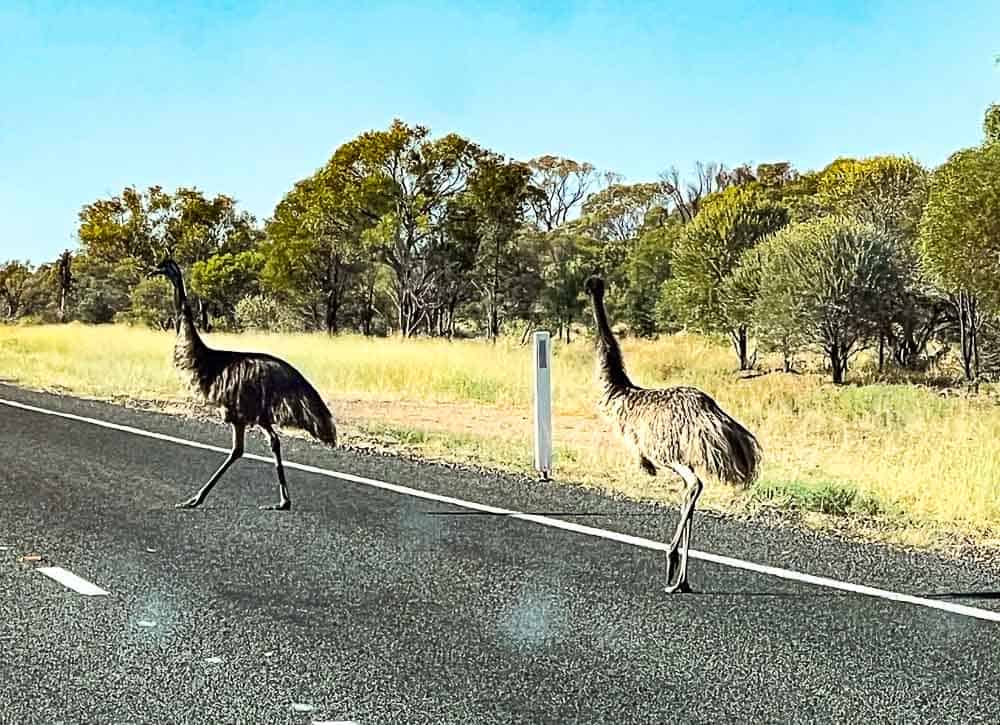 Forget following the crowds of tourists to a theme park or zoo – Queensland Outback is an authentic, gritty, real Aussie experience that will stay with you long after your Queensland trip is over.

If you want to truly immerse yourself in this sunburnt land and get to know its people and its history through stories that have been passed down through the generations, make sure the outback is on your Queensland travel itinerary.
LONGREACH TO WINTON: GETTING THERE
Outback Queensland covers a huge area. You're not going to see the whole of the outback in a week, but seven days is a solid amount of time to explore Longreach and Winton, two of the region's main towns. One week gives you enough time to visit the key Winton and Longreach attractions and experience the main sights.
How to get from Brisbane to Longreach
A lot of people take a caravan or motorhome to explore the outback as this provides full flexibility. If you don't own one of your own, you can hire a van from a website like Camplify or one of the many motorhome rental companies in Australia.

A great alternative is driving and staying in motels or hotels.
The drive time from Brisbane to Longreach is just under 13 hours, so if you decide to drive all the way that eats up a chunk of your itinerary (and you'll likely want to add in one of two overnight stops on the way to break it up).

A faster way to begin your trip from Brisbane is to fly directly to Longreach Airport. Longreach to Brisbane flights with Qantas take just three hours and depart daily in both directions.
Another way to visit the region is to get to Longreach by train. The Longreach to Brisbane train does take 26 hours, but if you love the idea of a Longreach train holiday, it's a great way to see the outback in comfort. With just seven days to explore though, you're much better off considering faster transport options to get from Brisbane to Longreach and back again from Longreach to Brisbane.
Save the Longreach train holiday for a future trip when you have more time to spare!
Getting to Longreach from other towns
Longreach flights and Winton flights are available from Townsville in Far North Queensland if you're adding your Longreach holidays onto a Great Barrier Reef trip.
Flights from Townsville take around 2.5 hours and depart on Tuesday and Thursday mornings with the regional airline, REX. Longreach to Townsville flights depart on Tuesday and Thursday afternoons. Flights to Winton from Townsville also depart Tuesday and Thursday afternoons and take 1.5 hours.
You can also drive to Longreach from Townsville (7 hours 20), from Gladstone (8 hours 20) or from Rockhampton (7 hours 15) if you happen to be taking an outback detour during a coastal road trip.
Hire a car for Outback Queensland
Having a car for your outback adventure isn't essential but it is highly recommended. You'll be exploring remote outback towns and there isn't public transport.
While there are lots of Longreach and Winton tours, and you can arrange taxis and hotel transfers, it is much easier if you can explore the things to do in Longreach and Winton with a car.
If you are hiring a car, a 4WD will give you access to a few more places, but it's not essential so see what's available and what meets your budget.
Whether you're driving your own car or a hire car, it's a good idea to avoid driving in the outback at night. This is when the region's wildlife is most active and it can be very dangerous (for you and the animals!).
LONGREACH TO WINTON 7 DAY ITINERARY
Day One: Arrive in Longreach
On day one of your Outback Queensland adventure, you'll arrive in Longreach by either plane or car. Your arrival time will depend on how you travel to Longreach.

If you've flown in, you'll collect your hire car and head to your Longreach accommodation.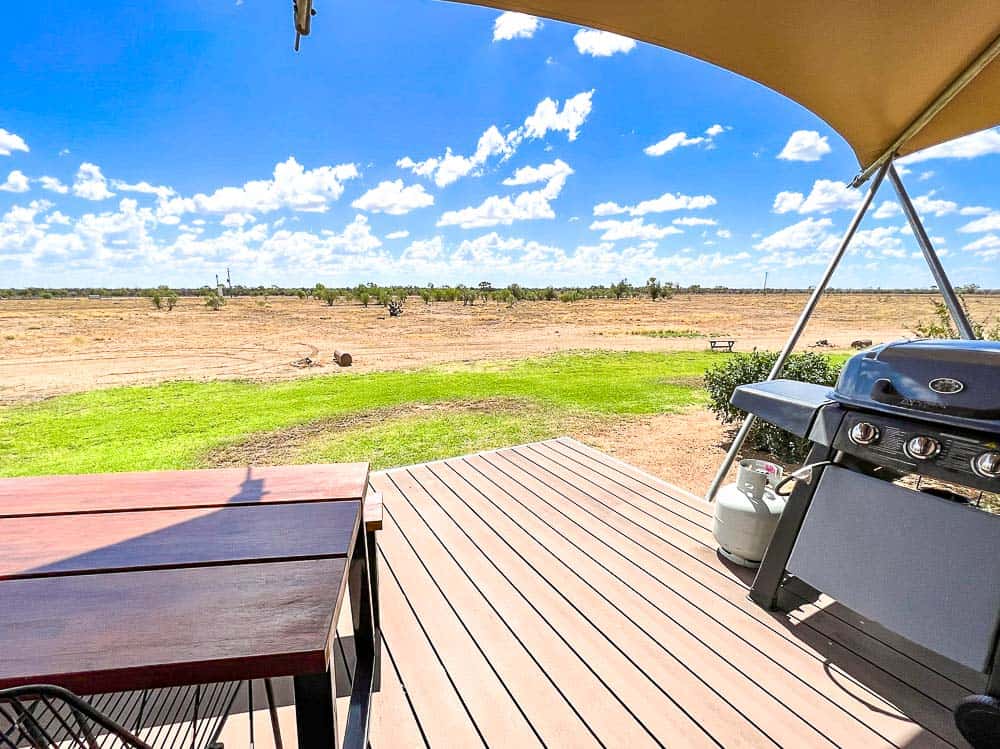 Mitchell Grass Retreat is a stunning property to choose for your Longreach accommodation if you have your own transport (it's a short drive out of town but well worth the effort).
This Longreach luxury accommodation offers incredible, air conditioned, en-suite glamping tents!
Each of the Longreach glamping tents comes with luxury linen, a sumptuous king size bed, a kitchenette, a small lounge area, a massive bathtub with a great view of the surrounding Mitchell Grass Plains, and your own private deck with BBQ!

You also have your very own campfire – the perfect spot to sip the complimentary port that's provided in your room.
The property also has a swimming pool on site so you can cool down between tours (essential in the outback heat!), and each morning you'll be provided with a gourmet breakfast pack which is the ultimate way to start your day.
Check prices for Mitchell Grass Retreat here
If you don't have your own vehicle, it's a good idea to choose one of the Longreach hotels on the main street in town as you'll find it much more convenient.
The boutique heritage-themed Staging Post is a unique property that oozes vintage charm. There are two room types to choose from: The Stables (offering rustic-luxe style inspired by the stables where the Cobb & Co horse teams rested after their long journeys) and the Coach Inn (these self catering rooms come with kitchenettes so you can prepare some of your own meals which is handy if you're on a budget).

Check prices for The Staging Post here
Afternoon
Depending on what time you settle into your Longreach accommodation, you might want to just relax at your hotel for the afternoon and take in the scenery (this is highly recommended if you're staying at Mitchell Grass!), take a wander around town to find your bearings or make a start on some Longreach sightseeing.
If you're eager to tackle some Longreach activities immediately, the Qantas Museum is a great place to begin (see more on the Qantas Musuem below).

Enjoy the afternoon, go for dinner and get ready for the exciting week ahead!
Day Two: Longreach attractions
About Outback Pioneers and the Kinnon family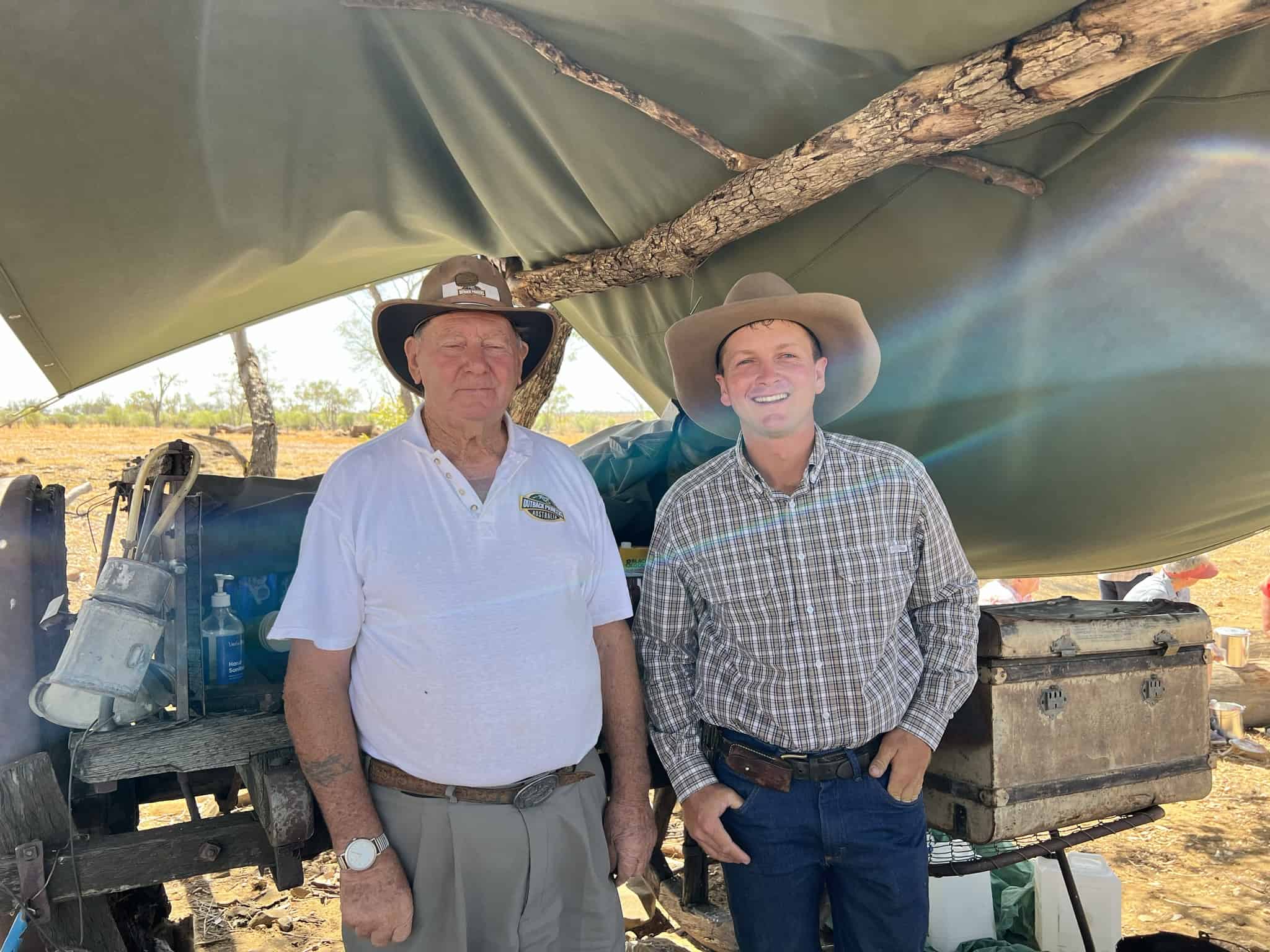 On day two, it's time to introduce you to the Kinnon family, the founders of Outback Pioneers, one of the region's main tourism operators. The Kinnons have lived near Longreach for decades working as graziers with sheep and cattle stations while raising their family.
In 2006, due to the challenges of drought conditions faced by many farmers in Queensland, they decided to try their hand at tourism to supplement their grazing income.
They started with one tour, then added another and another. Now they are one of the most successful tourism businesses running Longreach day tours, winning multiple awards for their holidays, accommodation and experiences.
Outback Pioneers is still very much a family enterprise, with Richard and his two grown-up sons, Jeremy and Lane, still running the tours they're passionate about. This is as authentic as it gets and their mission is to inspire and educate visitors with their stories and hilarious jokes.
The Kinnon family also run The Staging Post recommended above, and the Welcome Home – a great pub in town.

Your first experience of a Kinnon family tour is…
Cobb & Co Stagecoach Experience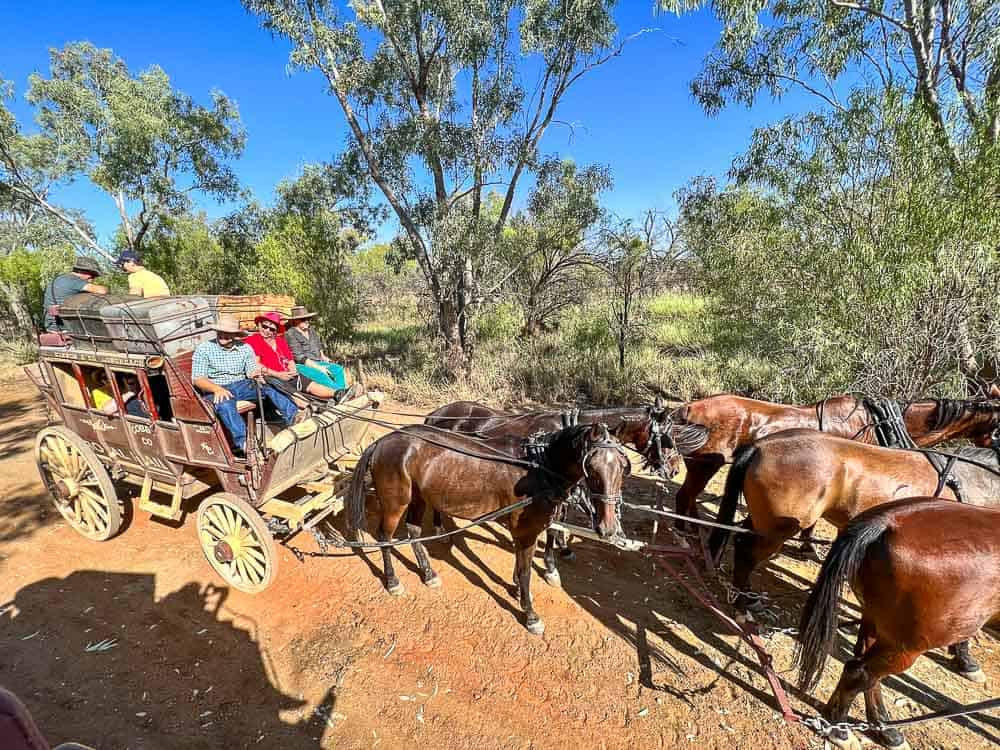 The Cobb & Co Stagecoach tour is a Longreach must-do activity. The experience takes you on a thrilling ride in a Cobb and Co wagon, where you can sit inside or up top (or even up front with the driver!). Be warned: you will end up covered in red outback dust so consider this when deciding what to wear and where to sit! (It's all part of the unique experience!)

As it's noisy travelling in an old wagon, a headset allows you to hear the commentary from your guide as they relay the fascinating history of the old stagecoaches and the journeys they used to take.
The tour involves plenty of delicious food at morning tea, a classic bush movie in the old retro cinema and the Harry Redford Old Time Tent Show – classic bush entertainment from back in the day (aka silly jokes and skits and some well-trained farm animals thrown in for good measure!).
The tour lasts for four hours and runs daily from Monday to Friday in the April to October season.
Mid afternoon
After your exhilarating morning, you can explore the shops in town or even take an afternoon nap. If you're staying at Mitchell Grass, this is the perfect opportunity to head back for a swim and relax on your deck to watch the world go by.
Starlight Cruise Experience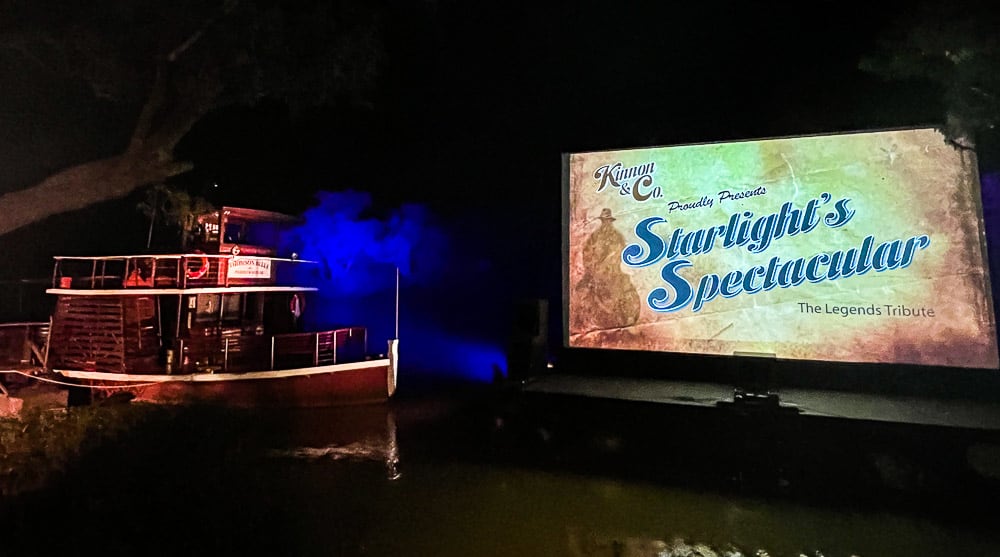 As the day begins to draw to a close, your next tour – a Longreach river cruise – awaits. Cruise down the Thomson River on a historic paddle wheeler and gaze across the water as the sky swirls orange while sipping a cool drink (BYO or purchase soft drinks on board), then enjoy dinner and some yarns by the crackling campfire.
A stockman's dinner of stew and damper is served, followed by a hearty dessert, such as apple pie and custard, as you enjoy the stories and bush poetry.

After dinner, it's time to enjoy the Starlight Spectacular Sound and Light Picture Show while sitting in stadium-style seats. You'll enjoy a short movie about Captain Starlight (Harry Redford). an Australian bushranger who is best-known for stealing 1000 cattle from Bowen Downs Station near Longreach and walking them down to South Australia where he sold them all. When he was caught and brought to trial in Roma, the jury were so impressed by his crime that they found him not guilty, thus making him a local legend!

This four-hour experience runs Monday to Saturday evenings in the April to October season.

Head to bed with your belly full and sleep soundly after all that you've experienced on this adventure-packed day.

Click here to book online
Day Three: Longreach activities
Longreach School of Distance Education
Have you ever wondered how kids in remote Queensland communities go to school?

Technology has transformed how learning takes place in the outback. The Longreach School of Distance Education is one of the world's largest classrooms!

Take a tour of the facility and discover how students in remote locations learn, even if they are hours from the nearest school building.

If you're able to time your visit during term-time you'll get to see the school in action and meet some of the kids on air. Tours still run outside of the school holidays – you just won't be able to see the learning in action.

Tours run twice daily on weekdays (from March to October excluding public holidays) at 9 am and 10.30 am and they last one hour.
Longreach Stockman Hall of Fame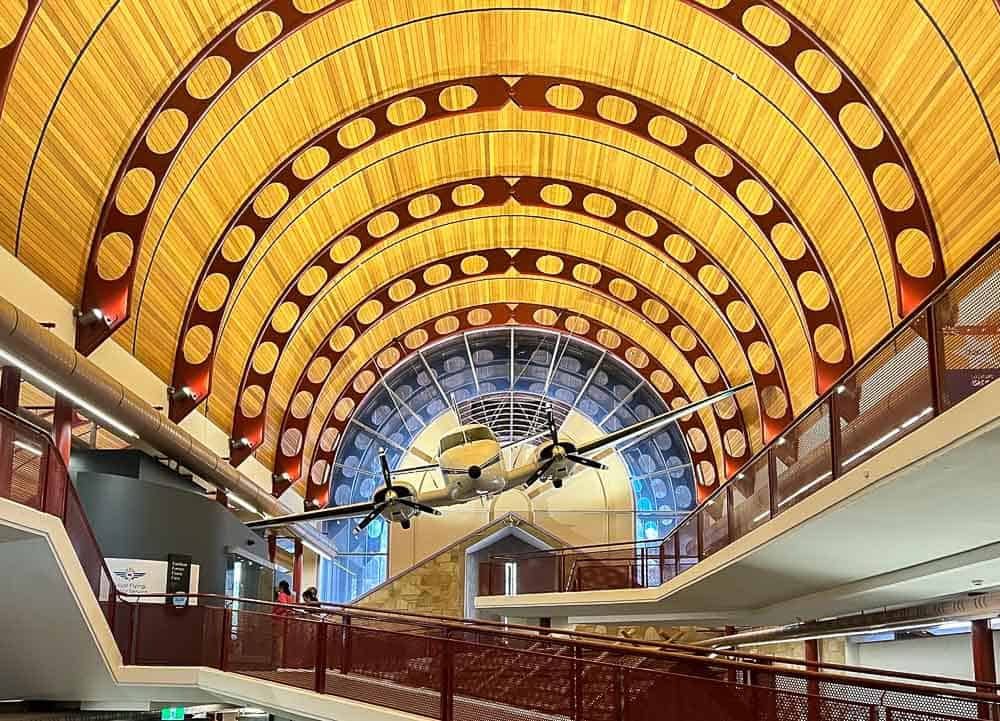 Passing on the history of life in the bush through captivating storytelling, Longreach Stockmans Hall of Fame is the place to go to learn about the pioneers of the outback.

This attraction is split into three sections: the cinematic experience, the Stockman's Live Show and the museum. You can buy a package to enjoy the whole attraction (which is highly recommended) or just buy tickets to the museum if you prefer.
Visiting the cinematic experience first really sets the scene of life in the rugged outback and the challenges that the people living and working there faced. You will come away with a much greater understanding of what life was like through the eyes of the stockman (those who rear livestock in the region, basically Australia's equivalent to a cowboy).

The daily (except Fridays) Stockman's Live Show runs from April to October and it's a real highlight and one of the Longreach tourist attractions you don't want to miss. It's an entertaining show featuring horses, dogs and sheep, with plenty of banter and Aussie lingo and jokes.

When it comes to the museum, allow yourself plenty of time to explore (don't forget a pit stop at the cafe for afternoon tea!). There is an audio guide to help you and plenty of exhibits where you'll learn about Australia's history and the life of the region's pioneers.

Head back to your accommodation with your head filled with stories of times gone by and a new appreciation for the people that made this region their home despite its challenges.
Day Four: Longreach experiences and stories
Nogo Station Experience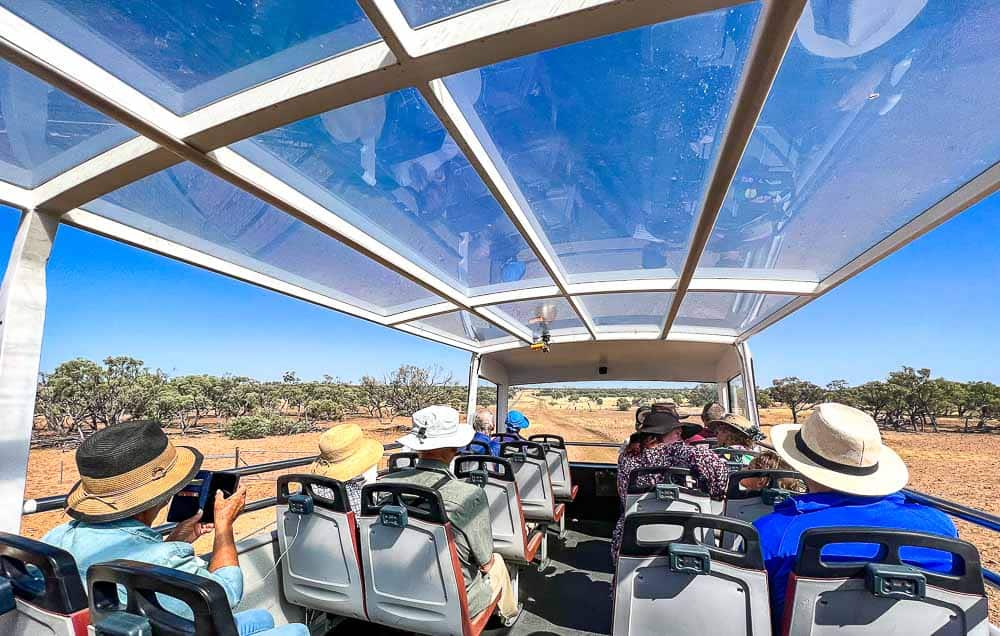 Today you will journey into the real outback where generations have worked hard to survive in these harsh, challenging conditions.

The Nogo Station Experience gives you a flavour of what life is really like living and working on an outback station (past and present). Enjoy a tour of the Kinnon family property, known as Nogo Station, which was built in the 1880s. This working cattle and sheep station gets its name because when the region floods, it's a 'no go' area.
You'll be enthralled with stories of station life, with plenty of hysterical jokes thrown in to keep the experience light and entertaining. Learn all about merino sheep and their precious coats in the shearing sheds and see how they were (and still are) sheared using traditional methods.

You will be able to explore the vast property on board an open-topped double-decker bus with a headset commentary allowing you to learn from your entertaining guide as you travel.
During the tour, you might be lucky enough to see some wild camels, donkeys and kangaroos.

If Jeremy or Lane are running your tour, they might let you in on some of the cheeky adventures they got up to when growing up on the station.
A tour wouldn't be complete without a typical stockman's saddlebag lunch under the shade of the gum trees.
Nogo Station tours run on Tuesdays and Fridays and depart early due to the heat. (You might need to switch some of your itinerary days around to slot this in).

Click here to book online
Qantas Founders Museum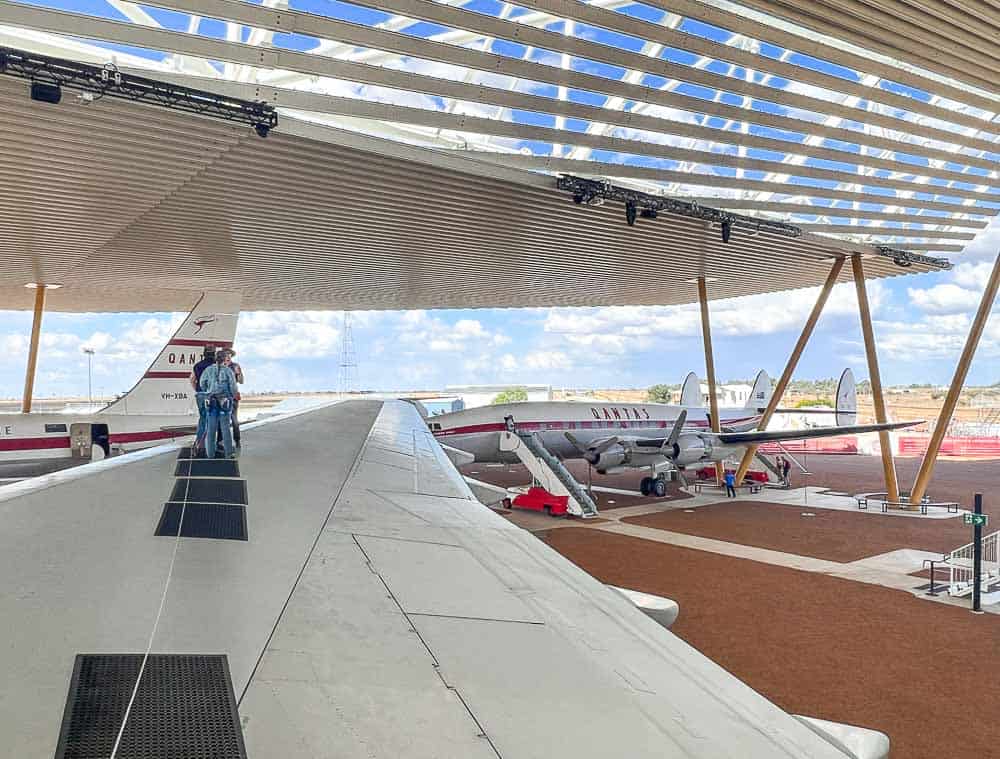 If you didn't explore on your first afternoon, now is the time to head to the Qantas Founders Museum (if you visited already, you have free time to relax!).

Australia's national airline has been operating since 1920 and there is a treasure trove of information to learn about the history of the world's third largest carrier. Did you know the airline actually started in Winton and its first passenger flight was from Longreach?
Weaving stories of the organisation's colourful characters with fascinating aviation history and engineering feats, you will learn all about Australia's aviation history through a range of multimedia displays, interactive activities and full-scale replicas.

Ever wondered what a black box really looks like, or what goes on in the undercarriage? Have you ever walked on the wing of a 747? Today you will have the opportunity for all of it and more (depending on the ticket package you buy), plus you can even try your hand at landing and taking off on the flight simulator.

If you love to travel, this museum is a must-do Longreach attraction as it is packed with fascinating facts as well as lots of fabulous memorabilia. You even get to see inside a 707 which was converted to a luxury charter jet and was once used by the Jackson 5 in the 1980s while on tour.

A range of ticket options are available, so you can choose which parts of the experience you want to include.

Your mind will be buzzing from all that you've learned, so enjoy a relaxing evening and pack up your things ready for part two of your Outback Queensland adventure!
Day Five: Head to Winton
Drive to Winton (or book the full day Winton Discovery Tour from Longreach)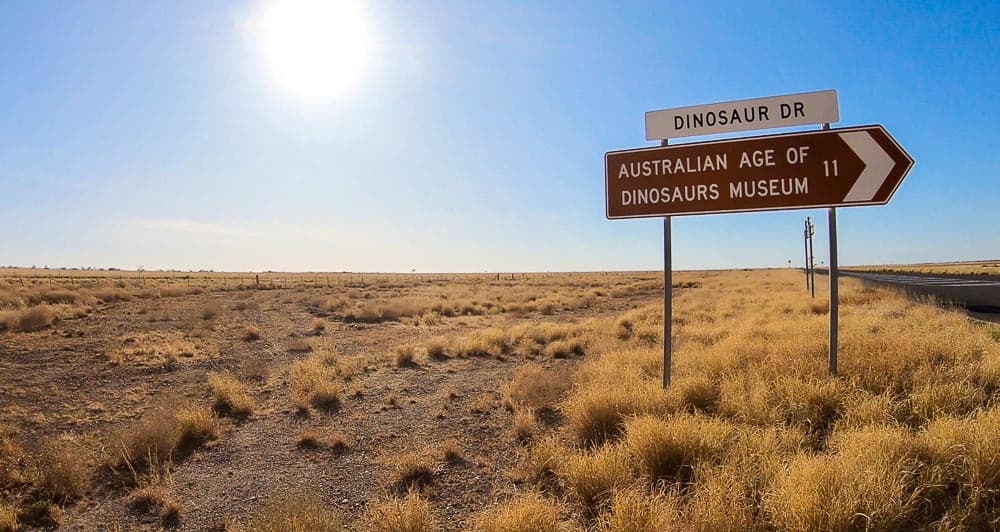 On day five, we recommend relocating to Winton for the remainder of your stay in the outback.
Take the Longreach to Winton drive (just under two hours) if you have your own car. (If you prefer to stay based at Longreach and visit Winton on day trips, you can consider booking the Winton Discovery Tour from Longreach). Click here to book the day tour

Winton offers a very different landscape to Longreach so it's worth spending some time exploring the town.
Australian Age of Dinosaurs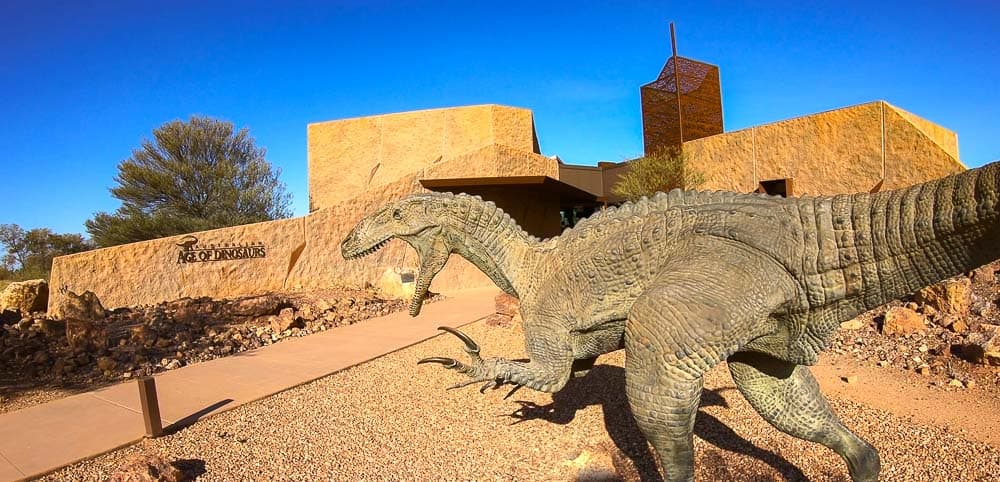 Winton is considered the dinosaur capital of Australia. This discovery was made when a sheep farmer found some ancient bones on his property in 1999. Since then, numerous dinosaur remains have been uncovered attracting experts and enthusiasts from around the world.
The Australian Age of Dinosaurs opened in 2002 to showcase the largest collection of Australian dinosaur fossils in the world.
This world-class natural history museum allows you to peek behind the scenes to see how Australia's dinosaurs were carefully recovered. You can see real dinosaur footprints and view Australia's largest carnivorous dinosaur (nicknamed 'Banjo') and Australia's most complete sauropod (nicknamed 'Matilda').
After you've toured the fascinating exhibits, experience what life was like in the dinosaur age by visiting Dinosaur Canyon and seeing models of Australia's dinosaurs scattered across the landscape.
You visit each section via a guided 30-minute tour, except for Dinosaur Canyon, which is a self-guided tour.
The museum is well spread out, so you need to allow time to walk between the different locations, although there is a shuttle bus for one of the sections.
It gets HOT so leave Longreach early so you're at the museum as it opens and then you'll be finished by around lunchtime.
To experience all the Australian national dinosaur museum offers, it's worth allowing three to four hours. Don't forget your hat, sunscreen and water as it gets hot at Dinosaur Canyon!
There is a small cafe on site that sells coffee, drinks, ice cream and snacks so you can refuel in between tours.
Waltzing Matilda Centre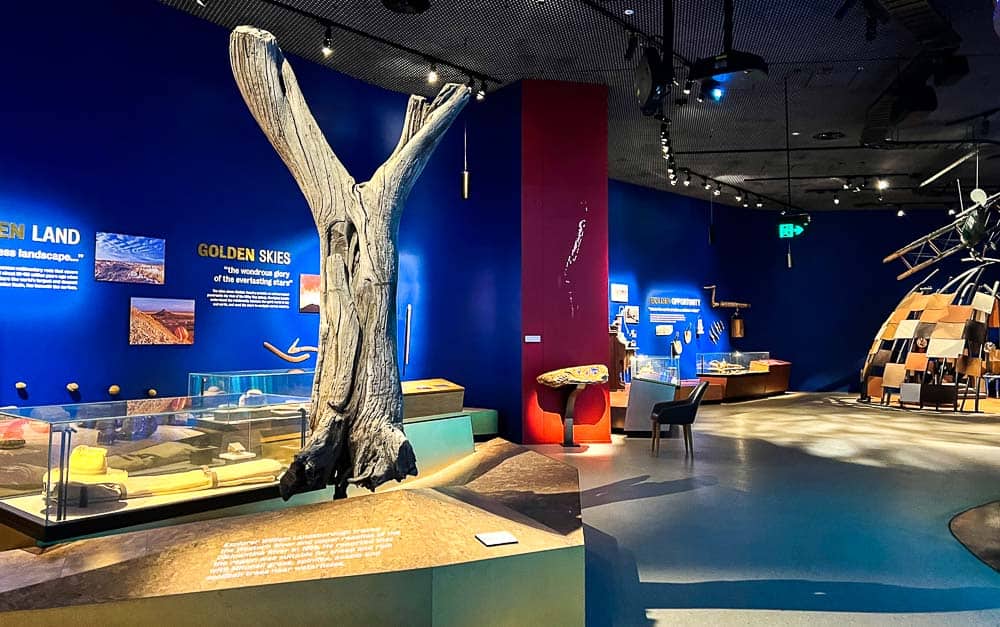 'Waltzing Matilda' – known by some as Australia's unofficial national anthem – was written by Banjo Paterson near Winton. The iconic Australian song was first performed at the North Gregory Hotel in Winton. You can even see the piano it was played on!
The Waltzing Matilda Centre celebrates the song and its history. It is thought to be the first museum in the entire world dedicated entirely to a song.
At the Centre, you'll also find an exhibition about WW1, and a gallery of outback art displays.

If you haven't had lunch, take a break here and enjoy some at the on-site cafe.

You can continue your learning as you enter the fascinating Qantilda Museum which is accessed through the Waltzing Matilda Centre. Enjoy a treasure trove of the history of Winton with lots of mementos from the past including domestic items, bottles and vintage equipment.
Check into your Winton accommodation
If you've decided to stay in Winton now that you've completed the Longreach tours and attractions (rather than booking tours from Longreach to Winton) you have a few accommodation options.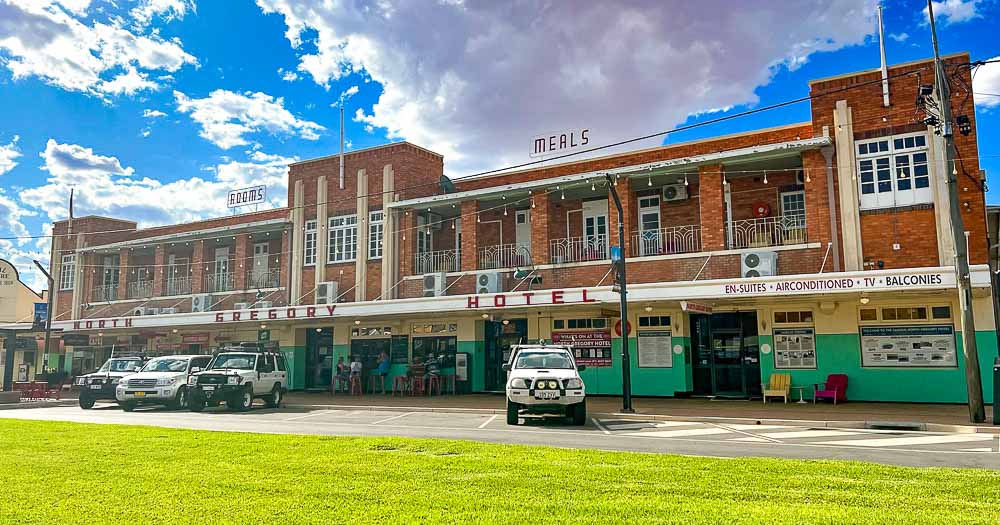 North Gregory Hotel is located in the centre of town just a short walk from the Waltzing Matilda Centre.
This historic building is famous for being the location where Banjo Paterson first played Waltzing Matilda live to an audience. Since its opening in 1879, the hotel has been a focal point for locals and travellers looking for an authentic, comfortable experience.
Rooms are air conditioned and include tea and making facilities and a bar fridge, and you can enjoy a cool drink in the pretty beer garden, take a dip in the heated hydrotherapy spa or enjoy the live music that takes place most days from April to September.

Check out prices at North Gregory Hotel here
Rangelands Outback Camp
For a splurge, the ultimate luxury outback experience is staying at Rangelands Outback Camp where you can experience the ancient landscape from the comfort of a luxury tent.

This boutique, adults-only camping experience has only six tents for a maximum of 12 pampered guests. The off-grid, supersize tents have a king size bed along with designer comforts such as air conditioning/heating, rainwater showers and an en-suite bathroom. You will enjoy drinks and a cheese platter on arrival, and all breakfasts and dinners are included (prepared by your personal chef) along with wines, beer and spirits, so at night you can kick back and relax to immerse yourself in this wilderness experience.

This has to be one of the most incredible places in the world to watch the sunset as you look out across at the vast, ancient landscape.

If you don't have a car, you can arrange a transfer from Longreach and a range of tours can be organised from the resort so you can get out and explore Winton.
Dinner in Winton
Depending on where you're staying, either have dinner at the North Gregory Hotel and enjoy the hearty pub food, chat with the locals and hopefully enjoy some live music if the days align.
If you're staying at Rangelands Outback Camp, settle in and enjoy a cool drink as your gourmet meal is prepared while enjoying the rustic outback view.
Winton Discovery Tour
If you decided to stay in your Longreach accommodation for the whole week and booked on to the Winton Discover Day Tour, you will have a packed day of adventure to enjoy that includes the Age of Dinosaurs Museum, lunch at North Gregory Hotel, a visit to the Waltzing Matilda Centre and some free time to explore the town.

This tour runs from 6.45 am to 4 pm, and it runs on Saturdays from April to October (so you may need to adjust your itinerary to fit this in).

Click here to book the day tour online
Day Six: Explore Winton
Dinosaur Stampede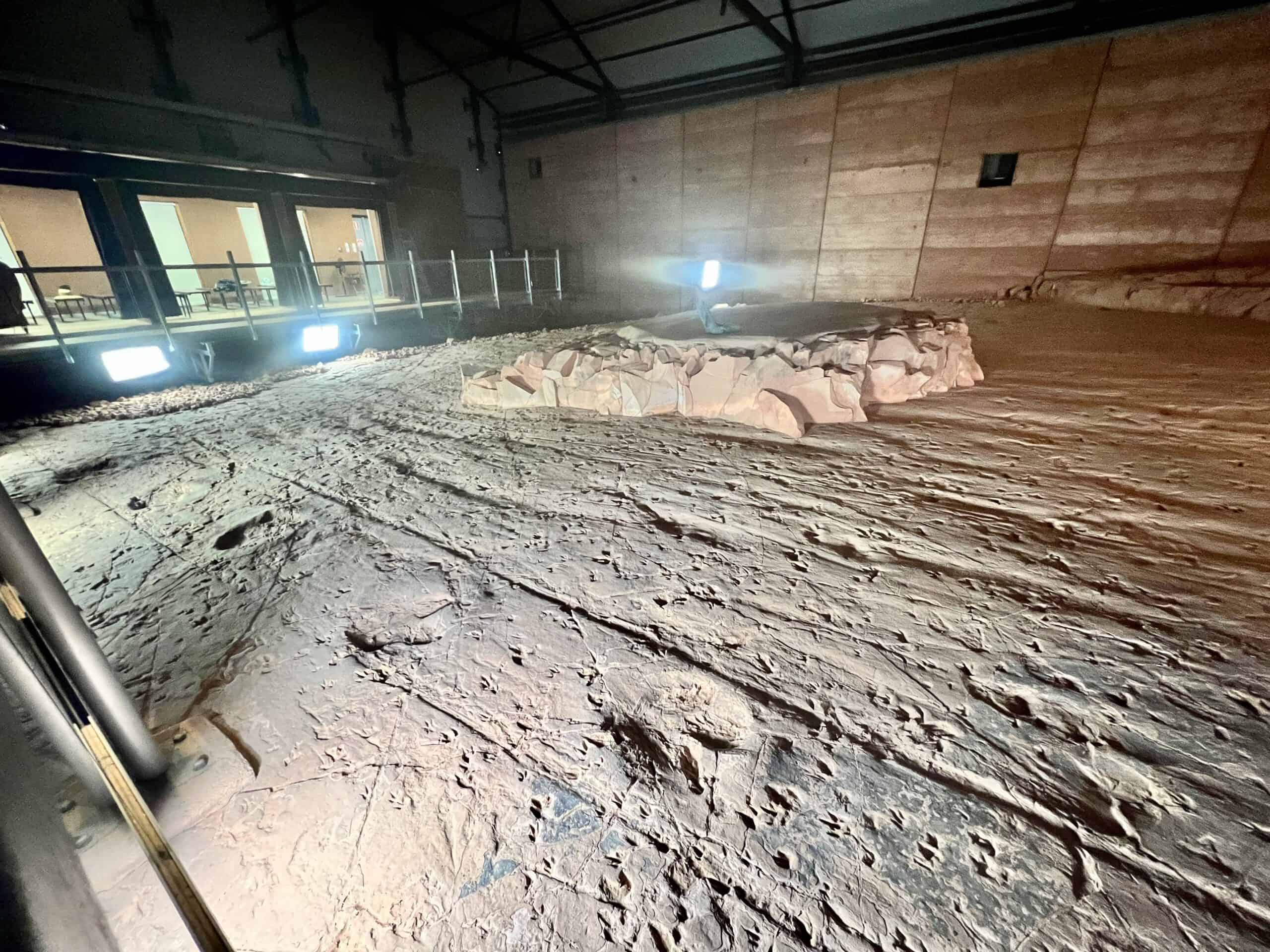 Winton has a lot more to explore, so if you're spending your last day in the outback here, you're in for a treat. Today will begin with a 90-minute drive to see the fantastic Dinosaur Stampede (the drive time is over three hours one-way if you're travelling from Longreach).
This incredible dinosaur monument brings back to life a moment that took place 95 million years ago. A herd of at least 150 small, two-legged dinosaurs were visiting Lake Quarry river plain to drink when a large, carnivorous theropod stalked and then charged its prey. The herd left a chaotic mass of over 3,300 footprints scattered over the rock face.
A 45-minute guided tour takes you to see the footprints and explains how they were so perfectly preserved through time. You are literally standing where dinosaurs once roamed the earth – unbelievable!

Allow more time to explore and hike around the centre as the landscape is breathtaking.

The Spinifex Circuit is graded as an easy to moderate 500 metre self-guided walking circuit around the Dinosaur Stampede National Monument, so at the very least allow some time to do this (but if you have longer to spare you can tackle one of the other longer hikes).
The track takes you to a lookout where you can enjoy expansive views of the Mitchell grass downs and channel country. It's difficult to imagine how this harsh, arid landscape has been shaped and carved by water.
Allow around 15 to 30 minutes to complete the circuit, but you'll need longer if you're captivated by the view!
The Jump Up Loop track is graded difficult and will take approx 90 minutes to complete the 3.5km walk. It branches off the Spinifex Circuit and skirts several gullies before climbing the western escarpment, where you will encounter spectacular views across the rugged landscape and then rejoin the Spinifex Circuit.

For any of these walks, wear comfortable shoes and don't forget your water, hat and sunscreen!
Explore sites around Winton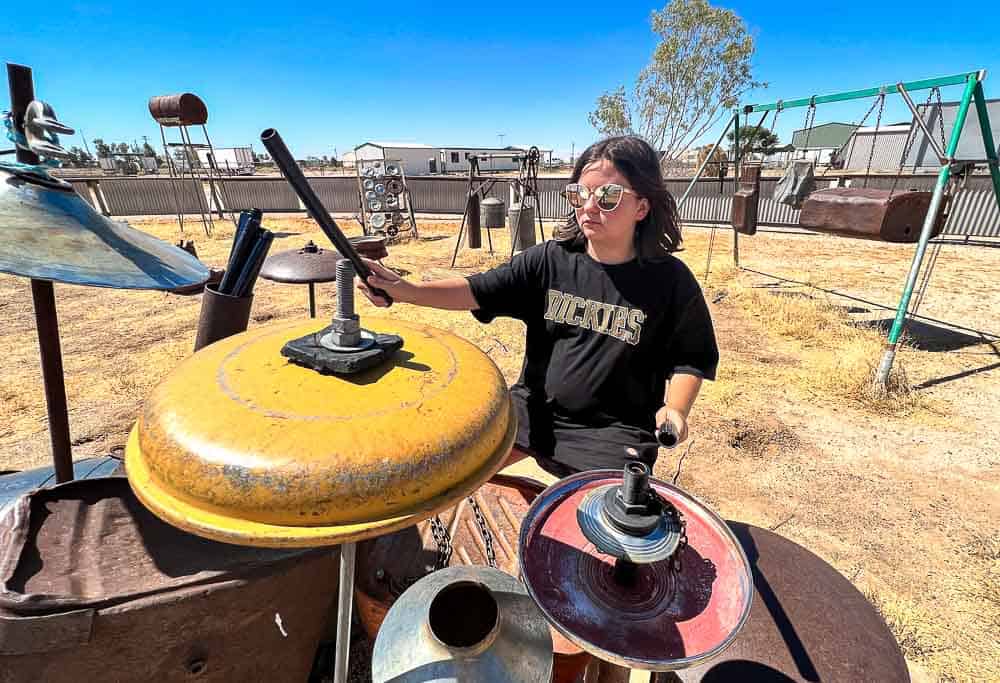 There are plenty of quick activities to fill your afternoon in Winton, so you won't be short on things to do. Choose your favourites from the list below (or work your way through all of them!)

The Musical Fence is a unique installation created in 2003 by percussionist and composer Graeme Leak. It's the first permanent musical fence installation in the world! For this reason, people from near and far stop and play here. It caught worldwide attention when sounds from the Musical Fence were used on a track in Gotye's 2013 Grammy Award-winning album.

Stop briefly at Arno's Wall to see this unique structure that was constructed using concrete and rock from Arno's opal mine at Opalton. The wall incorporates everything from motorbike parts, typewriters, ovens, wheels, televisions, boat propellers and sewing machines…basically any industrial or household item, and it even includes the kitchen sink! The wall is two metres high and it stretches for more than 70 metres!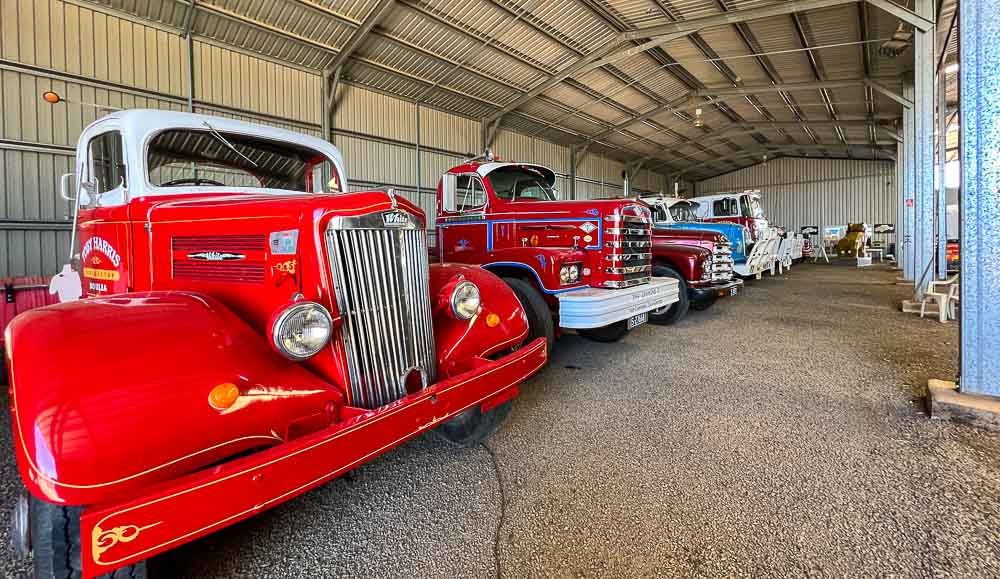 The Diamantina Heritage Truck and Machinery Museum is perfect for truck-enthusiasts. The museum features fully restored beasts of the road, including heritage trucks, tractors and machinery; while they may no longer have any grunt, the volunteers ensure they still have their gleam. You'll enjoy a nostalgic trip into transport history as you wander through the shed.
History buffs should allow some time to explore Winton Historic Cemetery. Established in 1876, the Winton Historic Cemetery is the final resting place for some of the town's pioneers. You can pick up a booklet and take yourself on a self-guided walk around to pay your respects.
If it's all getting a bit hot and you need a break from history for a while, head to the Winton Aquatic Centre for a quick dip to cool off during the summer season.
If you're a lover of shopping, you can browse for opal jewellery in Winton. Opals were first discovered at Opalton, 120km from Winton, in 1888. Australia actually produces 95% of the world's opals which is why it's Australia's official gemstone. If you have time, you can visit an opal mine and learn all about the mining process at Opaltown, but if not, you can just browse the beautiful finished products in Winton's shops.

What a perfect souvenir to remind you of your Outback Australia adventure!
Movie at Royal Winton Open Air Theatre
Spend your final evening in the outback watching a movie at the Royal Winton Open Air Theatre. Watch your favourite star under the stars while reclining in your canvas sling chair. This outdoor theatre is one of only two open-air picture theatres still operating in Australia, and it is an outback experience not to be missed!

Originally built in 1918 (although like many old buildings, it was rebuilt after being destroyed by fire), the theatre showed silent films until 1939, when their first talking pictures were shown.
You can choose your movie experience depending on the day (check the listings in advance in case you need to juggle your itinerary around). Choose from Nostalgia Night (relive what it would be like to go to the movies in the 1960s with this guided presentation about the golden age of cinema); The Royal Feature (enjoy a Friday evening watching a feature film under the outback sky), or enjoy a Sunday Classic (the name says it all!)

What a way to end your magical Outback Queensland adventure!
Day Seven: Wave goodbye
It's time to say goodbye to Winton and return to Longreach Airport to catch a flight back to Brisbane or Townsville – depending on where you're headed next.
Otherwise, if this was part of a longer Queensland road trip, get back on the road and continue on your adventure.
BEST TIME TO VISIT LONGREACH AND WINTON
You need to consider the best time to visit Longreach and Winton as it's a very seasonal location! The best time to go (when everything will be open) is from April to October.
Keep in mind that it can be rather hot in the outback – so if the heat is not your friend, consider going during the winter months which are June, July and August.
Although we've created this 7 day Outback Queensland itinerary for you, be sure to check the days of the tours and experiences so you don't miss out. The Outback Pioneer website has some great suggestions on how to plan your visit to the outback.
ENJOY LONGREACH AND WINTON!
Hopefully, this guide has shown you that even if you're short on time, you can (and SHOULD) still experience the amazing Queensland outback. You can hear me discussing the above itinerary with Chris from Amateur Traveler below.
Travel to the Queensland Outback – Amateur Traveler Episode 839
If you're planning a longer trip to Outback Queensland, then I highly recommend you check out our Outback Queensland guide. This guide provides links to everything you need to know to plan your Outback Queensland holiday.
I'd also recommend you join our free Queensland Travel Guide Facebook community, where you can ask all your questions and find even more great trip suggestions.
If this is your first time visiting Queensland then you might be interested in these top destinations: