Are you planning a trip to Winton? This article covers all the best things to do in Winton, including tourist attractions, activities and places to visit.
The Queensland Travel Guide acknowledges the Koa Peoples, the Traditional Custodians of the land on which the Winton region is situated. We pay our respects to their Elders past, present and emerging, and recognise their continued spiritual and cultural connections to Country. Always was, always will be, Aboriginal land.
Considered the dinosaur capital of Australia, it's no surprise most people come to Winton to see dinosaurs! This small outback town, 2 hours north of Longreach – certainly has plenty of dinosaur attractions – but there are a few other interesting things to do Winton offers as well.
If you're wondering what to do in Winton besides seeing dinosaurs, this is the perfect guide for you. This guide covers all the best Winton attractions, tips on where to stay, and all the essential information such as locations, opening hours and ticket prices where necessary. And yes, it covers all the dinosaur attractions too!
This post may contain compensated links. Please refer to our disclaimer here for more information.
THINGS TO DO WINTON MAP
Before we start on all the Winton things to do, check out the map below to help you plan your itinerary. This map shows the location of all the Winton tourist attractions covered in this guide.
I recommend you first make a list of all the things you want to do and then use this map to plan your day to day itinerary, so you're not travelling back and forth all over town.
BEST THINGS TO DO IN WINTON
Below we cover the top things to see and do in Winton.
1 Australian Age of Dinosaurs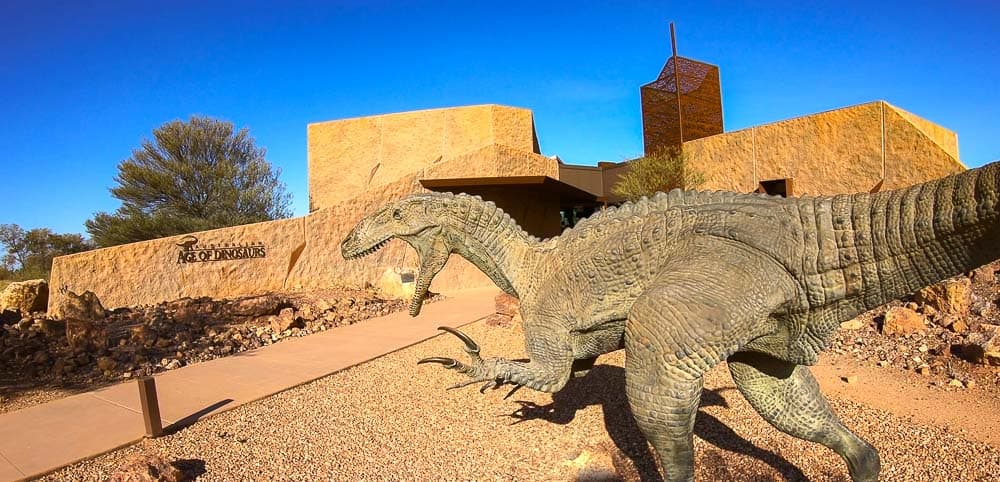 Following the discovery of ancient bones and fossilised dinosaur footprints in the region, Winton is now known as the dinosaur capital of Australia. Dinosaur experts and enthusiasts worldwide flock to the area to see these iconic artefacts and learn about Australia's rich and fascinating history with dinosaurs.
The Australian Age of Dinosaurs is home to the most extensive collection of Australian dinosaur fossils on earth. The museum provides an incredible opportunity to gain insight into how Australia's dinosaurs were excavated and recovered through a series of short guided tours. You'll get to touch a real dinosaur fossil and view the only known specimens of the country's largest carnivorous dinosaur, affectionately nicknamed 'Banjo,' and the most comprehensive sauropod, known as 'Matilda.'
The 90-minute self-guided tour of Dinosaur Canyon gives you an idea of what life would have looked like for dinosaurs 100 million years ago. A shuttle will take you to this part of the attraction as it is 2 km away.
Make sure you wear good walking shoes as the museum is spread over a large area and you will definitely get your steps in.

It's a good idea to allow three to four hours to explore the attraction and aim to go early as it gets hot (especially at Dinosaur Canyon). Don't forget to pack your sunscreen, hat and water bottle.
A small cafe is available, serving coffee, drinks, ice cream and snacks so you can refuel between tours.
The Australian Age of Dinosaurs is a world-class natural history museum in Winton that is not to be missed. It really is one of the best things to see in Winton.
Location: Lot 1 Dinosaur Drive, The Jump-Up Dark-Sky Sanctuary, Winton
Hours: Summer (1 November to 31 March) Monday to Saturday 8 am to 5 pm | Winter (1 April to 31 October) Daily 8.30 am to 5 pm
Cost: $75 Adults | $45 Kids (5 – 17) | $200 Family (2A + their children) | 4 and under free (Ticket bundles including other attractions are also available)
2 Dinosaur Stampede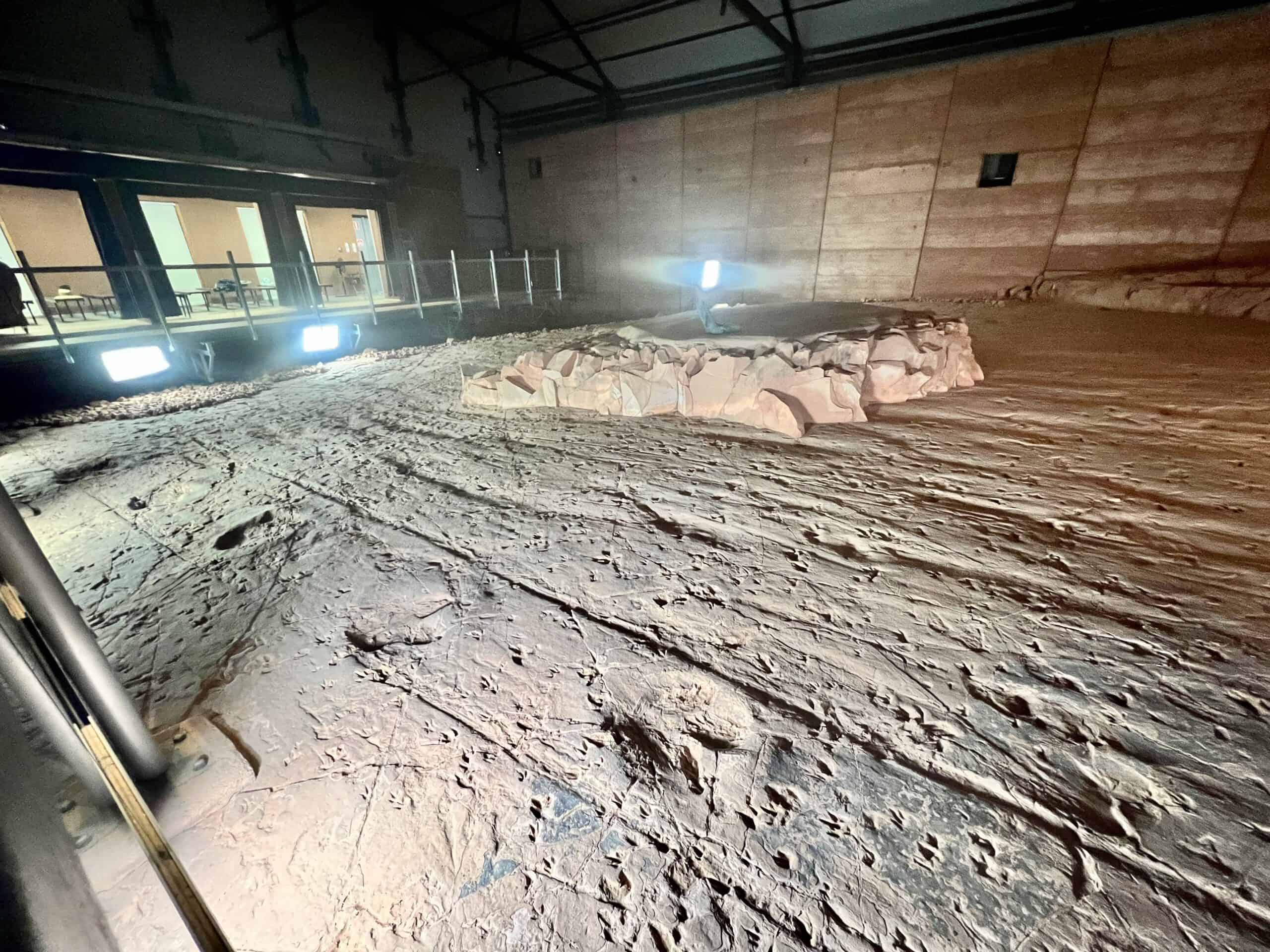 The Dinosaur Stampede is another of those things to do at Winton that dinosaur lovers cannot afford to miss. This awe-inspiring attraction is a 90-minute drive from Winton but worth the journey.
This remarkable monument brings to life a moment in time that occurred 95 million years ago, where a large theropod predator stalked and charged at a herd of at least 150 small, two-legged dinosaurs that were drinking at the Lake Quarry river plain. The chaotic encounter left behind over 3,300 footprints in the rock face.
A 45-minute guided tour leads you to view the footprints and explains how they were so perfectly preserved through time. It's an opportunity to stand in the exact spot where dinosaurs once roamed the earth, which is unbelievable!
It's worth allowing extra time here to enjoy the breathtaking scenery around the centre. There are also some excellent hiking opportunities, as detailed below.
Location: Lark Quarry Conservation Park
Hours: Summer (1 November to 31 March) Monday to Saturday 8.30 am to 5 pm | Winter (1 April – 31 October) Daily – 8.30 am to 5 pm
Cost: $30 Adults | $18 Kids (5 – 17) | 4 and under free | $70 Family (2A + their children) (Ticket bundles including other attractions are also available)
3 Spinifex Circuit Walk and the Jump Up Walk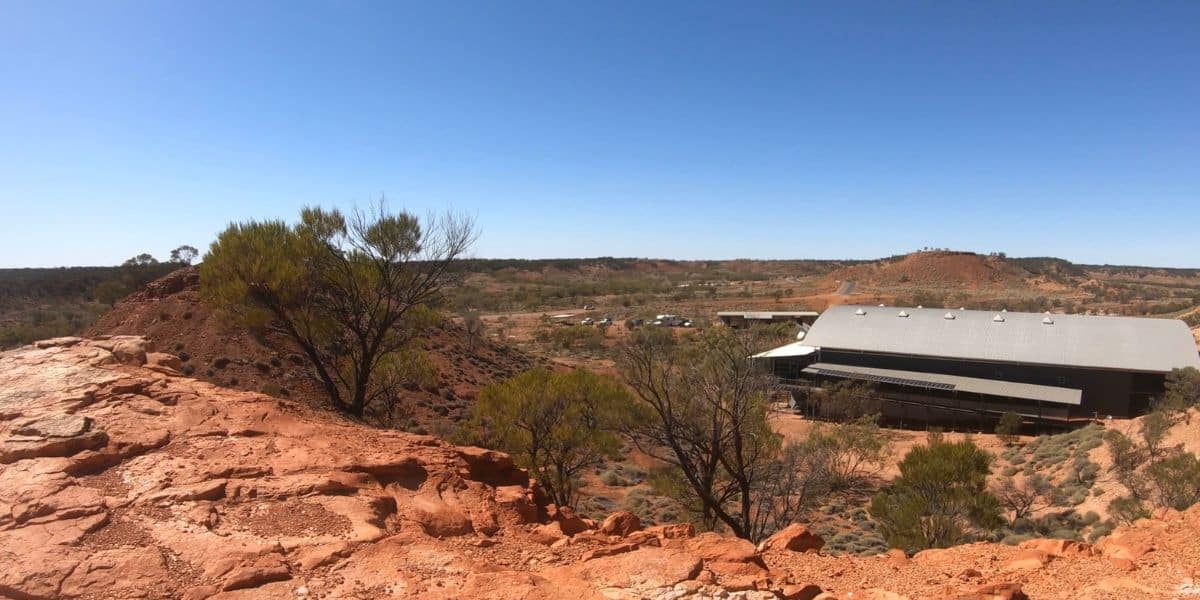 Make the most of your time at Dinosaur Stampede by exploring the surrounding landscape.
The Spinifex Circuit is a 500-metre self-guided walking circuit around the Dinosaur Stampede National Monument. It's graded as easy to moderate, and you can finish it in 15 to 30 minutes, so it's easy to add to your visit. The track will take you to a lookout where you can enjoy expansive views of the Mitchell grass downs and channel country.
The 3.5 km Jump Up Loop track is more challenging, taking approximately 90 minutes to complete. This hike branches off the Spinifex Circuit and skirts several gullies before climbing the western escarpment, where you will be rewarded with spectacular views across the rugged landscape.
Both tracks give you an opportunity to spot the local wildlife, including spinifex pigeons, singing honeyeaters, ring-tailed dragons and wallaroos.
Don't forget to wear comfortable shoes, and bring water, a hat, sunscreen and your camera!
Location: Lark Quarry Conservation Park
Opening Hours: Always open
Cost: Free
4 Waltzing Matilda Centre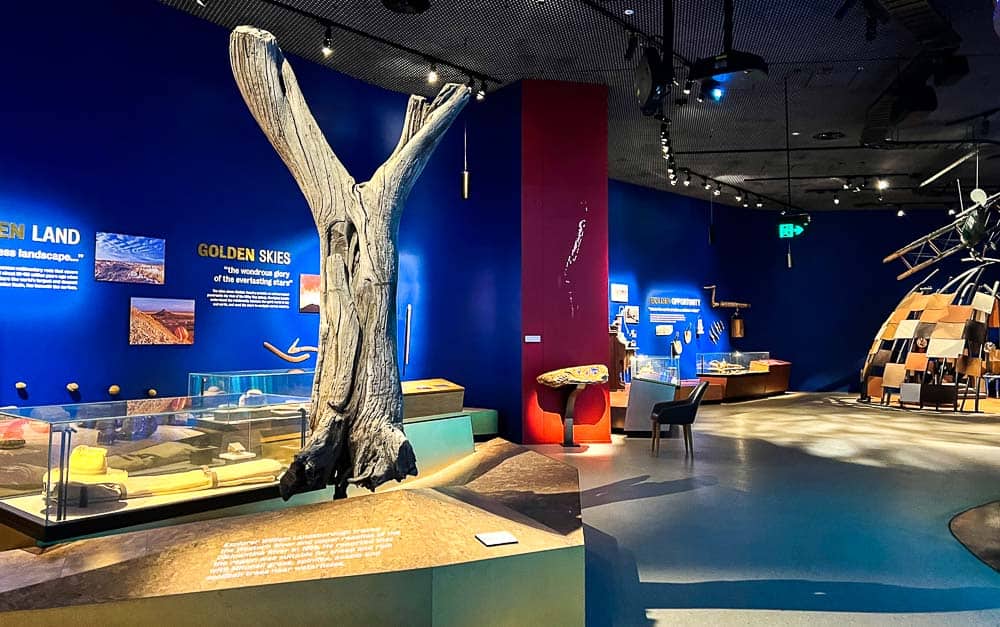 Banjo Paterson's world-famous tune 'Waltzing Matilda' is considered by some to be Australia's unofficial national anthem. Banjo actually wrote it while staying at Dagworth Station near Winton in 1895, and it was first performed at the North Gregory Hotel right here in Winton.
To commemorate this iconic anthem and its Winton roots, the Waltzing Matilda Centre celebrates the song's rich history (visitors can even see the piano that it was first performed on at the North Gregory Hotel). The Waltzing Matilda Centre is thought to be the world's first museum dedicated entirely to a song.
Set in an award-winning, architecturally designed building, the centre is more than just a museum about a song. There is an exhibition about World War I and a gallery of outback art displays.
After a lunch break in the on-site cafe, you can continue learning at the fascinating Qantilda Museum, which is accessed through the Waltzing Matilda Centre. This museum showcases the history of Winton, with many mementos from the past, including domestic items, bottles and vintage equipment. It gives you a captivating glimpse into Winton's past.
Location: 50 Elderslie Street, Winton
Hours: Summer (October to March) Monday to Friday – 9 am to 5 pm, weekends 9 am to 3 pm | Winter (April to September) Weekdays only from 9 am to 5 pm
Cost: $35 Adults | $15 Kids (5 – 11) | $80 Family (2A+4C) | 4 and under free
5 Musical Fence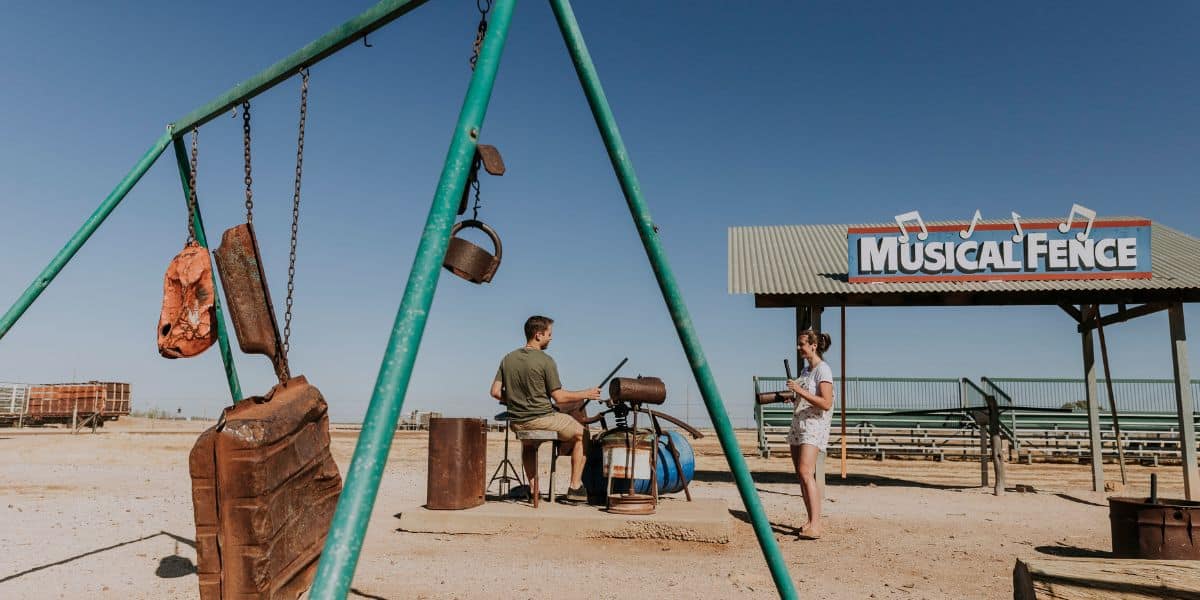 Image credit thanks to Tourism and Events Queensland
The Musical Fence is a one-of-a-kind installation designed by Graeme Leak, a composer and percussionist. It's the world's first permanent installation of a musical fence, attracting visitors from all over who love to stop and play.
The fence gained global recognition when its unique sounds were used in a track featured on Gotye's 2013 Grammy Award-winning album.

It's worth a stop for a strum and a bash!
Location: Behind the Diamantina Heritage Truck and Machinery Museum at Lot 2, Hughenden Road, Winton
Hours: Always open
Cost: Free
6 Arno's Wall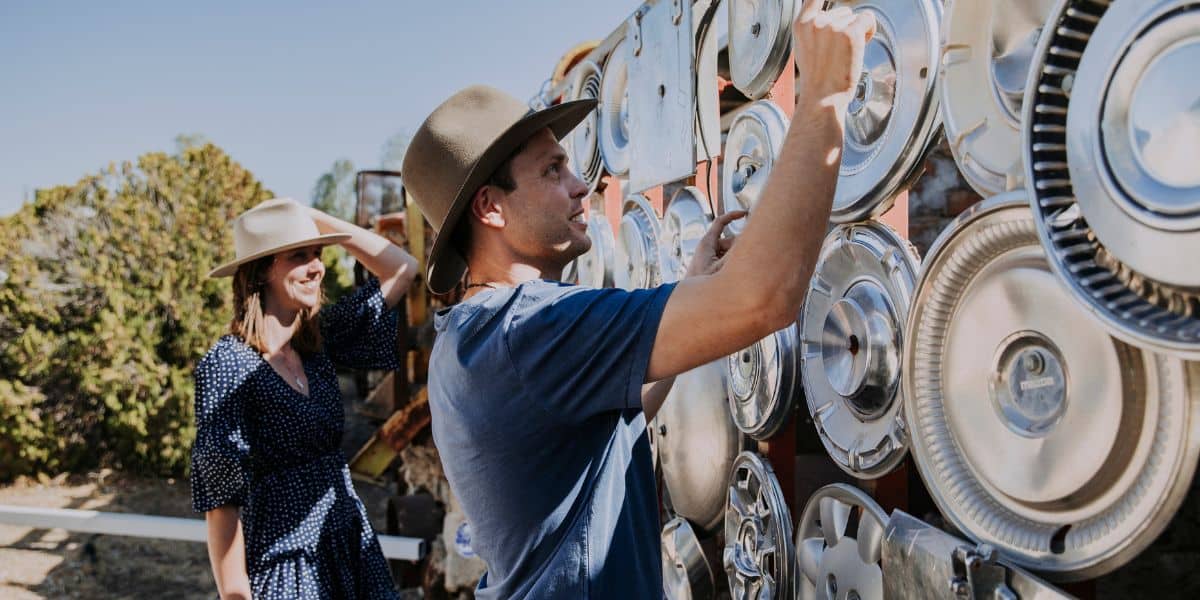 Image credit thanks to Tourism and Events Queensland
Another quick stop for your Winton itinerary is visiting Arno's Wall. This unique structure was built with a combination of concrete and rock sourced from Arno's opal mine in Opalton.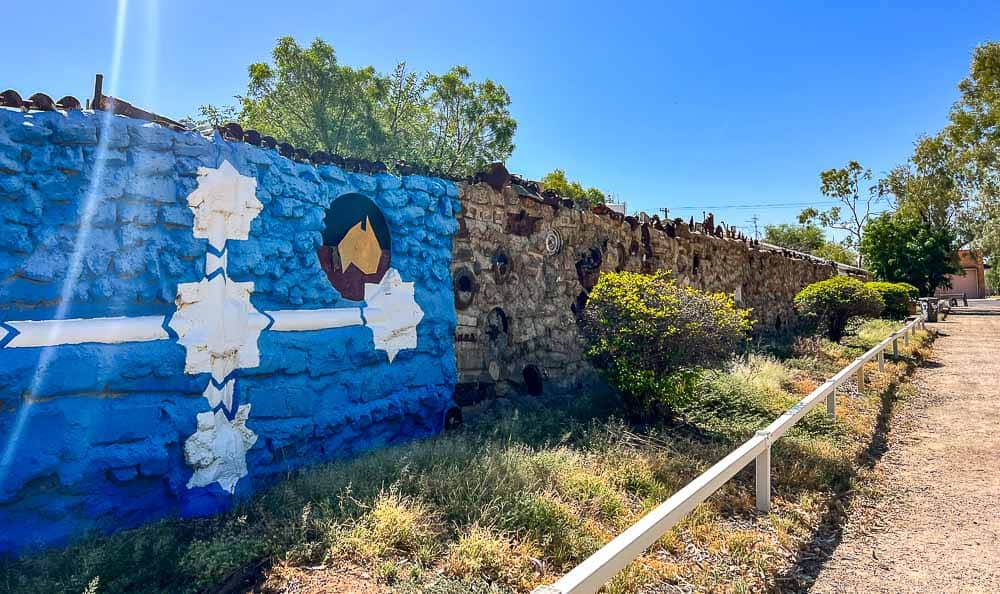 The wall is an amalgamation of various industrial and household items such as motorbike parts, typewriters, ovens, wheels, televisions, boat propellers, sewing machines and even a kitchen sink!
Standing at two metres high and stretching over 70 metres, Arno's Wall is an unusual and unique sight.
Location: 19 Oondooroo St, Winton
Hours: Always open
Cost: Free
7 Royal Winton Open Air Theatre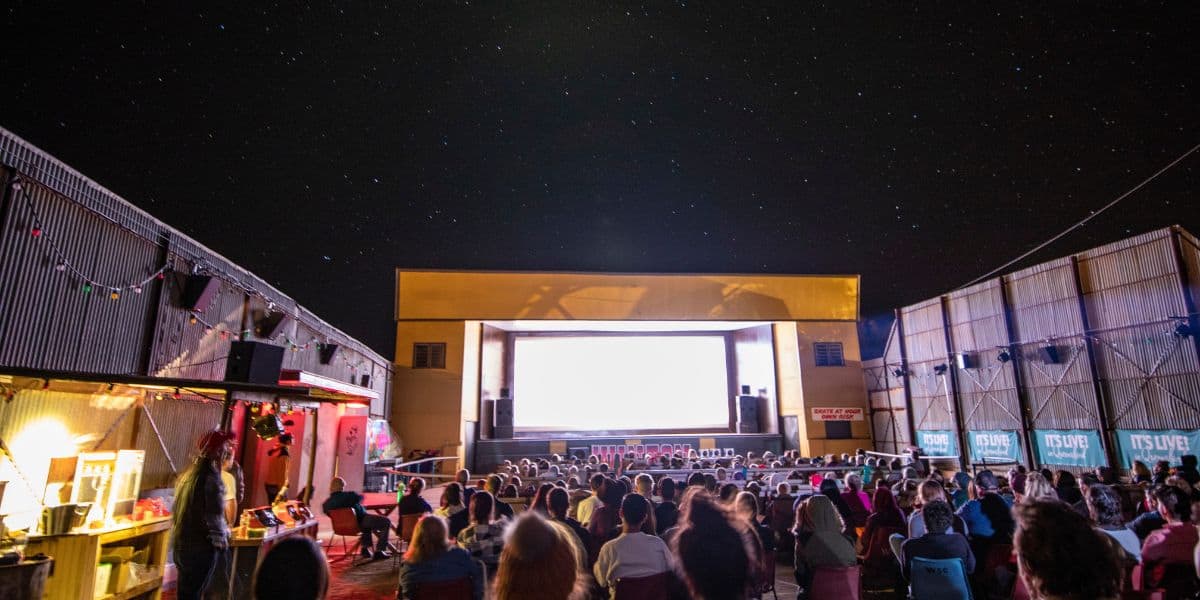 Image credit thanks to Tourism and Events Queensland
A visit to the Royal Winton Open Air Theatre will be a highlight of your Winton stay. It's one of the best Winton attractions!
Kick back in a canvas sling chair and watch the stars twinkle above as you enjoy a movie in one of Australia's last open-air picture theatres. Originally constructed in 1918 and rebuilt in 1938 following a devastating fire, this theatre offers a variety of movie experiences, such as Nostalgia Night, The Royal Feature and Sunday Classic.
Be sure to check the listings beforehand so you can plan a movie night during your trip to Winton. It's a truly magical outback experience that should not be missed!
Location: 69 Elderslie Street, Winton
Hours: Closes over Summer | Check the website for screening dates
Cost: $15
8 Opal Walk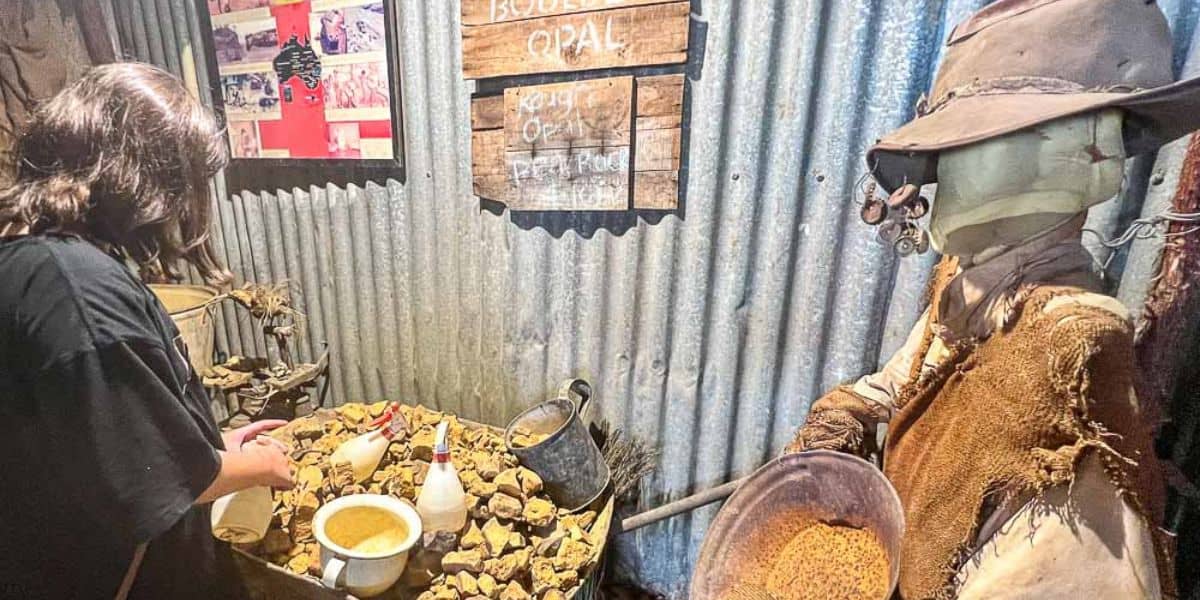 The Opal Walk introduces you to the region's precious gemstone and offers a glimpse into opal mining with fascinating displays about the life of opal miners. Kids can also fossick for opals in a small wheelbarrow!

If you're looking for a souvenir to take home from your Winton holiday, there is also a shop where you can buy opal jewellery.
Location: Corner of Werna Street and Elderslie Street, Winton
Hours: Check for current opening times
Cost: $3 Adult | $10 to go opal fossicking
9 Corfield and Fitzmaurice Building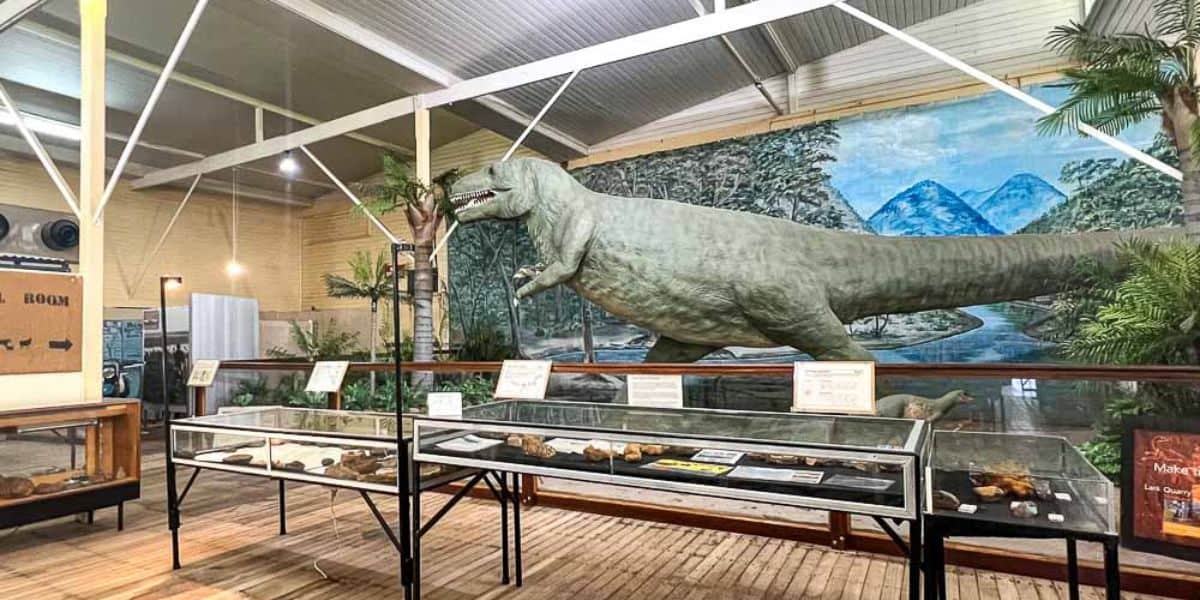 Image credit thanks to Tourism and Events Queensland
This impressive National Trust, heritage listed property was opened by partners Corfield and Fitzmaurice in 1878 as Winton's first general store. You can still go inside the building to look around and imagine what life would have been like for locals shopping there almost 150 years ago.
Today, half of this beautiful old building is a craft store called Combo Crafts, and the rest is a museum that includes an interpretation of the dinosaur stampede.
Location: Next to the North Gregory Hotel – Elderslie Street, Winton
Hours: Check for current opening times, as they vary throughout the year
Cost: Museum entry: $5 Adult | $3 Child | $10 Family
10 Heritage Truck and Machinery Museum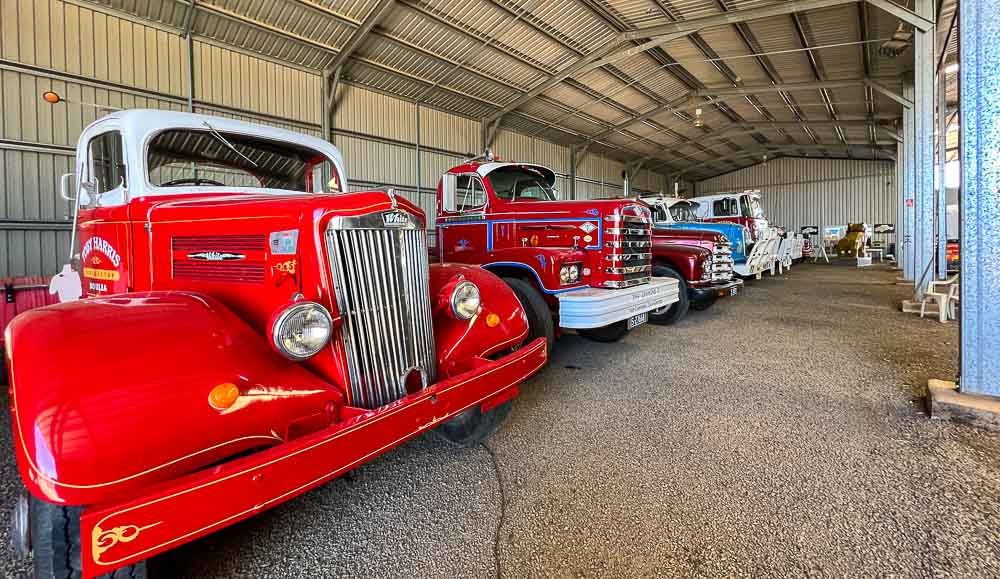 For truck enthusiasts, the Diamantina Heritage Truck and Machinery Museum is a must-visit attraction in Winton.

The museum showcases heritage trucks, tractors and machinery, each lovingly and carefully restored by a team of dedicated volunteers.
Marvel at the polished, gleaming bodywork as you take a nostalgic stroll around the vehicles.
Location: Lot 2, Hughenden Road, Winton
Hours: Daily from 9 am to 4 pm
Cost: $10 Adults | $5 Kids (6 – 15) | 5 and under free
11 Winton Historic Cemetery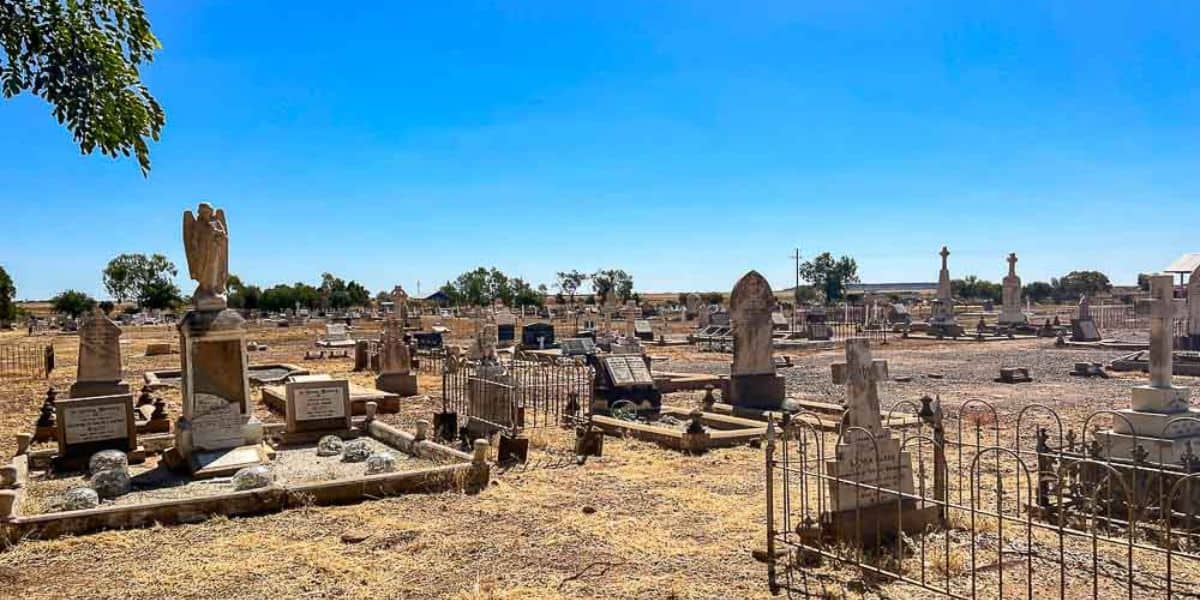 For history buffs, Winton Historic Cemetery is an interesting visit. Established in 1876, it is the final resting place of many of the town's pioneers. Pick up a booklet or download it online to take yourself on a self-guided walk to visit the historic graves and pay your respects.
Location: Cork Street, Winton
Hours: Always open
Cost: Free
12 The Opal Miner
Who doesn't love taking home souvenirs to remind them of their holiday? The Opal Miner is an opportunity to explore the exquisite jewellery created by the Taranto family, who have been mining opals for two generations.

Choose from rings, bangles, cufflinks, earrings or pendants and take home a precious memento from your Winton holiday.
Location: 73 Elderslie Street, Winton
Hours: Monday to Saturday from 9 am to 4.30 pm
Cost: Free to browse
13 Rangelands Rifts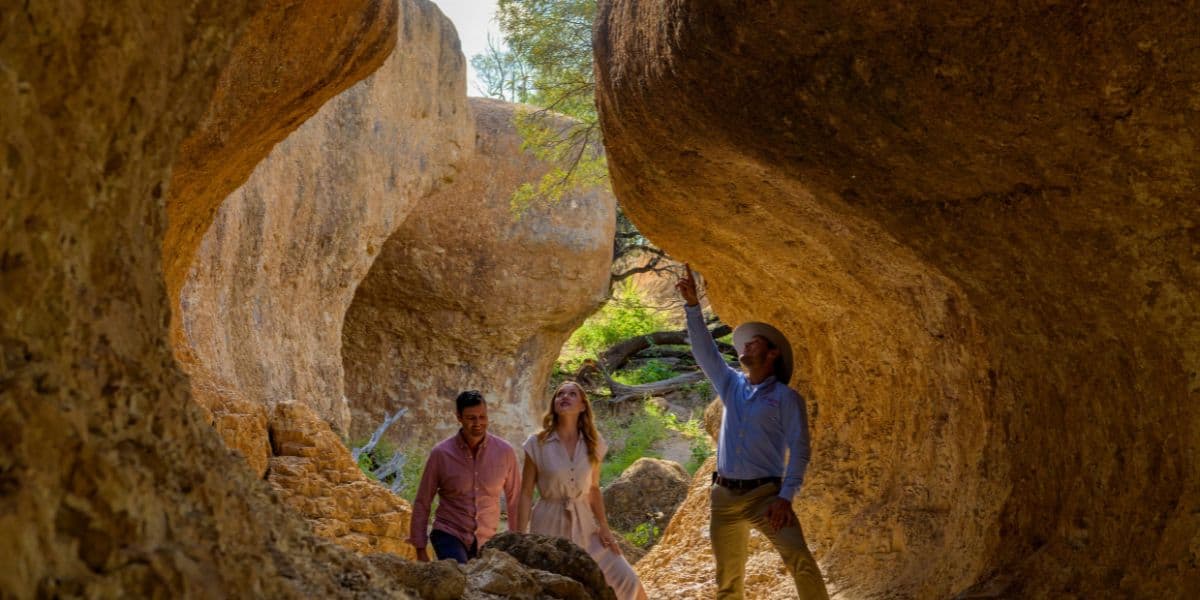 Image credit thanks to Tourism and Events Queensland
The magnificent Rangeland Rifts is at Rangeland Station, around 13km outside Winton. A sunset evening tour allows you to explore the spectacular outback landscape where natural erosion has worn impressive channels and caves in the rock. As the sun goes down, you can watch the changing light across this vast landscape, and you might even get to see fairy bats clinging to the rock walls.

This area was used as a location for the 2005 movie, The Proposition, starring Guy Pearce, Ray Winstone and Emma Watson, so it's worth watching before you visit.
As this area is on private property, the only access is on a guided tour. Click here to see what is available.
14 Take a scenic flight
The vast outback landscape seems to go on forever, and the best way to enjoy it is from above. A scenic flight is a special experience that you will never forget.

Various operators run scenic helicopter flights to give you a bird's eye view of the red dirt landscape where dinosaurs once roamed. It's definitely something to add to your bucket list!
15 Bladensburg National Park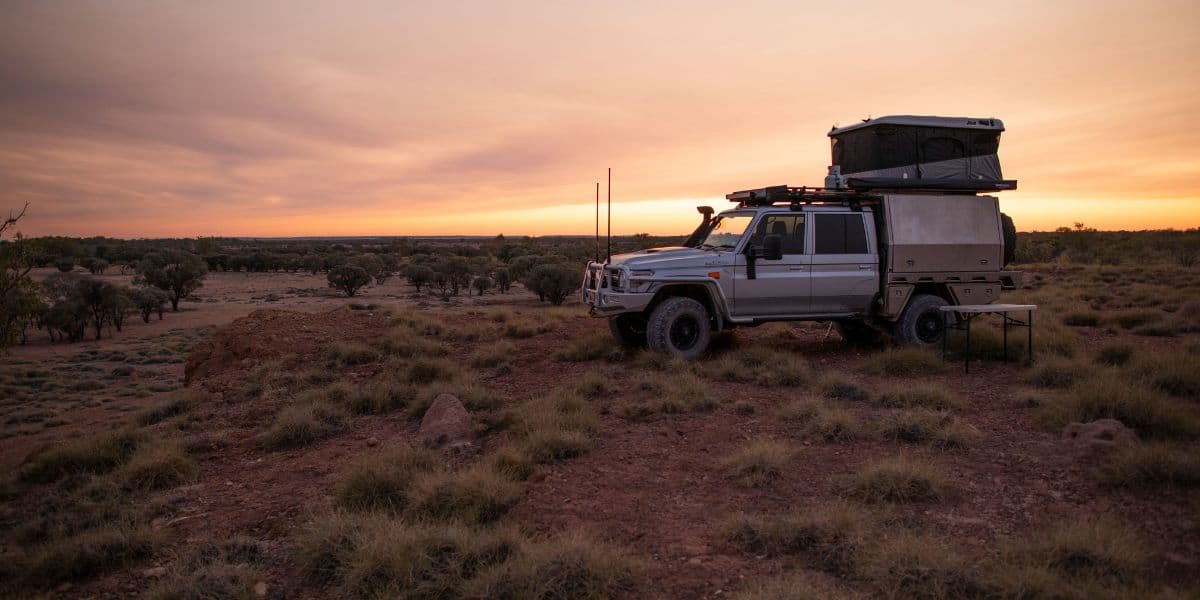 Image credit thanks to Tourism and Events Queensland
If you're wondering what to do in Winton and love the great outdoors, you can miss the opportunity to experience the wild outback Queensland landscape at its best at Bladensburg National Park.
Here you'll find plenty of Australia's native wildlife, from kangaroos and wallabies to spiders, insects and skinks. If you're lucky, you might be able to see a kultarr – a tiny, mouse-like marsupial. It's also a great place for bird watchers, from the 2m tall emus stomping through the grassland to the pretty spinifex pigeons with their tall pointed crests.

This really is wild west country and the scenery won't disappoint with flat-topped ridges and plateaus, vast grassland plains and river flats.

You can explore lookouts, hike the trails, take scenic drives or even camp here to immerse yourself in the rugged outback Queensland landscape.
Location: Bladensburg Access, Opalton
Hours: All year round, 24 hours a day
Cost: Free
BEST TOURS OF WINTON
If you're short on time or don't have your own transport, a group tour is often the best way to see the highlights of Winton. Don't spend time trying to figure out the best things to see in Winton; let somebody else guide you to all the best places.
Winton Discovery Day Tour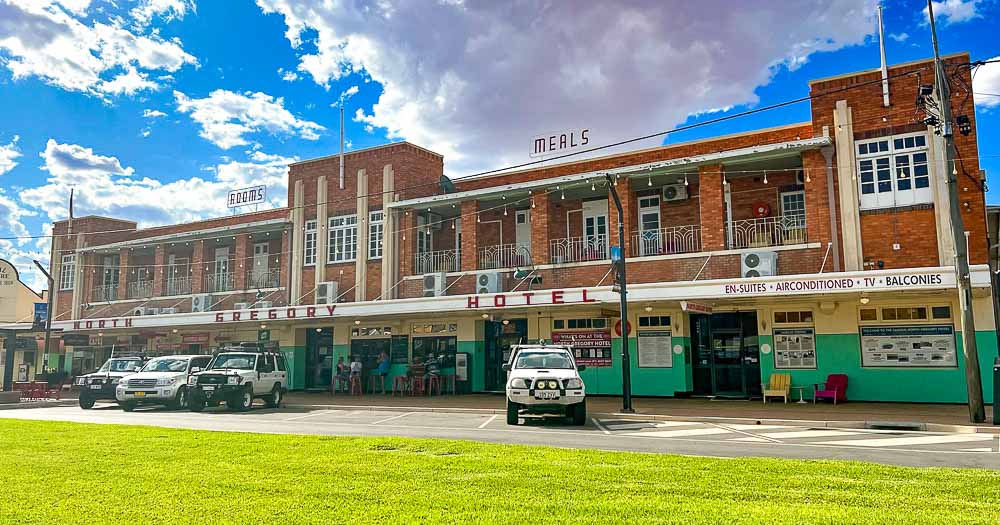 If you're staying in Longreach and want to explore Winton on an easy day tour, this gives you a great overview of the Winton tourist attractions. Your Winton day tour begins early so that you can make the two-hour journey to Winton in the air-conditioned coach.
The first stop is the Australian Age of Dinosaurs, where you will learn more about the incredible creatures that once roamed the land in this part of the world.
A visit to Winton Opal Gems follows, along with a visit to the legendary North Gregory Hotel for lunch, and then you can explore the Waltzing Matilda Centre.
This tour is great if you're short on time and want to be taken around the main Winton attractions.
Click here for information and to book your tour
WINTON DAY TRIPS
Below are suggestions for day trips from Winton. If you can explore in your own vehicle, it allows you to get out and enjoy the local towns and attractions.
Longreach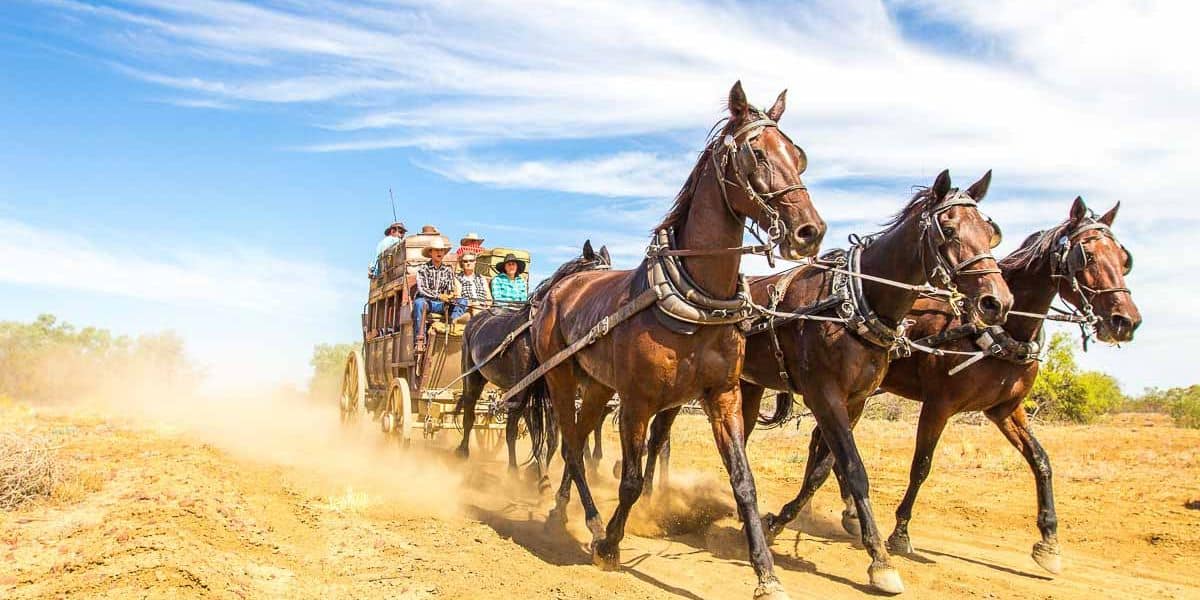 Image credit thanks to Tourism and Events Queensland
Located in the centre of Queensland in the heart of the outback, Longreach is the perfect place to explore all the west has to offer. While spending at least a week in Longreach is recommended – if you've only got a day to spare, it is possible to take a day trip to Longreach from Wintois recommended n.
Some of the most popular Longreach attractions include the Stockman Hall of Fame and the Qantas Founders Museum. It's also the place to have some amazing outback experiences, including a cruise down the Thomson River, a gallop through town in a Cobb & Co Stagecoach, hearing locals spin a yarn around the campfire and much more.
Click here for our full guide on things to do in Longreach.
Opalton
Opalton is famous for its remarkable boulder opal, so it's worth visiting for a day trip if you are interested in gemstones and fossicking.
Located 120 kilometres south of Winton (around 1.5 hours in the car), this town boomed after opals were discovered in 1888. The largest opal in the world was recovered right here in 1899 and was more than 3 metres long!
It's a much quieter town now, with a campsite and one shop where you can meet the locals when the mail is delivered on a Thursday. However, don't miss the opportunity to try your hand at the public fossicking area. Who knows, you might get lucky!
BEST HOTELS IN WINTON
Looking for somewhere to stay in Winton? We recommend booking through Booking.com as they offer a wide range of room types, most with free cancellation, which is ideal for last-minute changes.
However, if you want our recommendation for a hotel, we've listed our top pick for a luxury hotel, family hotel, mid range and budget hotel below.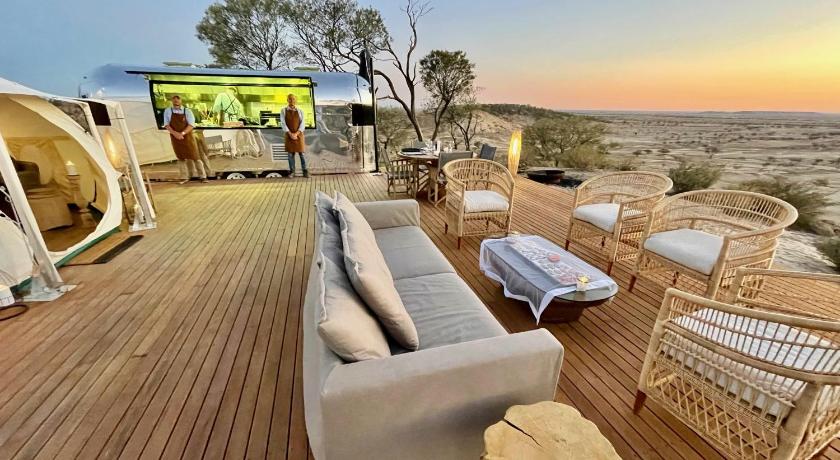 For those looking for the ultimate luxury accommodation while staying in Winton – book into Rangelands Outback Camp. Just a 10 minute drive outside the centre of town – this property is more than just somewhere to lay your head at night – it's a total experience.
This property is at Rangelands Station – a working cattle property on a jump up, so you've got fantastic views of the outback landscape all around you.
On site, just six luxurious glamping tents will ensure you experience first class service. The tents feature a king size bed with designer bedding, air conditioning and a rustic bathroom offering spectacular views across the outback.
On your first day at the Rangelands Outback Camp, you'll be welcomed with sunset drinks and a cheese platter. All breakfasts and dinners are taken care of by the on site chef. Meals are paired with fine wines, premium beers and top shelf spirits. A lunch hamper can even be prepared for you to enjoy while you're out enjoying the Winton sights.
Click here for more information or to book
The Winton Outback Motel is a great value, comfortable property is just a short stroll from everything Winton offers.
The spacious rooms are available in standard and premium and feature air conditioning, a private bathroom, flatscreen TV, a hairdryer, tea and coffee making facilities, a toaster, iron, bar fridge, microwave and an outdoor dining area with outdoor furniture.
While the family rooms can accommodate three or four guests (depending on the particular room choice), they have a family self contained Unit with access to extra bedrooms if you're travelling with a larger group.
The Motel offers free Wi-Fi, off street parking and there is a BBQ available so you can cook your own dinner if you wish. In addition, a free airport shuttle makes your journey to and from the Motel easy and stress-free for those flying into town.
This is a great base for your Winton holiday as it is convenient, clean and has everything you need.
Click here for more information or to book
The Boulder Motel is the newest motel in Winton. This 3.5 star self catering accommodation offers basic units with easy access to all of Winton's attractions.

Units feature a queen bed plus single (and the option of a foldaway if requested) and adjoining units so groups can stay connected. All units feature air conditioning, fans, a fridge, a hairdryer, a TV and tea and coffee making facilities. Breakfast is available for an extra $15.

The Motel has a licensed restaurant and bar serving breakfast and dinner and a BBQ for those wanting to self cater. The pool is the perfect place to cool off and relax between tours. Free Wi-Fi is available so you can stay connected.
Click here for more information or to book
This grand old hotel in the heart of Winton is steeped in history as it was the location of the first live performance of Banjo Paterson's iconic song, Waltzing Matilda. And despite being one of the cheapest accommodation options in town – it's arguably one of the best!
At the North Gregory Hotel, you can choose between single, queen, family (up to four guests) or twin rooms and you can upgrade from standard to deluxe options for a more spacious, modern room.
Hotel rooms feature air conditioning, en suite bathroom, flat screen TV, tea and coffee making facilities and a fridge. There are also powered van sites so you can book in your motorhome or caravan and enjoy the benefits of the hotel facilities.
The on-site cafe is open for breakfast, lunch and snacks, and the Daphene Mayo Restaurant is open for dinner, so you don't need to worry about cooking during your stay in Winton.
Laundry facilities are available, which is handy when you're travelling. In addition, guests can enjoy the outdoor artesian spa, which is a great place to relax between tours.
A stay at the North Gregory Hotel is an opportunity to stay in a historic hotel that has been important to the Winton region since its establishment in 1879. It's also very convenient and well-priced too!
Click here to find out more or to book
ENJOY WINTON!
Hopefully, this guide has given you lots of inspiration on things to do in Winton.
If you're planning a trip to Winton, I highly recommend you check out our Outback Queensland guide, which provides links to everything you need to know to plan your trip.
I'd also recommend you join our free Queensland Travel Guide Facebook community, where you can ask all your questions and find even more great trip suggestions.
If you're heading to Winton, you might also be interested in the following nearby destinations:
Richmond (coming soon)
Hughenden (coming soon)