Are you planning to visit Longreach? This article covers the best things to do in Longreach, including tourist attractions, activities and places to visit.
The Queensland Travel Guide acknowledges the Iningai, Malintji and Kuunkari people, the Traditional Custodians of the Longreach region. We pay our respects to their Elders past, present and emerging, and recognise their continued spiritual and cultural connections to Country. Always was, always will be, Aboriginal land.
Main image credit thanks to Tourism and Events Queensland.
There are plenty of Longreach things to do! Located in the centre of Queensland in the heart of the outback, Longreach is the perfect place to explore all the west has to offer.
Some of the most popular Longreach attractions are the Stockman Hall of Fame and the Qantas Founders Museum. But it's also the place to have some amazing outback experiences, including a cruise down the Thomson River on a paddle wheeler, galloping through town in a Cobb & Co Stagecoach, hearing locals spin a yarn around the campfire and much more.
This guide covers all the best experiences and attractions and will help you decide just what to do in Longreach. As well as all the best Longreach tourist attractions, it also includes all the essential information such as locations, opening hours and ticket prices.
So let's get into it and check out the best tourist attractions in Longreach!
This post may contain compensated links. Please refer to our disclaimer here for more information.
LONGREACH THINGS TO DO MAP
Before we start on all the great tourist attractions Longreach has, check out the map below to help you plan your itinerary. This map shows the location of all the things to do around Longreach covered in this guide.
I recommend you first make a list of your top priority things to see and do in Longreach and then use this map to plan your day to day itinerary so you're not travelling back and forth all over town.
BEST THINGS TO DO IN LONGREACH
Below we cover the top attractions and top things to do in Longreach.
1 School of Distance Education
Children in Queensland's remote communities still need to learn, even though they might not live near a school. And you can see just how the kids do this at the Longreach School of Distance Education – one of the largest classrooms in the world!
Here you'll tour the Distance Education facility and discover how students in far-flung locations receive an education, even if they are hours from their nearest school.
If you plan your visit during term time, you'll have the opportunity to see learning in action and meet some of the students on air. (Tours are still available during school holidays, but you won't be able to see learning in progress).

Location: 10349 Landsborough Highway, Longreach
Opening Hours: Tours run from March to October at 9.30 am and 11 am
Cost: $18 Adults | $12 Kids (4 – 16 years) | Kids under 4 free | $50 Family (2A+2C)
2 Longreach Stockman's Hall of Fame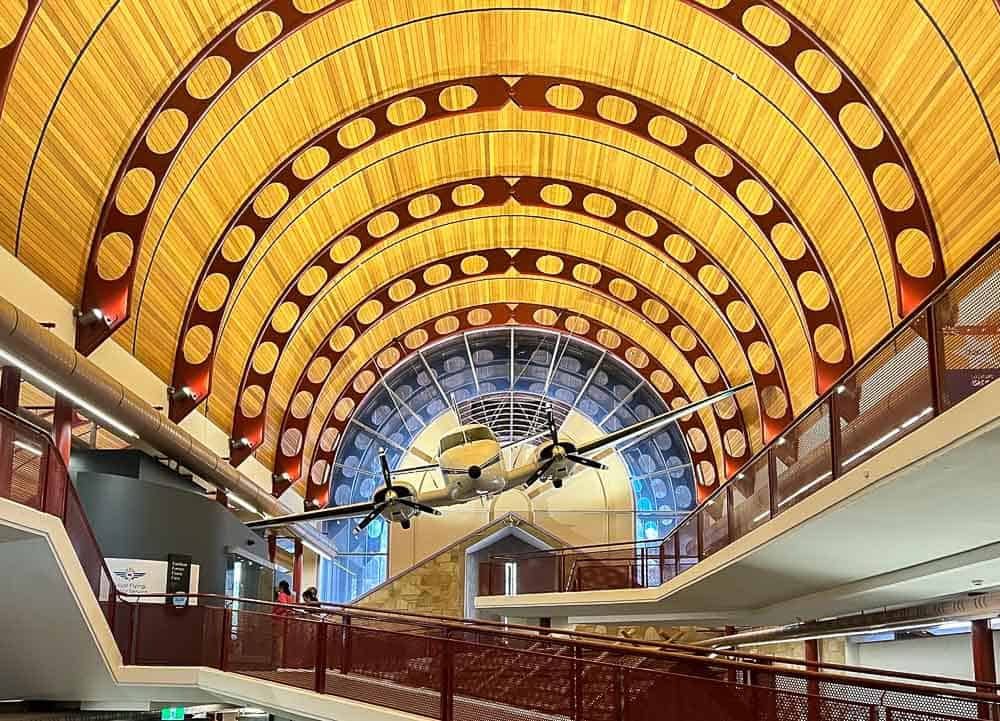 If you've been wondering what is there to do in Longreach, you'll be pleased to know there are some fantastic attractions to explore.

To discover the history behind life in the Australian bush and learn how the outback pioneers lived, the Longreach Stockman's Hall of Fame is one of the top 10 things to do in Longreach. Through captivating storytelling, this attraction offers a glimpse into the past through three sections: the cinematic experience, the Stockman's Live Show, and the museum.
Begin your visit with the cinematic experience. This impactful movie showcases life in the rugged outback and highlights the challenges faced by those living and working there. Through the eyes of the stockman (an Australian cowboy), who raises livestock in the region, you'll gain a deeper understanding of the past.
Running from April to October (excluding Fridays), the daily Stockman's Live Show is unmissable – it's one of the best things to see in Longreach. This entertaining show features horses, dogs and sheep, bucketloads of banter, Aussie lingo and hilarious jokes. It's really one of the best things to do at Longreach!
When visiting the museum, be sure to allow yourself plenty of time to explore (including a pit stop at the cafe for afternoon tea as you'll need to refuel). The museum offers an audio guide and numerous exhibits where you'll learn about Australia's history and the life of the region's pioneers.
While tickets to the museum alone are available, we highly recommend purchasing a package to enjoy the entire attraction.
Location: Landsborough Hwy, Longreach
Hours: 2023 season for museum and galleries:1 April to 13 October daily from 9 am to 4 pm | Check the website to see when particular shows and packages are available
Cost: Museum and gallery entry: $35 Adults | $20 Kids (5 – 12) | Kids under 5 free | $100 Family (2A+2C)
Stockman's Experience Tour entry: $75 Adults | $40 Kids (5 – 12) | Kids under 5 free | $200 Family (2A+2C)
3 Have dinner at Harry's
Named after the legendary Harry Redford (aka Captain Starlight), Harry's Restaurant is an institution in Longreach. Enjoy breakfast or an a la carte dinner for a great outback dining experience of fine food and seasonal produce.
Location: Longreach Motor Inn, 84 Galah St, Longreach
Opening Hours: Dinner daily from 6 pm to 8.30 pm
Cost: Starters from $9 – $20 | Mains from $32 – $59
4 Scenic flight
The outback landscape is incredible and vast, and the best way to see and appreciate its scale is from above. You can book a scenic helicopter flight for an unforgettable view of this stunning landscape and Longreach's main attractions.

Queensland Helicopters is one of the operators that provide scenic flights over Longreach and the Thomson River.
5 Cobb & Co Stagecoach Experience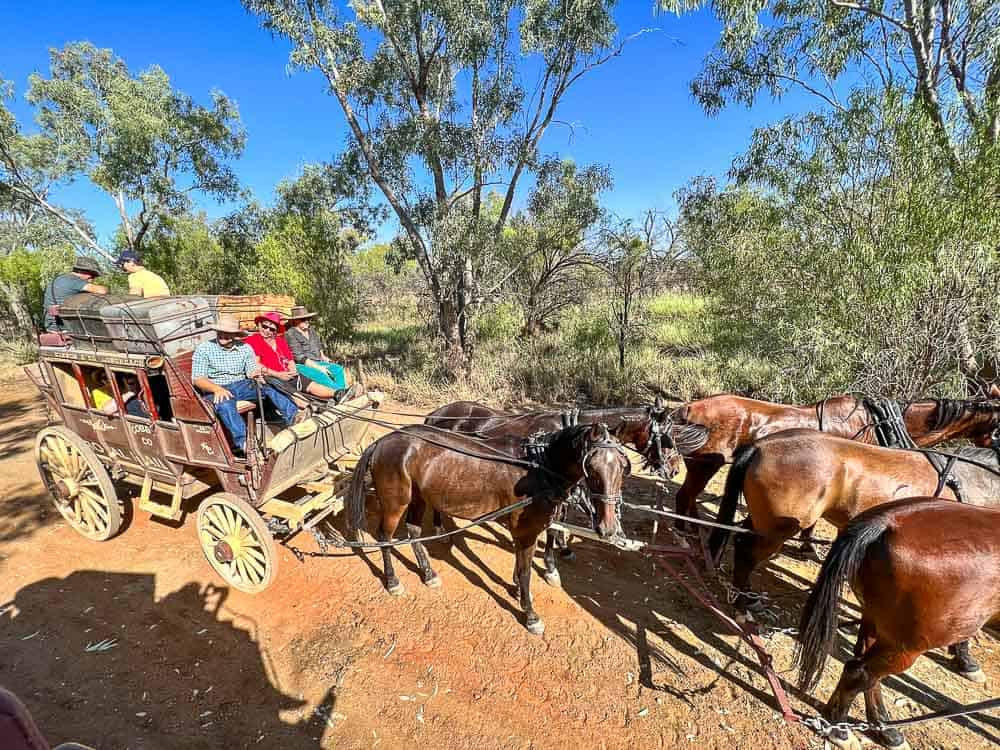 Another one of those Longreach things to see and do that you must include in your itinerary is the Cobb & Co Stagecoach tour. This thrilling experience takes you on a ride in a Cobb and Co wagon, where you can sit inside, up top, or even out front with the driver!
You'll end up covered in red outback dust, so consider your seating choice (and clothes!) carefully – but remember, it's all part of this unique Longreach experience!
As it can get noisy travelling in an old wagon, a headset is provided so that you can hear the guide's commentary about the fascinating history of the old stagecoaches, the journeys they took, and the people who used them to travel from place to place.
The tour includes plenty of delicious food during morning tea, a bush movie in the retro cinema, and the Harry Redford Old Time Tent Show, a classic piece of historical bush entertainment complete with silly jokes, skits and some very clever farm animals!
Location: 128 Eagle St, Longreach
Opening Hours: Monday to Friday from 8.30 am during the April to October season
Cost: Adults $129 | $99 Kids | $410 Family (2A+2C) | Infants free – Click here to book online
6 Longreach Botanic Walkway
This dusty walking trail near Longreach is an easy route, taking just under an hour to complete. You can walk, run or cycle it.
How you experience the walk will depend on recent weather, as drought conditions cause the plant life to die, which limits the wildlife you'll see. However, it's still a fascinating walk to take even during dry spells, as it shows the reality of harsh conditions in the outback where even the native vegetation struggles to thrive.
The Botanic Walkway is one of those things to do in Longreach for free that you can slot in in between other bigger activities – a walk is also a great way to unwind between your tours.
Location: 11 Wonga St, Longreach
Opening Hours: Always open
Cost: Free
7 Qantas Longreach Founders Museum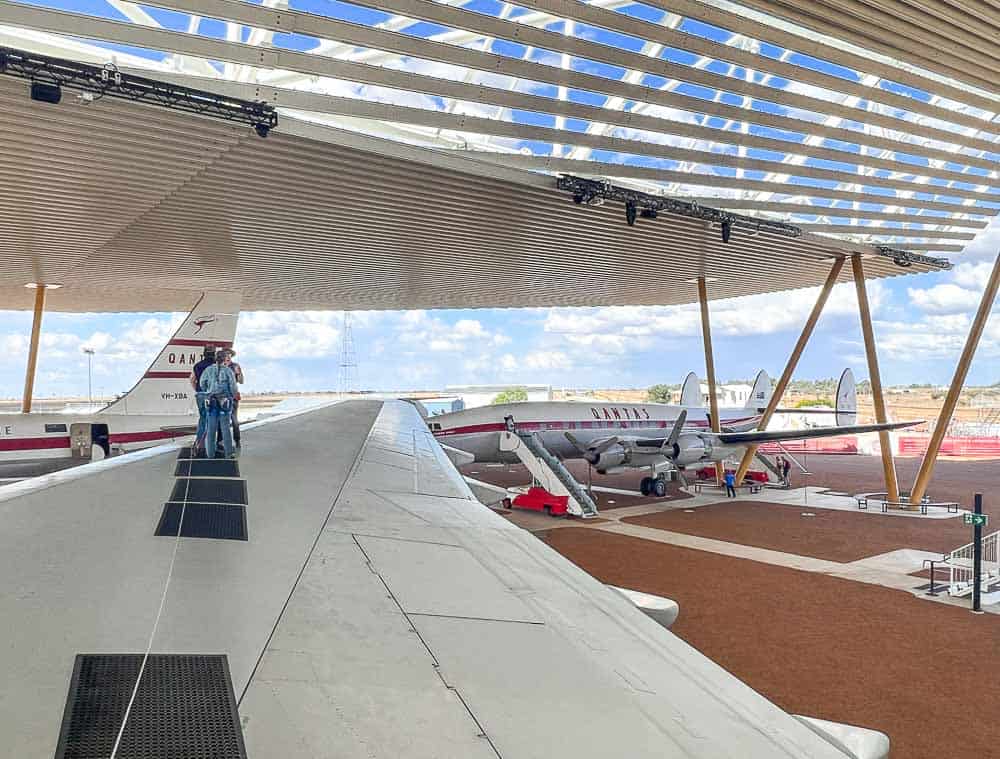 Australia's national airline has been in operation since 1920, and there is a wealth of knowledge to be gained about the world's third-largest carrier's history at the Qantas Founders Museum.

The airline started in nearby Winton, and its very first passenger flight departed from Longreach, making it one of those fascinating and historical things to see in Longreach.
By combining stories of the airline's colourful characters with interesting aviation history and engineering feats, visitors will learn about Australia's aviation past through various multimedia exhibits, interactive activities and full-scale replicas.
Have you ever wondered what a black box really looks like or what goes on in the undercarriage of a plane? Have you ever strolled on the wing of a 747? Depending on the ticket package you purchase, you'll have the opportunity to do all this and more, as well as try your hand at landing and taking off on a flight simulator.
This museum is a must-see attraction in Longreach for anyone who enjoys travelling, as it is jam-packed with intriguing facts and lots of amazing memorabilia. You'll even get the opportunity to peek inside a 707 that was transformed into a luxury charter jet to take the Jackson 5 on tour in the 1980s.
Location: 1 Hudson Fysh Drive, Longreach Airport, Longreach
Opening Hours: April to October, daily from 9 am to 4 pm | November to March, daily from 9 am to 3 pm
Cost: Museum entry: $33 Adults | $25 Kids | $105 Family (2A+2C) | Additional packages include an airport tour and wing walk.
8 Camden Park Station
When visiting Longreach, you can explore a working sheep and cattle station by taking a tour of Camden Park Station.

The Walker family has managed this 18,000-acre property for three generations, and it was a favourite of Queen Elizabeth and Prince Philip during their 1970 visit to Longreach.

Your host, Outback Dan, will guide you through the shearing sheds and give you an insider's peek at daily life on an outback station. You can tour the century-old homestead, take in the panoramic 360-degree views of the outback landscape, and indulge in a delicious ploughman's lunch.
Location: Pick up and drop off available from Longreach accommodation
Opening Hours: Tours run from 11 am to 1.30 pm on selected dates
Cost: $99 Adults | $69 Kids (4 – 14) | Kids 3 and under free | $302 Family (2A+2C)
9 Thomson River cruise
As the sun sets, prepare for a nostalgic Longreach river cruise. Step on board a historic paddle wheeler for a leisurely ride down the Thomson River. Sip on a refreshing drink (you can bring your own or buy soft drinks onboard) while admiring the orange hues of the sky reflecting on the water.
After the river cruise, you will indulge in a tasty stockman's hearty dinner of stew and damper followed by a deliciously filling dessert, like apple pie and custard, while listening to captivating stories and bush poetry around the campfire.
Once dinner is done, settle into stadium-style seats to enjoy the Starlight Spectacular Sound and Light Picture Show. Watch a short movie about Captain Starlight (aka Harry Redford), an infamous Australian bushranger who stole 1000 cattle from Bowen Downs Station near Longreach. Then, he walked them all the way to South Australia to sell them. Despite being caught and brought to trial, the jury was so impressed by his crime they found him not guilty, making him a local legend!
Location: Pick up and drop off available from Longreach accommodation
Opening Hours: Monday to Saturday from 4.30 pm during the April to October season
Cost: $129 Adults | $99 Kids | $410 Family (2A+2C) – Click here to book online
10 Climb to Captain Starlight's Lookout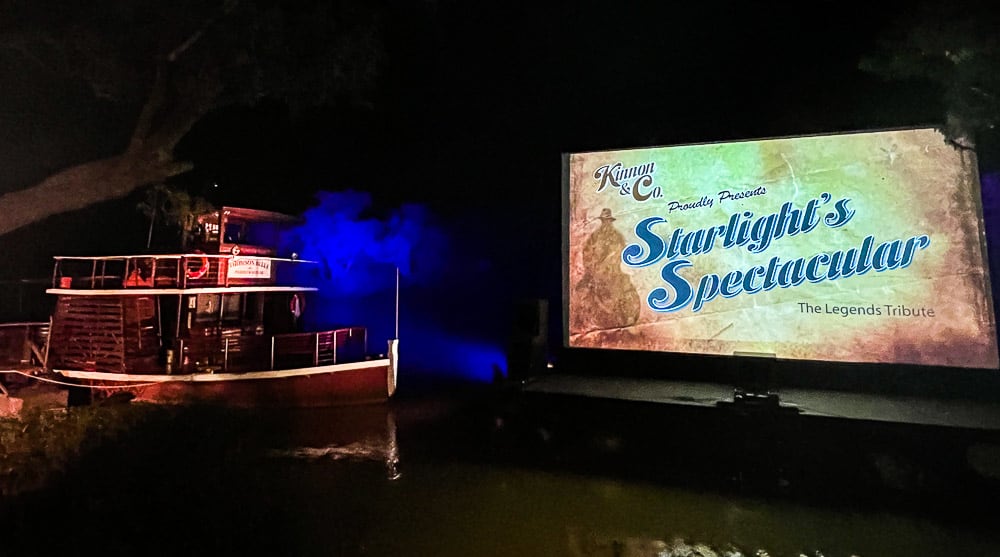 Make sure to add Captain Starlight Lookout to your list if you're searching for free things to do in Longreach. Named after the notorious Australian bushranger, this rock formation offers stunning views of the town and it only takes 20 minutes to hike to the top.
Although it's located about 55 km outside of town, the Captain Starlight Lookout is a popular spot to catch a breathtaking sunset over the incredible outback landscape (this is one of those Longreach things to see that needs to be on your to-do list!).
However, be aware the road leading to the lookout is unsealed and can become muddy when it rains, so that's worth considering if you're driving a hire vehicle.
Visiting Captain Starlight Lookout is an excellent addition to your itinerary if you're looking for things to do in and around Longreach.
Location: Longreach-Muttaburra Road, Longreach
Opening Hours: Always open
11 Nogo Station Tour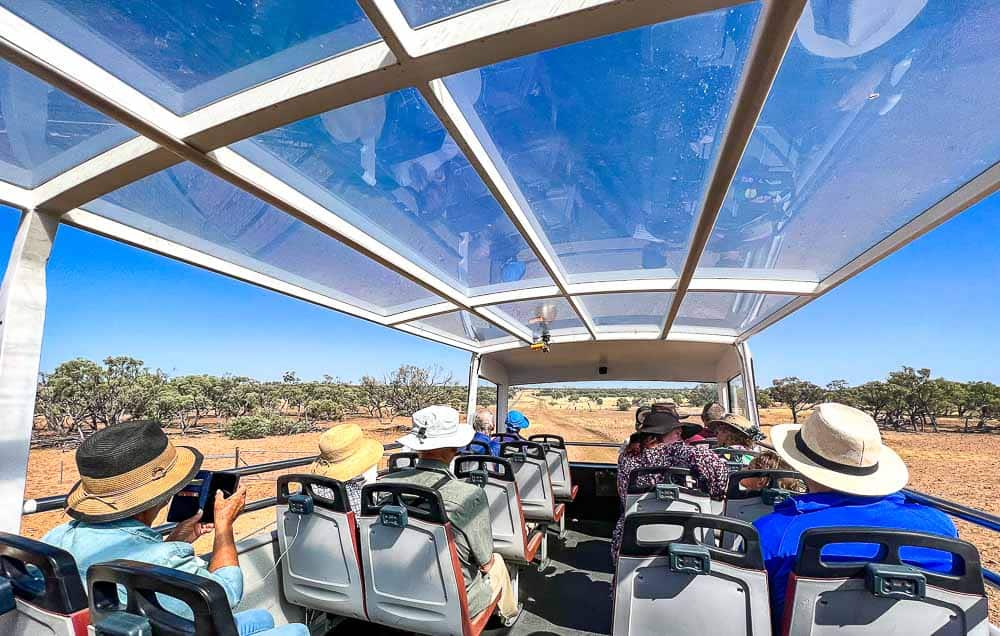 On this tour, you'll experience the authentic outback lifestyle at the Nogo Station, where you will be given a glimpse into what life was (and still is) like at a working station. The Kinnon family's property, Nogo Station, built in the 1880s, is a working cattle and sheep station named after the floods that render it a "no-go" area.
Listen to stories of station life as your entertaining guide weaves in plenty of hilarious jokes to keep you amused throughout the tour. Gain insight into the merino sheep and their valuable wool as you watch the traditional shearing techniques in the shearing sheds.
Explore the vast property on an open-topped, double-decker bus, accompanied by headset commentary from your knowledgeable guide as you travel. With luck, you might catch sight of wild camels, donkeys and kangaroos along the way.
If Jeremy or Lane are your tour guides, they may share some of their playful childhood memories of life on the station.

To complete the tour, indulge in a typical stockman's saddlebag lunch under the shade of the gum trees.
Location: Nogo Station, Longreach – Pick up and drop off available from Longreach accommodation
Opening Hours: Tuesday and Friday mornings from April to October
Cost: $129 Adults | $99 Kids | $410 Family (2A+2C) – Click here to book online
12 Ride the Spirit of the Outback train to Longreach
Not exactly 'what to do' at Longreach, but more of 'how to get to Longreach' the Spirit of the Outback is a way to travel to Longreach in style! It may not be the fastest transport to Longreach (the journey takes 26 hours!), but travelling by train is an ideal way to journey in comfort while taking in the changing outback landscape.

Arriving in Longreach on the Spirit of the Outback turns your journey to Longreach into part of your Longreach adventure and it's well worth it if you have the time to spare.
Location and travel times: Journey between Brisbane and Longreach on Tuesdays 6.10 pm and Saturdays at 1.55 pm | Journey between Longreach and Brisbane on Mondays and Thursdays at 10 am
Cost: Economy seats from $141 | Sleepers available from $427 | Check Queensland Rail for up to date pricing and special offers
13 Powerhouse and Historical Museum
The Longreach Powerhouse and Historical Museum is a fascinating attraction where you can learn about local history and see some historic treasures while also learning how electricity was generated and distributed throughout the region.
See ancient machinery and tools, visit preserved buildings and you can even see the town's original swimming baths, which date back to 1921.

Location: 12 Swan Street, Longreach
Opening Hours: April to October, weekdays 10.30 am to 12.30 pm and 1.30 pm to 3.30 pm
Cost: $15 Adults | $8 Kids | $30 Family (2A+2C)
LONGREACH DAY TRIPS
Below we cover some of the best day trips you can easily do from Longreach.
Winton day tour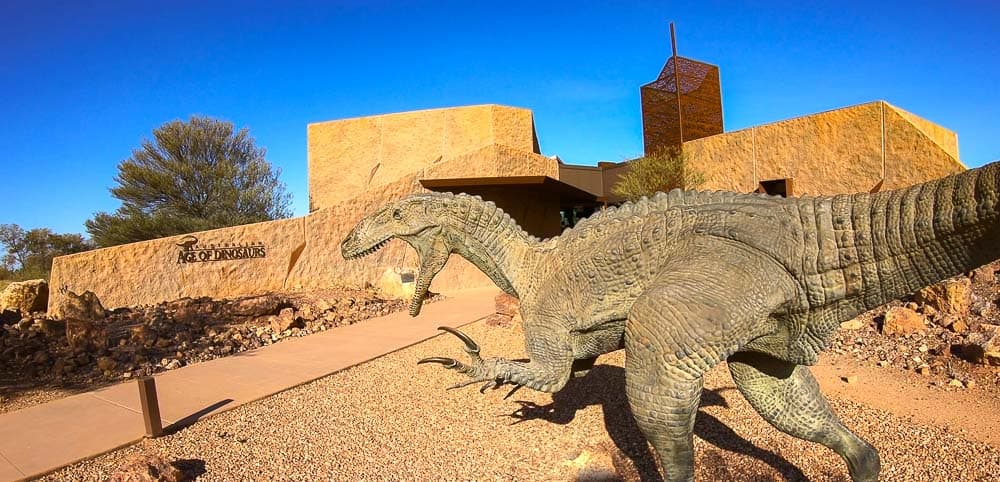 While you certainly won't run out of things to do in Longreach, it's well worth taking a day trip to Winton (longer if you have time).
Winton is a small town two hours northwest of Longreach. It's a place rich in history and most famously known for its connection to Banjo Patterson's "Waltzing Matilda" and its fascinating dinosaur history.
The highlight of Winton is the Australian Age of Dinosaurs Museum. Through various interactive exhibits and displays of fossils, including the largest dinosaur skeleton ever found in Australia, you'll learn about the dinosaurs that roamed the area millions of years ago. You'll even see real life (preserved) dinosaur footprints!
Another popular attraction in Winton is the North Gregory Hotel, where Banjo Paterson wrote "Waltzing Matilda" in 1895. The hotel has been lovingly restored to its original condition and offers visitors the chance to step back in time and experience the atmosphere of a typical Outback hotel from the late 1800s. In addition, it's a great spot for a pub meal.
For more general information about Banjo Paterson and Winton, be sure to stop by the Waltzing Matilda Centre.
While you could easily spend a few days in Winton – if you don't have time, you can hire a car and take a day trip from Longreach. Alternatively, you can also book an all inclusive day trip from Longreach.
Opalton
Opalton is famous for its remarkable boulder opal, so it's worth visiting for a day trip if you are interested in gemstones and fossicking.
Located 188 kilometres west of Longreach (around 2 hours 15 minutes in the car), this town boomed after opals were discovered in 1888. The largest opal in the world was recovered right here in 1899 and it was more than 3 metres long!
It's a much quieter town now, with a campsite and one shop where you can meet the locals when the mail is delivered on a Thursday. However, don't miss the opportunity to try your hand at the public fossicking area. Who knows, you might get lucky!
BEST HOTELS IN LONGREACH
Looking for somewhere to stay in Longreach? We recommend booking through Booking.com as they offer a wide range of hotels and most with free cancellation, which is ideal for last-minute changes.
However, if you want our recommendation for a hotel, below we've listed our top pick for a luxury hotel, family hotel, mid range and budget hotel.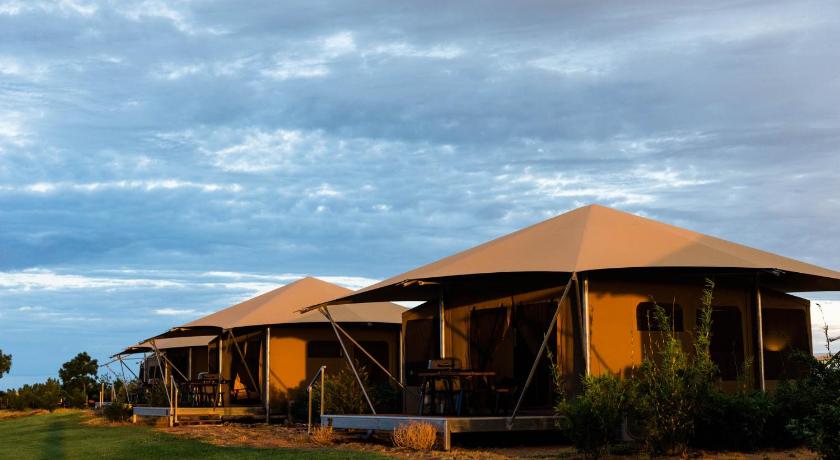 The Mitchell Grass Retreat is glamping at its finest, offering pure luxury under canvas. Enjoy stylish eco safari tents with opulent interiors and experience exceptional 5-star service. A stay at this unique accommodation will make your Longreach trip even more memorable.
The Retreat offers air-conditioned, en suite tents in two sizes: one with a king bed suited to a couple and one with a king or two singles plus three swags suitable for up to three children. Each tent has a private outdoor area with seating and BBQ, plus plenty of space inside, including a full kitchenette with kettle, toaster and microwave, dining area and bathroom. Bathrooms feature deep bathtubs with views across the plain, and the family tent includes an authentic trough-style outdoor bath.
If you can bring yourself to leave the tent, you'll find a swimming pool and BBQ area, plus a firepit where you can toast marshmallows to enjoy the full campsite experience. Although the resort has WiFi, this is a place to disconnect from the outside world and reconnect with the surrounding environment.
The Mitchell Grass Retreat is the perfect base, close to all the Longreach things to do and see. Stay in luxury and immerse yourself in the stunning outback landscape.
Click here for more information or to book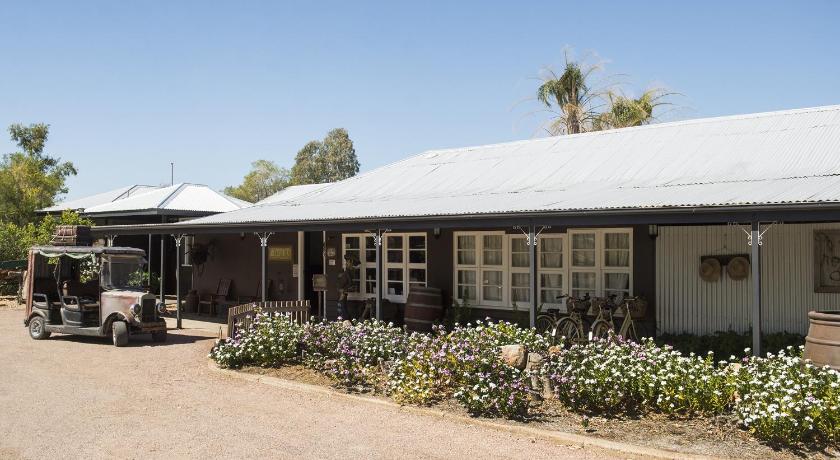 The Saltbush Retreat is another boutique glamping option with cabins instead of tents and all the facilities families could need at a reasonable price point. Just a few minutes' drive from Longreach; you can enjoy the outback with easy access to all the Longreach attractions.
There are three room types to choose from at Saltbush Retreat. The Homestead Stables offer one king bed, one single bed and one loft bed inspired by the traditional stable boy's bed (there is also an accessible option with a king bed and a single). Slab Huts offer one queen sized bed, and Outback Cabins come in a range of sizes from one bedroom to two bedrooms.
All accommodation options include air conditioning, free WiFi, flat screen TVs, hairdryers and irons. Stables and Cabins include fully equipped kitchens and Slab Huts include kitchenettes which means you can prepare your own meals.
Saltbush Retreat has a pool so you can cool off in between activities. There is also a BBQ that you can use if you want to cook your own dinner outside and enjoy it by the pool. In addition, slab Hut and Homestead Stables guests can enjoy the outdoor bath terrace, which is the perfect spot for a sunset dip.
Laundry facilities are available, which is handy when you're travelling, and the resort also offers a free airport shuttle.
Click here for more information or to book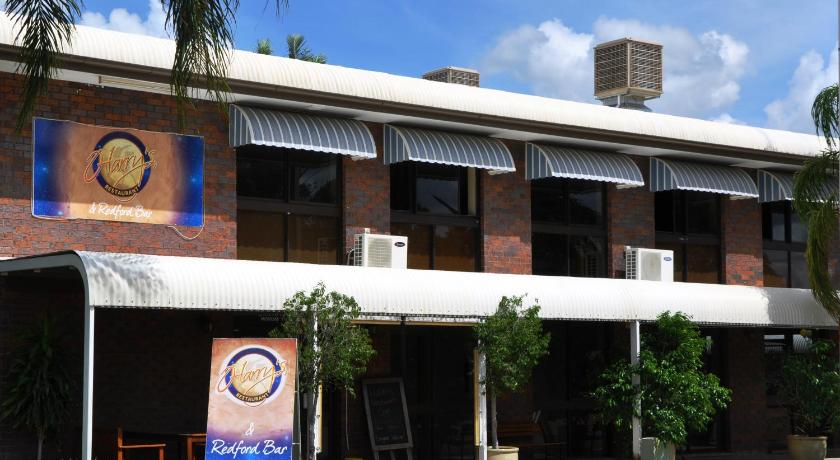 Regarding location, it doesn't get much more central than the Longreach Motor Inn, which is just off the main street and opposite Longreach train station.
The rooms here are fairly basic, but they're tidy and spacious, with a wide range of options, including queen rooms, king rooms, executive rooms, family rooms and also a two bedroom family suite.
All rooms have air conditioning, tea and coffee making facilities, irons, free Wifi, TV and a toaster. Higher room grades include extras like an espresso coffee machine, microwave, sofa and large flat screen TV.

Undercover parking is available for guests making the Motor Inn a great pick for road trippers. In addition, the Inn has a saltwater pool and sauna and an outdoor BBQ area with seating so you can cook your dinner. Room service is also available for breakfast and dinner (from Harry's Restaurant), which can be handy when you've had a long day.
An airport shuttle service is available, and due to its central location, you could get by without a car if you book guided tours to take you to the main Longreach attractions. In addition, the Inn has two coin operated washing machines and dryers so that you can travel light and wash every few days.
If you want to be in the middle of the action, this is the Longreach accommodation option for you, and it's light on the wallet too.
Click here for more information or to book
The Staging Post is a centrally-located boutique, heritage-themed motel that oozes vintage charm from the pioneer era.
Choose from The Stables or Coach Inn rooms. The Stables offer a rustic-luxe style filled with authentic details inspired by the stables where the Cobb & Co horse teams rested after their long journeys. The Coach Inn rooms are self catering and come with a convenient kitchenette so you can prepare some of your own meals, which is handy if you're on a budget.
All rooms offer air conditioning, TV, microwave, tea and coffee making facilities, free WiFi and shared access to courtyard seating. Unfortunately, there is no pool, so you'll need to make the most of the room's air conditioning to survive the Queensland heat.
The motel is in the heart of Longreach, so you only have a short stroll to cafes, pubs, restaurants and shops. There is also a free airport shuttle, so again you could base yourself here and take tours if you don't have a car.
The Staging Post offers an ideal balance of convenience and space for visitors wanting to stay in the heart of Longreach without the feeling of being crammed in, and the heritage vibes are a lot of fun.
Click here for more information or to book
ENJOY LONGREACH!
Hopefully, this guide has given you lots of inspiration on things to do in Longreach.
If you're planning a trip to Longreach, I highly recommend you check out our guide to the Queensland Outback, which provides links to everything you need to know to plan your trip.
I'd also recommend you join our free Queensland Travel Guide Facebook community, where you can ask all your questions and find even more great trip suggestions.
If you're heading to Longreach, you might also be interested in the following nearby destinations:
Winton (coming soon)
Charleville (coming soon)
Hughenden (coming soon)