Are you planning a trip to Minjerribah? This article covers all the best things to do on Minjerribah, including activities, places to visit and tips on where to stay.
The Queensland Travel Guide acknowledges the Quandamooka People, the Traditional Custodians of Minjerribah. We pay our respects to their Elders past, present and emerging, and recognise their continued spiritual and cultural connections to Country. Always was, always will be, Aboriginal land.
Just off the coast of Brisbane's bayside, you'll find Minjerribah (North Stradbroke Island), also lovingly known as "Straddie" by the locals. On Minjerribah, you'll find absolutely gorgeous beaches, picture perfect lakes, loads of wildlife and an abundance of marine life too – this place really is a nature lovers' paradise!
Whether you're planning a day trip to Minjerribah, a weekend away or a week long getaway – there is plenty of Minjerribah things to do. Most visitors spend their time close to the water exploring one of the island's stunning beaches. Here you can swim, snorkel, dive, surf, kayak, SUP, and spot marine life, including turtles, dolphins, reef sharks and more.
On dry land, there are also heaps of Minjerribah activities to keep you busy. There are freshwater lakes to explore, many hiking trails and lots of wildlife to see – you won't even need to look that hard to see kangaroos, koalas, goannas and birds.
For those planning a Minjerribah holiday, this guide is a great place to start. This things to do Minjerribah guide covers all the popular Minjerribah attractions, activities, and the best places to visit, as well as all the essential information such as locations, opening hours and how to get there.
This post may contain compensated links. Please refer to our disclaimer here for more information.
MINJERRIBAH (NORTH STRADBROKE ISLAND) THINGS TO DO MAP
Before we start on all the things to do on your Minjerribah holidays to help you plan your itinerary, check out the map below. This map shows the location of all the things to do at Minjerribah covered in this guide.
I recommend you first make a list of all the things you want to do and then use this map to plan your day to day itinerary so you're not travelling back and forth all over the island.
BEST THINGS TO DO ON MINJERRIBAH (NORTH STRADBROKE ISLAND)
Below we cover the top places to visit and top things to do Minjerribah offers visitors.
1 Go fishing
Whether you want to fish independently or join a fishing tour, there are some great spots to drop a line on North Stradbroke Island. In fact, one of the best things to do in Minjerribah is to go fishing right off the beach!
If you walk a bit further along the shore on Main Beach or Flinders Beach Beach, you'll surely find a quiet angling spot. Amity Point is also an ideal place to start. However, rock fishing isn't advised due to powerful tides – the conditions change quickly and may not be as suitable as they look!
But to make the most of fishing in North Stradbroke Island, why not charter a boat and head out with a local to find all the best spots?
A range of operators offers fishing tours.
2 Go to the beach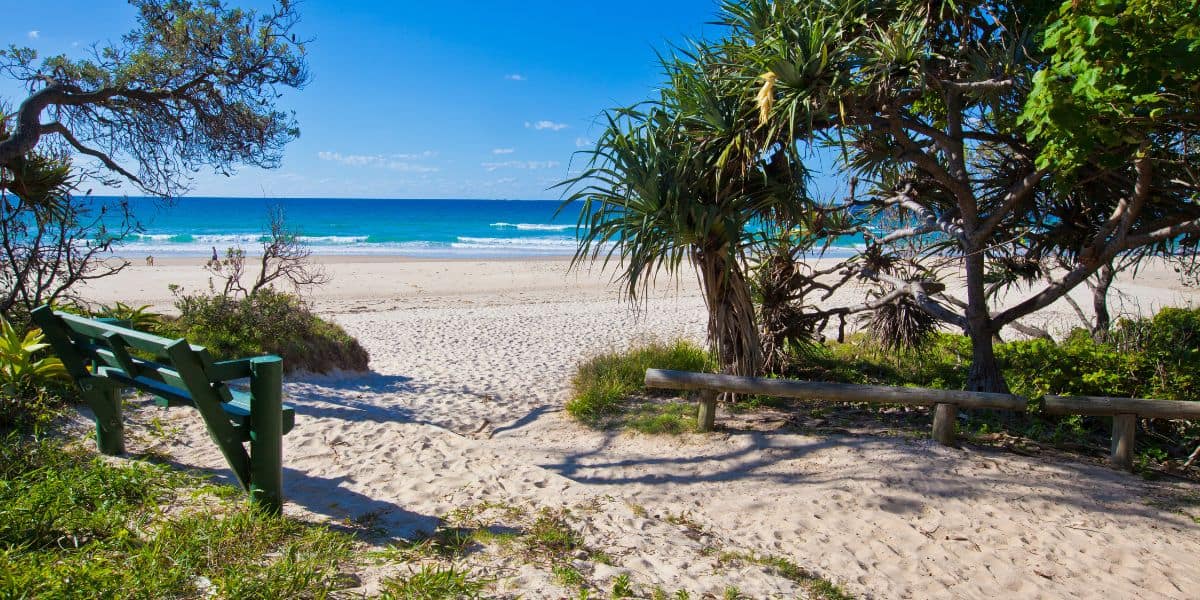 Heading to the beach is one of the top 10 things to do on Minjerribah. Depending on whether you're travelling as a family, prefer outdoor adventure, or want to relax within a tranquil cove, the North Stradbroke coastline has the perfect beach for everyone.
Cylinder Beach is a great option if you're visiting as a family. The conditions for swimming are perfect for kids, and it's patrolled every day of the year. Main Beach is another popular spot to sunbathe, swim and surf and Amity Beach is also an ideal place for kids with its crystal clear, calm waters – although it's not patrolled.
Stretching 8 kilometres, you can't go wrong with the excellent Flinders Beach. It's unsuitable for surfing, but there are plenty of spots to relax and swim. This sandy beach is gorgeous, too, though you could say that about every beach on the island.
Whichever beautiful bay you wander off to, be prepared for picturesque views!
3 Look for whales
If you're visiting the island between May and November, it's definitely worth adding whale watching to your Minjerribah to do list.
The island is an ideal place to look out for whales as you can see them directly from the land – so you don't need to book a boat tour and brace the waves! Instead, you can see them while walking around the beautiful island footpaths.
Thousands of humpback whales pass by the island over the Winter season, but September and October are the peak sighting months.
The best place to spot whales on North Stradbroke Island is Point Lookout, from where whales sometimes swim as close as just a few hundred metres away. But you could also spot them along the Discover Stradbroke Whale Trail and the North Gorge Walk.
Location: Around Point Lookout and along the North Gorge Walk
Hours: View whales between May to November
Cost: Free!
4 Brown Lake (Lake Bummiera)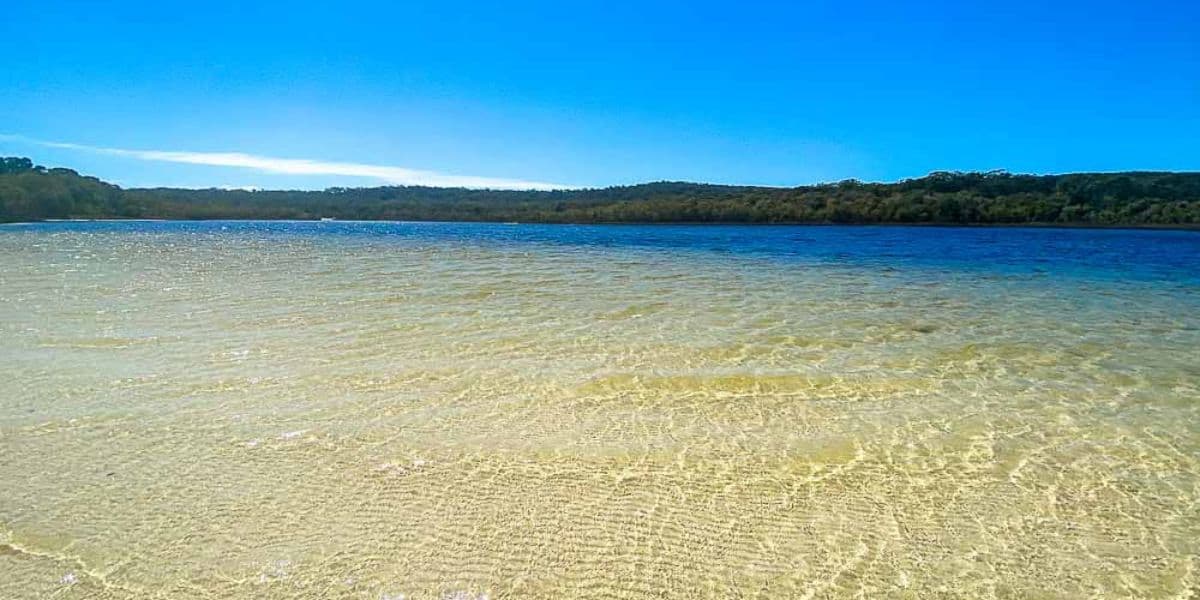 Lake Bummiera is most commonly known as Brown Lake due to the natural rainwater, which has been stained brown by the tannin from surrounding tea trees. When the sky is blue overhead, the water is tinged with contrasting blue and brown hues, making it truly distinctive.
Don't let the name put you off though – the water is crystal clear – it just has a slight brown tinge to it. It's the perfect spot for a swim!
Wood-fired barbecue and picnic facilities are also available, so you can easily spend a few hours here. You could even make an entire day out of it as there is also a small playground and toilets just a short walk from the entrance.
The easiest way to access the lake is by car, but hiking from Dunwich is also possible.
Don't miss this stunning hidden gem when planning your Minjerribah day trips.
Location: Just outside Dunwich
Hours: Always open
Cost: Free
5 Goompi Trail
If you want to learn about the rich Aboriginal history of Minjerribah, then join a historical guided walk along the Goompi Trial. The track curves around the Dunwich foreshore with fantastic views over Moreton Bay.
Throughout the 60-90 minute walk, your local Aboriginal guide will give you fascinating insights into the history of Quandamooka culture and explain what makes this land so culturally significant.
You'll also learn about Aboriginal artefacts, traditional hunting methods, bush medicines and ochres (natural earthy pigments used within the traditional Aboriginal painting).
Private and group walking tours are available. Click here for more information.
6 Blue Lake (Karboora)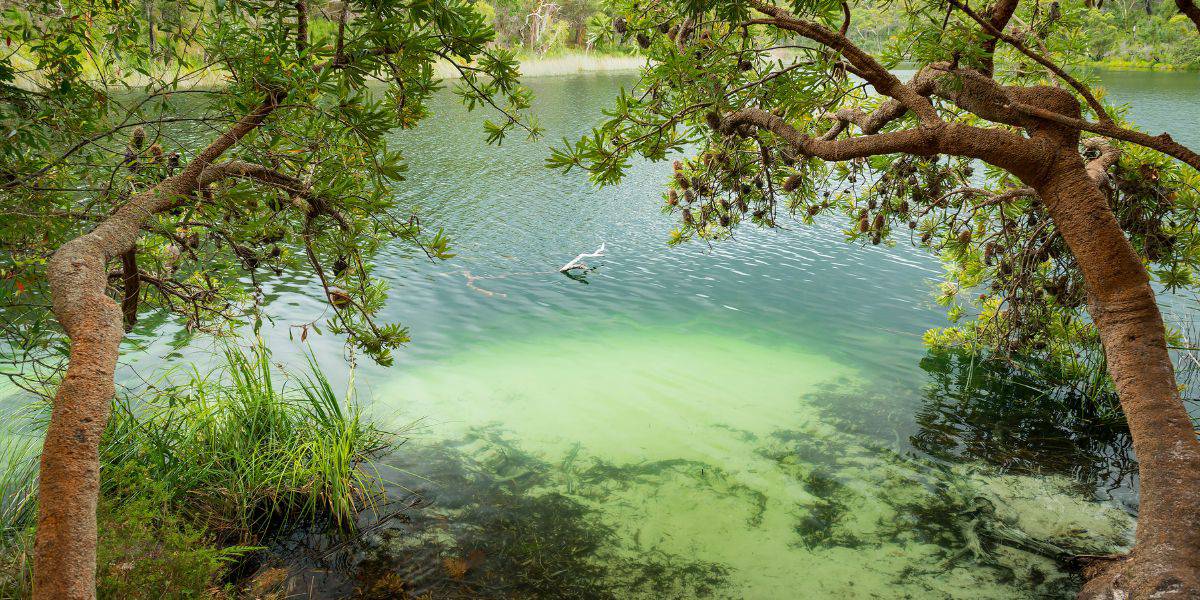 For the Quandamooka people, Blue Lake has special cultural significance. The name 'Karboora' means 'deep silent pool' – and the stunning lake is indeed a fantastic spot for meditating on your thoughts as you stroll around the water's edge.
You can access the lake via the Kaboora track, a 5.2km return walk from the car park. The path winds through wallum woodlands, native fauna, and towering eucalypts before arriving at the lake lookout. It's a moderate walk, so wear good shoes and don't forget sunscreen and insect repellent.
Please note that swimming in Blue Lake is inappropriate due to its cultural significance to the Quandamooka people.
Location: Within Naree Budjong Djara National Park | Accessed via a 5.2km (return) track that will take you approximately 1.5 to 2 hours
Hours: Always open
Cost: Free
7 Historical Dunwich Cemetery
Visiting the historic Dunwich Cemetary is a unique way to return to the early days of European settlement in Queensland. The cemetery has graves dating back to 1847, including 8500 unmarked graves of the inmates once held at Dunwich Benevolent Asylum.
Those laid to rest here include 27 victims from a typhus epidemic onboard a ship in 1850 and 65 service members who fought in the First World War. The descendants of many Aboriginal families were also buried here. Since many graves here were unmarked, a memorial has been erected to honour those laid to rest within the cemetery.
For a proper understanding of the cemetery's history, it's worth taking a tour with a local guide. Costumed guides will take you on a tragic journey through the grounds and transport you back in time to discover the tale of the doomed ship Emigrant and other lost souls who once took their final breaths here.
Dunwich Cemetery remains a place of remembrance for Island residents, so keep that in mind and be respectful during your visit.
Click here for more information about the guided tours.
Location: Bingle Road, Dunwich, North Stradbroke
Cost: Free to enter | Paid tours available $20 Adults | $10 Kids
8 North Gorge Walk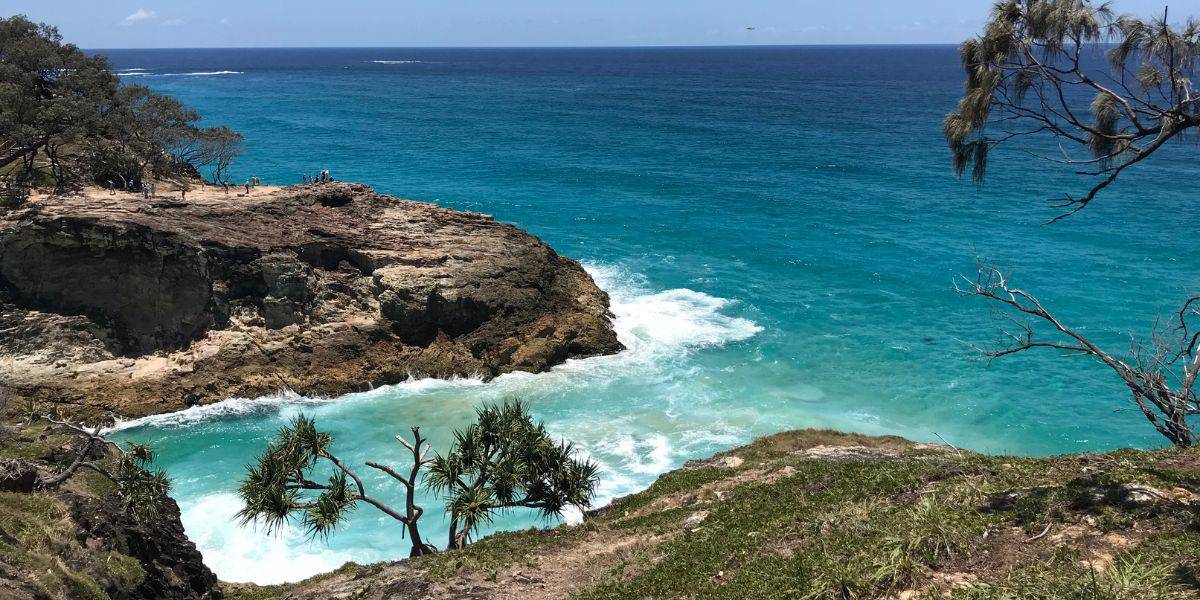 The North Gorge Walk is undoubtedly one of the best things to do on North Stradbroke Island! As you wind around the coastal bushland, you'll be treated to exceptional ocean views, fascinating wildlife, and some of the island's best sandy beaches.
Ensure you bring your camera as you'll definitely want to take photos from the mesmerising Point Lookout. This is one of the best viewpoints to see whales during the Winter months, but you can potentially see koalas and kangaroos along the walk all year round. Keep your eyes peeled for giant sea turtles, manta rays and dolphins riding the waves.
The boardwalk is just 1.2 kilometres, so even if you're just visiting on a North Stradbroke Island day trip, it's certainly worth fitting into your itinerary.
Location: Access the walk on Mooloomba Road at Point Lookout, North Stradbroke
Hours: Always open
Cost: Free
9 Salt Water Murris' Quandamooka Aboriginal Art Gallery
With an incredible selection of First Nationals Art, art lovers shouldn't miss visiting Salt Water Murris' Quandamooka Aboriginal Art Gallery. Besides the artwork, you can also view cultural workshops and performances and see the unique Quandamooka designs, textiles and accessories.
The gallery's mission is to maintain and strengthen the traditional culture on the island, so they can keep it alive for future generations of artists and make this culture accessible to visitors who seek a deeper understanding and appreciation. The gallery aims to main the authenticity and origins of the traditional culture.
The welcoming staff are on hand to answer any questions as you take in the inspiring artwork on display. You can also stop by the gift shop for a unique gift or souvenir from your visit to Stradbroke Island.
Location: 3 Ballow Road, Dunwich, North Stradbroke
Hours: Wednesday to Friday, 9 am to 2 pm | Weekends, 9 am to 1 pm
Cost: Free to look around | Paid art and cultural workshops available
10 Learn to surf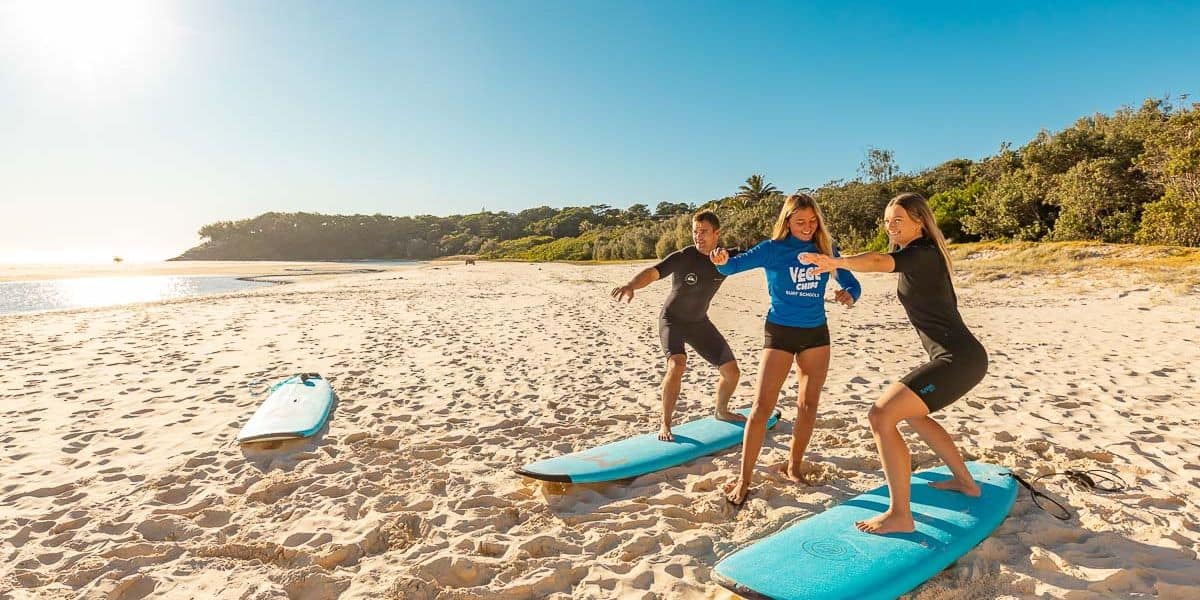 Image credit thanks to Damien Bredberg
If you're looking for serene beaches with excellent surf, you'll love North Stradbroke Island.
North Stradbroke Island Surf School offers lessons privately or in groups, and your experienced instructors will ensure you're in safe hands, even if it's your first time on a surfboard.
All equipment is supplied, including beginner's surfboard and wetsuits or rash bests if needed. Elite coaching is also available if you're already used to riding the waves.
Location: Surf lessons usually are held at Cylinder Beach, depending on the conditions
Hours: Lessons are held most days at 7 am and 8.30 am
Cost: From $60 a lesson
11 4WD tour
If you want to combine the peaceful coastal views with a fun-filled island adventure, you can't beat exploring Minjerribah on a 4WD tour!
Brace yourself for a bumpy ride as you drive around the island. Your guide will tell you about the rich history of Dunwich township, take you along some fantastic beaches, and help you spot whales and dolphins from Point Lookout.
Most 4WD tours include many of the island's best activities in one hassle-free trip, so you can enjoy swimming, koala-spotting, and a laidback beach barbecue, as well as viewing some unique natural attractions such as Brown Lake or North Gorge.
If you want to relax and let someone else do the planning for you, then these fun-packed 4WD tours could be the perfect way to explore North Stradbroke Island.
A range of operators offers 4WD tours. Click here to see what's available.
12 Wildlife spotting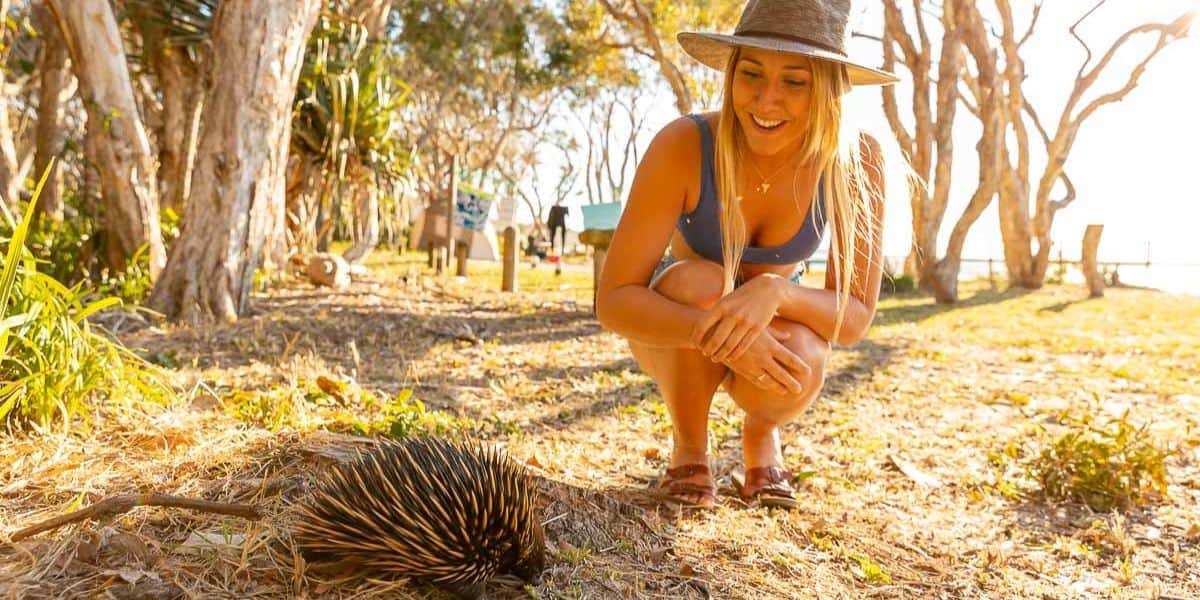 Image credit thanks to Damien Bredberg
Minjerribah is home to some truly wonderful wildlife, so you'll never get bored here if you're an animal lover! Out of the 450 native animals on Straddie, 43 are rare or threatened species.

Keep your eyes peeled on land for wallabies, kangaroos, koalas, bandicoots, and echidnas. You'll probably spot several reptiles rustling in the bushes as you walk around but don't forget to look up to the treetops to see the vibrant birdlife.
Looking towards the ocean, you'll be mesmerised by the fascinating marine life that makes their home alongside the island. Dolphins, turtles, manta rays, and fish are all commonly seen here, alongside those majestic humpback whales that breach and play along the coastline in the Winter months.
Take note of speed limits when driving around, as car strikes are dangerous to the animals that live here – especially at dusk and dawn – and note any fire bans. The island's unique ecosystem makes it a precious home for the animals who live here, and locals are keen to conserve it for future generations of animals and humans to enjoy.
Location: All around the island!
Cost: Free
13 North Stradbroke Island Golf Club
Image credit thanks to Alessandria Riding
This beautifully located par 70 course is undoubtedly a unique spot for golfers. The site has everything you need to get started – including powered cars, hire clubs, and golf lessons available – but with the fun addition of an audience of kangaroos and koalas.
Aside from golf, the fully-licensed clubhouse is a great place to enjoy a drink or wholesome meal as you watch the kids enjoy a game of putt-putt. The views here are sublime, with excellent vantage points over Brown Lake, Moreton Bay, and the Glasshouse Mountains.
Location: Alfred Martin Way, North Stradbroke
Hours: Every day from 7 am
Cost: $35 per player for 9/19 holes | $10 Club hire per set
14 Barefoot Bowls at Point Lookout Bowls Club
Why not try some barefoot lawn bowls at the Point Lookout Bowls Club? If you're new to bowls, the staff will give you a rundown on how to bowl and all equipment is included.
After enjoying a fun game on the top-class greens, relax with a cold drink and lunch or dinner.
Location: 75 Dickson Way, Point Lookout, North Stradbroke
Hours: Monday to Thursday from 10 am to 9.30 pm | Fridays and Saturdays from 10 am to 10 pm | Sundays from 10 am to 9.30 pm
Cost: $10 Adults | $5 Under 12s for two hours on the green, including all equipment
15 Point Lookout Markets
If you're visiting during the school holidays, stop at Point Lookout Markets and discover the unique and artistic gifts and knick-knacks on display.
Stalls usually include an eclectic mix of clothing, jewellery, and local arts and crafts. You can also pick up a tasty treat while you're there, such as home-baked goods and delicious organic jams.
Location: East Coast Road, Point Lookout, North Stradbroke
Hours: Run on selected Sundays from 8 am to 12 pm
Cost: Free
16 North Stradbroke Island Historical Museum
The North Stradbroke Island Historical Museum represents 25000 years of Aboriginal history, alongside the British invasion and colonisation that created a complicated shared history over the past 200 years. The museum is an excellent way to learn about the important events that shaped the island.
If you're curious about the cultural significance of Minjerribah, you're sure to find answers to some of your questions here. Although there's a lot of information to absorb within the small museum, thankfully, the passionate people who run the museum are amicable and informative.
The history presented here is very comprehensive, with a mix of documentation, quotes from first-hand accounts, and objects on display.
Location: 15/17 Welsby St, Dunwich, North Stradbroke Island
Hours: Wednesday to Sunday, 10 am to 2 pm
Cost: $6 Adults | $3.50 Students | Under 5s free
17 Sandboarding
The vast sand dunes on North Stradbroke are impressive just to look at from below, but there's nothing like taking them on and zooming down them on a sandboard!
The best way to sandboard in North Stradbroke is to take a tour, as your local guides know all the best slopes within the 'Straddie Desert.' If it's your first time, you'll perfect your technique on some of the smaller dunes before gliding down some bigger hills. You can even take on the steep, speedy monster slopes if you're brave enough.
A range of operators hire sandboarding gear, or you can choose a day tour that includes sandboarding as an activity. Click here to check what's available.
18 Scuba dive and snorkel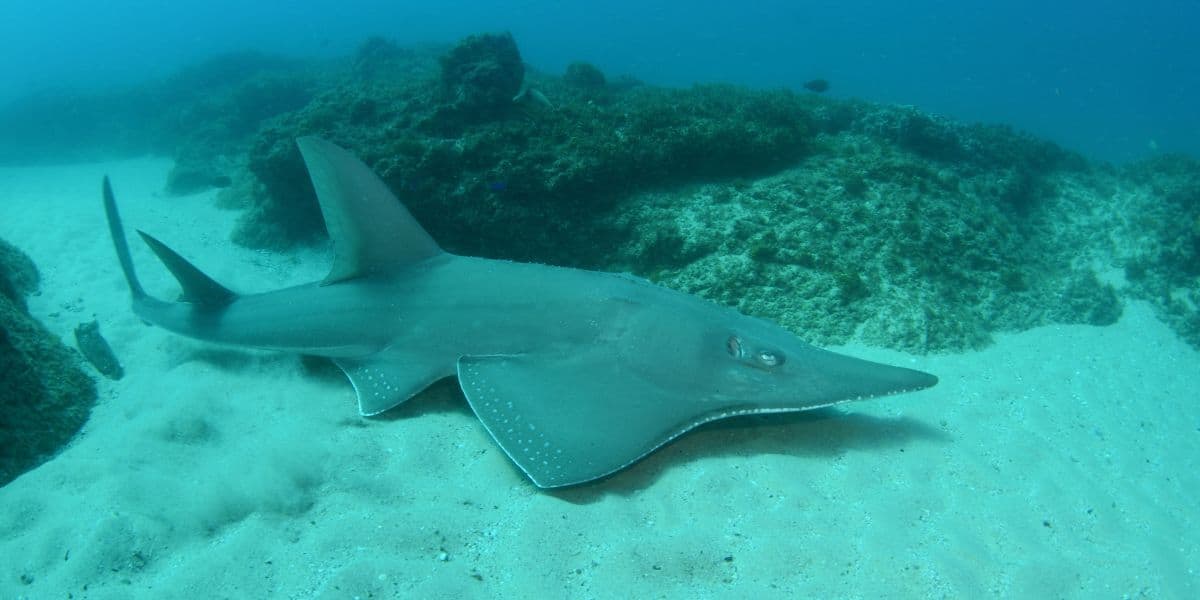 Image Credit Tourism and Events Queensland and Nigel Marsh
North Stradbroke Island is just as beautiful underwater as it is on land, and snorkelling or scuba diving is certainly one of the best things to do at Minjerribah.
The reefs here are teeming with fantastic diversity, from colourful corals, graceful manta rays, majestic turtles, leopard and grey nurse sharks, and even humpback whales in the Winter.
The Moreton Bay Marine Park includes the iconic Manta Bommie dive site, rated as one of Australia's top ten dive sites! In addition, there are fifteen dive sites to visit, all with something unique and extraordinary to offer.
Dive or snorkel with rays and turtles off Point Lookout with Manta Lodge and Scuba Centre, or book a day tour to visit various dive sites (for certified divers). Click here to check what's available.
19 Picnic on the beach
Many of the top North Stradbroke Beaches have picnic facilities, like picnic tables and BBQs, but you can just as easily bring a picnic blanket and some goodies from home! It's a brilliant way to take in the scenery – and an excellent excuse to spend longer soaking up the views beside the magical island coastline.
Location: Any of the beaches!
Hours: Always open
Cost: Free
20 Star gaze
Bring a telescope or binoculars and take in the mesmerising night sky from North Stradbroke Island. The conditions are generally better, but anytime with minimal cloud cover is ideal.
Location: Anywhere away from artificial light sources (bring your own telescope or binoculars)
Hours: Check the weather for clear night skies
Cost: Free
21 Hire a bike or scooter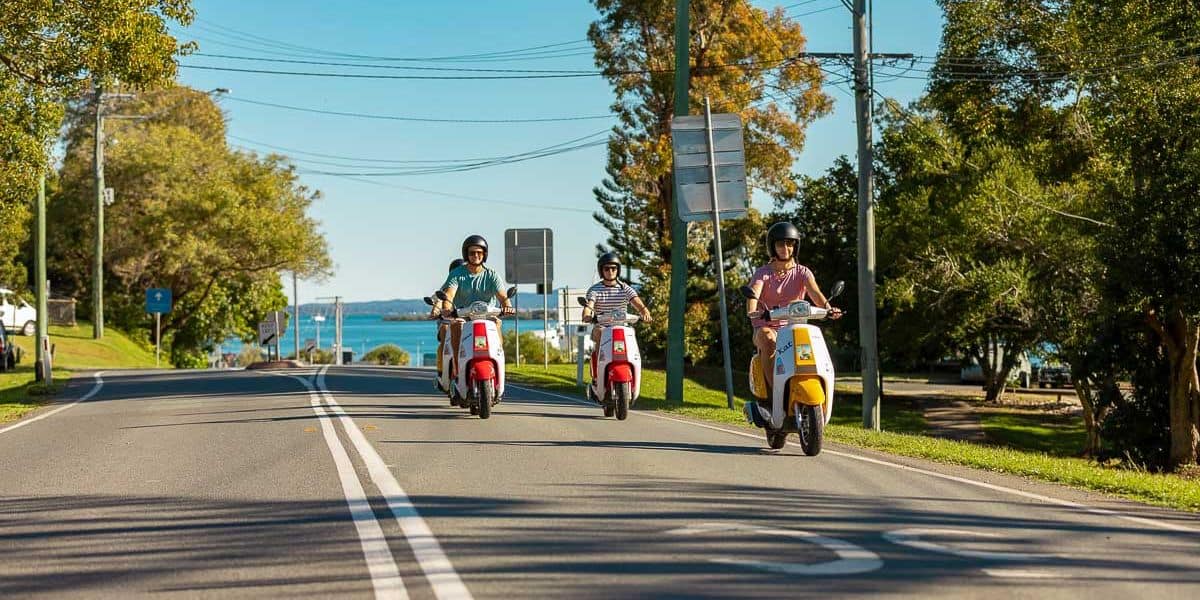 Image credit thanks to Damien Bredberg
There are endless trails that lend themselves to cycling, and it's a great way to explore the island's diverse nature and landscapes.
Many roads are shared with large vehicles and four-wheel drives and some routes are full of undulated terrains more suited to those with moderate fitness, so bare this in mind before you cycle around the island.
If you're unsure of the best routes, ask one of the local sports businesses and they're sure to point you and your bike in the right direction.
Location: A range of businesses on the island hire out bikes or scooters, including Manta Lodge, Straddie Super Sports and Scooters on Straddie
Hours: Various
Cost: Prices start at around $10
22 Enjoy a drink with a view at Point Lookout Surf Lifesaving Club
There's nothing like unwinding with a cold drink at the Point Lookout Surf Lifesaving Club. Aside from the fantastic range of local beers, the views are out of this world!
The coastline views are magnificent year-round, but in Winter, you might even spot whales as you watch over the beach from the club.
Location: 24 Kennedy Dr, Point Lookout
Hours: Bar open Fridays from 11 am | Weekends from 8 am
Cost: Depends how much you eat and drink!
23 Beach yoga
DIY beach yoga can be done anywhere on the island (BYO yoga mat!), or look out for classes advertised during your visit.
Samad Hi Flow Yoga generally offer classes most Saturdays and Sunday mornings. They also offer yoga beach retreats, so you can plan your visit to coincide.
24 Go glamping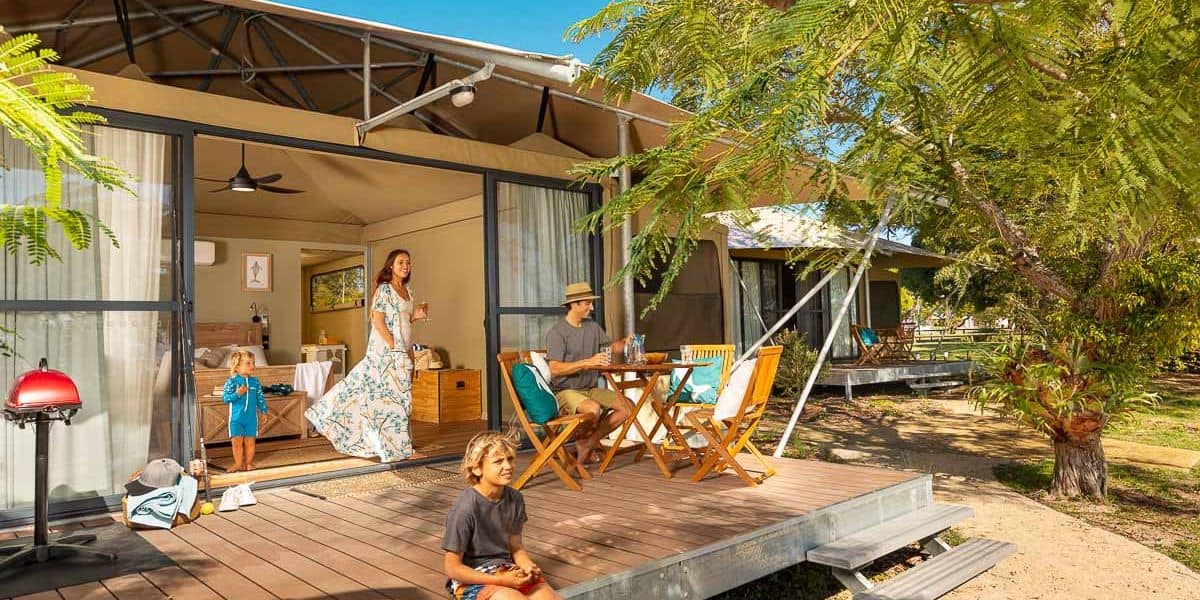 Image credit thanks to Damien Bredberg
Glamping is an excellent option if you want to reconnect with the great outdoors but don't fancy lugging camping equipment around. Many glamping sites are more like a home away from home, fitted with separate rooms and stunningly decorated with luxurious amenities.
A range of campsites offers ready-erected luxury tents. Click here for more information.
25 Bring a native plant home
If you want a unique souvenir from the island, taking a native plant home with you is an excellent option.
Wildlife thrives on Stradbroke Island due to its unique and luscious ecosystem. Likewise, the native plants thrive here due to the rich soils and mild weather, and you'll find a great selection of them at the community-run Point Lookout Bushcare Nursery.
Location: Point Lookout Bushcare Nursery
Hours: Thursdays 10 am to 12 noon
Cost: Depends how many plants you buy!
26 Watch the sunrise and sunset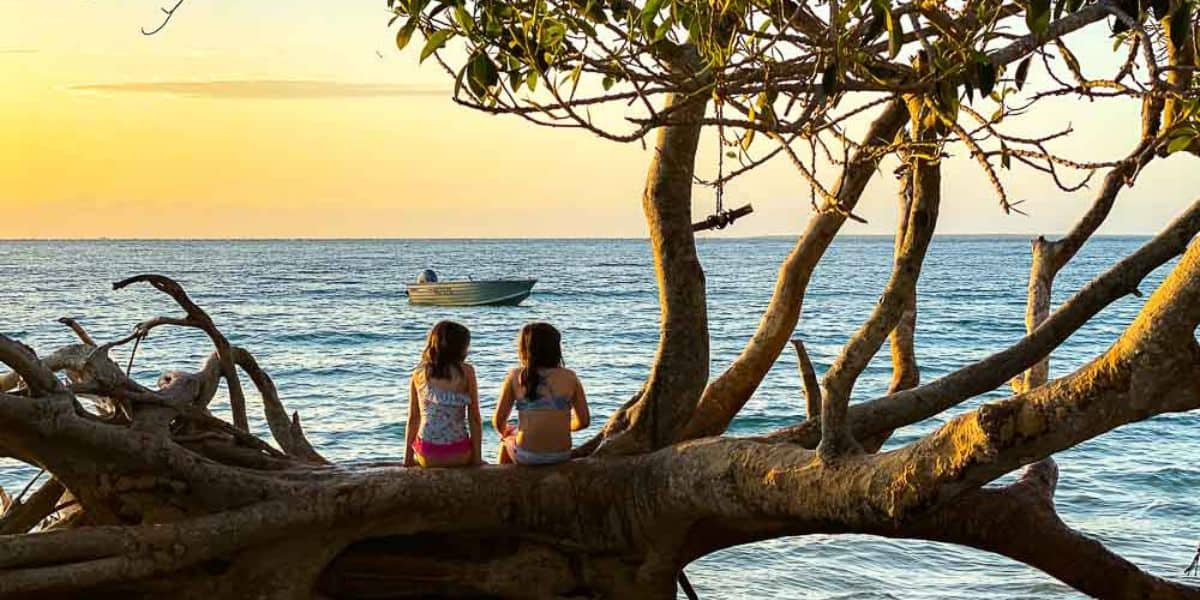 It's well worth finishing off a day on Stradbroke Island by watching a fiery sunset over the ocean.
Amity Point Jetty is the perfect spot for sunrise, and Cylinder Beach is a popular sunset location, but there are many excellent vantage points around the island. Adder Rock, Frenchmans Bay, and Deadmans Beach are also amazing places to watch the sky get transformed with a fabulous sunset.
Location: See the sunrise on the eastern side of the island | See the sunset on the western beaches
Hours: Check for current times
Cost: Free
BEST TOURS OF MINJERRIBAH (NORTH STRADBROKE ISLAND)
While you can easily visit the island on your own – for those staying out of town, a Minjerribah day trip may be more convenient – or even a multi day trip with a guide.
If this sounds like you, we list some of the most popular Minjerribah tours from Brisbane and the Gold Coast below.
North Stradbroke Island Day Trip With Sunset
Although it's possible to DIY a day trip to Minjerribah from Brisbane, it definitely makes things more relaxing if you let the local tour guides arrange it for you – especially if you don't have much time!
The best Stradbroke Island tours from Brisbane include the destination's best-known highlights, including the Gorge Walk, Brown Lake, Cylinder Beach, Amity Point, and Point Lookout.
Your guide will provide some fascinating information about the island's culture and history while pointing out any fab Australian wildlife that comes your way.
The return ferry ride will be timed just at the right hour for you to watch a stunning sunset over the ocean.
For tours from Brisbane – click here for information and to book your tour.
For tours from the Gold Coast – click here for information and to book your tour.
Moreton Bay: Best of Moreton Bay 3 Island Day Tour
Why not discover three of Queenland's most breathtaking islands with a Moreton Bay 3 Island day tour?
The tour packs in a fantastic variety of activities and sights and really gives guests an excellent opportunity to see what makes this part of the world so special.
You'll get to snorkel with marine animals at the Tangalooma Wrecks, enjoy the views over lunch at Moreton Bay, discover the exciting culture and history of Helena Island, and spot koalas on Stradbroke Island.
Click here for information and to book your tour
BEST HOTELS ON MINJERRIBAH (NORTH STRADBROKE ISLAND)
Looking for somewhere to stay on Minjerribah? We recommend booking through Booking.com as they offer a wide range of room types, most with free cancellation, which is ideal for last minute changes.
However, if you want our recommendation for a hotel, we've listed our top pick for a luxury hotel, family hotel, mid range and budget hotel below.
Nestled right between Frenchmans Bay and Main Bay, you can't find a more beautifully located hotel than Whale Watch Ocean Beach Resort. It's within walking distance from Point Lookout and the North Gorge Walk, known for having the best views on the island, and is around the corner from several top-rated cafes and restaurants.
Air-conditioned apartments come in several options for two, four, or six people and all overlook the breathtaking Coral Sea. Every suite in the complex comes with a fully equipped kitchen, laundry facilities, a dining area, and well-positioned balconies so you can make the most of those North Stradbroke sunsets – and even spot whales in the Winter season.
Aside from the magnificent ocean views, the hotel also has a beautiful heated outdoor pool. There is also a spa pool, barbecue area, games room and fitness centre. When walking around the property, look out for the kangaroos, curlews and bandicoots sharing the grounds with you.
Seamlessly blending the best of the island's wildlife within a luxury setting, Whale Watch Ocean Beach Resort has to be the perfect place to stay in Minjerribah.
Click here for more information and to check the price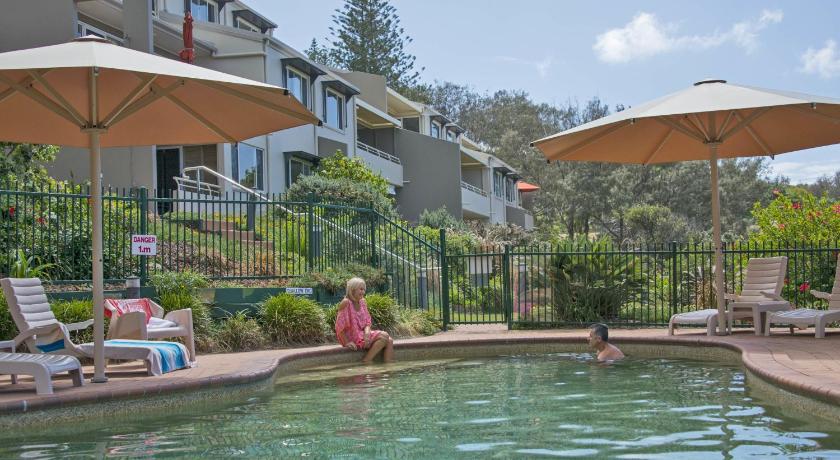 Samarinda Jewel by the Sea is an excellent choice for a family-friendly accommodation that all ages will love. The apartments are just a 5-minute walk from the beach, North Gorge Walk and an array of eateries and shops.
Air-conditioned apartments are suitable for couples or large families. Rooms include free Wi-Fi, a private bathroom, full kitchens including a dishwasher and oven, and a lounge area with TV and laundry facilities, but the best feature has to be the garden and sea views from the private balcony.
The stunning outdoor pool is ideal for families and includes a shallow end for young ones. There is also a garden area with BBQ facilities and a picnic area.
For a beautiful stay that's well-known for its family-friendly environment and great location, Samarinda is a fantastic choice.
Click here for more information and to check the price
The Islander offers spacious, modern apartments beside the stunning Cylinder Beach. A handful of charming eateries are dotted a short distance away, or it's just a 3-minute drive to the centre.
Air-conditioned apartments sleep two to four people and come with relaxing garden views. Units include a kitchenette, a private bathroom, free Wi-Fi, a washing machine, a TV and a dining area. Some units also have a balcony.
The Islander's best feature is undoubtedly the outdoor area which includes a beautiful heated salt-water pool, sun loungers with umbrellas, and a tennis court.
This is an excellent hotel for any travellers looking for a hotel close to the beach and with plenty of activities nearby.
Click here for more information and to check the price
Manta Lodge YHA is a brilliant hostel offering comfortable accommodation for travellers on a budget. Across the road from Cylinder Beach, this budget-friendly hostel is close to many of the island's best activities. As the name suggests, the hostel shares a building with an SSI dive centre, so it's the ideal place to stay for anyone planning scuba-dive during their trip.
Both dormitory and private room options include air-conditioning, linen, and towels. Private rooms are available for couples and families, with a bar fridge and electric kettle with free tea and coffee.
The YHA has a shared kitchen and two common rooms with TVs with Netflix, or you can pass the time with a game of table tennis or billiards. The hostel also features a vending machine, lockers, and a tour desk. There's also a fab outdoor area with a fireplace, furniture, and barbecue.
Manta Lodge YHA and Scuba Centre is the perfect place for anyone looking for a budget-friendly and well-located accommodation with fantastic communal facilities.
Click here for more information and to check the current price
GETTING TO NORTH STRADBROKE ISLAND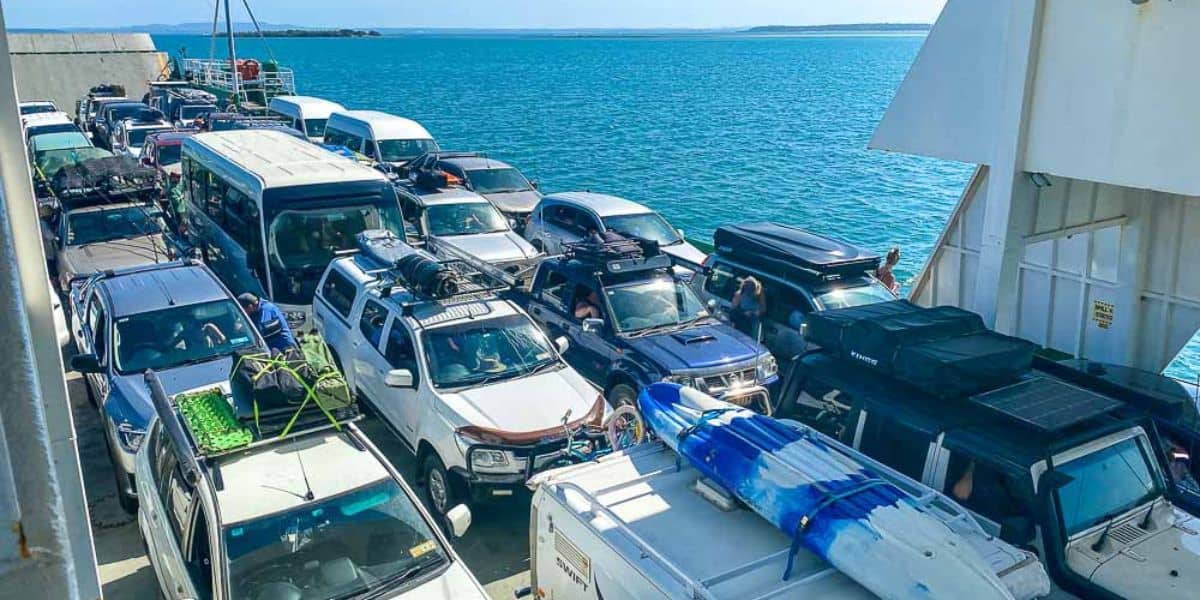 Getting to North Stradbroke Island by ferry from Brisbane is easy.
Ferries to North Stradbroke Island leave from the Toondah Harbour in Cleveland, which is approximately a 40-minute drive to the east of Brisbane CBD. You can also take a train or bus.
Once you're at the Toondah Ferry Terminal, you can take a passenger ferry if you're travelling without a vehicle or the vehicle ferry whether you're travelling with or without a vehicle.
Passenger Ferry
Two operators are running passenger-only ferries – Sealink and the Stradbroke Flyer. Both ferries leave from the Toondah Harbour in Cleveland. However, the Sealink arrives at Junner Street, whereas the Stradbroke Flyer arrives at One Mile Jetty on Yabby Street.
The Sealink ferries run hourly between 4.55 am and 6.25 pm, with a daily break around lunchtime. The journey takes around 25 minutes. A return fare begins at $21 for adults and $12 for children (kids under five go free). Check the Sealink website for any timetable changes or to book tickets.
The Stradbroke Flyer ferries run hourly between 4.55 am and 7.25 pm, with a daily break around lunchtime. The journey takes around 30 minutes. A return fare begins at $21 for adults and $11 for children. Check the Stradbroke Flyer website for any timetable changes or to book tickets.
Vehicle Ferry
Vehicle ferries run hourly between 6 am and 6 pm, with extra services at peak times and during school holidays. However, tickets often book out in advance during busy periods, so it's worth booking ahead.
The journey takes around 45 minutes. Prices vary depending on the size of your vehicle and what time of day you're travelling. One-way fares for a standard car begin at $73.
Passengers without vehicles are also welcome to take the vehicle ferry to North Stradbroke Island.
ENJOY MINJERRIBAH (NORTH STRADBROKE ISLAND)!
Hopefully, this guide has given you lots of inspiration on things to do on Minjerribah.
If you're planning a trip to Minjerribah, I highly recommend you check out our guide to Brisbane, which provides links to everything you need to know to plan your trip.
I'd also recommend you join our free Queensland Travel Guide Facebook community, where you can ask all your questions and find even more great trip suggestions.
If you're heading to Minjerribah, you might also be interested in the following nearby destinations: