Are you looking for things to do in Eumundi and the surrounding region? This article covers all the best Eumundi things to do, including tourist attractions, places to visit and activities.
The Queensland Travel Guide acknowledges the Kabi Kabi people and the Jinibara people, the Traditional Custodians of the land on which the Sunshine Coast is situated. We pay our respects to their Elders past, present and emerging, and recognise their continued spiritual and cultural connections to country. Always was, always will be, Aboriginal land.
The picturesque town of Eumundi, in the Sunshine Coast Hinterland, is famous for its incredible artisan Eumundi Markets. While the markets are one of the key things to do, Eumundi is so much more than just a market town with its quaint boutiques, galleries, delicious food and drink, not to mention its scenic surroundings. 
If you enjoy art, culture, history, nature, and wildlife, Eumundi offers a variety of experiences. And for those eager to explore further afield, there are many things to do near Eumundi, making it a great base for your Sunshine Coast holiday.  
There are some great restaurants in Eumundi serving delicious local produce, so you will have plenty of options for places to eat! Eumundi also has a range of cafes if you're seeking a relaxed coffee and slice of cake. 
Main Image credit thanks to Tourism and Events Queensland
This post may contain compensated links. Please refer to our disclaimer here for more information
THINGS TO DO EUMUNDI MAP
Before we get started on what to do in Eumundi, check out the map below to help you plan your itinerary. This map shows the location of all the places to visit and things to do covered in this guide.
BEST EUMUNDI THINGS TO DO
Below, we cover things to do around Eumundi so you can enjoy an amazing Sunshine Coast hinterland stay.
1 Eumundi Markets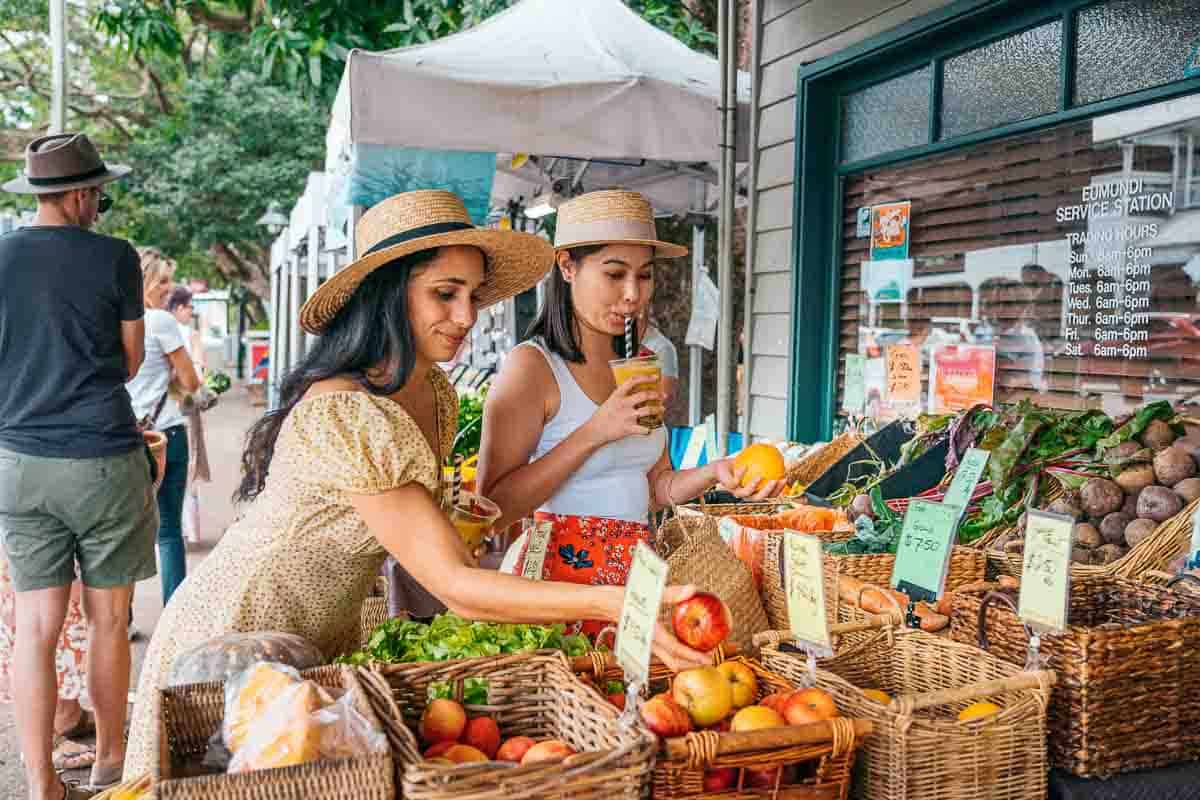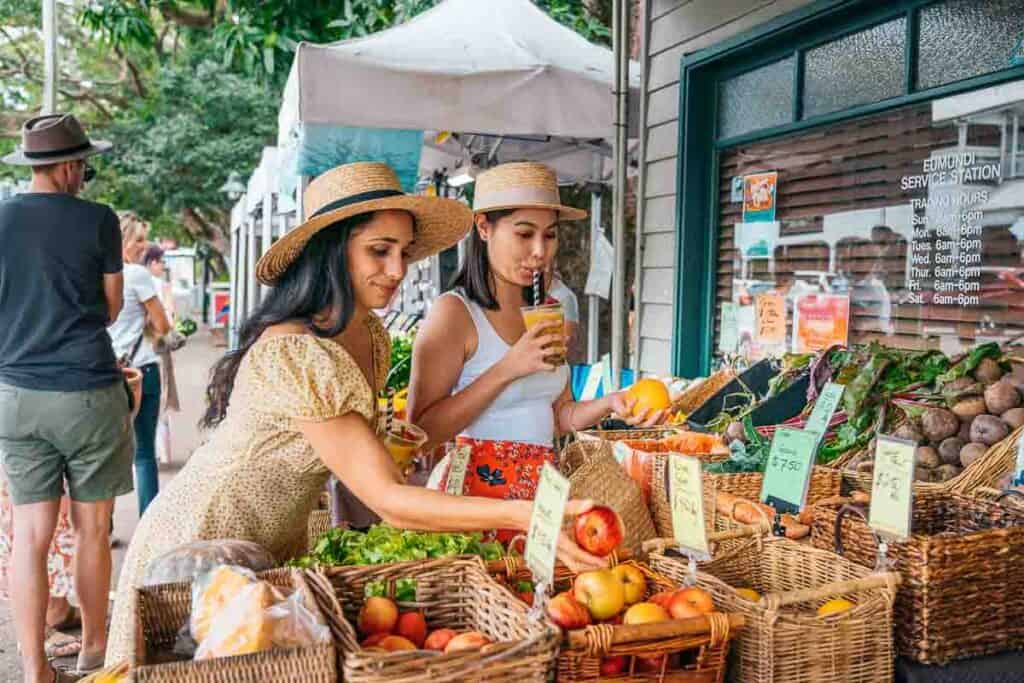 Image credit thanks to Tourism and Events Queensland
If you love food, art and a vibrant atmosphere, you must add Eumundi Markets to your list of Sunshine Coast things to do and see.
With over 600 stalls, Eumundi is said to be one of Australia's biggest art and craft markets. It's a great place to find local makers selling everything from jewellery and toys to prints, metalwork and clothes.
The best part (in my opinion) is the huge selection of amazing food stalls selling everything from skewers of satay chicken and fresh, organic salads to freshly pressed fruit juice and gourmet coffee.
So, add the markets to your Eumundi itinerary, and make sure you go along hungry.
Location: 80 Memorial Drive, Eumundi
Hours: Saturdays 7 am to 2 pm | Wednesdays 8 am to 2 pm
Cost: Entry to the market is free | $7 to park in the main car park
A range of operators offer transfers or tours to Eumundi Markets – Click here to see what's available
2 Eumundi Brewery and the Imperial Hotel Eumundi
The Eumundi Brewery, within the Imperial Hotel, is the perfect spot for beer enthusiasts. They have a great range of handcrafted beers, from hoppy pale ales to rich stouts, all brewed on-site.
Next to the brewery, the Imperial Hotel, established in 1911, hosts live music occasionally and is a great spot to grab a bite to eat.
The menu has a selection of classic Australian pub favourites as well as meals with a contemporary twist. Whether you decide to eat in the cosy surroundings indoors or sit in the large beer garden, you won't be disappointed.
Location: 1 Etheridge St, Eumundi
Hours: 10 am to 9 pm Sunday to Thursday | 10 am to 11 pm Friday and Saturday
3 Eumundi Heritage and Visitor Centre / Eumundi Museum
In the heart of Eumundi, the Visitor Centre, also doubling as the Eumundi Museum, is a must visit for anyone curious about the history of the area.
The museum chronicles the town's evolution, from its indigenous roots to the modern day community.
Displays, photograph collections, artefacts, documents and more tell the story of Eumundi's early settlers, its indigenous heritage, and even some of the area's natural history.
At the visitor centre, the knowledgeable staff offer guidance on local attractions, events, and hidden gems, ensuring that you make the most of your visit to Eumundi.
Whether you're a history enthusiast or just passing through, the museum and visitor centre is a useful addition to your itinerary.
Location: 73 Memorial Dr, Eumundi
Hours: Tuesday to Saturday from 10 am to 3 pm
Cost: Free
4 Yoga at Shambhala Farm
Shambhala Farm, located just an 8 minute drive from Eumundi, is a great place to participate in some yoga sessions whilst being surrounded by nature. Perfect for both novices and seasoned practitioners, Shambhala Farm has something for everyone.
The farm's experienced instructors will guide you through yoga sessions that stretch the body and calm the mind. After a session, visitors can explore the farm and sample some fresh produce.
Location: 58 Justin Rd Doonan
Hours: See the timetable here
Cost: $20 Casual class | $97 for a month's membership (unlimited classes)
5 Pottery for the Planet
Pottery for the Planet describes themselves as not just a pottery store but a movement.
The showroom has handcrafted ceramic cups, bowls, and other functional but unique art pieces. Committed to sustainability and a greener planet, Pottery for the Planet offers an alternative to disposable culture.
Occasionally, ceramics are being made in store, so you might get a chance to see how things are done.
If you have a real interest in pottery or feel like doing something different, you can even book a pottery class.
Whether you're looking for a practical yet beautiful gift or just want to see what is on offer, it's well worth checking out.
Location: 2/77 Memorial Dr, Eumundi
Hours: Tuesday to Friday from 10 am to 4 pm | Saturday 9 am to 4 pm
Cost: $95 for pottery classes
6 David Suters Timbercraftsman Showroom Gallery
David Suters is the enthusiastic furniture maker behind this showroom and gallery in the heart of Eumundi. If you love handcrafted furniture pieces or want something special for your home, this is the store to visit.
If you'd like a commission piece made for your home, contact the showroom in advance and then visit to chat about your needs.
Location: 43 Caplick Way, Eumundi
Hours: Wednesday from 9 am to 3.30 pm | Friday from 9 am to 3.30 pm | Saturday from 9 am to 5 pm
7 Point Glorious Lookout
Located in Mapleton Forest Reserve and just a 25 minute drive from Eumundi. The 3km walk to the Point Glorious lookout is relatively flat with a very gentle incline, and you should allow about 45 minutes each way.
Although the walk isn't the most beautiful, as it's predominantly a gravel road, the view at the lookout is well worth the walk.
The 411m high lookout has spectacular views of lush valleys and dense rainforest and looks straight out to Mount Eewah.
Location: Point Glorious Rd, Eerwah Vale
Hours: Always open
Cost: Free
8 The Real McCaul
This family run business sells quality, handcrafted leather goods that would make fantastic gifts for family and friends or just as something to remember your trip by. If you want something extra special, then be sure to contact them ahead of time for a commission piece.
Whether you want a bespoke leather jacket or travel bag or just want a small keyring or belt all their products come with a 10 year warranty, so you know you're getting quality.
Location: 6/77 Memorial Dr, Eumundi
Hours: Wednesday and Saturday from 8 am to 3 pm | Thursday and Friday from 9 am to 4 pm | Sunday 10 am to 3 pm
9 Cinnabar Soul
If you are a fan of holistic wellbeing, crystals and other spiritual tools, Cinnabar Soul is sure to have something that you'll love.
The owner and jewellery artist, Claire, started out at the famous Eumundi markets and became so popular that she opened a store in the heart of Eumundi.
It's not just about crystals though; there is also handmade jewellery, ethically sourced homewares and essential oils.
On market days, they also offer clairvoyant and tarot readings.
Location: 77 Memorial Drive, Eumundi
Hours: Tuesday to Friday from 10 am to 4 pm | Saturday 9 am to 4 pm
10 Ball Lookout
If you want a great view of the surrounding landscapes and Eumundi as a whole but don't want to or can't take a long hike to get there, Ball Lookout has great views, and you can drive right up to the seating area.
There are picnic benches, so it's a great spot for lunch with a view out over the lush green mountain ranges, or visit a little later in the day and enjoy a spectacular sunset.
Location: 230 Eumundi Range Rd, Eumundi
Hours: Always open
Cost: Free
11 Walk or cycle in Eumundi Conservation Park
If walking or cycling are top of your to do list, make sure to visit the Eumundi Conservation Park. It's just a few minutes' drive from Eumundi itself and has trails ranging from 2km to 6.5km in length.
On foot, visitors can walk along well marked trails through dense forests, open woodlands, and waterways. For cycling fans, tracks suit varying levels, from leisurely rides to more challenging terrains.
The National Parks website has a really informative map that marks all the trails with ratings, habitat types and other information.
The park is full of native bird life, and if you're lucky, the occasional wildlife sighting is possible.
Location: There are three ways to enter the park -Eumundi/Noosa Road gate entrance, Seib Road/Verrierdale Forest Road gate entrance, and North Arm/Yandina Creek Road gate entrance
Hours: Visit during daylight hours only
Cost: Free
12 Eumundi Sunken Garden
If you're looking for a quiet place for a picnic but don't want to venture far from the centre of Eumundi, the Sunken Garden is right in the heart of the town but still manages to feel like a peaceful spot.
The garden sits slightly below street level and has many beautiful native flora, exotic species, water features and plenty of benches to sit and relax.
Location: Pacey Street, Eumundi
Hours: Always open
Cost: Free
13 APMA Creations
This is another great store, well worth a visit for anyone looking for a unique gift for loved ones or even just themselves.
Aboriginal artist and owner Merryn Apma shares her culture and tells dreamtime stories through her artwork, which she sells directly at APMA Creations.
If a large piece isn't your thing, you can also purchase mugs, coasters, accessories, clothing and more, all created using her original designs.
Location: Etheridge St Eumundi
Hours: Check Facebook for the latest opening times
14 Berkelouw Book Barn and Cafe
If the idea of a good book and enjoying a cup of coffee in comfy surroundings appeals to you, a visit to the Berkelouw Book Barn and Cafe is a must.
The bookstore sells something for everyone, ranging from contemporary bestsellers to antique finds. Whether you're hunting for a new novel or a treasured classic, there is a high chance you'll find it here.
The attached cafe sells an assortment of pastries, cakes, and beverages whether you want to take away or take a seat and get started on your new book.
Location: 87 Memorial Drive, Eumundi
Hours: Cafe open weekdays from 6 am to 3 pm | Saturday from 6 am to 3.30 pm | Sunday from 7 am to 2 pm | Book shop open 9 am to 5 pm weekdays | 8 am to 4 pm Saturday | 9 am to 4 pm Sunday | Check website for special events and workshops
15 Full Moon Dance
This monthly gathering in Verrierdale, just outside of Eumundi, is popular with locals and travellers alike. Under the full moon, guests dance to performances by a lineup of DJs and bands that change each month and cover various genres.
The event has food stalls offering delicious treats and is a great event for anyone looking for something unique to do in the evening.
Check their social media accounts for the latest dates and ticket sales.
Location: 460 Verrierdale Road, Verrierdale
Hours: Check social media for the latest events
Cost: Presale tickets usually $35 each
16 The Tiki Bar
If you love a good cocktail, live music or just something a little different, The Tiki bar is a fun and quirky spot to spend an evening.
Drawing inspiration from the laid-back vibes of island life, the Tiki Bar serves up classics like the Mai Tai as well as their own unique recipes. The decor sticks to the island theme with bamboo carved wooden figures and tropical motifs.
The bar often hosts live music as well, so be sure to keep an eye on their social media to see what they have going on.
Location: 79 Memorial Dr, Eumundi
Hours: Wednesday 11 am to 6 pm | Friday 2 pm to 9 pm | Saturday 11 am to 9 pm
TOURS THAT INCLUDE EUMUNDI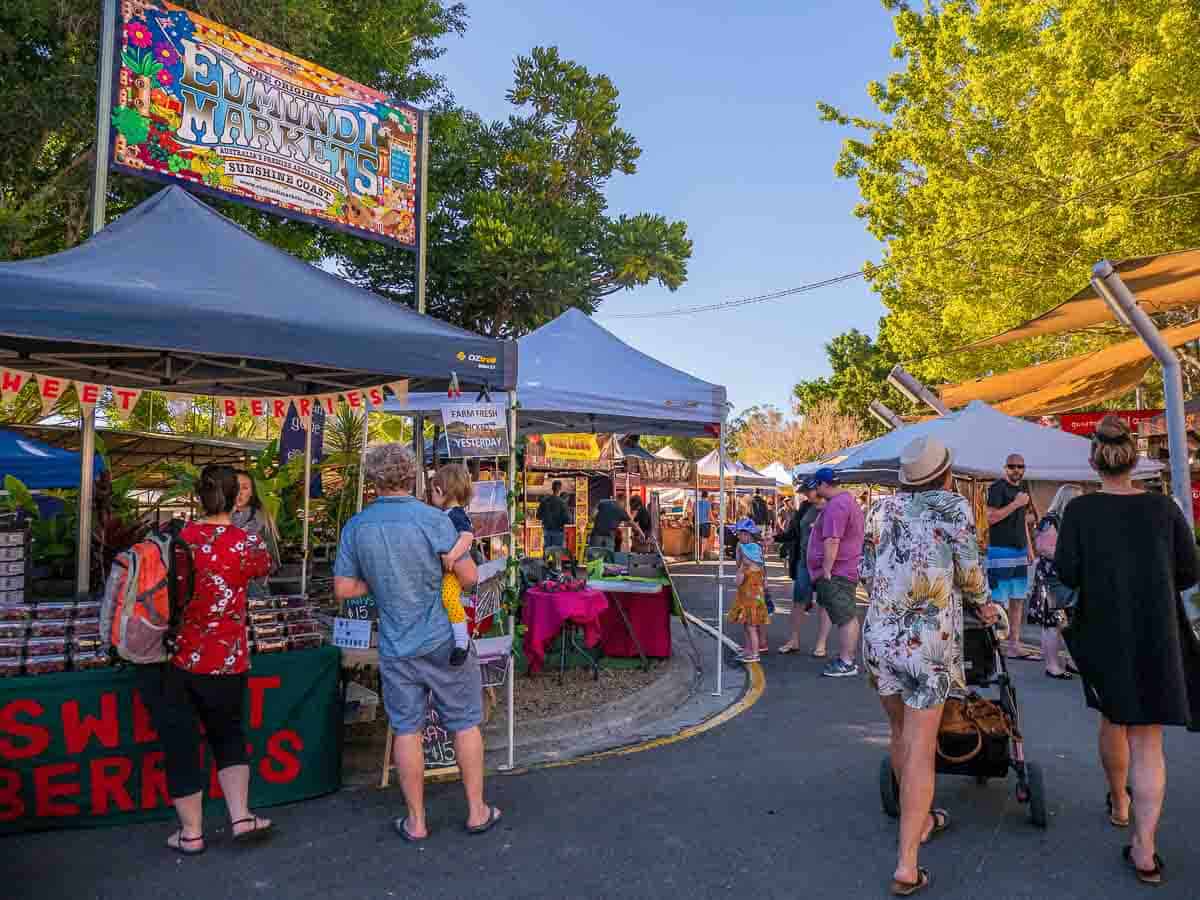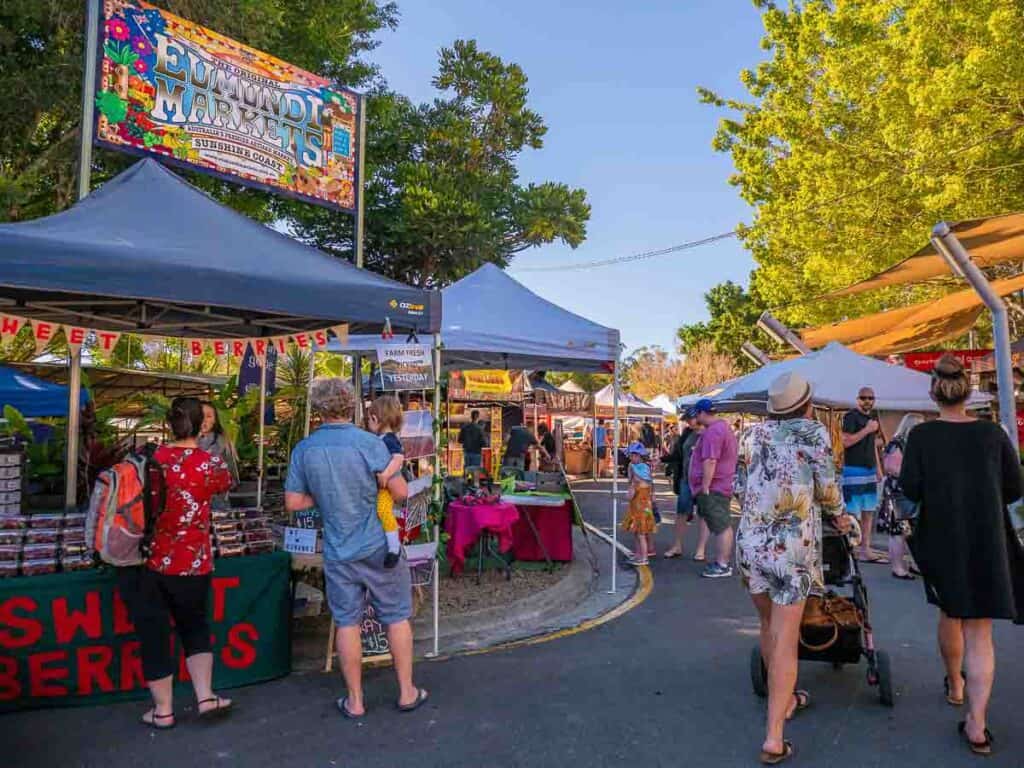 Image credit thanks to Tourism and Events Queensland
If you're looking to explore all of the things to do at Eumundi, a day tour is a great option so you can sit back and relax and enjoy being driven around the best spots. 
Eumundi Markets Return Transfers
If you're staying on the Sunshine Coast and itching to see the famous Eumundi Markets but don't have your own transport, these return transfers are a great option.
Numerous pick-up spots are dotted around the Sunshine Coast, including Noosa, Coolum Beach, Peregian Beach, Mooloolaba, Maroochydore and more, so it should be easy to find a convenient spot.
The air conditioned mini bus leaves nice and early so you can get there before things heat up too much. You'll get 3 hours free to explore the markets and then take the return trip at the hottest part of the day.
As a bonus, the knowledgeable tour guide can even tell you about the area on the drive there.
Click here for more information or to book
Noosa: Eumundi Tour Deluxe with Gourmet Lunch and Markets
If a visit to the Eumundi markets accompanied by great food and fantastic views is your idea of a great day, this full day tour could be just what you need.
It starts with a visit to a local cafe, where you'll enjoy morning tea and get a chance to take in a nearby pottery and clothing designer store. Then, continue your trip through the hinterland and take a quick stop to enjoy the panoramic views at Eumundi's best lookout point.
The highlight of the day is a visit to the famous Eumundi markets. You'll get a brief guided tour highlighting key points before enjoying around 2.5 hours of free time to shop, eat and explore.
Lunchtime involves a stop at The Doonan, where a gourmet lunch and drink is included. After lunch, you'll head home and return to your accommodation by 3:30 pm.
If you like, you can be dropped off at one of Noosaville or Noosa Heads breweries, distilleries, or restaurants on the way back.
This tour has a little bit of everything and includes a knowledgeable guide and a comfortable vehicle with reclining seats, USB ports, and air conditioning, making it a perfect choice for a fun filled day.
Click here for more information or to book
Sunshine Coast Hinterland and Noosa Small Group Tour
If you are staying in Brisbane and a tour to the Sunshine Coast Hinterland sounds appealing, this tour is well worth a look.
The drive through the Blackall Range and small villages en route is charming and the views get even better at the first stop. The Mary Cairnscross Scenic Reserve has panoramic views of the famous Glass House Mountains and is a great way to start the day.
Next, Gerrard's Lookout has amazing coastline views, including Coolum, Maroochydore, Caloundra, and Bribie Island. The picturesque mountain village of Montville is your next stop, where you'll get some free time to explore.
The main event is, of course, the famous Eumundi Markets, where you can find some artisan treasures and gifts for loved ones or enjoy some delicious food.
Next, the tour visits Noosa Heads, where you can enjoy the pristine beach and ocean views.
Finally, on your return to Brisbane, a short stop at the Ginger Factory in Yandina allows you to try their ginger ice cream.
This small-group tour, led by a professional guide, is a full day that packs in many great spots and you'll definitely return home feeling like you've made the most of your one day in the Hinterland.
Click here for more information or to book
EUMUNDI DAY TRIPS
While there is plenty to keep you occupied around Eumundi if you're keen, there are some great day trips you can do from the area. For most of these places, it's recommended you stay at least a few days in each, but if you only have a day, then a day trip is possible.
Brisbane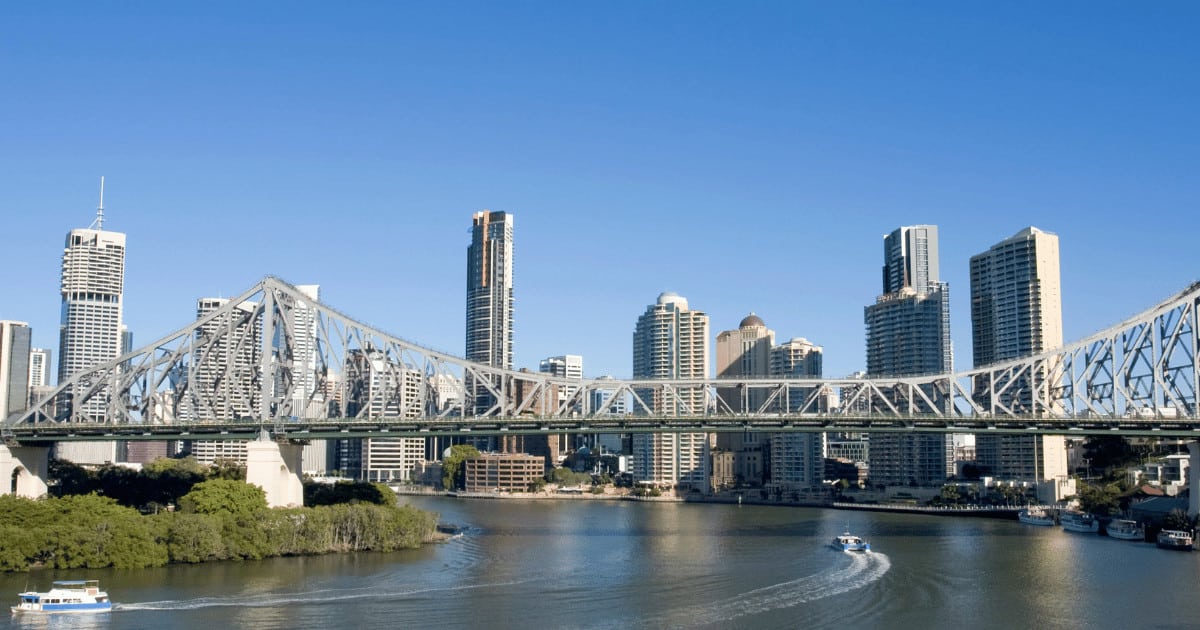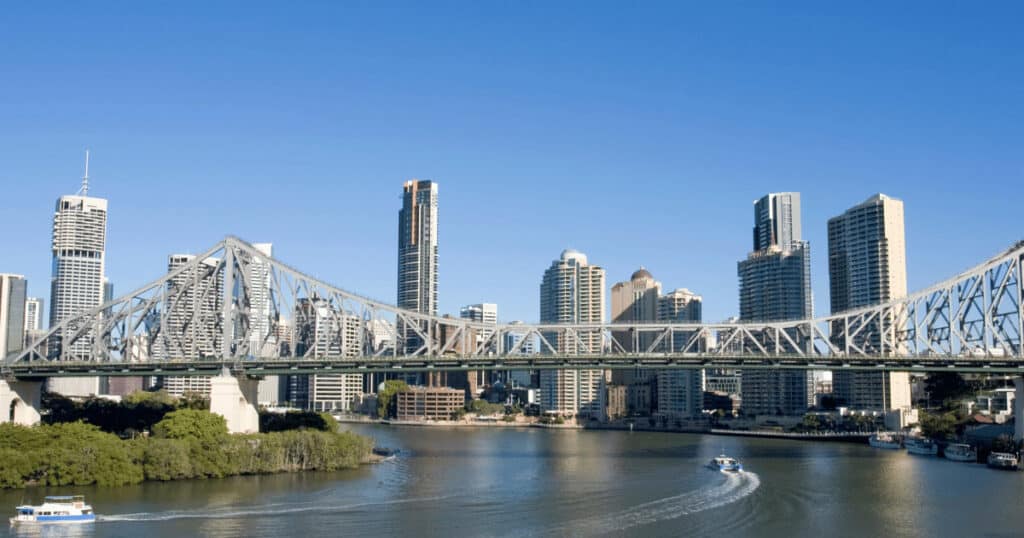 Laid back, clean and vibrant, Brisbane makes a great day trip from Eumundi. Brisbane is the capital of Queensland and it boasts everything from lush parklands and gardens to modern galleries and cosmopolitan waterfront dining. 
There are so many attractions to choose from in Brisbane. There are the Queensland Museum, QAGOMA (The Queensland Art Gallery and Gallery of Modern Art) and the National Maritime Museum for culture seekers.
For wildlife lovers, there is Lone Pine Koala Sanctuary. For lovers of gardens, there is Roma Street Parkland and the tranquil Southbank Parkland. There is the bridge climb, rock climbing and kayaking for thrill seekers. 
You can't beat a simple stroll along the river or a swim at the iconic Streets Beach.
Thanks to its year-round sunshine, Brisbane is the perfect destination at any time of the year and it's a great opportunity to combine your stay in your Gold Coast hinterland resorts with a city break.
Click here for our full guide on things to do in Brisbane.
Gold Coast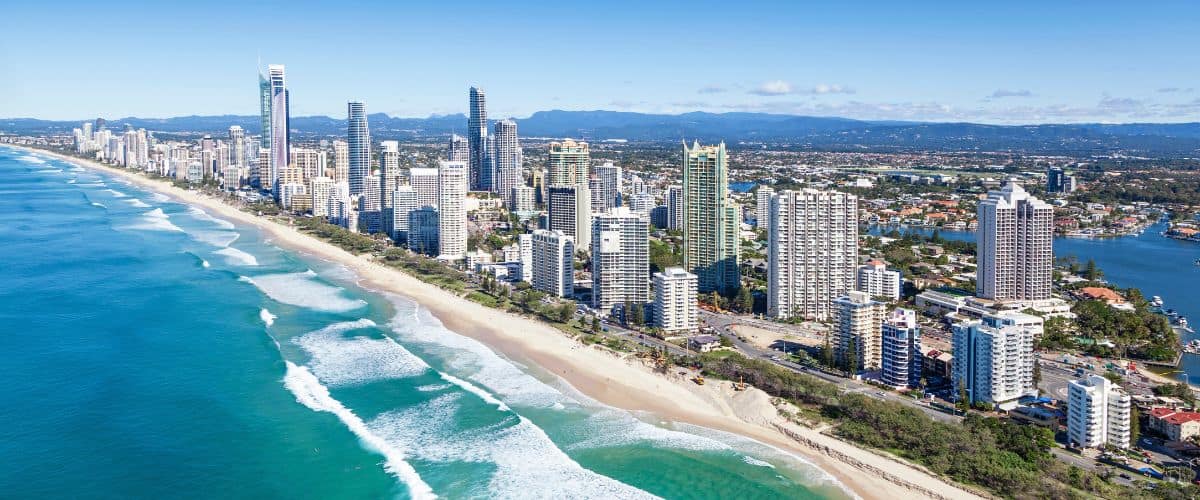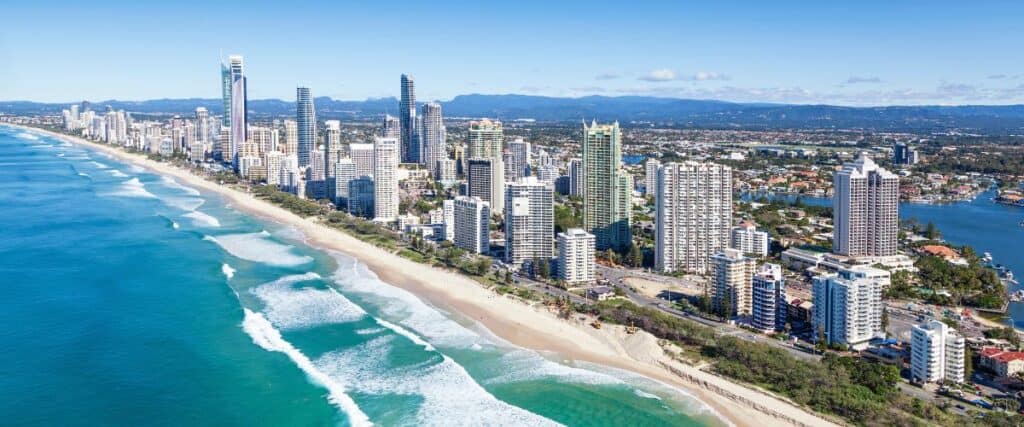 Queensland's Gold Coast is one of Australia's most popular destinations. If you get the opportunity, taking a day trip to the Gold Coast is a great idea.
The Gold Coast is a beautiful beachside haven packed with fun things for tourists to enjoy, and it's the perfect place to visit from the hinterland. 
The Gold Coast is the place to go if you're looking for fast-paced theme parks like Wet 'n' Wild, Warner Bros. Movie World, WhiteWater World, Dreamworld and SeaWorld, so it makes a great day trip from Canungra. 
There's also surfing, hot air ballooning, kayaking and plenty more to keep you entertained.

If you can only spare one day for a Gold Coast day trip, you'll have difficulty deciding how to spend it as there is so much to see and do! 
Click here for our full guide on things to do on the Gold Coast.
Rainbow Beach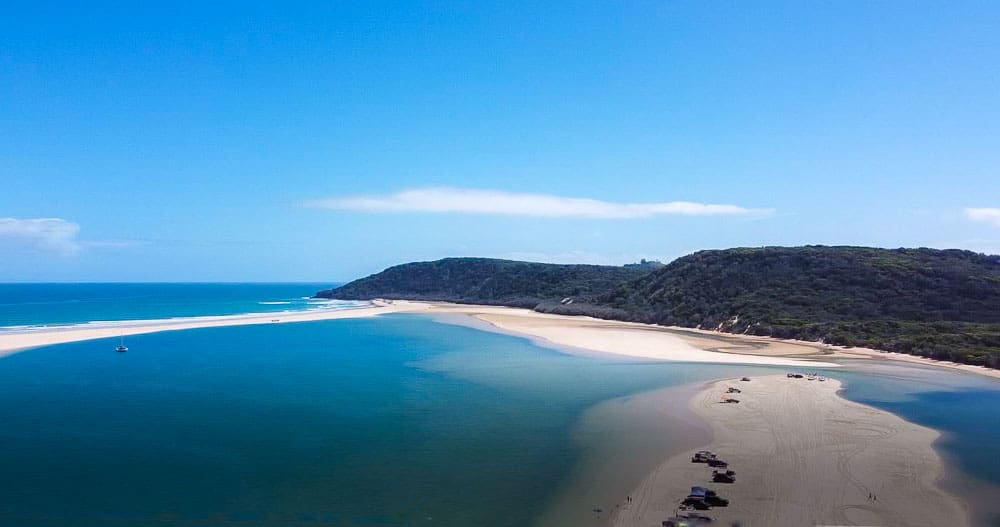 Rainbow Beach is a pretty, sub-tropical coastal town named after its iconic rainbow-coloured sands.
While you can do some walks in the area to appreciate the stunning scenery, you really need to experience the incredible coloured cliff faces and sand dunes on a 4WD beach drive. A tour is a great way to do this as you'll also learn about the region's history and the Aboriginal legend about how the coloured sand was formed.
Make sure you visit Carlo Sandblow while you're there. A walkway from the car park leads you through the rainforest to an impressive sand dune where you can look out across the water to K'gari (Fraser Island).
There are private tours to Rainbow Beach departing from the Noosa region, or if you have a vehicle, you can drive to Rainbow Beach to pick up a tour from there.
Click here to find out what's available.
EUMUNDI ACCOMMODATION
Looking for the best places to stay in Eumundi? The area offers a range of options.
Where possible, it's recommended you book through Booking.com as they offer a wide range of room types most with free cancellation, which is ideal for last minute changes.
However, if you want our recommendation for a hotel, we've listed our top pick for a luxury hotel, family hotel, mid range and budget hotel; you can see our Eumundi accommodation recommendations below.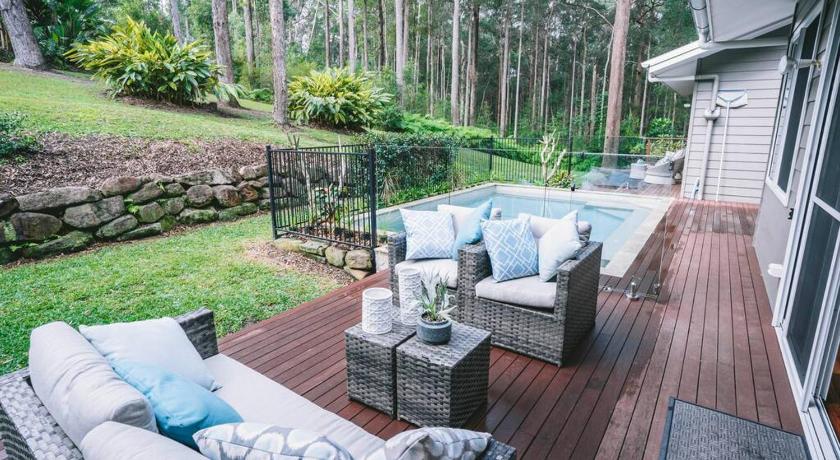 This secluded retreat is a luxury holiday home just a few minutes' drive from Eumundi.
The spacious accommodation can sleep a maximum of 8 guests in 4 bedrooms (1 triple, 1 double, 1 twin and 1 single room), so it would be great for a large group or a couple of families who want to stay together.
The large living area has a flat-screen TV with streaming services; there is a fully equipped kitchen with essentials such as a dishwasher, oven, microwave and more. There are also washing facilities, air conditioning throughout, and free wifi.
The facilities outside are just as impressive, with a private pool, BBQs and a wrap around verandah with multiple seating areas and incredible views of the surrounding nature. The garden is spacious and kids will love playing and exploring the area.
Just minutes from the heart of Noosa and Eumundi, this luxury home is surrounded by rainforest and perfect for adults to relax while keeping the kids entertained.
Click here for more information or to book
Warm and welcoming rooms with high quality furnishings come as standard at HOLA Eumundi, regardless of which room you choose.
All room types sleep a maximum of 2 guests in double beds, so this hotel is best suited to couples. There are studio rooms and superior double rooms that both have a private bathroom with a large walk in shower, coffee machine, free wifi and flat screen TVs.
Some studio rooms also have a balcony with seating and mountain views. If you're looking for something a little more spacious, the king suite also has a separate living area that is beautifully furnished and super comfy.
Additional facilities at the hotel include a garden, free parking and an onsite restaurant open for lunch and dinner.
Right in the heart of Eumundi, this hotel offers a little luxury with the convenience of being close to all the local hotspots, including cafes and restaurants.
Click here for more information or to book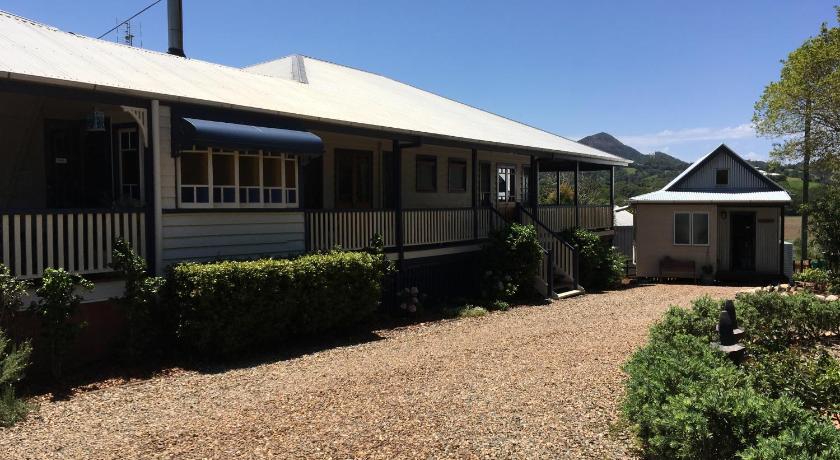 If you don't want to spend a fortune but being close to the Eumundi Markets is important for you, Gridley is a comfortable B&B is just a 10 minute walk away.
The accommodation is in the form of suites that can sleep 2 guests in a queen or king bed. Each room has its own private bathroom and a verandah with a seating area and excellent views that also doubles as a private entrance.
All rooms also have air conditioning, free wifi and a flat screen television.
The B&B also has a communal lounge area for guests with a fireplace to keep warm in winter and a small library of books. On the day of your arrival, you even get a free afternoon tea and breakfast is available for an additional charge.
Despite being a B&B, the Gridley Homestead offers great privacy for couples who wish to be close to everything in Eumundi but don't want to sacrifice some great views and seclusion.
Click here for more information or to book
ENJOY EUMUNDI!
Hopefully, this guide has given you lots of inspiration for the best things to do in Eumundi!
If you're planning a trip to Eumundi, I highly recommend you check out our Sunshine Coast guide, which provides links to everything you need to know to plan your trip.
I'd also recommend you join our free Queensland Travel Guide Facebook community, where you can ask all your questions and find even more great trip suggestions.
If you're heading to Eumundi, you might also be interested in the following nearby destinations:
Kenilworth (coming soon)
Montville (coming soon)