This review provides everything you need to know about a pamper session at Soak Bathhouse West End.
The Queensland Travel Guide acknowledges the Jagera people and the Turrbal people, the Traditional Custodians of the land on which the Soak Bathhouse is situated. We pay our respects to their Elders past, present and emerging, and recognise their continued spiritual and cultural connections to Country. Always was, always will be, Aboriginal land.
I love a good massage and soak in a hot magnesium spa, so when the opportunity came to review West End's Soak Bathhouse – I jumped at the chance.
Soak Bathhouse opened in the swanky West Village Precinct in October 2022 and I've been dying to check it out ever since, so on a Sunday rainy afternoon with boyfriend in arm, I headed down to see what all the hype was about.
We were paying customers at Soak Bathhouse, so you can rest assured that our review is 100% unbiased.
This post may contain compensated links. Please refer to our disclaimer here for more information.
Location and Venue
As mentioned, the Soak Bathhouse is within the uber trendy West Village Precinct. You can park underneath here for up to 2 hours free of charge – entry to the car park is via Mollison Street.
If you're not wanting to drive, you could also get the train to South Brisbane Station – Soak Bathhouse is just a 10 minute walk from there.
Soak Bathhouse is on the rooftop of The Eaves at West Village. It's relatively easy to locate – you'll see the entrance to the building right next door to Italian Street Kitchen. Then, take the stairs or lift to level 2.
In the West Village, there is a range of fabulous restaurants and casual places to eat. This makes Soak Bathhouse the ideal spot to come with friends and have a meal before or after.
Change Rooms, Showers and Toilets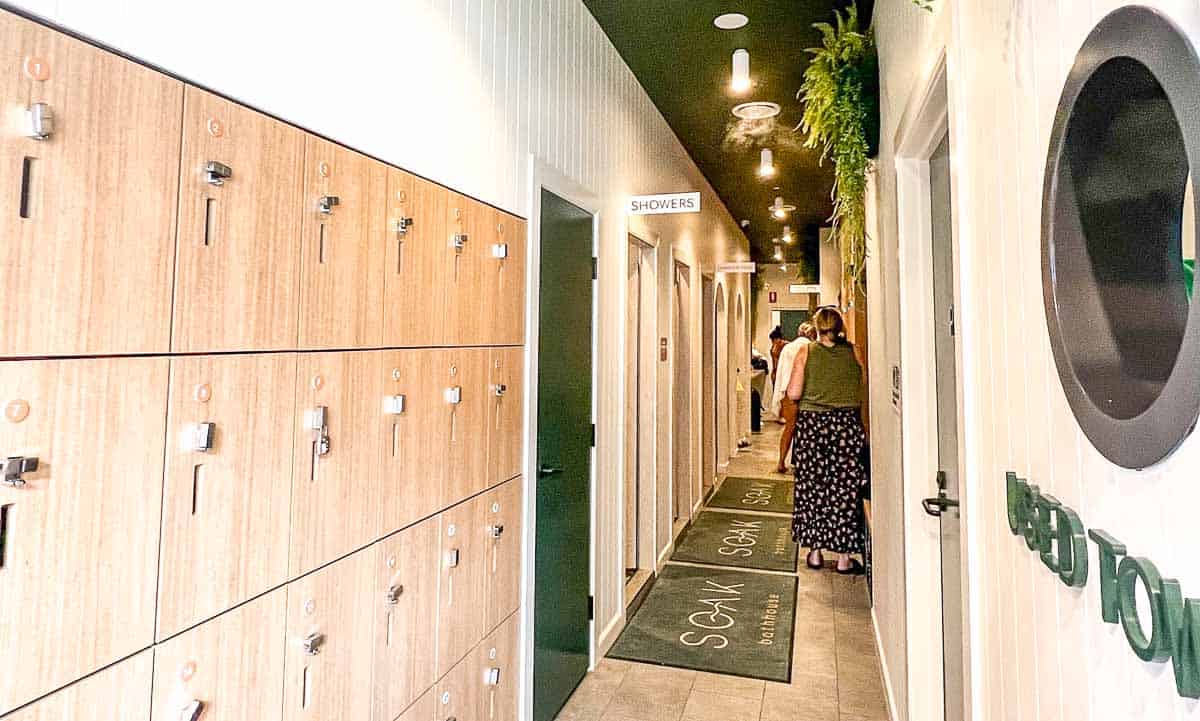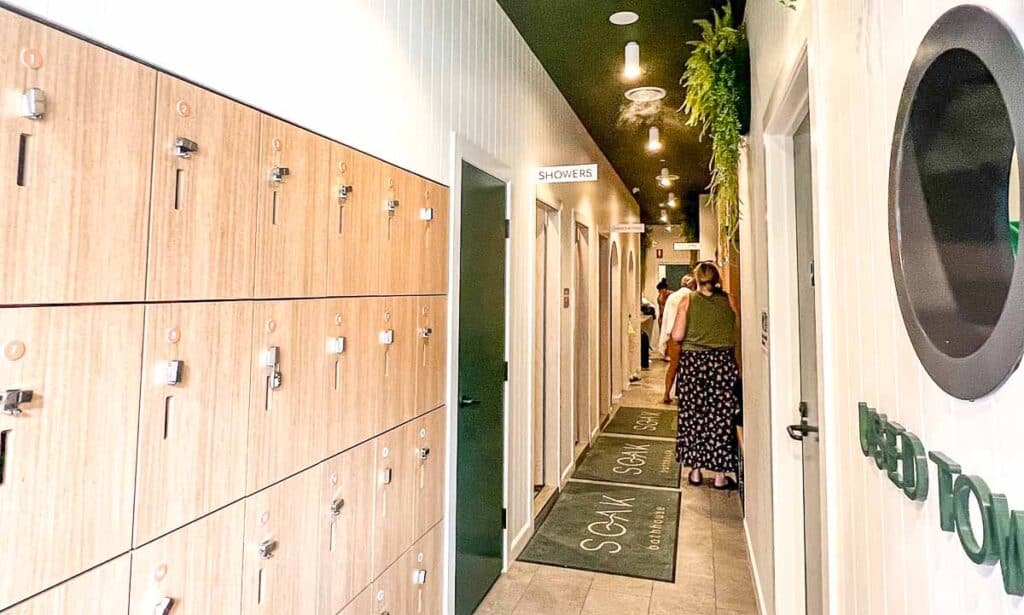 On arrival, we were greeted by a very friendly staff member, then given two huge white fluffy towels and shown where the changing rooms were. We were also given wristbands to wear; I gathered the different coloured wristbands were to indicate your session time.
The change rooms are down a long corridor where you'll find a couple of change rooms, showers and toilets – all unisex. This area is where you'll also find a bunch of lockers to store your belongings.
When we first arrived, this corridor was jammed packed with people and it was quite difficult to move around. Plus, there are only two toilets, which really doesn't seem like a lot for the amount of people that were there.
But then later, there was no one there at all – so it probably just depends on how many people are coming and going when you need to use the facilities.
Throughout the changing rooms, showers and toilets are beautiful Sukin toiletries to use, including hand sanitiser, hand wash, facial mist and even face moisturiser.
There are no locks on the lockers, but you can bring your own padlock or rent one for $2.50. We didn't worry about this though.
The Spas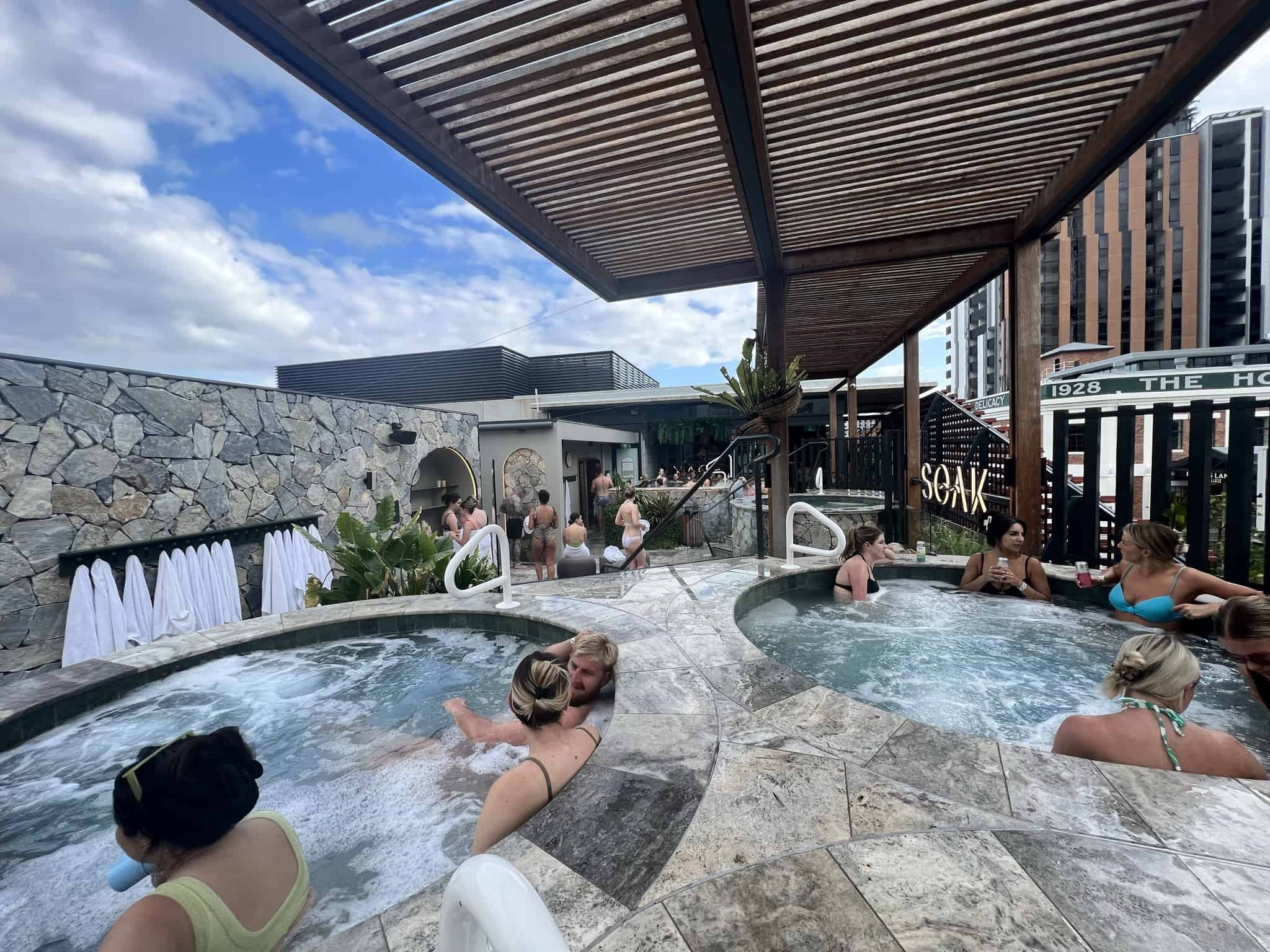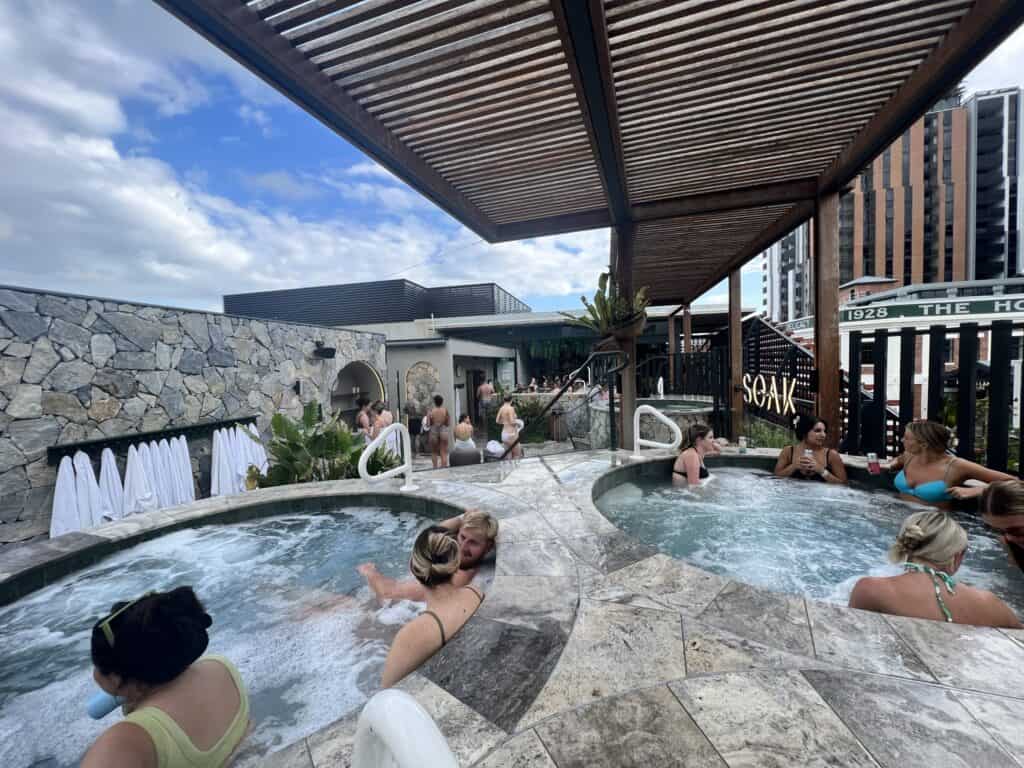 Walking outside, I was surprised at how small the area was. There sure were a lot of people for the small rooftop space. I also felt we were well above the general age group, with most people looking to be at least 20 years younger than us.
Nevertheless, we quickly scanned the seven different spas to find one with the least amount of people and hopped in.
Soak Bathhouse has seven different spas, most heated to a warm 38c and accommodating around 8-10 people. There is one slightly larger spa warmed to 34c and a slightly smaller cold plunge pool at a chilly 12.5c. The idea is you work your way through the pools spending a few minutes in each – but we just spent all our time in the warmest spas.
Generally, we found most spas had around six people in them. While it would be nice to have a more private experience, we found we had plenty of space to sit on our own and be able to chat without feeling like we were invading other people's privacy.
Around the spas are a few small areas where you can sit on chairs if you've had enough of the spas. There's also a small station with free water and sparking water on tap, as well as a range of herbal teas.
A handy feature they have outside is a number of hooks for your towels, each with a number so you won't be getting your towel confused with someone else's.
Each soak session lasts for 90 minutes.
Steam and Sauna Rooms
Included in your soak session is the use of the steam and sauna rooms. These are also on the rooftop; they are pretty small though only able to fit around six people inside each.
Every time we went to go in, they were full, so we never got to experience either of these rooms during our visit.
Massages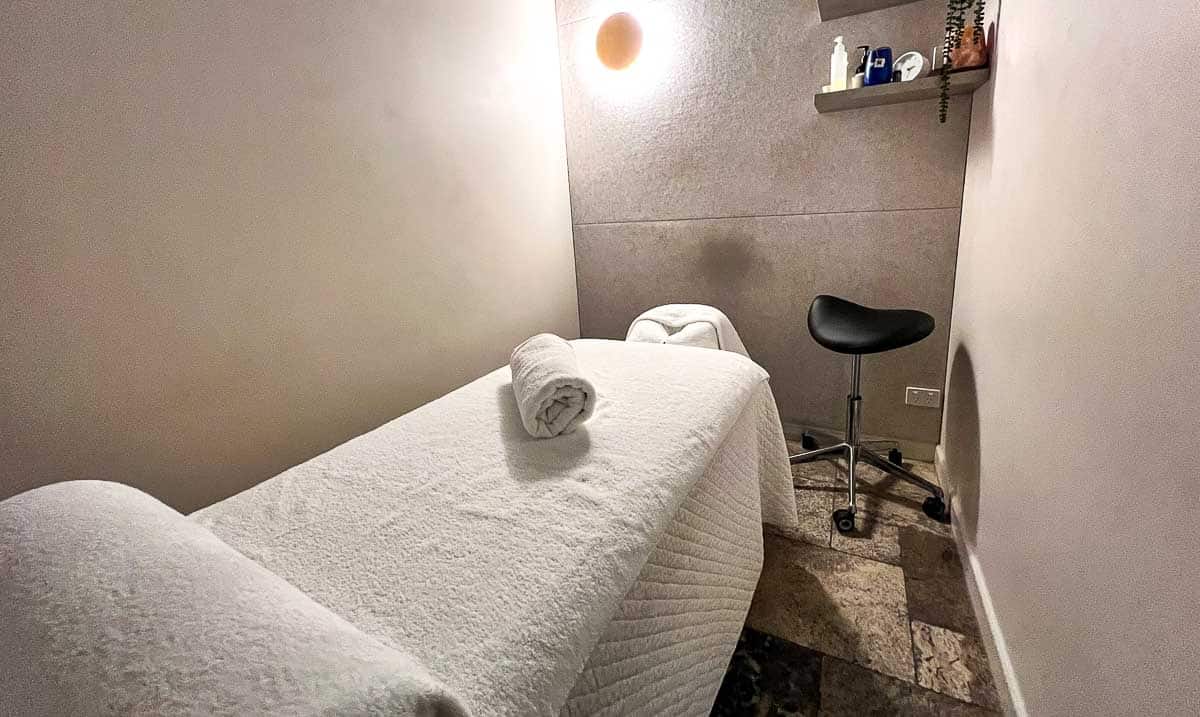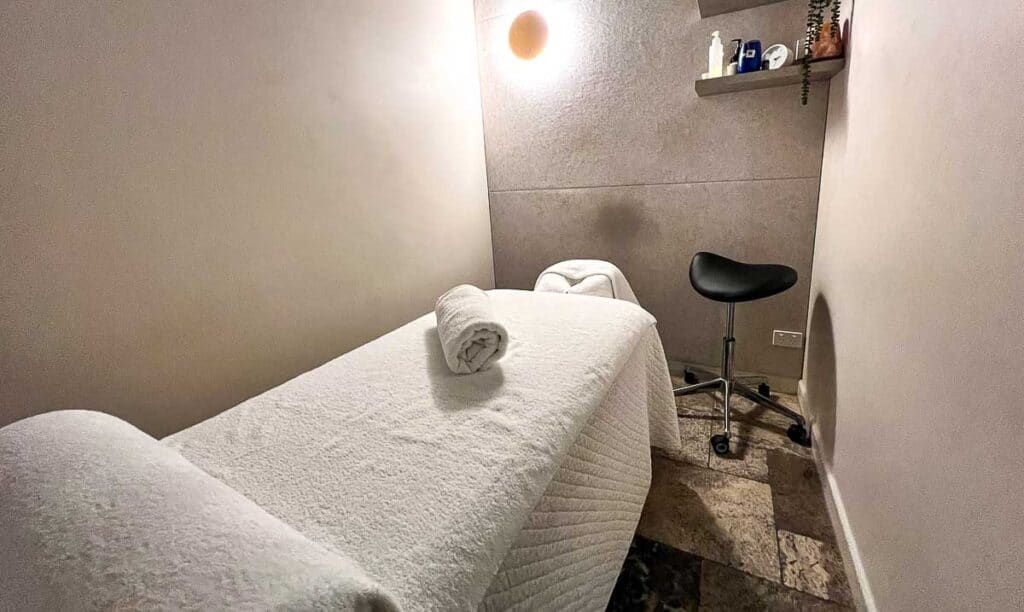 We decided to pimp our soak session by starting with a massage.
If you book a massage, you'll be sent a massage preferential form you can either fill out at home or, if you forget (like us), then they'll get you to do this on an iPad when you arrive.
I've had a lot of massages in my time and I've never actually been asked to complete a massage preferential form, but I really liked this idea. It asked questions such as what parts of your body you would like included in the massage and what parts of your body you wanted to be avoided. You also ticked what pressure you like.
After we completed our forms, we were taken around to another long corridor where all the massage rooms were. They appear to be all single rooms, with no couple rooms – at least we weren't given the option of being in a room together.
While we waited, we were offered cold water or herbal tea.
Close to our booked massage time, a range of masseuses came out calling different people's names and once they found the correct person, we were each taken into a small massage room.
The rooms are fairly basic, with nothing special inside. My room smelt beautiful though and the lighting was turned down low, creating a relaxing ambience.
After a quick chat with my masseuse, where he asked me if I had any sore points and a bit of small talk, I was shown a basket for my clothes and left to get undressed.
Soon after, the masseuse returned and the massage began.
I prefer a firm massage and I find in these relaxation type places, you never receive a firm massage. However, on this occasion, I received a fantastic firm massage – I was very impressed. It really was one of the best relaxation massages I'd ever seen.
My partner also said his massage was amazing, so we can highly recommend getting yourself a massage if you are heading to Soak Bathhouse.
Other Services
In addition to soaking in mineral spas and massages, Soak Bathhouse also offer LED facials and private infrared sauna sessions.
Pricing
90 minute soak sessions are $49 per person on weekdays and $59 per person on weekends.
As mentioned, we opted for the 50 minute massage and soak session, which is $159 per person on weekdays and $184 per person on weekends. Massages on their own are $110 per person on weekdays and $125 on the weekends.
If you're after a 45 minute infrared sauna and soak or a 20 minute LED facial and soak, each package is $98 per person on weekdays and $108 per person on weekends. The LED facial on its own is $49 per person and the infrared sauna is $49 for up to two people.
Refreshments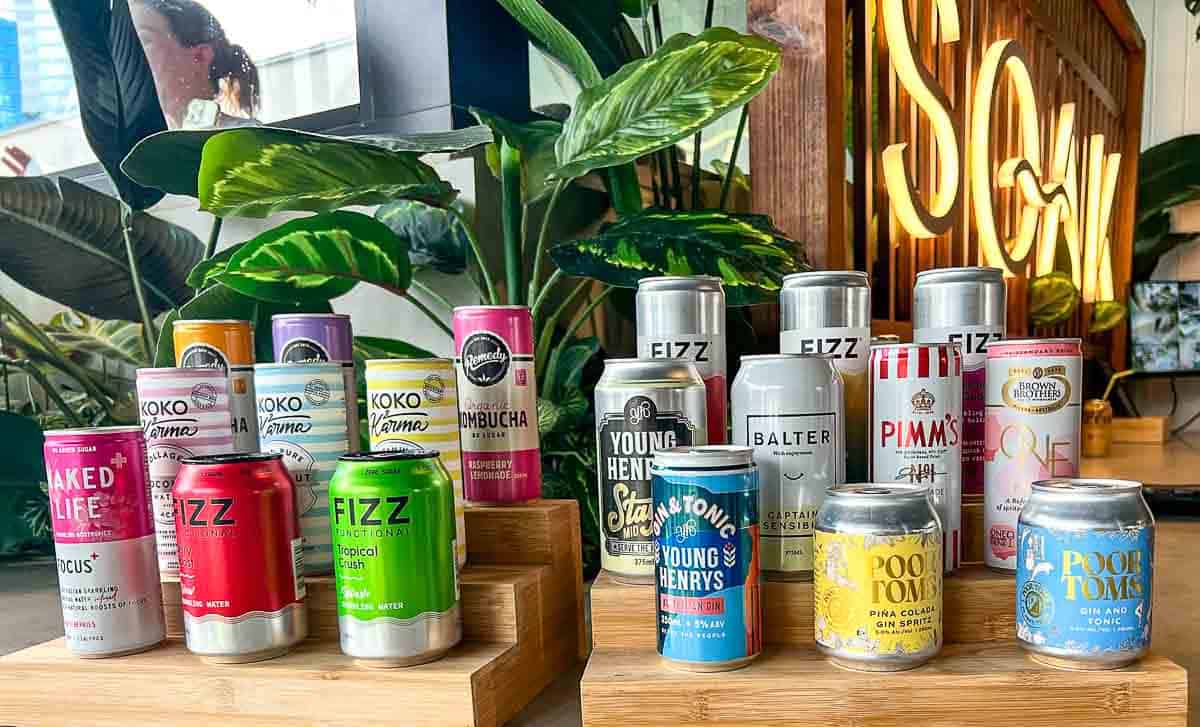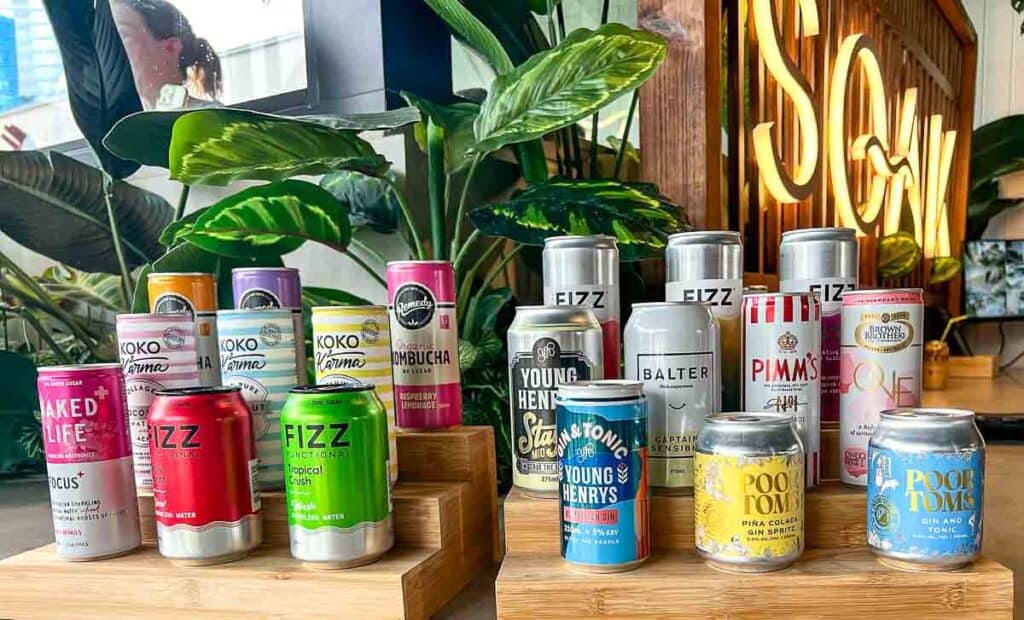 You can add a sip package to any of the above sessions for an extra $20, which includes two drinks (alcoholic or non alcoholic) and a small healthy slice.
It's important to note that you can't purchase drinks individually – we didn't buy the sip package when we booked, but when we ordered a drink, we were advised we had to buy the package instead. It's not a bad deal though.
Opening Hours
Soak Bathhouse is open daily from 6.30 am and until 10 pm Monday to Thursday and until midnight Friday to Sunday.
Enjoy Soak Bathhouse!
Hopefully, you found this review on Soak Bathhouse at West End helpful.
Why not check out some of our other reviews of things to do around Brisbane or places to stay such as the Dolphin Wild Island Cruise, Cloudland Big Band Cabaret or glamping at Thunderbird Park.
If you're planning a trip to Brisbane, I highly recommend you check out our full guide to Brisbane, which provides links to everything you need to know to plan your trip.
I'd also recommend you join our free Queensland Travel Guide Facebook community, where you can ask all your questions and find even more great trip suggestions.
You might also be interested in the following nearby destinations: