An evening of fabulous food and alluring entertainment… the perfect setting for a romantic dinner for two or a fun-filled night with friends.
The Queensland Travel Guide acknowledges the Turrbal people, the Traditional Custodians of the land on which Cloudland is located. We pay our respects to their Elders, past, present and emerging, and recognise their continued spiritual and cultural connections to Country. Always was, always will be, Aboriginal land.
I'm never one to turn down an evening of music, dancing and entertainment, so when I first heard of the Cloudland Big Band Cabaret Dinner and Show, I was eager to go. The event is only on a few nights a year, so when I saw new nights advertised, I quickly snapped up a few tickets.
The Venue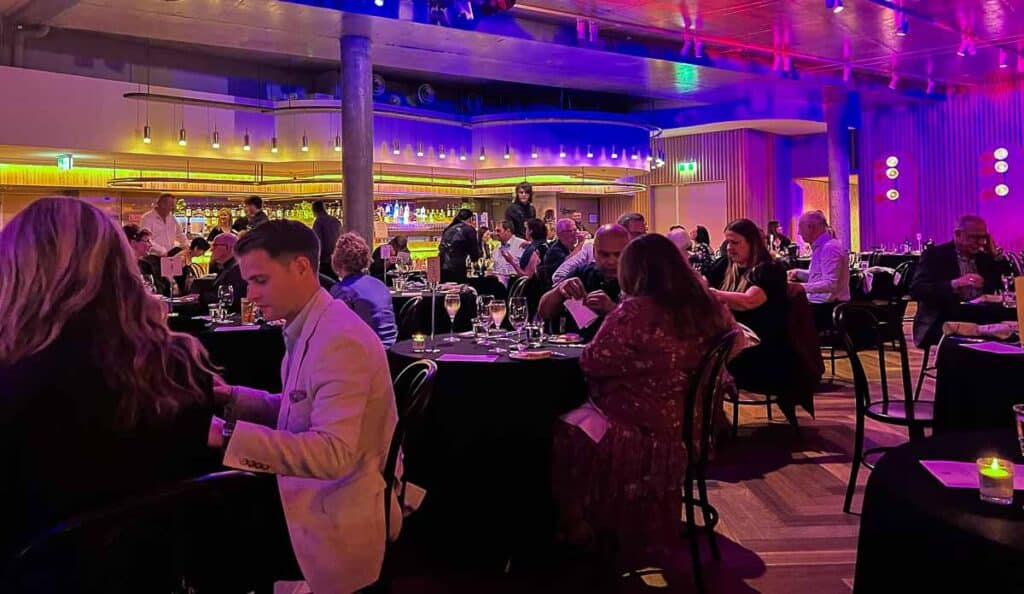 The Big Band Cabaret Dinner and Show takes place at Cloudland in Fortitude Valley. We arrived about 15 minutes early and so enjoyed a drink on the second floor, overlooking the ground floor of Cloudland.
At 6.30 pm, we made our way to the Rose Room on the third floor, where we were welcomed at the door with a glass of champagne which we sipped while making our way to our table. Tables are allocated based on the number of tickets purchased – so we had an intimate table for two just a short distance from the stage.
The Rose Room is exquisite, with herringbone parquetry, swathes of pink marble, touches of brass and natural timbers adorning the walls. And the private bathrooms have to be seen to be believed. They resemble something of a private dressing room rather than a bathroom for hundreds of guests.
Within minutes of being seated, we were greeted by Cleo, our waitress for the evening. She was never far away, refilling our glasses with champagne and wine, all included in our ticket price.
The Entertainment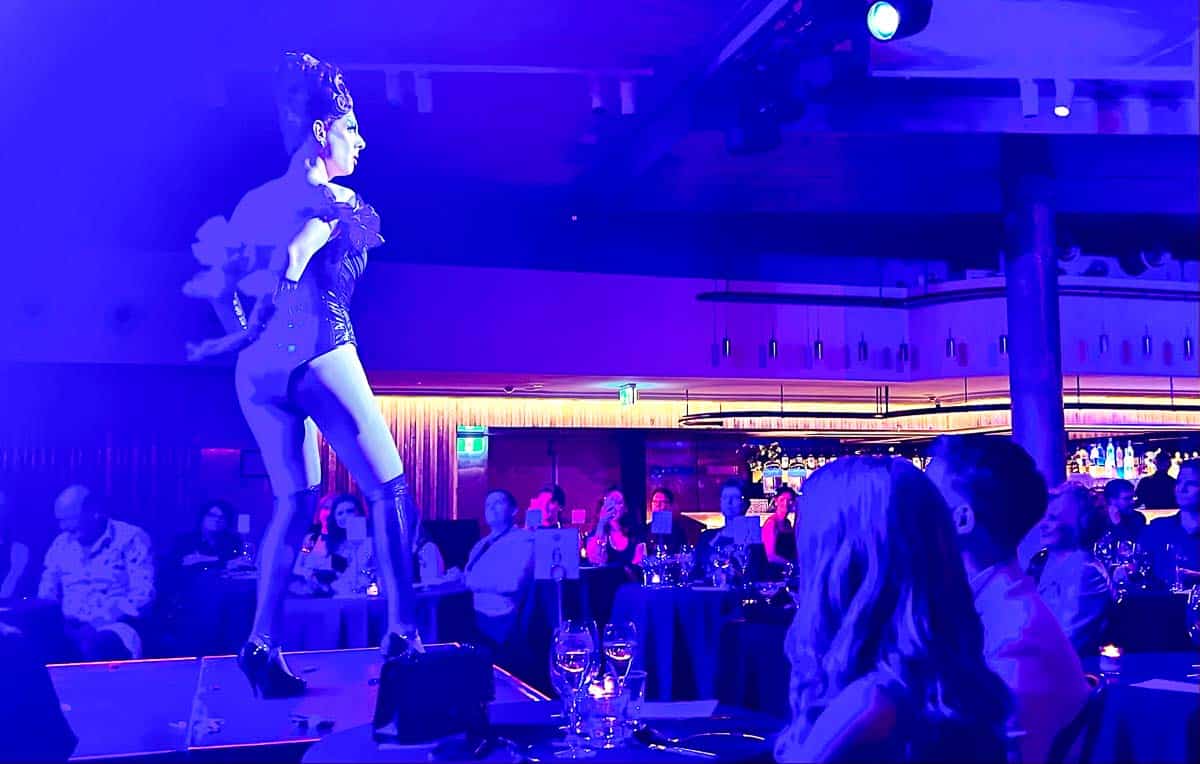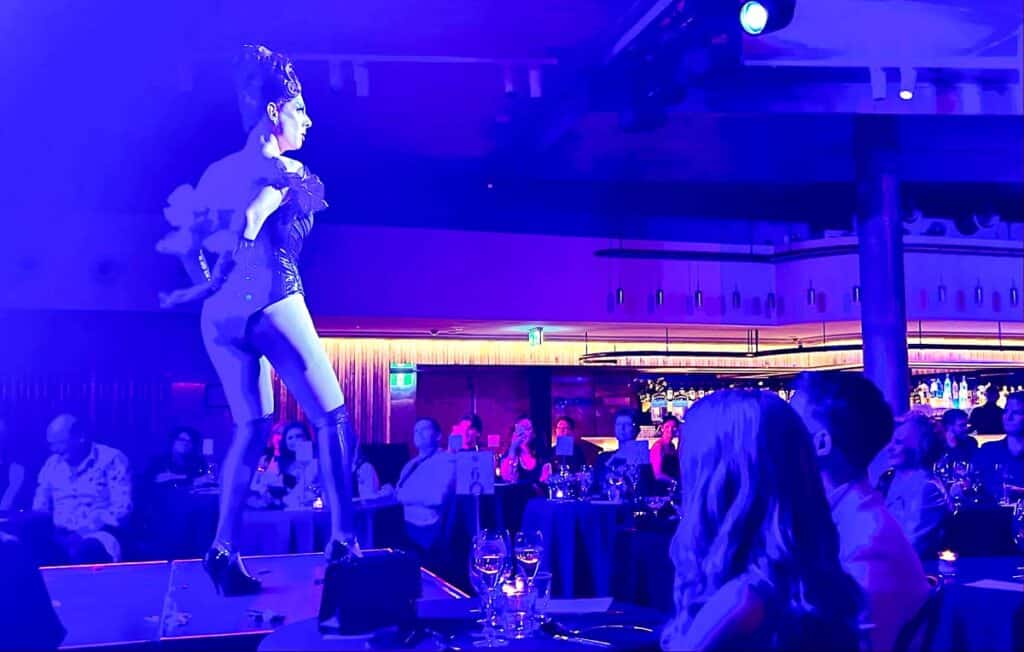 As soon as the Big Band started to play, we were transported back to a golden age of jazz and swing. Swing Central was the name of the band and with their frontman Brad leading the way, we were entertained with many iconic standards from the great crooners like Frank Sinatra and Dean Martin.
Guests are encouraged to grab a partner and hit the dance floor and it didn't take long before the small dance floors on either side of the stage were full. While not much of a partner dancer, it didn't take much convincing to get me up on the dance floor and be spun around to the big band tunes.
The big band had several sets throughout the evening and between sets, burlesque dancers and a drag performance entertained us. The gorgeous and hilarious Lulu Lemans is the host for this section of the show and she really is the highlight with her incredible lip syncing and high kicks in even higher heels.
The burlesque performances are a little risque – but all in good taste and there were some interesting surprises involving balloons, fire sticks and hula hoops.
The Food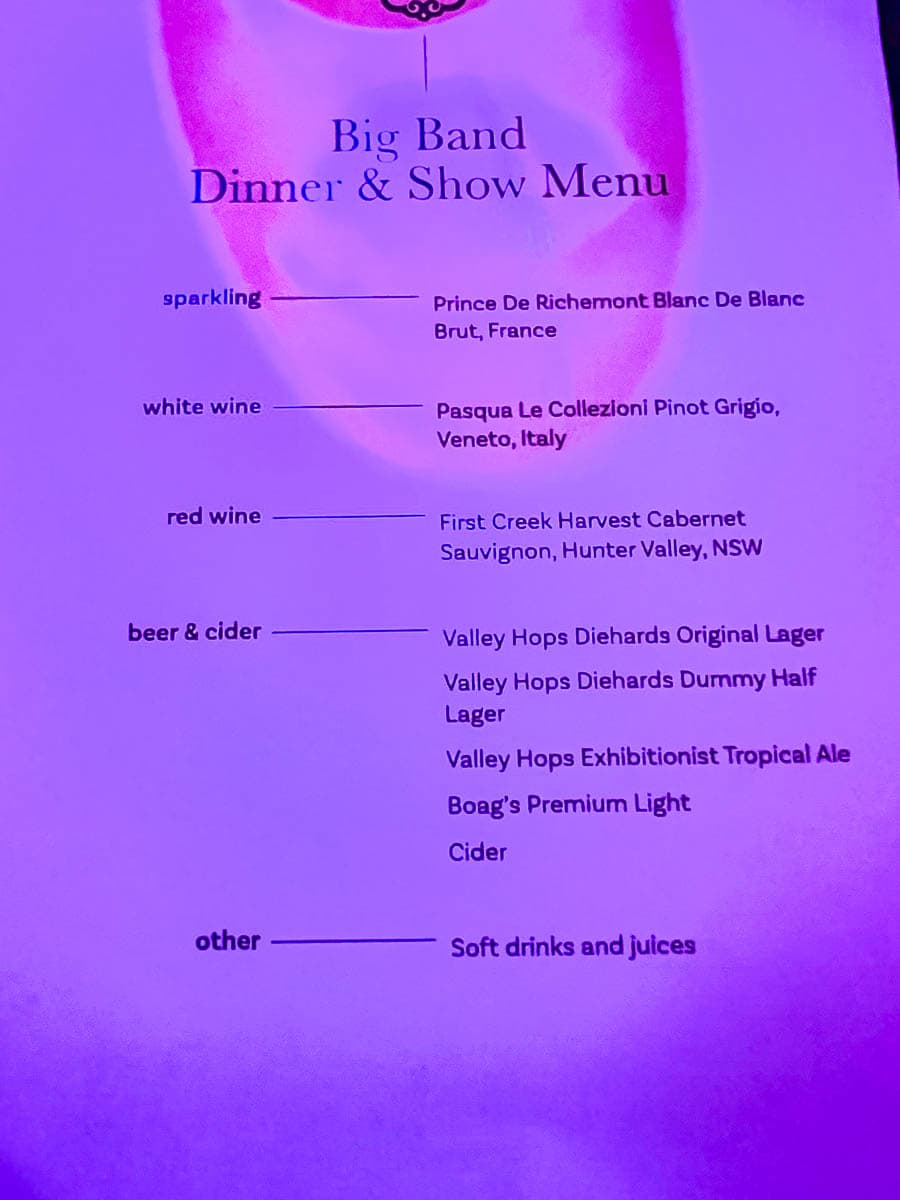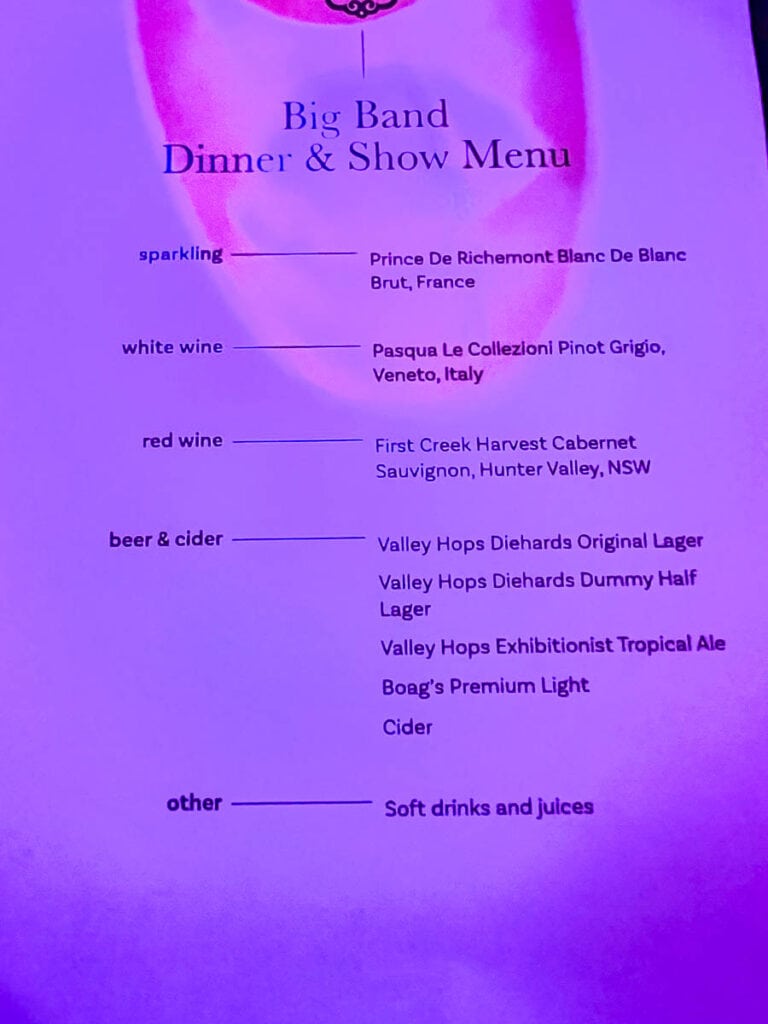 While entertained, each of our three courses was delivered to our table almost unnoticeable. Each course is an alternative drop; however you can advise of any specific dietary requirements when booking your tickets.
You're unaware of what's on the menu before arriving, so I wasn't sure what to expect. However, I was pleasantly surprised upon arriving at our table and reading the menu. We enjoyed each course; all were incredibly tasty and well presented.
Price and Tickets
The Big Band Cabaret Dinner and Show is incredible value for money. For three hours of non stop entertainment, dancing, three courses and a three hour drink package of beers, wines and French sparkling, the price is just $123.82 per person. If you have a group of 8, tickets are even cheaper at just $109.51 per person.
There are a few more shows scheduled for 2023.  You can purchase your tickets here.
Summary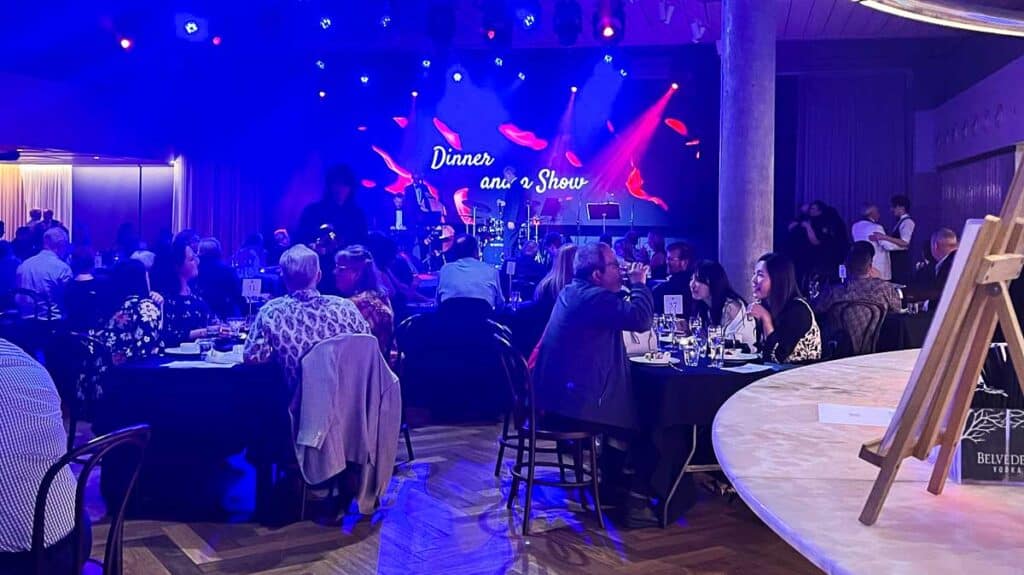 We had a fantastic night at Cloudland's Big Band Cabaret Dinner and Show. For three hours, we had non stop entertainment, delicious food and a continuous flow of wine and champagne and at a great price.
Cloudland's Big Band Cabaret Dinner and Show is the perfect way to spend a Friday evening, whether you're looking for a romantic evening for two or a night out with friends.