Main image credit thanks to Kara Hamilton
Urban style dining with a sustainable twist in Brisbane's popular Howard Smith Wharves precinct
The Queensland Travel Guide acknowledges the Turrbal people, the Traditional Custodians of the land on which Crystalbrook Vincent is located. We pay our respects to their Elders, past, present and emerging, and recognise their continued spiritual and cultural connections to Country. Always was, always will be, Aboriginal land.
The vibe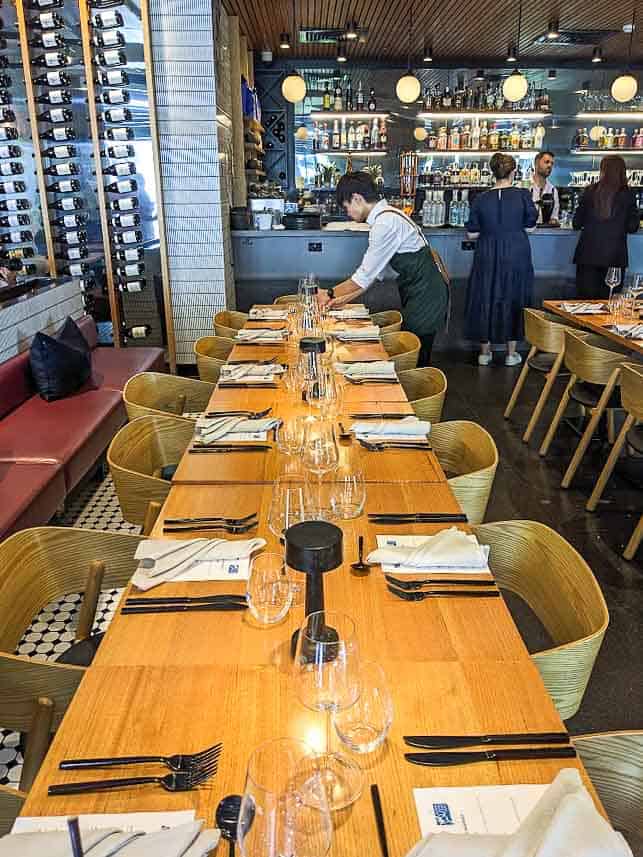 Mew's restaurant is on ground level and an easy stroll from the corner of Boundary Street to the entrance from the street. Just look out for the eye-catching artwork by the talented artist Loretta Lizzio. Or if you're staying at the Crystalbrook Vincent, you can enter from the lobby.
Beyond the urban chic interior, the first thing you'll notice inside Mews is the artwork – an eclectic gallery of street art. Unlike the artwork found inside the Crystalbrook Vincent by acclaimed Australian artist Vincent Fantauzzo who is based in Melbourne, the Mews' artwork are by Brisbane creatives.
Custom pieces by ten local street artists including Jordache, Drapl (Into the light) and James Ellis (Brown Snake) adorn the walls and concrete pillars. Oh and a special mention, try to find the handcrafted miniature doorway by Mace Robertson (tip: don't look up for this one!)
Like the Crystalbrook Vincent, the Mews is bright, vibrant and fun, but they're not competing with each other. However, there is one thing that can be said of both the hotel and the restaurant, they're providing a memorable Brisbane experience that you'll want to come back to and try again and again.
Menu featuring the best produce from Southeast Queensland
The Mews focus on locally sourced produce – with 80% of produce sourced within a three hours radius of Brisbane. Executive Chef Tyrone Hunt and his team work with local farmers and fishermen to secure the freshest ingredients.
They've selected some of south east Queensland's best farmers and fishermen because they practice sustainable farming practices. They've also established relationships with indigenous communities for native ingredients.
The team at Mews are also dedicated to the reduction of waste by pickling and preserving. They utilise local producers using eco-friendly packaging – with produce supplied in 100% recycled or bio-packaging.
Through an innovative labelling system, diners can also find out (if they wish) the environmental impact of their dish.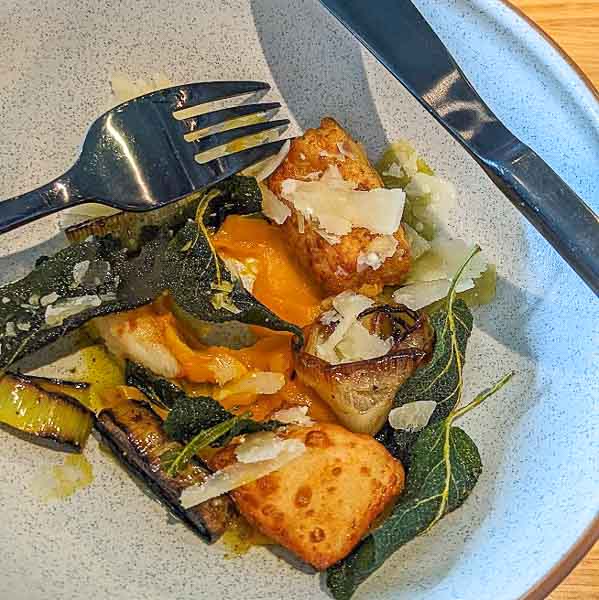 Breakfast or dinner
During the week breakfast is available from 6.30 am – 10.00 am, while at weekends breakfast is served from 7 am to 11.00 am.
Crowd favourites feature the classic eggs benny made with eggs from Gatton and zucchini fritters with mint yoghurt. Breakfast was topped off with a delicious chai latte. (I'm not a coffee drinker, but I have it on good authority the Mews St Dreux coffee rates highly.)
Dinner is available from 6.00 pm to 9.00 pm Tuesday to Saturday and is a seasonal menu that changes regularly.
On my visit I started with the house made gnocchi – melt in your mouth braised leeks with pumpkin and watercress oil. For mains, I tried the Darling Down Sirloin – 250gm sirloin complete with bone marrow, brioche crumb and rainbow chard and jus. The sirloin was cooked to perfection, but I didn't like the bone marrow. I thought my dog might enjoy chewing on it more than me!
My friend tried the market fish with pea and mint velouté, cauliflower couscous and smoked trout roe which is both gluten free and dairy free.
Dessert
My chocolate and praline tart with a cherry sorbet was the perfect balance of chocolate and a dash of berry. Although my friend's mango and coconut pebble dessert caught my eye, a tropical flavour explosion (I was allowed to taste test.) The passion fruit sorbet was light, subtle and a beautiful palette cleanser.
Remember: the menu changes with the seasons and with the supply of ingredients so please, when you want to book check their online menu.
Drinks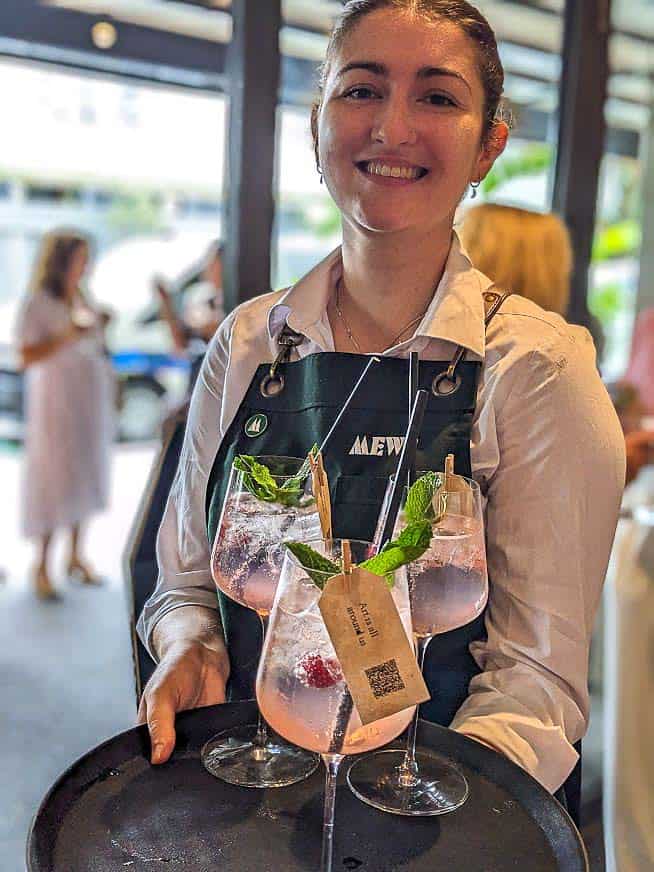 There's an extensive wine list with many of Australia's popular wine producers and some lesser known.
For those who prefer cocktails, there's a small list with a couple of curated ones. (Love the fairy-floss tips on the '777′, which features vodka, chambord, apple, and wonder foam. With the upcoming coronation for King Charles their 'Salute The King' featuring Brookies Mac, Brookies dry gin, mint, and sweet and sour might be popular with the monarchists.)
You can choose to sit outside and watch the passing pedestrian traffic on Howard Smith Wharves or inside in the air conditioning (essential for our dining experience on a hot day in February.)
The verdict
Mews is in one of Brisbane's hottest precincts. An interior bursting with energy and a menu exploding with flavours.
Find Mews at the Crystalbrook Vincent, Howard Smith Wharves, 5 Boundary Street, Brisbane
Open for breakfast from 6.30am–10.30am Tuesday to Saturday and 7–11am weekends
Dinner 6pm–9pm Monday–Saturday for dinner.